»
Blue Exorcist Season 3 : Everything you need to know in 2021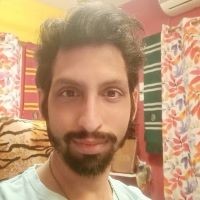 Bijesh-Updated April 12, 2021
---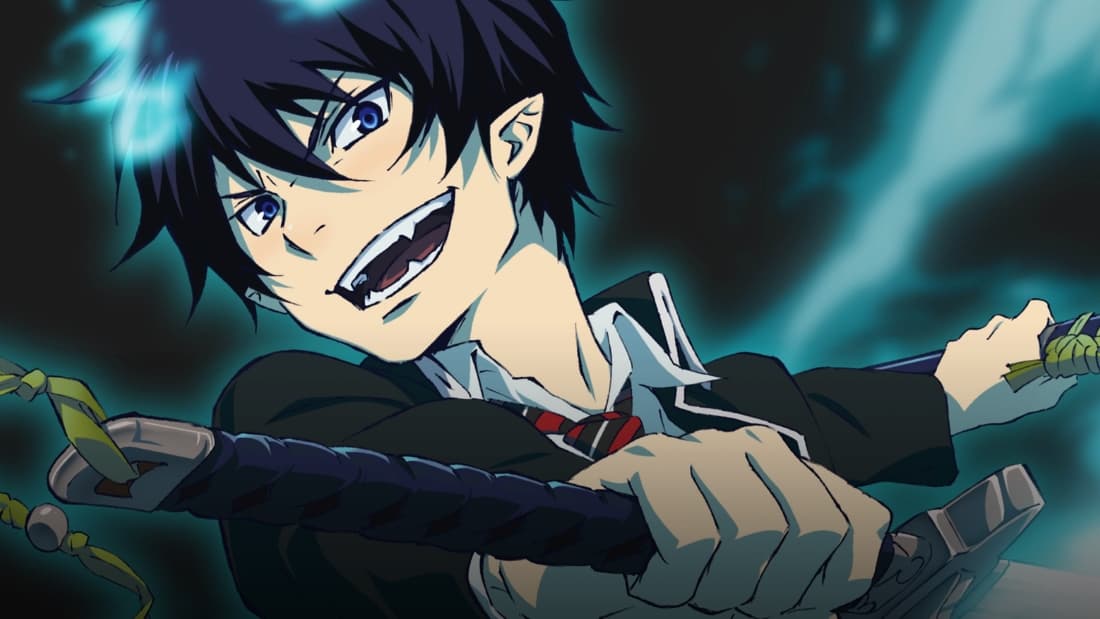 The two dimensions of Assiah and Gehenna are reserved for people and demons, respectively.
They never come together, so of course they do in the "Blue Exorcist" anime.
All sorts of paranormal events take place in this show.
Fans are now facing a whole new dimension, namely a void of silence concerning a possible season 3 for this unforgettable supernatural anime.
Everything we know about Blue Exorcist so far
Also called "Ao no Exorcist", this show has gathered a steadily swelling fandom ever since season one released in 2011.
The dark fantasy series traces its intellectual origins to the manga written and illustrated by Kazue Kato.
Drawing several pages out of the book of 'classic shounen anime', there is a clear line between good and evil in the narrative of "Blue Exorcist".
The heroes are the cynosure of these shows because they face impossible odds to rise above the darkness, even saving the world in the process.
It doesn't get more heroic than the son of Satan himself becoming the hero, namely an 'Exorcist', and standing up to his father's diabolical plans to rule both Gehenna and Assiah (i.e., the human world).
Fans enjoyed every battle scene and emotional moment in the first two seasons, which brings us to the dire need of those very fans to know what's going to become of their heroes and villains.
You may be wondering, 'Didn't season 2 give them closure?' Instead of throwing a grand piano on you for asking, let us detail precisely what the second season of 'Blue Exorcist' gave its fans.
Ending of Blue Exorcist Season 1 and Season 2
A whale's weight in weirdness landed in season 2 of the series, especially as it neared its finale.
From the get-go, seasons 1 and 2 seemed to be deviating from one another.
If those two were supposed to marry, the plot twist gave viewers a divorce instead.
The second season of Blue Exorcist began with one such 'changing of the guard'.
It was sometime around the middle when fans got a flashback scene involving Rin showing off his flames.
This more than anything set the core tone for season two and cleared a lot of confusion in the process.
The showrunners can't really be blamed for this discrepancy in storylines.
The original manga, around the time season one was in full swing, had only about 9 episodes out.
This meant that the show remained true to the original manga for about 10 episodes.
As expected, everything after season 1 episode 11 of Blue Exorcist was fillers.
The season one finale was thus a blend of made-up stories that gave the fans adventure and cheer in equal measure, while also resolving longstanding issues among its characters.
This is where fans were miffed. Season 2 Blue Exorcist began where events left off in season 1 episode 17!
Bear in mind that they gave fans 25 episodes in the first season and only 12 in the second.
The already shortened season two was taking the story forward from the long and intentionally developed 20-plus episodes season 1 narrative.
Fans familiar with all this are probably plucking their hair out from the sheer frustration of it all.
Spoilers ahead… This messy state of affairs is how Yukio remained human, and not a demon, in season 2.
It is also why Yukio and Rin are not as close as they were near the end of season 1.
Adding salt on the wound is Rin's buddies still being weird to him in the second season after coming to know that he's the son of Satan.
A good set of episodes resolved this matter among them, but season 2 seems to have been hell-bent on a rewind, and not in the good sense.
You mess with character growth, you mess with fans. And that's what happened with the debacle that was season 2's choice of narrative, and the now-totally unnecessary plot-buildup that gave fans so much to look forward to when season 1 of Blue Exorcist ended.
The second season nevertheless has some strong points working in its favor.
If you can get past the whole 'story development' angle from season 1, you'll notice that the focus is back on Satan and the looming battle.
Anyone who read the original Blue Exorcist manga will be in a more forgiving mood where season 2 is concerned.
Official Announcements and Release Date for Blue Exorcist Season 3
There is currently no official reveal concerning season 3 of Blue Exorcist.
According to patterns observed surrounding other anime shows, there could well be an announcement for the third season sometime in mid or late 2021, barring which fans may receive word sometime in 2022.
We're simply going to have to wait and see. Keep your eyes peeled on 'A-1 Pictures', especially their official social media handles.
The delay might also be attributed to the covid-19 pandemic, lockdown rules being enforced, and how it has affected various sectors in the entertainment industry in general.
Whether or not the series is shifting to a new production studio also remains to be verified.
Source Material Information on Blue Exorcist Season 3
The manga has been around for a decade and has churned out 25 beloved volumes under the Blue Exorcist banner.
The anime has remained faithful to the manga in more ways than some other adaptations.
The 12-episode run of season 2 relied on about 9 manga volumes to tell its tale.
Considering there are 25 manga volumes in total, it gives the creators and writers sufficient content to adapt into season 3.
Popularity Information for Blue Exorcist Season 3
The first season released back in 2011 and, before long, enjoyed a boost in popularity.
You can thank Satan for that J. That year and the following one saw two special episodes and an anime movie going on air, further adding to the burgeoning fandom for "Blue Exorcist".
The show struck the perfect balance between cliché and well-timed story-telling.
The original manga sold over 15 million copies by the year 2016.
The show was just too popular to be denied a second season.
And so, in 2017, "Blue Exorcist: Kyoto Saga" released. The show creators followed this up with two OVA episodes.
Currently, the show's large fanbase is awaiting news on a possible Blue Exorcist Season 3.
Google Trends
Looks like Trinidad & Tobago is leading the latest search results.
Google Trends for "Blue Exorcist" peaked in 2020, and that's saying something about the still-growing popularity of this show.
When it comes to "Blue Exorcist Season 3" we see Jamaica leading the search results and a 2020 peak in interest that has gone down in 2021 but is still very much alive and kicking.
Search Volume
As of this writing, the total global search volume for Blue Exorcist season 3 stands at 31,000 searches per month.
This is massive, and quite similar to Gate season 3 and No Game No Life season 2.
It looks like the US has got more fans for this anime than the rest of the world combined.
Around 23,000 monthly searches in North America!
The show has already got enough fans to make the creators rethink any possible cancellation they might have in mind.
Online Reactions to Blue Exorcist Season 3
Online reactions are not always accurate. Many of them are just overreactions and mislaid perceptions.
In spite of that, if we look at them cumulatively, we find an emergent pattern that nevertheless provides useful insight into what's being expected surrounding season 3 of Blue Exorcist.
Twitter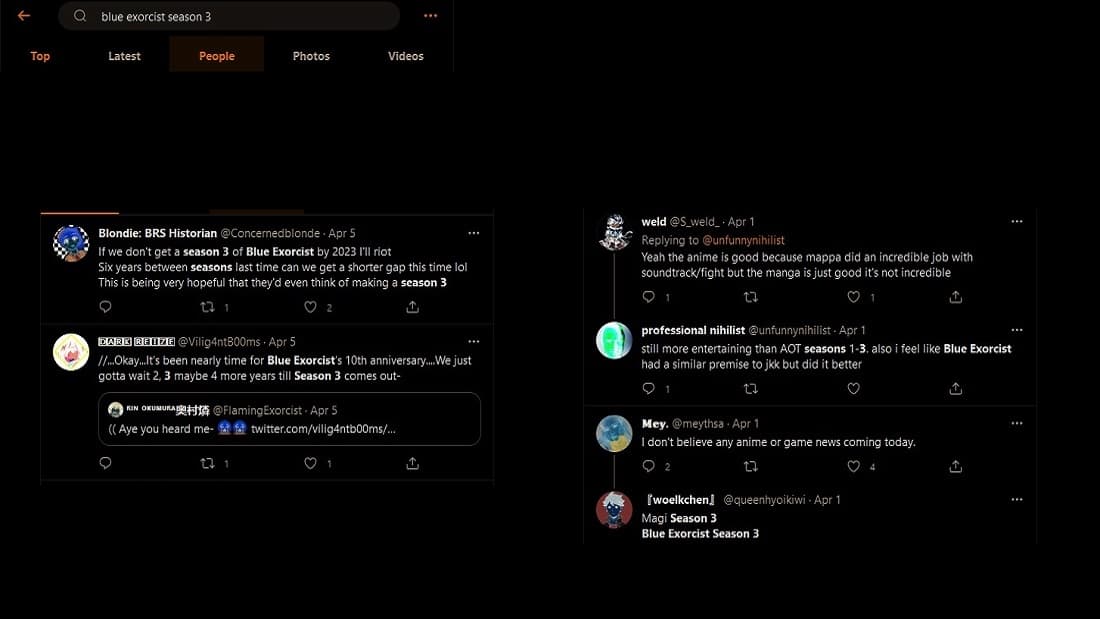 There are simply too many tweets on this topic. You merely need to type in 'Blue Exorcist Season 3' and you'll drop into a world of demands, curses, and speculations.
Here are two 'teaser images' of the prevailing mood concerning the third season of Blue Exorcist.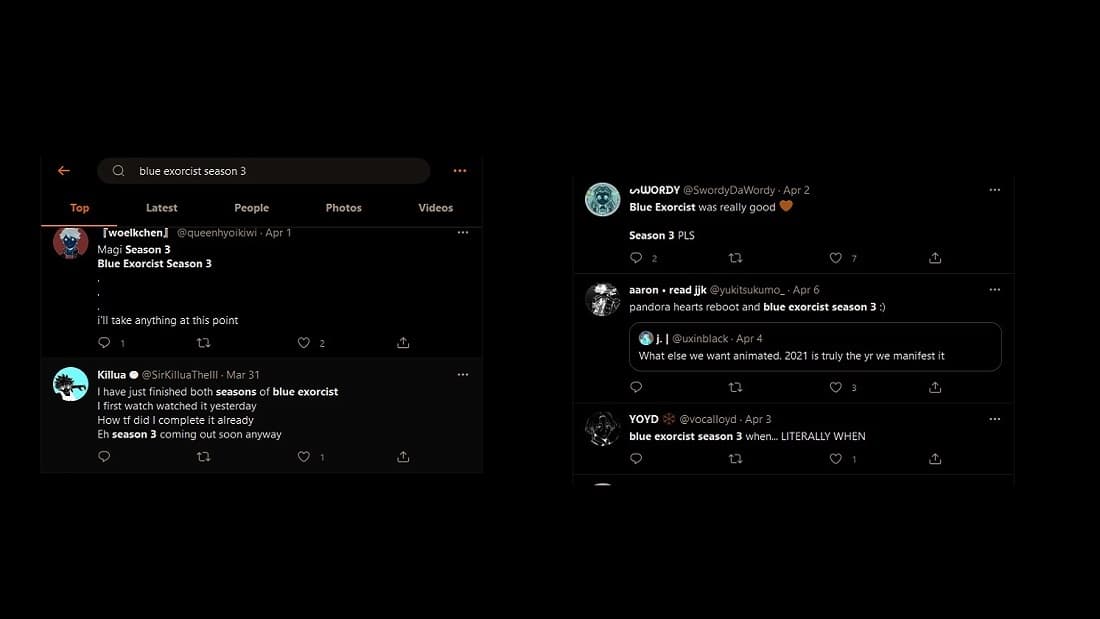 Quora
The above screenshot contains some opinions from Quora. You can read it for for yourself, but they're mostly positive
Expected Plot of Blue Exorcist Season 3
It's obvious by now that any future series or seasons are going to rely directly on the manga.
Adapting the manga volumes into show episodes has almost always been the way things are done in anime.
It is with some referencing and educated guesswork that we now surmise season 3's expected plot for Blue Exorcist.
Rin and his friends, based on the manga, may well encounter the Illuminati headed by Lucifer, aka the King of Light.
The Illuminati are not out to help, in fact, they wish to help Satan realize his goals.
One of the most prominent members of this dark group is Sabutota Tadou, who appears in the manga.
Fans are yet to see the invention of the Gehenna Gate.
This could very well be portrayed in the third season.
It is already known that its location is in Russia's former nuclear power plant site.
The Illuminati helped make the gate in the first place, so this story arc is not entirely impossible.
Technical errors have already proven chaotic concerning the workings of the Gehenna Gate.
This could find resolution in the third season. Its heavenly counterpart, the Assiah Gate, and Gehenna were both in solitary worlds before the 'merge' happened.
The Exorcists will certainly have a part to play in all this, and that includes Rin (the son of Satan).
The 'new world' could well end up hosting all sorts of zombies and demons if Rin and the gang do not stop the Illuminati's experiments.
Why We Want Blue Exorcist Season 3 So Desperately?
It's clear that there are still plenty of manga volumes left to adapt in the Blue Exorcist series.
The first two anime seasons did not cover every eventuality.
Suffice to say, cliffhangers and questions abound, to say nothing of incomplete character arcs.
A third season is 'desperately' needed, for Art's sake if nothing else.
Ratings & Awards Won So Far By Blue Exorcist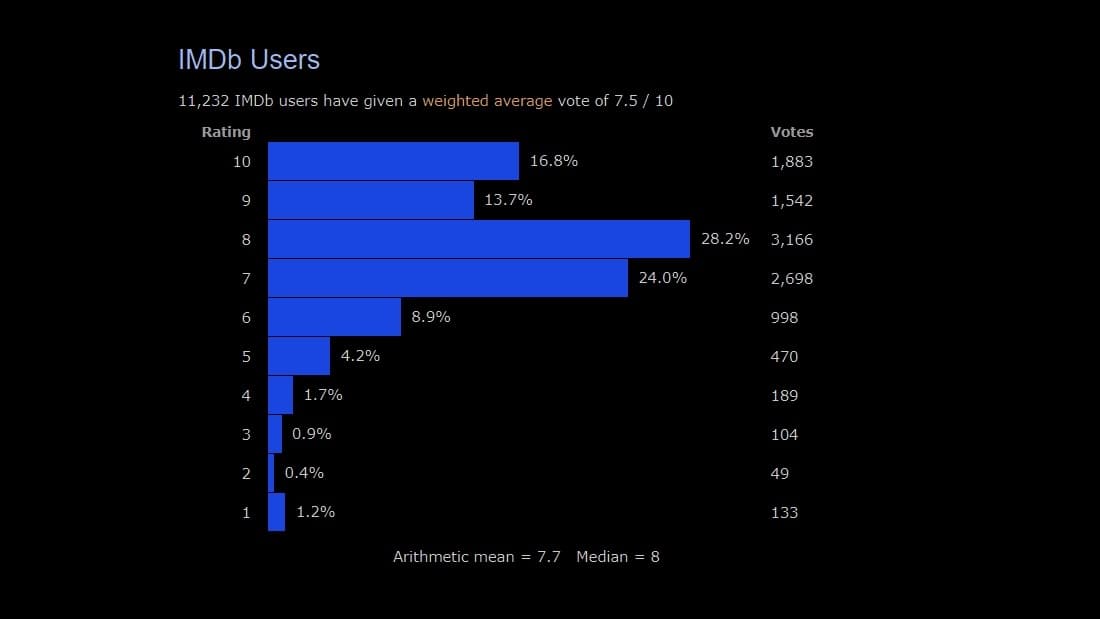 IMDB boasts a 7.5 rating for the show's runtime in the 2011-2012 bracket. 11,211 users rated it, as of this writing.
The show enjoys a 79% Audience Score rating on Rotten Tomatoes.
The series has a 4.7 / 5 rating (4,519 votes, as of this writing) on Crunchyroll.
Below are all the awards the show has garnered.
Great Graphic Novels for Teens | 2012

BTVA People's Choice Voice Acting Award | 2014

Best Male Lead Vocal Performance in an Anime Television Series/OVA | 2014 | awarded to Bryce Papenbrook who voices Rin Okumura

Best Vocal Ensemble in an Anime Television Series/OVA | 2014 | awarded to multiple voice-cast actors.
Profit and Sales Details for Blue Exorcist Season 3
Light Novel/Manga sales: The light novel is titled "Ao no Exorcist: Weekend Hero".
It was written by Aya Yajima, with Kato fulfilling the illustrations.
As of 2016, over 15 million copies of the manga were in circulation.
Blu-ray/DVD sales
If we go by Oricon data, we see total sales of a whopping 126,491 copies of Blu-ray/DVDs for Blue Exorcist in Japan alone.
This figure is superior to season 2's sales, which stand at 13,061 copies sold. You may be wondering what caused such a dramatic drop in sales.
The popularity of online streaming platforms could be one key clue.
Regardless, it is safe to say that the show's creators struck a decent profit where disc sales were concerned.
This can possibly convince them to announce a season 3, but all this is just speculation, and your guess is as good as ours
Merchandise Sales
T-shirts, posters, stickers, home décor, hoodies, badges, keychains, pins, action figures, cosplay attire, collectibles, and manifold merchandise designed by various artists and illustrators abound for the Blue Exorcist franchise.
Prints for bedsheets, mobile phones, mugs, and a plethora of other decorative objects are also on the market.
You'll find much of these on sites like Redbubble.
Famous Characters Who Could Reappear in Blue Exorcist Season 3
Rin And Yukio Okumura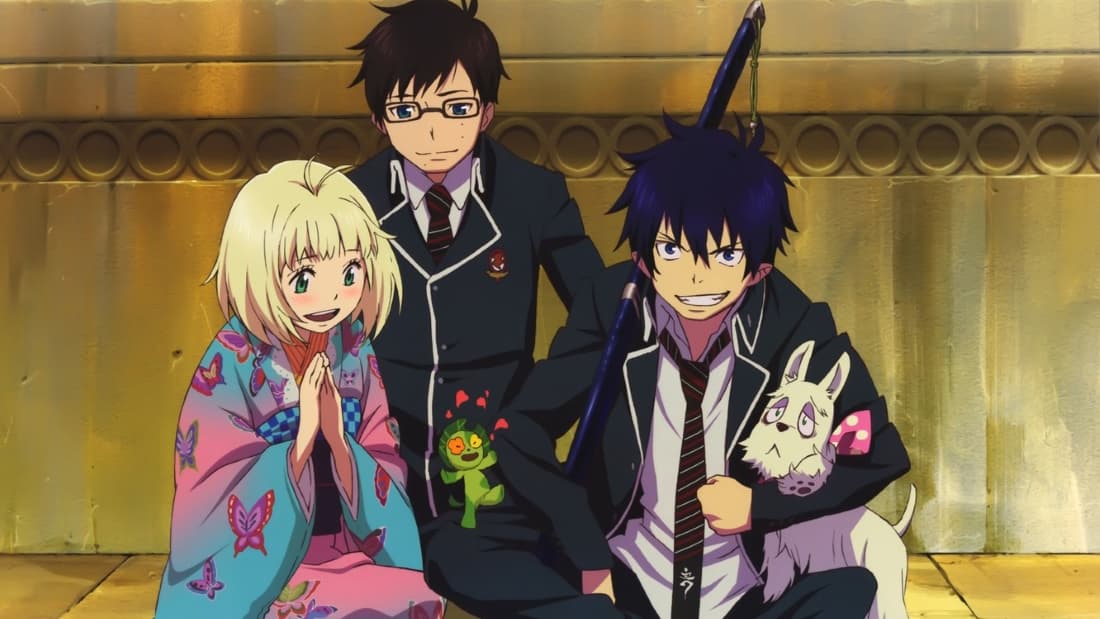 The Okumuras are definitely going to return, the whole show revolves around the son of Satan and the boy's self-adopted human half-brother Yukio.
This human boy is also the youngest to have passed the Exorcist qualification exam, so that's going to count toward what Yukio contributes to the series going forward.
Chasing his dreams to become Exwire at the reputed True Cross Academy, the son of Satan Rin is well on his way to becoming Knight Meister, a title that will afford him better knowledge and skills to take on his diabolical dad.
Renzo Shima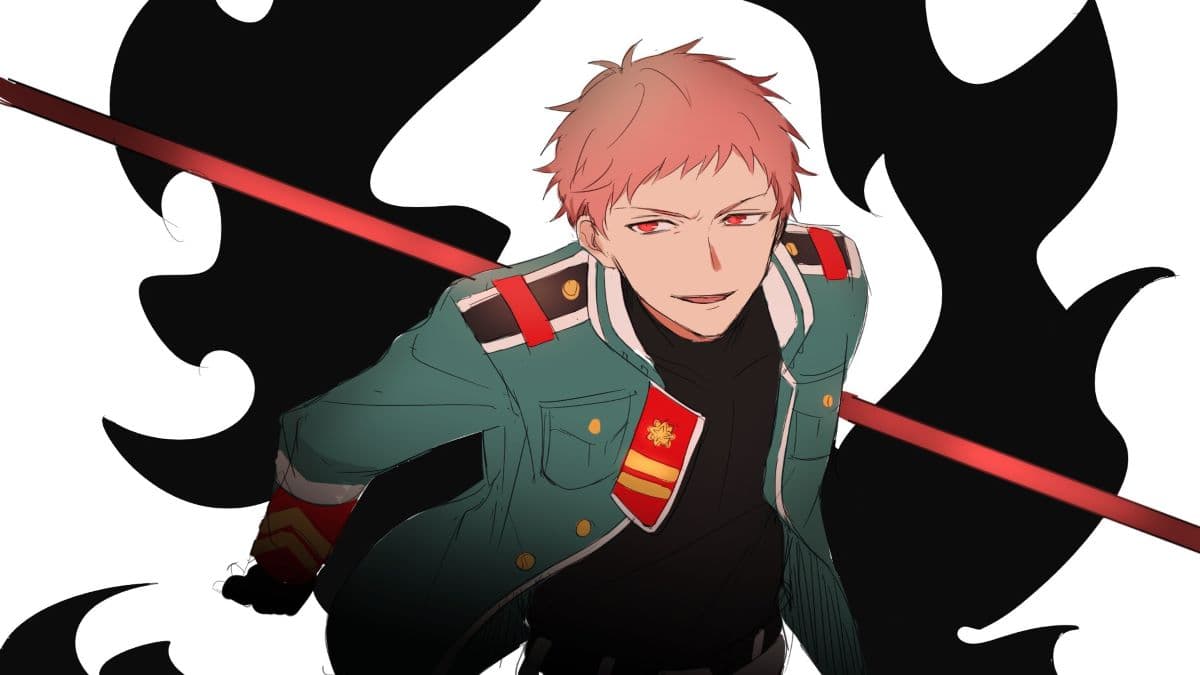 Yet another Exwire to keep your eye on is Renzo Shima whose companionship and cheer have kept the show interesting.
He is often seen with Ryuji Suguro and Konekomaru Miwa.
He fulfills a two-fold specialty for not just the True Cross Order but also the Illuminati, making Renzo an important addition to the cast of season 3.
Shura Kirigakure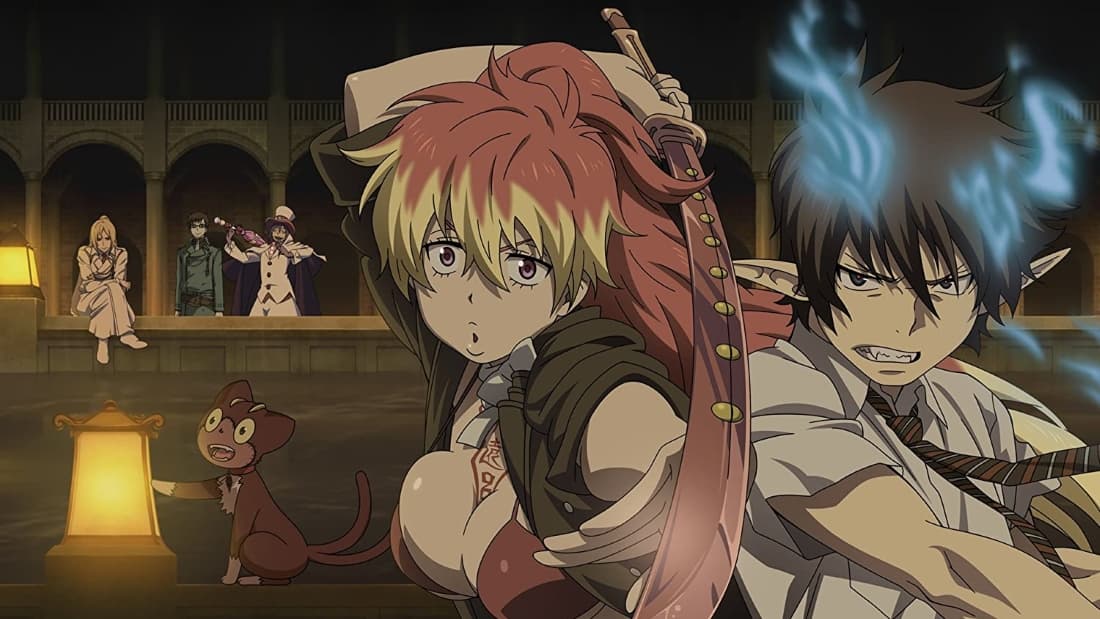 Shura Kirigakure is Rin's guide and an Upper First Class Exorcist, both of which favor a return of her character.
She received her Knight Meister after mentoring under Shiro Fujimoto.
Her skills and guidance are that much more significant now that Rin is going up against the one and only Satan.
Another Exwire fan-favorite is Ryuji Suguro. He's done a convincing job being Rin's rival at the Academy.
Ryuji has his own interesting backstory. A Satan-ordained Blue Night sanctuary destruction led to fans learning that the Head Priest, Tatsuma, of said sanctuary calls Ryuji his only son.
Suffice to say Ryuji's dislike for Rin is justified. But it's Ryuji's desperate ambition to exact vengeance from Satan that could make him a worthy ally in season 3 than the adversary he has proven to be.
Izumo Kamiki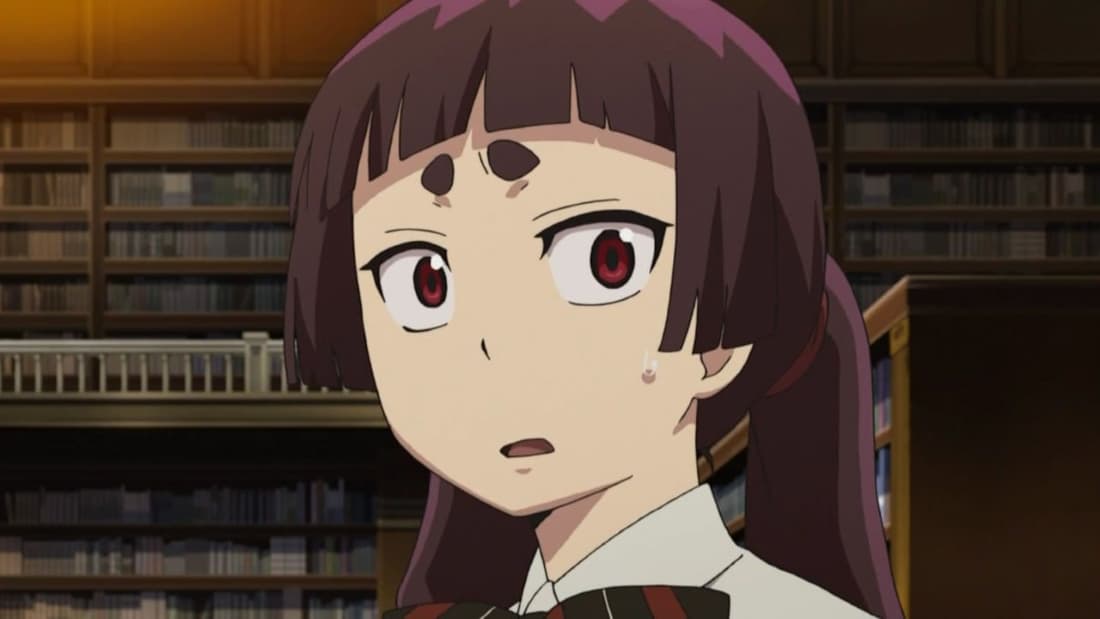 Izumo is one of the True Cross Academy's female students. She's in the Exorcism Cram School, to be specific, and one of the Academy's top students.
Tracing her lineage back to several shrine maidens makes her important in the show going forward.
Fans are eagerly awaiting closure for Rin's currently incomplete storyline.
The Mephisto Pheles character could also be making a comeback.
This is owing to the incomplete Illuminati story arc, of which he is a major part.
Conclusion – Will Blue Exorcist Season 3 Really Release?
50-50, to be honest. There are plenty of fans ready to watch and appreciate season 3, and there are more than enough manga volumes for the writers and creators to rely on.
It is simply a matter of time, interest from select studio heads, and profit margins in this day and age of pandemic-lockdowns and the Digital Entertainment Revolution.
Ratings (audience) and reliable streaming platforms could, in this writer's humble opinion, be the two major driving factors that ensure whether or not Blue Exorcist Season 3 is actually going to happen.