»
When Is Toradora Season 2 Coming? [2023 Updates]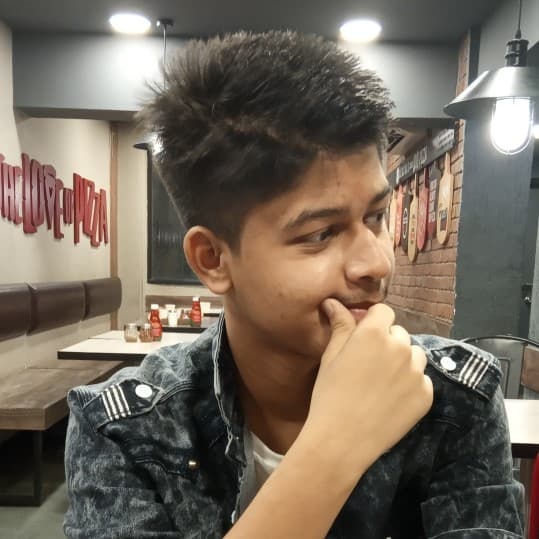 Kay-Updated May 24, 2023
---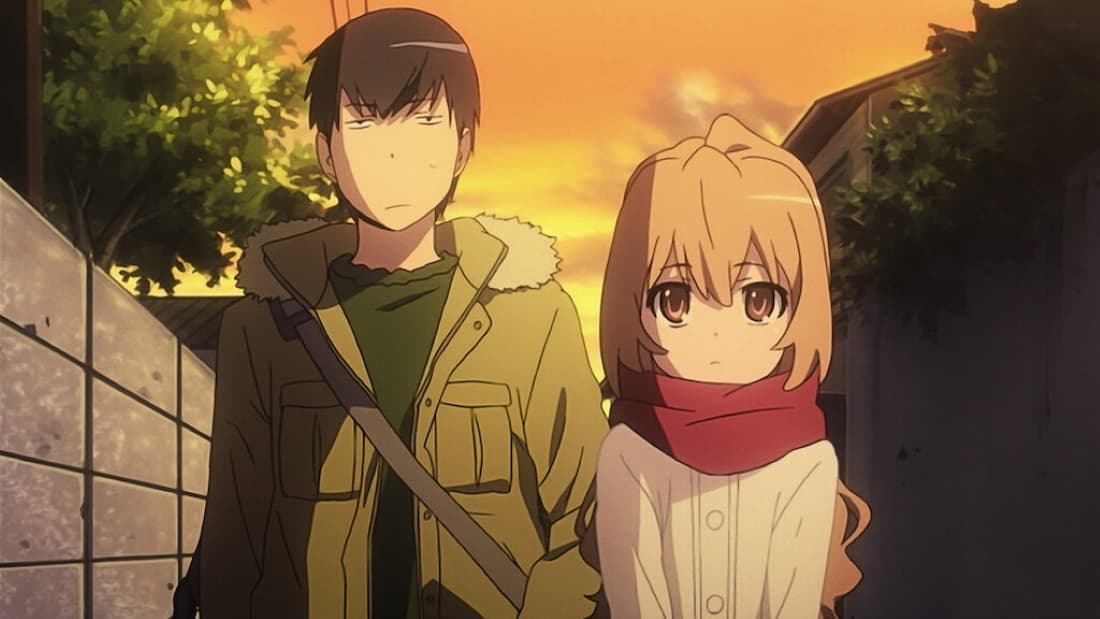 If you are a rom-com anime fan or a rom-com fan in general then I can't see you NOT being aware of Toradora.
This is the series that gave birth to the love of Rom-Com for many anime fans around the world and I am assuming you are one of them.
I know that you loved the first season and are eagerly waiting for the next instalment to drop. But YOU don't need to look any further because, in this article, you will learn about the next season of Toradora.
What is the release date of Toradora Season 2? Are there any official announcements? Is Toradora Season 2 confirmed? and many more questions will be answered in this article.
From Sales To Popularity, from Announcements to controversy, this is Everything You Need To Know About Toradora in 2023!
Let's go. But wait, before we look at the info about Toradora, why not do a quick recap for the series?
Everything We Know So Far About Toradora
Toradora is a 25-episode TV anime that aired back from Oct 2, 2008, to Mar 26, 2009.
It is an anime adaptation of a light novel. The light novel was written by Takemiya Yuyuko and illustrated by Yasu.
The anime is directed by Nagai Tatsuyuki and animated by J. C. Staff. If we talk about Takemiya, she has been the reason for popular series like Golden Time and Evergreen.
Yasu on the other hand is known for Joshiraku and Kunashitachi no Tamura-Kun. We have seen Nagai giving his directorial performance in shows like Anohana and Toaru series and J. C. Staff is known for their amazing work in Food Wars and Maid Sama.
Toradora is the most successful of all of its creations.
Now let's just quickly remember the premise of this show. Ryuuji Takasu, a humble high school student, is going to begin his second year and is looking forward to it.
However, things are looking good for him because of his face. Even though he is very kind and generous on the inside, from the outside his appearance resembles that of a delinquent.
And so he is infamous as a delinquent in his school. Another infamous person is his classmate, Aisaka Taiga, who is known as Palmtop Tiger in the school.
Tiger because her name and violent behaviour rhyme with that of an actual Tiger. And the Palmtop part comes from the fact that she is very short in height.
These infamous individuals clash with each other on their first day and later realize that they are neighbours outside of school.
This led to both of them getting involved with each other quite frequently and this involvement reveals that both of them are in love.
No No, not with each other but with each other's best friend. While Taiga is in deep devotion to class rep Maruo Kitamura, Ryuuji seems to feel affection toward the cheerful Kushieda Minori.
Now since they are best friends of our main duo, they decide to create a path for each other's love stories to take place.
However, as time passes by with these two attempts to love life for each other, a new relationship is developed between them.
And THAT is Toradora! Recently, Netflix re-released the series on its platform and it gathered a bunch of new fans as well as the old ones to enjoy this fantastic show.
This is why the search for season 2 of Toradora has spiked in recent times.
A lot of people had a great time of Nostalgia and fun while watching and ever since then, fans are looking for the next part and searching for answers about it.
And this article would help them get it. Alright! Looks like we are on the same page now with this revision.
Now let's get back to the main topic! When is Toradora going to get a second season?
Official announcements, release dates, potential hints, etc we will discuss them all! Let's go!
Official Announcements And Release Date Of Toradora Season 2
Official announcements are definitive statements from producers or staff members regarding the sequel. If we have an official announcement, there is no way the sequel won't happen.
Unfortunately, that's not the case for Toradora. Because even after 13 years of its release, Toradora hasn't received any official announcements or potential hints for its second season.
I know it's painful but it's true. The season isn't completely cancelled either but after such an incredible amount of wait, fans are questioning if the sequel will ever happen.
And as of now, that doesn't seem to be the case. As mentioned earlier, Toradora came back in trend after it was added to the Netflix catalogue.
Many people claim that this could let Netflix create another season but I don't see that happening (And I will explain that in the controversy segment).
So yeah, the future of Toradora doesn't look so bright. But why? Why Toradora anime doesn't have another season yet?
As fans, we need to be aware of the reasons and so we will be looking at the factors that can decide whether the anime would get a sequel or not.
Let's see where's the missing point. We will look into the source material, popularity, ratings, sales, and many more elements to understand why there are no updates related to season 2.
More Source Material Information On Toradora Season 2
Now if we are going to dive deep into the question, why not take a look at the SOURCE of it?
The Toradora Light Novel. As mentioned before, Toradora anime is an adaptation of a light novel written by Takemiya Yuyuko and illustrated by Yasu.
The light novel gave birth to, not only anime, but also manga, games, and spin-offs (light novels).
It started publishing on Mar 10, 2006, and to Mar 10, 2009, exactly 3 years. It has a total of 10 volumes with 62 chapters and its genres are romance, comedy, school, and slice-of-life.
| Volumes | English Release Date |
| --- | --- |
| Volume 1 | May 1, 2018 |
| Volume 2 | August 7, 2018 |
| Volume 3 | November 20, 2018 |
| Volume 4 | February 5, 2019 |
| Volume 5 | May 14, 2019 |
| Volume 6 | July 23, 2019 |
| Volume 7 | October 22, 2019 |
| Volume 8 | December 24, 2019 |
| Volume 9 | January 28, 2020 |
| Volume 10 | August 4, 2020 |
The anime adapted all the 10 volumes of the light novel but with a slightly different ending.
The PSP game had a different ending as well along with the manga (currently serialized) which is also expected to end differently.
So yeah, the series has the same premise in all of its alternatives but with different endings.
No major changes, just a bit here and there. Coming back to the main topic, the core reason why we don't have a sequel to Toradora yet is that it has covered the entirety of the light novel.
Since there is no material for the anime to cover, the anime isn't getting a sequel.
It's as simple as that. Moreover, it is claimed that the anime was made for the sake of promoting the light novel.
And since the light novel is over now, making another season for it doesn't make any sense.
It's been more than 11 years since the light novel ended so I don't think that the creators are still interested in earning from the series.
I know, I know, it is painful to hear that our favourite rom-com anime might not get a second season ever.
It's painful. However, we still can't give up just yet. Let's take a look at other factors that can decide the fate of an anime, in our case, Toradora!
Popularity Information Of Toradora Season 2
Popularity is an important factor that decides whether an anime will get another season or not.
Simply put, anime that are not popular enough won't be having a sequel on its table.
Popular ones would do. So let's see if Toradora falls in which of these categories.
Google Trends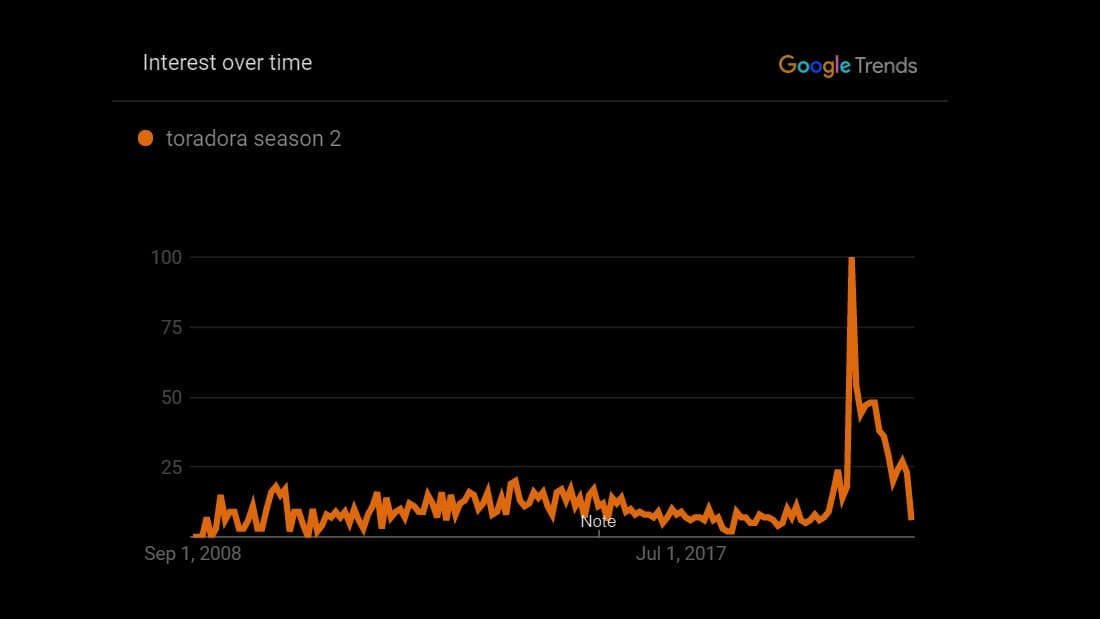 First up, we will look at Google Trends. This website is a great way to know if anime has been trending lately or not.
Let's see what Google Trends has to say about Toradora and its presence online. Well, just as you would expect, the series spiked during August 2020.
This is because August is the month when Toradora was re-released on Netflix giving the fans the experience that they deserve and THAT created hope for the sequel.
Although, at the moment, the hype seems to be dying yet it's still good enough.
Overall, we can say that Toradora was pretty popular, especially during the mid-2020.
Google Searches
The next aspect that we would be looking at is the total number of monthly searches on Google.
This will tell us how much people search for the next season of this series.
So let's look at the numbers. The numbers are pretty good with 16K worldwide searches every month.
Most of them are from the United States with 5.8K. This is great and somewhat understandable because the series has been popular lately so it's high time if creators wish to create yet another part.
Overall, we can say that despite being 13 years old, this series is still quite something!
Expected Plot Of Toradora Season 2
Let's try to analyze the potential plot for the next season. Now as we all know, the series had a befitting ending so technically, season 2 shouldn't have any plot because of no source material.
However, they can take 2 routes if they are definite about making the next instalment.
The first is by making an entire remake which is highly unlikely considering how successful the anime was.
And the ending wasn't a problem for the series at all. Only the light novel readers seem to be a bit bothered about it but they don't exactly HATE it.
So chances for a bunch of creators remaking the entire series are very low. The second is that they make a story about the post-graduation relationship between Taiga and Ryuuji but that would stray off too much from the main story and feel unnecessarily stretched.
So if the series does have another season, the next season would most likely take either of these two routes.
Now let's see what fans online think about the next season of Toradora.
Online Reactions To Toradora Season 2
These online reactions would be crucial to get a general idea of how fans feel about the next season or at least the idea of it.
So let's see what our boys have to say about our beloved series.
Twitter
This platform is a great place for fans to hang out and chat about what they think about their favourite shows including Toradora.
So let's see what they have to say about the sequel. Well, all I can see are memes and grief of people who wanted to experience more of Ryuuji and Taiga but just couldn't because the story ended.
The platform seems eager and curious about the sequel and that's a positive reaction to my book.
Reddit
The next platform we would look at is Reddit. This is where millions of anime fans gather and have discussions and debates about various anime-oriented topics including sequels.
So let's see what Reddit fans have to say about the sequel of Toradora. Now, the Reddit users don't seem like they are looking forward to the sequel and I can understand them.
They are also saying that no source material would lead to the anime NOT getting a sequel.
And if they wish to make a sequel, they could just make an OVA showing the post-graduation life of our favourite characters.
Otherwise, it would seem stretched for no reason. Fans are indeed passionate about the sequel but the truth is a concern for them and that's why fans on Reddit have a somewhat negative perspective on the sequel.
They want it but they know it won't happen.
Quora
The final platform we would look at is Quora. This question bank has answers to many of our Weeb-related questions including the questions about season 2.
So let's see what Quora question solvers have to say about the next season of Toradora.
Just as expected, hardcore Toradora fans seek the answer to the next season, being a subject of consideration.
But other fans correct them by highlighting that the previous season adapted everything so there is nothing new to make.
Just like Reddit, it's not a bad reaction but rather, a reaction that holds passion and reality hand in hand.
Overall, it is clear that anime fans already have an idea of why the second season of Toradora won't show up.
The fact that there's no new content and a remake or added story would be a stretch seems to be recognized by all these three platforms.
Why Do We Want A Second Season So Badly?
So if the fans already know that the sequel won't happen, why do they desire it so very much?
Well, the answer to that is rather simple. It's because fans want more stupidity of Taiga and Ryuuji.
The characters have always been the biggest selling point for this series is its characters and with such an amazing and well-written cast, fans are bound to feel attached to the show.
This leads to people desiring more of their beloved series and this is why the sequel of Toradora is wanted so much.
Yes, we know that it won't happen. But we would still try to make that fantasy a complete reality.
But are you and I, the only people who are looking forward to this, or are there other people who appreciate the series as much as we do?
Let's find out.
Toradora Ratings And Reviews
| Website | Rating |
| --- | --- |
| Myanimelist | 8.16/10 |
| IMDb | 8.0/10 |
| Crunchyroll | 4.8/5 |
Ratings and reviews are the one-stop destinations for us, analysts, to check if a series is critically acclaimed or not.
If it's rated highly, it means that a lot of people had a fun time watching it.
And positive critical reviews seem to highlight the acclaim a series is getting. So for Toradora, the 2 websites that we would refer to are IMDb and MyAnimeList.
IMDb
As you guys know, IMDb is an amazing website for people to rate and review their favourite TV series.
Not just anime but normal live-action stuff as well. Therefore, the audience on this platform is quite open-minded and it would be great to see what they think about this series.
And it seems like they had some positive thoughts in their heads. This is because Toradora had the privilege to get a solid score of 8.0/10.
This is a pretty high number, especially considering that many old fans might not even get the chance to rate it.
The reviews seem to appreciate the dynamics and comedy of the series and how easy it is to relate to the characters.
Overall, we can say that Toradora has pretty good thoughts from casual anime fans out there.
MyAnimeList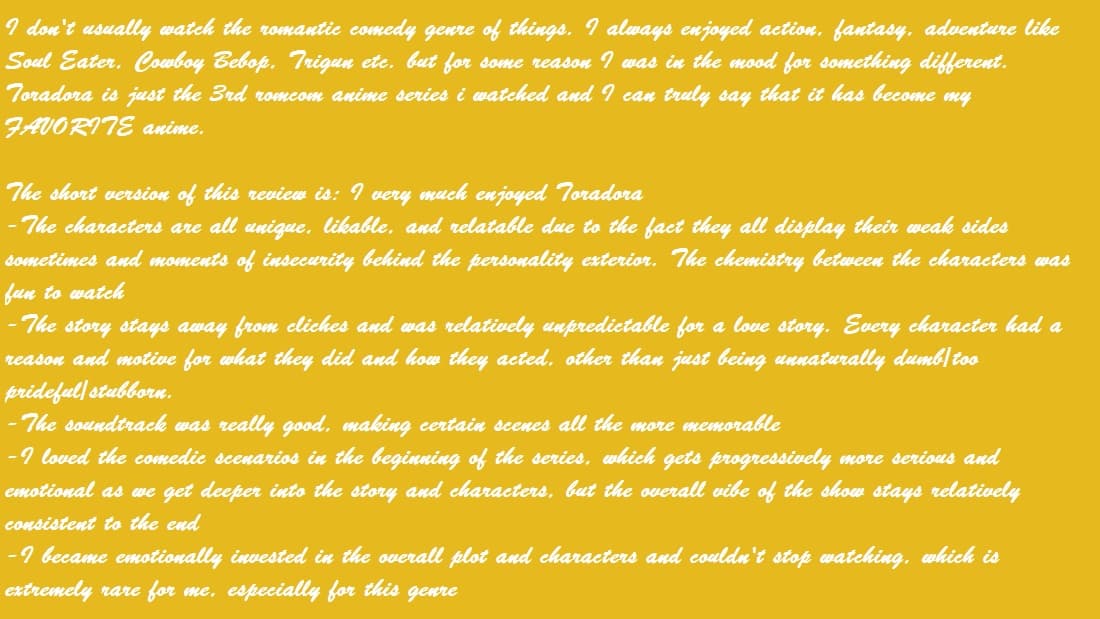 The other website that most certainly needs our attention when talking about anime reviews and ratings is My Anime List.
This website allows fans to catalogue every anime and manga they watch or read. Moreover, it also gives them the option to rate it and write a review about the same.
So let's see what hardcore anime fans have to say about Toradora. Well, their voice seems to be pretty loud with a fabulous score of 8.16 on My Anime List.
This is fabulous because getting an 8+ score on My Anime List is very hard.
So the fact that it managed to have that feat says something. This is even more vibrant with multiple positive reviews about the series.
Fans here appreciate the character dynamics, animation, characters, and comedy. A few elitists are indeed present with their nitpicks but hey, who cares about them?
So yeah, we can say that Toradora is an amazing series that is appreciated by not us but millions of fans out on My Anime List.
Across the board, I can only see great things about this 13-year-old anime. To a lot of extent, it is a classic rom-com for many anime fans out there and so, its appreciation is justified.
Top Five Best-Rated Episodes
Toradora is an awesome colourful anime with fun characters and a nice storyline. It has a major fan following eager to know the release date of the next season.
Here, let's take a look at the top five best-rated episodes from this series.
1. Let's Go to the Ocean, You Say (Episode 9)
This episode has a rating of 4.8/5 on MyAnimeList. Ryuuji and Taiga hate each other and always fight whenever they are together.
But one day, when they have a nightmare of marrying each other, Taiga fabricates a plan to get Ryuuji and his crush closer.
2. One Step Forward (Episode 16)
This episode got a rating of 4.8/5 on MyAnimeList. Ryuuji and Taiga are trying to get Yuusaku to run for the position of the student council.
But he is not interested as his crush is about to leave school to study abroad.
3. For Whose Sake? (Episode 8)
This episode has a rating of 4.7/5 on MyAnimeList. This episode shows how much Taiga and Ryuuji care about each other.
Ryuuji is trying to train Taiga to win the swimming competition so that they can spend the summer together.
4. Ohashi High School Cultural Festival - Part III (Episode 13)
This episode has a rating of 4.7/5 on MyAnimeList. In this episode, Taiga participates in a school beauty competition.
As she is competing, Ryuuji gets a text from Taiga's father saying he is going to leave her.
5. Christmas Eve Festival (Episode 19)
This episode has a rating of 4.7/5 on MyAnimeList. This episode is crucial, as in this episode Taiga realizes how much she likes Ryuuji, but she insists Ryuuji spend time with Minori.
But later, Minori understands that Taiga and Ryuuji are better together and tells Ryuuji that she does want to be in a relationship.
Toradora Light Novel, DVD/Blu-Ray Sales
Now we are going to look at the most crucial factor for any anime and manga out there, Sales!
This is very important when deciding whether an anime will get another season or not.
If an anime is making a lot of money and having very high sales, then the chances of a sequel increase by a hell lot.
So is that the case with Toradora? Well, let's find out!
Light Novel
The first thing we would look at is the sales of the source material, the Light Novel.
Now the thing is, many claims are made about the fact that the anime was made for the light novel.
In other words, Toradora was made to promote the light novel and it was a successful work in that.
It had amazing sales of over 2,450,000 copies which made it rank at #33 on the highest-selling light novel lists.
No wonder it was super popular when it started and is still talked about to this day.
So we can be sure that the source material made enough money for the sequel to be created.
Blu-ray/Dvd sales
The next factor for our sales analysis is Bluray and DVD sales. If you guys don't know, back in 2009-10 Bluray sales contributed to a significant part of an anime's monetary earnings and that's why these are crucial factors to decide if another season would show up or not.
So let's see if the anime was a success or not. Well, it looks like it was.
Toradora had an average sale of 10,000 copies which is a fantastic number for Blu-ray sales.
It also had total sales of around 35K which is again, a pretty high number.
So we can rest assured that the next season of the anime has enough money to be made from.
No need to worry about THAT!
Merchandise
There seem to be over 935 pieces of merchandise for Toradora which is a good number for an anime that aired back in 2008.
The series seems to have a lot of figurines as well with most of them being that of Taiga.
Characters like Ryuuji, Minori, Ami, and Kitamura also have figurines but their number is quite low compared to Taiga.
But hey, we know how much of a blessing it was for us to enjoy the crude yet sweet behaviour of Taiga in the series so high numbers from the lead female are always welcome.
Anyway, from what I can see, Toradora has a great amount of merch and figurines that could have made a lot of money for the company and if they are planning to make a sequel, the monetary requirements seem to be fulfilled.
Across the board, we can say that Toradora made more than enough money for it to get another season without any financial difficulty.
The light novel had great sales and so did the Blu-ray. And the merch was varied too so I see no problem here.
Plus, I said at the beginning that Toradora was the most successful anime from J.C. Staff so those guys would love to bring it back.
Popular Toradora Characters
Now after looking at those fantastic sales figures, you would have a feeling that the next season might end up happening.
And you know what, I feel you. I can understand why those figures and numbers are acting as a ray of hope for you guys even after listening to so many criticisms for the sequel.
Well, to enlighten the mood a bit more, let's take a look at our beloved characters.
Let's see which one of them would return if the next season does end up happening.
Time to refresh those beautiful memories.
Taiga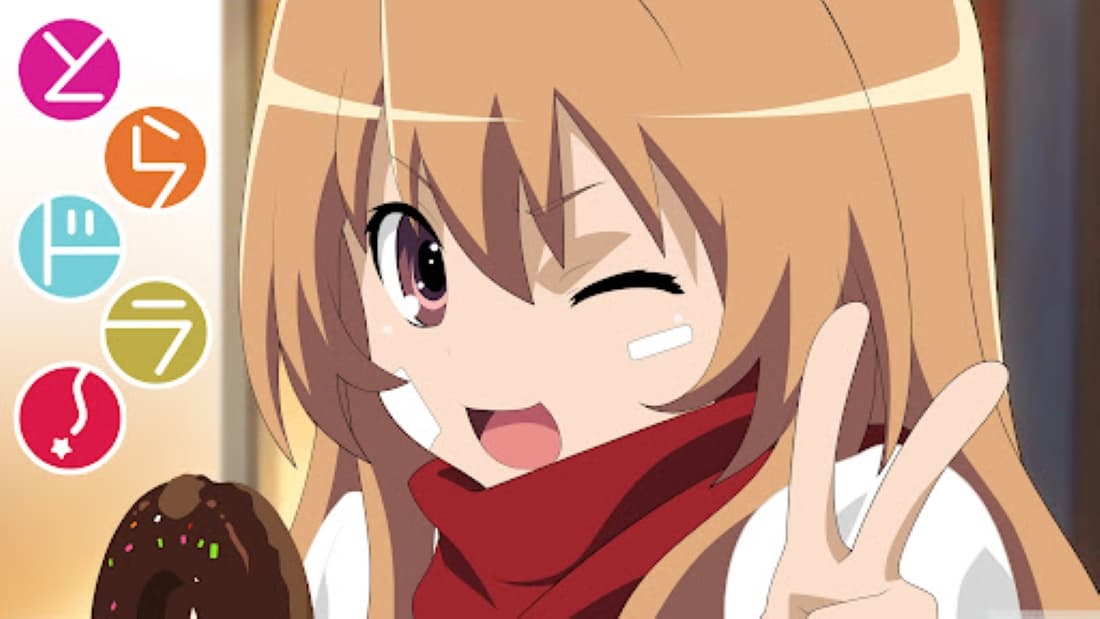 The Palmtop Tiger is a character that entertained every single one of us throughout her presence.
Her cute and slender body doesn't match her rude and straightforward attitude which gave her the nickname that she has.
However, as time passes by, things get better and her behaviour changes considerably. I mean if you rewatch the series, you won't be able to recognize the current Taiga from the previous one.
The way she becomes responsible and develops a work ethic while learning to be self-sufficient is commendable.
Therefore, her presence in the next season is crucial and we just can't ignore that!
Plus, if she doesn't show up, I am not watching! Like seriously!
Ryuuji
With the existence of the Tiger stands the existence of the Dragon. The only beast that can cope with a tiger is a dragon and that has been true since ancient times.
So the relationship that exists between Ryuuji and Taiga is written by fate and can't be undone.
There's no doubt about it. But on his own, Ryuuji seems to be a kind guy with the looks of a delinquent which gives him the massive disadvantage that he gets during his school life.
He looked like some sort of Don that would shoot the person who won't agree with him but in reality, he is the last person you would expect to do that sort of thing.
In reality, his gentle and kind nature is what allows him to stay strong with Taiga and that results in the story we got today.
He is a man who loves cleaning and caring for his loved ones and friends and this is what makes him so special.
I am looking forward to listen more from him in the next instalment. He is the heart of the show.
Kitamura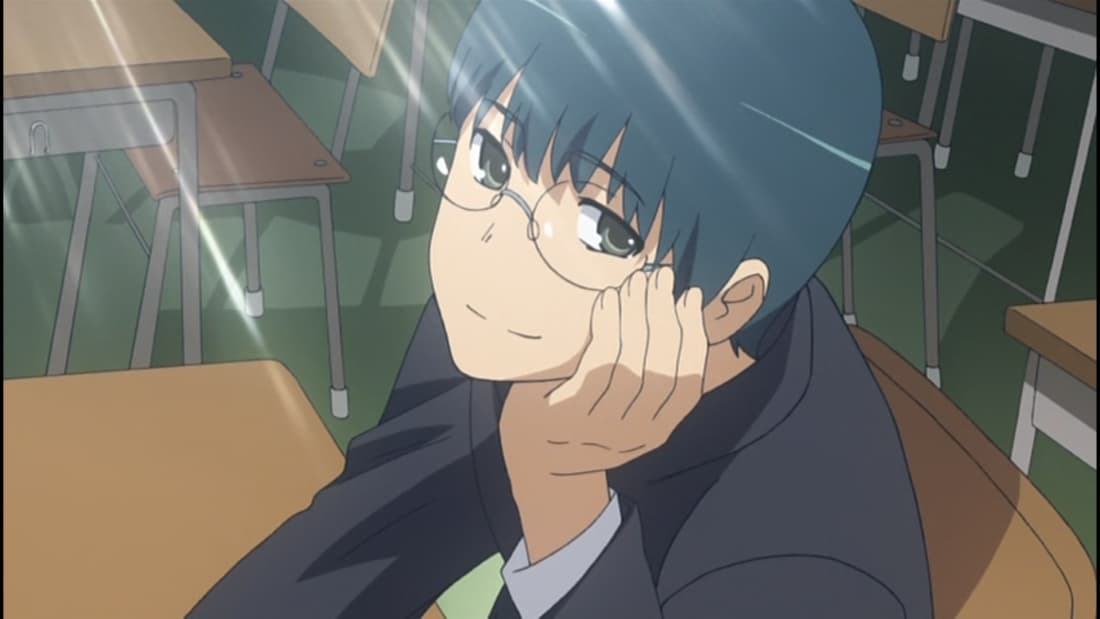 Kitamura is yet another character that might look like he is working in the background but his actions always create massive differences in the foreground.
He started as a normal student but made his way to being the Vice President of the student council and eventually, the president as well.
His love life was a bit fuzzy throughout his school life with the fact that he loved 2 women and both of them ended up without him.
But being the strong man that he is, he walked straight into his life without any tears in his eyes.
He is strong and caring just like Ryuuji, and just like him, his appearance in the next season is crucial.
I want to see how his school life goes in the future. Let's look forward to that.
Minori
She is just like Kitamura but female and much more cheerful. The sheer amount of love that she holds for Taiga is so much that she gives up her hard-earned savings AND her love for Taiga without any hesitation.
If 'true friendship' was a character, we can say that Minori is the one it would be.
She is cute, clever, and caring which makes her so much more adorable and interesting.
And this interesting character needs to return in the next season. The absence of her comedy and fun would make the show lose its shine and I don't want that.
Neither do you, right? So yeah, she MUST return in the next season or it will be hurting really bad.
Ami
Technically, she didn't show up right off the bat but her appearance gave new open directions to the story that made it as amazing as it is today.
She is a model who works alongside adults and her beauty lets people take things easy on her which made her a spoiled brat.
However, after she meets Ryuuji who doesn't seem to care about her looks, she started to pick out her flaws and realized that even after looking like an adult, she is still a child deep inside that wants to grow and become mature.
Therefore, it would be great to see her find herself in the next season. Thus, if the next season does happen, she would most certainly be a part of it.
You can be sure of that one. Now let's talk about some factors that can decide the future of Toradora Season 2.
Other Decisive Factors for Toradora Season 2
This is the section where we talk about a few factors that can decide whether another season would happen or not.
So let's discuss them real quick.
Toradora Ending Explained
Endings are crucial while analyzing anime sequels because if an anime has a definite ending, the chances for a sequel decrease drastically.
And it turns out, that this is exactly the case for Toradora. You see, Toradora had a conclusion to its story, and even though it was a bit different from its source material, it is still a good ending that doesn't get much criticism.
Just to quickly remind you, in the end, we see all the students graduating from high school and after confessing her love and getting vanished, Taiga came back to meet Ryuuji in the school and so they ended up together.
The manga had an ending where Ryuuji meets Taiga on his way to his third year of school.
While in the PSP games, the ending was about Taiga and Ryuuji getting married and having triplets that look like Ryuuji.
Pretty cute right? However, these endings are not drastic enough to have their season or become the start of one.
Therefore, the next season doesn't have a point from where it can start the next story.
Thus, the next season of Toradora would have trouble getting started.
Controversy Around Toradora
The final factor we will be discussing is Controversy. If an anime has any major controversy going around it, it might not get another season.
Luckily Toradora doesn't have any controversy revolving around it. However, I do want to mention something important.
Numerous sources suggested that Netflix might opt to create the following season after the re-release of Toradora and considering the level of praise it was receiving.
But I don't think that would happen. This is because Netflix doesn't have a record of doing this and Toradora is an already completed series so it doesn't need to be picked up again.
So yeah, Toradora isn't going to be done by Netflix.
Top Similar Anime Like Toradora
1. Anohana: The Flower We Saw That Day (2011)
Anohana: The Flower We Saw That Day is an anime series that aired in 2011. It has a rating of 8.2 on IMDb and is categorized as Animation, Adventure, and Drama.
The series follows a group of friends who reunite after years of separation to help the ghost of their childhood friend fulfil her wish.
2. Violet Evergarden (2018)
Violet Evergarden is a 2018 anime series that has a rating of 8.4 on IMDb. The series falls under the genres of Animation, Drama, and Fantasy. It tells the story of Violet Evergarden, a former soldier who works as an "Auto Memory Doll," writing letters for those who cannot express their emotions in writing.
As she learns more about the power of words, she begins to understand the meaning of emotions and the human heart.
3. Horimiya (2021)
Horimiya is a romance anime series based on the manga of the same name. The anime has a rating of 8.0 on IMDb and features a talented voice cast including Haruka Tomatsu, Kouki Uchiyama, and Seiichirou Yamashita.
With its engaging story and charming characters, Horimiya is a must-watch for fans of romance and coming-of-age stories.
4. Your Lie In April (2014-2018)
Your Lie in April is a 2014 anime series with a rating of 8.7 on IMDb. The show is a drama, music, and romance genre with a total of 22 episodes.
The show is known for its beautiful animation, compelling storyline, and emotional impact.
5. Kaguya-sama: Love Is War (2019-)
"Kaguya-sama: Love Is War" is a 2019 anime television series based on the manga series of the same name. The show has a rating of 8.3 on IMDb and falls under the genres of animation, comedy, and romance.
Conclusion
To wrap it all up, I would say that the second season of Toradora is very unlikely because the story is over and so is the source material.
The anime achieved its goal of promoting the light novel and having amazing sales as well as winning our hearts.
I would love to have a team that would work on a remake of this series as a passion project but as of now, that's not happening anytime soon.
I know it's painful but that's just the truth. Anyway, thanks a lot for reading.
Until next time, Sayonara!