»
The Asterisk War Season 3: Everything We Know So Far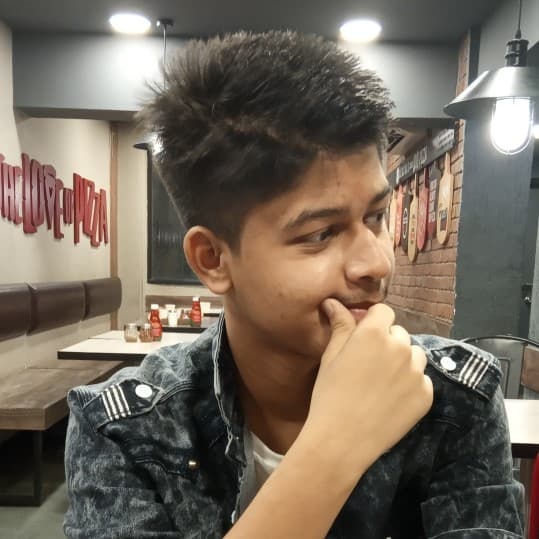 Kay-Posted Nov 6, 2023
---
The Asterisk War is a Japanese light novel series penned by Yu Miyazaki and illustrated by Okiura. Published by Media Factory, the series unfolded across seventeen volumes, spanning from September 25, 2012, to June 24, 2022.
It later expanded its horizons into manga and anime adaptations. The story is set in the 21st century on Earth, a world grappling with a deteriorating economy due to the dominance of corporate juggernauts known as the Integrated Enterprise Foundations.
This economic decline was triggered by Invertia, an impact event that destroyed many cities and bestowed superhuman abilities upon humanity, transforming them into Genestella. In the city of Rikka, also known as Asterisk, six academies serve as battlegrounds for Genestella to participate in Festa, competitive tournaments.
The narrative revolves around Ayato Amagiri, a scholarship transfer student at Seidoukan Academy, an institution facing performance challenges. Ayato's life takes an unforeseen turn when he encounters Julis-Alexia von Riessfeld and is subsequently challenged to a duel by her.
The anime adaptation comprised two seasons, each with twelve episodes, airing from October 2015 to June 2016. This dynamic world also ventured into the realm of video games with "The Asterisk War: Houka Kenran," released in Japan on January 28, 2016.
On the global stage, the anime received licensing from Aniplex of America in North America, Madman Entertainment in Australasia, and MVM Films in the United Kingdom.
Official Announcement Of The Asterisk War Season 3
The announcement and release date of "The Asterisk War" Season 3 has been highly anticipated by fans, but as of now, the renewal status remains uncertain. The animation studio has not officially confirmed the production of Season 3, leaving fans eager yet in suspense.
Many anime series, including "The Asterisk War," require a substantial amount of time and effort to create. Unlike American TV shows that can be produced and released within a year, anime production is a more intricate process.
However, there are promising signs that Season 3 may still be on the horizon. The light novel series that serves as the source material for the anime is still ongoing, indicating a potential continuation of the animated adaptation.
Furthermore, the fact that "The Asterisk War" is available on Netflix is another positive indicator. Netflix typically selects animes that have demonstrated success and promise, making it likely that the series will continue.
Additionally, if the original production studio, A-1 Pictures Inc., decides to discontinue the series, Netflix has a history of stepping in to renew successful animes. Considering these factors, fans can hold out hope for "The Asterisk War" Season 3, which may potentially be available by the end of 2023 or in the near future, should it not face cancellation.
The anime community eagerly awaits any official updates regarding the series' renewal.
Previous Seasons And Episodes Of The Asterisk War
The Asterisk War was broadcast across two seasons, with each season comprising 12 episodes, and each episode running for approximately 23 minutes. The first season made its debut on October 3, 2015, and lasted till Dec 19, 2015, while the second season began on April 2, 2016 and concluded on June 18, 2016.
In terms of audience ratings, the series has received a score of 6.821 for the first season and 7.00 for the second season on MyAnimeList, and it holds a rating of 6.8/10 on IMDb.
Opinions on the show are diverse, with some viewers praising it for its plotline and character development, while others have criticized it as being somewhat formulaic. This range of reactions reflects the mixed nature of the series' reception within the anime community.
The show's duration, episode count, and broadcast dates are in line with typical anime seasons, offering viewers a substantial amount of content to engage with. The series received 2 awards and 9 nominations including Seasonal Anime Award For Favourite Fantasy in 2015 and Seasonal Anime Award For Favorite Opening Theme Song in 2015.
The IMDb and MyAnimeList scores, while not exceptionally high, indicate that it has garnered a reasonable level of attention and feedback. However, as with many series, personal preferences play a role in whether viewers enjoy the storyline and characters, leading to varying opinions on its overall quality.
Where To Watch The Asterisk War
The Asterisk War is readily accessible to viewers in the United States through multiple streaming platforms, including Hulu, Crunchyroll, and Funimation. Additionally, Canadian fans can enjoy it on Crunchyroll. Unfortunately, for those residing in the United Kingdom, the series isn't currently available for streaming.
This discrepancy in availability is not uncommon in the world of anime licensing, as regional restrictions can limit access to specific titles. For UK-based fans of the series, this might mean having to explore alternative methods or patiently await potential future licensing agreements that would make the show accessible in their region.
The Asterisk War Season 3 Google Trends Data Analysis
The Google Trends Data isn't looking particularly spectacular. The graph is continuously moving downwards, highlighting the decline in the search results for "The Asterisk War Season 3". Moreover, the fact that the series is almost 8 years old, does add to the popularity element of it.
In other words, it's been years since the release of the first season and so, fans aren't aware of the anime yet. Unlike the current situation where every new anime gets some degree of hype, The Asterisk War happens to have lost on that element of its broadcasting journey.
And that's why the show is seeing such nominal movements within the graph.
The Asterisk War Season 3 Social Media Engagement
There seem to be mixed opinions online regarding the release of the third season of The Asterisk War. Some fans are desperately looking for another season and seeking answers on whether it's even possible or not.
On the other hand, there are fans who just believe that they won't get another season because the show wasn't all that special. Such mixed opinions are what makes the social media engagement of the series so abstract for us to derive any conclusion from.
Therefore, as fans of the show, the only way you can support it is by buying the Blu-Rays and DVDs. And if you can't afford to buy them then just watch the anime using official streaming services and it will help out the series and its sequel.
Expected Plot Of The Asterisk War Season 3
The anticipated plot of The Asterisk War Season 3 seems poised to delve deeper into the intricate world it has crafted. In a future where Earth is grappling with severe financial stress and the dominance of mega-corporations, the aftermath of the Invertia impact event has given rise to Genestella, individuals with superhuman abilities.
The series primarily follows Ayato Amagiri, a Genestella student at Seidoukan Academy in Asterisk City, where Festas, intense combat competitions, gauge students' abilities. Initially enrolling with reluctance, Ayato finds himself in a fateful duel with Julis-Alexia von Riessfeld.
However, under the guidance of Claudia Enfield, the student committee director, they form an alliance. Season 3 is expected to unravel the mystery surrounding Ayato's stolen powers, a crucial aspect of his character development.
As his abilities wane, the dynamic between Ayato and Julis, his partner in the Festas, will be tested. Viewers can anticipate a blend of intense battles, character growth, and intricate storytelling as Ayato and Julis strive to overcome challenges, aiming to excel in the prestigious Phoenix Festas tournament.
This season promises to unveil the secrets of Ayato's past, his sister's disappearance, and the lengths he will go to regain his lost powers, providing fans with an exciting continuation of The Asterisk War's captivating narrative.
Top Characters In The Asterisk War
In 'The Asterisk War,' a thrilling blend of action, adventure, and supernatural abilities, a cast of compelling characters brings the narrative to life. These characters each play pivotal roles in the series, contributing to the rich and complex world they inhabit.
In this section, we'll delve into the lives and backgrounds of five key characters who leave a lasting impact on the story, showcasing their significance in the series and their contributions to the overall plot.
1. Toudou Kirin
Kirin, a character with long silver hair, is often seen with twin tails adorned with braids and striking grey eyes. She stands shorter than many other characters and dons the Seidoukan Academy uniform, complete with a grey belt featuring light red designs and jacket trimmings on the upper sleeves.
Regarding her personality, Kirin is initially portrayed as timid, kind, and polite, driven by childhood trauma related to her father's imprisonment. This leads to self-criticism and a tendency to prioritize others' desires over her own.
Influenced by Ayato, she gradually becomes more self-assured but remains plagued by self-doubt and a propensity to offer profuse apologies even when she's not at fault.
2. Julis Riessfeld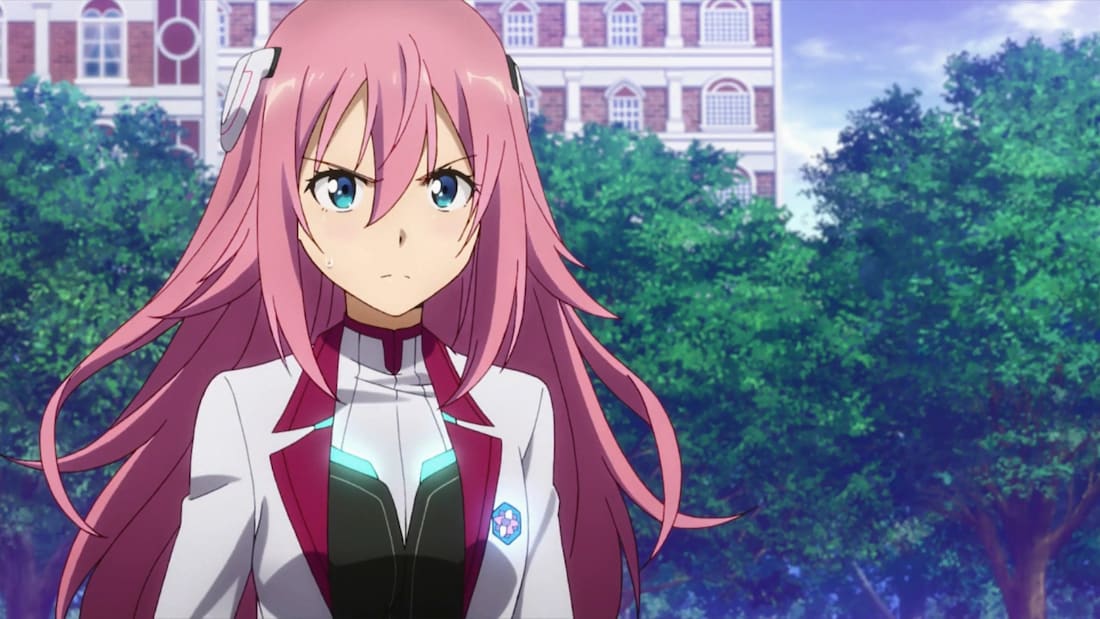 Julis-Alexia Marie Florentia Renate van Riessfeld, commonly known as Julis Riessfeld, plays a pivotal role in Gakusen Toshi Asterisk as a student of Seidoukan Academy with a mission to improve the lives of those from Lieseltania.
With her striking beauty, often compared to a rose, she boasts long pink hair and cyan eyes. Her attire consists of the Seidoukan Academy uniform, adorned with unique headpieces in her hair, a grey belt with red designs, and trimmed jacket sleeves.
Her weapon, Aspera Spina, is holstered on her hip. Beyond her initial aloofness, Julis possesses a strong sense of honour and loyalty and is willing to go to great lengths for her friends.
3. Sasamiya Saya
Sasamiya Saya, a Seidoukan Academy student and Ayato Amagiri's childhood companion, stands out due to her petite stature, reminiscent of an elementary school student. Her distinctive appearance includes light blue shoulder-length hair with tousled bangs, a playful ahoge, and two short braids fastened by a yellow and black hair accessory.
Her outfit features the Seidoukan Academy jacket with an unusual sailor collar at the back, complemented by a collared white shirt, a black tie, and a black dress resembling Julis' design, enhanced with additional white lines.
4. Amagiri Ayato
Amagiri Ayato, the central figure in Gakusen Toshi Asterisk, initially enrols at Seidoukan Academy with the goal of discovering his life's purpose, which subsequently evolves into a commitment to champion Julis's cause.
His striking appearance includes purple hair and matching eyes, with chin-length hair framing both sides of his face, complemented by gently cascading bangs that obscure his eyes. Ayato adopts the standard Seidoukan Academy male uniform.
His personality is characterized by friendliness, politeness, and a strong inclination to assist, frequently leading to comical situations.
5. Claudia Enfield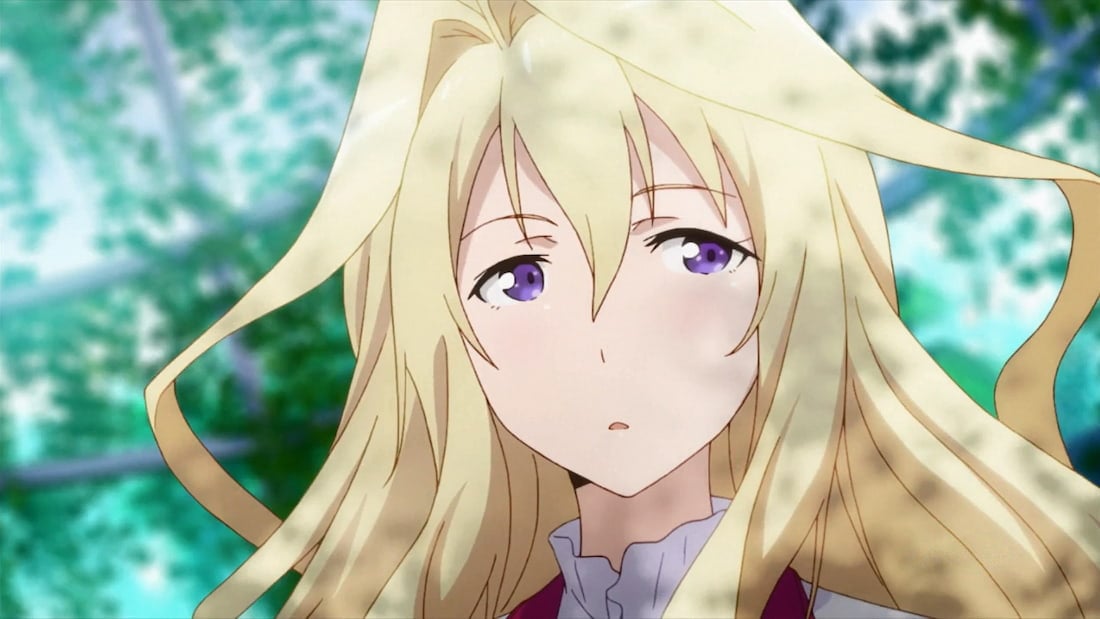 Claudia Enfield, the capable student council president of Seidoukan Academy, showcases her distinctive appearance with long, wavy blonde hair, featuring a unique split bang at the crown of her head, and captivating purple eyes.
Her attire consists of the Seidoukan Academy uniform jacket, but she pairs it with a blouse embellished with a frilly high collar and three frilled sleeves, along with a two-tiered ruffled skirt.
Claudia completes her ensemble with dark boots and stockings adorned with garters. Before the Lindwurm events, she opted for a longer hairstyle, styling most of her hair into an elegant ponytail, and her uniform jacket underwent a modification, revealing her shoulder areas.
Claudia exudes an air of sophistication, warmth, and intellect.
Important Crew Members Of The Asterisk War
While the characters in 'The Asterisk War' take centre stage with their remarkable abilities and compelling stories, it's essential to recognise the dedicated crew members who work behind the scenes to bring this captivating anime to life.
From the visionary directors and talented animators to the skilled sound designers and composers, 'The Asterisk War' owes much of its success to the creative minds shaping every frame and note.
In this section, we'll introduce you to five important crew members who have contributed their expertise to make 'The Asterisk War' the visually stunning and emotionally resonant series that it is.
1. Yousuke Futami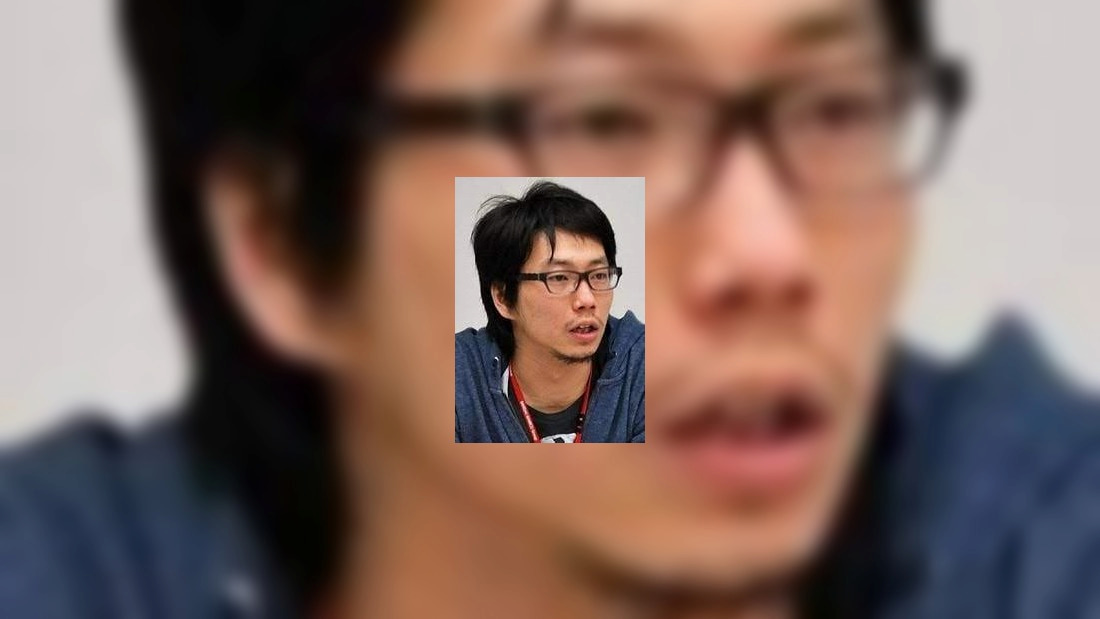 Yousuke Futami holds a prominent position in the anime industry, notably serving as a producer for a range of popular anime series, including Sword Art Online, Sword Art Online II, Sword Art Online: Alicization, and The Asterisk War, among others.
His involvement has been instrumental in shaping and introducing these series to a global audience. His impact also extends to additional works like Boku wa Tomodachi ga Sukunai and Accel World.
Despite his substantial influence on the anime landscape, details regarding his personal life, including his birthdate, remain undisclosed.
2. Manabu Ono
Manabu Ono is a celebrated Japanese animation director renowned for his contributions to the anime world. He has directed several beloved anime series, including Saki, Borderline Horizon, the Sword Art Online Alicization series, and The Irregular Student of Magic High School.
His career traces back to the 1990s when he served as a mecha animator for Sunrise and later founded his studio, Studio Trapezoid. Ono's work has had a substantial impact on the anime industry, playing a vital role in the success of numerous series.
Despite his significant role, specific personal details, such as his birthdate, remain undisclosed.
3. Kenji Setou
Kenji Setou is a highly regarded Japanese anime director and storyboarder, known for his substantial contributions to the industry. His influence is evident in popular anime series such as Sword Art Online: Alicization - War of Underworld, The Asterisk War, and Ramen Daisuki Koizumi-san.
Additionally, he has lent his expertise to projects like Boku wa Tomodachi ga Sukunai and Saki. Setou's pivotal role in these productions has been instrumental in shaping their storytelling and making them accessible to a global audience.
While his work continues to leave a mark on the anime world, personal details like his birthdate remain shrouded in mystery.
4. Yu Miyazaki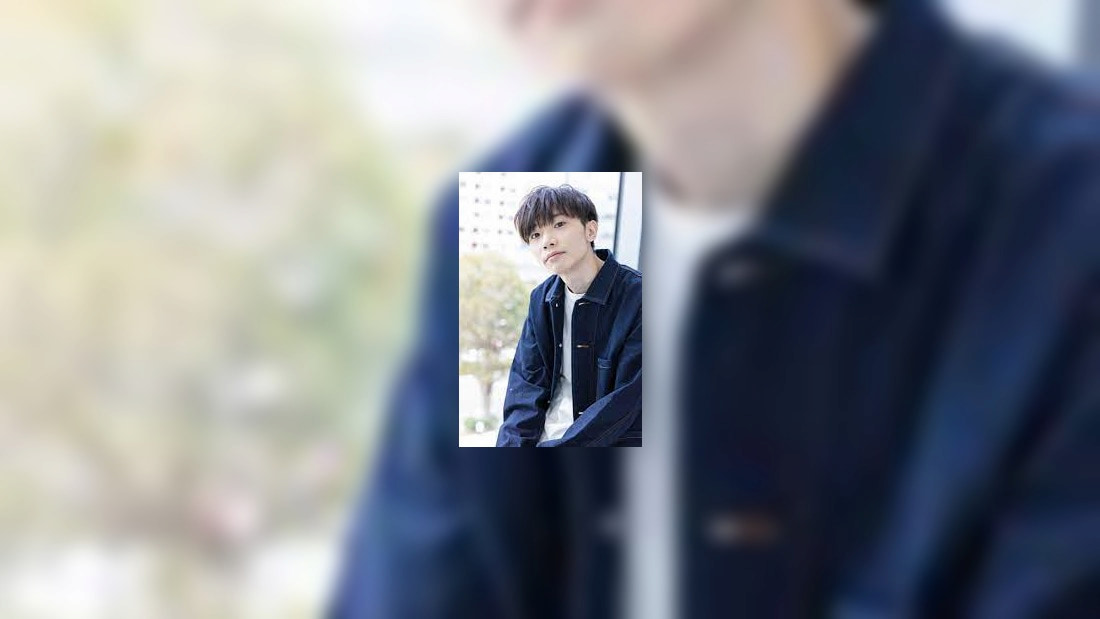 Yu Miyazaki is a prominent Japanese voice actor and the creative mind behind the light novel series The Asterisk War Born on October 7, 1991, in Kanagawa Prefecture, Japan, he embraces a diverse array of interests, including solo travel, backpacking, road biking, film appreciation, and soft tennis.
Moreover, Miyazaki boasts proficiency in English, video production, and video editing. A delightful development in his personal life unfolded on October 2, 2023, when he publicly announced his marriage to fellow voice actor Atsumi Tanezaki.
5. A-1 Pictures
A-1 Pictures, Inc. stands as a celebrated Japanese animation studio that has left an indelible mark on the anime production landscape. Founded by former Sunrise producer Mikihiro Iwata, this studio operates under the umbrella of Aniplex, a subsidiary of Sony Music Entertainment Japan.
A-1 Pictures is renowned for its exceptional work, characterized by its commitment to quality and innovation, solidifying its esteemed reputation within the animation industry. While it has made substantial contributions, specific information about the studio's inception date and other details remains undisclosed.
Similar Shows To The Asterisk War
For fans of 'The Asterisk War,' the hunger for thrilling battles, superhuman abilities, and intricate plots doesn't end with the series itself. If you're craving more of the heart-pounding action and intriguing character dynamics that 'The Asterisk War' offers, you're in luck.
In this section, we'll explore five anime series that share striking similarities with 'The Asterisk War.'
1. Chivalry of a Failed Knight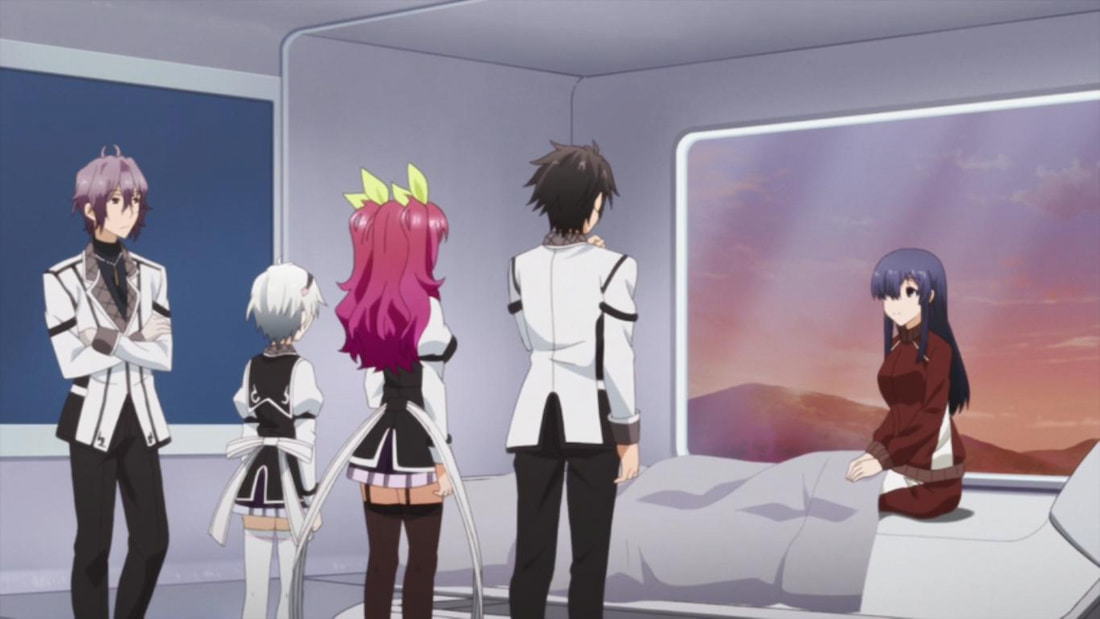 Chivalry of a Failed Knight, an anime adaptation of a light novel series penned by Misora Riku, unfolds in a world where "Blazers" can materialize weapons from their souls. The central plot follows Ikki Kurogane, a student at Hagun Academy, who crosses paths with Stella Vermillion, a princess renowned for her prodigious abilities.
Remarkably, this series bears a remarkable resemblance to "The Asterisk War." Both share common elements: protagonists from esteemed swordsmanship lineages (Ayato and Ikki), foreign princesses with fire-themed powers (Julis and Stella), and academy settings featuring combat competitions (Festa and the Seven Star Festival).
Nevertheless, each series maintains its unique narrative and character development, offering a distinct experience.
2. Blade Dance of the Elementalers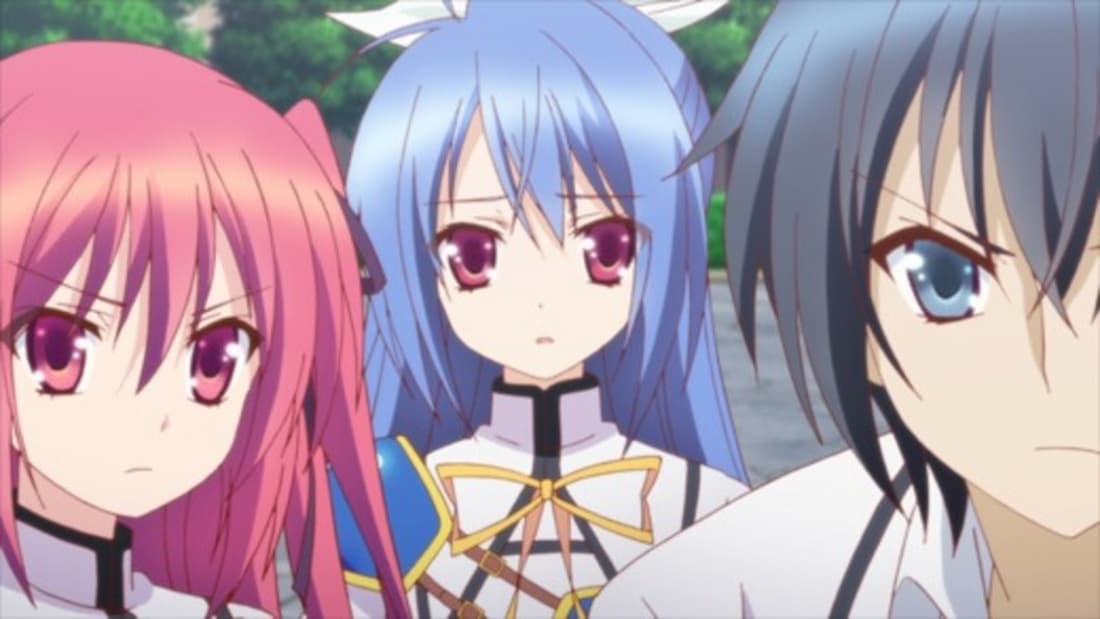 Blade Dance of the Elementalers transports viewers to a world where spirits coexist, and only pure maidens can forge contracts with these ethereal entities. The central narrative revolves around Kamito Kazehaya, the singular male elementalist whose enrollment at Areishia Spirit Academy disrupts the established norm.
Similar to "The Asterisk War," "Blade Dance of the Elementalers" introduces an exceptional male lead in a domain predominantly ruled by formidable females. Both series transpire in academic settings where students partake in combat competitions.
Ayato and Kamito, the respective protagonists, share a common motivation tied to their pasts as they navigate elite schools while confronting their personal histories.
3. Absolute Duo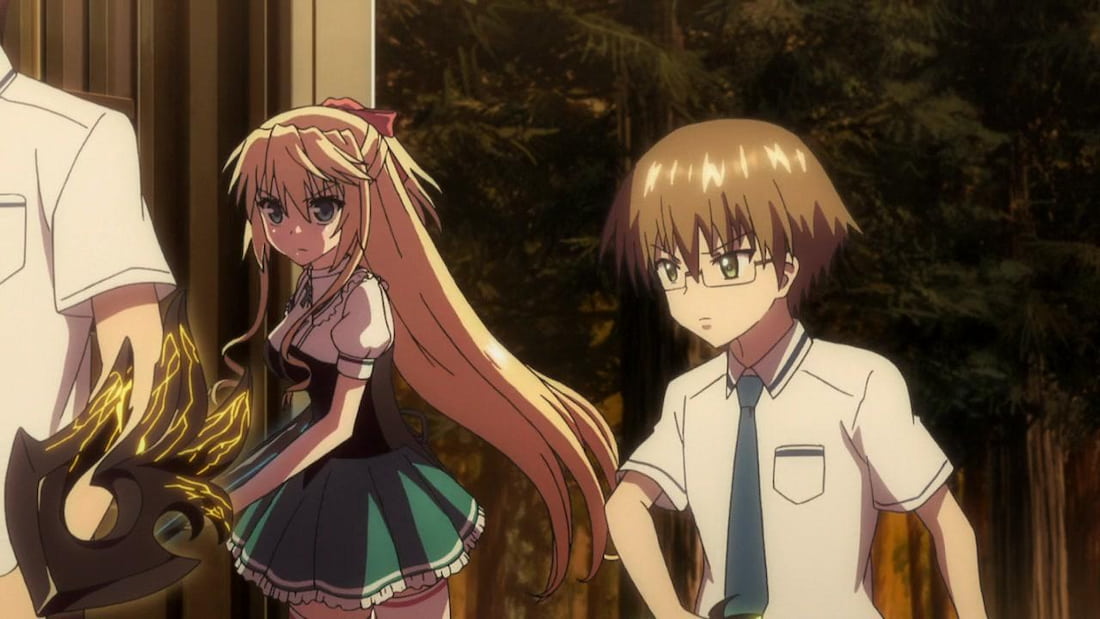 Absolute Duo immerses viewers in a realm where individuals, referred to as "Blazers," possess the unique ability to manifest weapons from their very souls. At its core, the story revolves around Tor Kokonoe, an exceptional Blazer with an unconventional soul manifestation—a shield, and his partner Julie Sigtuna.
Drawing parallels to "The Asterisk War," "Absolute Duo" unfolds in an academy setting where students partake in combat competitions. Both series share the common element of featuring a distinctive male lead in a world predominantly governed by formidable females.
The protagonists, Ayato and Tor, are united by a shared drive rooted in their pasts, navigating the challenges of prestigious educational institutions as they confront their personal histories.
4. Hundred
Hundred revolves around Hayato Kisaragi, a teenager known for his exceptional compatibility with the "Hundred" technology, the sole weapon effective against extraterrestrial entities known as the "Savage." Drawing a parallel with "The Asterisk War," "Hundred" transpires within an educational institution where students engage in competitive combat.
Both series introduce a distinctive male protagonist navigating a world primarily influenced by formidable females. Ayato and Hayato, the respective central characters, are propelled by their pasts and find themselves enrolled in prestigious schools, where they must grapple with their personal histories.
5. The Irregular at Magic High School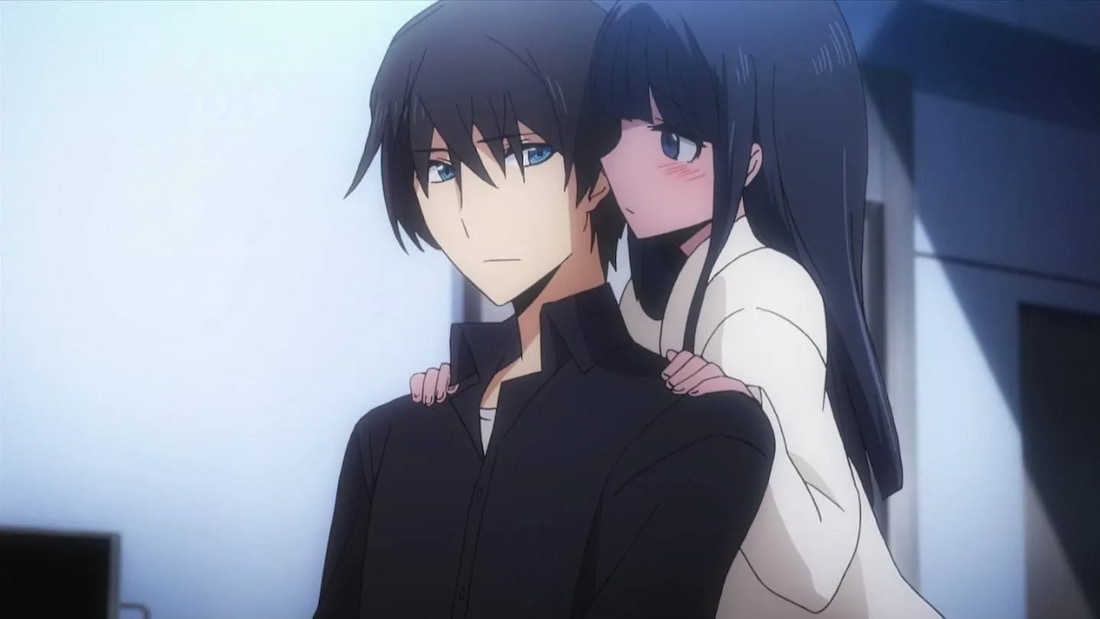 The Irregular at Magic High School brings viewers to a technologically advanced world of the 2090s where magic has become a reality. The plot delves into the experiences of siblings Tatsuya and Miyuki Shiba as they enter the prestigious First High Magic High School.
Comparing it to "The Asterisk War," "The Irregular at Magic High School" also unfolds within a magical school setting. Both series share commonalities in terms of dynamic action sequences, romantic elements, and the infusion of science fiction into their narratives.
Additionally, they feature the recurring theme of a charismatic male lead surrounded by a bevvy of alluring young women.