»
Trinity Seven Season 2 : Everything you need to know in 2021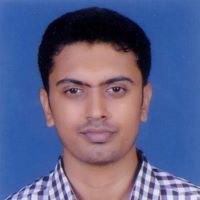 Vignesh-Posted May 3, 2021
---
Trinity Seven is an adaptation of the manga Toriniti Sebun: Shichi-nin no Masho Tsukai. It meant Trinity Seven: The Seven Magicians.
It was predominantly a Harem anime. But, it also had the element of fantasy and comedy.
Anyway, romance would be an unsaid subset of the Harem genre. The first season of Trinity Seven anime premiered in 2014.
This is after almost four years of the manga coming. It was written by Kenji Saitou and the illustrations in it were by Akinari Nao.
The manga has 25 published episodes to this date. The last one was published in April 2021.
There are a few spin-off mangas based on the original Trinity Seven. You'll know more about this in the source material section, below.
There was also an RPG (game) which got released in 2019. Apart from this, there have been two movies with this theme.
The first one came in 2017 and the second, in 2019.
Everything we know about Trinity Seven so far
Trinity Seven is a group of 7 of which Arata Kasuga is also a member.
He is the protagonist in this anime. They are part of the Royal Biblia Academy where Arata goes for training.
For those who have not watched it, here's a small recap before proceeding. Arata Kasuga lived a happy life with his family.
Though he has other people around, he is close to only one. That person is his cousin – Hijiri Kasuga.
They were friends since childhood. One day, the sun turned black. There was pandemonium across the world.
It was called the Breakdown Phenomenon. Hijiri knew she would not be able to survive it.
So she gives her grimoire to Arata. She also gave him a magical book that would help him survive.
Though Arata escapes it, he is left alone in the world. He feels that his life is destroyed and he is doomed.
So he weeps. This triggers the grimoire around his neck. It works like magic and reconstructed the world before his eyes.
It looked like everything was back to normal. Suddenly, out of nowhere, Lilith Asami appears.
Lilith is a sorceress who has magical powers. She destroys the recreated world of Arata.
It was actually an illusion but, Arata does not understand it. Lilith who seems harsh at first tries to make a deal with him.
She puts two conditions before him. "Return the magical book which Hijiri gave or perish".
Arata did not want both. He wanted to survive because that's what Hijiri wanted. Also, he did not wish to part with Hijiri's last gift to him.
So he is confused and unable to decide. He finally tries to negotiate with Lilith.
That's when Lilith gives him the third option – joining Royal Biblia Academy. It was a highly confidential and restricted sorcery school.
That was where he met the remaining six of Trinity Seven. The anime portrays his performance at the Academy.
It also delves into his relations with the other members. The rest of the Trinity Seven members are female.
This is where the Harem element is. It also has many comical moments along with romance.
Season one concluded with a raging battle. All the members of Trinity Seven had activated their Magus modes for it.
After Trinity Seven Season 1 concluded in 2014, there were no updates for long. Fans waited for years with baited breath to see some hope in 2019.
However, that turned out to be a misunderstanding. Perhaps the second movie got confused as the second season of the anime.
You'll know more about it in the coming sections.
Official Announcements and Release date of Trinity Seven Season 2
There are no official announcements about the release of Trinity Seven Season 2. There were some confusions about the release date back in 2019.
Some unverified reports claimed that it would be released on April 11th, 2019. At present, there are no official announcements for Trinity Seven Season 2.
We will update you if there are any.
Source Material Information for Trinity Seven Season 2
Trinity Seven Season 1 was based on Trinity Seven's manga. The anime used up around 30 chapters of the manga Source material.
Therefore season 2 would have to start from the 31st. But, the movies which came in 2017 and 2019 had already shown some parts of the manga.
Therefore it's hard to speculate where exactly Season 2 would start from. The first manga volume got released in 2011 on July 7th.
This was the domestic release in Japan. In 2015, it got released in North America, after translation.
This main manga series is yet to be concluded. The latest one got released recently (April 2021).
There was a Tankōbon compilation with 25 volumes. This was the full collection of the manga from 2011.
There was a spin-off version of the manga written by Kenji. It was Trinity Seven: Levi Ninden.
It was first published in 2015. This spin-off concluded in 2018. By then, they had also started another spin-off manga.
This was in 2017 and it ended in 2018. It was called Trinity Seven: Liese Chronicle.
There was also a spin-off light novel by Kenji. Its first volume got released in 2014.
This was a flashback manga. It showed the past events of all the characters. This is where the history of Hijira was shown.
There were three light novels in total –Trinity Seven The Novel: Night Episode and Lost MemoryTrinity Seven The Novel: Eternity Library and Alchemic GirlTrinity Seven The Novel: Holy Shrine Maiden and the Eighth Library
Popularity Details of Trinity Seven Season 2
Popularity is everything in today's world, especially for entertainment. Popularity is an indicator for the future of the series.
Let's discuss few parameters.
Twitter Activity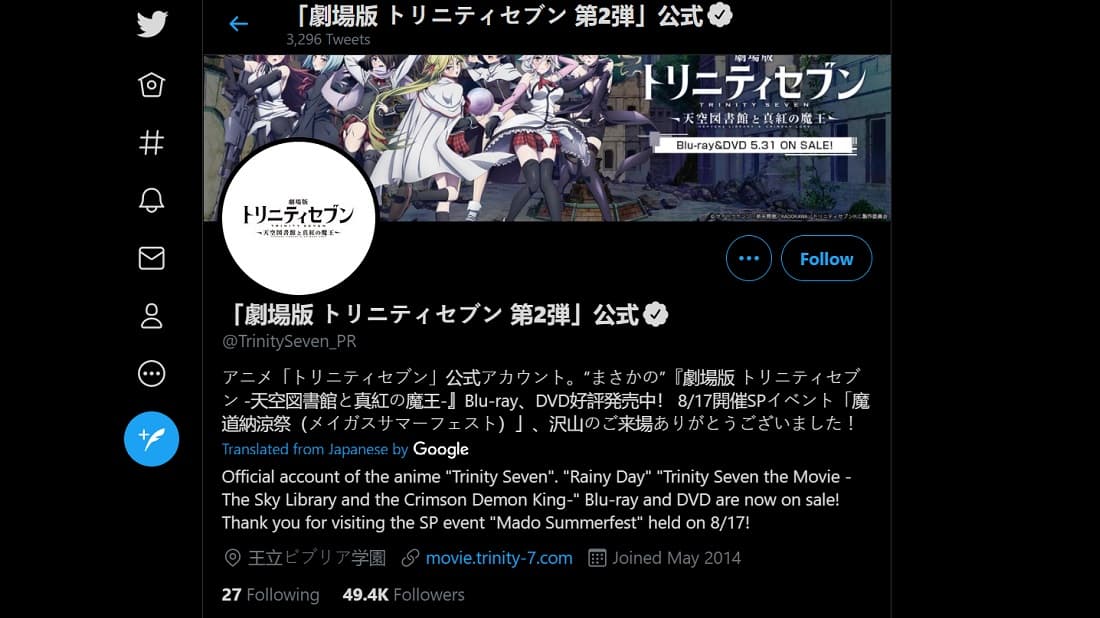 This is the official account of Trinity Seven. It has gathered close to 50,000 followers.
The tweets also have a good engagement rate. Also, take a look at the author – Kenji Saito's Twitter account.
Kenji has around 14,000 followers. He regularly interacts with fans as well. The popularity of Trinity Seven is indisputable.
Read on, for more details.
Google Search Trends
The Google search trends show a rise in the curve frequently. This is a pattern that was seen after every movie got released.
This had made fans enquire about the next season. Google search trends are the best bet to assess the anime's performance.
They give a much better and more organic picture of it. Do fans want a Season 2?
Yes, they do!
Search Origins
The search origins give an idea about the audience. Animes are otaku – Japanese, to be precise.
But, not everything is customized for this audience. Some animes are made for a purely international audience.
Take a look at the origin of the viewers. This signals that the anime has been successful overseas.
This metric becomes the real test for an anime's success and profit. Let's now see what would or may happen in Season 2.
Expected Plot of Trinity Seven Season 2
The final episode of Trinity Seven Season 1 was packed with action. It ended with a battle during the world's destruction.
Arata along with the other members of Trinity Seven was excited. They had activated their Magus modes, as a readiness signal for war.
The headmasters of the Academy watched them as it happened. You also would have realized that Lilith has something sketchy.
The next few paragraphs may sound like a spoiler. But, we have kept the most interesting part intact.
You can enjoy the anime if and when the next series comes. Trinity Seven Season 2 would be a roller coaster of events.
It would show more of Abyss Trinity – the Demon Lord. Lilith would be an incarnation or a part of this.
There would be pursuit by Arata and the others. Judecca – the imperial sword will be the target.
Arata may be able to make Abyss get his 'fatherly instincts' back, Arata will meet Antasia-L, an old Trinity Seven member.
This member was destroyed with Lilith's entry into the world. They fall in love and Antasia uses her powers to lock him in a terminus.
This is because he would become a calamity for this world. Arata joins Liesse to pair up as a combo, in a fight.
The rest of the anime will be about the competition. This would make you hold your breath and be in awe.
Why Trinity Seven Season 2?
Trinity Seven Season 1 concluded hastily. It did not give the fans many perspectives of the story.
It was more about building hype and keeping them hooked. In the previous section, you would have read about the ending.
The characters had their magus mode activated. It had signaled an impending war. Though the subsequent movies showed some progress, it wasn't enough.
There had to be clarity on what happens next. Another reason is the source material.
The manga has not stopped. New episodes are coming, the last one being April 2021.
Anime can be a good marketing strategy to promote the sales of manga.
Online Reactions for Trinity Seven Season 2
Online reactions, especially organic ones are a suitable parameter to judge its success. This can come through a variety of portals – Twitter, Quora, Reddit, and even niche websites.
Here, we are analyzing these.
Twitter Reactions
As you can see there's a robust demand for this Anime's 2nd Season. The release of Season 2 of Devil is a Part-Timer has given fans a lot of hope.
One of the tweets also mentioned No Game No Life Season 2. You can read more, about it on ENTOIN.
The author of the manga series is also active on Twitter. Take a look at a reply of his which gave fans a lot of hope.
Quora Reactions
Quora follows a pattern of Questions and Answers. A user opined that Trinity Seven Season 1 was a good harem anime.
Harem animes are those where the protagonist (mostly male) is involved with more than 1 female.
This opinion has received around 25 upvotes, which is a decent rating on Quora.
Reddit Reactions
Reddit has a lot of anime-related content on its subreddit r/anime. This is a place you can get authentic information and updates.
As well as see debates and discussions on anime. On this archived thread in r/anime, you can see a 2020 post.
This was during the time people thought Season 2 would be released in 2019 April.
Let's see another discussion on the r/TrinitySeven subreddit, below. This Redditor had contacted the author of the manga, on Twitter.
The reply from Kenji Saitou made the post get 257 upvotes. It was a discussion that gives a different perspective of the anime's future.
Reviews and Ratings for Trinity Seven Season 2
Reviews and ratings for animes are available on websites like
IMDB
Myanimelist
AniDB
Crunchyroll etc.
Here, we are analyzing the figures collected by IMDB. Take a look at this, from IMDB.
The anime shows a decent rating of 6.8 out of 10. But did you notice the Mean, which is 7 and the Arithmetic mean which is higher?
The majority of the voters rated it 7, followed by 8 and 10 on 10.
This is a reasonably good rating.
Sales and Profit Information for Trinity Seven Season 2
Sales of manga, light novels, and anime influence decision-making. At present, the source materials have not yet concluded.
The last movie got released in 2019. But, there is no clarity on the release of Season 2 of Trinity Seven.
Let's analyze the sources of revenue and profit.
Source materials Sales
The primary material for this concept was the Manga comics by Kenji. It has not concluded to this date.
The latest volume came in April 2021. It was started in 2010 in Monthly Dragon Age – a shonen magazine.
Animenewsnetwork reported that it sold 3 million copies until 2017. This would have given enough profits for the producers.
The role Trinity Seven Season 1 played in this promotion was huge. The 2 movies had not been released before 2017.
So these figures are not impacted by it.
CD/DVD/Blu-ray Sales
In 2014, it did brisk sales. The estimated figures show it to be around 10,000 copies that year.
However, the subsequent years did not show that kind of a sale. But, overall it seemed to have reached break-even.
Movies
There were 2 movies based on the manga. Trinity Seven the Movie: The Eternal Library and the Alchemist Girl came in 2017.
While Trinity Seven: Heavens Library & Crimson Lord came in 2019. The reviews show good reception.
The movies; however seemed to have performed average. How much they could impact the source material sales is unknown.
Trinity Seven RPG
Trinity Seven RPG means Role Playing Game. It was a tabletop as well as a mobile game.
The android game is available on the play store. There's not much information available on how much revenue they earned.
The android game belongs to Avex Technologies.
Merchandise Sales
Merchandise is a supplementary revenue stream for anime creators. Trinity Seven has a few of its merchandise listed on redbubble.com.
A rough estimate is that they would have made around 1 million dollars of sale.
This is a passive recurring income. Some of the products are – Stickers, stationery, digital art, phone cases, etc.
Production cost and Commercial success of Trinity Seven anime
Trinity Seven Season 1 was produced by Seven Arcs Pictures. There's very little information available about its production cost.
But, we can do a rough estimate using contemporary information. This is based on a survey conducted by Media Development Research Institute in 2010.
The results were published in 2011. It said that a 30-minute anime costs close to 11, 00,000 yen.
This was back in 2010 and it was around $ 145,000. They had even provided a breakup into the cost.
The script, direction, sound, and photography would have taken the lion's share. The rights from the original work would be bought for a much cheaper rate.
There were around 13 episodes for Trinity Seven Season 1. This is including the OVA, after the 12th episode.
So we can estimate their costs to be around $1,885,000. From the revenue section, we can see that the combined sales would have crossed this mark.
A majority of the income was from manga sales and movies. But, the anime had a good impact on the sale of manga.
Therefore, it can be called a reasonable commercial success, if not a great one.
Famous Characters We Hope To See in Trinity Seven Season 2
Trinity Seven consists of 7 members. Apart from this, there are some others too.
Arata Kasuga
He's the protagonist and the main attraction of this anime. Since this anime is both harem and romantic, he has a great role.
He's the Demon Lord as well, of the Superbia archive. He's the cousin of Hijiri, with whom he lived.
After the breakdown, he grieved in losing Hijiri. He has the magical power to copy someone's magic.
He can also nullify theirs. This made him a strong and powerful Demon Lord. Arata's further life is driven by his intent to revive Hijiri.
This leads him to Royal Biblia Academy. He's calm and cool while handling unfavorable moments.
But, he speaks in a flirty tone and also sounds perverted at times. He had the ability to create his own world as well.
Hijiri Kasuga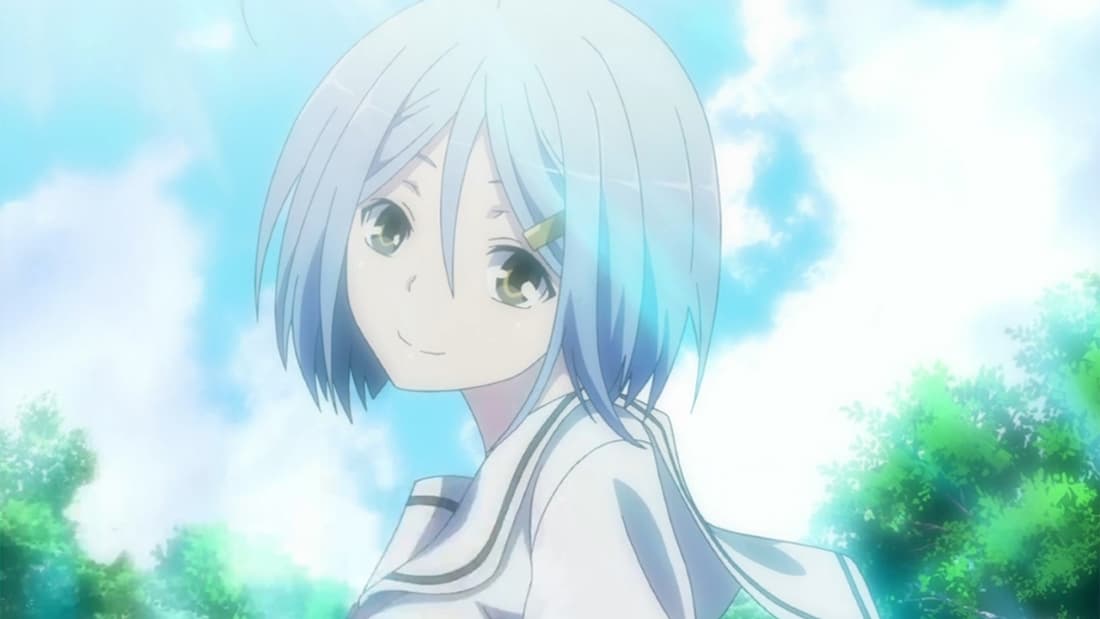 Hijiri was Arata's cousin and a close friend. The two shared a very deep bond.
Their friendship was a key part of the first few episodes. The Breakdown Phenomenon causes her to dissolve.
She was a magus, previously. She was reborn in a different world as a member of Iscariot.
This was a league that would plot to destroy the Demon Lord. Therefore, she becomes an enemy of Arata, the Demon Lord.
Anastasia who battled her called her the "fallen saint".
Sora
She's a grimoire who's with Arata. This is the same grimoire that was the gift by Hijiri.
This character would be posing as Hijiri, having knowledge of all the worlds. She remained his companion till the moment Lilith arrived.
Ilia
Her full name was Ilias Fragment. She was a substitute for Hijiri. Whenever she had to go for Magus' duty, Ilia would replace Hijiri.
She's the one who has the record of Hijiri's memories.
Lilith Asami
Lilith is a professor at the Royal Biblia Academy. But, she's of Arata's age – which makes her unrecognizable.
She was sent to Arata's world to investigate the Breakdown Phenomenon. She is Arata's early friend, after Hijiri.
So, it was through her reference that Arata joined the Academy. Lilith is part of the Trinity Seven group of Luxuria.
Her magic capabilities include – manifesting a weapon and using it skillfully. Due to her proximity with Arata, she faces his perversion and gets upset with him.
Headmaster
Headmaster is the chief of Royal Biblia Academy, where Arata goes to study. He also comes across as a perverted character.
Currently, he's a Paladin class mage. Previously, he was a powerful creature. It was heard that he was one of the most powerful mages, in the top 5 groups.
Season 1 ends with him witnessing the Trinity Seven go into magus modes.
Lieselotte Sherlock
She's part of Trinity Seven at the Royal Biblia Academy. She has the magical ability to steal or take away someone's magic.
This is the same ability Arata also has. She is an ambitious and perseverant member of the group.
This can be seen in her determination to sneak into the secret library. She did it to become a competitor of Arata.
This caused some strain in the relationship between her and other members. She faces and survives an attack on the Academy.
Arata comes to save her. She has a younger twin sister named Selina.
Selina Sherlock
She's the younger twin sister of Lieselotte. Her role in the Academy is that of a reporter.
Owing to her elder sister's status, she comes into proximity of some stalwarts. She had disappeared mysteriously from the library.
This happened a few months before Arata joined the academy.
Yui Kurata
Yui is also part of Trinity Seven. She played a role in saving Arata from Akio.
She holds the next highest status after the headmaster, in the Academy. This is why she's called Cardinal class magus.
She resides in a dungeon near the Royal Biblia Academy. Her special capability is to boost the magical powers of others.
She uses it to amplify her friends' magic when they're in battle. Yui and Levi are best friends, in this Season.
She's an intellectual leader among the Trinity Seven members.
Arin Kannazuki
She claims to be Arata's wife. Her behavior can be described as stoic and indifferent.
But, she's a loving partner of Arata in this Season. Though he is close to all other members of Trinity Seven, he has a soft corner for Arin.
Some reviews have also described her to be shameless and stubborn. Her magical powers are that of creating blocks.
She could stop other characters from unleashing their powers.
Akio Fudo
Akio is a member of the Security Division at the Academy. She's also part of the Trinity Seven group.
She's a priestess who was tasked to guard a treasure. This job is also called spriggan.
She is well known for her physical strength. This is also her secret magical power.
She was blessed with it by her mother. As the only survivor of her hometown, she is reserved and balanced.
Mira Yamana
Mira is the partner of Akio. She's also part of the Security Division of the academy.
She initially treats Arata as an enemy but, warms up later. Her magical powers are the abilities to analyze.
She's also an intellectual leader of Trinity Seven. She bears a lot of resemblance to Arata.
The reason she opened up to him was after he saved her from a trance-like state.
Other Decisive factors for Trinity Seven season 2
Apart from the commercial success and the fans' demands, there are other factors too. They also influence the producers to make decisions about Season 2 or any sequels.
Ending
The anime had a vibrant and breath-catching end. It showed all the characters prepare for war.
This was actually the beginning of something new. There were multiple instances of the characters changing.
This made it unpredictable and thrilling.
Trailer
Since there are no official announcements, until this date, there's no trailer. As when an update comes, we will let you know.
Controversy
There was a rumor in 2019 that shared an announcement of Trinity Season 2. However, it turned out to be false.
But the rumor had spread so much that many people still believe it to be true.
Take a look at this discussion. This picture is a forum discussion on Crunchyroll. You can see a user; post all the episode details of Season 2.
Apparently, the rumor also would have shared such intricate details. There are also some reports which said that the author Kenji was not happy with the movies.
Conclusion
There's only a 50 – 50 chance for Trinity Seven Season 2. Fans must not lose hope, till any official announcement comes.
Trinity Seven manga series have not concluded yet. The 2017 and 2019 movies also have not taken away much from the manga.
So this means that there's enough source material. Some reports have shown that there's a chance for the 3rd part of the movie.
It was supposed to be released in 2021 like goblin slayer season 2. But, the COVID 19 pandemic may have upset their plans.
If there's no release of Trinity Seven Season 2 anime, fans will have only the movie sequels to wait for.
Let's however hope for a positive outcome.
Also, please drop your email address below, to get all updates in your inbox.