»
The Devil is A Part-Timer Season 2 : Everything you need to know in 2021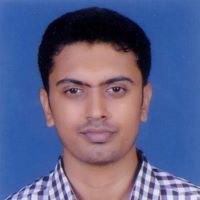 Vignesh-Posted April 14, 2021
---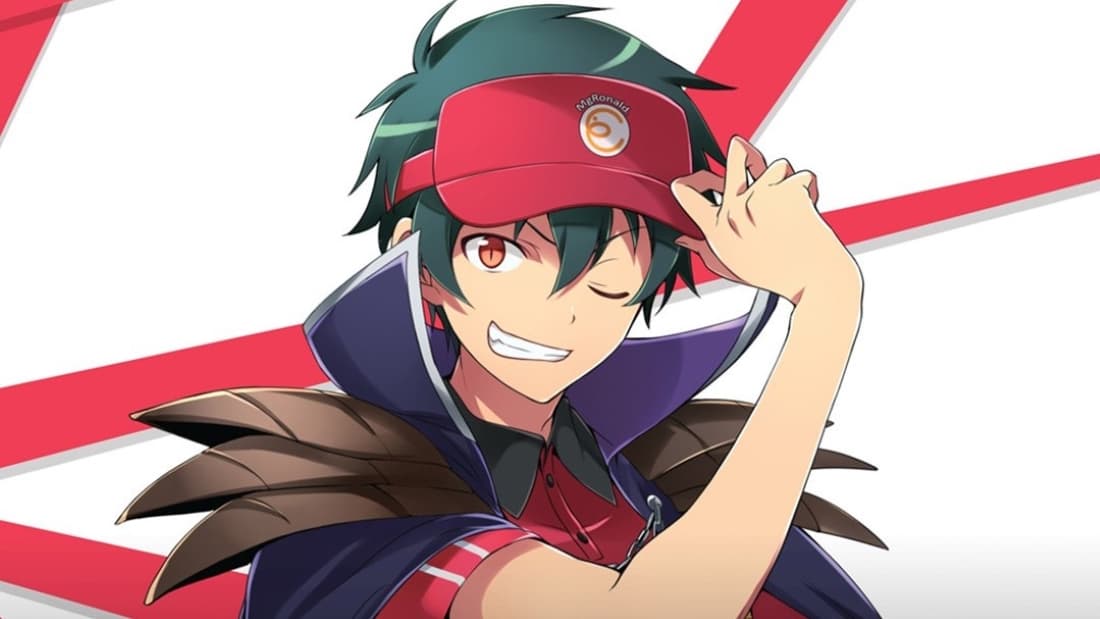 The Devil is a Part-Timer is coming with a Season 2 after nearly 8 years.
The previous season of the anime had thrilled and amused the fans. It was a brilliant blend of humor and entertainment.
Hataraku Maou-Sama! as it was known, in Japanese was a reverse Isekai anime. Are you wondering what "Isekai" means?
It's a genre that involves the "other world" or "outer earth". Isekai anime plots are centered on an earthly human who leaves this planet or realm.
The Devil is a Part-Timer is reverse Isekai as it involves an outsider visiting a human's realm.
If you've not heard about this genre or this anime, you may have a lot of questions in your mind.
Who came to the human dimension? Why did they come? What did they do here?
How did they survive? You'll know more as you go through the rest of the article.
Let's start with what we know about The Devil is a Part-Timer, right now.
Everything we know about The Devil is a Part-Timer so far
The Devil is a Part-Timer Season 1 was an adaptation of its light novel written by Satoshi Wagahara.
The anime was released on April 4th, 2013. It consisted of 13 episodes in total.
The last episode was aired on June 27th, 2013. Back then, the viewership for it was very low.
Netflix added The Devil is a Part-Timer Season 1, later on to its anime library.
It was after this point, that anime became popular. It even went on to create a cult following which would wait for the next season.
Let's get into a brief recap of what happened in Season 1. The plot shows 2 protagonists – Satan Jacob, the Demon Lord, and Emilia Justina, the Hero.
Satan Jacob is an ambitious conqueror who sets out to capture Ente Isla. It's a continent that was coveted by many – human and demon alike.
Unfortunately or fortunately, Emilia Justina comes in to stop Satan Jacob in his mission. Emilia's father was believed to be killed in a raid by Jacob's army.
She ends up defeating him with the help of her comrades and Sariel. Satan, who is helpless, retreats with his General – Alsiel.
She follows him vowing to finish him. Satan Jacob uses a trans-dimensional portal. He believed that it would take him back to his realm.
However, he lands back in the same human world – at another part of it.
He finds himself stranded in Tokyo – which is a modern city. Satan Jacob vows to capture Ente Isla and realize his life's goal.
But, he realizes the difficulties which stand in his way. He seems to have lost his old magical powers.
This made him helpless. He decides to stay in the human world, temporarily. He assumes the identity of a human and calls himself Sadao Maou.
He then joins for work at a fast-food stall named MgRonald. This is where he gets introduced to the corporate world.
He realizes that Ente Isla was too small a dream. Therefore, he realizes that he must conquer the corporate world to win over Earth.
He gets ready to work hard – do any job (including odd jobs) for progressing.
At times, he appears to be helpless and overworked. The most hilarious parts of the anime are those when he tries to learn the ways of humankind.
He's unfamiliar with serving, eating, and behaving as a good human.
Later, he tries to imbibe all the qualities of a good corporate leader like – Learning dining etiquettePaying the bills on timeBeing a good professional at his work, etc.
The anime is named so because Satan Jacob works part-time to accomplish his goal.
One day he discovers that Emilia is also in Tokyo. She's also powerless like Jacob, in the human world.
So she is disguised as Emi Yusa, who works as a call center agent. They both meet many times at the café where Jacob works.
Eventually, Yusa loses her job at the call center. She's forced to work at MgRonald's – the café where Satan Jacob also works at.
The plot goes through strange ups and downs – shocking twists and turns as well.
Later, there is a revelation that Emi's father is still alive. Meanwhile, she's busy working at the café.
She also gets close to her colleagues – Maou and Chiho. Maou meanwhile sees an ideal partner in Emi.
He appoints her as the Demon General of the Demon Army. Though she opposes it, she is forced to accept it.
She's now gone against her ally – Sariel. The anime ends on a different note than the ones which fans would expect, initially.
The duo discovers where Alsiel works while they visit a shop after being conned. The first season ended with Emi giving an umbrella to Maou.
Though it does not signify any romance, it ended unpredictably. Fans would have a hundred speculations in their minds – What'll happen to Maou and Emi's relation?
How will Sariel react to Emi's change? Will Maou conquer the world? And so on…
The crew behind The Devil is a Part-Timer anime
| | |
| --- | --- |
| Contribution | Name |
| Direction | Naoto Hosoda |
| Writing | Masahiro Yokotani |
| Original work | Satoshi Wagahara and Oniku |
| Music | Ryosuke Nakanishi |
| Studio | White Fox |
Official Announcements and Release date of The Devil is a Part-Timer Season 2
Season 2 of The Devil is a Part-Timer was officially announced on March 6th, 2021.
The official sources also added that the original cast will find a place in the sequel.
The announcement was made at the Kadokawa Light Novel Expo 2020 event at Tokorozawa Sakura Town.
The producer – White Fox Studio has not specified an exact release date. But, fans can expect Season 2 to be released by 2021 end or 2022.
Since the Light Novels have been published, the creators would not find it difficult to produce.
Only the first two volumes were adapted to make anime content for Season 1. Therefore we can assume that The Devil is a Part-Timer Season 2 will start from the third volume.
Read the next section for more details on source materials.
More Source Material Information for The Devil is a Part-Timer Season 2
The Devil is a Part-Timer is an adaptation of the Light novel series with the same name.
It was written by Satoshi Wagahara and illustrated by Oniku. In Japan, it was ASCII Media works who published the Light Novels.
Meanwhile, the Yen Press published it in North America. The first Light novel volume was published in February 2011 (almost 10 years ago).
It has 21 main novels which are accompanied by –2 prequel novels,1 spin-off version,3 bonus volumes.
The conclusion of the story was made in the bonus releases. A manga anthology volume was published by ASCII Media Works in 2013.
The first release outside Japan was in April 2015. It was through Yen Press that held rights over North American publication.
In 2019, a spin–off variation of this was published as a manga volume.
It was under the name Hataraku Maō-Sama no Meshi! and the illustrations were done by Oji Sado.
The reason that it had such a version was because of the growing popularity via Netflix.
Let's delve into the popularity details now.
Popularity details of The Devil is a Part-Timer Season 2
Popularity details have numerous parameters. Most of the easily available popularity metrics can be accessed online.
This is the best space to assess the reaction and performance. Though there are numerous websites, let's stick to the most commonly used ones.
Twitter Activity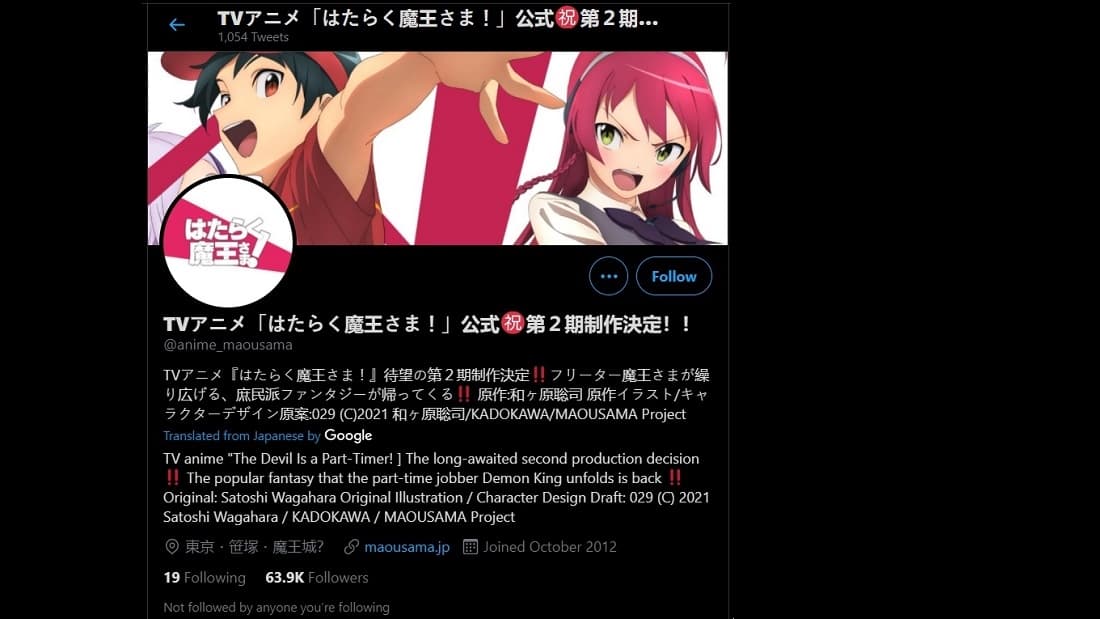 This is a Twitter account that appears to be the official one for The Devil is a Part-Timer.
It has around 63 thousand followers. The 1000 odd tweets from that account have received stunning engagements.
You can see the tweet, below which announced the Next Season of The Devil is a Part-Timer.
The 75,000+ retweets stand testimony to its popularity.
Google Search Trends
Google is one of the best places to assess organic demand. As you can see in this image, there was a sudden jump in the searches in 2021.
Once you check the date, you can find that it was on the same day the formal announcement was made.
You can attribute many reasons to the graph remaining constant in the previous few years.
It may be due to the spin-off or bonus anime productions. Or it may be due to the full publication of the source materials – manga and light novel volumes.
Google Search origin
Google searches were made from regions outside Japan. This huge volume of traffic can be seen as from the Americas and Southeast Asia.
A prime indicator of an anime's success is the overseas interest. Once an anime gains popularity abroad, then you can say it has arrived.
Now that you're aware of the popularity details, let's now analyze the expectations from fans.
Awards
The Devil is a Part-Timer won an entry for the Anime of the Decade awards, in 2013.
It defeated Attack on Titan and came first with 46% of the votes. Maou/Satan bagged fourth place for male characters to qualify for the next round.
Emi/Emilia won fifth place for the female characters and qualified along.
Expected Plot of The Devil is a Part-Timer Season 2
It won't be hard to decipher the plot of The Devil is a Part-Timer Season 2 as there's enough source material.
The first 2 original light novel volumes were adapted into anime series. Since the publication of this series has been completed, Season 2 will start from the 3rd volume.
But, it's not possible to speculate how many light novel volumes will get adapted the same way.
This depends on the Producers and their intent. Usually, anime productions are used as a method to publicize the source materials.
The plot which Season 2 covers will largely revolve around the crisis Emi is in.
She has changed sides after she befriended Maou at her new workplace. Her new relationship with him remains undefined.
It's somewhere between friendship and romance. Her old ally – Sariel, who helped her battle Maou would have become bitter.
Sariel realized Emi's change of mind when she saw Emi save Chiho during a battle they fought.
Emi and Maou may get to know each other and progress in their relationship. But, there's always danger lurking.
Maou's henchmen may not want her in their fiefdom. Will Emi and Maou get along together?
Why The Devil is a Part-Timer Season 2?
The launch of The Devil is a Part-Timer Season 2 was announced in March 2021.
There are many reasons why it deserved a sequel. One, the demand and popularity it enjoyed among the fans.
After Netflix added The Devil is a Part-Timer to its anime library, the viewership increased.
It was such an exponential jump that it proved the concept was validated. The cult following it got made it more niched.
Two, the ending and twists in the story. Emi and Maou were enemies at the beginning of the anime.
It ended with both of them clashing and Satan Jacob retreating to become Maou. Emilia also followed him to the human world to finish him.
But, the anime ended with their friendship Three, the availability of source materials to continue the anime.
The publishers had finished publishing all the volumes of the materials – light novels and manga anthology.
The creators are also bringing the same old cast to continue the story. These are just a few reasons.
Anyway the fact that it needs a Season 2, is indisputable.
Online Reactions for The Devil is a Part-Timer Season 2
Online reactions are most credible and also organic up to an extent. You can visit social media websites, networking sites, and niche websites to know it.
The more the online reactions – the great success it is.
Quora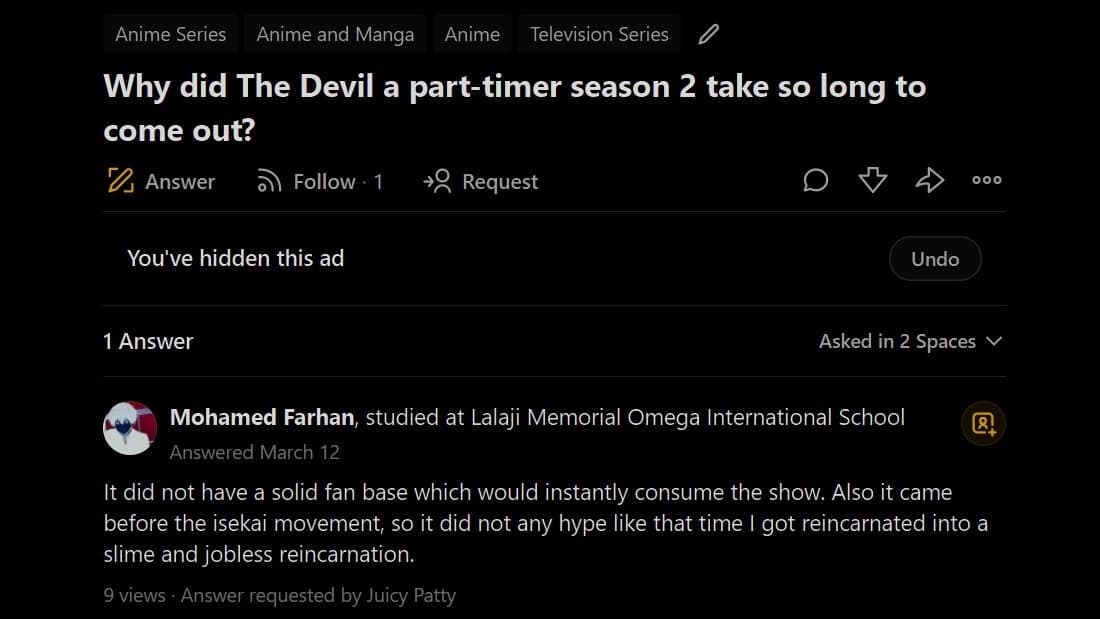 Quora is a space where you can find questions and answers related to anything. The Devil is a Part-Timer Season 2 took 8 years to come.
A lot of fans had given up hope. This is exactly why the announcement was unexpected.
The Quora user reveals that there was no fan base for the anime. This is largely true as it was Netflix that boosted its viewership, years after release.
Reddit
Reddit calls itself the front page of the internet. It's the place where content is voted and shows the quality of it.
You should check the post on r/anime which is Reddit's premier sub. It has close to 30K upvotes with a 99% upvote ratio.
The post also has a lot of awards to it. Stunning, right? Let's now see a small conversation in the comments section of it, below.
This announcement has given a new lease of life to fans. They are asking for a Season 2 of other animes.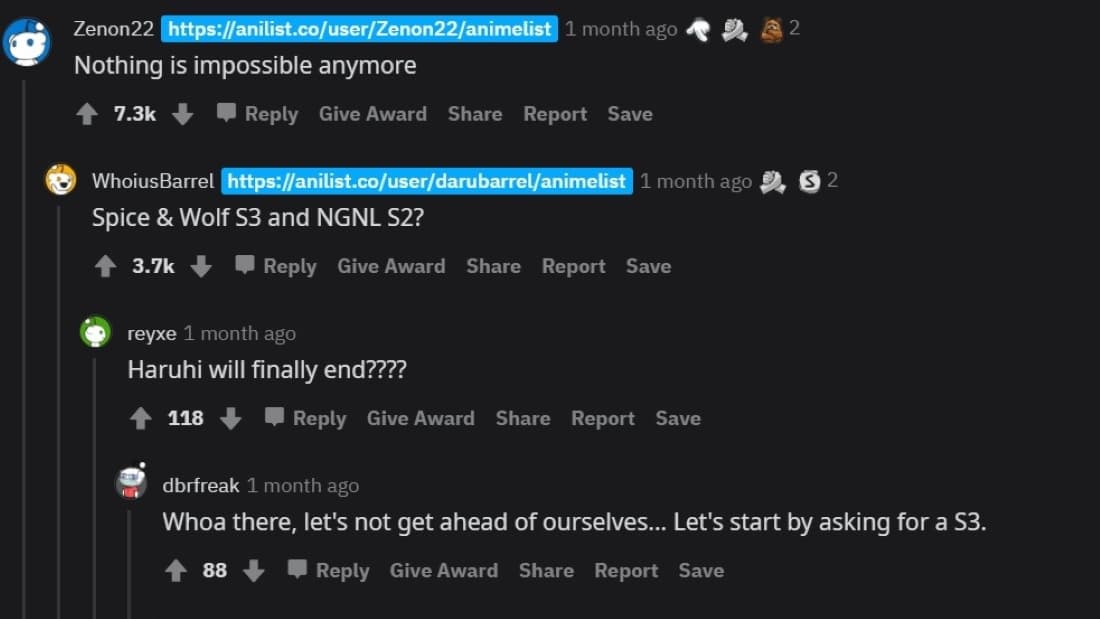 Ratings and Reviews for The Devil is a Part-Timer Season 2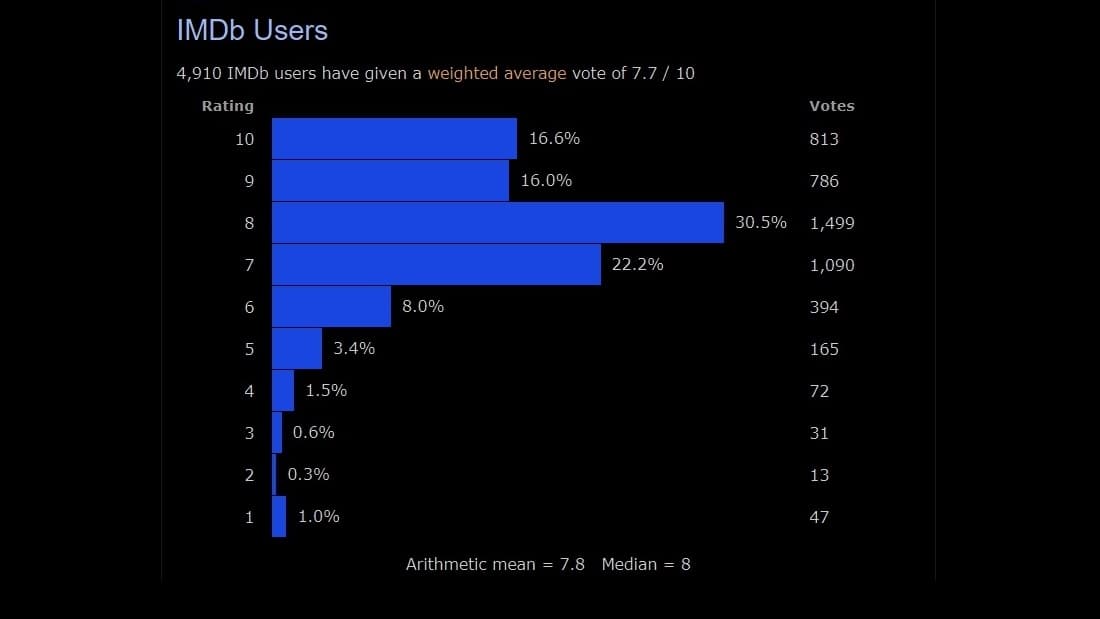 IMDb, Myanimelist.net, and many websites can be scrolled to know, how the majority of people received this anime. They also provide reviews and comparisons there – like a detailed chart.
You should check the IMDb stats first, which are shared above. The anime got rated 8/10 (median) and 7.8/10 (Mean).
Close to 30% of the voters rated it 8/10. 16% of them voted for 10/10 and another 16% voted 9/10.
These numbers look good for an anime that did not have a fan base during release.
From this information, it's easy to conclude that the anime did well enough and it deserves a Season 2.
Sales and Profit for The Devil is a Part-Timer Season 2
The backend of the anime involves a lot of effort. It's where the real decisions are made.
Fans' emotions matter very little in this sphere. This is like a different realm as you can see in the Isekai anime.
The people in this realm are more interested in Sales and Profit. There are three main sources of their earnings.
Source Material - Light novel
Most anime productions are ways to publicize source materials and boost their source materials. In this case, it was the Light novel volumes written by Satoshi.
After Season 1 of The Devil is a Part-Timer broke even, the sales did go up.
It was ranked 316 in 2016 and had sold 12,000 copies by 2019. This is a decent figure.
Though the manga came after the light novels, it also sold well. Most of the novel buyers were from overseas.
CD/DVD/Bluray Disc
These are the mediums through which anime is sold off. This gives the producers maximum profit as it's a direct sale.
Around 896 BD boxes were sold till 2018. 15,500 Blu-Ray discs and DVDs were sold after Netflix gave more audience to The Devil is a Part-Timer Season 1.
They earned around 16,128,000 Yen from these channels. This around $ 150,000. Profitable enough, right?
Netflix
The anime was available for streaming on Netflix for a long. This OTT platform is the one that gave The Devil is a Part-Timer the most exposure.
However, it was removed from Netflix, around 4 years ago.
Merchandise
Merchandise is another way to gain profits. The biggest attraction being the bigger margins on the product compared to previous ones.
Some of the goods sold were T-Shirts, Posters, Stickers, key chains, etc. There's not much information in the public domain on how much money was earned via Merchandise.
Production cost and success of The Devil is a Part-Timer
Unfortunately, there's no official information about the production cost incurred. But, worry not, you will get an idea as you read on.
For a broadcast of a 30-minute anime episode, it would cost roughly $ 15 million today.
Let's view it in terms of inflation of the yesteryears. Then it would be around $ 10 – 12 million.
This is nearly 150 million Yen. There were around 13 episodes for The Devil is a Part-Timer Season 1.
This brings the estimates to $ 156 million. The producers did not earn much via the DVD/BDs.
Most of it came through the OTT streaming and source material sales.
Famous Characters We Hope to See in The Devil is a Part-Timer Season 2
The second-best news which came with the announcement of Season 2 was the cast members.
The cast in The Devil is a Part-Timer Season 1 will return for Season 2.
Here are some of the prominent characters we will see in The Devil is a Part-Timer Season 2.
Sadao Maou (Satan Jacob)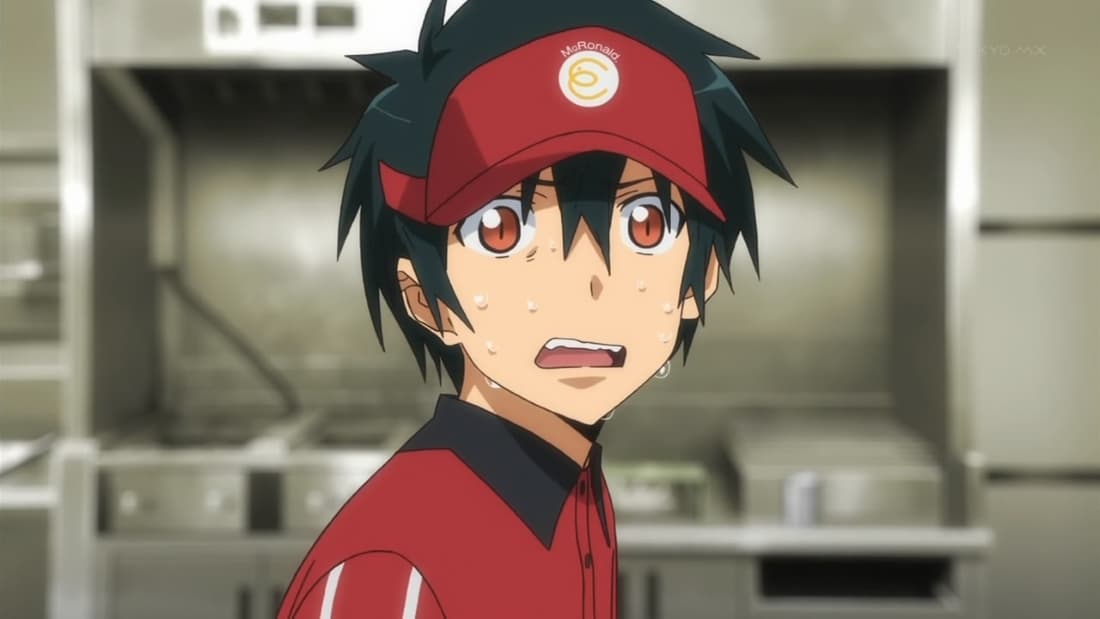 He's the ambitious Demon Lord who sets out to conquer Ente Isla. His plans to take over Ente Isla are foiled by Emilia Justina who teams up with Sariel.
He retreats and reaches Tokyo with his General. He adapts to Japanese life by taking a Japanese name.
This is after he realized that he lost his magical powers in the human realm.
He finds work as a Part-Timer in a fast-food café called Mgronalds. The hilarious parts of the movie are those where he adapts to human life.
Being unfamiliar with it before, he commits a lot of mistakes – some are embarrassing.
He gets promoted as a manager, soon. He realizes that he can conquer the earth by climbing the corporate ladder.
He befriends Emi later, at the café and they team up. Emi is drawn to him but their relation is not defined.
He comes across as a caring and benevolent leader. At the same time, he is naïve and careless too.
He cared a lot for his people.
Emi Yusa (Emilia Justina)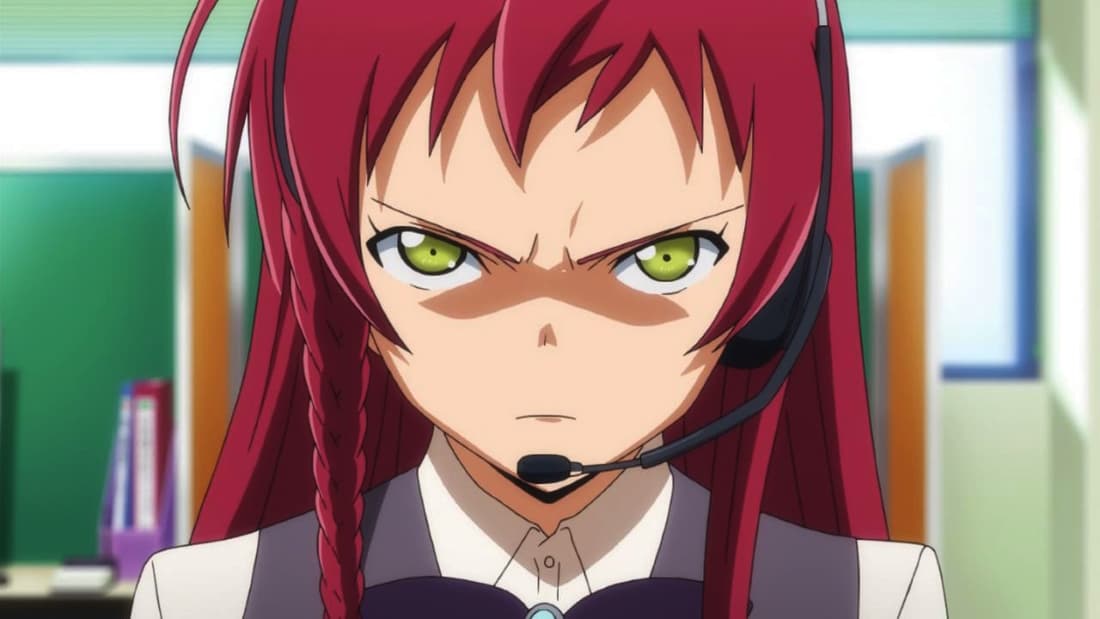 She's the female lead character who vows to kill Satan Jacob. Her father was allegedly killed by Satan Jacob during a raid of the demon army.
She teams up with Sariel and defeats Satan when he tries to conquer Ente Isla.
When Satan retreated, she followed him to Tokyo. After changing her name, she took a job as a call center agent.
Like Satan, she has also lost her magical powers. She joined Satan's Mgronalds after she was fired from the call center.
She grows close to Satan and Chiho, who are her colleagues. She even gets recruited into the Demon Army and severs her ties with Sariel – an angel.
Later she discovers that her father is not dead and her mother knew Satan. She also helps him to find his General who's also in Tokyo, under disguise.
Emi faces a dilemma as she has joined Satan. The angels are looking out for her.
Shiro Ashiya (Alciel)
He's a General of Satan's Demon Army. After the retreat of Satan, he moved along with him to Tokyo.
But, they split ways from there. Neither of them knew others' identities. It took time for them to find out their locations and identities.
Shiro worked for another employer. He's loyal to Satan and tries to find a way for him to regain the magical powers.
He also realizes that he needs to struggle a lot in this realm. He falls in love with a female character named Rika.
But, he did not proceed with it because he believed she was in love with his human form.
Not his true "demonic" self. Shiro is also dedicated and constantly finding ways to help Satan.
Chiho Sasaki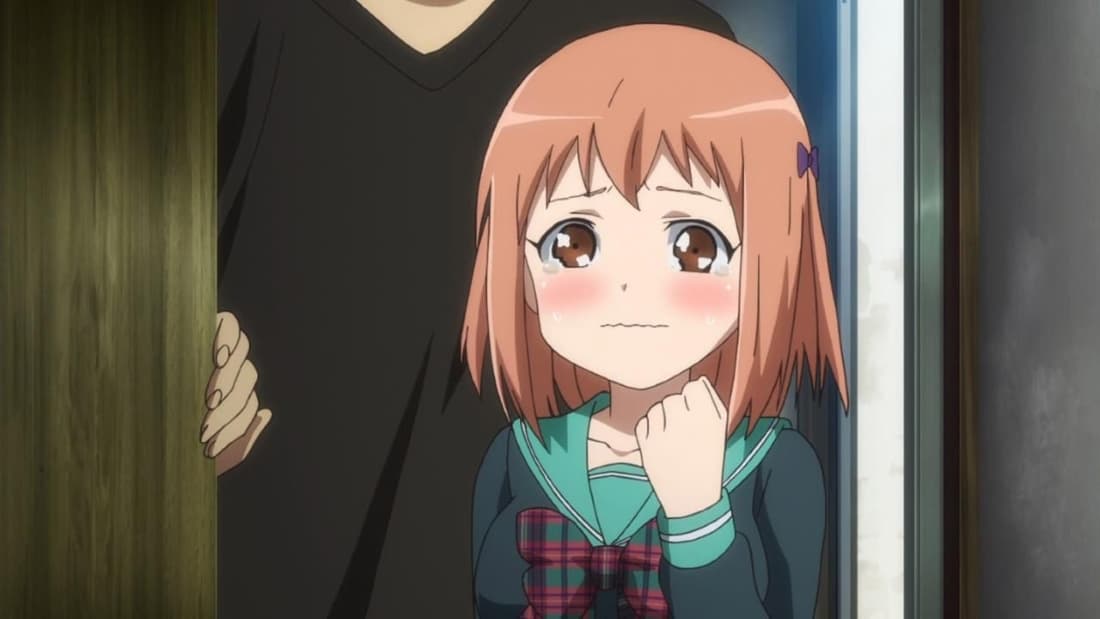 Chiho is a high school goer who works part-time at Mgronalds. She's a friend of Satan Jacob and eventually develops feelings for him.
She's an athlete who's shorter than average. In a fight with Sariel, she gets rescued by Emi.
She's the only person on their side who can understand the spoken language of Ente Isla.
This was because she got affected by a spell meant for Emi. Satan who's pleased with her appoints her as a General of his Army.
Hanzo Urushihara (Lucifer)
He's one of Satan's old Generals and an ex-angel. Lucifer wanted to return to heaven.
So he conspires with Olba to defeat Satan. As a reward, he can be sent back to heaven and live like an angel.
He is the son of an angel and demon. At some point in the anime, he becomes a Hikikomori.
This means someone who lives in seclusion. He stays that way to avoid the police.
This stay is at Satan's apartment.
Sariel (Sarue Mitsuki)
He's the archangel who works for the Ente Isla church and works against Satan Jacob.
Initially, he allies with Emi to defeat Satan Jacob. After they chased Satan to Tokyo, he takes the identity of Mitsuki.
After realizing that Emi switched to Satan's camp, he goes to kill her. He succeeds in defeating her and capturing Chiho.
But, he got defeated by Satan, soon. He grows close to the manager of the café Mgronalds.
Suzuno Kamazuki
She's Emi's comrade and a team member of Sariel. She lives next to Satan Jacob and has also come to kill him.
However, she is not able to adjust to human life in Japan. Later, she also changes sides like Emi.
After becoming friends with Chiho, she saves her from Sariel during an attack.
Yuki Mizushima
She's the manager of the café Mgronalds.
Rika Suzuki
She's Emi's colleague at the call center and also a friend. She's the one who falls in love with General Ashiya.
She persisted with her relation though he told her he was not interested.
Other Decisive factors for The Devil is a Part-Timer Season 2
Now that you have got an idea of the characters that'll appear again, let's see the other factors for Season 2.
Ending
The ending of The Devil is a Part-Timer Season 1 was a cliffhanger.
The final twist had put fans in suspense. The whole dynamics and equation between characters changed.
Emi who was an ally of Sariel jumped into Satan's camp. Now, she has enemies who were earlier her allies.
Though she knows that Satan Jacob is more interested in conquering Earth, Sariel seems unaware of it.
Sariel tries to get close to the Manager of Mgronalds and this disgusted Emi. The ending is such that it shows the new relation between Emi and Maou.
Trailer
The official trailer of The Devil is a Part-Timer Season 2 came a day after the announcement.
You can watch it, here.
Controversy
The author of the Light novels – Satoshi Wagahara received death threats after it concluded.
This was apparently due to the readers being unhappy with the ending of it. One user even destroyed his old copies of the Light novel.
Conclusion
Since the producers have announced Season 2 of The Devil is a Part-Timer, there's nothing much to speculate.
What remains in the dark is the exact date of release and other details about the episodes.
It's believed that the anime will start premiering in 2021 end or 2022. Since fans have waited so long, it won't hurt to wait a little more.
Those who read the source material will definitely enjoy the anime. There will be a rise in the sales of the Light novels and Manga after this.
Let's hope it performs well and gives the producers and fans what they both want alike.
We at ENTOIN will keep you updated with more details. Follow us and drop your email addresses below to get updates in your inbox.