»
Top 30 Best Wholesome Romance Anime Of All Time [2023 Updated]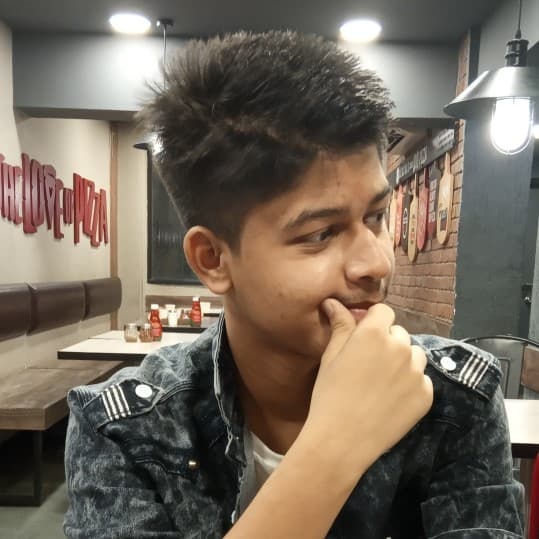 Kay-Updated Jan 12, 2023
---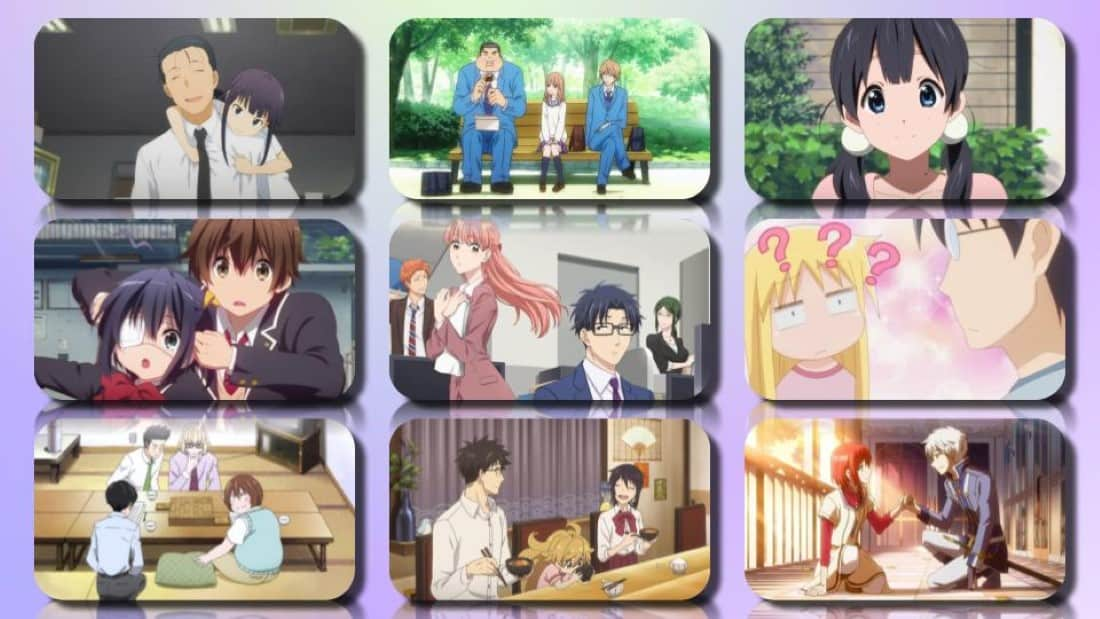 Anime is a great medium for anyone and everyone to just lay back and relax after a long day at work.
While there are countless anime that can hit the spot after a tiring lecture from your teacher, romance is a genre that does it better than others.
And if we add some wholesomeness to that equation, then you can bet, you are going to have a great binge session tonight.
Therefore, it would be great for us to take a look at some of the best wholesome romance anime out there that can cure our frustrated hearts and melt them even at 18 degrees Celsius.
This is the Top 30 Best Wholesome Romance Anime List. I hope you enjoy it.
30. Monthly Girls' Nozaki-Kun
Monthly Girl's Nozaki Kun is an anime that will give you a completely new perspective on love stories and their execution.
This is why the show is placed here on our list. It talks about a girl named Chiyo Sakura who happened to have a Crush on someone.
His name is Umetarou Nozaki. However, the interesting thing here is that Nozaki is a manga artist and when Chiyo confesses her love, she is mistaken to be a fan of Nozaki's manga instead.
Things happen and now Chiyo is part of Nozaki's manga team. Their mission is to push out the best shoujo manga out there.
But to do so, the characters might have to focus a lot more on their practical life in school. This is going to be interesting.
29. Horimiya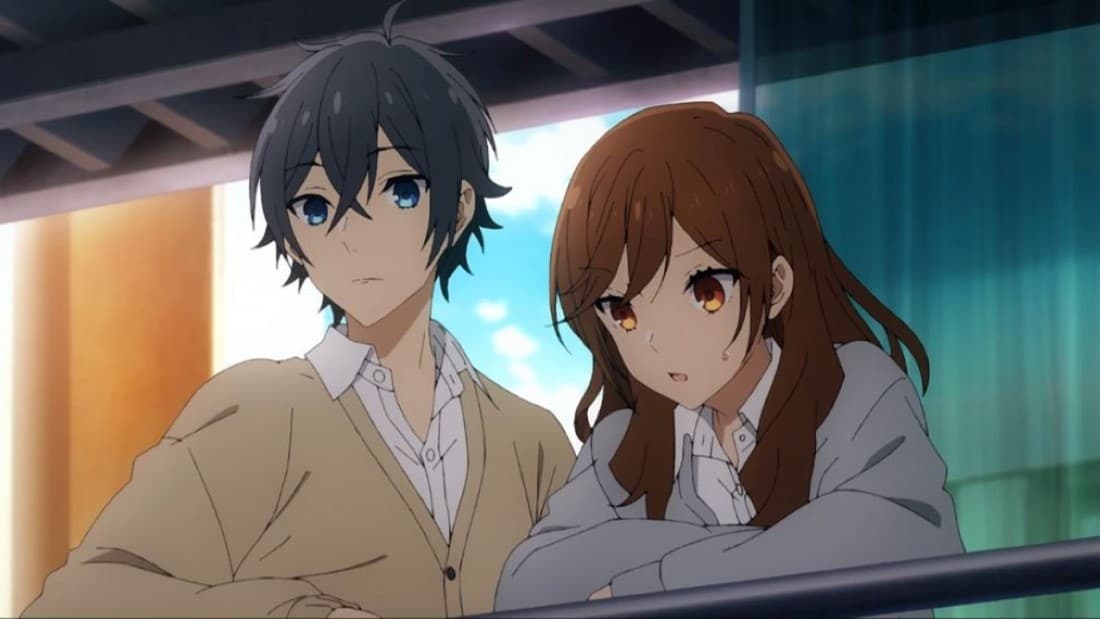 This anime will melt your heart for sure. And you can't even complain. Horimiya is a simple and sweet love story between Kyoko Hori and Miyamura Izumi.
Both of these individuals seem to have a personality within themselves that isn't explored by the masses. However, when they get close to each other, they realize that they can open up to each other and have a presentation that they have never had before.
Time passes by and soon enough, Hori and Miyamura end up getting so close to each other that love starts to pave its way in the situation.
And that's how these characters make a name for themselves in the anime medium. There's a reason why it was an extremely popular anime back when it first aired.
28. Princess Jellyfish
The seemingly normal life of a girl is going to take some interesting turns. And let's just say that we can't do anything about that.
Princess Jellyfish is all about a girl named Tsumiki who lives in an apartment complex named Amamizukan. And the interesting thing about this complex is that boys aren't permitted in this place.
Therefore, it's a tranquil and peaceful place for girls to have some relaxation. However, Tsumiki's life takes a different turn when one of the women from the Complex helps her.
And when she does so, her love for Jellyfish is going to backfire unexpectedly. Make sure to watch this show to know what happens to Tsumiki and her friends.
27. Ouran High School Host Club
Ouran High School Host Club is all about fun and humor. And that's quite fitting considering the narrative of the series.
It talks about a girl named Haruhi who gets into some deep trouble and ends up becoming a part of the Host Club at Ouran High School.
However, this host club is filled with men who serve the purpose of pleasing women. And that's why they seem to have a lot going on for them.
And although Haruhi may not be a man, she looks like one. And so, she will be able to satisfy one of the many types of men that women desire.
However, amidst the fun activities of the club, the characters might end up falling in love with someone. And that will be interesting, to say the least.
26. The Way Of The Househusband
The Way Of The Househusband is one of the most entertaining anime you will experience in recent times. The premise of the show is quite accurate considering its title.
It talks about a guy who is an ex-yakuza member. And so, dealing with killing and blood is no big deal for him.
However, since he is a househusband now, things are going to change. They are going to disturb his new normal but our man knows how to handle his stuff.
And that's what makes this anime so interesting for all of us. The content is unique and fresh and while the animation may seem like a game at first, at the end of the day, things will end up giving you all the fun you needed.
25. Tsuki ga Kirei
This is a simple yet sweet love story that no one would wanna miss out on at all. And that's why it is worthy of this spot on our list.
The show is pretty straightforward. It talks about a couple named Kotarou Azumi and Akane Mizuno who came in touch with each other for the first team.
They are third-year students who got to know about each other in this academic year and ever since things have been nothing but sweet butterflies for them.
However, they aren't going to get into the move just yet. And let's just say that things will be a lot more demanding and fun with the passage of more and more episodes. That's where the wholesome nature of this anime lies.
24. The World Is Still Beautiful
This story about the Kingdom and kings is a lot more interesting than you might expect. And this is the feature that shaped the show for anyone and everyone out there.
The series talks about a girl named Nike who was the youngest Princess of the Rain Kingdom. And she went ahead and showed up in the Sun kingdom because of a lost bet.
Now things are going to get interesting because the Sun King is said to be a monster. And Nike has no choice but to be betrothed by him.
This is going to change her life forever. Nike will have a whole new realm opened up to her and she must tackle it all on her own.
This is what makes the anime worthy of all your love and support.
23. Kimi no Na wa. (Your Name)
Kimi no Na Wa is one of the most popular Romance series to ever exist. This movie is one of the highest-grossing anime movies to ever exist.
So the hype is understandable. The show talks about a girl named Mitsuha Miyamizu and a guy named Taki Tachibana who have developed some unrealistic powers within them.
They can switch to each other's bodies. However, they don't know each other yet. And so, when the first switch takes place, they go ahead and experience each other's life, while also trying to find a way out of this situation.
However, in the process, they will realize the beauty and aspirations of their original lifestyle.
22. Ore Monogatari!! (My Love Story!!)
Ore Monogatari is a wholesome romantic love story between a girl and a guy who have an unexpected relationship developed between them.
The show talks about a guy named Takeo Goda who is extremely huge and muscular. Looking at him, everyone is going to assume him to be a delinquent or a bouncer.
However, in reality, he is a softie who is kind and humble with his actions and always tries to help out other people.
And this man falls in love with sweet and tender-looking Rinko Yamato who goes on to prove that love is a feeling which paves its way, far beyond looks, and reaches the depths of a person's heart, every single time.
This story will melt your heart and make sure that you are ready for it.
21. Kimi ni Todoke
This anime will show you a romantic side that you might have never seen before. And that's why it is placed so high on our list.
The show talks about a girl named Sawako whose social life is messed up because of her resemblance to a ghost girl from a movie.
And because of that single connection, she seems to have lost all her value. However, this situation flips when a guy named Kazehaya befriends her.
And from that point onwards, the series shapes itself to become as incredible as you might expect it to be.
The bond that was made on a seemingly unexpected basis is going to give both of these characters a life that they would have never experienced otherwise. This is going to be quite fun for everyone.
20. I Can't Understand What My Husband Is Saying
Well, the title is pretty self-explanatory on its own. However, that isn't going to change the fact that the series is just as impressive.
The show talks about a couple who are trying to make a living in this tough world. This duo loves each other so much.
However, since their professions are quite different from each other, their mindsets are different too. While the lady of the house is a hard-working professional woman, the guy is an Otaku and a blogger.
With this combination for running the family, the duo often faces complicated situations where they can't understand each other's problems.
However, at the end of the day, the love that they hold for each other manages to get them together again.
And that's why this anime is placed here on our list. The show is so adorable that you won't regret a second of it.
19. Love, Chunibyo & Other Delusions
This anime is known for its cuteness. And so, nothing can come close to it in any regard whatsoever.
The show talks about a guy named Yuuta who experienced Chuunibyou in his childhood. For those of you who don't know, Chuunibyou is the fantastical assumption that you are special in some way.
And this was a major part of Yuuta's embarrassing past. Therefore, Yuuta tries to run away from this past by changing schools.
Unfortunately, Chuunibyou doesn't leave him and a girl named Takanashi Rikka gets associated with him. And she is still in the grasp of Chuunibyou.
Yuuta is going to have an interesting time, trying to get over the idea of Chuunibyou in his life.
18. March Comes in Like a Lion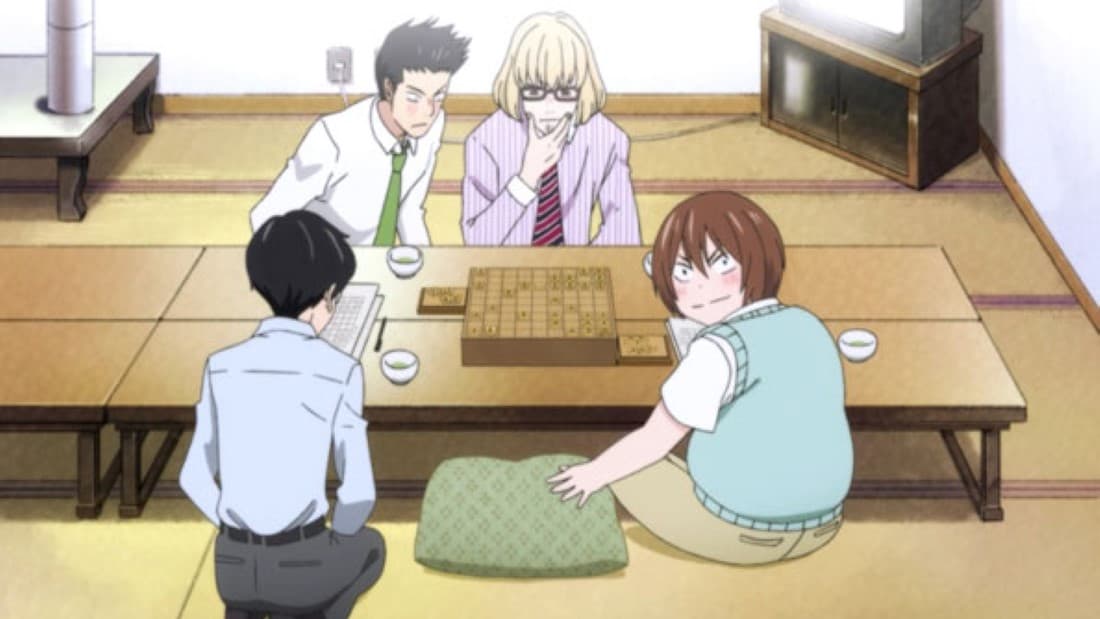 An anime that will give you a new perspective on life and its objectives. That's what this show is all about.
It talks about a guy named Rei Kiriyama who seems to be a prodigy of Shogi. The entire society is keeping high expectations from him and so, he ends up losing his social life because of the pressure and burden upon him.
However, that isn't going to change the fact that this man is about to have his life changed. When he starts living alone, he comes across a family that is quite friendly by nature.
And one of the girls from that family decides to help out Rei at any cost. Therefore, things start to get better for our boy from that point onwards.
17. Sweetness & Lightning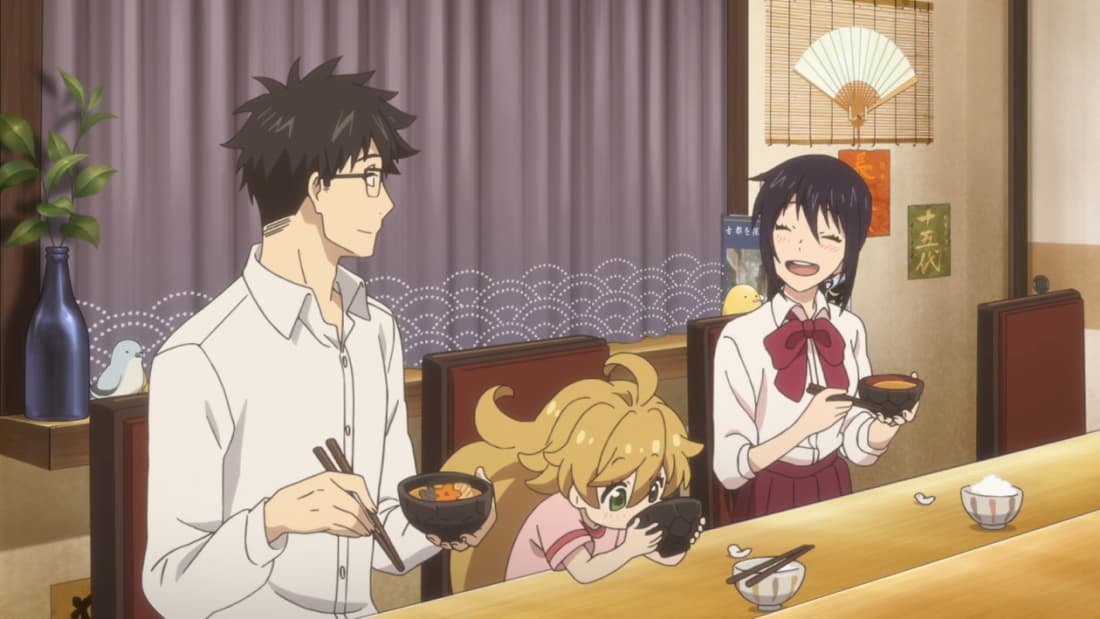 This is yet another sweet romance story that you would wanna watch with your spouse tonight. The show talks about a teacher named Kohei Inuzuka who has a daughter to look after since her mother is dead.
My man tries his level best to offer an incredible life to his daughter but just fails to do so since he is caught up with both his school work as well as his household work.
However, his life starts to change when a girl named Kotori proposes the idea of cooking for his daughter to him.
And from that point onwards, an unexpected relationship seems to be developing between the two individuals in this story.
And let's just say that this bond is going to go quite far.
16. Snow White With The Red Hair
This anime is filled with adventure and medieval-themed stories. Therefore, it can be a great pick for someone who is looking for a multidimensional anime to binge-watch this week.
The show talks about a girl named Shirayuki who was born with gorgeous Red hair. However, her life gets into trouble because of an unexpected war between two kingdoms.
Shirayuki decides to do something completely unexpected and pave her way out of the predicament. However, soon enough, she realizes that this war is going to go on for quite some time.
And instead of running from it, the best thing to do is to tackle the issue head-on. And that's exactly what she does.
15. Wagnaria
Office romantic comedy anime are always fun to watch. And that's why they deserve high spots on this list.
The show talks about a guy named Souta Takanashi who is quite fond of small and cute things. And that's the exact reason why he decided to take in Popura Taneshima who is a cute little girl with an incredible attitude.
Wagnaria revolves around the fun and battle that comes when you work for a restaurant out in the market.
And within the hardships of this business, lies the relationships that will shape your life forever. That's what Wagnaria is all about.
It's the beauty of the characters and their personalities that make it worthy of this spot on our list.
14. Tamako Market
Having a rivalry, along with love is interesting, right? And that's what makes Tamako Market so special for everyone.
The show talks about a girl named Tamako who is in love with Mochizou. Or so you might think but the reality is a bit different.
In this anime, Tamako's best friend ends up confessing feelings for her. And from that point onwards, things get amazing between Tamako and all those around her.
The relationship between the characters is just as fascinating as you might expect. Tamako Market is a show that will make you blush for hours.
And you won't be able to do anything about it. The wholesomeness is out of the box. And you can't beat that.
13. Wotakoi
Wotakoi is all about a love story that exists in the office space. However, this love story is a lot more complex than you might imagine.
The show talks about a girl named Momose Narumi who is deep into anime and manga as well as any other Otaku-related stuff.
However, since all of this is considered a subject of Shame in Japan, she doesn't want anyone to know about it, especially her co-workers.
However, things change when she realizes that Nifuji Hirotaka, her childhood friend, is also alongside her. And the best part is that he knows about the Otaku background of our girl.
That's why he is so impressive for the story and shapes the anime altogether.
12. Tonikaku Kawaii
Without a doubt, one of the most wholesome anime to ever come out. This is one of the rare romantic series where the main cast skips the girlfriend and boyfriend part.
And directly jump to marriage. Yes. Don't question it. The show talks about a sudden yet love-filled marriage that exists between Tsukasa and Nasa as they try to pave their way together for a livelihood.
How it came to be is a story for another day. However, what we do know is that this couple will make you realize the beauty of romance and relationships with its sweet and spicy narrative.
And therefore, the show is going to be a feast for anyone and everyone who cherishes good romance.
11. Kamisama Hajimemashita
This anime is all about fantasy. However, that fantasy isn't what you are expecting it to be. The series focuses on a girl who lost everything she had and was standing at a horrible stage in her life.
However, that stage was overcome when she was assigned to a Shrine. Now, she is supposed to be a successor of a God and her job is to fulfill the previous God's duties.
And while all of that can be taken care of very well, there's one slight problem with this situation.
And that's none other than the fact that the familiar in that shrine isn't willing to accept this girl as his new master.
However, it's up to the girl now to convince the familiar and provide value to all those around her.
10. Hyouka
Hyouka is an anime that can shape your outlook on life and the things that happen around you. It talks about a guy named Oreki Houtarou who is quite lazy, to say the least.
However, his deduction skills are unreal. And that's why he is one of the smartest characters out there. When this lazy guy meets cute Chitanda Eru, his life flips upside down altogether.
She goes on to ask a million questions to him and together, they solve some of the most fascinating mysteries that their school has to offer.
While the romance in this anime isn't explicit, the show has a wholesome outlook on the characters, making it worthy of the current spot on our list.
9. Tsurezure Children
While being in the same school can be a blessing, it can also be a curse in its own regard.
And that's what Tsurezure Children is all about. It talks about two individuals who are in love with each other.
However, they aren't able to confess to each other since their surroundings are just so inappropriate. There's a lot of risk and trouble involved in just saying those three magical words.
And because of that, the characters are going to have a hard time finding space for each other. Fortunately for us, this means that we are going to have a fun time looking for entertainment on screen.
There's a reason why people look up to this anime so much. And that's why it is placed here.
8. Spy x Family
While this anime is still new in the industry, it managed to pack a punch without breaking a sweat.
It talks about a guy who serves as a spy and has been assigned a major task. However, to attain that task, he must have a family of his own.
That's when he decides to look for a child and a wife. Due to unforeseen circumstances, he ends up with a telepath child Anya and an assassin wife Yor.
This family is now going to fight against crimes while making sure that they don't end up in any trouble for each other.
Secrets must be preserved and safety is the topmost priority. Action is going to be the core of the show and you wouldn't wanna miss that.
7. The Quintessential Quintuplets
This anime is filled with Waifus. And that's one of the many reasons why people love it so much.
The anime is all about a smart kid named Fuutarou who is trying his best to make ends meet by doing part-time teaching jobs.
However, his luck seems to be great when gets the opportunity to teach 5 students for a hefty fee.
But there's a catch. These 5 students are Quintuplet sisters and all of them have their own difficult life to follow up.
There's a reason why people look up to this anime so much. The variety of characters and their personalities are so entertaining that no one can come even remotely close to it.
This is why Quintessential Quintuplet is a must-watch.
6. Wise Man's Grandchild
This fantasy romance anime will melt your heart down. And you won't be able to do anything about it.
The show focuses on a guy who died in his original world and was reborn as an infant in a fantasy world.
There, he was raised and nurtured by an elite warrior who has retired from his profession. This warrior will shape this kid, now named Shin, to become one of the strongest to ever exist.
And although in this world of demons and magic, life isn't going to be as easy as you might expect, Shin will be prepared to face anything and everything without breaking a sweat.
This is why he deserves a great spot on our list. The wholesomeness of this anime is on a completely different level.
5. The Devil is a Part-Timer
When you say Devil, you think about a fierce monster who will take over the world. But do you ever think about a McDonald's Cashier?
Yeah, that's right. The Devil in this anime is just that. The series talks about Satan who was about to conquer the earth but instead ended up getting caught in here.
Since Earth doesn't have magic, he is left with no choice but to follow the rules and regulations that are set here.
And the beast that was going to rule all dimensions, is now going to have a hard time trying to rent a house for himself.
This anime is nothing but a parody of the daily life of a middle-class man. And that adds the level of the craze in the series for the characters.
4. Danmachi
Isekai anime with a ton of female characters and a cute story. You are most welcome. DanMachi talks about our main character who got reincarnated in this new world.
Here, he is an adventurer whose job is to take down monsters in dungeons and make a living out of it.
However, that isn't going to be an easy task for him, considering that the dungeons here can get quite dangerous.
However, with the help of his friends and team, our boy will be able to tackle any problem that you can think of.
And that's what makes DanMachi so entertaining for anyone and everyone who watches it. If you are someone who hasn't watched the show yet, make sure to give it a go.
3. Anohana
This anime will break you down. No doubt about it. However, that's just the beauty of it. The show talks about a girl named Menma who died during her childhood.
And from that point forward, her entire friend circle got separated because of the trauma. However, one day, Jinta, one of Menma's friends, saw Menma after so many years.
And it was at that moment that he realized that this was nothing but Menma's spirit. Now, Menma's spirit has a final wish to fulfill.
And Jinta will gather back the group to make sure that this final wish is fulfilled at all costs.
And that's why this anime is going to shape your experience for the better. Make sure to have some tissues by your side.
2. Miss Kobayashi's Dragon Maid
While the romance in this anime isn't exactly straightforward, the wholesomeness is so good that we can't help but include this show on our list.
Miss Kobayashi's Dragon Maid is nothing but a comedy romance story about an IT professional who got herself caught up with a ton of fantastical creatures, more prominently Dragons.
She has appointed one of the dragons as a maid. And because of that, her life is going to get upside down for sure.
After all, you don't really see a dragon work as a maid. With Kyoto Animation's excellent skills and prowess, Miss Kobayashi's Dragon Maid has become a series that you just can't miss out on. Go ahead and watch it tonight itself.
1. Kaguya Sama: Love Is War
And the number 1 spot goes to none other than Kaguya Sama Love Is War. However, that's quite fitting considering that this show has both romance and wholesomeness in the perfect amount.
The series is all about two characters named Kaguya and Miyuki, being madly in love with each other. However, they believe that the one who confessed his or her love first will be the loser for the rest of his/her life.
Therefore, both of them are going to use their wit to make the other person confess first and win the game.
The premise of the show and its content is so magical that nothing can topple it in this category.
And that's why Kaguya Sama Love Is War is at the number 1 spot.