»
Top 50 Most Popular High School Romance Anime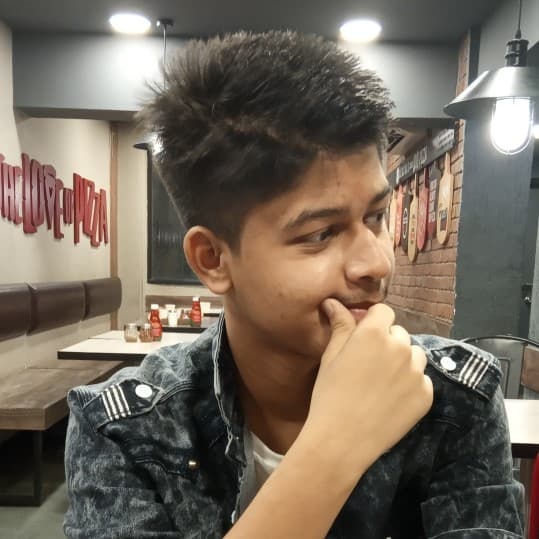 Kay-Updated Feb 5, 2023
---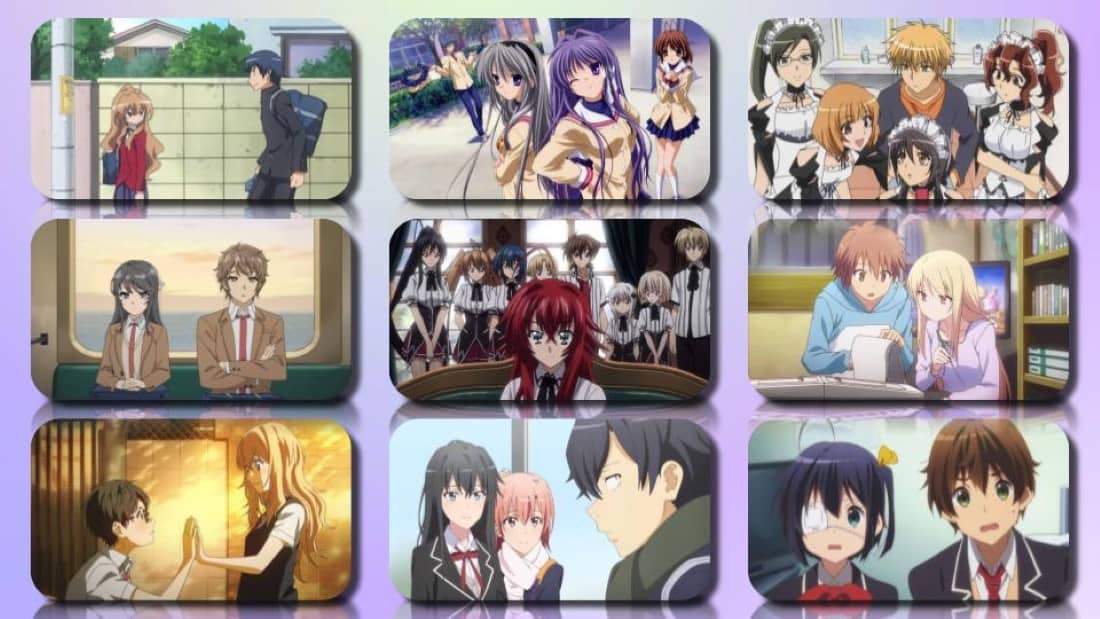 Highschool Romance is a category of entertainment pieces that cater to basically every single demographic whatsoever. No matter how old you are or what your gender is, love is something that you must have experienced at least once in your life.
Whether it ended positively or negatively is a question for another day. However, you can't deny that this feeling of losing yourself for someone else is just pure and heartwarming on so many levels.
Therefore, having a love story of your own during your school days is one of the most beautiful memories for anyone.
And this is why Highschool Romance anime are some of the most loved anime series of all time. Therefore, to bring some more light to this category, I have decided to mention the Top 50 Most Popular High School Romance Anime.
I hope you enjoy it.
50. Gamers!
It may not be the most mind-twisting story you will ever come across but the entertainment is still there.
Gamers is a romance story that talks about a guy named Keita Amano who plays a ton of games.
Soon enough, he comes across Karen Tendou, the most popular girl in his school and she wishes to have Amano as a member of the Game Club.
While Amano rejects the offer, Karen starts to convince him with all her might and in the process, love starts to develop which goes on to show how interesting high school romance stories can be.
However, there might be a few more characters that will come into play, soon enough.
49. Saenai Heroine no Sodatekata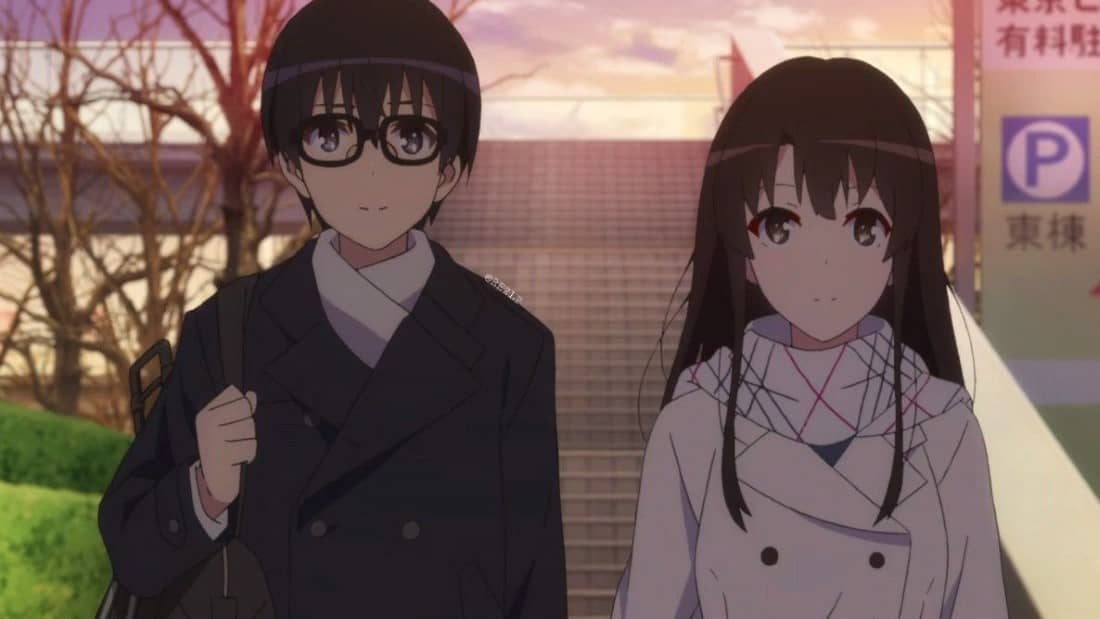 This is a rather uncommon story for the anime medium. Therefore, even hardcore anime fans might enjoy this.
The show talks about an Otaku named Tomoya Aki who is unreal with his passion for anime and light novels.
So much so, that he wishes to create a game of his own to depict the love that he has for all the Otaku stuff.
Therefore, he gathers a team that includes all of his friends and goes on to create a romance game that will touch the hearts of everyone.
However, there's one slight problem with this. These characters might have a hard time with each other since they are going to experience romantic feelings among themselves. This will be interesting.
48. Seishun Buta Yarou wa Yumemiru Shoujo no Yume wo Minai
This is the movie from the Bunny Girl Senpai franchise. And if you haven't watched the original series yet, you should most certainly check it out.
This installment talks about the back story of Shouko Makinohara as she goes on to express her life and how she entered the realm of Sakuta Azusagawa.
She is incredible with her storytelling and maybe, this might be the last time we hear from her. However, that won't change the fact that the narrative of Bunny Girl Senpai is exceptionally intricate and beautiful.
And with movies like these, the franchise establishes itself as one of the greatest pieces of work to come out in recent years. High School romance at its finest.
47. Sukitte Ii na yo.
This is a great romance story about two completely different souls, trying to find life amongst each other. The show talks about a girl named Mei Tachibana who has had a ton of miserable experiences with her friends in the past.
This is why she doesn't want to befriend anyone. However, when she comes across Yamato Kurosawa, the situation changes and she ends up getting a boyfriend.
With this new guy as her fellow mate, her life of Mei is going to change forever. And this flip is a bit difficult to comprehend, even for Mei herself.
However, with the passage of time, they will both realize that there's nothing more beautiful than having a best friend whom you love.
46. Baka to Test to Shoukanjuu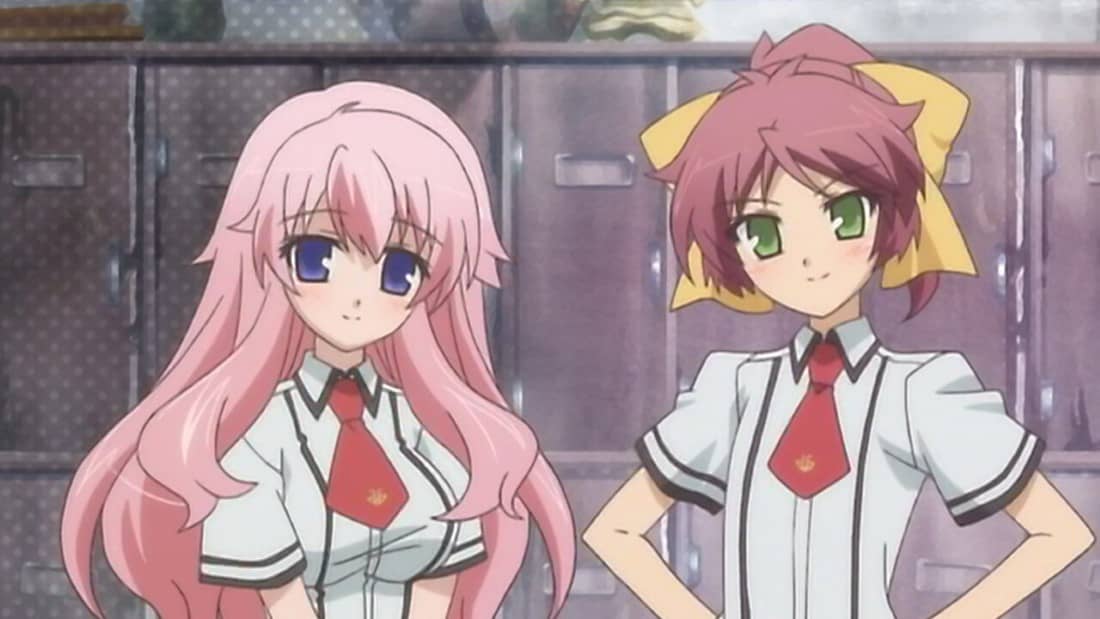 This show is filled with elements of romance, fantasy, and action. Therefore, the series can very well be considered an all-out package.
The show talks about a school called the Fumizuki academy where the entire student batch is divided into various sections based on their scores.
A is for the best students while F is for the worst students. Now, the students in the F class have to experience terrible facilities and amenities.
Therefore, to counter this issue once and for all, they decide to head against all those who stand in their path and fight to get the A rank again.
This attempt will be fascinating to watch and thus, deserves a spot on our list.
45. Gakusen Toshi Asterisk
This is a story that dives deep into the fantasy realm while maintaining a gorgeous atmosphere. The show talks about a world where magic is omnipresent.
And Seidoukan Academy is going to have a tough time pushing out elite students. However, the situation gets even more interesting when Ayato Amagiri joins the school.
Initially, he accidentally ended up seeing a girl named Julis who was beyond frustrated to know that her body had been looked upon by another man.
However, soon enough, Ayato explains that he is on a different mission. And Julis is not part of it.
All in all, Ayato has to take care of everything in order to ensure that things work out just like they should. And mysteries might pave their way.
44. Kuzu no Honkai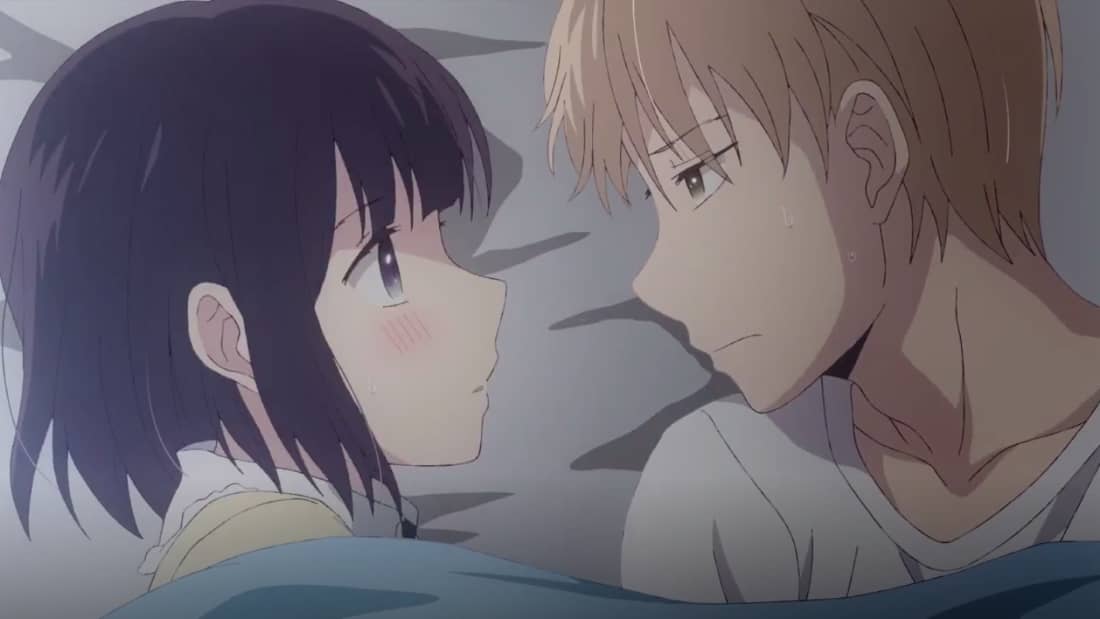 If you wish to experience something unique and fresh under the tag of high school romance then this is the show for you.
Kuzu No Honkai is a complex story that dives deep into the relationships developed by our main characters. The show talks about the dark side of high school romance, the things that no one wishes to discuss.
And those features are what will make the show so amazing in the first place. The anime will give you a completely new perspective on romantic relationships and how people should manage them on an individual level.
And the depths of the characters in this narrative will shape you from the core. That's how amazing this show is.
43. Yahari Ore no Seishun Love Comedy Wa Machigatteiru. Kan
This is the third season of the incredible Oregairu series. The show is all about a narcissistic guy named Hikigaya Hachiman who is on his way to proving himself that youth is a lie.
All the good things about youth are all made up and nothing comes with it. However, things start to change when his loner personality is brought in contact with Yukinoshita Yukino and Yui Yuigahama.
As these three for a club dedicated to helping out people, they might realize that youth and high school relationships aren't as simple as we might expect.
And things might reach new heights with the presence of this bond. Let's see how the show goes.
42. School Days
A lot of people consider this as one of the most horrible high school anime to ever exist. However, that's where the catch is.
It is so horrible that it is great. And with that mindset, things end up getting quite messy in this show.
The story focuses on a group of three teenagers who might be enveloped in a complex relationship of one like the other or something along those lines.
This love triangle will have a hard time sustaining and things will get quite messy between these three. It dives into the romances and experiences that are explored by our main characters and pushes them forward in an entertaining and fun format.
This is what makes the show so great.
41. Angel Beats
While the narrative isn't heavily focused on it, there's no denying that Angel Beats is quite an impressive high school romance anime.
It is pretty unique in the sense that the romance doesn't take place between the lead female and the lead male.
Instead, the romance takes place between the lead male and a completely unexpected character. The series is set in a world where people will unfulfilled life end up after death.
In this school, they can experience a normal world if they wish to. However, there's a catch to it.
And that is what will define the shape of the show in the long run.
40. Rosario to Vampire
Rosario to Vampire is one of the most interesting romance series in recent times. And that's why they deserve more love and attention from the fandom.
The show talks about a guy named Tsukune Aono who is a human. Now there's no problem with him being a human but here's the catch.
He gets admitted to the Youkai Academy, a place where only monsters are permitted to study. And although he was going to change his decision and go somewhere else, his relationship with a girl right before the academy, made him switch instantly.
Soon enough, our boy realizes that he is in a messed-up situation and must do all he can to make sure that things work out as planned.
39. Domestic na Kanojo
The plot may seem a bit out of place but hear me out. The story talks about a guy named Natsuo Fuji who was experiencing his adolescence during this moment.
In the breeze of adolescence, my man fell in love with his high school teacher Hina. However, things didn't seem to work out well so he decided to step back.
Later on, things happen and he ends up getting with a girl named Rui. However, the change of fate comes in when he realizes that both Rui and Hina are now his step-sister.
And this complex relationship is going to go quite far with all the mess-ups that happened between all the characters.
This is what makes the show so outstanding.
38. Tsurezure Children
This anime is a lot more light-hearted than you might expect. And yes, a lot of people accidentally pronounce it as "Tsundere Children".
Nothing new about it. The show talks about love at a young age. The problems of being together when you aren't exactly at the top of your maturity.
The mistakes that happen and the intense feeling that sustains within the heart are what make this series so impressive in the first place.
It talks about the characters falling in love for the first time. And this feeling is completely new and foreign.
However, this sole feeling will make them do some of the most incredible things in their life. And that's why the series is respected so much.
37. Chuunibyou demo Koi ga Shitai! Ren
Coming in from the depths of the Chuunibyou franchise, we have Chuunibyou Demo Koi Ga Shitai Ren. The series talks about the beautiful and cute relationship that exists between Yuta and Rikka.
This relationship is going to take some of the wildest turns in all of the franchise and things will get a lot more adorable and fun.
The story is placed in animation by KyoAni. And this studio is known for creating some of the most adorable pieces of work to ever exist.
This is why Chuunibyou is an incredible series that you should watch no matter what. And enjoy the beauty of romance with gorgeous screenplay and movements.
36. Accel World
This might be the most sought-after story for every hardcore gamer out there. Accel World talks about a guy named Haruyuki Arita who is quiet, lonely, fat, and just miserable in almost every sense imaginable.
However, my man is insane when it comes to gaming and that's where things get great for him. You see, he is approached by the Vice President of the Student Council of his school.
And she asks for a favor. She wants him to help her out with a mind-numbing game called Accel World.
In exchange for that, she will take care of all the bullies for him. And that's where it all begins the venture to secure the victory of Accel World that lies in the hands of Arita.
35. Sono Bisque Doll wa Koi wo Suru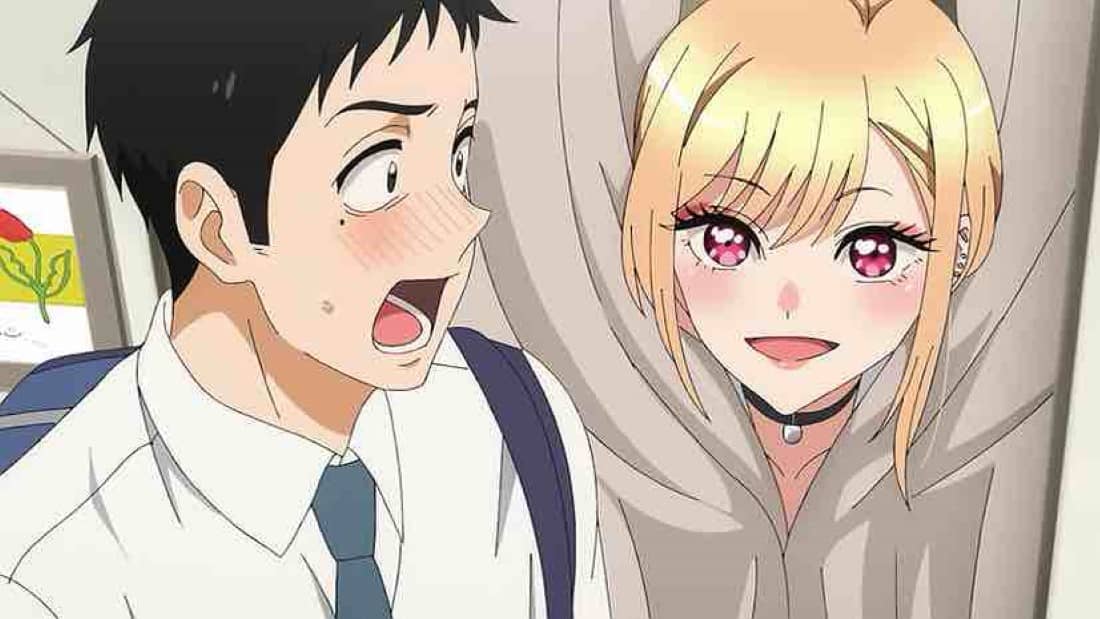 This anime took the entire internet by storm. And it wouldn't be a surprise to know why that's the case.
The series talks about Gojo, not Satoru, Wakana, who wishes to be an expert in his art of making Hina dolls and clothes for them.
He is quite a meek guy who doesn't seem to have much going on for him but his dedication is pretty impressive.
However, when Marin Kitagawa gets into contact with him, things get more and more interesting. This is why Gojo and Marin end up together as Marin expresses that her hobby of Cosplay and his hobby of Hina dolls might have a correlation between them.
34. Yamada-Kun to 7-nin no Majo (TV)
This show will give you a cool perspective on all the happenings in your school. And this is what makes it so notable in the first place.
The series talks about a guy named Ryuu who had a terrible past. Therefore, he shifted his schools to have a better life.
However, things get interesting when he ends up kissing Urara Shiraishi and in the process, switches his body. This is where the myth begins.
The student council officer recruits both Ryuu and Urara to the Supernatural Studies Club. And this group is on its way to finding out all the seven witches that have secret powers that get activated when they are hit by a kiss.
That's what will define the show for all of us.
33. High School DxD BorN
This is one of the later seasons of High School DxD. And if you haven't watched the anime yet, you are missing out on some great stuff.
The show talks about a guy named Hyoudou Issei whose perverted nature is in a completely different league. However, this man doesn't get any girlfriends at all.
But things started looking up for him when he got into the Gremory peerage. He is now surrounded by Top Tier beauties with his dream of becoming a Harem King, right on the horizon.
That's where things will be going great for him. However, to achieve his dream and prove himself as a valuable piece, he must tackle some of the deadliest opponents in his entire life.
32. Orange
This anime will give you a completely new perspective on life and how important every member involved in your life is.
The series talks about a girl named Naho Takamiya who received a letter during the inception of her high school year.
That letter was a warning and request for her to take care of a man named Kakeru. She must make sure that she takes care of Kakeru when he arrives at her school.
And although it felt a bit out of place at first, she ended up realizing the reality of this letter when a guy named Kakeru did show up.
Now, she is on her journey to find out a life for this man so he doesn't end up with the misery described in the letter. And that's why the show is good.
31. Toki wo Kakeru Shoujo
The girl who leaped through time is one of the most respected anime series of all time. The story is just what it sounds like.
A girl named Makoto Konno has got the ability to travel through time. And using these powers, she saves a lot of people and helps them out in any way possible.
And while her intent for using the powers is pure and genuine, any form of disturbance to the time fabric can cause a ton of problems.
And she will realize this soon enough. A refreshing and energetic story that will make you value everything that you have today while also making you passionate to achieve more in your life.
That's what makes the series so special.
30. Masamune-kun no Revenge
Masamune Kun no revenge is one of the most notable stories that you will ever encounter. And this story is all about revenge.
Revenge on those who have decided to ignore you. The story is simple. It talks about a guy who was fairly unattractive in his childhood.
But he had a crush on a girl. And just like any normal person, he decided to express his love to his certain someone.
Unfortunately, things didn't go as planned, and bam! My guy got rejected. However, that was the beginning of the most impressive self-development arc in all of anime.
Masamune Kun no Revenge is an inspirational story of a man who decided to take matters into his own hands and make the most out of them.
29. Boku wa Tomodachi ga Sukunai
This anime will give you a light-hearted perspective on those who aren't friends. There is a barrier when it comes to people with introverted personalities and that's why things get interesting between them.
This is why our main character Kodaka is someone who doesn't seem to have a lot of friends in his new school.
However, the situation starts to change when he is accompanied by Yozora Mikazuki, who is another girl with no friends.
Together, they decide to open a club for all the students without friends and help them out with their social life.
And as ironic as it may sound, things do work out in the end. That's why the show is so impressive in the first place.
28. Zero no Tsukaima
This is yet another romance anime that you wouldn't wanna miss out on. It talks about a girl named Louis who is regarded as the most terrible witch in her academy.
One day, she was asked to summon a familiar for herself. Being a terrible witch, she hoped that her familiar would be someone qualitative and strong.
However, instead, she ended up summoning a normal Japanese guy. Now this normal Japanese guy and Louis, the worst witch in her academy are going to try their level best to pave their way in their academy as one of the best duos.
They may not aim for it right from the get-go but things will work out eventually. They always do after all.
This is why they are ranked so high.
27. Trinity Seven
This anime will shake you from the core with its unique and interesting narrative. It talks about a guy named Arata Kasuga whose village was getting torn into oblivion.
In a desperate attempt, he used a grimoire that was given to him by his childhood friend. Luckily, he managed to save his village from ending in the dust.
However, this save is temporary. To find a definite cure for his surroundings, Arata must join a special academy and take care of magic there, so he could come up with a solution.
And maybe, a group of students is already waiting for Arata to show up in this realm. Let's see how things go for our boy.
He might get some romance there as well.
26. Kokoro Connect
Kokoro Connect is a heartwarming show that you need to watch as soon as you can. It talks about a group of students who were enjoying their high school life as members of the Student Cultural Society when their bodies accidentally switched for a short period of time.
As absurd as it may sound, things did happen and now the characters are going to face difficulties regarding the same.
However, this marks the beginning of a new realm. A new realm where people are bound to lose their minds as the fantasy world seems to be coming into real life.
And this process won't be easy at all. That's what makes Kokoro Connect so worth it for anyone who watches it.
25. 5-toubun no Hanayome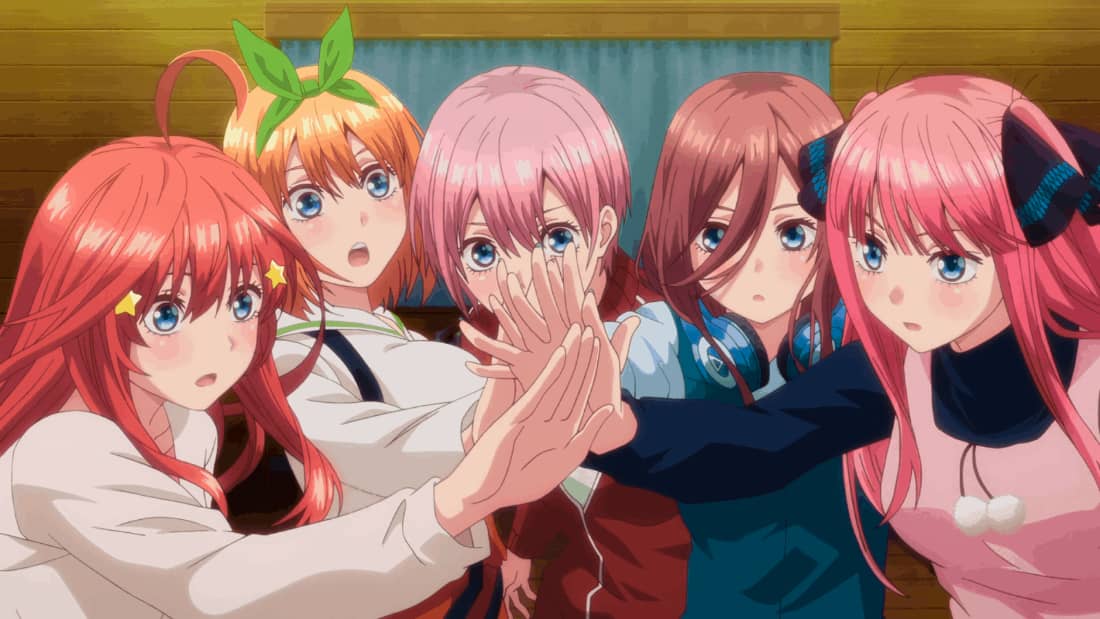 This anime was a massive deal back when it first aired and the hype doesn't seem to fade at all.
The series talks about a guy named Fuutarou who is exceptional in studies but not so exceptional in finances.
Therefore, he decides to take matters into his own hands and starts giving tuition services. Soon enough, my man reaches a deal where he must teach 5 students for great pay.
Although he agrees to do so, he starts to regret his decision instantly since these 5 students are the 5 Nakano Sisters.
And all of them are just as horrible at studies as you might expect. This is where the beautiful story of The Quintessential Quintuplets takes place.
One of them is going to be the chosen one for him. But who will it be?
24. Kanojo, Okarishimasu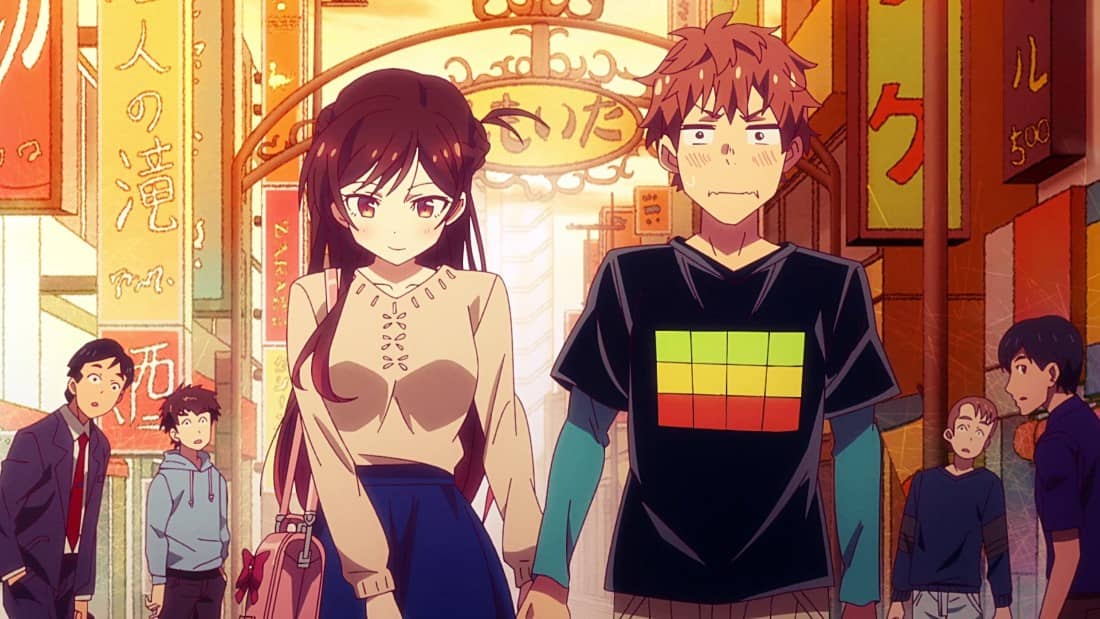 Another great anime for anyone who is heavily into Romance with a little bit of harem. While the narrative doesn't take place within the boundaries of high school, it is still quite fascinating.
The series talks about a guy named Kazuya who has just faced a breakup and now wishes to cope with it by renting a girlfriend.
He does so and soon enough, he gets addicted to this concept. As time passes by, the girl he has been renting for so long, named Chizuru Mizuhara, happens to become an intricate part of his life.
And that's when the show takes some unexpected turns. A loser like Kazuya might have a chance with a beauty like Chizuru? Or maybe fate is just playing with him.
23. Ao Haru Ride
Ao Haru Ride dives deep into the mature side of romance that takes place in high school. It isn't conventional.
It's new and fresh, something that you would love to experience with every passing day. The series focuses on a Summer love story that takes place between Futaba Yoshioka and Kou Tanaka.
The catch is, that Futaba has always been repulsive to people, and falling in love all of a sudden might not be the best feeling whatsoever.
However, things will definitely get interesting between them. As they spend more time around each other, a new ambiance might be created.
And this ambiance will determine what needs to be done and what doesn't.
22. Kimi ni Todoke
The story focuses on a girl named Sawako who has been nicknamed by his classmates Sadako because she looks like a specific character.
With such a prejudice right off the bat, things don't seem to be looking all that great for Sawako.
However, a bloom of romance may start to appear when Shouta Kazehaya comes into her life. Things may get interesting between these two as the feeling of love starts to bud.
And with countless experiences in place, this couple may have no choice but to have the most fun together.
This anime will give you a refreshing experience that will change your entire outlook on everything related to romance.
21. High School DxD New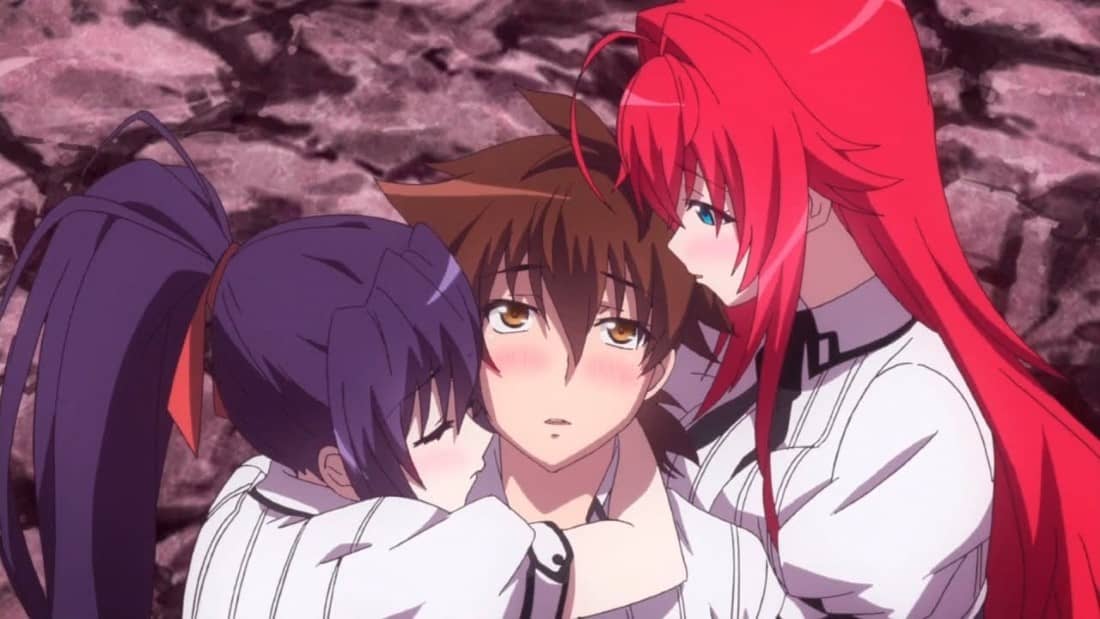 High school DxD needs no introduction. This show is just so impressive that we can't help but love it.
Yes, it is filled with ecchi and harem. However, that doesn't change the fact that the show is entertaining on so many levels.
This installment specifically continues the journey of the Gremory peerage with Issei still on his mission to become the Harem King.
As insane as this may sound, things will definitely get a lot more intense and action-heavy as the characters strive to succeed as Devils.
However, maybe an unforeseen danger is coming from the other side. And this danger will change the course of the show forever. Let's wait for that.
20. Rakudai Kishi no Cavalry
A show that will express the humble and respectful nature of men towards women. An anime all about Chivalry.
Something that is said to be dead but still stands strong in the real world. The series talks about a guy named Ikki Kurogane who isn't anything less than a loser in his academy.
However, he ends up messing with Stella Vermillion who is one of the ace students in her academy. To end this issue once and for all, a duel is organized between the students to ensure who deserves more respect and appreciation.
However, the loser of this duel will have no choice but to serve the winner for the rest of his life. That's where all the fun begins for us.
19. Gekkan Shoujo Nozaki-kun
Nozaki Kun is a light-hearted comedy series that you should watch this evening. It is all about a girl who happened to fall in love with someone.
However, that someone isn't even aware of this love himself. The show talks about Chiyo Sakura who has fallen for Umetaro Nozaki.
And this guy is a manga artist. However, when Chiyo went to express her love, she got a signature instead.
Nozaki thought that she was just a fan of his manga. Things happen and now Chiyo is part of Nozaki's team that is working on a romantic manga to publish.
However, this is where all the great things will happen. Because to express the beauty of romance, Nozaki must experience it first.
18. Prison School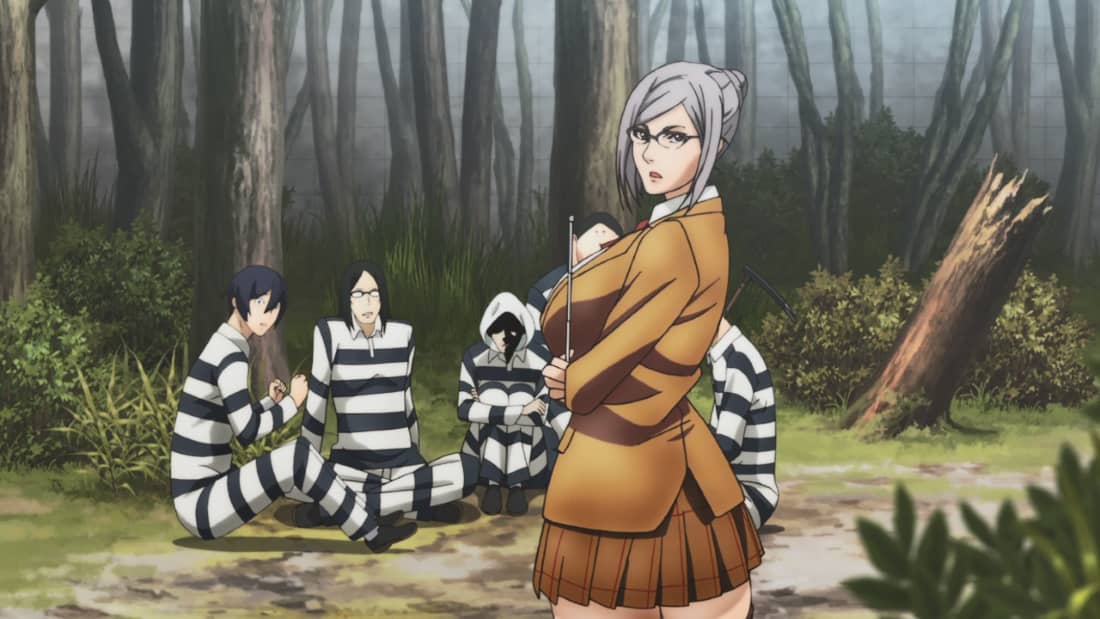 Prison School is just as beautiful as you might expect. After all, it's an ecchi anime. And ecchi anime are always beautiful.
The show talks about 5 students who got admitted to an all-girls school that was recently switched to co-ed.
However, the important thing is that the number of girls in this school is so high that the boys are basically negligible.
Now, our main characters decide to take some sneak peeks into places they shouldn't. Soon enough, they get caught and are placed in a predicament.
They must spend the next month in the school prison. However, the guys won't accept this torture and they will try and escape this place, as soon as possible.
17. ReLIFE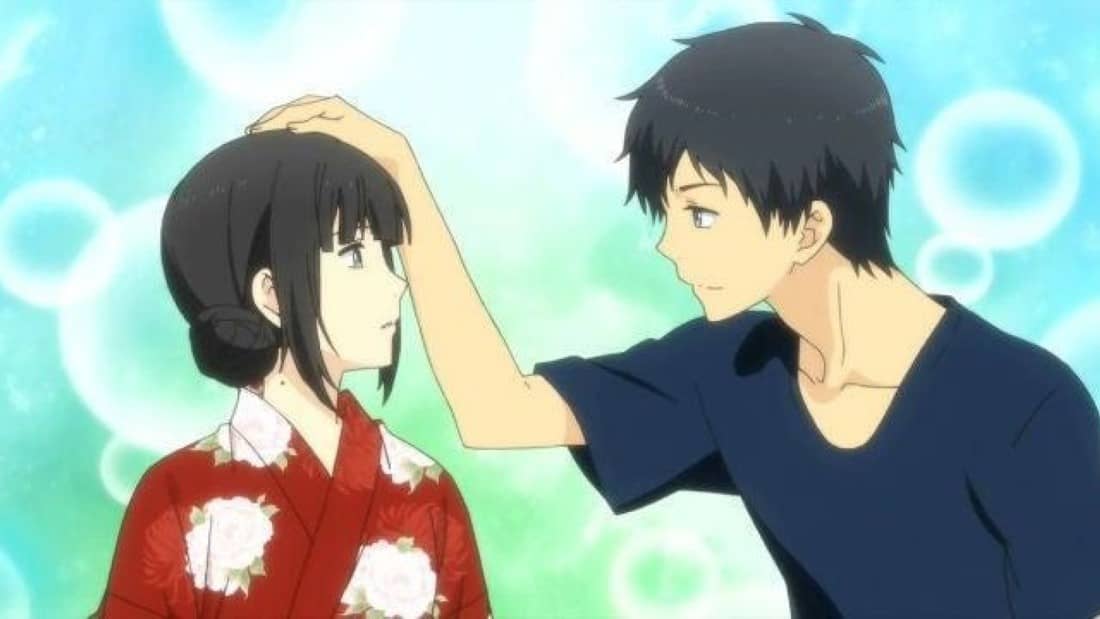 Imagine how you would deal with your life if you got a chance to relive it? Well, that's exactly what ReLife is all about.
The show focuses on a guy named Arata Kaizaki who doesn't seem to have much going on for him.
However, his life takes some unrealistic turns when he meets a man who makes him an offer. He will pay him a hefty amount for participating in the ReLife experiment.
And in this experiment, Arata will go back to his 17-year-old self and relive that entire phase all over again.
However, this time, things will get a lot more interesting and fun since he retains all the knowledge and information from his original body.
This is the moment for Arata to get his life together.
16. Date A Live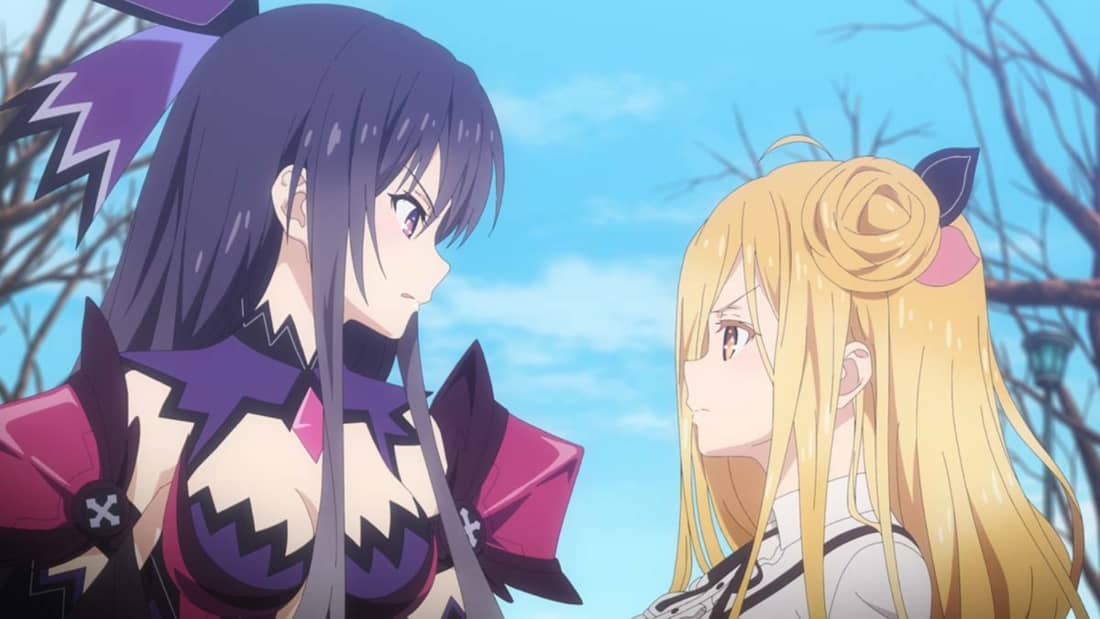 A horrible incident took place years back. And that's where it all begins. The show is centered around an accident that resulted in countless quakes being produced on our planet.
And that's when Shidou gets involved in the story. She was a normal girl who was having her time in her school when suddenly, a quake was anticipated and things were going to get nasty.
However, she managed to make it out alive without much trouble. Unfortunately, his sister wasn't so fortunate and things went out of the box.
However, Shidou is not going to give up. He might come across a secret about these quakes that will change the course of his life forever and ever.
15. Yahari Ore no Seishun Love Comedy wa Machigatteiru. Zoku
This is the second season of the Oregairu series and let's just say that the fun takes place here.
This is where the transition in the Oregairu franchise takes place. Initially, the show was a lot more on the comic side of things and had different art styles and animations going on for him.
However, soon enough, the story starts to take mature turns. It explores a lot more characters and dives deep into their personality and upbringing as a whole.
The show manages to capture a huge audience thanks to its unique narrative and focused storytelling which allowed us to capture an experience that is quite uncommon in recent high school romance anime.
14. Mahouka Koukou no Rettousei
The Irregular At Magic High School is a work of art that can entertain the masses without breaking a sweat.
It talks about a guy named Tatsuya who gets admitted to a special magic high school. However, the said school is quite strict with its students.
It will make sure to take care of everything. From academics to excellence. The best students, also known as Blooms, will pave their way to the top.
While the worst students known as Weeds will be brought down. Soon enough, the academy starts functioning and stuff happens between people.
Tatsuya, along with his ace sister Miyuki, goes on to place their life in this school and look forward to becoming some of the best magicians out there.
13. Tonari no Kaibutsu-Kun
This is a sweet love story that takes place between two souls that never expected to share their love.
The show talks about a guy named Shizuku Mizutani and Haru Yoshida, a couple that ends up together out of sheer luck.
While Shizuku seems to be emotionless at first, Haru is all about making trouble for himself and has a rough personality for anyone to handle.
That's why this duo seems to be quite out of place on the outside. But on the inside, things happen in an interesting way.
And when they do, it is all gorgeous. The series will give you a new eye on everything that will happen between these characters.
And maybe social outcasts can have a great life together.
12. Ouran Koukou Host Club
If you are into the idea of a host club then this anime is insane for you. The show talks about a school called Ouran High School where only the smartest or the richest students get admitted.
The show focuses on the life of Fujioka Haruhi as she ends up causing a major loss to the school resulting in her becoming a host at the Ouran High School Host Club.
Life goes on as she pretends to be a He and please all the women with other men in the club.
However, maybe, just maybe, a romantic relationship might have started to bloom between Haruhi and someone from the club.
And that relationship will change the show forever. Let's see how it goes.
11. Horimiya
This is a standard romance anime. However, that's exactly where its beauty lies. Horimiya is one of the most recognized anime series in recent times, thanks to its popularity before its release.
On the outside, it is a standard story about a guy named Miyamura who falls in love with Hori Kyouko.
And this duo ends up in a relationship together where they express their unseen side for the betterment of each other.
The premise of Horimiya isn't exceptional. However, the simplicity in its storytelling and the overall narrative is what makes it worthy of being so high on this list.
We just can't overlook the beauty of its basic yet captivating story. And that's why it is ranked so high.
10. Nisekoi
This anime might not be the most popular one yet. However, it is right on the track to becoming one for sure.
The show talks about a guy named Raku Ichijo who is from a Yakuza family. Yeah, no need to mess with him.
And to his contrast is Chitoge, who is from a rival family to Raku. They both cross paths with each other out of a sheer accident.
However, that embarks the journey of a relationship that will be remarked as a work of art in the upcoming years.
Plus, with a few more characters and Harem into place, this series goes on to become one of the best in the medium.
9. Kaichou wa Maid-Sama!
Maid Sama is one of the most brilliant romance anime you will ever watch. No doubt about it. And that's why it is ranked so high on this list.
It talks about a girl named Misaki Ayuzawa who is the first female student council president of her school.
However, that has led to her being quite strict with her rules and their recognition. But the irony is that Misaki herself is not following a crucial role from the school administration.
She is working in a maid cafe and the school doesn't permit that. To make matter worse, Takumi Usui ends up seeing her working.
And now, he is going to have the fun of his life, teasing Misaki all day long about her secret.
8. Sakura-sou no Pet na Kanojo
The beauty of this story lies in its uniqueness. And that's why Sakurasou is such a respected show in the community.
It talks about a guy named Sorata who has been part of a dormitory for so long. Almost all the members of the dorms are delinquents and their issues are just on so many different levels.
Sorata was on his way to quit this dorm and move somewhere else when suddenly, Mashiro Shiina joins it.
And that's where things get interesting. Why? Because now, they are on their way to becoming some of the most fascinating couples together.
However, this won't be easy considering the contrasting personalities they have for each other. Let's see how it goes.
7. Chuunibyou demo Koi ga Shitai!
The concept of Chuunibyou is quite understandable. Yet, it is quite embarrassing as well. The idea here is that Chuunibyou is a phenomenon that exists in students who think that they are some sort of special beings far beyond human comprehension.
Creatures that are chosen to be different and have special powers and stuff. And as much as it sounds fancy, it is actually quite prevalent.
That's why Togashi Yuuta was having a tough time running away from it. However, the menace never ended and soon enough, Takanashi Rikka entered his life to bring back the phenomenon of Chuunibyou.
Let's just say that things don't go all that well.
6. Yahari Ore no Seishun Love Comedy wa Machigatteiru.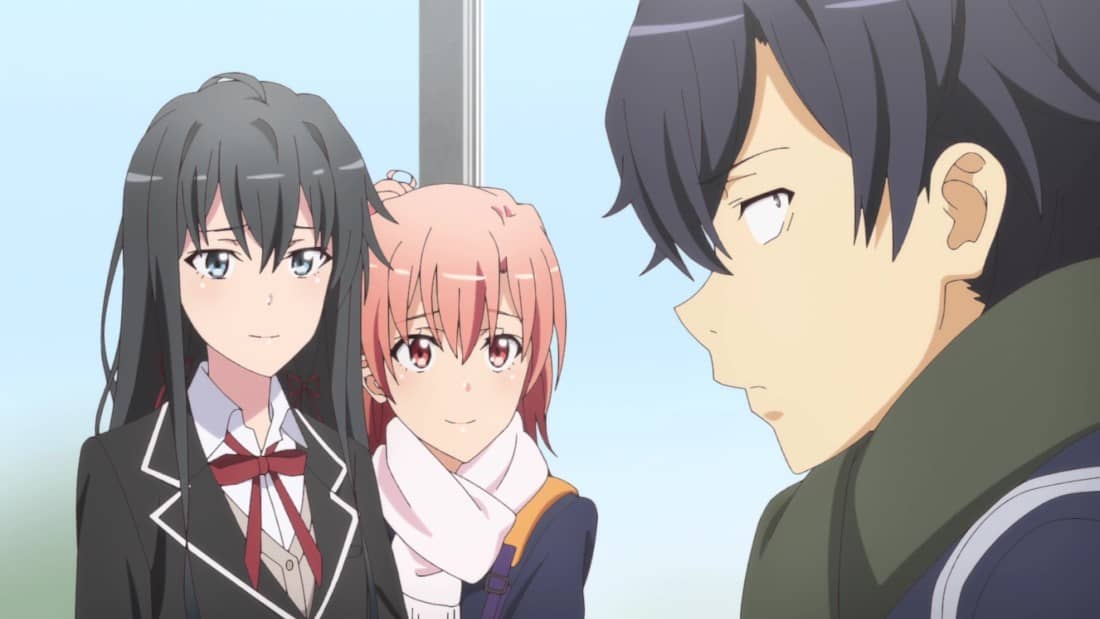 The beauty of this anime lies in its grounded and realistic nature. Challenging the complexities of high school romance we have Oregairu.
The show is all about a narcissistic guy named Hikigaya Hachiman who thinks that all the happy moments that we experience in youth are nothing but lies.
And everything that stands in between is just a facade. Needless to say, this mindset didn't allow him to have many friends.
However, the life of this loner changes when he ends up with Yukinoshita Yukino. As they start a service club out of obligation, Hikigaya starts to realize that his thought process and outlook aren't appropriate.
5. High School DxD
We are in the Top 5, ladies and gentlemen. And obviously, we can't have such high rankings with High School DxD in it.
Let's take a look at the series. The premise of the franchise focuses on a perverted guy named Issei who wants to have fun in his school life.
However, after a miserable incident, he ends up losing his life. But thankfully, he was saved by Rias Gremory and was reborn as her servant and a devil.
Now Issei is on his way to find out why he faced that accident as well as serve Rias with his life.
However, this service might also give our perverted boy, all the time in the world to have fun with girls when he wants to.
Let's just say that his death made his dream come true.
4. Clannad
The beauty of Clannad is on a completely new level. And there's no denying that it is one of the best anime you can ever experience.
The series talks about a guy named Tomoya who is nothing less than a loafer delinquent. He doesn't expect much from his life or the world around him.
However, all of that changes when he ends up meeting Nagisa, a girl with a pure mission. She wishes to revive the Drama Club of her school and would go the extra mile to do so.
Tomoya decides to help her since he has nothing better to do in his life. However, this friendship might soon turn into an unbreakable bond.
And that's what will make the show so impressive and powerful for the viewers.
3. Seishun Buta Yarou wa Bunny Girl Senpai no Yume wo Minai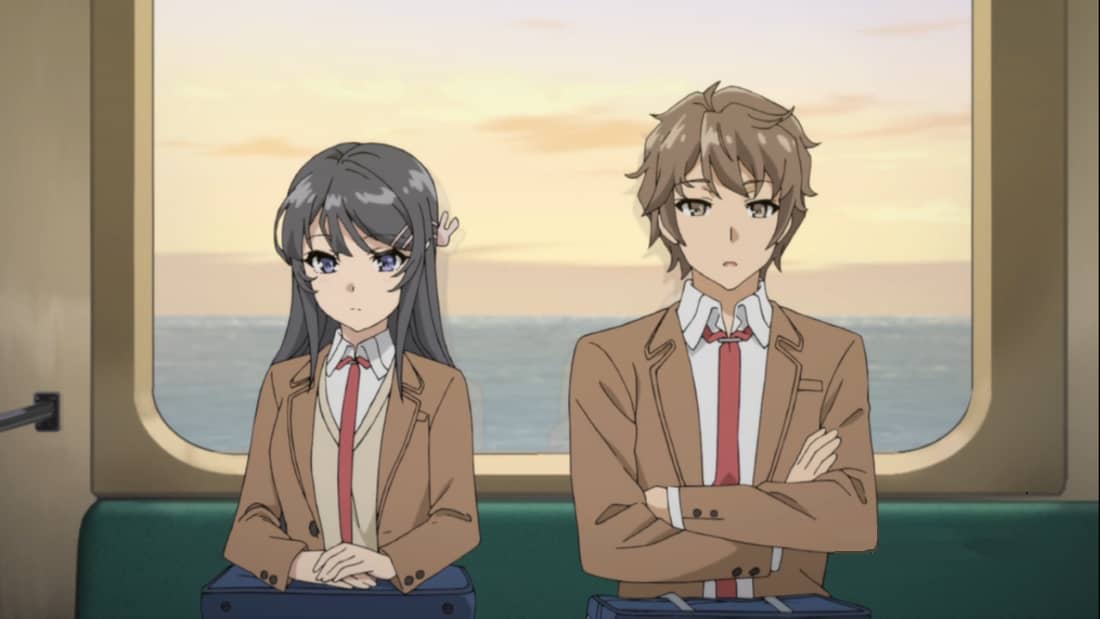 Yeah, the title is pretty long. However, the show is a lot more interesting than just its heading. The series talks about a guy named Sakura Azusagawa who has faced Puberty Syndrome firsthand.
The idea of the manifestation of thoughts into substances is the basis of puberty syndrome. And that's exactly why Sakurajima Mai ends up becoming invisible when she wanted to.
However, this syndrome must be cured. And that can only happen with introspection and life acceptance. This is why the entire series is a complex interpersonal connection of characters as they deal with their social problems and tackle them with confidence.
2. Shigatsu wa Kimi no Uso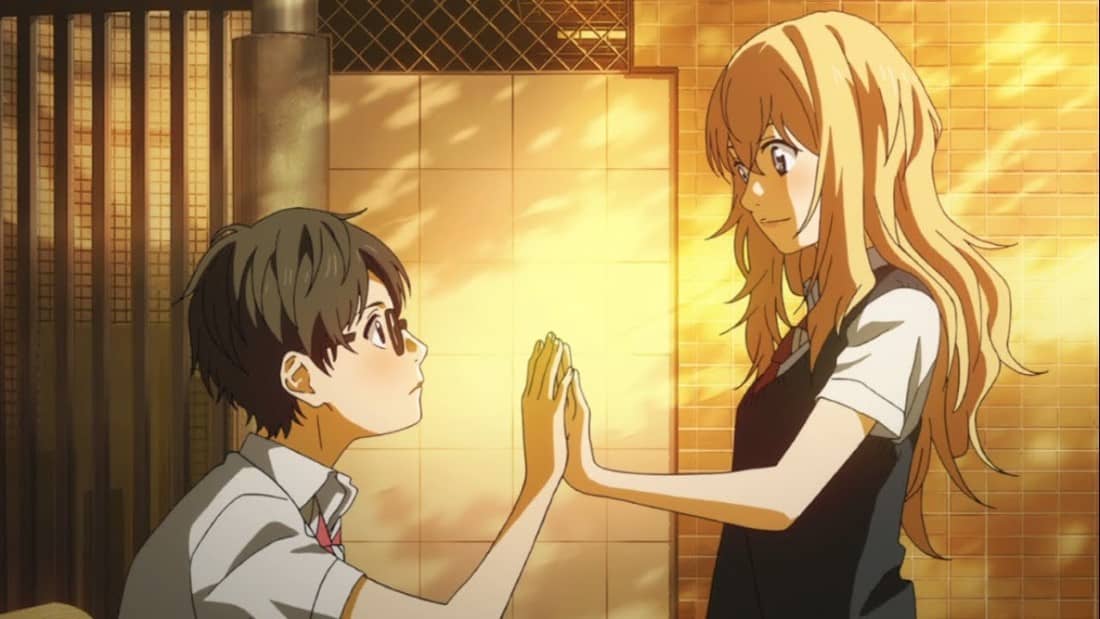 This is yet another amazing anime that you need to watch as soon as possible. Why? Because it can melt your heart like butter.
The series focuses on a classic pianist named Kousei Arima who has faced a miserable incident in his life and is now on the path of depression.
However, things might take some interesting turns when Kaori Miyazono enters his life. She is going to bring back the excellence that Kousei had.
And that's when the show will get even more brilliant. This is why Your Lie In April is one of the most captivating anime series that you can ever experience.
The emotional connection that develops with the medium of music is just way too good to ignore.
1. Toradora!
And the number one rank goes to Toradora. This high school romance anime has everything that you can ask for.
Drama, tragedy, comedy, fun, action, etc. It talks about a guy named Ryuuji who looks like a delinquent but isn't.
And Taiga looks like a cute girl but isn't. This duo is in love with each other's best friends.
And so, they decide to get together to set each other up. However, in this journey, they get so close to each other that the love story may take some unexpected turns.
Taiga and Ryuuji are going to experience the true beauty of high school romance. And they will know what it takes to become the couple that they wish to acquire.
This is going to be fun! And that's why Toradora is ranked at the top of our list.