»
Nisekoi Season 3 In Not Coming This Year [2023 Updates]
Ektaa-Updated Jan 30, 2023
---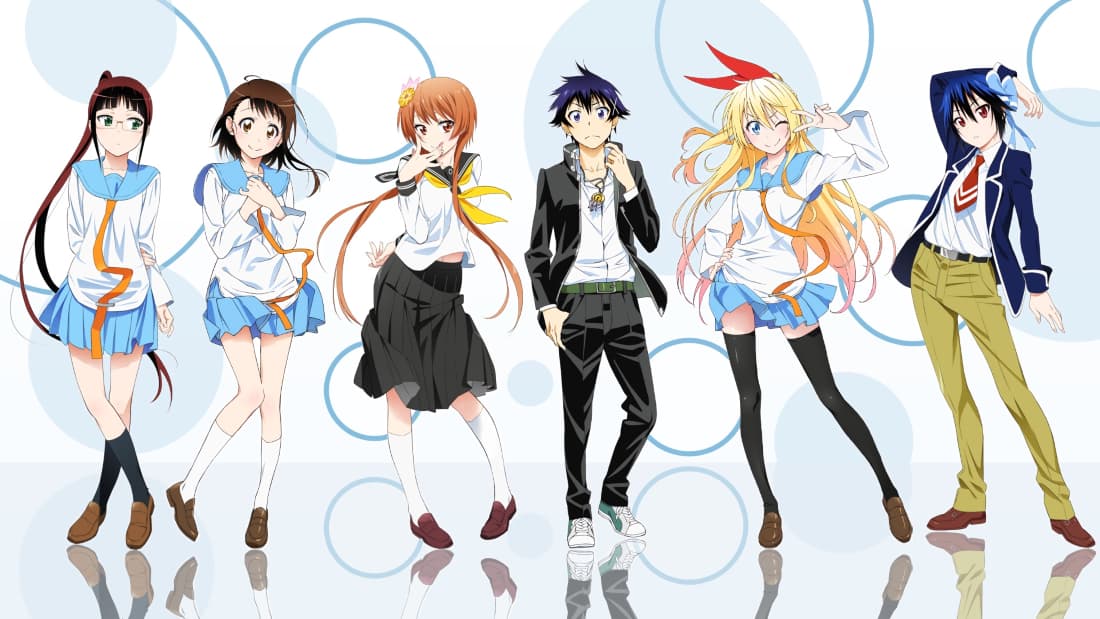 Nisekoi or "Fake Love" is this love polygon story of high school students with a ton of sweet nothings, hijinkery, and dare we say so, pretty much the same thing every love story has to offer in today's time.
Despite this, it's a hit amongst romance and harem-loving fans. It's fun, it's interesting and audiences looking for a light watch can opt for this title.
The final episode of the anime series was released in June of 2015 and since then there has been no news of a possible Season 3 from the creators.
Let's take a look at some aspects of what makes the show work and the possibilities leading up to the fans getting a new season to tie it all together.
Before we dive into this, if you are someone who is currently watching the series, this article is filled with spoilers you may not want to know.
However, if you're reading or finished the manga series, you already know the end, don't you?
Everything we know about Nisekoi anime so far
Raku Ichijou is a simple, honest boy and the son of a Yakuza gangster from a faction known as the Shuei-Gumi.
Raku has an intriguing-looking locket around his neck given to him by his childhood sweetheart with whom he has made a secret pact.
Then we have, Chitoge Kirisaki, the daughter of the boss from Shuei-Gumi's rival gang, Beehive.
Raku is in search of the key holder to the memento of his love with whom he wishes to spend the rest of his life.
Raku secretly hopes that Kosaki Onodera, his middle school and high school crush is the girl of his dreams who gave him the locket.
Kosaki comes from a much humbler family of bakers and candy makers. Raku even tries to help her out to win her heart.
But much to their dismay, the gang leaders have decided to settle their feud once and for all by pairing their children together.
Raku and Chitoge now have to "pretend" to be all lovey-dovey to maintain peace between the two gangs, which turns out to be a mammoth task since the two do not get along well together at all.
Raku due to his obligations towards his family has to accept the decision they've taken for him.
Complex situations occur creating hurdles for Raku to find his true love. Like the existence of multiple keys and girls turning up claiming to be his fiancés.
Including, Chitoge's "Gorilla" bodyguard, Tsugumi, and even Kosaki's sister! In his quest to find 'the one', Raku learns of a book that explains the existence of the keys helping him recall the exact incidents that happened ten years ago.
As much as that seems like every young boy's dream when it comes to the search for matters of the heart, it can seem like a very complex journey to go on.
Nisekoi Ending Explained
Throughout the two seasons, we saw Raku fall in love with quite a few girls.
There's no doubt about this harem series that is not bound to confuse you enough.
Enough to keep you hooked! So, the big question is? Who does our bachelor go for?
Was it Marika, Onodera, "Gorilla" Tsugumi, Haru or Chitoge? We're losing track of the girls here.
Season 2 was essentially a compilation of filler episodes that had little to no connection to the first season.
It contained 12 episodes, compared to Season 1's 20 episodes. Some even consider Season 2 as a cour.
Season 2 promised to introduce new character arcs to add to Raku's list.
We get introduced to Haru, who is Kosaki's sister who supposedly had the pendant and is potentially his love interest too, the backstory of which is not explored whatsoever.
This is followed by a "magical" episode where a perverted mastermind has attacked the group.
Later, Raku gets the pendant from Haru who has to look after her since she's caught the flu.
Nearing Episode 11, Kosaki gets worried about her weight. But by then Kosaki and Raku's relationship seems to unfurl.
And finally, in Episode 12, we're trying to find Chitoge's red ribbon whilst she is trying to learn how to confess her feelings towards Raku.
The end of the last season was very murky, we don't know who his actual love interest is and the events taking place here do not lead to us knowing who the promised girl is either.
Given that the creators decided to use fillers from the source material as the 'main' material for a new season, we can only hope that they use the 'main arcs' for a third season for all those eagerly waiting to know the end of this boisterously amazing love story.
Official Announcements and Release date of Nisekoi Season 3
The manga series ended in October 2016. So, while the second season was released in 2015, the creators potentially couldn't find a perfect ending since the source material was ongoing.
Hence the use of incomplete arcs and missing manga plots. It's been 6 years since the final episode aired.
Even though there have been OVAs, a video game, and a live adaption of the story.
It does not conclude anything. An official word from the creators? Not yet. The studio of the series, Shaft, is infamous for rebooting stories.
And it seems like they haven't scheduled Nisekoi in their list of anime.
Nor do any anime news webzines or websites have any concrete information about a possible new series. There is no official cancellation but there is no exact release date also. But some are predicting that the anime may come around in 2023.
Many of the fans are wondering why this anime is not renewed yet or if is there any possibility for it to happen.
So, to get a clear picture let's analyze every factor in the making as well as audience responses.
Source Material Information for Nisekoi Season 3
Source material might be one of the most important factors that decide whether next season should be made or not.
Many animes are just produced to promote the source material. So, if the case happens to be promotion chances might be low otherwise we are good to go.
Nisekoi, the rom-com manga series is written and illustrated by Naoshi Komi. His works have been serialized in Weekly Shonen Jump.
The popular manga and anime series, One Piece is his one true inspiration and influences a lot of his works.
Manga
Nisekoi was initially published as a one-shot manga in Shueisha's Jump NEXT before its regular serialization in the Weekly Shonen Jump 48th issue.
This series began in November 2011 and ended in August 2016. A total of 25 tankobon volumes have been released by Naoshi and published under Shueisha's Jump Comics imprint.
These were released between May 2012 and October 2016. Each of the volumes consisted of at least 7-9 chapters.
Apart from these chapters are some Special chapters and Special Extra chapters too that were published in Weekly Jump and incoherent to the 25 volumes.
| Volumes | English Release Date |
| --- | --- |
| Volume 1 | January 7, 2014 |
| Volume 2 | March 4, 2014 |
| Volume 3 | May 6, 2014 |
| Volume 4 | July 1, 2014 |
| Volume 5 | September 2, 2014 |
| Volume 6 | November 4, 2014 |
| Volume 7 | January 5, 2015 |
| Volume 8 | March 3, 2015 |
| Volume 9 | May 5, 2015 |
| Volume 10 | July 7, 2015 |
| Volume 11 | September 1, 2015 |
| Volume 12 | November 3, 2015 |
| Volume 13 | January 5, 2016 |
| Volume 14 | April 5, 2016 |
| Volume 15 | May 3, 2016 |
| Volume 16 | July 5, 2016 |
| Volume 17 | September 6, 2016 |
| Volume 18 | November 1, 2016 |
| Volume 19 | January 3, 2017 |
| Volume 20 | March 7, 2017 |
| Volume 21 | May 2, 2017 |
| Volume 22 | July 4, 2017 |
| Volume 23 | September 5, 2017 |
| Volume 24 | November 7, 2017 |
| Volume 25 | January 2, 2018 |
Such as, 'Newlyweds' Chapter 41.5 in the Fifth Volume Typhoon, ~Princess~ Chapter 188.5 in the Twenty-first Volume, To Mari, and many more.
That makes it to some 200-odd chapters! Viz Media has been handling the English digital print volumes for the same since 2011 on the Weekly Shonen Jump, an English magazine.
One can find it under the name of Nisekoi: False Love. Naoshi also inspired a novel series written by Hajime Tanaka which was illustrated by Naoshi himself.
Two volumes of the same were released by Shueisha's Jump j-Books between June to December 2013.
A spin-off to the series focussing on Kosaki as a magical girl was known as 'Magical Patissier Kosaki-chan' and began serialization on Shueisha's Shonen Jump+ website.
It was released in December 2014 and has been compiled into 4 tankobon volumes. With the specifics being discussed, the source material of Nisekoi ended a year after the second season/cour was released.
There are a total of 200+ chapters of the story, Season 1 ended at Chapter 50 whilst Season 2 began from Chapter 51 and roughly covers up until Chapter 105 or 106.
Excluding the ones, they skipped. In the literal sense, Nisekoi is over, at least in the literary world.
Raku has a lot of girls he does fall in love with, some of who are not even mentioned in the anime for whatever reasons the creators chose to.
And yes, he does end up finding the one and it's a no-brainer. You can guess who it is, and no it's not the 'promise girl'.
Anime
Now that we know there are some 100-odd chapters the creators can make a new series from.
Let's take a look at how the anime series was created. Now, a manga series only gets made into an anime depending on the popularity of the series in Japan.
Two years after the debut of Nisekoi in the Weekly Jump, it was announced that the anime adaptation of the series had been given the green light.
The animation studio Shaft was confirmed and it was to be directed by Akiyuki Shinbo from the same studio as well.
Shinbo has won numerous awards for his works with Shaft, including the very popular, Puella Magi Madoka Magica (2011).
Nobuhiro Sugiyama designed the characters. Shaft roped in voice actors such as Koki Uchiyama of Soul Eater, Gundam Fame for Raku's character, Nao Toyama of Cross Ange, Re: ZERO fame for Chitoge and Kana Hanazawa of Steins; Gate and Psycho-Pass fame for Kosaki's role.
Season with 20 episodes with 3 OVA's released in January 2014 while Season 2 with 12 episodes and 1 OVA was released in April 2015.
Tokyo MX was the original network for the series while Madman Entertainment, Aniplex, and Kaze licensed the series for overseas broadcast.
The shaft has so much source material to play around with and yet there was no conclusive ending for the anime series.
It doesn't do justice to us fans! We need a new season!!
Nisekoi Live-Action Film
There's a live-action film directed by Hayato Kawai, starring Kento Nakajima as Raku and Ayami Nakajo as Chitoge that debuted in December 2018.
Many fans say that this version of the series can be avoided.
The live-action was the last of anything Nisekoi the world had been offering, since then there has been no news of anything at all.
Expected Plot of Nisekoi Season 3
Okay, time for the big reveal. Season 3 could be the deciding and final season of Nisekoi.
Only and only if Shaft decides to stick to the source material. Season 2 saw the storyline jump many chapters and story arcs leaving too many loopholes in the story.
The shaft is notorious to deviate away from the source material and create its storyline for the anime series to run successfully.
But with 100-odd chapters untouched a lot can be done. The final volume of the manga series, saw Raku make a promise to; not Kosaki but Chitoge!
C'mon! it was very obvious; we did say this story was your run-of-the-mill love story.
It goes even further with Raku and Chitoge having a son. Hence maintaining the peace between the rival gangs forever.
Kosaki gets a gentle refusal from Raku even though she is the one who had the key to his locket!
Season three could lead up to their wedding meaning the end of the anime series as well.
Popularity Information for Nisekoi Season 3
Earlier the popularity of an anime series would only be determined by its popularity in Japan specifically, but with otakus worldwide and anime being popular overseas as well, one has to take into consideration its popularity across the world as well.
Google Trends
In Google's trend for the manga series, between 2012 to 2017, there is an upwards graph, however, it seems to dip post-2018. It did gain some popularity around 2020, but since then it has been failing.
The television series saw a serious dip from 2017 onwards and barely a few searches across the world.
Whatever the graphs might say, the series is extremely popular amongst the rom-com-loving community.
Google Search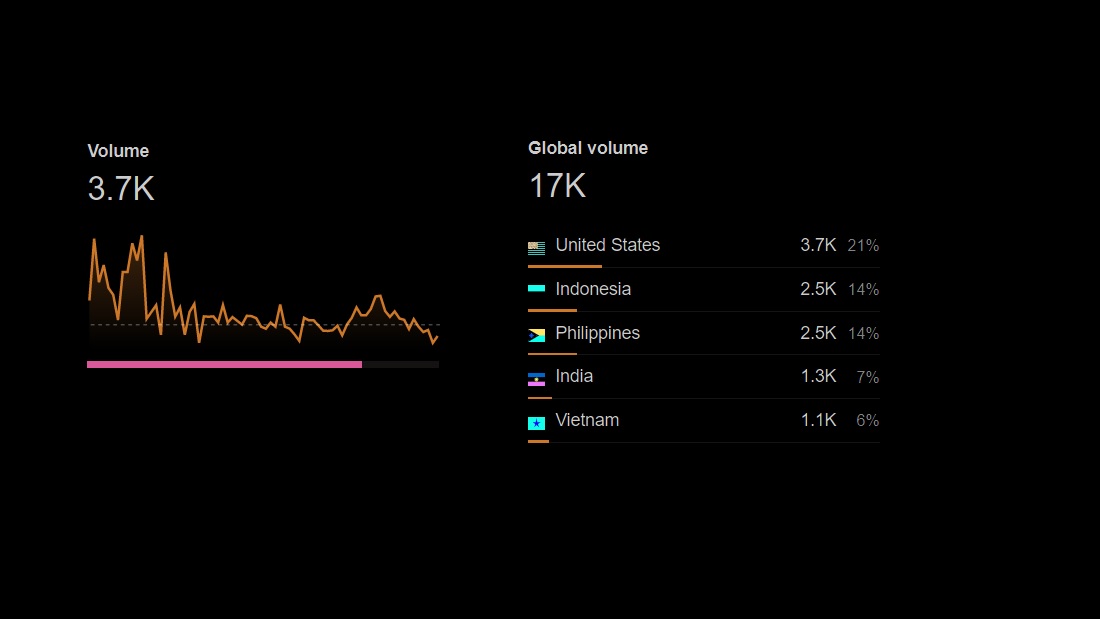 The above data is a monthly estimate of how many people search for "Nisekoi season 3" on Google per month. For an anime like Nisekoi, this number is pretty low.
Fans of the series have not received any update on season 3 for a long time and it has resulted in low engagement.
Online Reactions for Nisekoi Season 3
Online reactions matter a lot to the production team of any series.
Positive reactions mean anime is loved by many, and creators may feel tempted for the next season.
Let's see what are these factors.
Twitter Reactions
The official Twitter handle for the series is @nisekoi_k. The page has a total of 115.2k followers.
The latest tweet was made in June 2020, speaking about the popularity of a song from the series.
However, the final updates were made in 2018 when the live-action movie was released. There were more than 500 tweets made using #nisekoi.
There is an unofficial Nisekoi Discord server according to the Fandom page. The page currently has 1162 members hoping for a new season to arrive.
Quora Reactions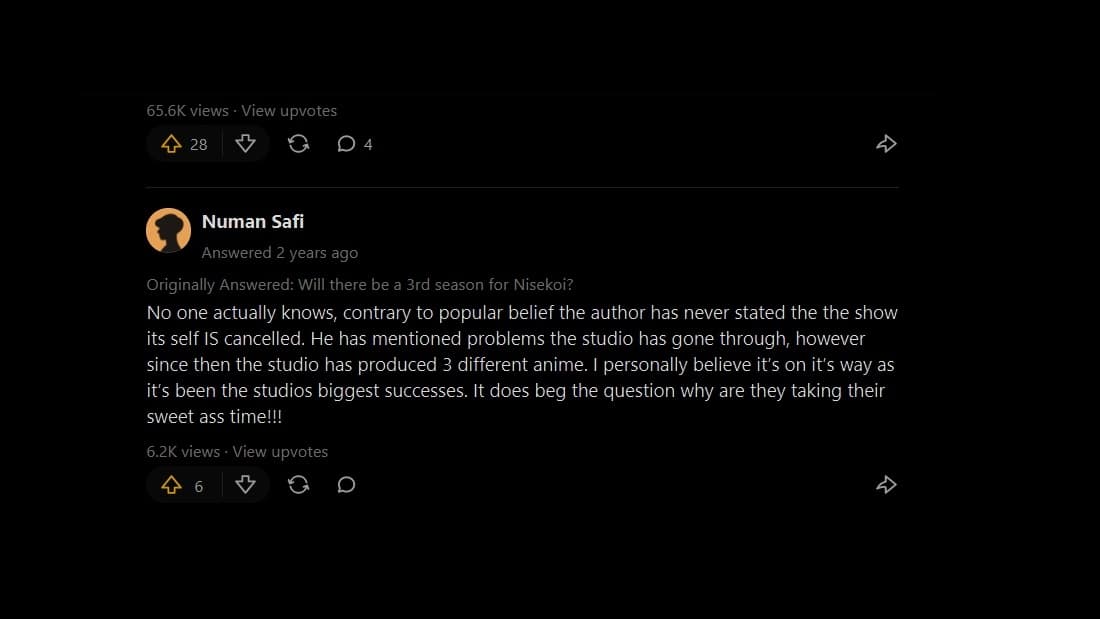 There are numerous Nisekoi-related questions on Quora, many of them ask how the anime ends and whether a new season would be revealed shortly.
However, some aren't too keen on a new season as well since the series offered nothing new to them.
Sigh!
Reddit Reactions
A subreddit for everything exists on this planet, and so does one for Nisekoi. Now, Reddit isn't a place where anything and everything is accepted.
Fans have gone all out to even diss the entire series purely based on it not 'satisfying' them.
Threads talking about their favorite characters to how the end of the anime and manga were both disappointing.
Video Game
A visual novel on the series known as, 'Nisekoi Yomeri!?' was released by Konami for PSVita in 2014.
A video game for IOS & Android devices too released by Konami called, 'Nisekoi – Majikore' in January 2014.
However, the game isn't available for download anymore. APKs can be found, but everything is in Japanese, for those who cannot read and write the language.
Online Streaming
Niskeoi is licensed by Aniplex of America for streaming and home video distribution in North America.
Online streaming websites such as Crunchyroll, Hulu, and Daisuki provided the simulcast of the series for western audiences.
Nisekoi Reviews and Ratings
| Websites | Ratings |
| --- | --- |
| IMDb | 7.2/10 |
| Myanimelist | 7.63/10 (season 1), 7.38/10 (season 2) |
| Crunchyroll | 4.3/5 |
Each of you may not like to write reviews of every show or movie you watch. But many of you may have the time to vote on IMDb or MyAnimeList. So, a good rating for an anime series/movie represents whether the majority of you liked it or not.
Below IMDb rating and review on MyAnimeList is a good representation of how good the anime is.
IMDb
Nisekoi the anime series has a rating of 7.2/10 on IMDb.
The popularity of the show declined according to the rating website and now stands at 4,485 and doesn't even qualify for the Top 100 list.
Reviews by users are on the positive side citing how cliched the storyline is and offers barely anything new.
Myanimelist
The popular My Anime List website that helps you create your anime watchlist and gain information about the franchise is an integral part of understanding its popularity.
Nisekoi Season 1 has a MAL score of 7.63 and a popularity ranking of #102 while Season 2 has a score of 7.38 with a popularity ranking of #245.
The manga series scored 7.75 with a great popularity ranking at #25 boasting about 159,070 members on the page.
Again, the reviews vary, the highest being 10 for those who thoroughly enjoyed the series while some have even given a review scoring it 1!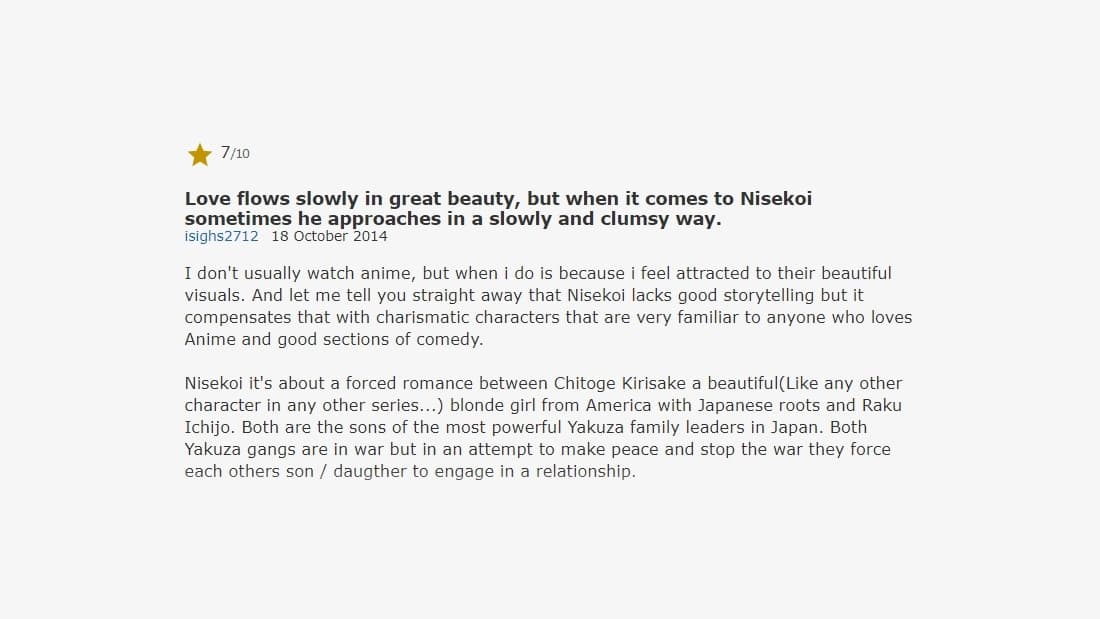 Crunchyroll
On the popular anime streaming service, Crunchyroll, the anime has a great rating! With almost 215 of its users giving, it has a 5-star rating and some positive feedback.
Top 5 Best-Rated Episodes
| Episodes Name and Number | Ratings (MyAnimeList) |
| --- | --- |
| Celebration (Episode 11, Season 1) | 4.7/5 |
| Mother (Episode 4, Season 2) | 4.6/5 |
| The Visit (Episode 4, Season 1) | 4.6/5 |
| Support (Episode 10, Season 2) | 4.6/5 |
| Rival (Episode 7, Season 1) | 4.6/5 |
Nisekoi Manga, DVD/Blu-Ray Sales
Profit is everything. Any company can't operate at a loss for very long. Therefore, we should check the status of the Nisekoi anime.
Website & Merchandise
The last of the updates for the series was made in 2018 talking about the DVD Box set to release and the Nisekoi Radio Fukatsu available for audiences in Japan.
On the official Japanese website for Nisekoi, if you hover over to the Items section, you can see there are 8 pages worth of merchandise!
Each page features a ton of collectibles like figurines of Kosaki and Marika including Chibi figurines of Chitoge and Tsugumi.
There are tapestries, mugs, t-shirts, book covers, and even earphone jacks!!
Of course, the site also features DVDs and Blu Rays including comics as well. you name it and Nisekoi's merch section has it!
Manga Sales
Listed in Oricon's Top 30 list for 2013's top-selling manga series, Nisekoi stood at no. 30.
Some 1,542,417 copies were sold that year and in 2014 3,816, 372 were sold. it ranked higher at #16 that year.
According to its last update in 2018, 12 million print copies have been sold of Nisekoi.
Despite the reviews of the show being mediocre, you can see just how much the people enjoyed these seemingly simple love stories.
These numbers exactly help you understand the same.
DVD/Blu-Ray Sales
A Blu-Ray Box set featuring all 32 episodes + 4 OVA's + Character Songs + Sticker Sheet + Visual Collection Box was made available to the fans on the website.
There are a total of 6 Blu-Ray Discs and Volumes of the series CD.
There's also a Character song CD. Volume 3 of the series sold a total of 2,728 copies in August 2015 in a week!
While Volume 6 CD of Nisekoi sold a total of 761 copies in November 2015.
While that following week, it sold a whopping 2,718 copies! In October of 2018, the Nisekoi BD Box Set sold 998 copies and ranked at #5 for 1 week.
Production Cost for the new season
Making anime is a very expensive business. The cost for a basic 12-episodic anime could go from 150 Million Yen to 300 Million Yen per episode!
Nisekoi is a fairly lighter anime series to make as compared to one of the higher-budgeted ones.
The shaft is an extremely well-known studio in Japan, money should be no dearth for them.
We cannot get actual costs but we could assume that this series could approximately cost, 165 Million Yen per episode.
Add to that the Source Material sales, DVD/Blu-Ray, and Merchandise sales, not forgetting the streaming platforms as well.
Even if it is another 20 Million Yen, that's enough budget to create a new season.
But given the current circumstances, we cannot assume that these figures may be available to creators and also the reason why Shaft was not able to schedule it on their roster for 2023.
Potential Characters for Nisekoi Season 3
While we are waiting for official updates on season 3, it would be great to remember some of the main characters from the series. Few of them are going to make a comeback if season 3 happens.
Raku Ichijou
The protagonist of the show and also the son of the Yakuza gangster, Raku is this sweet, smart, innocent teenager on a quest to find love.
Raku found the love of his life as a child ten years ago but as a teen, he cannot remember who she is anymore.
With girls stalking him from all sides, Raku has no option but to remain in a fake relationship with the daughter of the rival gang member's Boss.
Raku is a man of his word and is a nice guy! In a Shonen Jump Character poll in 2016, Raku received 156 votes and ranked #11.
Chitoge Kirisaki
Daughter of the rival gang, Chitoge is a beautiful yet aggressive teenage girl. She is half Japanese and American.
Just like Raku, Chitoge too made a promise to a boy ten years ago but isn't sure whether Raku is the boy or not.
She is a smart girl and excels in everything else she does, but cooking.
Chitoge tries to bury her feelings for Raku as they progress into their fake relationship but eventually does give in.
In the same popularity, Chitoge ranked #1 with 4,443 votes to her name!
Kosaki Onodera
Kosaki is the sweet girl who has a secret crush on Raku, just like him.
They don't reveal their feelings to each other for a long time. She is a shy person despite being his close friend.
Kosaki belongs to a family of bakers and candy makers. Raku even comes to help her out at the bakery just to impress her.
She is determined to have Raku notice her feelings.
Raku and Kosaki are shown to have similar characteristics since they're both great people and very kind to everyone around them.
A perfect pairing, shall we say? Kosaki ranked #2 with 4,337 votes in the popularity poll!
Other Decisive Factors for Nisekoi Season 3
Let's face it, Season 2 didn't give us anything to look forward to because the story wasn't streamlined at all.
What both seasons however did up telling us is that the story isn't over, Raku still hasn't found the one.
It's been 6 years since the creators have given us any sort of an update and we can only speculate that a new season is in the works.
The source material ended a year after the second season was released, so there is no escaping when it comes to creating a strong storyline this time around.
But is it the curse of 'deviating away from the storyline' that many studios are known for?
Just like Akame Ga Kill, it's been 7 years, and no news!
Now in the anime world, deviating or skipping story arcs never goes well for an anime series, some anime has even received backlash for the same reason.
We will just have to wait and watch for this one as well.
Controversy
Now, we've not shied away from saying that this anime is a very cliched, run-of-the-mill romantic comedy storyline.
Many feel the same. As much as there are positive responses and a huge fan following, there are some fans who enjoyed the never-ending manga storyline better than the anime series.
It's safe to say that the creators did make an error skipping character arcs for Season 2 that only acted as a filler season.
The OVAs and the film made no difference, the graphs are proof of that.
Fans have been quoted saying they were dissatisfied and upset with the ending of the anime.
Some people had the same sentiments regarding the manga series because they had shipped Raku's love interest as another character.
Will this and only this decide whether or not a new season will be renewed?
Conclusion
Even though it does look a little bleak given all the stats we've tried to delve into here, we fans cannot lose hope!
If the creators want to conclude the series, they need to come up with a third season.
This is also because the fans want more of Raku, Kosaki, and Chitoge.
Until further news, occurs, we wait in the shadows for the studio to release some updates about the series to take things further.
And we will be there to share it with you, the moment the news comes out!