»
Prison School Season 2 : Everything you need to know in 2021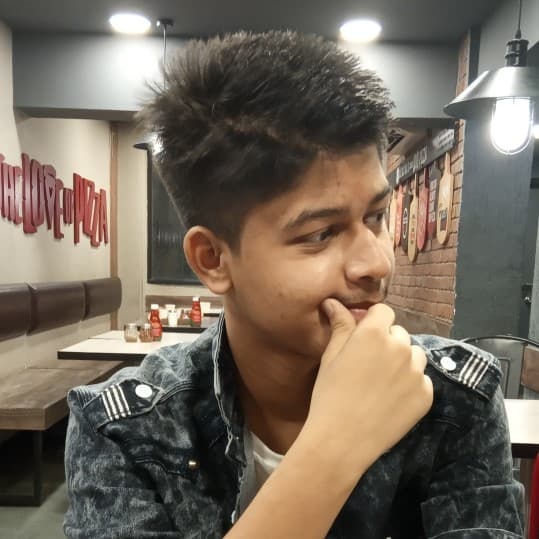 Kay-Posted June 1, 2021
---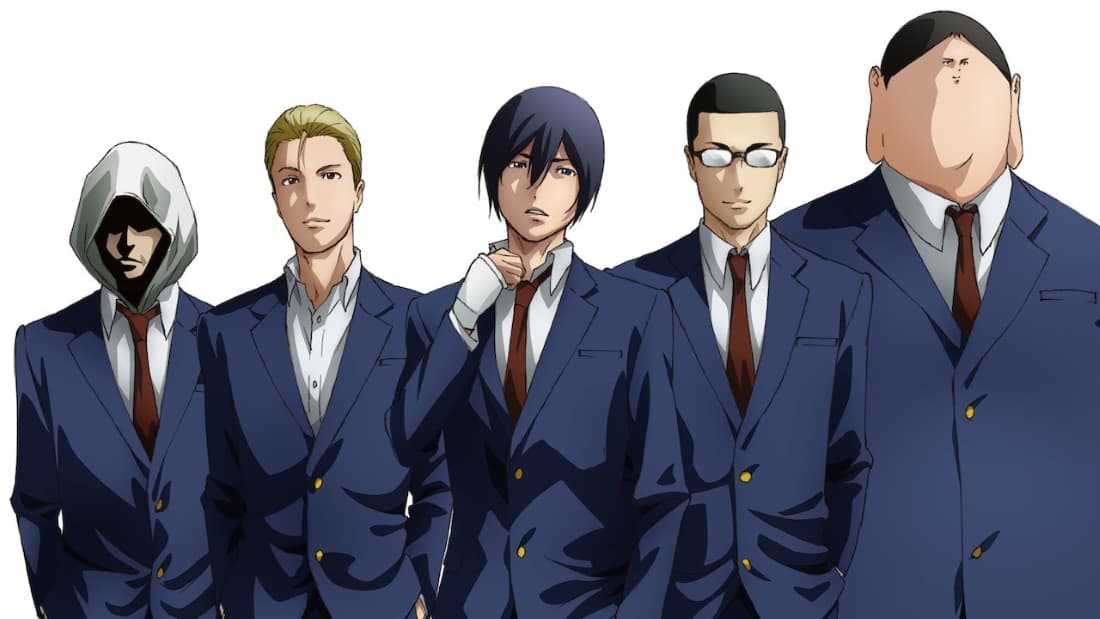 'ECCHI'. One of the most exclusive yet recognized genres offered by the anime industry. It's the one that everyone watches but no one talks about.
Yeah, I know you watch it as well. And when it comes to some of the best Ecchi anime of all time, Prison School is an outstanding name.
It's a series that seamlessly blends its ecchi elements with the actual story. This makes it an experience that is appreciated by almost everyone.
However, the one drawback that anime like Prison School have, is the lack of sequels.
No Season 2 even after 20 million years. However, we are fans! We never lose hope for what we love and cherish.
Therefore, just like you and me, countless weebs around the globe want a second season.
Many anime fans are looking forward to the sequel of Prison School. However, 'Is the second season going to happen?'  "What would be the story?", "What is the release date?", "Are there any official announcements?", etc. were your questions until now, you are in luck.
That's right ladies and gentlemen! In this article, you would get to know everything about Prison School Season 2.
From Release Dates and Announcements to Sales and Online Reactions. This is Everything You Need To Know About Prison School In 2021.
But before we dive into the pool of information, let's revise everything about Prison School so far.
Everything We Know So Far About Prison School
Prison School or 'Kangoku Gakuen', is an anime adaptation of a manga of the same name.
The series is directed by Mizushima Tsutomu, who is also responsible for directing Another and Shirobako.
The animation was put in the hands of J. C. Staff Studios. This studio is also the one that handled Toradora, Food Wars, DanMachi, and One Punch Man (Season 2).
It premiered back in the summer of 2015 and consisted of 12 episodes. The anime aired from Jul 11, 2015, to Sep 26, 2015.
The story is set in Hachimitsu Private Academy situated near the outskirts of Tokyo. This recognized and respected girls-only school is quite popular for its academics and discipline.
However, things are about to take a new direction since amendments occur. The school that had a place for none but girls is starting to accept boys now.
Initially, they start with just 5 boys. Kiyoshi, Gakuto, Shingo, Andre, and Jo are the chosen ones.
Now in a school where boys were never seen before, these guys are left out almost immediately.
With the unapproachable nature, these guys make a decision that would define their school life.
They decided to peek into Girl's Bath! Oh yeah! 500 IQ confirmed. Needless to say, the plan went as perfectly as your maths exams.
They get caught by the Underground Student Council. This council is known for its treatment.
Thus, with the intent to punish the boys for their actions, the Underground Student Council put them in a prison for 1 month.
Thereon begins the journey of 5 boys in an all-girls school prison where torture is different.
The harsh life of the boys in the prison and their attempts to escape are blended in a humorous and fun manner.
Prison School is an anime that makes everyone laugh their hearts out. Its unique narrative and the clever combination are what make this an amazing ecchi.
The anime was blessed with a sequel in the form of an OVA. This OVA is called 'Prison School: Mad Wax'.
It was about the life of our boys AFTER coming out of prison. But overall, the anime has already ended.
And with the conclusion to 1 season of any anime, there is an uproar for the next one.
Therefore, fans wanted to know about Season 2 of Prison School. So now we know what we have in our hands as Prison School.
Let's take a look if there are any official announcements or release dates for the next season.
Official Announcements And Release Date Of Prison School Season 2
If we are talking about the official announcements and release dates of Prison School Season 2, the info isn't exciting.
For fans, there has been no official announcement about the series just yet. Yup, NOTHING!
A few rumors were going around the community about Season 2 but no, NOTHING. However, when I say 'NOTHING', I mean that cancellations aren't done either.
Even if we haven't got an official statement from any of the Staff Members, there's no cancellation as well.
Taking it on a positive note, we can assume that the staff members haven't given up on the series yet.
The demand for the franchise has always been high so a sequel will only fill those pockets.
Now if we know that the series isn't going to be canceled, how about we take a look at the source material.
After all, the anime is indeed an adaptation of its Manga Counterpart.  
"Is the source material completed?
Do we have content left for another season?"   Well, let's answer these questions.
More Source Material Information On Prison School Season 2
It's time to take our magnifying glasses towards the Manga sister of Prison School! So what do we know about Nee-san?
Prison School manga was written and illustrated by Hiramoto Akira. It serialized from Feb 7, 2011, to Dec 25, 2017, in the Weekly Young Magazine.
The manga consists of 278 chapters and is compiled into 28 Volumes. The franchise used the first 9 volumes of the manga to adapt in the first season.
This means that the source material has around 200 chapters to be adapted into anime.
Simply put, Content is there. And a lot of content is there. I mean the first season didn't even cover like 1/3rd of the manga.
So if you were wondering about the availability of matter to adapt, feel free. The franchise has more than enough for a sequel.
The question ends right there. Now you might be wondering, 'Hey, if the content is there, why are they not making it?' Is the show not popular enough?
Well, let's find out!
Popularity Information Of Prison School Season 2
Popularity is a great metric to know about the success of any entertainment medium. Needless to say, it applies to anime as well.
If an anime is popular enough, we can be assured about the possibility of a sequel.
But how do we judge the 'Popularity' of an anime? Well, we have 3 metrics in our hands that can give us a rough idea about Prison School's acknowledgment.
Starting with Google Trends.
Google Trends
Google Trends can be a great way to know about an anime and its popularity worldwide.
So what does Google Trends say? As you can see, the trends are quite fluctuating.
There are multiple highs and lows. However, if we look closely, the range is mostly around 25-75.
The searches peaked on 20-26 December 2020. Therefore, we can say that the series has been in constant searches overall.
The steady search volume just goes to show how trendy this anime is. Not to mention, Prison School aired 5 years back.
STILL, people can't help but search for the sequel. Therefore, on Google Trends, Prison School has a substantial name for itself.
Let's look at one more platform, Twitter.
Twitter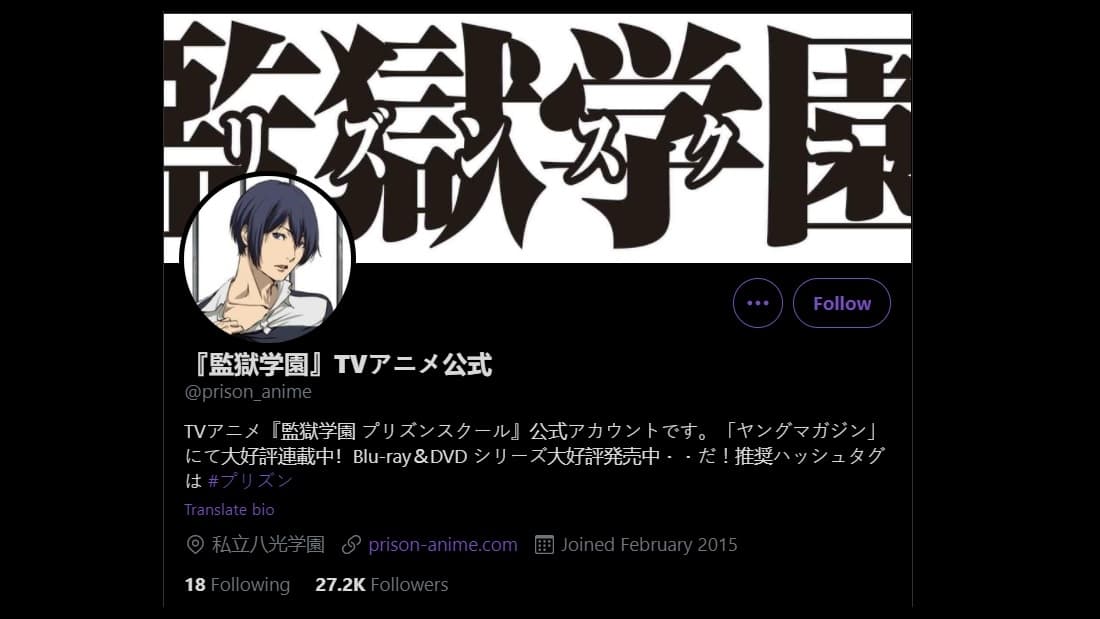 As most of you may know, Twitter is where the creators reside. Many Japanese anime creators can be found on Twitter.
Therefore, if a massive number of weebs are engaged with Prison School, it can be a positive sign.
This positive sign won't just be for us but the creators present on Twitter as well.
So what do we have on Twitter? Well, the Official Twitter account of Prison School has over 27 thousand followers.
Now that's a number. Not to mention, there are countless fan pages of the series as well.
The number might not seem MASSIVE at first but keep in mind, the series aired 5 years ago.
Also, this number is found on Twitter only. There's a high chance that you don't use Twitter either.
But you are still seeking season 2, aren't you? Thus, even if 27 thousand may sound like low, it is actually a considerable number.
So we can say that Prison School's popularity is visible on Twitter as well. And lastly, let's take a look at the number of Google Searches about Prison School Season 2.
Search In US and UK
Now it's time to look at the actual number of Google Searches for Prison School.
As you all know, this would allow us to know about the number of people who search about Prison School every month.
So what do we have here? Well, there are around 30 thousand Google Searches per month about Prison School Season 2.
Again, it might seem a small number like blood lad season 2 at first but you know the deal. Old anime with no official announcements are bound to have fewer searches.
Thus, keeping that in mind, we can definitely say that Prison School has a decent number of Searches.
If we look at the day, around 43% of the searches are from the United States.
This goes to show that the anime has a great fandom in the US itself.
Around 1300 searches are from the UK. Indeed it's a low number as compared to the USA but still seems somewhat considerable.
Overall, the number of Google searches for Prison School Season 2 is good.
Therefore, from a general perspective, we can say that Prison School is a popular series that deserves a second season.
Expected Plot Of Prison School Season 2
Now if the sequel does happen, what is going to be the plot for it?
I am somewhat certain this idea might have struck your mind. So to quench the thirst, I would like to tell you what we can expect as a plot for Prison School Season 2.
Basically, the next season would focus on the underground student council. It may also target their punishment.
As seen in the OVA from 2016, the story might also end up about our boy.
Their relationships and experiences after coming outside the prison can be an easy plot device.
As simple as they may sound, these potential plot points can be elaborate in a hilarious fashion.
The series could potentially bring in more sitcoms in their narrative. This can be accompanied by more character exploration and presentation.
Irrespective of what happens in the show, we love the series at the end of the day.
Now that we have a general idea of the sequel's potential plot, let's take a look at some online reactions.
Reactions from fans around the globe about this series and its sequel.
Online Reactions To Prison School Season 2
As you all know, the internet has made the world a smaller place without changing the actual dimensions.
Thus, it would be much more natural for us to watch the online reactions concerning the sequel.
Positive reactions would indicate that fans actually want a sequel and vice versa. So let's use some known platforms for these reactions, opinions, and thoughts.
For starters, why not take a look at Twitter. As I said earlier, many anime creators are on Twitter so it's a great platform for weebs.
Let's see what fans on Twitter have to say about Prison School Season 2.
Twitter Reaction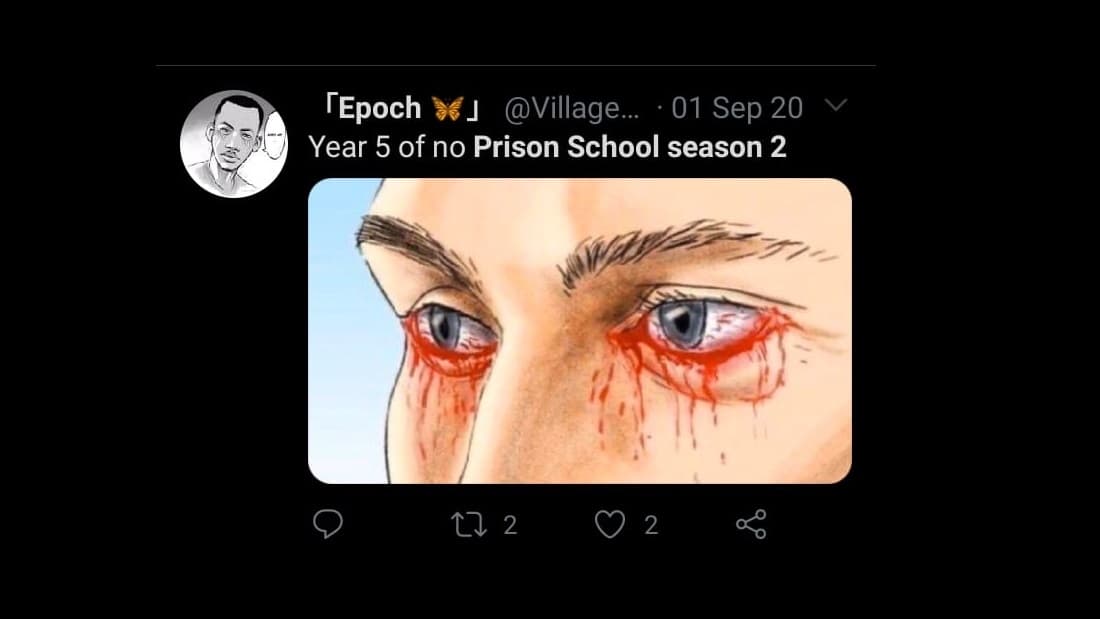 As hilarious as this meme is, the idea is correct. Fans have been desperately waiting for a sequel for the Prison School franchise.
The long wait of 5 years without any confirmation or announcements was painful. This was even more effective considering that the anime had content to be adapted.
So twitter fans couldn't help but portray their want using memes. Countless such memes are being made on the platform.
Just search for them and you would meet many more people who are waiting for Season 2.
Therefore, from the Twitter fans, the reactions are nothing but positive. They might end up throwing a party if the sequel was announced.
Now let's take another reliable platform, Reddit.
Reddit Reaction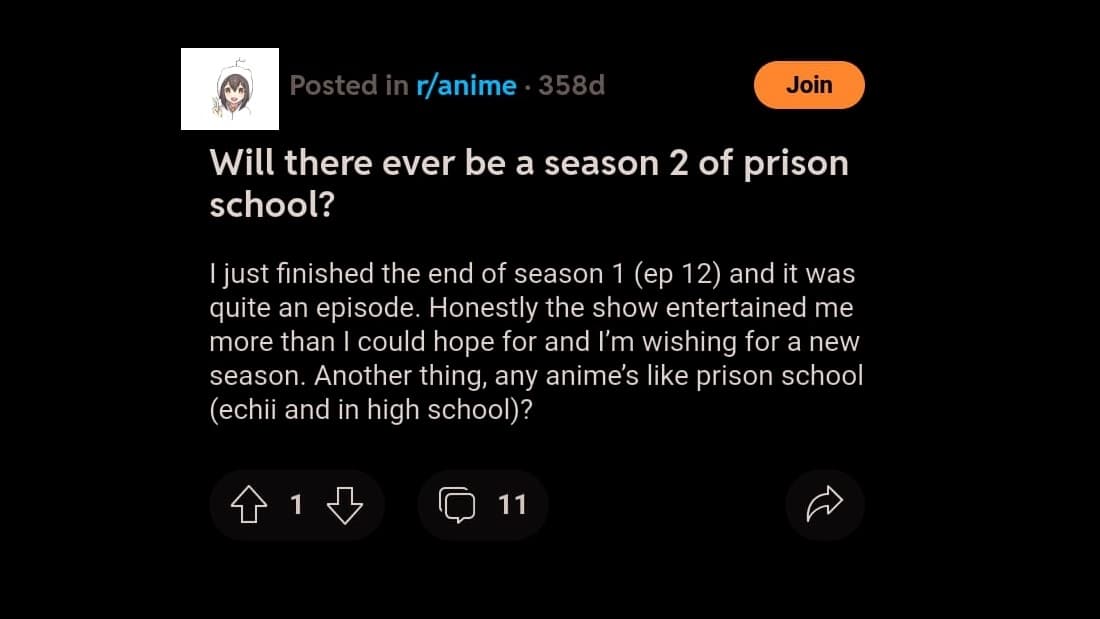 Reddit is another platform where anime fans chill out and put their thoughts. This platform is very popular amongst anime fans so their reactions here would be crucial.
Let's see what Redditors have to say. Well well, what do we have here. A bunch of anime fans who loved the series and want a sequel.
That's amazing don't you think? The anime fans on this platform are curious about the sequel as well.
However, others are suggesting they resolve to Manga instead of waiting for the anime. It is not said in a negative tone.
Instead, it is said in a tone of disappointment. Fans want Season 2 but the creators just don't hint at all.
Therefore, many fans resolved to read the manga and quenched their thirst. It's an understandable and appreciated decision.
However, people who don't read Mangas or just want anime can't help but wait. I wonder how long they have to.
Overall, Reddit is also curious and waiting for the next season. That's definitely a positive sign.
Finally, let's take a look at one final platform, Quora.
Quora Reaction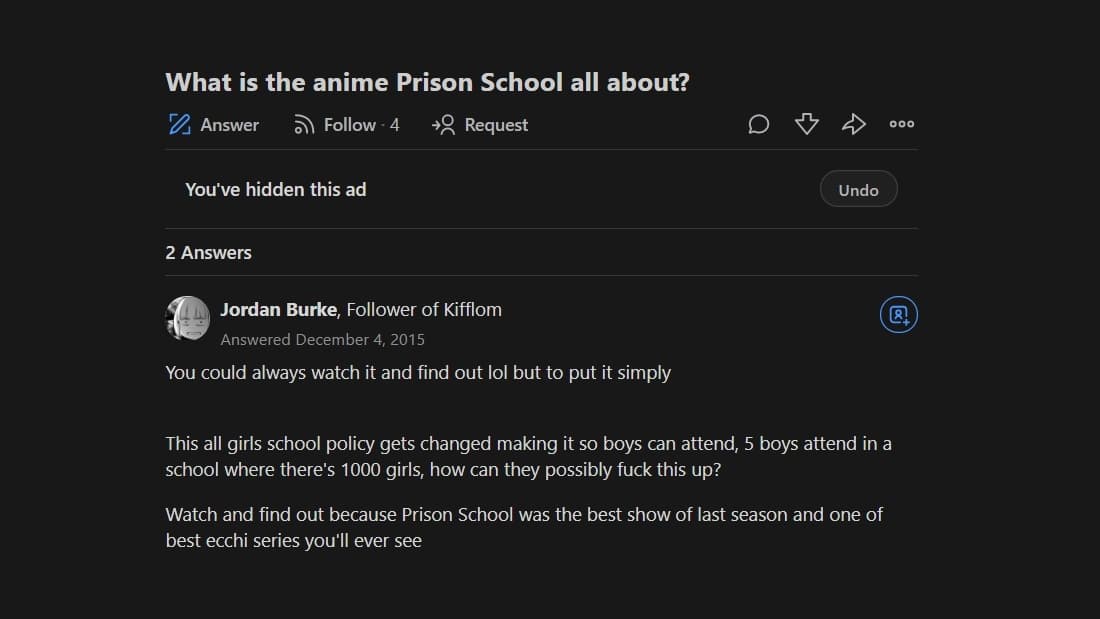 Quora is the final platform that will be used for reactions. Let's hop right into it.
Okay so apparently, the Quora users are still going on about Season 1 of the series.
The idea of Season 2 hasn't birth on this platform just yet. For now, fans are more interested in knowing about the first season and its narrative.
There are recommendations, reviews, and discussions going on about Prison School on this platform. However, all of this is just for Season 1.
People talking about season 1 are appreciating it. And those who don't are curiously asking about it.
Therefore, we can say that Quora had a mixed reaction. No discussion about season 2 but they are enjoying the first season.
Across the board, all of these platforms have a positive notion towards the anime and its sequel.
If the second season indeed takes place, these weebs would appreciate it from all their hearts.
Why Do We Want A Second Season So Badly?
Now comes the biggest question in the history of mankind and its existence. Why do we want Prison School Season 2?
And to answer this revolutionary notion, I need to ask you whether it was super entertaining or not?
Yeah. That's it. That's the only reason why we want it. But if you think about it, anime fans never demand anything else in their lives anyway?
I mean when was the last time you witnessed an anime fan asking something big for Christmas.
We are humble people you know. We only ask 2 things from God. Firstly, a second season for a series that we know might never happen.
And finally, an anime girl in real life who we can marry. I told you, we are humble people.
Okay, but on a serious note, the core reasoning as to why fans want a second season for Prison School is its characters.
The thing is, we know the story hasn't ended yet. We know about how much fun we had and how much more we can.
Thus, as fans who enjoyed Season 1, we are bound to ask for season 2.
It's just human nature. Regardless, the amount of sheer humor and enjoyment that anyone can have after watching the 1st can make them crave for the 2nd.
And therefore, we want a sequel for the Prison School franchise.
Ratings And Reviews Won So Far By Prison School
Now let's check if 'Critical Acclaim' is a hurdle for season 2. The thing is, if only fans want a sequel, the creators won't make a decision.
For them to be more optimistic towards the series, there has to be a unanimous liking from the general audience.
So how can we judge if a series is liked by the general audience? Well, the answer is 'A Planetary Survey'.
But that would be expensive so let's just take a look at the ratings.
IMDb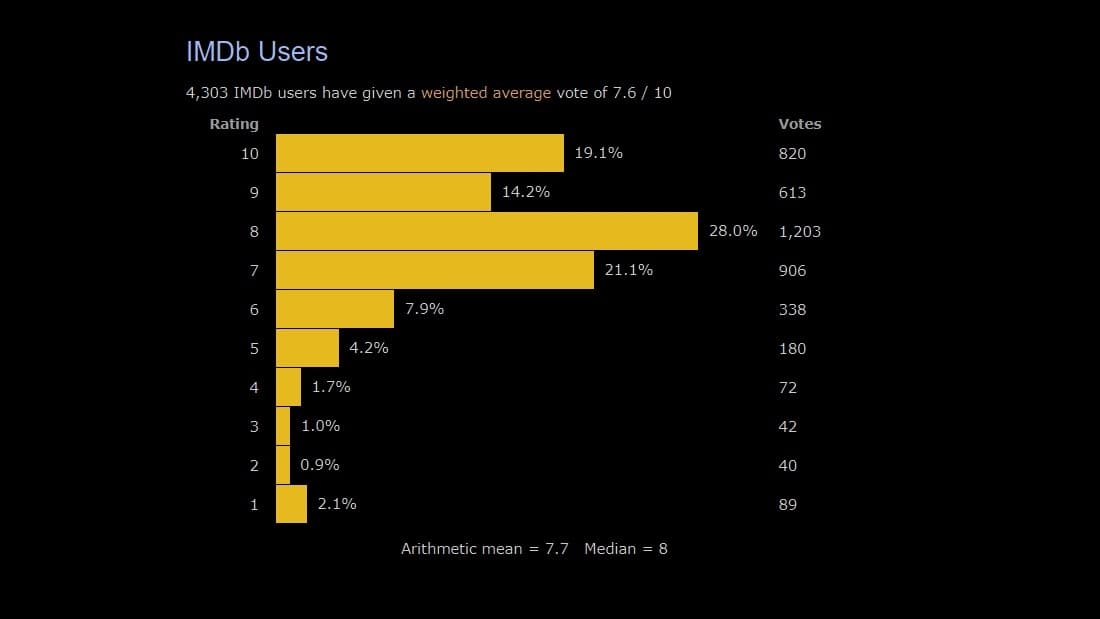 IMDb is a platform used by many entertainment consumers. There's a high chance that you have an account on IMDb as well.
So let's peek at the ratings on this platform. So the score blessed upon Prison School is a fabulous 7.6.
Now that's a positive sign! The rating is as great as it is but so are the reviews.
Most people are appreciating the light-hearted nature of the show. The series and its hilarious narrative have appealed to almost anyone who watches it.
Obviously, they are going to be some haters but overall, a pretty unanimous win for the anime.
So the folks using IMDb have positive thoughts about the series. Now let's take an anime exclusive website, MyAnimeList.
MyAnimeList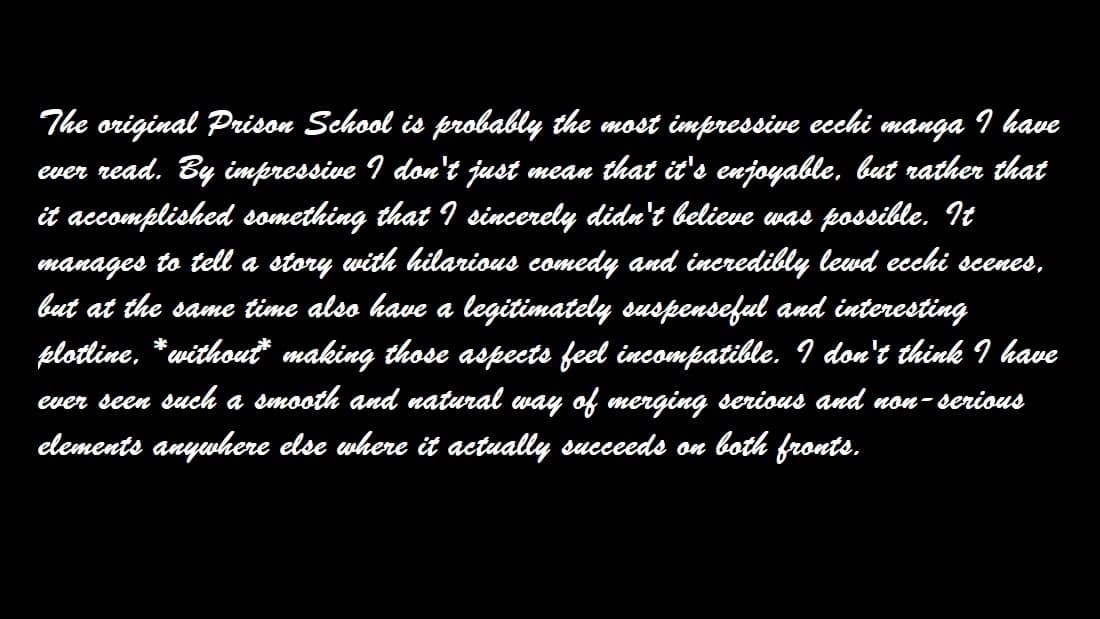 As you guys know, MyAnimeList is one of the most popular anime-oriented websites in the world.
Anime fans around the globe have made accounts on the website to catalog the anime they watch.
Therefore, this website would also be a great metric to know how people think about Prison School.
More specifically, how weebs look at this anime. So what do we get? With another impressive rating of 7.68, Prison School has made its name for anime lovers as well.
Just like you would expect, the anime is getting constant love from almost every fan out there.
A few people disregard it for being Ecchi but you know, they would always be there.
From a general overview, it is visible that anime fans have thoroughly enjoyed the show's humorous nature and light content.
Therefore, it wouldn't be incorrect to say that Prison School is loved by all in terms of ratings and reviews.
So if ratings and popularity are not the issues here then what is? Sales? Well, let's find out!
Profit And Sales Details Of Prison School Season 2
Now we are going to discuss the most important aspect of any medium of entertainment.
As you all know, anime is a profit-centered industry. Therefore, the key motive of almost every anime is to fill their pockets.
If the first season fills enough pockets, creators are bound to be motivated for the next installment.
So what do we have for Prison School? Let's find out.
Manga sales
As you all know, Prison School is an anime adaptation of Manga. Therefore, Manga sales are a crucial metric to take care of.
The question is, 'Did Prison School Succeed As A Manga?'   The answer is, 'YESS!'. Just to give you (yes, YOU) a general idea about the success of Prison School anime, here's a fun fact.
As of March 2018, Prison School has sold over 13 MILLION copies of their Manga.
Now that's a gigantic number we have got here. I hope now you know that the series is no joke.
The manga sales have been amazing and sky-high throughout. If you are a Manga fan, you know how good the franchise is.
Ohh and did I mention, Prison School was one of two winners of the Best General Manga award at the 37th Kodansha Manga Award.
The other winner was Gurazeni. So yeah, Manga sales just can't be the problem here.
What about Bluray then?
Blu-ray/DVD Sales
Now let's take a look at one another factor for anime revenue, Blu-ray / DVD sales.
Revenue generated from this source is a significant one. This is even more specific in the anime medium.
So let's have a quick look at the number of Blu-ray discs sold by the Prison School franchise.
Alright, so the first volume of Prison School had a great sales volume of 7,520.
This is a notion that the series was admired at the time of its release.
And even in its later volumes, the sales we're pretty standard. Nothing too outstanding or shallow.
However, this number may seem low from a sales standpoint. However, we must remember that it's the era of digitalization.
The drop in BluRay/DVD sales is understandable since fans now use streaming platforms instead. I mean come on, you yourself wouldn't have bought the Bluray, have you?
So yeah, the Blu-ray sales are good enough to promote another season. If the makers are wishing to make one, this wouldn't be a problem.
Now if Prison School does end up having a sequel, which characters would be featuring?
Let's take a look!
Famous Characters To Reappear In Prison School Season 2
Now let us take some guesses on the characters who can make their reappearance in the sequel.
Season 2 would still be focusing on the school and the characters within. There's a chance that some new characters might end up showing in the narrative.
However, from a general standpoint, it seems that the anime would have our beloved characters only.
Let's have a quick look at them!
Fujino Kiyoshi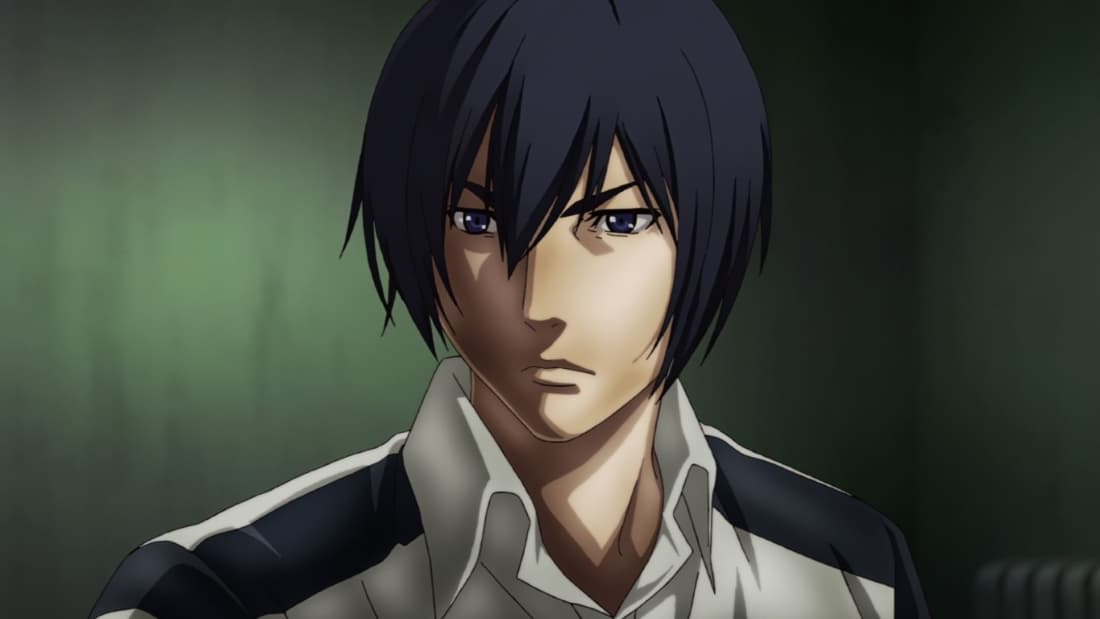 Starting up, we have our main character whose humble and pure nature sees no limit.
He is one of the first men in the school to have a female friend.
Thus, his journey has been tougher physically but more pleasing mentally. He is the charm of the show that needs to be brought up in the sequel at any cost.
Morokuzu Takehito
Oh my, the main comedy hero of the series that made us laugh so much.
Takehito is probably the funniest character in the entire series. His unique nature and love for history are what made him shine with a girl as well.
If he didn't show up, I am not watching! That's it! I am not watching if he doesn't show up.
Prison School creators, mind you, I am not watching without Takehito!
Shiraki Meiko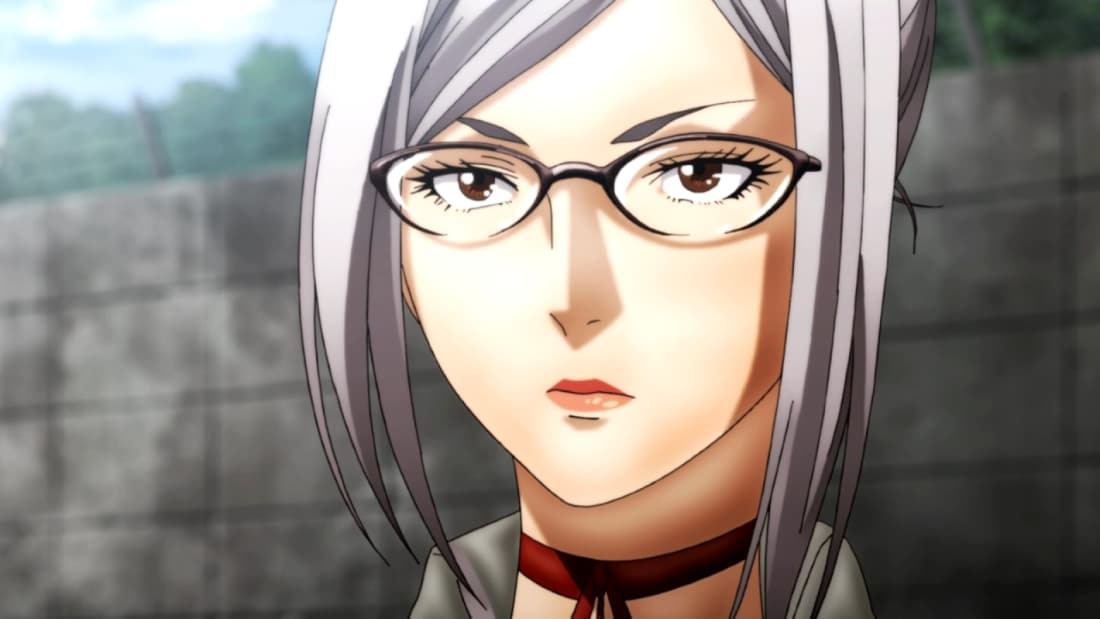 Ahm ahm, she is…..you know…...interesting! I mean she is probably the character who got the highest amount of screentime in the entire series.
Special parts have been given even more screen time. Well, she is behind the bars now so it's obvious her presence would be less.
Still, we can expect her to have a great impact on the sequel overall.
Kurihara Mari
It's time to talk about the boss of the Underground. For the most part, her appearance in the first season was prominent during the end.
However, for the overall story, her actions are certainly responsible. Her return in the sequel is bound to happen since she is the President of the Underground Student Council.
So we can't help but expect more of her attempts to torture the boys when she is released from jail.
Midorikawa Hana
Hana is the one who got her own character arc sort of stuff. She was not the one who was directly under the control of Mari.
Instead, her plans for the boys were different. More specifically, she was much more concerned about Kiyoshi.
Her return in the sequel would open more room for the franchise to use her feelings for Kiyoshi.
Other Decisive Factors for Prison School Season 2
Finally, we will take a look at some other factors about Prison School Season 2.
These factors can be decisive when it comes to its production. So let's just dive straight in.
Ending Of Prison School Season 1
Endings are important for any anime since they open room for sequels. Let's just revise the ending of Prison School.
So basically, the students were proven innocent and put out of the bars. On the other hand, the Underground Student Council was put behind the bars because of their treatment of the boys.
Therefore, the guys started their new life in the school and the underground council got punished for their deeds.
I feel that one of the biggest reasons why the anime hasn't been renewed for the sequel is its ending.
The series had what I call a 'Closure'. Simply put, with the ending that was given for season 1, a lot of viewers we're fairly satisfied.
Since many don't even know there's more to the story, they don't ask for a sequel.
Since according to them, the anime is absolutely ended. If a sequel never takes place, it can be because the series never had anything to look forward to in the next season.
Of course, you can desire more, but the story ended when the boys were freed from general viewers.
Thereon, they just continued their high school life. And this assumption is understandable. Thus, if the second season is on its way, the first season's ending isn't complementing it heavily.
Controversy Around Prison School
I would quickly mention 1 controversy about Prison School. It was about mistranslation and disrespect towards #gamergate.
However, it revolved around such a small number of people that its reaction wouldn't have any effect on the sequel.
Conclusion
To sum it all up, Prison School Season 2 definitely has the possibility of happening.
Critical acclaim, awards, sales, all of these are pointing towards a positive direction. Now what you can do is buy the original manga and read it.
However, if you can wait for the sequel then you should do so. After all the anime experience is really different!
Thanks a lot for reading. Until Next Time, Sayonara!