»
God Eater Season 2 : Everything you must know in 2021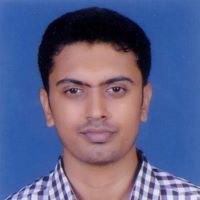 Vignesh-Posted Feb 17, 2021
---
God Eater anime was an adaptation of the game "God Eater". Bandai Namco was behind its creation.
Then it became popular among millennial gamers, like wildfire. The anime hit the television roughly 5 years after the first RPG game release.
The game's popularity set a good ground for the anime. It paid rich dividends, too.
But, today it has been almost six years since the first series got released. The long wait after the release of the first series has put the fans in dilemma.
On the other hand, the video game sequels have been reaching the players promptly.
God Eater 2 was launched in 2013 and God Eater 3, in 2018. Therefore, the demand for the 4th sequel of the game and the second series of the anime is still kicking in.
The movie is roughly on the same lines – a post-apocalyptic world in 2071. Fenrir continues to defend humanity from the deadly Aragami.
The God arcs have become the most sought-after friendly forces of mankind.
Everything we know about God Eater so far
It is 2065 when the prologue of the first series starts. It shows a glimpse of what's in store for humans.
The Aragami captives are taken to a nuclear facility which will wipe them out.
But, they suddenly rebel and attack the God eaters. After a long battle, the Aragami manages to escape from the blast and God eaters are airlifted to safety.
Aragami are demons who want to eliminate human beings from the earth. Now that they are free, the God eaters are forced to change their plans.
They must adopt new strategies and get trained for this new age war. That's when the New Asian Union is formed and plans for the upcoming war are laid out.
They are now in charge of protecting humankind from these monsters. They fail sometimes but, managed to create a group – Fenrir which did well.
They develop special weapons from bimolecular materials called – God Arcs.
The anime ends with suspense. An unknown person sits watching Soma, one of the leading God eaters.
The video game sequels have gone far ahead showing the tough time the God eaters will have.
Official Announcements and Release date of God Eater Season 2
Season two of God Eater was supposed to have come in 2017. Unfortunately, it got delayed and was expected by 2019.
Meanwhile, the 2nd and 3rd sequels of the video game were released.
Usually, most animes are made to promote the source material. But, here the source material was not a Manga or any light novel.
It was a video game. The sequels of the game also did well, without a season two.
As of date, there are no official announcements regarding Season 2. UFOTable, the studio has still not decided if there will be one more season.
The general speculation is that it may be announced by 2021 end.
Since the pandemic is still affecting the global industry, it makes it more confusing.
More Source Material Information for God Eater Season 2
The source material is the bedrock for an Anime. It's either made to supplement the source material or to release a new sequel of the material.
God Eater 2 is based on a video game, unlike the usual Manga based Anime.
Also, 2 sequels of the game have come out and the third one is going to be launched soon.
Therefore, there's source material and a ready-made story for the anime. Also, the demand and profitability look very favorable (discussed below).
A game and an anime combo is a very brilliant idea. This is because the fans are not just watching it.
They get to do more. A chance to play it is like being in the plot and experiencing what the characters felt and did.
This table shows the release dates of the video game – God Eater.
| | |
| --- | --- |
| Game Version | Japan |
| God Eater | February 4, 2010 |
| Gods Eater Burst | October 28, 2010 |
| God Eater Resurrection | October 29, 2015 |
This table shows the platforms God Eater video games were played on.
| | |
| --- | --- |
| Game Version | Platform |
| God Eater | PlayStation Portable |
| Gods Eater Burst | PlayStation Portable |
| God Eater Resurrection | PlayStation 4,Vita,Windows |
There are a long list of back–end workers to make any anime successful. This is a table showing their contribution.
| | |
| --- | --- |
| Contribution | Name |
| Original Work | Bandai Namco |
| Producer | Hikaru Kondo |
| Direction | Hirao Takayuki |
| Character Design | Shimizu Keita |
| Music | Bandai Namco Studios |
| Animation | UFOTable |
Popularity details of God Eater Season 2
The popularity details of an anime can be determined. It's done by assessing the demand it continued to generate.
This is where the organic results must be considered.
Twitter Activity
The demand on Twitter has remained more or less high. It has always peaked whenever the new game sequel was released. Sometimes even some rumors have triggered those.
This is the official Twitter account of the anime.
Users can still be seen demanding a season 2 after they finished watching season 1. This is a recent tweet.
Google Trends
Google provides a view into what people on the internet talk about. These are some graphs to make its popularity clear.
The 5-year volume analysis of God Eater shows that there's a very solid demand for the anime. Also, the global audience shows a good fan base.
Google Search
Google searches can show how much people on this get curious to know about God Eater. This happens when some new folks try to know more.
14k people per month search in the US about god eater season 2.
It also happens when fans scan the internet for any new information.
This is a regional search trend which shows the countries that searched for it over the last 5 years.
God Eater Season 1 came in 2015. This has been the search trend for season 2 after season 1.
You can notice it peaked whenever the game releases occurred. The 2019 peak was because of a rumor of the next season's announcement.
Expected Plot of God Eater Season 2
The expected plot is going to be on the same lines as the game. There's no chance that the makers of the next season will deviate from the set path.
This can be confirmed because the game sequels became popular.
God Eater Season 1 ended when it was 2071. The tragic part of it was the loss of Lindow's hand in a battle.
He was a God Eater who battled the dreaded Aragami. Therefore the chances of a new lead are high, in this season.
Two people who have those chances – Lenka Utsugi or Shio. Among these, Lenka is preferred more as fans expect that.
Fenrir will be stronger and they would create much better weapons. The current God Arcs had started becoming obsolete in Season 1.
Read the next section to know why having a season 2 is important
Why God Eater Season 2?
Let's first focus on Season 1, before knowing more about this. Season 1 started the story when it was 2065 and covered events till 2071.
In that post-apocalyptic world, the war between Aragami and God Eater was the main theme.
It began with the escape of Aragami. They got condemned to death by a nuclear facility.
Their unfortunate escape caused the subsequent events. The next anime episodes show how the God Eaters fight them.
They were initially unprepared for a large-scale war. But, they form an alliance and create a force named Fenrir.
This leads them to create specialized bioweapons called God Arcs.
Fenrir wages a war to contain the plague of Aragami. Its members are called "God Eaters".
Lindow leads them in the first season. But, he loses an arm in combat with the enemies. This makes him somewhat like a recluse.
The second season, therefore, has more things to see. Most importantly, it's the war that is ravaging the earth. If the God Eaters lose, humanity will be wiped out.
The next reason is to see the fate of Fenrir. Fans will be eager to know who is going to lead after Lindow's injury.
Will Lenka take the mantle? Or will Shio lead? It's an open secret that fans want Lindow to make a comeback.
Also, the other factor is that there's source material to make the next series. Since the 4th Version of the game is going to come in some time, it gives hope.
Let's check the online reactions.
Online Reactions for God Eater Season 2
Online reactions include social media trends and posts. Here, we have collected some reactions from different websites.
They play an important role in measuring the acceptance of the Anime.
Usually, sequels don't do as well as the original versions. But, things can be different here.
Quora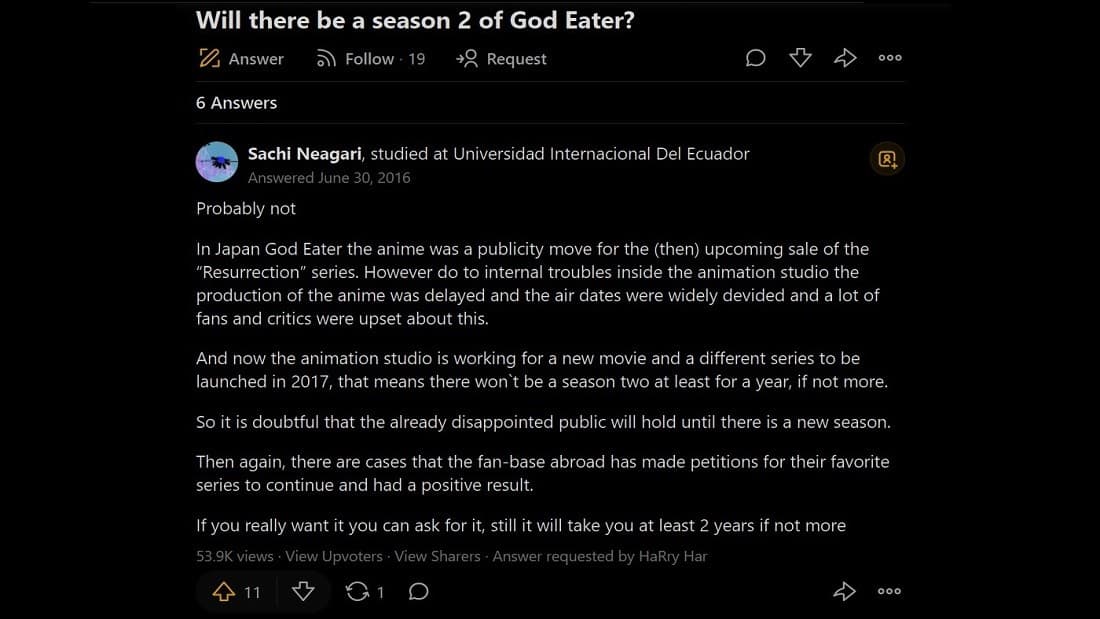 This is a popular post from Quora. As you can see, the views are 50K+ and it has reasonable engagements.
The 2016 quora answer talks about the possibilities of Season 2. Fans must keep demanding for the release of the new Season, says the writer.
Reddit
This Reddit user confirms what we discussed above. He says that the Anime was used as a marketing tool for the games.
It's not wrong to think so because most anime series are made for that purpose.
But, the fan shows hope in this interaction and describes why there is a need for Season 2.
Reviews and Rating Score for God Eater Season 2
Overall, it received a good response. This is the reason that it got rated so high. IMDB, a popular website rated it 7.0/10. Here are more details:
Most users rated it 7/10 and after that 8/10. The next 2 highest ratings were 6 and 10 respectively. 1542 users voted overall, which is a good sample size.
Since it was a game-based anime, most of the viewers would have played it too.
From the demographics bar, it's clear that the millennial viewers are the strong backers of this.
Let's see how other websites rated the anime, here:
| | |
| --- | --- |
| Website | Rating |
| | 7.0/10 |
| | 7.3/10 |
| | 4.0/5 |
| | 6.52/10 |
This is the rating for the game:
| | |
| --- | --- |
| Forum | Rating |
| Metacritic | 71/100 |
| Edge | 6/10 |
| Eurogamer | 7/10 |
| PS4/VITA | 34/40 |
| GameSpot | 7.5/10 |
| Famitsu | 34/40 |
Sales and Profit Information for God eater season 2
Sales and profit of the anime are a decisive factor in the sequels. It's a general trend that the anime sequels make lesser than original works.
But this trend is known and understood.
So, most sequels are made to promote source materials.
A veteran in the anime industry - Masamune Sakaki says that it takes $3 million to make a 13 episode anime.
Producers would not be interested in investing much for the sequel. They would do it only if they are assured of a return.
Since there was no manga or light novel source material, we can't analyze that. So, let's see how each aspect of God Eater did:
CD/DVD Sales
This includes 3 categories – game, anime, and combo. The combo DVD sales stood at around 5345 copies.
It included the off-shot bundle too. These bundle versions did the most sales. Therefore it can be estimated to be 2000 copies for God Eater anime.
Here's a table to show how the anime did.
| | |
| --- | --- |
| Game | Sales |
| God Eater | 6,10,000 copies |
| Gods Eater Burst | 2,63,000 copies |
| God Eater Resurrection | 1,67,857 copies |
Out of the 610,000 copies of God Eater, 2,90,000+ copies got sold in just the first week. The net sales can be estimated to be close to $10 million.
This is not bad for the brand makers because they would not have lost money and made a decent amount over the years.
Merchandise Sales
Since it was a game-based anime, it had a lot of merchandising scope.
Some of the items that were manufactured were mobile phone cases, mobile charms, mobile straps, and garage kits.
These products did not do as well as the anime or game. It's impossible to know how much they grossed.
But, what's known is that they did not get much revenue and had to halt it.
Another reason was that the game was not too realistic. This also hampers the sale of it unless it has a cult following.
Production cost and Success of God Eater
There's not much information available in the public domain about the exact budget. But, we can make an assumption from other anime series.
God Eater had 13 episodes just like My Hero Academia. In 2016, it took $1,482,560 for the producers to make My Hero Academia.
This is just a base mark. God Eater was much grand and ambitious than this anime. So it would have taken more than $2 Million for it.
This is a conservative estimate.
Let's do a different method of analysis for more understanding.
The average cost of a 1 minute 2D Animation is close to $5000. Therefore, a full Episode will cost around $100,000 or $300,000 depending on other factors.
This is a huge amount. So let's calculate how much a 12 Episode long Season will cost. It will be $ 3.6 million.
Also, these are just the production costs. There are a lot of other costs for an anime. They are - marketing, satellite, license fees, other legal expenses, etc.
Comparing this information with that of sales, above, it can be called a success overall. But the truth is – games did well than the anime.
A season 2 can do better if it is released along with the new game.
Famous Characters We Hope To See in God Eater Season 2
Lindow (Rindo Amamiya)
He commands the God Eaters' first unit. He also led the extermination unit. He has the best survival rate among all of them.
He possesses the Old-Type Long Blade God Arc.
Sakuya Tachibana
A deputy commander of the first unit. She's an ace shooter who mastered the sniper God arc. She's notorious for her covert skills.
Soma Schicksal
a first unit member who works under Lindow. He's an introvert and avoids interactions with humans.
He has a powerful and rare God Arc named Old-Type Buster Blade.
Though he does not have the best survival rate, he can heal faster than an ordinary human. He's Johannes von Schicksal's son.
Johannes von Schicksal
Chief of the Far Eastern branch of Fenrir. It is located in Anagura of the NAU. He's the political expert of the God Arcs.
The best negotiator and taskmaster. His calm way of dealing with turmoil makes him popular. He Soma's father.
Hibari Takeda
A Far East Branch operator of the God Arcs. She coordinates teams for the missions and prepares reports for superiors.
She's also responsible for reward processing. She strives hard to get on to the recruit list of Gods Eaters. But, an unfavorable bias factor shattered her dreams.
Kota Fujiki
An ordinary first unit combat volunteer. He has an assault God Arc and is an expert in unarmed combats
Alisa Ilyinichna Omela
The rookie from Russia. Had fought the Aragami before. The Long Blade Assault is her God arc. She's excellent in close-quarter warfare.
Tsubaki Amamiya
Lindow's sister. She commands the first, second, and third units of the God Eaters. She has survived a lot of mortal wounds and inspires the god-eaters.
Paylor Sakaki
A founding member of Fenrir. He is the Chief Supervisor of the Far East Branch's Aragami Technology Department.
He's the one who discovers the Bias Factor and leads a research team to know more.
Aisha Gauche
A founding member of Fenrir. Also the Chief of Aragami Research Lab. She is married to Johannes von Schicksal. Soma Schicksal's mother.
Licca Kusunoki
A female mechanical technician. She works for the God Arc Maintenance Crew. Her talent is in repairing.
Tatsumi O'Mori
A veteran who was under the 2nd Unit. He also commands the Defense Unit. He possesses the Short Blade God Arc. He is skilled in armed combat.
He's also notorious for flirting when he's off duty.
Other Decisive factors for God Eater season 2
We have discusses the most relevant factors till now. But, there are some more aspects that influence the continuity.
Ending
As we saw in the Reddit reaction above, fans want another season. This is because they are eager to know what happens to Lindow, God Arcs, Aragami, and Humans.
The cliffhanger ending of Season one was successful. The anime could have been ended with a conclusion.
Maybe by showing who will take over after Lindow or what would happen to Finrer.
Probably they did not do it because they wanted to keep doors open for the next season. Without such a perfect ending, this kind of demand cannot be generated or mobilized.
The trailer of Season 2
There is no trailer for Season 2. The reason is that there have not been any official announcements.
However, here is the trailer for God Eater which was released in 2015. Once the official announcement will be made, the trailer will be shown.
The controversy around God Eater
The game was famous among Generation Z as well. This is the reason why it escaped heavy scrutiny.
However, there were some outrages and protests for the graphical scenes of violence. This was isolated and did not affect the scope of this.
Conclusion
To sum it up, there's a high chance for the Season 2 announcement to come by 2021 or 2022.
This depends on a lot of other factors apart from the ones above. They are the consequences of the 2019 Pandemic and its effect on the global economy.
However, fans must not lose hope. Though there are murmurs that Season 2 will never come, it cannot be confirmed.