»
Big Little Lies Season 3 Is To Be Renewed Yet [2023 Updates]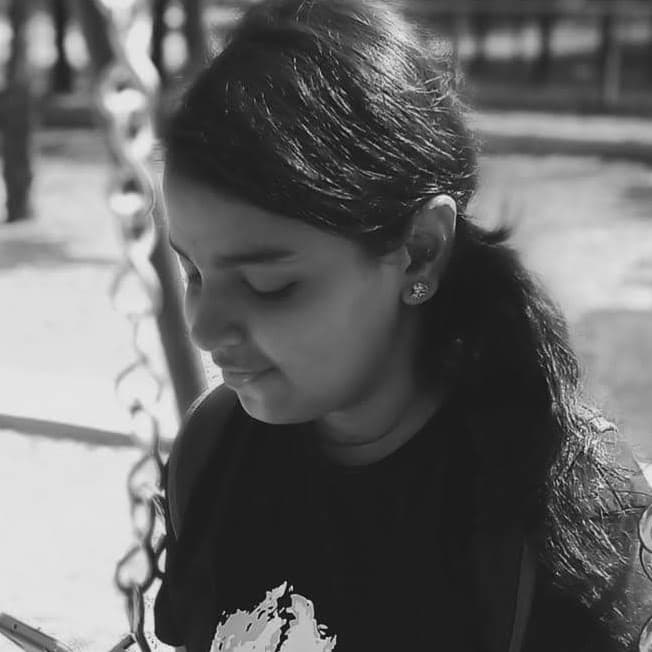 Sri-Updated Jan 26, 2023
---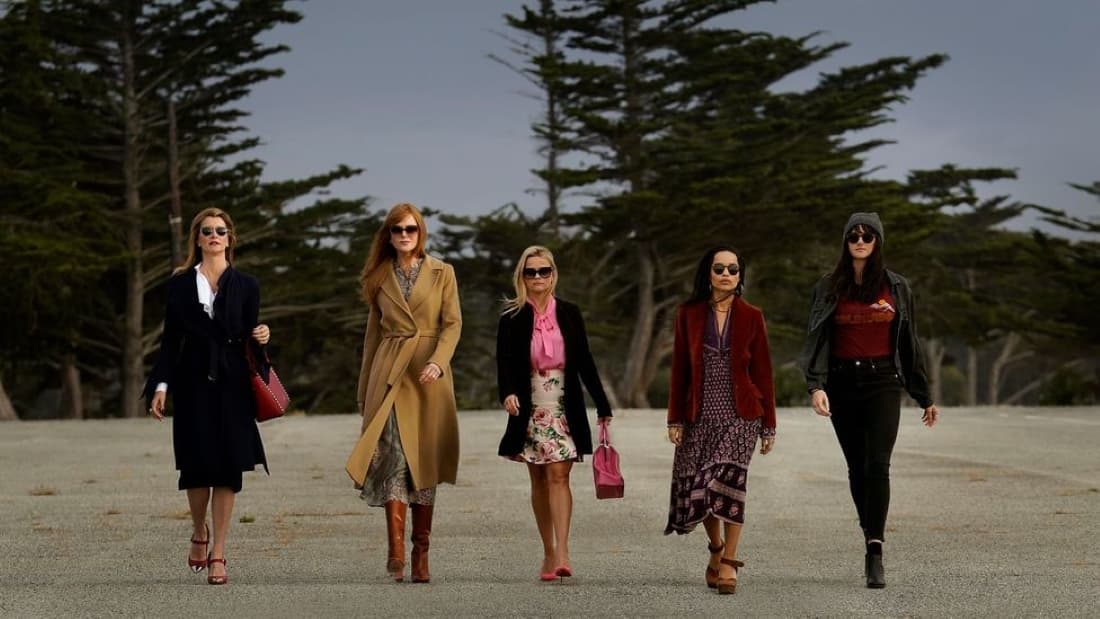 Big Little Lies can easily become your new addiction when you start watching it. Here, let me tell you a spoiler-free review of the series.
The scene starts with somebody being dead in a suburban American town and somehow three mothers from a great background are involved in this case.
In this series, there are two things not revealed initially. One is, who is the murderer and the other is who has been murdered.
That is what keeps the audience engaged. Talking about the second season, while the secret keepers are keeping the secret, there is a lot of fallout from the decisions made by the main characters and Perry's mother plays a perfect role.
This season just sucks everybody into it within the seven episodes. Even people who are not much of a fan of drama would agree that it is an awesome watch.
Now, the talk is going to be all about season three. Here's all that you need to know about Big Little Lies Season 3.
Everything We Know So Far About Big Little Lies
This American Drama series was created based on a novel, Big Little Lies, that was released in 2014.
The book was authored by Liane Moriarty. This series premiered on HBO in 2017. The book and the series are also under the genres of mystery and dark comedy.
Big Little Lies is considered a mini-series with two seasons and seven episodes in each.
Every episode runs from 45 to 58 minutes on the whole. It was mostly shot in Monterey, California.
The whole series started airing on 19 February 2017 and ended on 21 July 2019.
The first season was directed by Jean-Marc Vallee and that was changed in the second season.
The second season was directed by Andrea Arnold. Big Little Lies is produced by Barbara A. Hall and David Auge from Hello Sunshine, Blossom Films, and two other production companies.
Also, it was distributed through Warner Bros Television Distribution.
This series had a warm welcome and more love from people. People were fascinated by the great fit of the cast.
The first season was nominated for a lot of awards and they bagged a lot of them in almost all categories, including acting, direction, and more.
Official Announcement And Release Date Of Big Little Lies Season 3
The second season of Big Little Lies was a massive hit and people couldn't stop praising Andrea Arnold for making things come out great.
Also, the Program President at HBO said that he's indebted to her for this great work.
But that same person has said that the idea of shooting the third season was unrealistic.
The creator of the series admitted that the second season was not in the plan.
But later, when they got ideas and some loopholes from the first season that needed to be filled they went for a second one without any hesitation.
Nicole Kidman, one of the cast members has shown her interest in the third season multiple times and says that it will be interesting to reunite with other cast members once again.
Not just the crew was excited to reunite but the fans also got their hopes high.
So, indeed Big Little Lies season three has a lot of reasons and chances to show up.
Unfortunately, we haven't got any official renewal or cancellation and it's still not clear why we haven't heard any update even in 2023.
Let's wait with all our hopes.
Popularity Details Of Big Little Lies Season 3
The first two seasons pulled up high ratings and millions of views. The finale of the second season was viewed by almost two million people during the airing of the series.
There are more views than that across the OTT and also, during the pandemic. So, let's check what's going on with season three.
Google Trends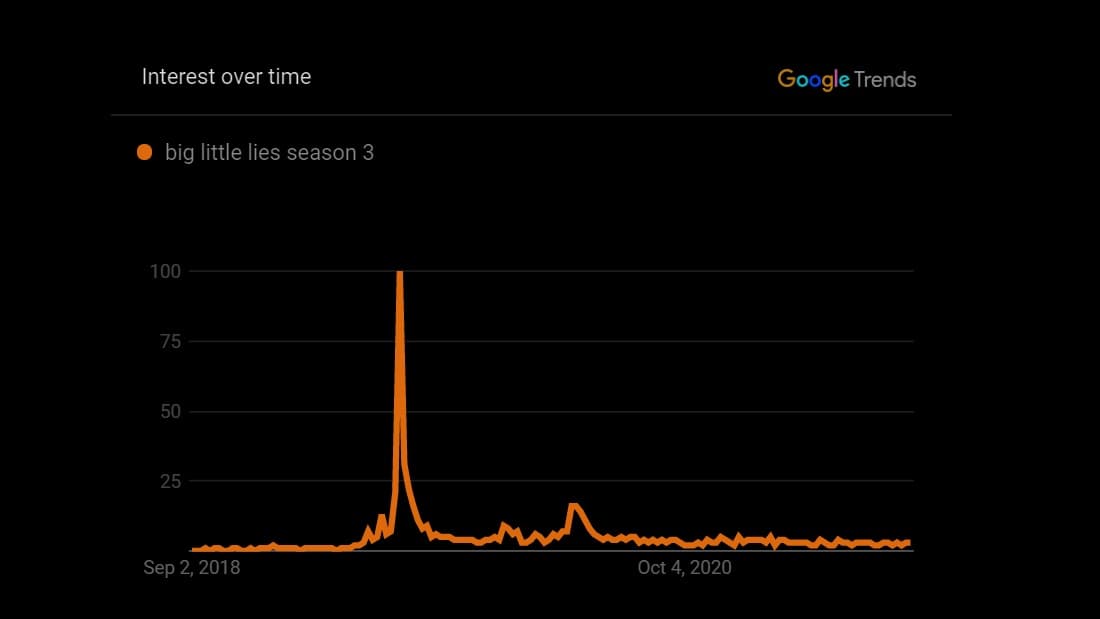 According to Google Trends, the third season has been the talk of the town since the second season of the series was released.
Then it has been popular on and off since 2019 and has gradually come down.
As the trend says, the number of people who are expecting season three has reduced and besides some loyal fans, others have forgotten it.
Google Searches Across Globe
From Google trends, it's visible that searches were on pick during 2019 and then declined afterward. But still, globally, close to 55K people are curious about season 3.
The global volume states that people from the USA, Canada, the UK, and Australia are great supporters.
Twitter
Fans are tweeting asking "When is Big Little Lies Season 3 coming out?" Also, the most recent posts are from September 2020 just after Reese Witherspoon posted a picture with the other female cast of Big Little Lies.
Also, just after her posting this, people took it as a hint for the third season.
Expected Plot Of Big Little Lies Season 3
As of now, there is no predictable plot for the next season as there is a switch in the story and something is yet to be written or in the process.
But this can be an expected plot that is drawn out with the happenings in the previous season.
If you retrace what happened at the end of season two, you might get reminded that the five women walked into the police station.
We'll assume that the third season starts from there. So, what if Bonnie was going to confess that she has been a part of the murder, she pushed Perry from the stairs just after he attacked Celeste.
Also, the others will be with her and provide more details about the murder. But, wait for a second, if this happens, will the story end, or will it continue in the prison?
Well, we are not able to decide that right? That's where the story of this series stands out from the other series.
We might assume a plot for the third season but one of the creators, in a press interview, said that the author of the original book is writing another one, thus giving hope that that book might give us the plot for Big Little Lies season 3.
Online Reactions For Big Little Lies Season 3
In this age of the internet, we can easily find how popular or how good something is.
While everything works on reviews and ratings some people decide to watch a movie or a show after knowing how people react to it.
Reddit
Throughout Reddit, people assume that the stories that Reese Witherspoon posts about Big Little Lies are more than a hint that there are possibilities for a third season.
But still, there are certain entertainment groups on Reddit that say the third season cannot happen anytime sooner and hit fans with reality.
Quora
People have talked about the first two seasons, But there is not much talk about the third season on Quora.
But some questions ask "Has the Big Little Lies series ended?" and "Will Big Little Lies be back?".
Instagram
We know our Instagram fans, there are fan art and possible plot ideas for the next season all over Instagram.
And Reese Witherspoon's stories with the cast and the other one where she says she misses Big Little Lies has gone viral.
And that has also made fans highly expect the next season.
Why There Should Be A Big Little Lies Season 3?
From my point of view, it would be justice to have another season. The series is mindblowing and it has a good fan base.
The actors who have performed, the staff members who have toiled on the film, and the viewers who have supported the series deserve another season.
Moreover, since the last season ended, people have been curious and are expecting another season.
They are expecting a fast-moving, thrilling and interesting plot that would put them on the edge of their chairs and make them bite their nails.
Also, now that the author Liane Moriarty is writing another book, fans would want a visualized version of that story to feed their curiosity.
Fans would be super satisfied if that happens. With all hopes, let's expect any update on another season of Big Little Lies.
Reviews And Rating For Big Little Lies
This series which premiered on HBO is now available to watch on Disney+ Hotstar. It is one of the most-watched and the numbers increased last year.
Let's see what the ratings have to say.
IMDb
IMDb has given an 8.5/10 rating. Also, from the review, it is evident that most of the fans are women and they feel that the women cast has stolen the show.
And, there is more support for the movie's background music and other soundtracks.
Rotten Tomatoes
The Average Tomatometer from the RottenTomatoes has given an 89% and the Audience Average score weighs up to 90%.
There are a lot of heads up for the depiction of domestic violence, marital abuse, and trauma here.
Some people support the depiction of family infliction because that almost happens everywhere today.
But still, the series felt quite unrealistic here and there which didn't work for some people.
Top 5 Best-Rated Episodes
| Episodes Name and Number | Ratings (IMDb) |
| --- | --- |
| You Get What You Need (Episode 7, Season 1) | 9.4/10 |
| Tell-Tale Hearts (Episode 2, Season 2) | 8.7/10 |
| The Bad Mother (Episode 6, Season 2) | 8.7/10 |
| I Want to Know (Episode 7, Season 2) | 8.7/10 |
| Once Bitten (Episode 5, Season 1) | 8.6/10 |
Awards And Recognition
Big Little Lies has been greatly recognized for its soundtrack, cinematography, writing, acting, direction, and whatnot.
Firstly, it went under 16 Primetime Emmy Award nominations for almost every field. Out of those, our series bagged eight awards.
The eight awards included directing award which was won by Vallee, an acting award that Kidman, Skarsgard, and Dern received, and also, won an award for the Outstanding Limited Series.
The trio, Kidman, Dern, and Skarsgard has also won Golden Globe Award for their contribution to the series.
In addition to that, Kidman and Skarsgard were given the Screen Actors Guild Awards. Furthermore, this series won the Best Miniseries Award.
It won an award from the American Film Institute Award in the category of Top Ten TV Programs of the Year.
Also, season two won awards from Make-Up Artists and Hair Stylists Guilds in two categories.
This series was listed as one of the top ten television shows in Times Magazine in the year 2017.
Also, Ben Travers from IndieWire unexpectedly gave a B+ rating for this show, beautifully putting it as "an enjoyable epilogue".
Production And Development Of The Show
The development of this movie started just after the book was released in August 2014.
It was first to be developed as a movie but later it turned out to be billed as a miniseries.
And then, Vallee was signed as the director of the series. The script and cast were discussed and decided.
Everything was well prepared and the shoot started in December 2015. The release of the first season was well announced in November 2016.
The teaser of the first season was released on HBO on October 16, 2016. And the trailer was released in the first week of December 2016.
The first season, as mentioned before, won a lot of awards and it was a massive hit.
When HBO planned to renew the series and go for a second season, the director of the first season said that there was no reason to make season two, it was a beautiful thing because it was just a one-time thing and he also thought that it would be great to leave it as it is.
However, everyone else approved of the series' renewal. While Andrea Arnold would be the season's director and Vallee would remain an executive producer, HBO announced in December 2017 that the series would be renewed.
Ups and downs were going on among the crew members but they managed to finish producing the series.
Why Watch Big Little Lies Season 3?
I feel that this series has a good depiction of women and that they are more than wives and mothers.
This series gives an outline of what they are and how they feel. The writing so far has been so empathetic.
The crew has worked together for two seasons and the outcome is great. So, Big Little Lies season three will also be a great show and will never fail to fascinate you.
Also, the performances are outstanding. Also now, through this series, we can expect a different plot and new twists and turns.
The season has ended in a thread line and we never know what is going to be there on the other side.
Overall, I think that Big Little Lies season three deserves to be watched for the whole outcome and the hard work of the crew members.
Moreover, the series is thrilling and fun to watch already, so we can expect a lot from the next season.
SPOILER ALERT!!
There's a great war between Celeste and her mother-in-law who wants to take custody of her grandchildren.
When there's a war between these two, Celeste shows evidence that clearly shows how abusive her husband was.
Finally, her mother-in-law, Mary Streep says that she never expected her son to be this way.
When everybody knew what was going on with Bonnie, a lot of people were shocked by the fact that she didn't feel good about her husband.
She tells her mother "I settled for a man I don't…" and doesn't finish the sentence.
Then, she tells Nathan how she feels about him. The fact that her marriage didn't work well was also one other thing that bothered her so much.
There is a lot more to spoil but I would rather suggest you watch the show and expect unexpected twists.
Popular Big Little Lies Characters
This series is filled with top Hollywood actresses like the queen of Hollywood "Meryl Streep", Reese Witherspoon, and Nicole Kidman. So it was natural that fans were very much excited about this series.
Meryl Streep as Mary Louise Wright
If you ask the question of who is the best actress of the previous generation, seven out of ten people would tell Meryl Streep's name because she is an icon of that generation.
She adapts to accents easily and has great flow in acting. She does it naturally.
She plays the mother of Perry and the mother-in-law of Celeste. She steals the thunder in the last episode of the second season when she demands the custody of her twin grandchildren.
People loved how she transitioned from being tough to accepting reality.
Reese Witherspoon as Madeline Martha Mackenzie
Reese Witherspoon is an actress, producer, and entrepreneur. She is a great actress and has been a part of the industry for more than three decades now.
She is a holistic person. She has won a lot of awards and is still looking forward to doing more.
In this series, Reese plays the role of a mentally strong and wealthy person who is also a mother of two daughters, one from her first marriage and another from her second.
She has a hard time accepting her ex-husband's new relationship.
Nicole Kidman as Celeste Wright
Nicole is an Australian who was born in America. She has it for acting, also, she's a producer.
She has been in this industry since 1983 and is working on more. She has won a lot of awards and Big Little Lies is one of her best works.
In Big Little Lies, Nicole plays the role of Celeste, the wife of Perry and a mother of two sons.
Also, she is a lawyer in this series. She was praised for her performance in the last episode of season two.
Shailene Woodley as Jane Chapman
Born in California, Jane is an actress as well as an activist. Her debut film was The Descendants in the year 2011.
She then made it into a lot of movies and has got good recognition in this field over a short period.
She plays the role of a single mother who is into raising her only son, Ziggy.
She is also befriended by Celeste and Madeline. She has played her part so well that the crew members don't regret choosing her for the role.
Alexander Skarsgård as Perry Wright
Alexander is a Swedish actor. He has been into acting since he was seven. He quit in the middle for some time and decided to continue acting.
He had his breakthroughs from 2001 to 2009. In Big Little Lies, he plays the part of Perry, Celeste's husband, and the man who's being murdered.
Even though he has fewer scenes in season two when compared to season one, he has done a great job acting perfectly.
Adam Scott as Ed Mackenzie
Adam Paul Scott is an American actor, comedian, and producer and also he does podcasts.
He is very much of an entertainer and has the hearts of people even at this age.
He started his career in the year 1996 and it is still going on. Adam plays the role of Madeline's husband.
He perfectly plays the role of the second husband whose wife is still not over her ex-husband.
He has acted well and has expressed his emotions properly throughout the series.
Zoë Kravitz as Bonnie Howard Carlson
Zoe is an American actress. She is also into singing and modeling. Her debut was in the year 2007 when she acted in the movie, No Reservations.
From then, she did iconic roles in a series of movies like The Divergent series and Fantastic Beasts series.
She plays the role of Nathan's current wife, Bonnie. Well, a spoiler ahead, people are fans of her best scene in this series where she confesses that she is not happy with Nathan.
She is well known for her acting in this series.
James Tupper as Nathan Carlson
James is a Canadian actor. He is best known for the role he played as Jack Slattery in a television series called Men in Trees.
He started his career acting in plays and started appearing in movies in the year 2005.
Since then, he has been chosen for good lead roles and he has proved that he's a good actor.
He plays the role of Madeline's ex-husband who then marries Bonnie. He's one of the most gripping characters in this series.
He's trying to cope with his daughter while at the same time building a good relationship with his current wife, Bonnie.
Facts about Big Little Lies Series
This series was about to be premiered by Netflix but HBO somehow won the rights and premiered the show.

The actor for the character Jane, Shailene Woodley was refusing to act for a long time but she instantly agreed to this one because she liked the character outline so much and decided to give it a try.

Mary Lousie's character, Mary Streep was originally written with her in the mind and it was also named after her.

Also, Kelly signed eight episodes for the first season, later he understood that seven would do and pitched in the idea to HBO and they were okay with it.
Big Little Lies Ending Explained
From the last episode of season two, we perfectly know that fans are already ready to witness the next season.
Because it was one of the best thrilling endings that one could ever see. Season two ended with a great argument between Mary Louise and Celeste where Celeste reveals the true colors of her husband, with all this, there's Bonnie on the other side waiting to confess the truth about the murder, and the other four support her decision.
People are eager to know what will happen next. But will there be another season?
We do not have an answer to that question yet! Let's wait and watch.
Conclusion
Nicole Kidman revealed in an interview that they were ready to do another season but only if every member of the cast and crew agreed to be involved.
This series is a good one and has a big fanbase. Those fans deserve another season and let's get our hopes high that there'll be one.
Let's hope for good news in 2023.