»
Primal Season 2 Officially Confirmed [Arriving in Summer]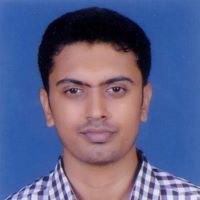 Vignesh-Updated Aug 26, 2022
---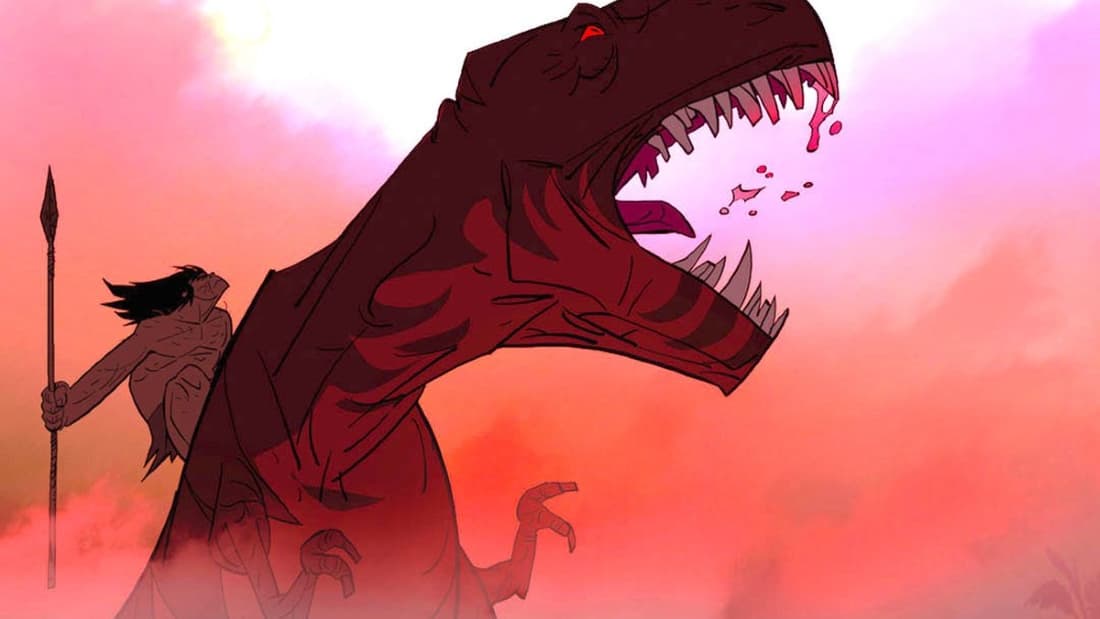 The most remarkable part of Primal is its visual storytelling. The non-dialogue and action-driven theme suited the plot and the character development.
This ensured a different vibe ruled the story and commanded its direction. The fast pace and danger-filled sequences make it a super thriller fantasy.
As its name suggests, it's a prehistoric world that makes the backdrop of the story.
The series is all about the friendship between a caveman and a Tyrannosaurus dinosaur. They can't talk in a language like you and me.
But, their sufferings and sorrow unite them. The next few episodes are all about how they fight but stand together.
There were times when either of them would have perished. But, they could withstand it all due to their combined efforts and teamwork.
The season ended with a new twist and a change from the usual structure and conflict.
Sounds quite exciting, right? Fans who fell in love with the Series are waiting to know about its Second Season.
Let's move on to all the details of it.
Everything we know about The Primal so far
Primal is Genndy Tartakovsky's latest work of art. It has slowly but steadily made its mark on different platforms.
You would be familiar with Dexter's Laboratory and PowerPuff girls. They are some of his previous works
It was produced by Cartoon Network Studios and Williams Street. The show was released on Adult Swim.
It's a night-time program block on Cartoon Network. Warner Bros.Television Distribution holds the right for its distribution.
Primal was made for the adult audience. It involved a lot of bloody scenes, and violence and it may disturb people with faint hearts.
But beyond all the superficiality, it's a quite straightforward story. It is 10 episodes of an adventurous saga.
Let's see how the story was... Each of the 10 episodes follows a similar pattern of telling the story.
It revolves around 2 characters showing their struggle and friendship in an anachronistic world. "Fang" a Tyrannosaurus dinosaur and "Spear" a caveman take the story ahead.
The first episode of the first season of the Series was poignant. Episode one depicts how two enemies by nature unite for a common cause having a similar past.
Spear met Fang after he lost his family to dinosaurs. Fang had two kids with her who got devoured in another dinosaur attack.
Though Spear tried his best, he could not help Fang save them. Spear notices Fang faces the same tragedy as his and later Fang follows him.
They later fight each other and have minor clashes over food. But, they are forced to unite again when they face another attack.
There are many evil creatures like mammoths, warthogs, snakes, apemen, and other dinosaurs in their world.
Fang and Spear become a team and hunt some of them for food. Sometimes, they are forced to fight to defend themselves.
Fang and Spear put up a great team effort and help each other in crisis.
Sometimes, Spear saves Fang from calamities, and other times it was Fang who would save Spear.
Let me remind you, all this is pure visual storytelling. The creator Genndy Tartakovsky has crafted it so beautifully, that you can get the story with literally no dialogue.
The First Season ended with a new addition to their team - Mira. She made a brief appearance in their lives and went out immediately after the kidnapping.
The next season would most likely show her in a major role. The first 5 episodes were aired in 2019 while the rest of it aired in 2020.
In 2019, the first four episodes were made into a film - Primal: Tales of Savagery.
It is soon going to be 2 years since the release of Season 1. Now that the fans finally got what they wanted and their favorite show is coming back.
Official Announcements and Release date of The Primal Season 2
The series returned this summer on Adult Swim for season 2. The series which won Primetime Emmy Award 2021 for "Outstanding Animated Program" has received various other accolades and is being praised by critics and fans alike.
The announcement was made public during Television Critics Association Press Tour 2022.
Primal Season 2 will also have 10 episodes as Genndy confirmed. On July 21, HBO Max resumed airing it.
Season 1 Episodes and Release Date:
| | |
| --- | --- |
| Episode | Date of Airing |
| 1. Spear and Fang | October 8, 2019 |
| 2. River of Snakes | October 9, 2019 |
| 3. A Cold Death | October 10, 2019 |
| 4. Terror Under the Blood Moon | October 11, 2019 |
| 5. Rage of the Ape-Men | October 12, 2019 |
| 6. Scent of Prey | October 4, 2020 |
| 7. Plague of Madness | October 11, 2020 |
| 8. Coven of the Damned | October 18, 2020 |
| 9. The Night Feeder | October 25, 2020 |
| 10. Slave of the Scorpion | November 1, 2020 |
The Primal Ending Explained
The last episode of Primal was Slave of the Scorpion which came out in November 2020.
It had a clue for what would come in the next Season. This episode showed the need for dialogue between the characters.
It started with Spear and Fang encountering an unfamiliar cavewoman. Spear kills the pliosaur who was chasing her and therefore rescues her from it.
She was restrained with some armlets and a collar. It showed that she was in captivity.
Another notable feature was that she was bald and had a scorpion tattoo on the back of her head.
She joins Fang and Spear in their journey after introducing herself as Mira. She tells Spear her story through sand drawings.
It revealed how she got enslaved by some invaders and her brave escape from them.
Mira was good at cooking and she showed her archery skills during a fight. One day, they took refuge in a cave where Mira prayed to the moon like she did every night.
It was a prayer for her family who was still held captive. She was kidnapped the next day by some Apemen.
After Fang and Spear ran out to find her, they discovered the Apemen were killed.
There were also other footprints around them. Those led them to a river where they saw Mira on a ship.
She was kidnapped again as Spear watched on helplessly. The sails of the ship had the same scorpion mark that was on her head.
Popularity Details of The Primal Season 2
Primal being a show on TV has a decent online presence. Since it's relatively new, its popularity is still growing.
Let's take a look at its online presence.
Twitter Account
All official updates of Primal are shared from the Twitter account @adultswim.
Adult Swim is the nighttime program block of Cartoon Network. It was marketed as a separate wing for the different genres broadcast on it.
It would be incorrect to judge The Primal's popularity from this page. But, this is the page you have to look for all updates on it.
Reddit Community Primal has a growing sub-community on Reddit. It's under r/PrimalShow. They have a moderately active forum for discussions.
This would be the best place if you're looking for other fans to discuss more.
Google Search
Genndy Tartakovsky's Primal was a hot topic even in 2017. This was approximately 2 years before it aired on Television.
Since the announcement of season 2, there has been a steady engagement of fans over topics related to season 2. The creator of the series 'Genndy Tartakovsky' has been in constant talk about his approach to this animated series.
Globally, around 17K people search for the term Primal season 2 on Google while there are a lot of fans who seek details related to release date, creator of the series, etc.
Google Trends
Since it was a prehistoric-themed cartoon, The Primal found it easy to make inroads all over the world. But with time its popularity was declining and not doing that well.
You can have a look at this and see the reach it got. Since it was a series with no dialogue, it was bound to reach every corner of the world.
As soon as it hit the big screen its popularity starts peaking as well.
Expected Plot of The Primal Season 2
Primal Season 1 ended with Mira getting kidnapped on a ship. It also had the same scorpion mark on its sail.
It was also the first time dialogue became prominent in the series. As she was taken away, Spear calls her name out of helplessness.
She was one of Spear's ways out of madness in the horrific world they lived in.
She represented hope and a change for him. The second season would most likely stay within the same scope as the first one.
Going by the ending of Season 1, season 2 may be about tracking down Mira.
But, there are a lot of interesting things that can happen. The tattoo on the back of her head and the same one on the ship are a clue.
Reports state that there would be 10 episodes in Season 2 too. This means that the pursuit of Mira would be the main plot.
The final episodes may give way to a new lead and a subsequent story after this.
Anyway, it depends on the creator of this and how he has destined the pursuit to end.
Why The Primal Season 2?
Primal Season 1 was just the beginning of the long saga. Fans of Season 1 are eagerly waiting for the next one.
It got very good reviews and found acceptance. The film that retold the first four episodes did well too.
The initial response to Primal's first half of Season 1 was positive. The most striking feature of it was the beautiful storytelling with no dialogue.
This factor alone earned it a lot of positive reviews and praises. The conflict between Spear and Fang with the other creatures of the world was good enough.
But, without something new, it would be hard to entertain fans. That's why Mira enters in the last episode.
Mira is a new element in this story. Her entry changes the dimension of the plot.
After her brief but strong presence, she almost becomes the central character. Her tattoo and the same symbol on the ship's sail are intriguing.
Her kidnapping brings a new sense of direction to the plot. The Primal's Season 1 won the hearts of many fans too, who want the next Season.
Commercially, it had good prospects. We will discuss more in the latter part of this article.
Let's look into the online reactions.
Online Reactions for The Primal Season 2
Online reactions to a show are its life. The more a show is discussed, the more it reaches new audiences.
It also helps the creators understand and sense the pulse of the viewers. Let's look into the reactions across various platforms.
Quora Reaction
This is a crisp and short review of The Primal, given by a Quora user.
It's an answer to a question that answers what genre The Primal is. However, the user refers to the second part of Season 1 as Season 2.
Season 1 aired in 2 parts (5 episodes in each). The seventh episode of the Season aired during Adult Swim's April Fools' Day 2020 run.
Reddit Reaction
Reddit has a lot of discussion on The Primal. But, we have selected this one to show how popular it has become.
A member posted this meme showing how popular The Primal has become. The Primal owes its popularity to the balance between beauty and brutality.
The sudden change of emotions and light moments in the dark, make it so popular.
Twitter Reaction
Twitter is abuzz with tweets each hour demanding Season 2 of The Primal. Though the first season was released in 2019, many viewers noticed it post-2020.
Fans of The Primal are also celebrating the release of Season 2. This is even before Season 1 was released.
Ratings and Reviews of The Primal
Ratings and Reviews show a much deeper picture of The Primal. The reason is such online rating and reviewing websites are more niched down.
They have a much more aware audience and member base.
Ratings
For ratings, let's look at IMDb's page for The Primal. Most of the users have rated it 10/10.
That's almost one-third of the total votes. The second most number of ratings are those rating it for 9/10.
The arithmetic means ratings are 8.7/10 while the median ratings stand at 9/10. This shows that the show has received proper approval from the niched audience.
Here's a list of ratings from other websites.
| | |
| --- | --- |
| Websites | Ratings |
| Rottentomatoes.com (Tomatometer) | 100% |
| Rottentomatoes.com (Audience Score) | 97% |
| Metacritic.com (Metascore) | 87/100 |
| Metacritic.com (User Score) | 9.2/10 |
| Metacritic.com (User Score for Season 1) | 7.7/10 |
| IMDb (User Ratings) | 8.7/10 |
It's incredible to see that The Primal got 100% on the Tomatometer of rottentomatoes.com. Let's now look into the reviews of The Primal.
Reviews
The Primal received positive reviews and praises from critics.
Actor Steve Greene reviewed The Primal on Indiewire and gave it an "A-". It was titled 'Primal' Review: Genndy Tartakovsky's Fantastic Prehistoric Saga Finds Beauty in Brutality.
He highlighted the beauty of the no dialogue series, in his review. Here's what he had to say:
Primal is a piece of elemental storytelling that finds some real emotional depth without either of its protagonists uttering a single word of dialogue.
Above are some top critic reviews from rottentomatoes.com. Do read them especially if you have not watched all the episodes of The Primal.
The top critics' reviews are something that will make you watch the series.
Awards and Recognitions of The Primal
The Primal received many awards and accolades. We have made a detailed table below with the details of those.
| | |
| --- | --- |
| Award | Category |
| Primetime Emmy Awards (2021) | Outstanding Animated Program |
| Primetime Emmy Awards(2020) | Outstanding Individual Achievement in Animation |
| Annie Awards | Outstanding Achievement for Directing in an Animated Television/Broadcast Production |
| Annie Awards | Best General Audience Animated Television/Broadcast Production |
Production and Success of The Primal
The Primal was jointly produced by Cartoon Network Studios and Williams Street. The distribution of The Primal was handled by Warner Bros. Television Distribution.
Genndy Tartakovsky the creator of The Primal was an executive producer too. Let's look into the commercial aspect of The Primal to see its costs and profits.
Production cost
There's not much information available about the exact production costs of The Primal. But we can estimate it from similar shows.
Shows like Aqua Teen, Frisky Dingo, etc cost close to $60,000 per episode. While shows Boondocks cost $ 400,000.
Though The Primal would not have cost that much, it would be somewhere from $60-100,000.
This is just a rough estimate.
Streaming, DVD, and Bluray
Warner Bros. Home Entertainment released the DVD in June 2021. It had all the episodes of Season 1 and cost $20.
There is not much info on the sales volume. It will be updated accordingly. It is also available for streaming on HBO Max (in case you want to watch it).
Box Office
Since the whole Season of The Primal came out recently, there's very little info. As of now, there may not be anything to break even.
Let's wait for the release of the second season to get more clarity.
Famous Characters We Hope To See in The Primal Season 2
There are 2 protagonists if you view Season one, alone. But if you consider things in the longer run, there could be 3.
The dialogue in The Primal is minimal. There's nothing much apart from grunts, roars, and shouts.
Spears family appears as flashbacks in many episodes. But, they don't have much role to play in the plot.
Now, let's see who are the main characters that can influence Season 2 and its plot.
Spear (voice by Aaron LaPlante)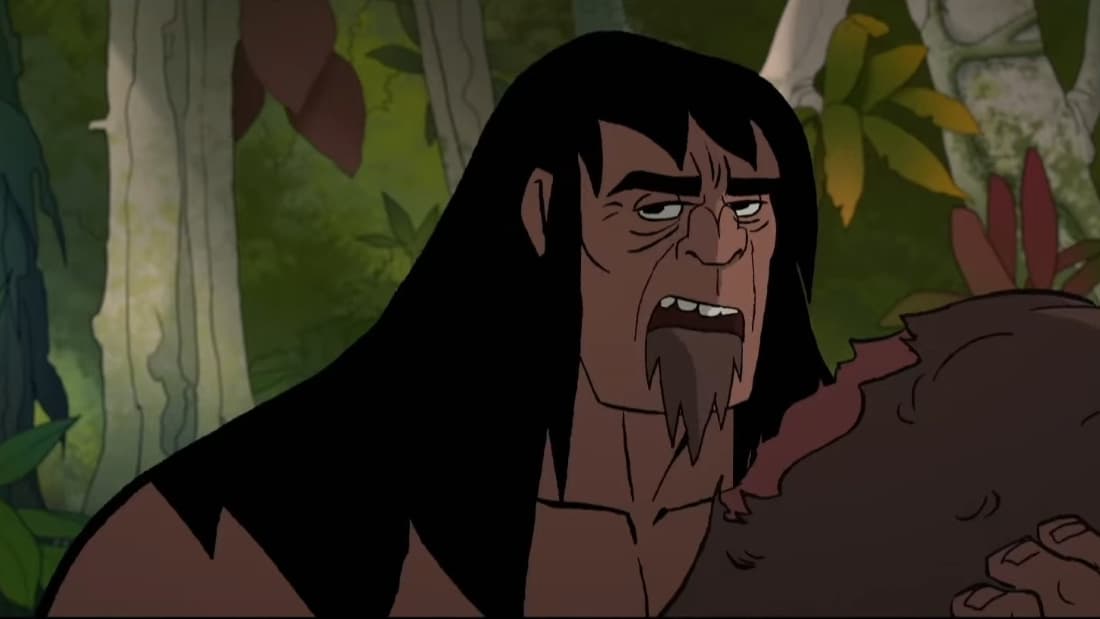 Spear is the caveman in The Primal. He had a wife and two kids who are eaten by dinosaurs.
He tries to commit suicide at first. He meets Fang (a Tyrannosaurus dinosaur) and they become a team.
Though they had some fights and issues between them, they reconciled later. Fang becomes Spear's savior during some mishaps.
He then becomes her loyal friend.
Fang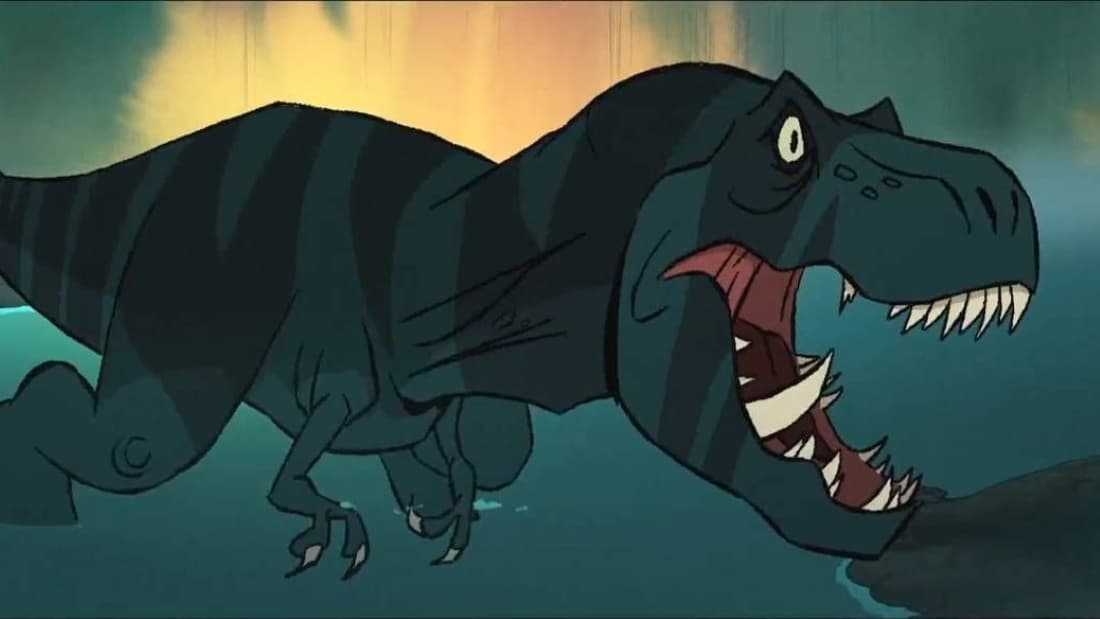 Fang is a medium-sized female Tyrannosaurus. She has 2 children whom she loses to a dinosaur attack.
It was at that time she met Spear. Spear also lost his kids to the same predators.
She tries to dominate Spear and it ends in a fight. But their rivalry was short-lived.
They had to reconcile when they faced a new opponent. But, this leaves a scar on Fang and she fears everything that resembles a snake.
Mira (voice by Laetitia Eido-Mollon)
Mira is a bald cavewoman who had a scorpion tattoo on her head. She was saved by Fang and Spear.
She uses some native language with grunts and sand drawings to communicate with Spear. That's how she tells them about how she escaped from captivity.
She also has a family who is enslaved and wants to save them. She comes across as a skilled archer and a good cook.
She worships the moon as she believes it will help her enslaved family. But, at the end of the last episode in Season 1, she is kidnapped again.
Conclusion
Primal season 2 is finally airing and so far it is getting positive reviews all around.
Follow ENTOIN on social media. Don't forget to drop your email below, to get updates in your inbox.
Thank you, for reading, and enjoy watching The Primal season 2.