»
Top 14 Best Basketball Anime Of All Time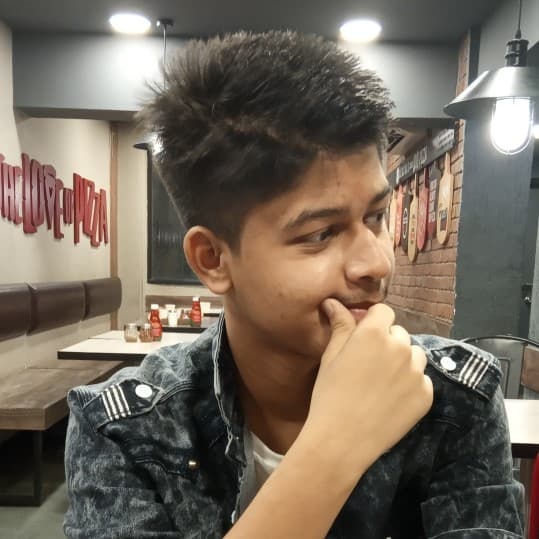 Kay-Updated Oct 12, 2022
---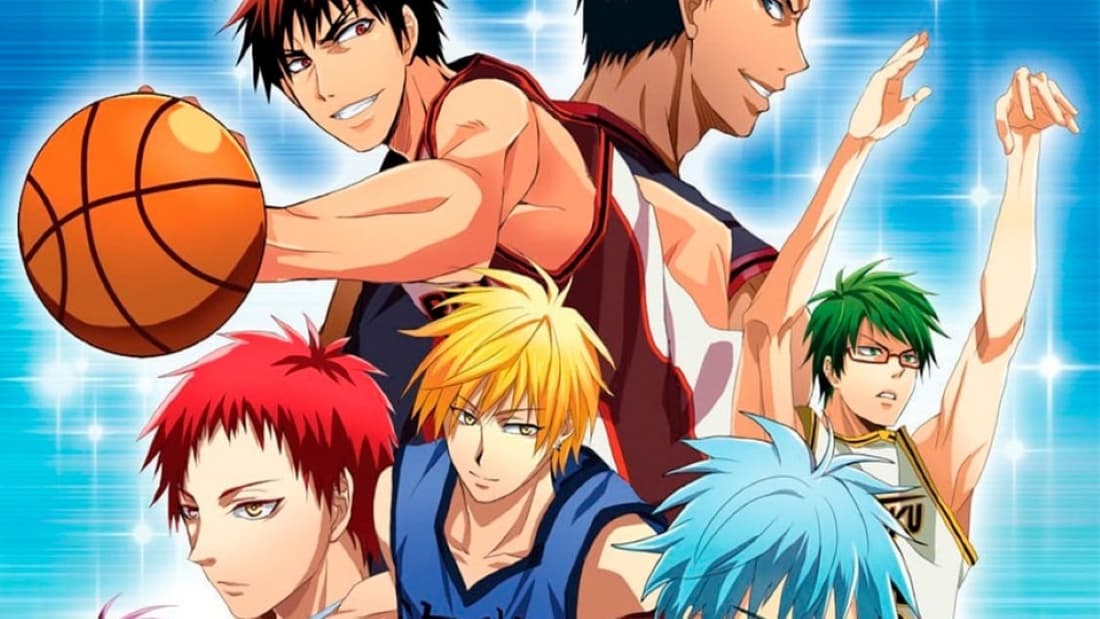 Basketball! A game that is said to be originated back in 1891 by James Naismith.
With over 130 years of history and events, basketball has always been a part of our sports culture.
Therefore it has made multiple appearances in multiple mediums of entertainment and anime is no exception to it.
Among the 17000+ anime that have been released throughout Anime history, there are a few which include the element of basketball in their narrative.
And being the Anime enthusiast that you are, I can already tell that you want a lot of Anime with the essence of basketball added to it.
And you know what, there is nothing wrong with that. I know some of you might have had the privilege to play Basketball during your childhood.
You know those dunks, scores, and points have all been part of your memories. So It is natural for anyone to relive their memories in any way possible.
And what better way to relive your childhood than by watching anime? I mean, we all love anime, and being able to enjoy one of our favorite childhood Sports in one of our favorite mediums is a matter of entertainment for us.
Therefore I present to you the top 14 basketball anime of all time. These include some of the most popular series about Basketball and some of the most underrated ones as well.
So grab your Michael Jordan And Kobe Bryant posters and let's start this energetic and enthusiastic list.
14. Heong-Geuli Beseuteu 5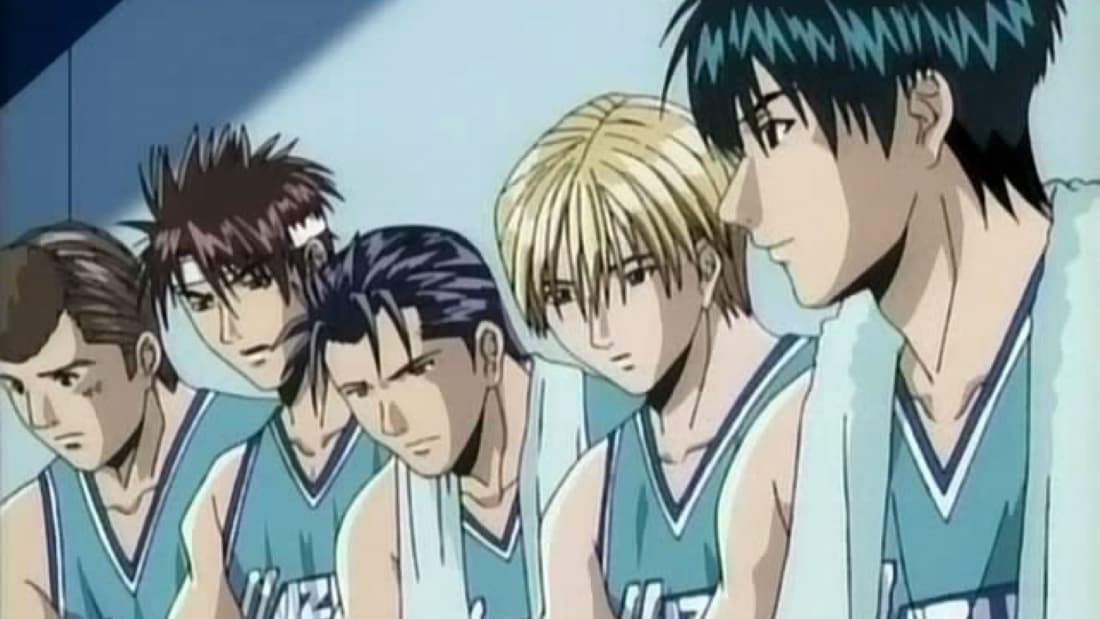 Starting our short yet sweet list, Heong-Geuli Beseuteu 5. A series that many of you guys might haven't even heard of before.
Well, I am here to save the day. This is a basketball series that has gone into oblivion but had some great content to enjoy.
Heong-Geuli Beseuteu 5 is a 1 hour 30 minutes long movie that aired back in 1995.
The source for this movie is still unknown and information about the staff working on it is not available.
The story revolves around Kim Youngwoong, a Korean basketball player known for his amazing skill in Basketball.
He is one of the strongest players in the world and this fact is proven after his remarkable victory in Asian Cup, Junior's Division.
The most notable aspect of that victory is the dramatic shot that Kim played at the end.
That turned out to be one of the most incredible shots ever. Therefore, after his victory, every institute in Korea wishes to have him as their student.
However, instead of teaming up with a strong basketball team, Kim decides to join the weakest institute.
This is because his coach asked him to do so. But what is the catch behind this?
A strong player getting himself trapped with a weak team might be detrimental. But what lies ahead is amazing.
As I stated earlier, this is a great movie that has been lost in people's memories.
With the release in the Mid '90s, the movie misplaced itself amongst the others and ended up being a mystery for us.
However, if by any chance, you managed to get your hands on this, make sure to watch it. You will have a great time doing so.
This is a classic formula though, having a strong player and a weak team who slowly start working together and becoming the best team ever.
13. Onagawa Chuu Baske Bu: 5-nin no Natsu
The next entry on our list is yet another overlooked series that needs more recognition.
This is even more true considering that it is based on a true story. The story of Onagawa Chuu.
A work that needs to gain a lot more recognition. Onagawa Chuu Baske Bu: 5-nin no Natsu is a special episode that aired back in 2017.
It is an anime original from a secondary source directed by Uda Kounosuke. This is a story about the Onagawa Junior High girl's basketball team where a major incident left this group on its own.
The inspiration is taken from a real-life incident and the narrative progresses similarly. The incident that left the group on its own was an earthquake.
There was an earthquake that made the entire team lose control and life over everything they had.
It caused the team to lose its core members, supporters, and the entire group to the point that it only has 5 members now.
That's right! Just 5 members and this is all thanks to the unthinkable that happened.
But even with only 5 members, the team will do all in its power to pave its way to victory.
They have to prove that they can surpass any sort of hurdle. This is a special that was most likely made as a homage to the actual incident.
This a small episode that won't take much of your time but still help you get a comprehensive understanding of the mishap.
If you get your hands on this piece, make sure to watch it as well.
The realism might be shocking.
12. Mitsu x Mitsu Drops
The next anime that we are going to discuss is a bit different from the others.
Unlike a basketball series that is heavily based on it, Mitsu x Mitsu drops is a work that uses the narrative and places it interestingly.
The diversion they create with their story is fantastic. Mitsu x Mitsu Drops/Honey x Honey Drops is a 2 episode of OVA series that aired back in 2006.
It is an anime adaptation of a manga. The manga was written and illustrated by Minami Kanan.
The story is set in Houjou academy where everything is normal. Just your typical high school with typical education.
Nothing too extravagant or outstanding except the Kuge Course. If you are in Houjou academy, you will have a normal life until you enroll in the Kuge Course.
This is an academic program created for the bests of the bests. You have to be an elite student with a lot of wealth by your side to even qualify to take this course.
However, you won't be full until someone who is already a part of the course sponsors you.
Let me explain, to get admission for the Kuge course in this academy, a student who is already a part of the course must sponsor you financially making you "Honey".
This is the core idea behind the admission process. However, Hagino Yuzuru gets her admission with the aid of Renge Kai.
But this admission isn't going to be as efficient as you might think. This is because Kai Renge now asks Hagino to call him her master.
The relationship that was just to be defined by sponsorship is now turning into something unimaginable.
How will this journey go for both of these individuals? If Hagino decides to quit the course, she would be rusticated from the academy.
But if she stays, things can get very disturbing. What will she choose? Or maybe what she is imagining is nothing that Kai is like.
I know that you can't see the basketball aspect in the summary but that's because this anime uses that feature deep into its narrative.
Basketball is present, but it is placed in a way that drives the attention from the sport to the characters.
This makes this anime a lot different from what we have seen so far. Make sure to give this piece a try.
11. I'll CKBC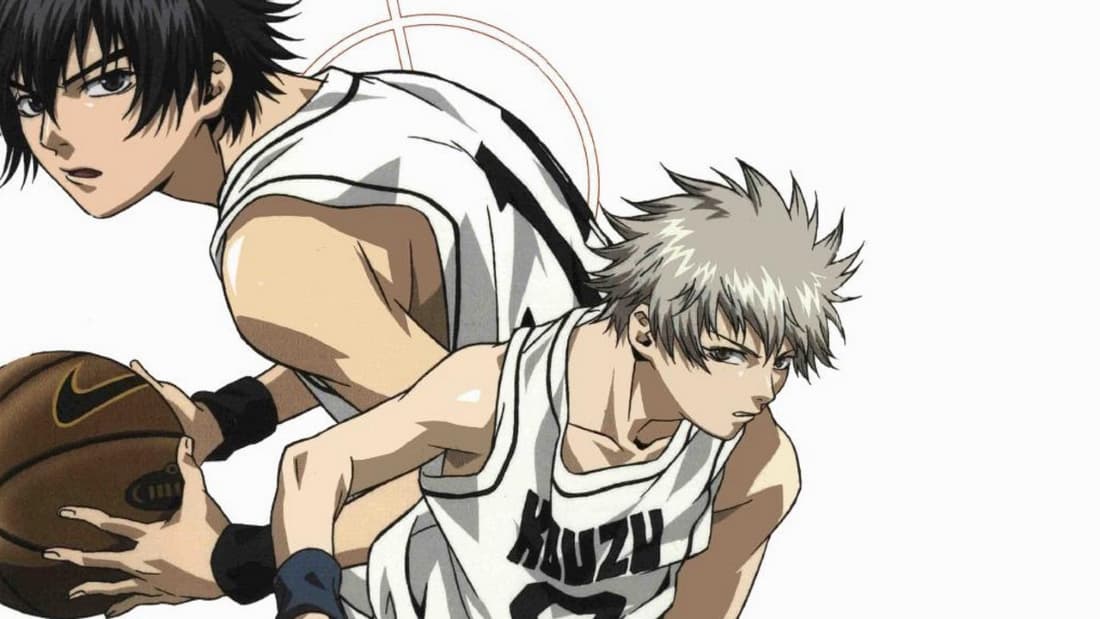 | Entity | Detail |
| --- | --- |
| Title | I'll/CKBC |
| Type | OVA |
| Studios | M.S.C |
| Premiered | Dec 18, 2002 to Mar 26, 2003 |
| Source | Manga |
| MAL Score | 6.271 |
| Duration | 30 min. per ep. |
Unlike our previous entry of Mitsu x Mitsu Drops, I'll CKBC is a work that would meet all your requirements from a sports series.
No secondary genre overlaps the actual story. Just action, school, and sports shounen making this series what it is today.
And I believe that for your love for basketball, this is a work you should consider.
I'll CKBC is a 2 episode OVA series that aired back in 2002. It is an anime adaptation of a manga.
The manga was written and illustrated by Asada Hiroyuki. The story revolves around two boys.
Their names are Tachibana and Hiiragi. On the surface, these are basketball rivals who have stayed against each other for years.
A normal rivalry that we see in sports entertainment. However, what makes this more interesting is the transfer that takes place.
Hiiragi gets transferred to Tachibana's school and therefore, has to become a part of his team as well.
Just as you would expect, it won't go well initially but soon they get accustomed to each other.
However, their fates are not going to keep things going in this direction. As time passes by, Hiiragi's family asks him to shift to a better team.
A team that can make use of his skills more properly. This would allow him to reach new heights and gain massive recognition unlike what he had to experience here.
Therefore, now the bond of rivalry between the two is going to be born again and the actions are going to shock all of us.
The rivals are back. Even stronger, even better. This is a similar series to spoon-feeding.
You want something and you get it without any secondary stuff added to it. Just a sheer amount of enjoyment and entertainment.
The rivalry might become one of your favorites, who knows?
10. Breakers
| Entity | Detail |
| --- | --- |
| Title | Breakers |
| Type | TV |
| Studios | Albacrow |
| Premiered | Jan 7, 2020 to May 26, 2020 |
| Source | Original |
| MAL Score | 6.341 |
| Duration | 8 min. per ep. |
Well well. We are on our top 10 weebs! This is the part where the anime gets better and better.
What's next on this list is some fantastic stuff and you can assure that by yourself once you watch Breakers.
A recent work that needs your recognition. Breakers is a 16-episode TV anime that aired back in 2020.
It is an anime original directed by Nishikawa Masataka and animated by Studio Albacrow. The story is a bit more on the heartbreaking side of things.
This is a series that deals with 4 unfortunate individuals. Each one of them has one or the other disability in their body.
However, their life changes when they meet Ren Narita. On the surface, he is just a normal person but in reality, Ren is a sports scientist who has been ignored by the community, making him an outcast.
However, he overcomes his social status and tries to change the lives of these 4 beautiful minds.
All 5 of them deal with 4 different sports at hand. Those are wheelchair BasketBall, Paralympic swimming, goalball, and high jump.
This is the story of how socially separated beings make a world for themselves with hard work and determination.
Breakers is a story that makes us all think about our life and the privileges we have. It is a great story that touches on a very important and meaningful topic.
All 4 stories are not only heart-touching but also motivating. They would help us get direction and inspiration in our lives.
Not to mention, it would allow us to look at this world from a completely different perspective.
The perspective of gratitude. If you want some interesting and soothing anime then this is the work for you.
9. Barangay 143
Now we are dealing with a series that is not exactly an anime but still counts as one.
Let me explain. Barangay 143 is a Japanese - Filipino animated series. Meaning that the Japanese staff was indeed behind the making of this series.
Thus, it can be part of the list. Don't question it. Just relax and enjoy.
This series is worth all your time. Barangay 143 is a 26-episode TV animated series that aired back in 2018.
It is written by Katski Flores and animated by ASI Studio. The story has two aspects to take note of.
First up is the narrative before the beginning of the series. This is about Roberto "Coach B" Sebastián, Sr.'s son, Roberto "Basti" Sebastián, Jr who was killed by an assassin and led to the end of Barangay 143.
This is a team that dominated the game during their presence but their demise led to the events happening today.
At the current time, Bren Park is a recognized basketball player who lost his family in a snowstorm.
However, this Korean player soon realizes that his birth was part of a Filipino man as well.
Therefore, he begins in search of that man. While trying to get his hands on his real father, he joins a local team called Puzakals.
What is interesting is that team Puzakals is of Barangay 143. So what does our man Bren Park's future keep in store for him?
This series is an animated work that needs to be talked about a lot more.
It has the hands of Japanese animators but also pleases the demography of Korea and the Philippines.
This allows the series to be a lot more engaging and captivating for a larger group of audience.
If you are one of those who stay in any of these nations then this series has something great to offer you.
Make sure to find it out.
8. Buzzer Beater
| Entity | Detail |
| --- | --- |
| Title | Buzzer Beater |
| Type | TV |
| Studios | TMS Entertainment |
| Premiered | Feb 5, 2005 to Apr 30, 2005 |
| Source | Web manga |
| MAL Score | 6.551 |
| Duration | 25 min. per ep. |
I see that you like your shounen stuff. I see that you like your basketball.
How about we mix both of them? Well, if we do so, we will be able to enjoy something like Buzzer Beater.
A series that stands strong with its exciting dynamics in its hands. A basketball anime that will give you fun on another level.
Buzzer Beater is a 13-episode TV anime that aired back in 2005. It is an anime adaptation of a manga.
The manga was written and illustrated by Inoue Takehiko. You will hear his name soon again on this list.
But right now, let's focus on the narrative of Buzz Beater. The story is set in the future, an era where human-alien relationships have come together.
This is the story of Hideyoshi, a homeless boy in New York who does nothing but play basketball so he could bring food to the table.
The turning point in his life happens when he gets the opportunity to join a pro team.
However, this pro team has goals that are new for our players. They want to dominate the space league where aliens have been reigning as kings.
The thing is, Aliens have dominated the game of basketball for a while now mainly because there are no humans strong enough to compete against these aliens.
But this is going to change. A new era is about to begin as Hideyoshi gets his team to take part in an all-human basketball.
Their goal is to take back the throne from aliens. This is going to be fun! This anime sounds fun, right? Imagine beating aliens in a basketball match. Now that is cool.
As you can see, the series has an interesting premise with great execution. A basketball game with aliens that have taken over the title is a great start if you ask me.
What lies next is up to you to understand. Maybe something unexpected or just a normal match.
Either way, you can sit down and relax as you watch this anime with all your heart.
You can bet, it would be entertaining.
7. Ro-Kyu-Bu
| Entity | Detail |
| --- | --- |
| Title | Ro-Kyu-Bu! |
| Type | TV |
| Studios | Barnum Studio, Project No.9, Studio Blanc |
| Premiered | Jul 1, 2011 to Sep 23, 2011 |
| Source | Light novel |
| MAL Score | 6.811 |
| Duration | 24 min. per ep. |
Now that you have had the taste of a manly series, I guess it's time to go on the feminine side of things.
If you wish to watch some cute girls' stuff combined with basketball then I see no better anime for you than Ro-kyu-Bu.
Ro-kyu-Bu is a 12-episode TV series that aired back in 2011. It is an anime adaptation of a light novel.
The light novel was written by Aoyama Sagu and illustrated by Tinkle. The story revolves around Subaru Hasegawa, a man with dreams.
Dreams to become the best basketball player there is. However, his dreams are put on a halt when he gets to know something unusual.
Subaru's basketball club has stopped basketball activities for some reason. Knowing that Subaru starts to distance himself from basketball because of shock.
As time passes by, he soon gets an invitation from his aunt. She asks him to do a very simple task.
That task is nothing but teaching Basketball to a bunch of girls. He has been appointed as the coach of elementary school girls and he has to make sure that they win.
His dream to become the best will now be circulated in the veins of these cute girls as they play their cute basketball.
The story has a little bit of moe and a little bit of ecchi added to it.
If you have been a fan of series that are cute and calm your mind then this is a great series for you.
I can see no reason for you. Just start your device, lay back, and enjoy these 5 students playing all day.
Sounds soothing right?
6. Dear Boys
| Entity | Detail |
| --- | --- |
| Title | Dear Boys |
| Type | TV |
| Studios | A.C.G.T. |
| Premiered | Apr 7, 2003 to Sep 29, 2003 |
| Source | Manga |
| MAL Score | 6.831 |
| Duration | 24 min. per ep. |
The title seems interesting in itself but what's even more interesting is the actual show.
This is yet another great basketball anime that you should keep under your radar as you are searching for some.
Have your typical sports shounen and sprinkle a little bit of Drama into it and BAM, you have Dear Boys.
Let's take a closer look. Dear Boys is a 26-episode TV series that aired back in 2003.
It is an anime adaptation of a manga. The manga was written and illustrated by Yagami Hiroki.
The story focuses on Aikawa Kazuhiko who was the ace and captain of Tendoji High School.
The basketball team that Aikawa led was ultimate and considered to be one of the best.
However, times lead situations to take unknown turns, and our captain moves to a new place.
In that place, he takes admitted to Mizuho High school. Being the basketball player that he is, he starts to take part in the basketball team here.
But instead of having a prestigious team this time, Aikawa has a stale one. This team has somewhat given up on Basketball and seeks nothing surrounding it.
However, our boy Aikawa wants to change the situation, and therefore, he starts practicing for the better.
His continuous solo efforts make the team have the motivation and they all start practicing.
With this act in their hand, their goal is to reach the nationals and beat it with all they have got.
This is the story of 5 boys who make their way from the bottom to the top.
This is a story that can motivate many of our lazy selves to get up and do some work.
It is important to note that this anime has a touch of drama added to it.
This makes it a lot more open for people who want character interactions as part of their sports narrative.
If the mentioned status meets your liking then I guess you have no choice but to take a look at this series.
I hope you have a great time enjoying these 26 episodes.
5. Dash Kappei
| Entity | Detail |
| --- | --- |
| Title | Dash! Kappei |
| Type | TV |
| Studios | Tatsunoko Production, Tama Production |
| Premiered | Oct 4, 1981 to Dec 26, 1982 |
| Source | Unknown |
| MAL Score | 7.151 |
| Duration | 25 min. per ep. |
This is the final stretch weebs. The Top 5 basketball anime of all time. The next 5 anime are a must-watch for every single basketball fan and their appeal ranges from humor to rage.
This makes the next 5 series a lot more compatible for you, our readers. So let's start it with a light-hearted and funny show.
We call it Dash Kappei. Dash Kappei is a 65-episode TV series that aired back in 1981.
It is an anime with a manga adaptation. The manga was written and illustrated by Rokuda Noboru.
The series is animated by Tatsunoko Production. The story is about a young naughty boy who is proficient in sports.
He lives with a girl named Akane and is madly in love with her. But a major hurdle in his love story is her dog.
This dog tries its level best to get Kappei caught by Akane. However, Kappei being a human always manages to make it out of his plans without a scratch.
It is important to note 2 outstanding characteristics of both these individuals. First up is that Kappei likes white underwear and tries his best to get a look at them when he gets the opportunity to.
As for the dog, it starts to narrate the rules of the game being displayed.
This is a comedy story about two dumb creatures trying their best to be in Akane's spotlight.
Cat and mouse chase? More like a Human and dog chase. As you can guess from the narrative, this series isn't heavily based on Basketball.
Instead, it uses the basketball aspect as a plot device and makes the series much more likable.
A great strategy if you ask me. And if you want to enjoy some entertaining shows about sports then Dash Kappei is your way to go.
4. Basquash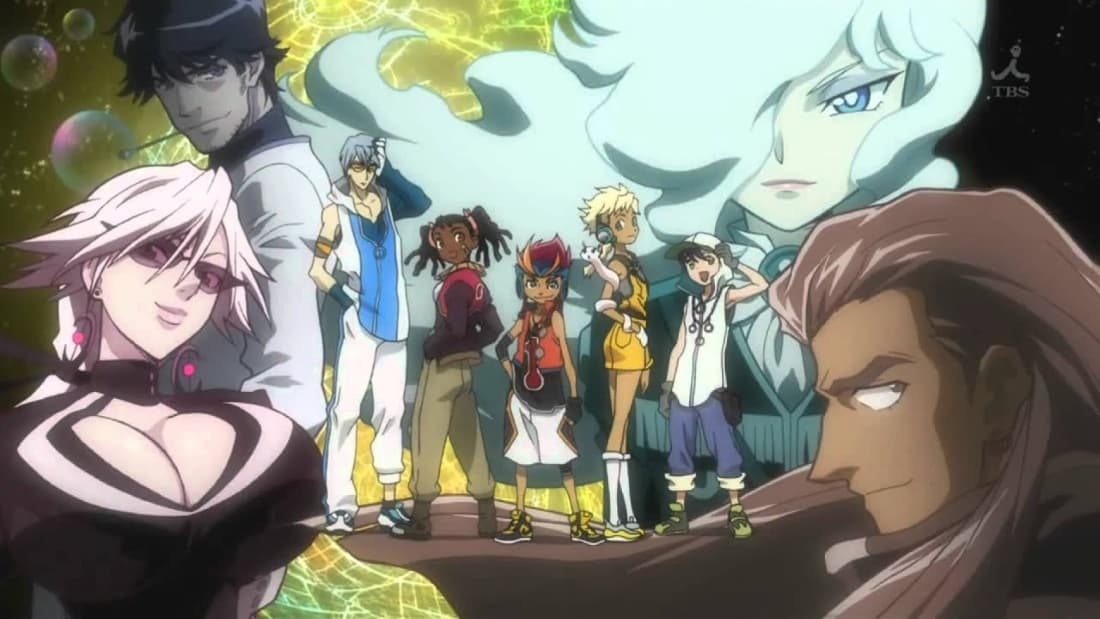 | Entity | Detail |
| --- | --- |
| Title | Basquash! |
| Type | TV |
| Studios | Satelight |
| Premiered | Apr 3, 2009 to Oct 2, 2009 |
| Source | Original |
| MAL Score | 7.231 |
| Duration | 24 min. per ep. |
Now, this is a basketball-centered series we have got. But not your typical basketball narrative.
Oh no no! Instead, it adds a twist that makes this series a lot more juicy and interesting to watch.
This is Basquash, a series about unconventional yet captivating ways to make the dunk. Basquash is a 26-episode TV anime that aired back in 2009.
It is an original anime directed by Itagaki Shin and animated by Studio Satelight. The series talks about a world called Earthdash which has its moon being used as a location for residents.
In other words, these guys have already done what Elon Musk has been trying to do for so many years.
I know Musk is trying for Mars but you get the picture guys. Don't be nitpicky.
Anyway, coming back to the series, on the moon where residents have their living, Dan JD stands out as our protagonist whose normalcy goes into the garbage when he gets engaged in a high-octane sport called Bigfoot Basketball.
Try guessing what it is going to be about. Well, nothing new, just robots with big feet playing basketball against each other.
Nothing crazy. And our boy tries his best to have the most fun of his life in this extravagant sport.
I am jealous of him you know. This series has the combined elements of science fiction, mecha, and sports making it a treat for our audience.
It is not strict to basketball but has the elements of it, added into its story along with some robot stuff.
Might not seem right on paper but works very well on screen. Give it a try if you don't believe me.
3. Ahiru No Sora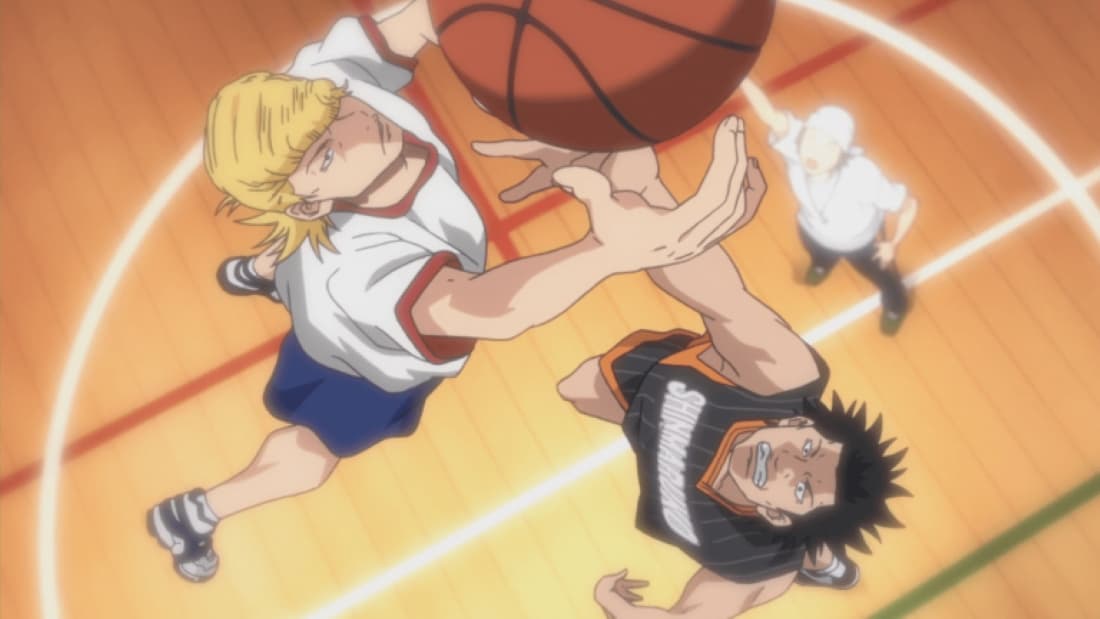 | Entity | Detail |
| --- | --- |
| Title | Ahiru no Sora |
| Type | TV |
| Studios | Diomedéa |
| Premiered | Oct 2, 2019 to Sep 30, 2020 |
| Source | Manga |
| MAL Score | 7.311 |
| Duration | 24 min. per ep. |
Well, well. Basketball anime is a pretty sophisticated niche with only a few shows that will stand amongst the popular battle-shounen ones.
It is no surprise that many series go under the radar of someone who wishes to enjoy them with all his heart.
One such example is the series we are going to discuss now. This work would leave many in awe as to why it's not known much.
This is Ahiru No Sora. Ahiru No Sora is a 50-episode TV anime that aired back in 2019.
It is an anime adaptation of a manga. The manga was written and illustrated by Hinata Takeshi.
The story talks about Sora Kurumatani who is a basketball enthusiast that seeks no limits.
However, things don't work out his way as he got shattered by the fact that his height is not good enough.
As you guys know, height is one of the crucial aspects of Basketball as it gives the player an amazing advantage.
However, our boy Sora doesn't get disheartened by any of this and instead strives to overcome his disability with hard work and skill.
Sora is a man with passion and his mother looks at him with eyes of inspiration.
Therefore, he decides to fulfill his mother's dreams by taking admitted to Kuzuryuu High School.
This is so he could take part in the basketball club in that school and make his way to the tournaments.
However, after getting admission to the school, he realizes the truth about their basketball club.
The members of the club are all somewhat delinquents who have lost hope for the sport and seem to have no interest in playing.
But Sora is a man with passion and skill so he decides to challenge these guys to a fight.
Not hand-to-hand but ball-to-ball. Therefore, he just has to defeat this group of motivation-lacking players.
These ignorant students accept the challenge with the idea that he won't be able to win against them due to his short height.
However, Sora uses his smooth moves and speedy skills to defeat them. This match turns out to be life-changing for the players as they become motivated to practice and become better as they watch Sora play with his heart.
This embarks the journey of a new club that won't stop until they make it to the top and it is all thanks to their idol Sora.
Ahiru No Sora is just as inspiring as any other sports series. The elements of basketball are as natural as they get and their execution is amazing as well.
It has all that you want and gives you even more than that. If you ask me, I see no reason for you to not watch it.
As a basketball fan, this series must be at the top of your watchlist. But not above the next 2.
2. Kuroko No Basket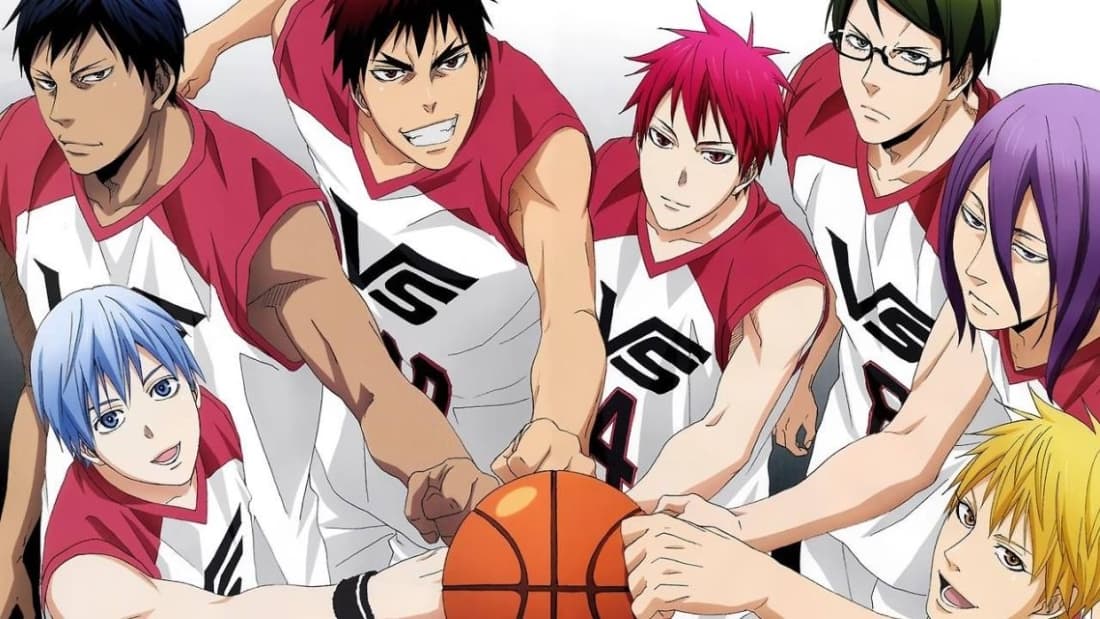 | Entity | Detail |
| --- | --- |
| Title | Kuroko no Basket |
| Type | TV |
| Studios | Production I.G |
| Premiered | Apr 8, 2012 to Sep 22, 2012 |
| Source | Manga |
| MAL Score | 8.111 |
| Duration | 24 min. per ep. |
For runner-up, we have one of the most popular basketball anime of the current generation.
This is our moment to talk about the adrenaline-filled series that gives a new direction to basketball and its play style.
This is an exciting series that goes by the name, Kuroko No Basket. Kuroko No Basket is a 25-episode TV anime that aired back in 2012.
It is an anime adaptation of a manga. The manga was written and illustrated by Fujimaki Tadatoshi.
It all started in Teikou Junior High School when an unreal group of basketball players arose from this school.
This group was called "The Miracle Generation" and the 5 players in this team had skills on a completely new level.
They were so good at the game that fear rose amongst their opponents as defeat was on its way.
Moreover, their fans love their excellence in the sport making them a formidable opponent. But as you all know, every good thing must come to an end, and thus, this generation graduated from school and parted ways.
Each of these 5 players chose different paths and started considering each other as definite rivals.
However, amongst this team was also a 6th player named Kuroko Tetsuya who wasn't all that special.
He took admitted to a school where basketball pro-Taiga Kagami had happened to be a part.
Therefore, he now has to try and fit in with him along with some other guys for the sake of his basketball team.
The thing is, Kuroko isn't extraordinary like his previous teammates. He is someone who goes unnoticed due to his quiet presence.
This makes him a great passer that aided his previous team. But now he is a part of Taiga's team and he should try his level best to overcome every obstacle in his way for Interhigh Championships.
These obstacles include the unreal players of his old team that were nothing lower than a God.
And our boys have to take care of them to reach the top. Will they be able to show up as the best?
Kuroko No Basket is one of, if not the most successful and recognized basketball series of all time.
It is known for its high-octane storytelling and the touch of extremism added to its narrative.
This is a series that every basketball fan needs to watch at any cost. It is not only incredible in terms of excitement but the story in itself is also promising.
1. Slam Dunk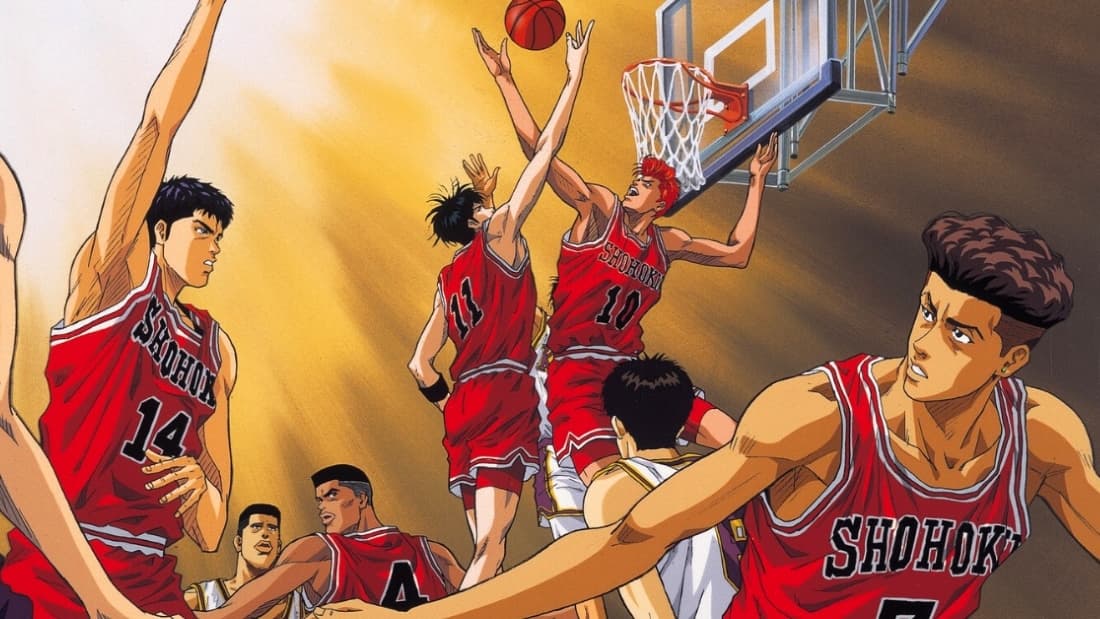 | Entity | Detail |
| --- | --- |
| Title | Slam Dunk |
| Type | TV |
| Studios | Toei Animation |
| Premiered | Oct 16, 1993 to Mar 23, 1996 |
| Source | Manga |
| MAL Score | 8.531 |
| Duration | 23 min. per ep. |
And finally, it is time for number 1. The best basketball series that has ever hit TV.
A work that is looked upon as one of the best sports anime ever. This is an all-time classic.
The epitome of sports anime. This is Slam Dunk! The most grounded and realistic sports anime you will ever witness.
Prepare yourself for this feast. Slam Dunk is a 101-episode TV anime that aired back in 1993.
It is an anime adaptation of a manga series. The manga was written and illustrated by Inoue Takehiko.
Remember him? He is the creator of Buzz Beater as well. Told you he would be returning.
And not only Slam Dunk, but he is also responsible for some other banger mangas like Real and Vagabond.
No wonder his basketball work is looked up to so much. Talking about the story, it is rather interesting.
It is about a fierce-looking guy named Hanamichi Sakuragi who is known for his red hair, low temper, and frightening nature.
On the outside, he is a rock-solid dude but on the inside, he is holding an unbearable amount of pain.
This pain comes in the form of rejection. Whose rejection you may ask? Well, it's the rejection from girls whom our boy tried proposing to in middle school.
But what's even more heartbreaking is the fact that he hasn't been rejected once or twice.
My man has been rejected 50 times! Yup, that's how much pain Hanamichi holds. But he doesn't give up.
And now in high school, he tries his best to get a girlfriend. His only goal is to get the girl of his life.
And situations happen such that our boy starts to hate basketball. Yup, he is tall and strong but started hating the sport that would help him utilize his qualities.
But we aren't here to judge. He was just being genuine to himself. But his genuineness goes to the trash as he meets Haruko Akagi, a cute girl who makes Hanamichi's heart bloom.
Now our love-blinded guy gets asked a question. "Do you play basketball"? Being the love-blinded idiot that he is, my man says yes forgetting that he resents this sport.
Later on, she takes him to the gym and asks him to make dunk.
To impress Akagi, Hanamichi tries his best but overshoots and ends up getting hurt. However, this shot lets Akagi know that this man has inhuman abilities.
So she tells the captain of the basketball team about his presence and all of a sudden, our boy who hates this sport, finds himself engaged with it.
This is the journey of a man going from good to legend. Slam Dunk is a work that you just can't miss as a basketball fan or even a sports fan in general.
The manga of this series won multiple awards including the 40th Shogakukan Manga Award for best shounen manga.
Moreover, it has been a commercially successful series as well as a critically acclaimed one.
No wonder it is the best. It is realistic, entertaining, and captivating. If by any chance you like fabulous anime, this is a series for you.
Believe me, the upcoming 101 episodes are going to be a feast for you. And that is why Slam Dunk is the best Basketball anime of all time.
Well, that's the end of our relatively short list of Basketball anime. I hope you guys had a great time reading it and at least got 1 anime added to your watchlist.
Thanks a lot for reading and until next time, Sayonara!