»
Happy Season 3 : Everything you need to know in 2021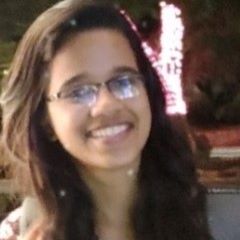 Divya-Posted Sep 27, 2021
---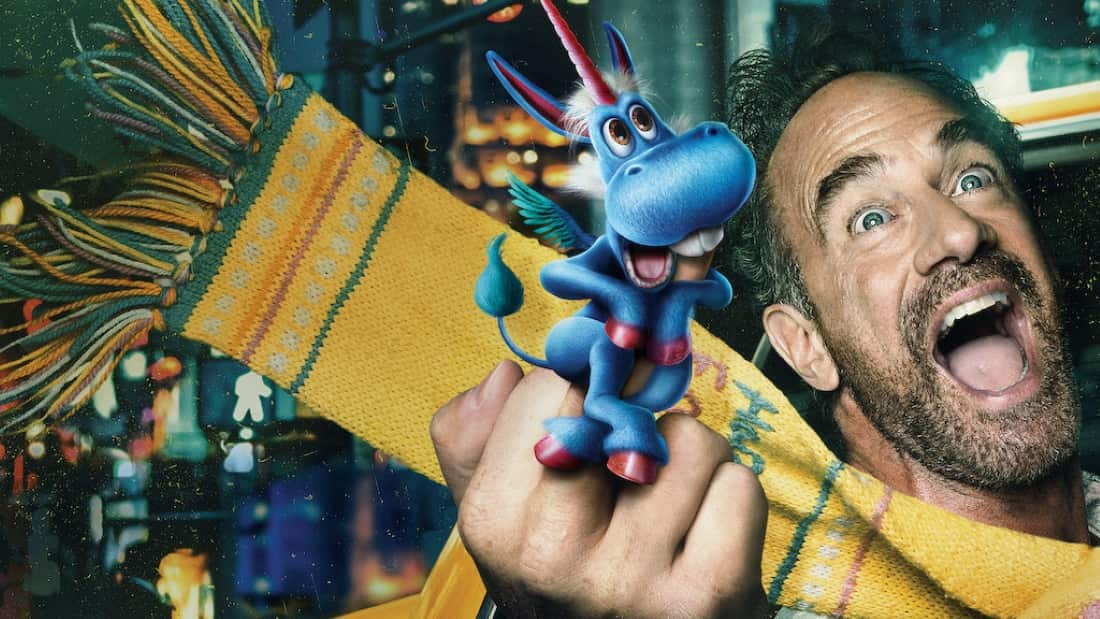 Happy! Well, one thing you can be sure about this series is that Happy! is not about everything happy but the audience did fall in love with this American live-action/adult animated television series.
The series is mainly based on the four-issue comic book series by Grant Morrison and artist Darick Robertson.
Brian Taylor served as the director for the majority of the episodes (seven of the first eleven).
The show first premiered on American cable television channel Syfy on December 6th, 2017. After the successful two seasons, the series ended up being canceled by Syfy on June 4th, 2019.
Answering some of the inquiries and about its super popularity and also an insight into what some of you might be missing.
This article is here to reveal some very important secrets. Will there be a Season 3?
When will it get released? And here is an answer with the details that we have.
Believe it or not, ENTOIN has the best of everything in the entertainment world that you need to know about.
Everything We Know About HAPPY So Far
An insane story that is going to drive you crazy and like us you would end up wanting more and that's what we'll see in this article, Why a third season?
Happy! The series is starred by Christopher Meloni with Patton Oswalt (voice), Lili Mirojnick, Medina Senghore, Ritchie Coster, Patrick Fischler, and Christopher Fitzgerald.
With Ann-Margaret and Big Show making their debut appearance in the series in season 2.
The first two seasons are now also available on popular streaming platform Netflix. Detective Nick Sax is the kind of police officer that the department wouldn't put on its front pages.
A disgraced social outcast spending his days through his popular hobbies of heavy drinking and substance abuse.
Now, this disappointment of an ideal being also works as a hitman and this is where the real story begins.
Reading this much into the details of the series you might be wondering now, where is the HAPPY part?
And now the answer. When one of his hitman missions goes astray Nick suffers a major heart attack and now, we're introduced to happy.
Happy is an alive, breathing, and also floating imaginary unicorn. Don't stop here, because as insane as it sounds this is one crazy, sharp, witty, salty, blaring, heavy, abrasive, aggressive, evil, outrageous, repulsive, immoral, zany, amoral series you are going to fall in love with.
Happy is one blueish, talkative animal err a unicorn!! who claims he is the imaginary friend of a little girl named Hailey.
According to Happy, Hailey has been kidnapped by a mad man dressed as Santa Claus ("Very Bad Santa").
Now right in time for a second twist. Happy says that Hailey is Nick's daughter and he is the hero cop she had envisioned about.
Reluctant at first and maybe slightly a result of the massive trauma he just went through Nick Sax decided to help Happy and Hailey.
Only little did Nick know that in search of a daughter that he had never met he is about to uncover a dark world filled with the existence of a massive, global conspiracy involving child trafficking and scary things beyond a common man's which in this case a common police officer's perception.
In the second season as Nick tries hard to maintain his sobriety until his old nemesis Sonny Shine (Fitzgerald) is now on a mission to Make Easter Great Again (MEGA) with the henchmen who is widely known for his cruelty.
Official Announcements and Release Date of HAPPY Season 3
Nick and Happy weren't very happy with the news and so was the audience. Well to the dismay of the wide fanbase Syfy has officially canceled the series.
As an annual clean-up of the site, Syfy also canceled a number of its shows in the same year.
As there appears to be no next season from Syfy another season would only be possible if anyone else would take the production.
There was almost a 14-month gap between the productions and that majorly affected the ratings and so the cancellation did not come as a surprise to people who were closely watching the graphs.
As the season one and two did considerably well on Netflix, the outcry for a third season was widely heard on social media platforms like Twitter which led to some very interesting discussions as well.
| | |
| --- | --- |
| Seasons | Aired |
| Season 1 (8 episodes) | December 6, 2017-January 31, 2018 |
| Season 2 (10 episodes) | March 27, 2019-May 29, 2019 |
More Source Material Information for HAPPY!
Happy! Came into existence from a four-issue graphic book series named the same, brainchild of Grant Morrison and artist Darick Robertson.
And coming from such masters, the book also holds a large fan base. Reviews and write-ups all over the internet talk about the show as being one of the most original a different favorite of the audience and we couldn't agree more.
Popularity Details of HAPPY!
Happy! had so many different aspects from the shows which we all had been used to.
With one very unrealistic character taking the reins, this show received major acceptance among the audience for having some very original portrayals.
Although Syfy has dropped the series, serious rumors are going about a rebound for the show by some other company as the show always had a decent number of viewers.
Reports point out that Universal Content Productions is already planning to shop the series out of the other networks.
As the series had a certain number of great fans, there is a huge outcry for Netflix to revive the next season.
Twitter Reaction
Most of the comments on @HappySYFY post's read on the desperation of the audience to bring back such a fabulous show that made so much impression.
The fans were also seen to be wanting a version that spoke from Hailey's perspective which seemed to be a genuine concern for many and that would also make a great plotline.
Google Trends
Google trends showed that from being among the popularly searched as ' Happy! season 3 'for a long time the popularity of the series is now showing some rapid decline.
Google Searches
Google searches statistics point to the fact that globally the searches for Happy! Season 3 has declined very low like Downton Abbey.
While this can also be a result of the time gap that has made people move into new shows than the quality of the show, there is also the indication there are still a few in hopes of good news.
The Global Volume pointed to 9.1k monthly searches of which 3.7k are from the USA and 2.2k are from the UK.
The numbers are considered very low and have been declining with time and indicate the lowering popularity of the series.
Expected Plot of HAPPY Season 3
The ardent fans would already know where this is going. As the previous season had some Easter-related ending there is no possibility for a Christmas continuation.
In an Interview, Patrick Macmanus, the Executive Producer of the series revealed that the season of the series are to land down in connection with a new festive mood and that indicates a very new scenario if a new season comes.
Since the first two seasons had a 14-month gap between them, if a third season comes then it will most probably be by 2022 or 2023.
Covid 19 pandemic has also had a drastic impact on the entertainment industry so the revival of the series would take more than the usual time.
The next season will give Nick a new story in a different place with a new perspective and that is something the fans really wanted.
Let's see what happens. Even if they don't stick to the expectations the series has a really good plotline that could be developed from many different angles.
Why HAPPY Season 3?
Why wouldn't there be a season 3? Happy! had a huge fan base and such a decently running number deserves something in return.
Happy! Did not end when the series was running badly but ended with a really good story running.
Critics have continuously commented on the exciting, innovative, and entertaining nature of the series. Though the main accusation was for a predictable and almost repetitive storyline in season 2, there is still time and space to take the narrative to very different and interesting perspectives.
Although Syfy canceled the next season, we expect Netflix to help the series to make a comeback.
Online Reactions for HAPPY Season 3
A Happy!: U. S. viewers per episode survey by Nielsen Media Research shows a decrease in the viewers from the first season.
But the second season also shows a steady number of viewers which can also point to a lack of proper marketing of the series that not everyone got to know about the existence of such a fabulous show.
Quora Reaction
Quora didn't see much of a reaction regarding the series but most other social media discussion platforms did call in for a second thought regarding the cancellation that was abrupt.
Reddit Reaction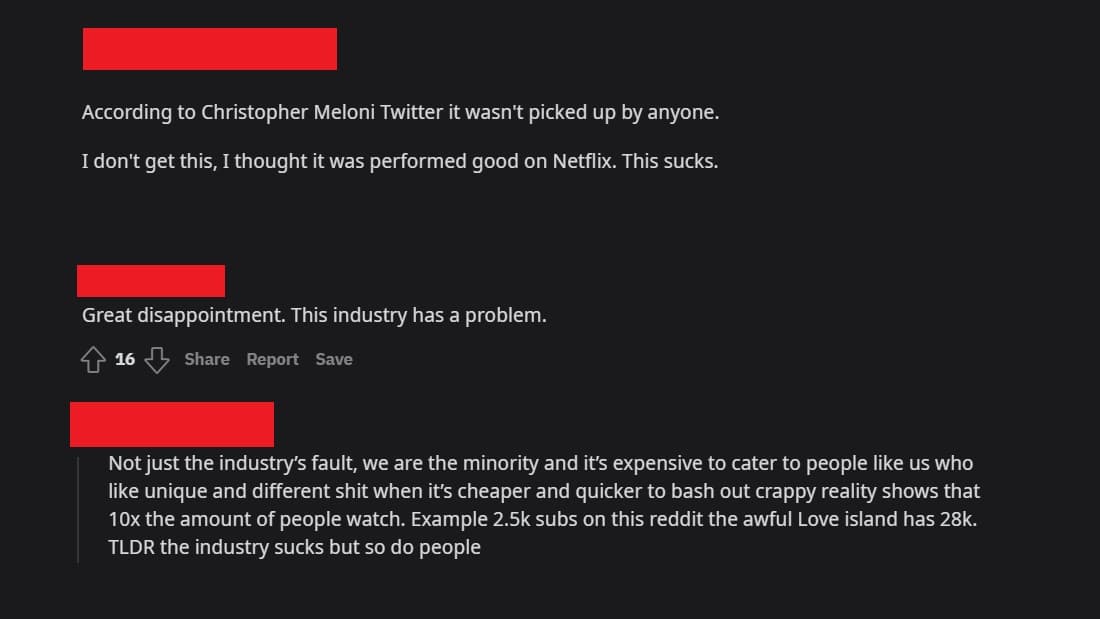 The adaptation of the New York Time's best-selling graphic novel by Grant Morrison and Darrick Robertson also saw some interesting reactions on Reddit as well.
People wanted a new season as they all believed that the series wasn't properly understood and deserves much more than the ending it got.
Change.Org
Yes! You have read that right. Netflix, please save 'Happy!' and make it a Netflix Original by producing more seasons.
The petition has over 35000 supporters and that says a lot about the popularity and impact the show has and that is not yet ending anytime soon.
Ratings And Reviews for HAPPY Season 3
Rotten Tomatoes critics consensus commented on the unusual appearance of the series that is not for all but definitely holds a special position for the uniqueness it portrays and that is one accolade Happy! could be proud about.
8.3/10 on IMDb also speaks in volume for a series that even had animated characters in some very realistic appeals.
The series received wide acclaim for its originality and that is profoundly visible in all the platforms the topic is discussed on.
| | |
| --- | --- |
| Websites | Ratings |
| Common Sense Media | 3/5 |
| Rotten Tomatoes | 84 % |
| IMDb | 8.3/10 |
| Metacritic Metascore | 65/100 |
| Metacritic User Score | 7.7/10 |
Awards and Recognitions
A real-life series with animation running parallel to it. Now this strange series is something when you hear a one-liner you would think that it wouldn't work.
But Happy! Proved everything wrong and instantly became a favorite among its audience and there isn't a better accolade than that.
Famous Characters From HAPPY!
Nick Sax
Christopher Meloni as Nick Sax is a former detective for the New York City Police Department who was once the center of everything but eventually his drug addictions catch up as his misfortunes.
The once top policeman then becomes a hitman for hire. He comes across an imaginary friend called 'Happy' who helps him find his daughter which is followed by some on the edge of your seat adventures.
Francisco "Mr. Blue" Scaramucci
Ritchie Coster as Francisco "Mr. Blue" Scaramucci: the leading force behind the Scaramucci Crime Family.
The man of the devil who handles a very successful business on one hand and something very illegal on the other side. He works aside Smoothie and Very bad Santa.
Meredith "Merry" McCarthy
Lili Mirojnick as Meredith "Merry" McCarthy is a detective and also Nick Sax's former affair with a very dark past.
In a man's world with a tough pride, this woman tries hard to make it all right. As Merry tries hard to keep her family afloat she ends up being in the trap of the devil she is fighting.
Amanda Hansen
Medina Senghore as Amanda Hansen: Hailey's mother. A strong single mother who is ready to fight all the demons of the world to bring Hailey back home but first she has to handle the demons of her own.
Smoothie/ The Bunny
"Smoothie" / "The Bunny" is Mr. Blue's sadistic killer who is known for his very deadly interrogation techniques.
The face with a history that will send chills down your spine. Smoothie tortured animals in his childhood and was a face that even his stepmother was scared of, the man becomes the most depraved character in the show.
All through the season's the one person that has remained unpredictable for his wickedness is 'smoothie' and that will not please you.
Voice of Happy
Though the show is not really happy, 'Happy' is a 'definitely happy' character.
A goofy little blue unicorn you are totally going to fall in love with. The voice of the most favored 'Remy', the rat, in Pixar's Oscar-winning RATATOUILLE makes another fan-favorite appearance.
Louis Sheinberg
Christopher Fitzgerald as Louis Sheinberg better known as Sonny Shine is the main antagonist of the series.
A disgusting and cruel children's show host who takes matters to a level that exposes his victim's deepest and darkest desires.
Once you watch the show you will be sure of one thing, 'that you wouldn't want to be near him at any cost'.
Hailey Louise Hansen
Nick Sax's daughter who is kidnapped by the 'Very Bad Santa' as she walks out from a Sonny Shine concert.
There are two versions of the character depicted throughout the seasons. the one that was innocent and from that to a child who is very much aware of her situations to keep up with a father like Nick Sax.
Bad Santa
Bad Santa the drug-addicted psychopath who works aside Mr. Blue and Smoothie.
A sick and disturbed individual who became so as the result of the trauma he faced as a child and therefore kidnaps kids to keep them young forever. He is unstoppable and unpredictable that even Mr. Blue is afraid of him.
Other Decisive Factors for HAPPY Season 3
There isn't a better reason than that they should definitely give the audience a final closure on what they have started.
The Easter story needs a proper ending and we would also like to know what happens to Nick when he retires to whether a reformed life or maybe not.
While there is certainly hope for Netflix resurrecting the series there are so many uncertainties looming around that make no surety to a continuation.
Ending
Happy! was an altogether strangely entertaining experience that will leave you all with that feeling of 'wanting more'.
The final season of the series had ten episodes. The final season began with the episode "The War on Easter" as Smoothie is on a run to destroy things Nick has a death and resurrection episode with Hailey and Happy around as well.
And that doesn't do total justice to the fans as the fans are already in hope for a new season with some new interesting perspectives.
Trailer
There has been no official confirmation on a new season as of now and hence there is no trailer available for a new season.
Fingers crossed because sometimes good things do take some time.
Controversy
As a much-loved series that abruptly ended, there wasn't a better controversy that followed than WHY??
A series that has an 8.3/10 rating on IMDb. Why did that happen? Years after the final season the title still makes it into discussion forums and there isn't a bitter and better controversy than that.
Conclusion
Happy! Is a strange show and for all its strangeness became one of the most loved shows on Syfy.
Two is not the end of it and we hope that Netflix will pick up on the series where Syfy left it and give us a proper ending that we all deserve.
If any further updates are available, we will definitely let you all know. Till then keep visiting us to know more and stay updated on various entertainment news and also subscribe to our newsletter for more by dropping in your email id.