»
When Is Mindhunter Season 3 Coming? [2023 Updates]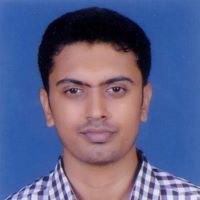 Vignesh-Updated Jan 30, 2023
---
There are very few Netflix series that became as popular as Mindhunter. It has almost achieved the status of a cult following.
It's one of the most beloved web series and enjoys a good reception. Fans who binge-watched Season 2 were eagerly waiting for the Season 3 release.
When will there be a Season 3? When will it get released? We will be answering your questions in this article.
When anyone hears about organizations like the FBI, they get an ambiguous feeling. It's more to do with the opacity of how they function.
Mindhunters take you to a world where you can experience the world through their lens.
By the way, this psycho-crime thriller is an adaptation of a non-fiction book. It portrays crimes that had taken place during the 80s in America.
Let's first start with what we know about Mindhunter and the Seasons released to date.
Everything we know about Mindhunter so far
Mindhunter is a TV Series that aired on Netflix. Please Do not confuse it with the 2004 movie "Mindhunters".
That's also another FBI-themed crime thriller. Mindhunter is all about the research of a few FBI agents and a psychologist.
They work at the FBI's Behavioural Sciences Unit, a coveted Division of the FBI. Jonathan Groff, Holt McCallany, and Anna Torv played these roles.
This series is based on real crimes that occurred in the 1970s and 1980s. The research involved interviewing convicted criminals to delve deep into their psyches.
The first season was released in 2017. It was 10 episodes long and got quite popular in a short time.
This is due to the series having real-life crimes as a part of its plot. Most of the filming took place in West Virginia.
The idea for this TV Series was born in 2009. That was when one of the movie makers got a copy of the book - Mindhunter: Inside the FBI's Elite Serial Crime Unit.
It was a book written by a former FBI agent who carried out criminal personality profiling as a part of his job.
The second season was released in 2019 and it had 9 episodes.
Mindhunter Ending Explained
In the end, Wayne Bertram Williams, the primary suspect in the murder of at least 28 children gets charged with two murder cases. With this FBI closes the case due to a lack of evidence. Holden and Bill are rewarded by getting to travel via a private plane.
Still, Holden finds it quite uneasy the way the DA closes the case and somewhere in his mind, he feels that he could have done more.
Bill comes home finding his wife Nancy has left the house with Brian.
The final episode ends with BTK strangler continuing his wicked dressing and feeling himself against a rope tied around his neck.
Official Announcements and Release date of Mindhunter Season 3
Let's go through some important news from January 2020. This one specifically says that it has not been canceled.
The project was put on hold due to Fincher's busy schedule. Back then, Fincher was busy with Mank, which was released in 2020.
The actors got released from their contracts. This meant that there would not be any filming for the foreseeable period.
Since cast members were released from their contracts, it will be a difficult task to assemble all of them since many of them will be busy with their schedules.
A 2021 report said that there were discussions between Fincher and Netflix. It was about the renewal for the third season and all the related talks about it.
According to several experts, Netflix has canceled the third season of the show because of the costs associated with producing it. But no one is aware of the real truth.
The current status of Mindhunter still stays on hold. At the same time, it doesn't mean that it's canceled.
The series is highly rated as well as received good reviews so, it's possible that sometime in the future it can make a comeback.
The Inspiration Behind Mindhunter Season 3
Mindhunter was inspired by the book Mindhunter: Inside the FBI's Elite Serial Crime Unit. It was a work of nonfiction by John E Douglas, a retired FBI official, and Mark Olshaker.
It was an in-depth work of research on criminal psycho-profiling spanning decades. John Douglas also wrote about how the FBI tricked the culprits and caught them.
Robert Hansen and Larry Gene Bell were other infamous criminals mentioned in the book. This is apart from the ones who had appeared in the two seasons of the TV Series.
The character Holden Ford's professional life was based on Douglas' career in the FBI.
Popularity details of Mindhunter
Mindhunter was widely acclaimed for its narrative and chilling experience. Crime is usually a horror genre but this one was something so absorbing.
Let's see how much love this series got and its popularity details on Google and Twitter.
Twitter Account
Mindhunter has a Twitter account that's almost 5 years old. Though it got quite popular all over the world, it doesn't reflect in the follower count.
The banner picture of the account shows the release promo of Season 2. It's a less active
Reddit Community
Mindhunter has a much larger support base on Reddit. The sub r/MindHunter has 68,900 members.
The sub is not much active at present. That could be because everyone is waiting for an update on the 3rd Season.
Google Search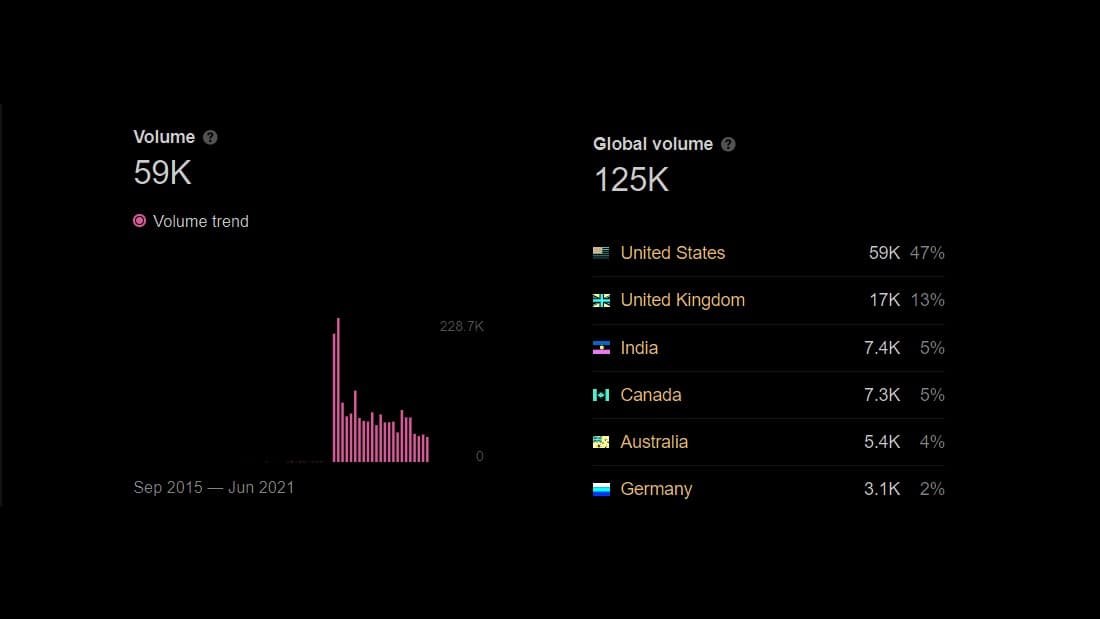 Mindhunter is a widely searched term since 2017. That's when its first season was released.
In 2019 when the second season was released, the popularity spiked. Fans rushed through all 9 episodes of the Season.
The anticipation for the next season started there. For many months now monthly searches are above 100K with the US almost contributing to 50% of these searches.
Google Trends
As you can see from the trend above, it peaked in the mid of 2019 just after season 2 was released. After that due to a lack of official announcement or update on season 3, it fell abruptly.
Nonetheless, searches for season 3 are still high, indicating the fact that the series was loved and appreciated by many.
In case, season 3 does happen, what would be the expected plot?
Expected Plot of Mindhunter Season 3
Mindhunter deals with the events around FBI agents and a psychologist. It was also based on true stories that occurred in the 1970s and 1980s.
The previous season ended in the early 80s while the first season ended in the late 70s.
From this pattern, we can assume it may contain incidents from the mid to late 80s.
Let's also remember that BTK is still at large. Rader has a great chance for another Season.
Kemper too may be there hopefully. There are many predictions by fans. There were some notorious killers in the 80s like - Ramirez, Dahmer, and Ridgway.
The best place to look for more predictions would be Douglas' book. Though that played a great role in the series, not everything was copied from it.
The book was based on his research into criminal profiling. The protagonists would continue to fight their battles in the next season.
Bill and his falling relationship may be the focus. There's a lot of scope for subplots in future series based on this.
The strained family relations of the male protagonists can be part of the next season. While Dr. Carr may struggle to assert herself in the workplace.
Dennis Rader 'the BTK killer' was arrested by the Police in 1991. So, that may get included in either Season 4 or 5.
Recently Andrew Dominick, the director of the second season revealed the plot for season 3 that would have happened if the series was not put on indefinite hold.
"What they were going to do with Season 3 was they were going to go to Hollywood. So one of them was going to be hooking up with Jonathan Demme and the other one was going to be hooking up with Michael Mann. And it was all going to be about profiling making it into the sort of zeitgeist, the public consciousness. It would've been... That was the season everyone was really waiting for to do, with when they sort of get out of the basement and start."
Why Mindhunter Season 3?
Season 2 ended with Rader (BTK) living undetected despite committing heinous crimes. Though Williams confessed to some crimes, it was hard to prove his role in the other murders.
He was caught by a clever trap laid out by the FBI. But, many of those cases turned cold because there wasn't much evidence.
There were a lot of violent crimes in America during the late 80s and 90s too.
Those could also be incorporated into the coming Seasons. Fans are awaiting how Fincher would portray those in the form of a series.
Rader, the BTK killer was arrested in 1991. He continued his criminal activities for nearly a decade.
The crimes he committed during those years were not shown in the Seasons. There could be more material for the next season from him.
The 3 protagonists of the Series face challenges not only at work but at home too.
Ford goes through a breakup and Tench's wife moves out. Wendy's relationship with Kay sours and they also decide to part ways.
All these events can have a subplot that may or may not interconnect with the main one.
Online Reactions for Mindhunter Season 3
Online reactions to Mindhunter are plenty. There's almost no web series watcher who hasn't heard about it.
Let's see some highlighted reactions from various online forums.
Quora Reaction
There's an interesting answer on Quora about Season 3. It's a 2019 answer and is still relevant today.
The answer gives hope for the new Season. Anyway, the 5 Season revelation was made by Holt McCallany.
He played the role of one of the protagonists - Bill.
Reddit Reaction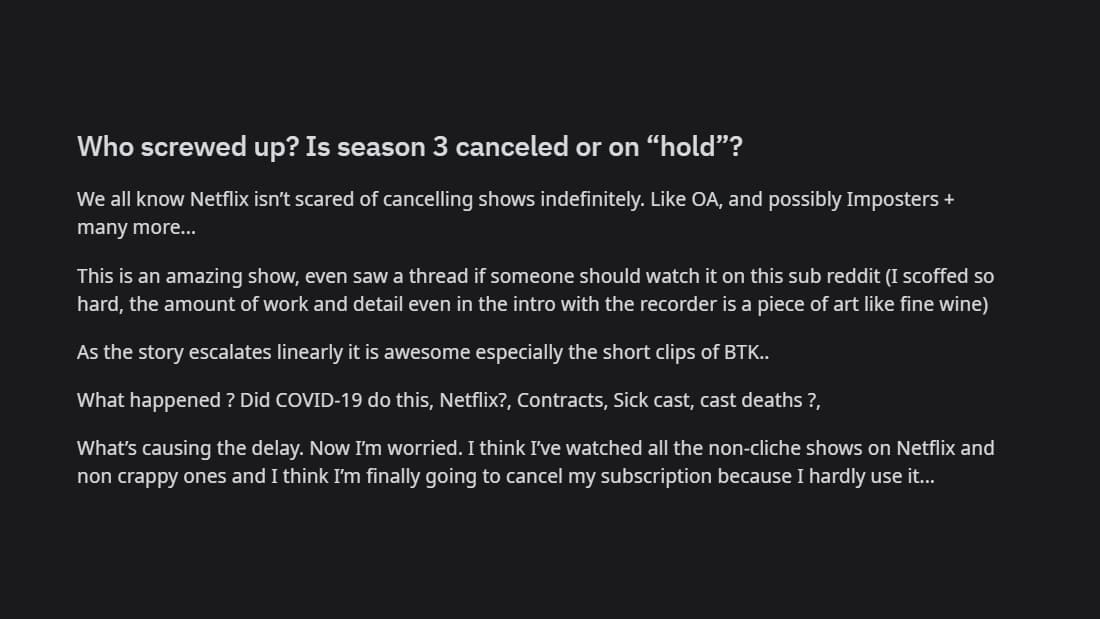 From this Reddit conversation, it's clear why there should be a Season 3. Rader is the prime reason.
Rader is one of the killers who appears most gruesome. He also appears in both the Seasons.
There's no need for fans to lose hope because there would be more Seasons in the future.
Twitter Reaction
Twitter has some direct and straight reactions. Twitter users are tagging Netflix, Mindhunter, etc, and asking them about the update of the next Season.
There's not a day on Twitter that goes by without such tweets. There are similar demands under the tweet of McCallany too.
He's quite active on the platform.
Mindhunter Ratings and Reviews
Mindhunter received positive responses both from critics and fans. It was appreciated for its outstanding cinematography, amazing character development, and storyline. It received various nominations for cinematography, and acting and won some of them.
Ratings
Ratings online are carried out by various sites. Here, we'll be analyzing the stats provided by IMDb.
Mindhunter received positive ratings and a warm reception from viewers. It was praised for its character development and visuals.
IMDB rated it 8.6 on 10. The median score was on the higher side 9 out of 10.
The second most votes went for 8/10 and the third most went for 10/10.
This is quite a good score for a Series that ran 2 seasons by now.
It was also ranked 10th on Metacritic's year-end list in 2017. Apart from that, here's how it was rated by users of popular websites.
| | |
| --- | --- |
| Website | Ratings |
| IMDb | 8.6/10 |
| RottenTomatoes (Average Tomatometer) | 97% |
| RottenTomatoes (Average Audience Score) | 95% |
| RottenTomatoes Average | 8.43/10 |
| Metacritic | 79/100 (Season 1) 85/100 (Season 2) |
Reviews
The TV Series received favorable reviews from most platforms. The Metacritic reviews can signal that the Series got generally favorable reviews too.
It was only after the release of Season 2 that it got the status of universal acclaim.
Here's the most helpful review of the show, on IMDb. Different publications, media outlets, and observers called it one of the best shows of those years.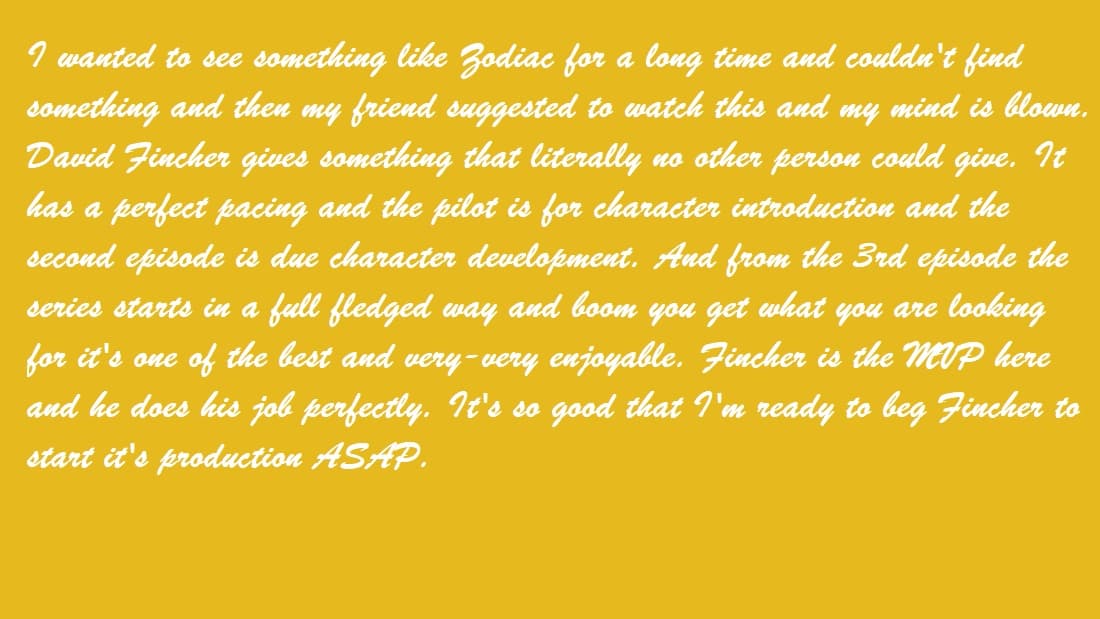 It was also on the top spots of most popular Book TV series adaptations.
Top 5 Best-Rated Episodes
| Episodes Name and Number | Ratings (IMDb) |
| --- | --- |
| Episode #1.10 (Episode 10, Season 1) | 9.1/10 |
| Episode #2.5 (Episode 5, Season 2) | 8.9/10 |
| Episode #2.9 (Episode 9, Season 2) | 8.7/10 |
| Episode #1.5 (Episode 5, Season 1) | 8.6/10 |
| Episode #1.9 (Episode 9, Season 1) | 8.5/10 |
Awards and Recognitions of Mindhunter Season 3
Mindhunter has won only 1 award, as of this date. That was the 2018 Satellite Award for Best Actor.
Jonathan Groff was the winner. But, it was nominated for many other awards. They are:
Dorian Awards (TV Performance of the Year – Actor)

Primetime Emmy Awards (Outstanding Guest Actor in a Drama Series, Outstanding Cinematography for a Single-Camera Series (One Hour))

Satellite Awards (Best Drama Series, Best Actor in a Drama or Genre Series)

Saturn Awards (Best New Media Television Series)

TCA Awards (Outstanding New Program)

USC Scripter Awards (Best Adapted TV Screenplay)

Writers Guild of America Awards (Drama Series)
Production and Success of Mindhunter
Mindhunter was an expensive project. This is one of the main reasons that the Third Season is put on hold.
To quote Fincher, "Listen, for the viewership that it had, it was a very expensive show".
Fincher was clear in stating that the production costs of Season 3 would be higher than that of Season 1 and Season 2.
Of course, every director would be happy to see their work get accepted but, profits decide the work's future.
Production cost
Since there's not much information on Mindhunter's production cost, we have to rely on estimates.
The average budget for a Netflix series would be 2 million dollars per episode. Some shows like The Crown cost around 13 million dollars per episode.
Though Mindhunter would not have cost that much, we can assume it cost somewhere between 4 - 7 million dollars.
David Fincher calling it an "expensive show" for the viewership can have many dimensions to it.
If it was a show that involved a lot of graphics, effects, etc, the costs could have gone higher.
Also, this is just an average estimation. Some would have cost more, some less.
Streaming and Box Office
Mindhunter is available on Netflix for streaming. There's not much information on Box Office or any other revenue earned.
Since Fincher mentioned that it was an expensive show, let's assume it made roughly the same amount that was invested.
Anyway seeing the fans eagerly awaiting Season 3, there's no reason to not expect profits.
Perhaps they have to negotiate harder with Netflix by leveraging the popularity of Season 2.
Mindhunter is one of the rare series where the 2nd season surpassed the first one in popularity.
Popular Mindhunter Characters
The series is filled with some of the best talents from the film industry. Some of these characters like Holden, Bill, and Wendy will certainly return, we can't be so sure about others.
Our discussion will feel incomplete if we do not discuss the contribution of these characters to making this series a success
Jonathan Groff (Holden Ford)
He's a special agent of the FBI. He works at the Behavioral Science Unit. He works with Holt (Bill Tench) and Anna (Dr. Carr).
He's in a relationship with Debbie (Hannah Gross), a sociology student. His FBI role is based on that of John E.
Douglas is the author of the book that inspired this series. Apart from his investigative role, the show captures the ups and downs of his relationship with her.
Their breakup is shown at the end of Season 1.
Holt McCallany (Bill Tench)
He's also a special agent in the same Unit and is Holden's colleague. He's married to Nancy (Stacey Roka) and the couple has a son, Brian who witnesses a violent murder.
He struggles to save his marriage all along the 2 Seasons. His wife Nancy moves out with their son at the end of Season 2.
Bill's FBI character is based on that of Agent Robert K Ressler. He was one of the pioneering agents at the FBI who termed such killers as "serial killers".
Anna Torv (Wendy Carr)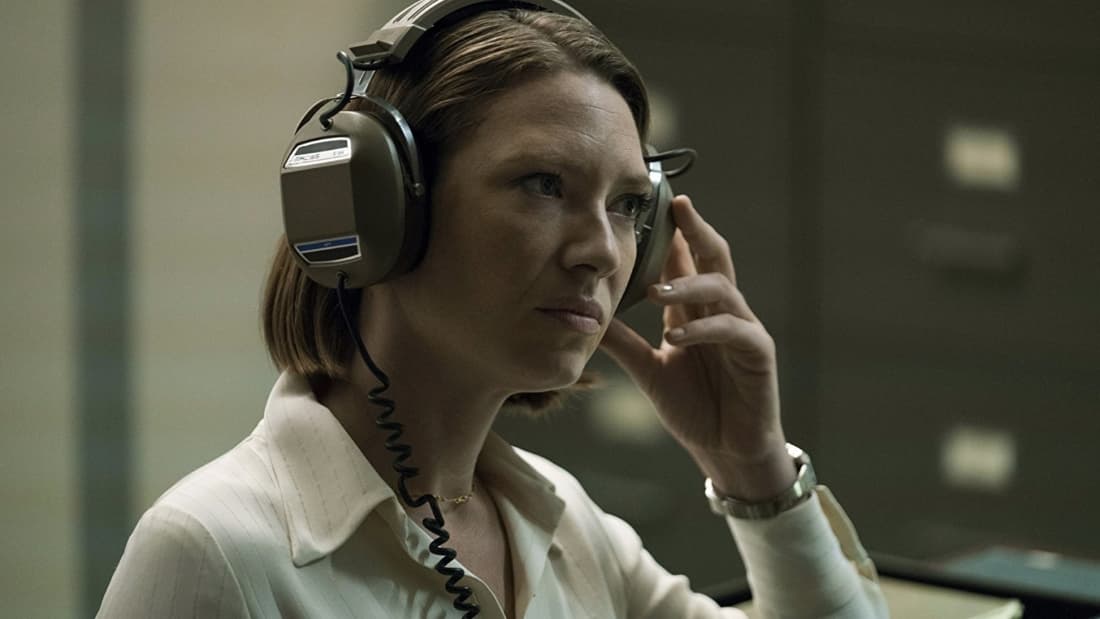 She's a psychology professor at Boston University. She joins the FBI's BSU as a part of her research in criminal psychology.
She is someone who strictly adheres to scientific procedures and protocols at work. She gets into conflicts with her colleague Holden (Jonathan) due to this.
She's a lesbian who was in a relationship with Kay (Lauren Glazier). After she overhears Kay's conversation with her ex-husband, she decides to break up with her.
Debbie Mitford(Hannah Gross)
Debbie is Holden's girlfriend and appeared only in the first season. She was a graduate student in sociology at the University of Virginia.
Debbie is the typical 70s American woman - vocal, opinionated, educated, and outspoken. She tries to have intellectual conversations with her boyfriend all along the Season.
She had encouraged him to pursue education in criminal psychology.
Nancy Tench (Stacey Roca)
She's Bill's wife and Brian's mother. She is in a failing marriage and struggles to help her son out of trauma.
At the end of Season 2, she moves out of Bill's home with her son.
Kay Manz (Lauren Glazier)
Kay worked as a bartender and she appeared only in Season 2. Viewers of Season 1 didn't know Wendy was lesbian and Kay would be her lover.
Kay has a limited role in the Series. Her role is something that only validates Wendy's orientation that's revealed later.
Rumors and Controversies surrounding Mindhunter Season 3
Like most other popular TV Series, Mindhunter was not spared from controversies. Debbie and Dr. Carr were the most-discussed characters.
Some viewers expressed their desire to see Wendy die at the hands of a serial killer.
Some female characters came under heavy scrutiny for their traits and for breaking stereotypes. Mind you, this was a show that depicted life in the 1980s.
The world was quite different back then. There were rumors about the release of the next few Seasons.
At the end of 2020, there was one that claimed it may take up to 5 years for the next season to come out.
That would be too long & fans had expressed their anguish. But, the source of it is unverified and anonymous.
So you need not fret.
Conclusion
Fans who have been waiting for more than two years don't have to feel let down anymore. Season 3 has a decent possibility of occurring.
Some sources claim that it would be out by late 2023. But for now, these are all speculations.
Let's wait for more news, meanwhile. There's no need to worry about Netflix canceling it because it's too popular to get canceled.
ENTOIN will update you with any important announcement that comes from official sources. Hope you enjoyed reading this article.
Drop your email below, to get more updates directly to your email inbox.