»
Top 34 Best Jim Carrey Movies Of All Time
Bijesh-Updated Jan 17, 2023
---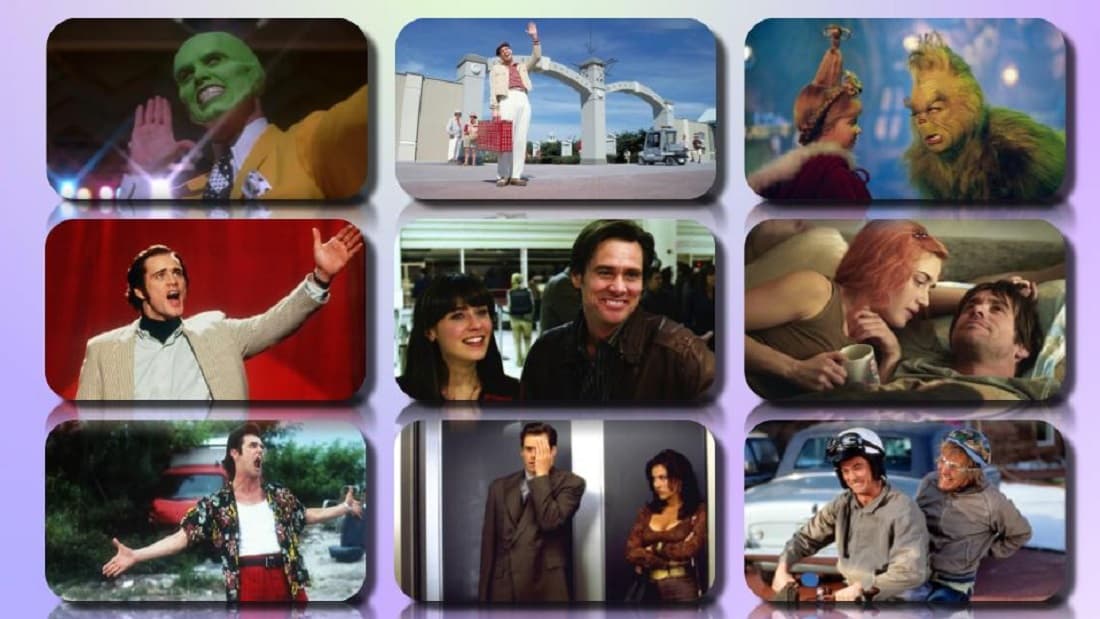 This artist needs no introduction, but we're going to give him one anyway. One of the most unforgettable and engaging comedians of our time, Jim Carrey has delivered a range of hilarious performances that has established its own distinct standard in the entertainment industry.
He was born James Eugene Carrey on January 17 (1962) in Newmarket (Ontario, Canada). Carrey is 60 years old (as of this writing).
A "people's favorite" actor with enough charm to stop anyone from doing what they're doing and watch him be super-funny on screen, Carrey has proven to hold his own in the blockbuster crowd.
His time in stand-up, not to forget his many slapstick comedy moments over the years, has earned him a substantial global fan base.
This Canadian-American's iconic roles, almost alien versatility, unmatched performance energy, and enduring screen presence are worth celebrating anywhere and anytime.
Let's dive into the manifold movies that made Jim Carrey a comedy powerhouse.
1. The Mask (1994)
One mask does not fit all, or so Jim Carrey proved when he transformed into this anti-hero and gave fans a performance so stellar that we can't see anyone else play this iconic character in our lifetime.
As lowly Stanley Ipkiss, Carrey gave a contrasting performance that elevated his scenes as the titular character. The mask in question was an ancient one going back to Norse times.
According to the fictional lore, it depicted Loki, aka the God of Mischief. Stanley's alter-ego certainly lived up to that title.
Outstanding artists like Cameron Diaz, Peter Riegert, Peter Greene, Reg E. Cathey, and Nancy Fish added to the story's worth.
Crime thugs, action, comedy, and cartoon-crazy mischief galore made this Jim Carrey movie his most perfect over-the-top performance.
2. Dumb and Dumber (1994)
Two friends Lloyd and Harry ended up going on a hilarious misadventure when they tried to return an abandoned suitcase to its rightful owner.
Their cross-country trip to Aspen, and in that iconic doggy car of theirs, saw them encountering dangers and thrills from interested parties who would kill to get their hands on the suitcase.
But Lloyd and Harry were completely oblivious to any perils, which they somehow avoided or survived through utter stupidity.
Jim Carrey as Lloyd and Jeff Daniels as Harry have become two of the most iconic comedy pair-ups fans have seen on-screen.
The story also included notable artists like Mike Starr, Lauren Holly, Teri Garr, Victoria Rowell, Karen Duffy, and Charles Rocket.
3. Eternal Sunshine of the Spotless Mind (2004)
Influenced by Sci-Fi and caressed by romance, this poignant story captured Jim Carrey in a surprisingly tragic light and proved his versatility as an actor.
He played Joel Barish opposite Kate Winslet. Other amazing artists included Tom Wilkinson, Elijah Wood, Mark Ruffalo, David Cross, Kirsten Dunst, Thomas Jay Ryan, and Gerry Robert Byrne.
The story was set in a future era where memories could voluntarily be erased from one's memory using specialized technology.
The painless procedure was in-demand because it helped heartbroken people move on without being weighed down by their hurtful past.
The way Carrey maneuvered this concept and captured the essence of what it means to be human was deserving of high praise.
4. Liar Liar (1997)
A little fantasy and all comedy went into making this hilarious, and oddly meaningful, movie about a lawyer who literally lost his ability to lie.
Jim Carrey as Fletcher Reede was astounding and compelling in the role. He was not only ultra-funny but also emotional where it mattered.
Amazing artists like Maura Tierney, Jennifer Tilly, Justin Cooper, Cary Elwes, Jason Bernard, and Swoosie Kurtz further enriched the plot.
Carrey became the highlight of this movie in which he played a divorced father whose son made a wish that came true.
The result was his lawyer-dad finding himself unable to lie, which led to all sorts of hilarious shenanigans at court the next day.
5. Ace Ventura: Pet Detective (1994)
One of Jim Carrey's most iconic roles came when he played the part of the titular Ace Ventura in this outstanding comedy.
Playing a goofy detective who did everything wrong but eventually managed to resolve the case, Ventura certainly delivered on the comedy angle in this production.
This role could easily have been linked to the epic misadventures of Inspector Jacques Clouseau, but somehow Carrey gave it his own signature spin.
As a detective specializing in animal welfare, Ventura was on the case of a missing dolphin that happened to be the star mascot of a popular Miami football team who was prepping for the Superbowl.
Carry reprised his role in the just-as-hilarious 1995 sequel "Ace Ventura: When Nature Calls".
6. How the Grinch Stole Christmas (2000)
This movie was a live-action remake of the enormously popular 1966 TV movie of the same name. The '66 animated version was beloved by millions, which made the year 2000 live-action version seem like a true challenge.
However, Jim Carrey was decked out in a full-body Grinch outfit and he gave his fans an unforgettable performance that was nothing short of brilliant.
Praiseworthy talents like Taylor Momsen, Jeffrey Tambor, Christine Baranski, and a mixed-breed shelter rescue dog named Max added to the wonder and awe contained in this meaningful Christmas movie featuring the one and only Jim Carrey.
7. The Truman Show (1998)
A humble insurance salesman gradually realized that everything he knew about his life was a lie. To the world, however, he was the star of a grand and intricate reality-TV show in which everything he did was live-streamed for all to see.
A touch of comedy and a world of meaning infused this Jim Carrey movie with a wealth of allegories, not to forget conspiracies.
Carrey's role as Truman Burbank remains one of his golden performances to date. He dialed down his comedy and made his character feel credible, natural, and empathic.
Great artists like Laura Linney, Ed Harris, Noah Emmerich, Holland Taylor, and Natascha McElhone played key roles in this unnerving but entertaining Jim Carrey movie.
8. Man on the Moon (1999)
Capturing the soul of legendary comedian Andy Kaufman, Jim Carrey gave a cathartic and underrated performance in this outstanding biopic.
Amazing artists like Danny DeVito, Gerry Becker, Bobby Boriello, Budd Friedman, Tom Dreesen, Leslie Lyles, George Shapiro, Melanie Vesey, Richard Belzer, and Jerry Lawler added to the drama and fun contained in this production.
Kaufman was known for being a self-declared inter-gender wrestling champion, of the world no less. He was beating women in the ring so often and upsetting many people as a consequence.
Professional wrestler Jerry Lawler (playing himself) re-created the time he actually challenged Kaufman to a bout. Lawler took on Carrey's version of the man in the movie.
Plenty of real-life moments surrounding this, and other, incidents added to the worth of this biopic.
9. Yes Man (2008)
Imagine challenging yourself to say "yes" to everything that came your way, regardless of the circumstances. This was precisely what Carl (played by Jim Carrey) did in the movie.
His performance was funny but also surprisingly deep and emotional. This was one of the handful of roles in his career that made Jim Carrey prove he could be more than just a comedian.
Better yet, he could be both sad and funny in the same space. Zooey Deschanel, Bradley Cooper, Fionnula Flanagan, Terence Stamp, Danny Masterson, Rhys Darby, and John Michael Higgins were some of the amazing talents in this rom-com.
10. Bruce Almighty (2003)
Being a news reporter can be great but only if you receive a modicum of respect and appreciation. Bruce Nolan (played by Jim Carrey) had none of that.
As a TV reporter in Buffalo, NY, Nolan grew increasingly disillusioned with everything in his life. The time came when he raged against god for making his life so miserable.
Shockingly enough, god responded to Nolan and gave him a chance to wield divine power. Bruce accepted but his arrogance soon got the better of him.
Crazy moments, especially of the miraculous kind, unfolded along with comedies galore in this hilarious Jim Carrey movie. Outstanding artists like Jennifer Aniston, Morgan Freeman, Philip Baker Hall, Steve Carell, and Tony Bennett played key roles in this production.
11. Batman Forever (1995)
Playing any character in a Batman film is a reward in itself. In this Val Kilmer starrer, Jim Carrey gave a memorable, over-the-top, and crazy-good performance as one of Batman's enduring villains, namely Edward Nygma, aka the Riddler.
The story was further enriched by outstanding artists like Tommy Lee Jones, Nicole Kidman, Chris O'Donnell, Michael Gough, Drew Barrymore, Debi Mazar, and Jon Favreau.
In this tale, Batman had to go up against Two-Face and Riddler after misunderstandings and life-changing transformations made it impossible to turn back time and prevent certain problems from happening in the first place.
The Riddler figured out Batman's real identity as Bruce Wayne, adding to the reasons why the Caped Crusader had to stop this maniac before he did irreversible harm.
12. I Love You Phillip Morris (2009)
Jim Carrey played a married man who was secretly gay in this bold movie. Carrey's Steven Russell and Ewan McGregor's Phillip Morris gave viewers a compelling, comedic, and meaningful story.
A car accident cornered Steven into reassessing his life choices. The incident instilled in him a desire to live life to the fullest.
He came out of the closet and started to lead an extravagant lifestyle, one filled with fraud and illegality.
After he was caught and sent to a penitentiary, he met and fell in love with a soft-spoken prisoner named Phillip Morris.
His devotion to the man reached such wild extremes that Steven decided he would do anything to be with Phillip, starting with breaking out of prison and running away with the man.
The cons that followed added to the kooky-crazy madness in this captivating but stereotyped Jim Carrey movie. Talented artists like Rodrigo Santoro, Leslie Mann, Brennan Brown, Michael Mandell, Annie Golden, and Antoni Corone played key roles in the story.
13. The Majestic (2001)
It was 1951 and Hollywood was building what would later be called its golden age. Jim Carrey beautifully played screenwriter Peter Appleton, whom Hollywood later blacklisted owing to suspicions of Communist association.
A car accident saw Appleton losing key memories. His girlfriend took him to a small town named Lawson where he could settle down and recuperate.
But Peter was soon mistaken for a long-lost son. Lawson was also the place where many a family lost sons to WWII.
Peter apparently held a shocking resemblance to Luke Trimble, a soldier who was labeled MIA. A movie house named The Majestic helped bring Peter closer to key characters in this heartwarming script.
Great artists like Martin Landau, Bob Balaban, Hal Holbrook, Ron Rifkin, David Ogden Stiers, and Laurie Holden added to the suspense and drama in this multi-layered Jim Carrey movie.
14. A Christmas Carol (2009)
As of this writing, Thanksgiving just went by and Christmas is around the corner. One of the classic staples of the season has always been this Charles Dickens story about a rich miser who had no care for the spirit of Christmas.
This superbly rendered 3D animated movie adapted the tale with exemplary attention to detail, down to the miserly Mr. Scrooge (voiced by Jim Carrey).
Along with top-class talents like Gary Oldman, Colin Firth, Robin Wright, Cary Elwes, Bob Hoskins, Lesley Manville, and more, the team brought Victorian-era London to life and captured this timeless Dickens tale of self-redemption for modern audiences.
Hauntings, truths, allegories, and brilliant animation all worked in this production's favor. But most importantly, Jim Carrey stole the show by not just voicing Scrooge but also all of his character's different ages, and all three apparitions – the Ghost of Christmas Past, the Ghost of Christmas Present, and the Ghost of Christmas Yet to Come.
15. The Number 23 (2007)
Jim Carrey slipped once more into a super-serious role. In his capacity as dog-catcher Walter Sparrow, he took fans through a strange and bewildering conspiracy story involving the number 23.
Walter grew interested in a literary character whom he believed was so like him that a numerology-obsessed alter-ego was born in his mind.
Before long, Walter Sparrow not only began to search for the author but also found himself re-creating portions of the book.
This mystery-crime-thriller included noteworthy artists like Virginia Madsen, Mark Pellegrino, Danny Huston, Logan Lerman Corey Stoll, Michelle Arthur, and Rhona Mitra.
16. Horton Hears a Who! (2008)
In this exceptional animated movie adapted from the work of legendary children's writer Dr. Seuss, Jim Carrey voiced the titular Horton.
His voiceover work lent immense credence to the main character, an elephant who heard a voice that soon led him to discover a whole new village of teeny-tiny people who were in desperate need of help.
One speck of dust apparently contained the Whos of Whoville who were faced with an extinction event. Sadly, no matter how much Horton tried to get help from others, he ended up being seen as silly and delusional.
This movie perfectly captured the meaning behind one of its core lines, "After all, a person is a person, no matter how small." Other outstanding voiceovers came from brilliant performers like Carol Burnett (the one and only), Steve Carell, Will Arnett, Seth Rogen, Amy Poehler, Niecy Nash, Isla Fisher, Jonah Hill, and Dan Fogler.
17. The Cable Guy (1996)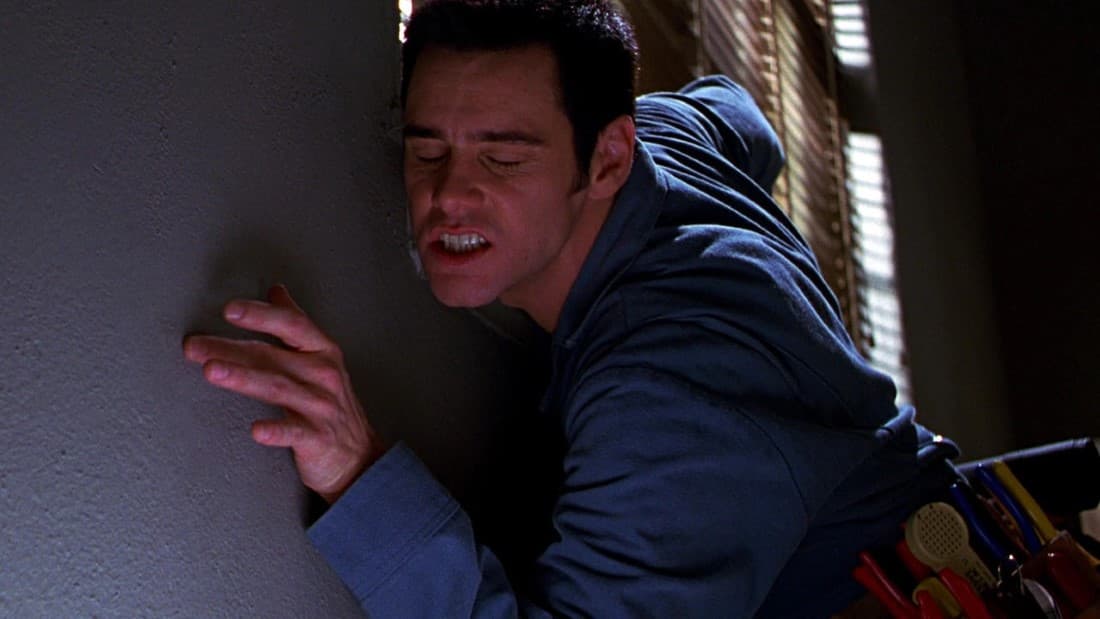 What happens when you reject the friendship of a lonely cable repair guy? Jim Carrey gave viewers a shocking answer in this crazy-corny movie about a cable guy who just about had it with one particular customer.
He found in Steven Kovacs a man who led an interesting life. So when Steven wanted free cable and was willing to pay the cable guy money under the table to get it done, Carrey's character was good with it.
But Steven later cut off their growing friendship. This prompted the cable guy to take revenge because he felt used and discarded.
Psychology, mystery, and comedy all blended well in this captivating plot.
18. Simon Birch (1998)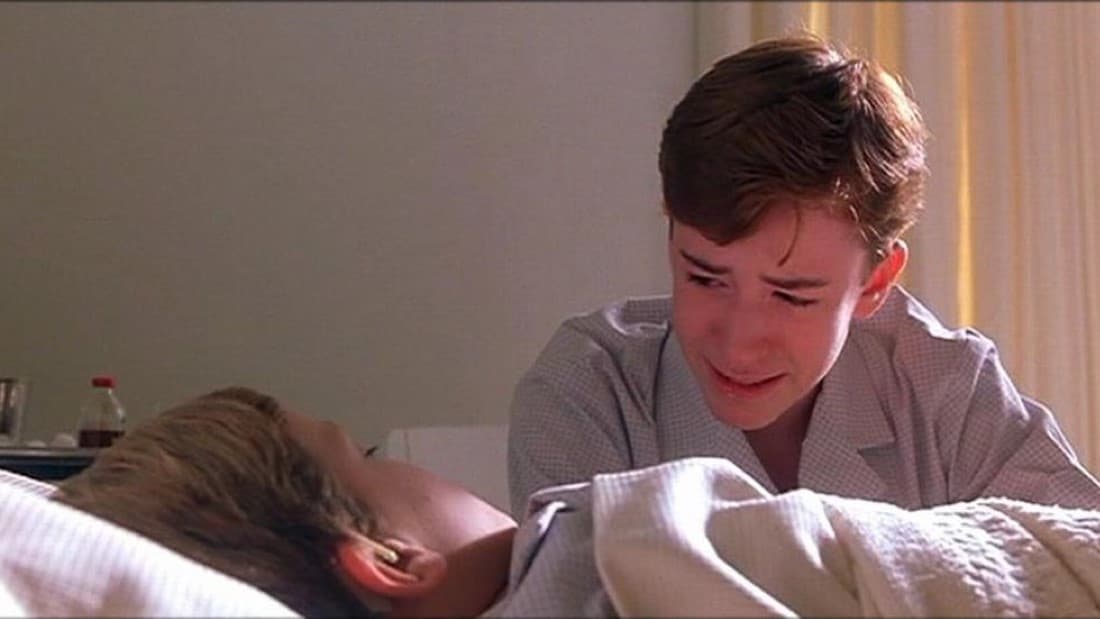 In this family-drama movie, Jim Carrey played a relatively small role as the grown-up version of Joe Wentworth. The story portrayed the friendship between Joe Wenteworth (played by Joseph Mazzello) and Simon Birch (played by Ian Michael Smith).
Notable artists like Ashley Judd, David Strathairn, Oliver Platt, Dana Ivey, and Peter MacNeill played important parts in the production.
This was a story of two very different people who grew to trust one another and learned so much of what life had to offer.
Poignant events unraveled and tested the bond between Joe and Simon. It remained to be seen whether or not their friendship would survive such ordeals.
19. Fun with Dick and Jane (2005)
A rich couple ended up losing all their money through a sequence of mistakes that left them little choice but to turn to a life of crime.
Part of the problem was the mega-corporation where Dick Harper served as VP until it all came crashing down following a major scandal.
One thing led to another, and both he and his wife Jane realized that the only way to avoid abject poverty was to do something illegal that they would most probably regret.
But these two were far from what anyone would consider professional thieves. The criminal couple at the heart of this comedy was Dick Harper (played by Jim Carrey) and Jane Harper (played by Téa Leoni).
Classic Bonnie-and-Clyde vibes merged with comedy in this amusing movie. Alec Baldwin, Richard Jenkins, Richard Burgi, Angie Harmon, and John Michael Higgins played key roles.
20. Me, Myself & Irene (2000)
A cop with Dissociative Identity Disorder may sound strange, but Jim Carrey gave it a great comedic spin. He became both good cop and bad cop in this role where he portrayed two personalities, Charlie and Hank, in one body.
The typically nice and mild-mannered Rhode Island state trooper turned confrontational when pushed too far. He was tasked with bringing back an alleged fugitive named Irene (played by Renée Zellweger).
Before long, they realized that corrupt policemen were on their tail and not for the right reasons. Anthony Anderson, Chris Cooper, Richard Jenkins, Robert Forster, and Tony Cox played key roles in this Jim Carrey comedy.
21. Sonic the Hedgehog (2020)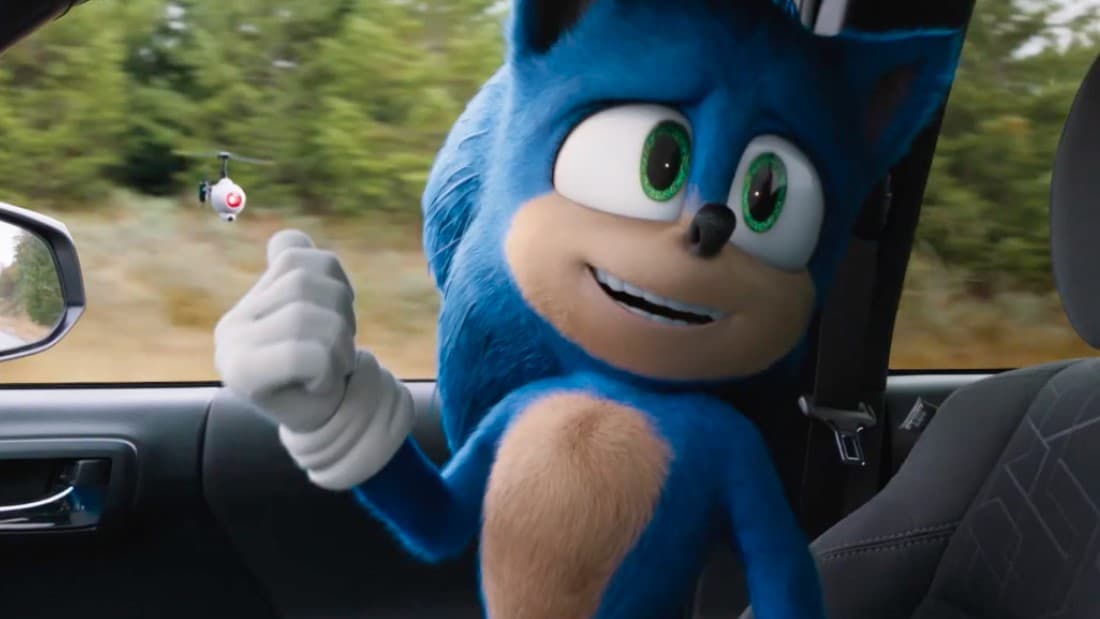 Jim Carrey gave an amazing performance as the epic Dr. Robotnik, who has long been a villain-favorite among gamers, especially those who have enjoyed the "Sonic" game franchise since its inception.
This movie was a loose adaptation of the little alien hedgehog's adventures. Ben Schwartz admirably voiced Sonic. Great artists like James Marsden, Tika Sumpter, Natasha Rothwell, Adam Pally, Lee Majdoub, and Neal McDonough added to the fun-funny madness in the script.
Carrey also reprised his role in the 2022 sequel. This first installment threatened Sonic's very existence on Earth. Covert government agencies wanted Sonic for their own purposes, and Dr. Robotnik was first in line to make sure he got his grubby experiment-hungry hands on the little blue hedgehog known for its mind-boggling speed.
22. A Series of Unfortunate Events (2004)
Carrey played the weird and wacky Count Olaf to a compelling effect in this kooky movie that was based on the books and literary characters created by Daniel Handler.
Aside from the legendary Meryl Streep playing a small role as Aunt Josephine, Jim Carrey filled this movie with a performance crazy enough to make several fans go read the books.
Jude Law, Liam Aiken, Emily Browning, Kara Hoffman, Shelby Hoffman, Timothy Spall, Catherine O'Hara, Luis Guzmán, Craig Ferguson, Jane Adams, Cedric the Entertainer, Jennifer Coolidge, Jamie Harris, and Billy Connolly (the one and only) further enriched the plot.
A fire accident killed the parents of three children who, after having become orphans and heirs to a large fortune, found themselves in the greedy custody of a distant cousin named Count Olaf.
The man's stage acting career left him poor enough to eye the children's fortune and he was willing to perform any manipulation to get his hands on their money.
23. Mr. Popper's Penguins (2011)
This simple and sweet family drama captured the life of a businessman named Mr. Popper (played by Jim Carrey) who inherited six penguins that gradually changed his life for the better.
The man grew up as a lonely kid and, years later, failed to be unavailable to his own children.
So when Mr. Popper's estranged father sent him a penguin, which later saw the man accidentally ordering five more, little did the businessman realize that these wonderful creatures would end up helping him reconnect with his ex-wife and kids.
On one side, Mr. Popper transformed his apartment into a winter wonderland for his new bird companions, but on the other, his professional life started to come apart.
Enchanting artists like the late-great Angela Lansbury, Carla Gugino, Clark Gregg, Jeffrey Tambor, Philip Baker Hall, David Krumholtz, Madeline Carroll, and Ophelia Lovibond added to the movie's worth.
24. Kick-Ass 2 (2013)
The first movie was released in 2010 and became a crazy-good story appreciated by thousands of fans. The 2013 sequel saw Jim Carrey enter the script as Colonel Stars and Stripes.
He gave the word 'heroic' a comedic twist. This tale witnessed more and more people attempting to become caped and masked vigilante superheroes.
As expected, they had their own supervillains to battle. In this case, it was a group of baddies led by a man named Red Mist who wanted nothing more than to get rid of the hero known as Kick-Ass.
Amazing talents like Aaron Taylor-Johnson, Christopher Mintz-Plasse, Chloë Grace Moretz, Donald Faison, John Leguizamo, Claudia Lee, Clark Duke, and Morris Chestnut added to the thrills and frills in this hilarious but certifiably strange superhero movie.
25. Dark Crimes (2016)
This crime-thriller saw Jim Carrey slipping into another serious role. A businessman was killed, resulting in a murder investigation fraught with complexity and corruption.
A novel became the key to solving the case because the author apparently wrote an eerily similar crime. Jim Carrey played one of the detectives Tadek along with Marton Csokas.
Charlotte Gainsbourg, Kati Outinen, Vlad Ivanov, Robert Wieckiewicz, Agata Kulesza, Piotr Glowacki, Anna Polony, and Danuta Kowalska added to the suspense in this 'okay' Jim Carrey movie.
26. Peggy Sue Got Married (1986)
Part comedy and part fantasy, this story was more about the titular Peggy Lee than Jim Carrey. Peggy fainted one day and woke up in her own past, particularly her final days at school.
Her future as a young mother in the midst of divorce was suddenly gone and Peggy felt she had this one chance to start over.
School-time nostalgia aside, Carrey's performance as Walter Getz was memorable. Amazing artists like Kathleen Turner, Joan Allen, Nicolas Cage (the one and only), Sofia Coppola, Helen Hunt, Catherine Hicks, and Barry Miller made the movie interesting.
27. High Strung (1992)
This comedy flick featured Jim Carrey playing Death. Though his role was uncredited, he did good work in this captivating story about a cynical and unintentionally comical children's book writer who experienced an atypical day in his life.
Thane Furrows (played by Steve Oedekerk) was that writer, and he went on a strange ride that heralded something portentous at 8 o'clock that very day.
Something big was coming his way, but that didn't stop Thane from ranting about all the things in his life that upset him.
Tom Wilson, Jani Lane, Denise Crosby, Fred Willard, and Kirsten Dunst added to the hilarity in this movie.
28. Earth Girls Are Easy (1988)
Romance and musical numbers complemented this comedy in which an alien came to Earth. The ET named Mac was played by the amazing Jeff Goldblum.
He was one of three off-world visitors. The Southern California girl in whose swimming pool they landed and later befriended was Valerie, played by the incomparable Geena Davis.
The other two aliens were Weebo, played by Damon Wayans, and Wiploc, played by the one and only Jim Carrey.
Notable artists like Michael McKean, Charles Rocket, Rick Overton, Larry Linville, and Julie Brown added to the fun and madness in this underrated movie.
The story saw three aliens trying to learn about American culture through what they observed on TV. Add creepy seductions and corny twists to the mix, and viewers found themselves sitting through a captivating comedy that remains funny to this day.
29. The Incredible Burt Wonderstone (2013)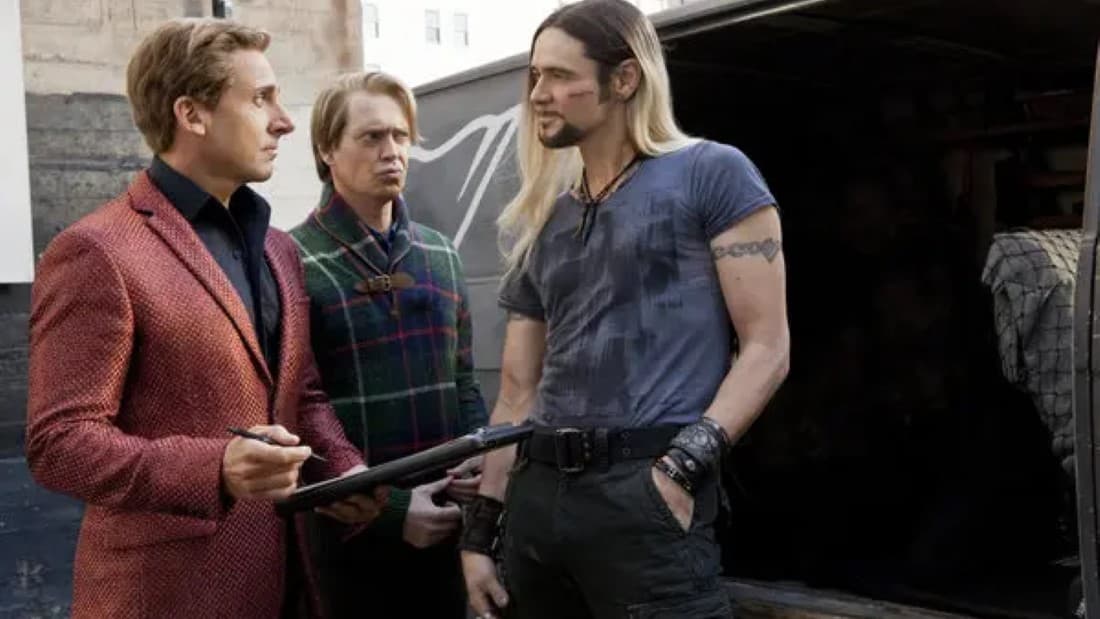 With his longtime stage partner having quit, a veteran Vegas magician tried to kickstart his solo career, but he met with challenge after challenge.
One of his most frustrating moments involved a street magician. Steve Carell played the lead as Burt Wonderstone. Jim Carrey, on the other hand, gave a notable performance as Steve Gray.
Impressive artists like James Gandolfini, Olivia Wilde, Alan Arkin, Steve Buscemi, Jay Mohr, and Brad Garrett added to the amusement in this comedy flick.
30. Once Bitten (1985)
A 400-year-old vampire Countess sought a virgin's blood to ensure she stayed young. This clichéd comedy-fantasy movie captured some dark motivations.
It also gave Jim Carrey's character Mark Kendall an early-career chance to showcase his funny side. He was the virgin whom Lauren Hutton's character the Countess was after.
Talented artists like Cleavon Little, Thomas Ballatore, Stuart Charno, Karen Kopins, Jeb Stuart Adams, and Joseph Brutsman made this Halloween movie work in some ways.
All in all, this over-the-top Jim Carrey movie may not be the funny-man's finest work, but it had its moments.
31. The Bad Batch (2016)
A touch of mystery and select horror-genre tropes pervaded this movie where a young woman was kidnapped by cannibals and had to survive a desert dystopia in Texas.
Jim Carrey played a hermit in this script. Other noteworthy talents were Keanu Reeves (the one and only), Giovanni Ribisi, Yolonda Ross, Jason Momoa (again, the one and only), and Suki Waterhouse.
Emotional elements and survivalist tendencies set steady tones in this 'okay' Jim Carrey movie.
32. Pink Cadillac (1989)
Clint Eastwood and Bernadette Peters led this story in which they played skip tracer Tommy and bail-jumper Lou Ann respectively.
Jim Carrey was given a side role in this flick. He played a lounge entertainer named, well, James Carrey. Neo-nazis, counterfeit money, running from trouble, and a baby in need of help were all important elements in this action-comedy flick.
Good artists like Timothy Carhart, Geoffrey Lewis, Bill Moseley, and Michael Des Barres played important parts.
33. Finders Keepers (1984)
Lane Biddlecoff was one of Jim Carrey's earliest career roles. In this comedy, he worked with a range of memorable artists like Michael O'Keefe, Louis Gossett Jr., Ed Lauter, Pamela Stephenson, Beverly D'Angelo, Blu Mankuma, and Richard Newman.
Michael Rangeloff (O'Keefe) was a scam artist who was on the run not only from the fuzz but also from a female roller derby team.
Rangeloff stowed away on a train using a coffin as his cover. By lying to all and sundry that he was a soldier taking a dead war buddy back home, Lane added to his risk-taking tendencies in this story.
Before long, the train ride turned into a hub of hilarity that was simply too corny for its own good, but worth watching once.
34. All in Good Taste (1983)
A filmmaker was enthused about shooting a beautiful script about an orphan and his pet dog. However, one thing led to another and his heartwarming story was warped and twisted into a grand misadventure that featured strippers.
This weird story was also one of Jim Carrey's earliest roles. In it, he played a man named Ralph along with other artists like Jack Anthony, Nancy Kerr, Linda Rennhofer, Don Cullen, Patti Oatman, Joanne Kirwan-Clarke, James B. Douglas, Jack Creley, Jonathan Welsh, and Harvey Atkin.