»
Top 38 Best Disney Princess Movies Of All Time
Bijesh-Updated July 30, 2023
---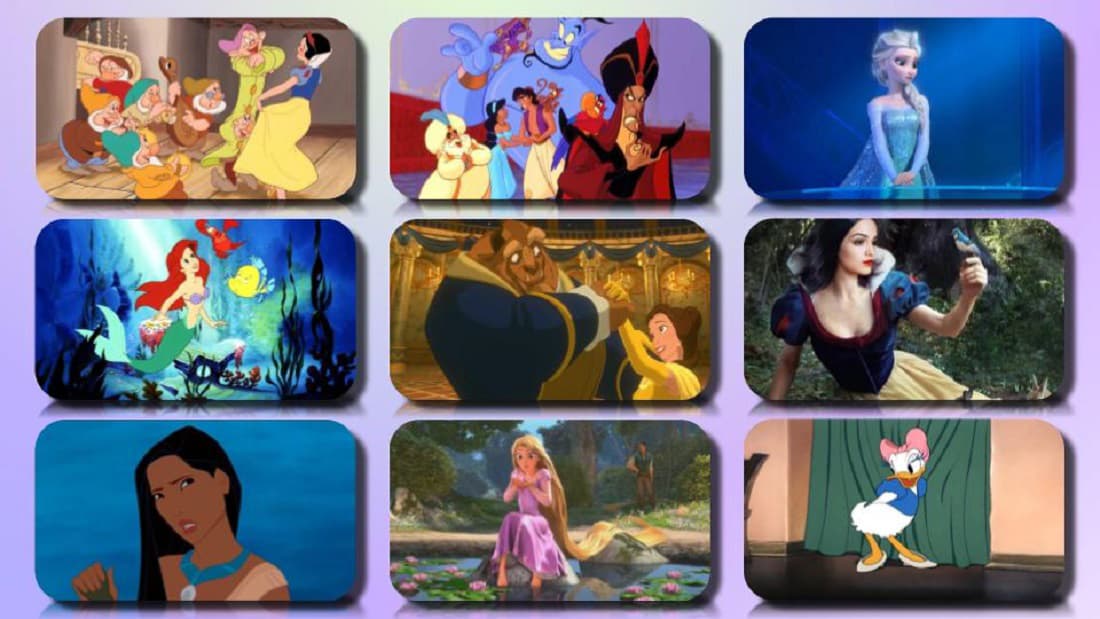 This article barely needs an introduction. These are the Disney princesses we're writing about! Nearly everyone and their grandmothers are aware to some extent of the legacy of these iconic characters.
In this list, we're going to cover animated and live-action Disney Princess movies. To avoid confusion, we decided to explore an animated Princess movie from the House of Mouse followed immediately by its live-action version.
We have also divided this post into two categories: Official Disney Princesses and Unofficial Disney Princesses.
The former (up to position 22) contains verified Disney Princesses. The latter (from position 21) has 'leading ladies' who are of course part of Disney's lexicon of empowered greatness but who, for various reasons, did not make it into their 'blue tick' version.
So perform a bow, a curtsey, or a diabolical laugh, and let's delve into the enchanting world of trials, tribulations, villains, and the princesses who overcame them all.
38. Snow White and the Seven Dwarfs – Animated (1937)
This classic story got the whole train rolling. It was the first movie from the legendary studio to feature a full-fledged Disney Princess.
Technically, the first was Persephone. She was the protagonist in a 1937 Silly Symphonies short. That production was a test run for Snow White, anyway.
Outstanding voiceovers from Adriana Caselotti, Harry Stockwell, Lucille La Verne, Pinto Colvig, Eddie Collins, Otis Harlan, and Moroni Olsen all deliver excellence in this heartwarming and simultaneously scary story filled with magic (particularly magic mirrors), cruel queenly desires, and innocence laced with hope.
37. Snow White– Live-Action (2024)
The highly anticipated live-action of the original "Snow White" animated movie has been announced for 2024.
Fans are already expecting excellence from confirmed stars like Rachel Zegler, Andrew Burnap, and Gal Gadot.
We are not sure if any major plot differences will be present, but pop-culture news says the studio is going to stay true to the original.
Musical flourishes and spot-on performances will ensure this movie's success when it releases next year. Only time will tell. Or should we perhaps ask for a certain mirror on the wall?
36. Aladdin – Animated (1992)
Political power-plays, a manipulative sorcerer, an empathic genie, and an impoverished orphan who goes the distance... This movie has all the elements of a beautiful Disney story.
Princess Jasmine is a class apart and a wonderfully empowered character.
Superb voiceovers from Scott Weinger, Linda Larkin, Gilbert Gottfried, Jonathan Freeman, and Robin Williams render this production meaningful and memorable from start to finish.
35. Aladdin – Live-Action (2019)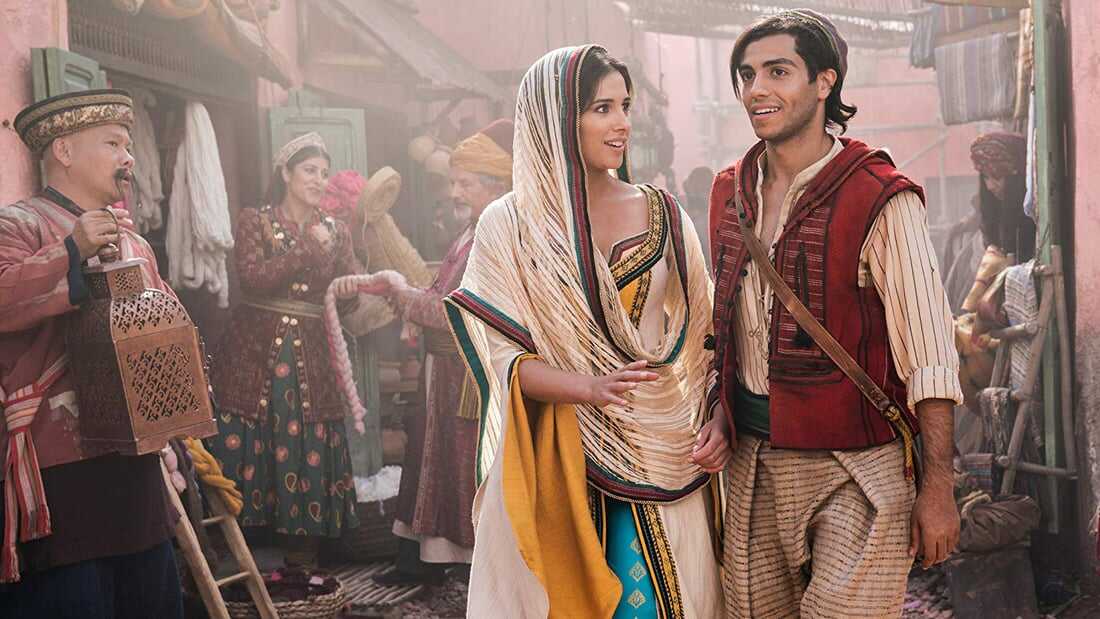 Not as great as the original but entertaining nonetheless, this live-action version of "Aladdin" brings all the major characters to life.
It also does justice to the character of Princess Jasmine, who is already an empowered woman in the original.
They play to that strength in this production, starring amazing artists like Will Smith, Mena Massoud, Naomi Scott, Billy Magnussen, and Marwan Kenzari.
Outstanding CGI and costume design add to the movie's credibility. We feel they could have cast a better Jafar, but we're only talking about princesses here.
34. Frozen – Animated (2013)
Outstanding music and a heartwarming message make this movie a rousing testament to Disney's storytelling prowess.
Classic tropes, great music, and an empowering story arc that does not have any Prince saving Elsa but her own sister doing so... All this adds up to a modern plotline given life by voice artists like Kristen Bell, Josh Gad, Jonathan Groff, and Idina Menzel.
This remarkable tale was inspired by "The Snow Queen" written by Hans Christian Andersen.
33. Beauty and the Beast – Animated (1991)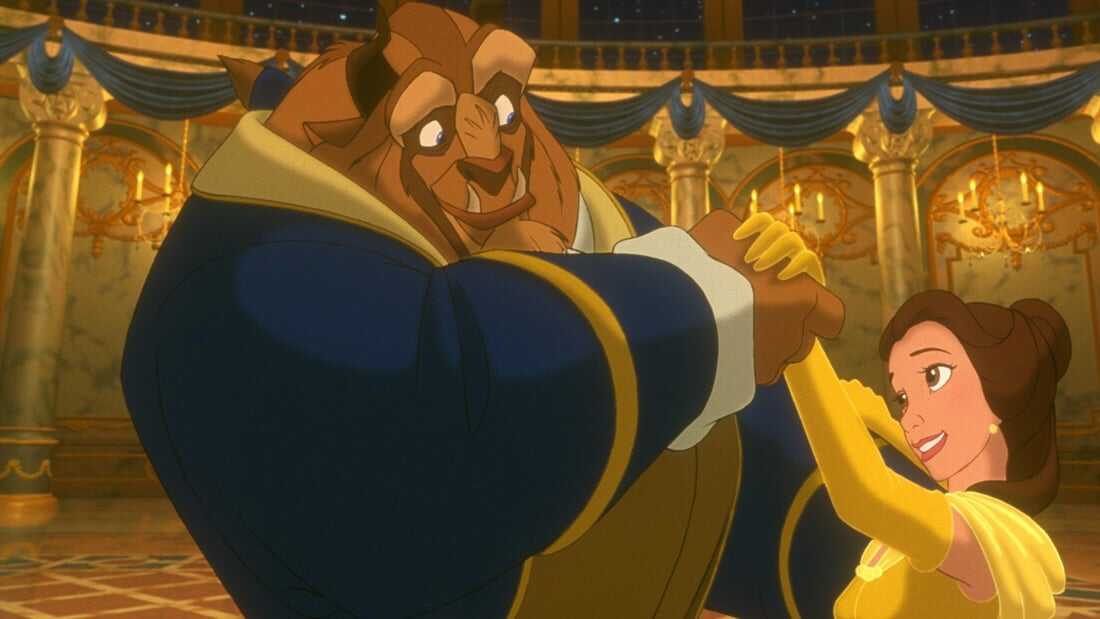 One of the most elegant and sincere Disney Princess stories ever written, this title brings an abundance of wonderful elements to the genre.
A prince transformed into a monster, an ordinary girl who doesn't know she has what it takes to save him, and a message that reveals the need to see the good in people all create "a tale as old as time".
Superb voiceovers by Paige O'Hara, Robby Benson, Angela Lansbury, Rex Everhart, Jesse Corti, and Richard White make this title a veritable treat to watch.
The story portrays a girl who only later becomes a princess. It also does not shy away from showcasing Belle's love of reading, which lends her character subtle but significant empowerment.
32. Beauty and the Beast – Live-Action (2017)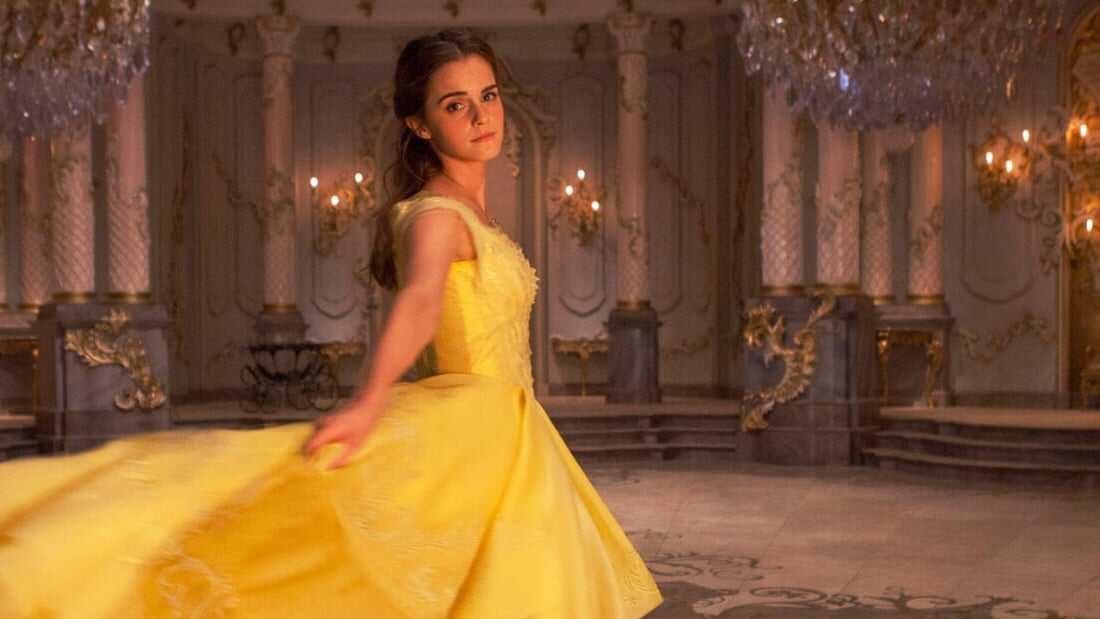 This live-action version of the original Disney movie is rife with captivating thrills and movie-making magic, both of which ensured its success.
Amazing artists like Emma Watson, Dan Stevens, Luke Evans, Josh Gad, Kevin Kline, Ewan McGregor, Ian McKellen, Emma Thompson, and Stanley Tucci lent their talents to this stand-out production.
They not only captured the original feel and flair of the 1991 animated feature but also gave it a few neat twists. This 2017 live-action remake is magic manifested.
31. Tangled – Animated (2010)
A curious and captivating twist on the classic 'Rapunzel' story by the Grimm brothers, this live-action movie sees the main character experiencing coming-of-age moments.
Funny characterization, great music, and superb animation all make this production worth watching.
Engaging voiceovers from Mandy Moore, Zachary Levi, Donna Murphy, Ron Perlman, Brad Garrett, and Jeffrey Tambor strike the right notes in this Disney Princess movie.
30. Sleeping Beauty – Animated (1959)
A dark and unforgettable tale about the loss of innocence and the power of love meld beautifully with themes of jealousy, pride, fury, and magic in this classic Disney Princess movie.
Featuring good fairies, a determined prince, a hopeful princess, and a rather draconian sorceress, there's plenty worth appreciating in this production.
Yester-year voiceovers from Mary Costa, Eleanor Audley, Bill Shirley, and Verna Felton make the movie amazing.
As for its live-action version, the 2014 "Maleficent" focuses more on the villain so we decided to leave that one off our list.
29. The Little Mermaid – Animated (1989)
Heartwarming songs and meaningful storylines define this timeless tale featuring a lovelorn mermaid who finds a way to become human so she can be with the man of her dreams.
Subtext, humor, and power-play all feature strongly, and are balanced by romantic elements.
Voice talents like Jodi Benson, Samuel E. Wright, Rene Auberjonois, Christopher Daniel Barnes, Buddy Hackett, Paddi Edwards, and the late-great Pat Carroll lend this production all the 'oomph' it needs to become an evergreen Disney Princess classic.
28. The Little Mermaid – Live-Action (2023)
Inspired both by the original Hans Christian Andersen tale and the 1989 Disney "Little Mermaid" movie, this live-action version of the beloved classic sees Halle Bailey, Jonah Hauer-King Javier Bardem, Jacob Tremblay, Awkwafina, and Melissa McCarthy in roles fans have come to love from the original animation.
Lin-Manuel Miranda covered major musical scores. Halle Bailey exceeds expectations as the titular character. And Melissa McCarthy's evocative performance as Ursula is unforgettable.
27. Pocahontas – Animated (1995)
An endearing story of love, sacrifice, duty, honor, and tradition, this powerful Disney Princess movie does not technically feature a princess.
Regardless, the character Pocahontas has made it into this gilded category for all the right reasons.
Voiceovers from Mel Gibson, Linda Hunt, Christian Bale Irene Bedard, Judy Kuhn, and David Ogden Stiers make this production a superb addition to Disney's classic roster.
26. Mulan – Animated (1998)
An important story for several reasons, this classic is relatable, unifying, inspiring, and worthy.
It sees a young woman doing whatever it takes for her family while striving to hold on to her own identity in the process.
Superb voiceovers from Ming-Na Wen, Eddie Murphy, BD Wong, Miguel Ferrer, James Hong, Pat Morita, June Foray, Miriam Margolyes, and Freda Foh Shen make this production one to remember.
25. Mulan – Live-Action (2020)
Unforgettable as movies go, this 'loyal and true' adaptation captures the heart and soul of the original "Mulan" movie.
It features outstanding performances from artists like Liu Yifei, Gong Li, Donnie Yen, Jet Li, and Yoson An.
Representation aside, this all-Asian feature sets quite the benchmark for Disney and gives its titular character an empowered flourish.
24. Brave – Animated (2012)
This captivating story sees a young Scottish princess conflicted between what she believes is right for her and what her clan thinks she has to do.
The movie lives up to its title and captures a relevant message.
Great voiceovers from Kelly Macdonald, Billy Connolly, Emma Thompson, Julie Walters, Robbie Coltrane, Kevin McKidd, and Craig Ferguson lend this production all the credibility and wonder it deserves.
23. The Princess and the Frog – Animated (2009)
A bold and relevant Disney Princess story that captures the values of dreaming big and working hard, this one conveys several important messages.
Diversity and cultural distinction further define the movie's plotline and music.
Great voice-overs from Anika Noni Rose, Keith David, Bruno Campos, Michael-Leon Wooley, John Goodman, Jennifer Cody, Terrence Howard, and Oprah Winfrey add to the wonder of this unique Disney Princess feature film.
22. Moana – Animated (2016)
Yet another empowered Princess graces this illustrious list of inspiring Princesses.
With this production, Disney has further established its aim to give young female characters a relevant and modern voice.
The plot contains inspiring story arcs, balanced with a good dose of fantasy and action.
Amazing voiceovers from Auli'i Cravalho, Dwayne Johnson, Rachel House, Temuera Morrison, Nicole Scherzinger, and Alan Tudyk make this movie a worthy addition to Disney's House of Mouse.
21. Minnie Mouse – Animated
Not all Princesses from Disney Studios have made it into the classic canon. However, they each hold a special place in the Mouse House, not to forget in the hearts of millions of fans.
Let's explore the second segment of our list. We're going to talk about all the unofficial Princesses from the legendary movie studio Disney.
We've made sure to include humanoid and non-human characters. But for the first two entries, we feel it's proper to include two of the oldest and most iconic Princesses to grace the House of Mouse.
Partner to the one and only Mickey Mouse, Minnie can veritably be considered a queen among princesses. Voiced by the late Russi Taylor, Minnie Mouse went on to carve her own niche in entertainment.
Her songs and outfits aside, Minnie has proven time and again that she can make a positive difference in Mickey's life.
She does not necessarily define him, but rather they both define each other. This perspective inspired one of the most amazing character designs from the House of Mouse, namely Minnie.
20. Daisy Duck – Animated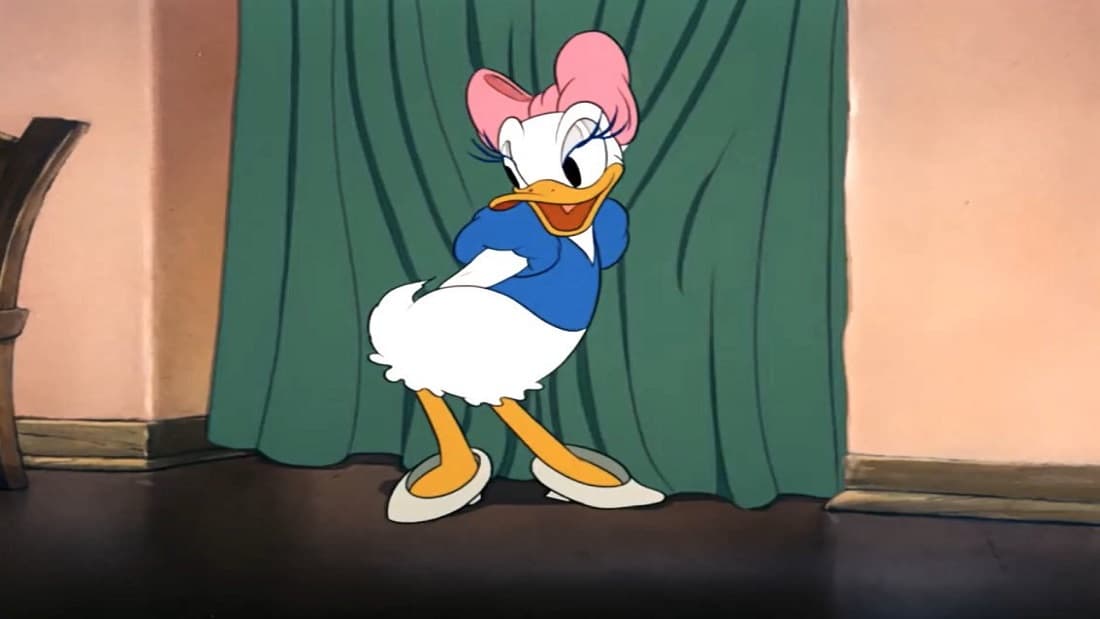 Speaking of female versions of popular Disney characters, allow us to proudly present Donald Duck's counterpart, Daisy.
Elegant and funny - a complete about-turn from Donald - Daisy Duck brings a fresh sense of charm and grace to Disney.
She checks all the right boxes when it comes to being Princess material.
19. Toy Story 2 – Animated (1999)
This movie contains two under-estimated and unofficial Disney Princesses. We're talking about Bo Peep and Jessie.
A great sequel with plenty of captivating story arcs, this production does more than 'play' around.
It also gives fans memorable characters who possess deep emotional angles.
Great voiceovers from artists like Tom Hanks, Tim Allen, Joan Cusack, Kelsey Grammer, Don Rickles, Jim Varney, Annie Potts, Wayne Knight, and Wallace Shawn add to the movie's excellence.
18. Robin Hood – Animated (1973)
A classic adaptation inspired by the work of Howard Pyle, this remarkable production adds even more storytelling goodness to Disney's roster of brilliance.
The unofficial princess at the heart of this tale is none other than Maid Marian.
Anthropomorphized characters are not new to Disney. This movie lends them plenty of humanity, making it worth watching for all the right reasons.
The story is further enriched by a great voice cast, which includes Brian Bedford, Phil Harris, Roger Miller, Peter Ustinov, Monica Evans, Andy Devine, and Pat Buttram.
17. A Bug's Life – Animated (1998)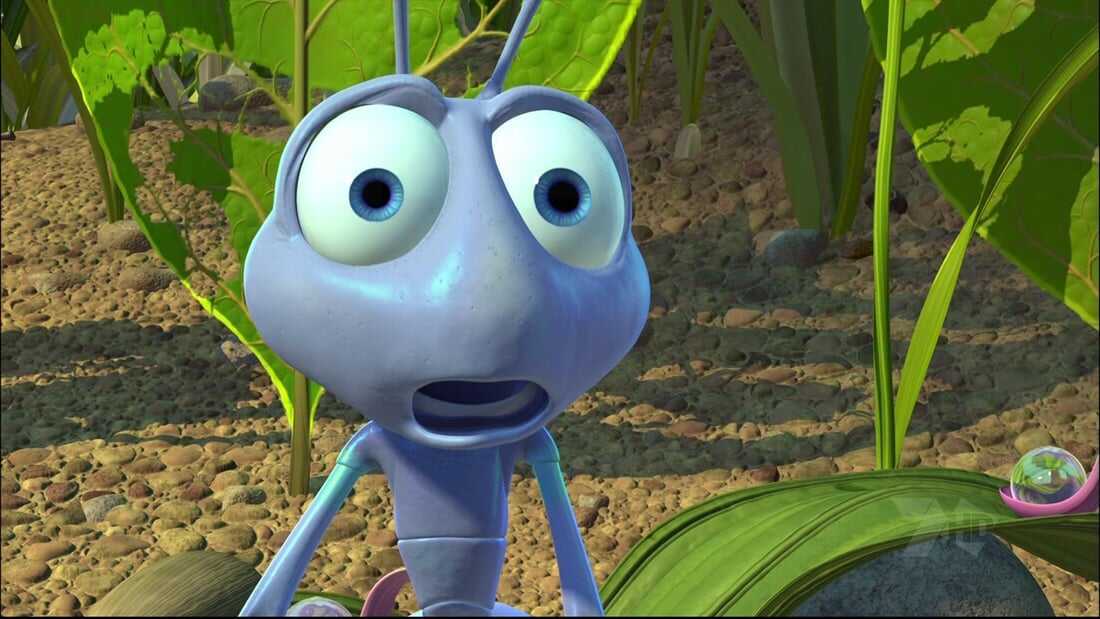 Two bug-eyed ladies feature in this title. Atta, who is a full-fledged princess in the story, and her sister Dot.
Both of them fit the criteria for unofficial Disney Princesses.
Where Dot is at first seen as naïve and childlike, she grows to attain princess-level respect.
Her older sister Atta, on the other hand, plays a key role in the story and later becomes queen.
Aside from being an underrated movie, this production captures the essence of what it means to unite.
Notable voiceovers from artists like Kevin Spacey, Julia Louis-Dreyfus, David Foley, Phyllis Diller, Richard Kind, David Hyde Pierce, Brad Garrett, Denis Leary, and Hayden Panettiere add to the movie's entertainment value.
16. Wreck-It Ralph – Animated (2012)
Few people can deny that Vanellope von Schweetz is an absolute princess. Not only does she rub shoulders with official Disney Princesses in this story, but she also makes a solid case for being an unofficial one in her own right.
Bold, outgoing, outspoken, and open-minded, Vanellope has proven she is one of the most empowered female characters to hail from the House of Mouse.
Adding to the movie's worth are notable voiceovers from artists like John C. Reilly, Jack McBrayer, Jane Lynch, Alan Tudyk, Mindy Kaling, and Sarah Silverman.
15. The Black Cauldron – Animated (1985)
Classic quest-driven story arcs and memorable characters immersed in dark and ominous settings endear this movie among Disney fans of all ages.
Great voiceover work from Grant Bardsley, Freddie Jones, Nigel Hawthorne, Arthur Malet, John Byner, and Susan Sheridan add to its value.
Eilonwy is the unofficial Disney Princess at the heart of this regaling tale. Princess Aurora vibes aside, Eilonwy holds her own in this remarkable adventure. She does more than simply be a damsel in distress.
14. Encanto – Animated (2021)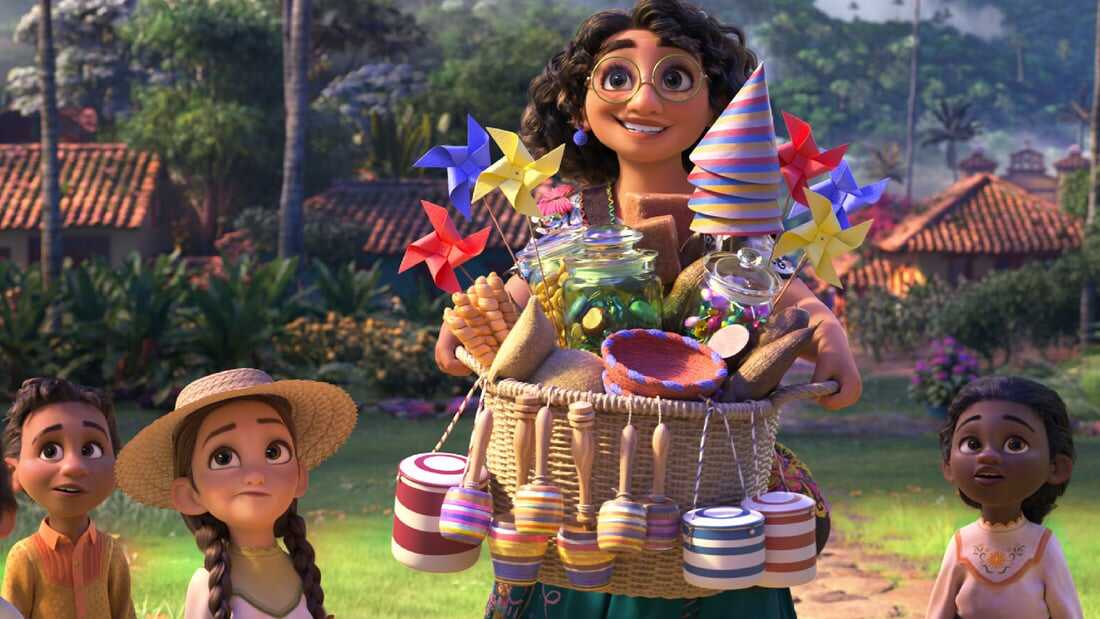 Great music and emotional story arcs aside, the characters in this movie help make it one of the most memorable Disney productions to come in recent years.
Suffice it to say, Mirabel well and truly earned her place on this list, albeit as an unofficial Disney Princess. She wins hearts without really using any magic or relying on a male figure to help her accomplish her goals.
In addition to being empowered, Mirabel (voiced by Stephanie Beatriz) has also become a benchmark for future Disney Princesses. This has certainly earned her a place in our hearts.
Other notable voiceovers in this movie include María Cecilia Botero, John Leguizamo, Maluma, Diane Guerrero, Carolina Gaitan, Angie Cepeda, and Jessica Darrow.
13. Wish – Animated (2023)
We have another unofficial Disney Princess here. Asha is her name and she brings her own classic vibe to this 2023 Disney animation.
Ariana DeBose and Alan Tudyk are two of the main voice artists in this production.
At the soul of this story is Princess Asha whose goal in pursuing a star is to save her people. Noble, empowering, and intriguing, this is an unofficial Disney Princess everyone has to see.
12. Mulan II – Animated (2004)
Three actual princesses are featured at the heart of this wonderful tale. The emperor's own daughters Ting-Ting, Su, and Mei deserve to be unofficial Disney Princesses.
Unlike cruel step-sisters or heartless witches, these three young ladies bring their own positive character arcs to Mulan's extended adventures.
The women who voice each of these characters are themselves admirable and inspiring. Ting-Ting, Su, and Mei come alive thanks to the voice talents of Sandra Oh, Lauren Tom, and Lucy Liu respectively.
Other notable voice artists who enliven this production are Pat Morita, Frank Welker, Harvey Fierstein, Mark Moseley, BD Wong, and Ming-Na Wen.
11. The Little Mermaid II: Return to the Sea – Animated (2000)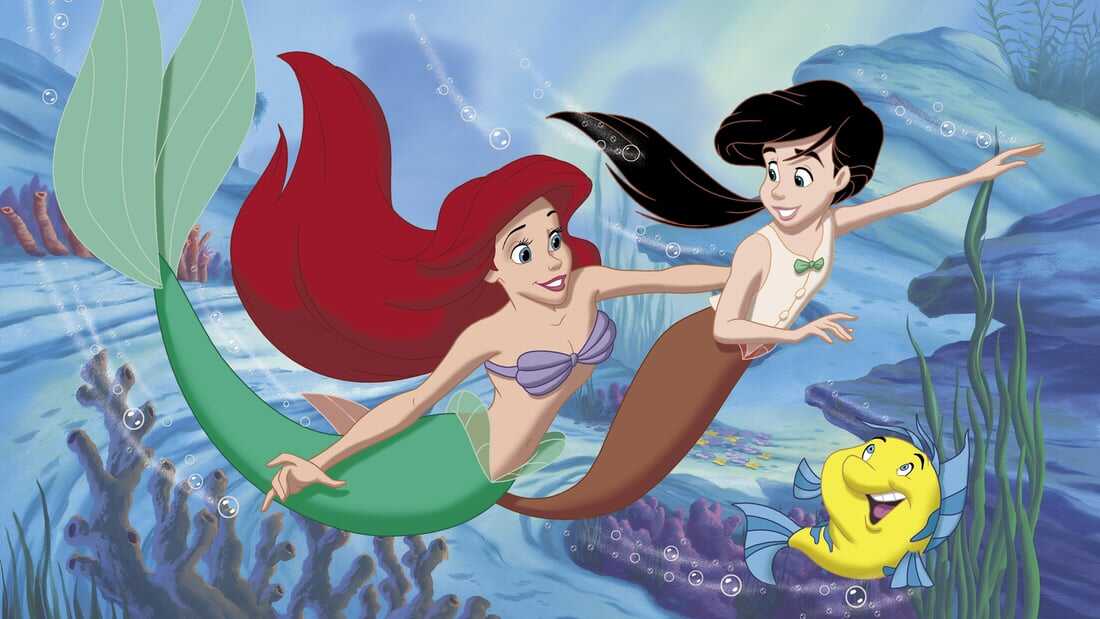 Melody holds her own as the daughter of Princess Ariel in this heartwarming sequel. Voiced by the talented Tara Strong, this character can certainly be considered an unofficial Disney Princess.
The original villain Ursula's sister plays the baddie in this sequel. It's interesting to know that both characters are voiced by the late-great Pat Carroll.
Other notable voiceovers in this movie include Jodi Benson, Samuel E. Wright, Buddy Hackett, Clancy Brown, and Edie McClurg.
This tale gives fans a clever twist. Melody is born on land as a human and yearns to return to the sea, a plot that contrasts with what happened in the original.
10. The Lion King II: Simba's Pride – Animated (1998)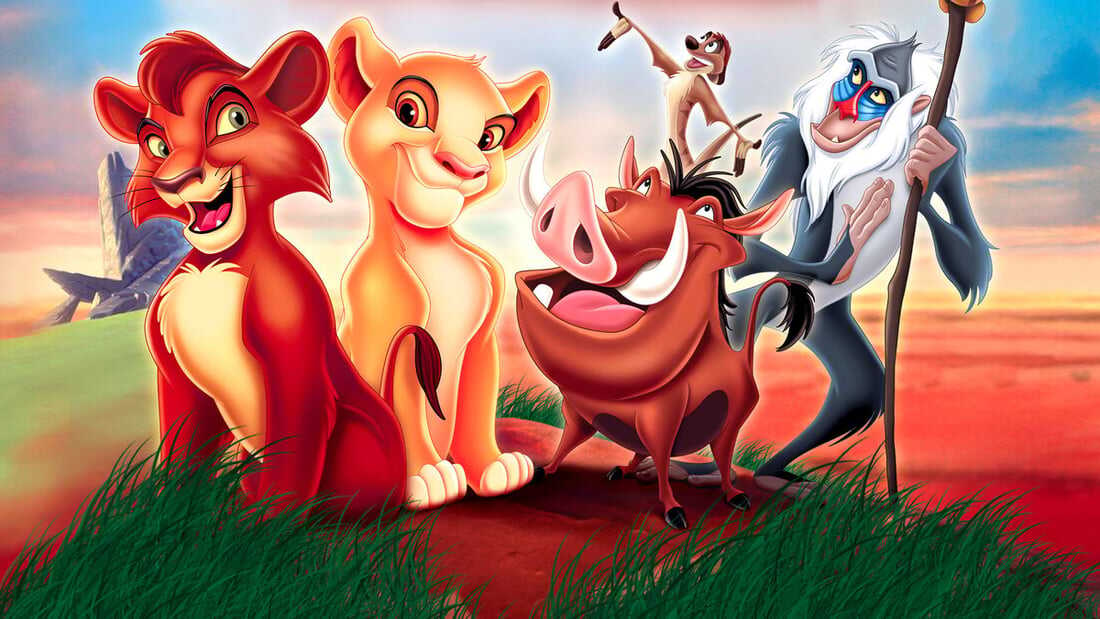 This beloved franchise is known for a lot of things, its characters being one of them. As an unofficial Disney Princess, Kiara brings her own unique touch to the story.
While Nala is still one of the most memorable lionesses from this franchise, this sequel gives fans her and Simba's daughter. Now that's princess material if ever there was one!
Kiara is voiced by the amazing Neve Campbell, and her cub version is voiced by Michelle Horn.
Other outstanding voiceovers in this movie include Matthew Broderick, Robert Guillaume, James Earl Jones, Nathan Lane, Moira Kelly, Ernie Sabella, and Cam Clarke.
9. Atlantis: The Lost Empire – Animated (2001)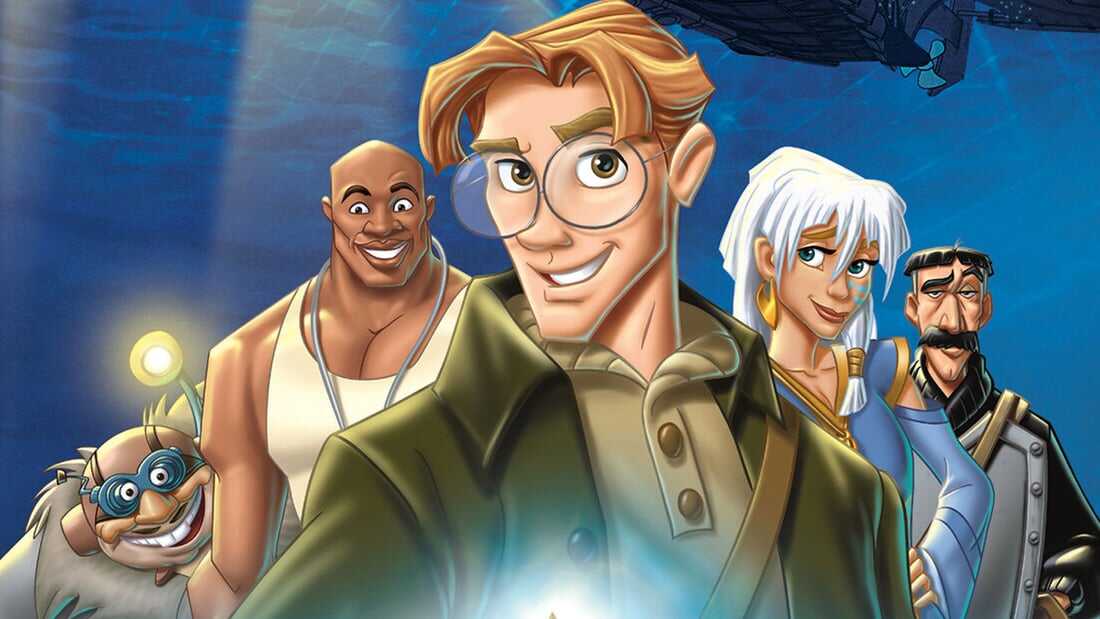 Kida Nedakh plays a powerful role – a role that can neither be discounted nor denied – in this Disney feature.
Her addition to this unofficial Disney Princess list is highly warranted. Both her younger (Natalie Strom) and older (Cree Summer Francks) voiceovers give her character a deep and credible sense of humanity.
The production also has other amazing voice talents like Michael J. Fox, Jim Varney, Claudia Christian, Corey Burton, Leonard Nimoy, and Jacqueline Obradors.
As the title hints, this story sheds light on the lost city of Atlantis and conveys educational and entertaining elements worth appreciating.
8. The Lion King – Animated (1994)
Not considering Sarabi (Mufasa's queen-consort), the unofficial 'Princess' in this extraordinary movie is Nala.
Simba's friend, and later his guiding compass and love, Nala proves to be as important in this tale as any other character.
Moira Kelly and Niketa Calame-Harris both give her the voiceover she deserves.
Other artists in this movie include Matthew Broderick, Whoopi Goldberg, Rowan Atkinson, Jim Cummings, Robert Guillaume, James Earl Jones, and Jeremy Irons.
7. Hercules – Animated (1997)
This movie contains a wonderful and uplifting storyline with a good share of quirky characters, humourous sequences, and unforgettable musical and romantic elements.
Moreover, this Disney movie is further enriched by the presence of its own unofficial Princess.
Megara, voiced by Susan Egan, starts out as an anti-heroine but soon blooms into a powerful force of inspiration fuelling Hercules' legendary rise.
Megara strikes the perfect notes when it comes to modern romance and empowerment.
Other voiceovers in this movie include Tate Donovan, James Woods, Roger Bart, Danny DeVito, Matt Frewer, and Bobcat Goldthwait.
6. The Hunchback of Notre Dame – Animated (1996)
Beautiful music and meaningful subtext add to the awe and wonder contained in this Disney movie. This includes the mystique surrounding the movie's unofficial Princess.
Esmeralda proves not only to be one of the most empowered and inspiring women in Disney's lexicon but also the beating heart of the story.
Over the years, Esmeralda (voiced by Demi Moore) has become as important as Quasimodo in this tale inspired by Victor Hugo's original novel "Notre Dame de Paris".
Other talented voiceovers in this production come from Jason Alexander, Tom Hulce, Kevin Kline, and Tony Jay.
5. Tarzan – Animated (1999)
A superb take on the original story written by Edgar Rice Burroughs, this movie is unforgettable for numerous reasons.
Great music and superb voiceovers from Tony Goldwyn, Minnie Driver, Glenn Close, Brian Blessed, Nigel Hawthorne, Lance Henriksen, Alex D. Linz, Wayne Knight, and Rosie O'Donnell lend this production profound meaning and unmatched excellence.
The unofficial princess in this production is Jane Porter, the classy Englishwoman with a heart of gold who changes Tarzan's life for the better.
4. The Jungle Book – Animated (1967)
Mowgli may be the soul of this outstanding Disney feature, but an unofficial princess also plays a key role in this tale. Her name is Shanti and she is the main reason Mowgli realizes there is more to the world than just his stretch of jungle.
Shanti barely has any lines, just verses she renders into song – Darleen Carr does the honors there. But in the brief time, Shanti is on screen, she does not fail to captivate.
Excellent voiceovers from Phil Harris, Sebastian Cabot, Sebastian Cabot, Louis Prima, Bruce Reitherman, George Sanders, Sterling Holloway, J. Pat O'Malley, and Chad Stuart make the movie even more timeless.
3. Peter Pan – Animated (1953)
Three unofficial Disney Princesses play different roles in this enchanting movie.
Tiger Lily, Tinker Bell, and Wendy Darling each deserve their own entry on this list, but for the sake of brevity, we've added them under one banner.
Whether it's the real world or Neverland, Each of these young ladies lends significance to the overall storyline and makes it profound in more ways than one.
This production is made even more memorable thanks to voiceovers by Bobby Driscoll, Hans Conried, Bill Thompson, Kathryn Beaumont, and Tom Conway.
2. Alice in Wonderland – Animated (1951)
One of the most recognizable names in the entertainment genre, not to forget pop-culture itself, we're sure everyone will agree that Alice is a classic.
Outstanding characters and great animation bring Lewis Carroll's original story to life.
Superb voiceovers from Kathryn Beaumont, Ed Wynn, Richard Haydn, Sterling Holloway, Verna Felton, and Bill Thompson add to the perfection of this unofficial Disney Princess movie.
Filled with magic, meaning, and multi-generational magnificence, this story is one of the most golden titles to come from the House of Mouse.
1. Anastasia (1997)
This ahead-of-its-time movie hails from 20th Century Fox, which is now part of Disney. Suffice to say, that business merger has made Anastasia a full-fledged Disney Princess (though an unofficial one).
The story captures a slice of Russia's history, particularly the time of the Czars and their young princess (whose whereabouts are still unknown).
Directed by the brilliant Don Bluth, this movie takes on a life of its own and contains a wealth of emotional and familial values.
The plot sees "Anya" going up against some of the toughest tribulations. The plot thus gives her an empowered and independent arc that includes romance and self-discovery.
Great music further shores up the essence of this beautiful script.
Voiceovers from talented artists like Meg Ryan, John Cusack, Christopher Lloyd, Kelsey Grammer, Hank Azaria, Angela Lansbury, Bernadette Peters, and Kirsten Dunst make the production one to remember "once upon a December".