»
Chivalry of A Failed Knight Season 2 : Everything you need to know in 2021
---
---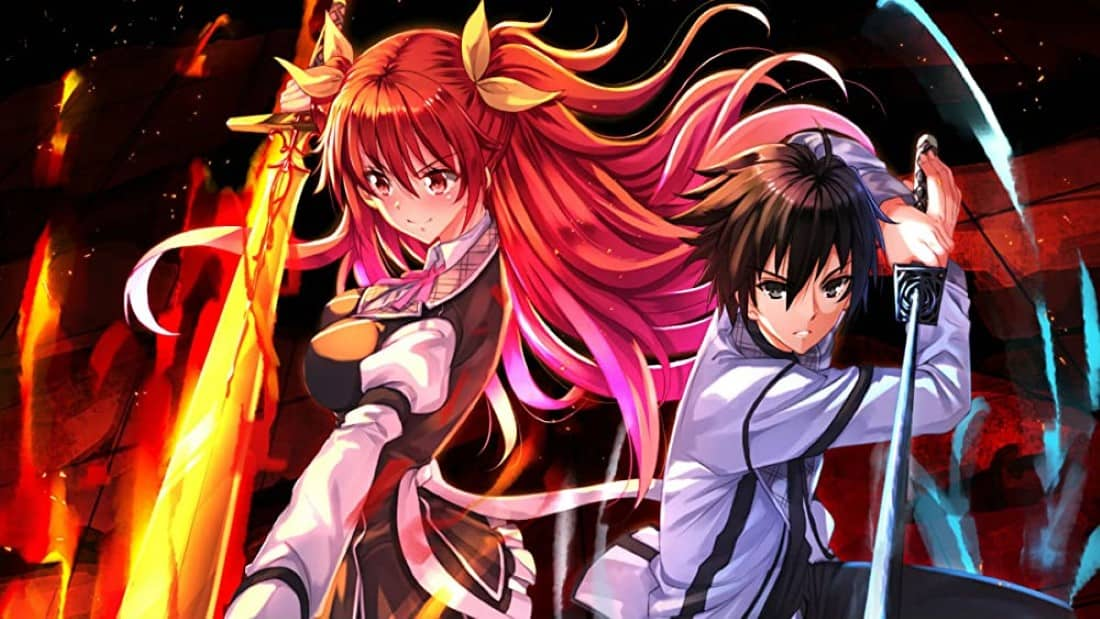 Season 1 of the anime ended with a lot of questions in the minds of fans. Volumes 1 to 3 of the light novel got featured in the First series of the Anime.
It was first released under the name of "Rakudai Kishi no Kyabarurii" in Japanese. It meant – the tales of a failed knight.
The end of the first season was disappointing because Ikki Kurogane began his journey. The "Blazer World" was a tough place to be.
Though his duel with Stella Vermillion was a success, he continued to struggle. The rest of the series will prove himself in as he comes out with a victory.
Japanese channel AT-X telecasted the 12 episodes of the Anime Series from October to December 2015. It was a decent success.
Yet, there are no updates about its sequel, after the Season 1 release.
The source material written by Riku Misora has 18 light novels. Only the first three found a place in the Anime, which was Season 1.
Everything we know about Chivalry of a Failed Knight so far
Chivalry of a Failed Knight Season 1 ended with a twist. Ikki, who's known upon as a weakling, gets to defeat a stronger opponent – Toka Todo.
This was the perfect ending for this Season as it left the audience anxious to know how Ikki would make a comeback.
The story in Season 1 starts with Ikki, who faces a lot of mockery for being an F Rank Blazer at Hagun academy. This is the lowest rank, there.
He finds a stunning girl in his room one day, who was changing. She happens to be Stella Vermillion who is a member of a powerful family. She ranks high in the academy as an A-Rank Blazer.
"Blazer" is the name of an alternate world where the people have extraordinary powers. They train to better their game by preparing at Hagun Academy. They all have the ability to manifest weapons at their will.
There are frequent challenges to find and reward the most powerful apprentice there. This gets determined and assessed through some festivals.
The Academy Director, Kuruno Shinguji understands Ikki's potential. But, he also fears the loss of reputation if he continued to be an F - Ranker. So this is where Stella enters.
She quickly discovers the problem. He was failing as he is wrong with the techniques and needs help in correcting those.
It was the time when she gets defeated in a battle with him. It was set up to decide the control over their shared apartment at the Academy.
When his sister arrives, she finds out that Ikki had a lot of emotional baggage. This gave her more insight into why Ikki kept failing and she sympathized.
As a result of all this, Ikki is able to defeat some powerful higher ranking warriors in fights. He wins over Bisho, Krihara, Ayase, and Toka Todo in the next few fights.
Actors
| | |
| --- | --- |
| Actor | Role |
| Ryota Osaka | Ikki Kurogane |
| Ishigami Shizuka | Stella Vermillion |
| Nao Touyama | Shizuku Kurogane |
| Hisako Kanemoto | Touka |
| Yuu Kobayashi | Ayase |
Crew
| | |
| --- | --- |
| Contribution | Name |
| Producer | Nexus and Silver Link |
| Directors | Oonuma Shin and Tamamura Jin |
| Sound Director and Music | Aketagawa Jin and Nakagawa Koutarou |
| Animation | Nexus and Silver Link |
| Series Composition | Yaskawa Shougo |
Official Announcements and Release Date of Chivalry of a Failed Knight Season 2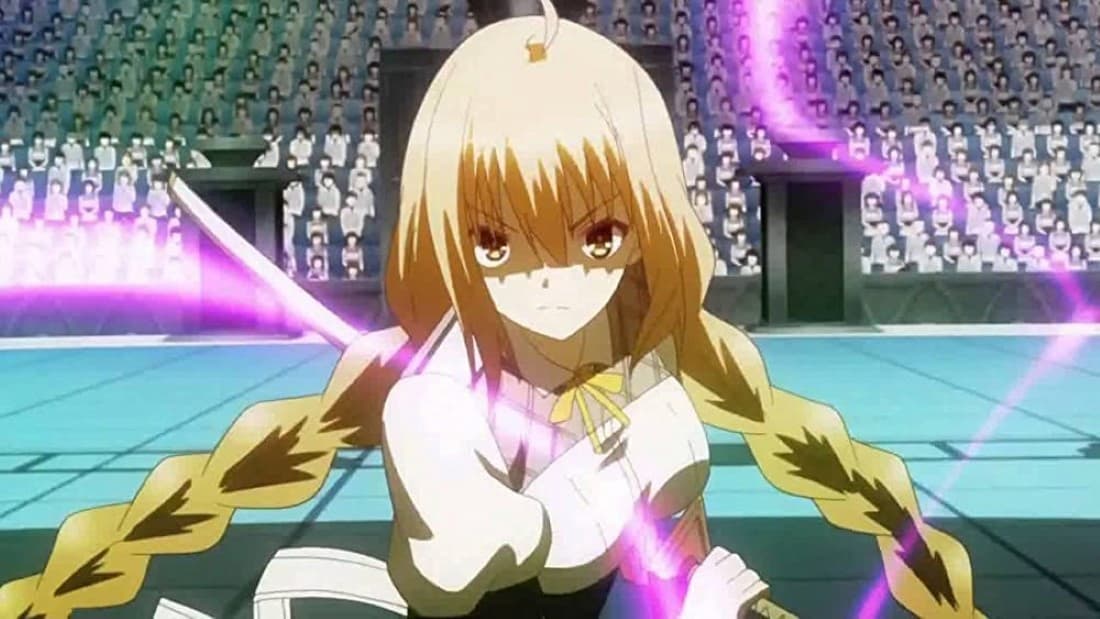 Unfortunately, there have been no formal announcements about the release of Season 2. This would show the rest of the story from Volume 4 onwards. The last volume of the light novel came out in 2020 June. It was the 18th one.
It's obvious that there will not be more than 4 or 5 more light novel volumes. This is because the story will get concluded by then. Since it has been more than 5 years since the last Season's release, the chances of the next Season have diminished.
Here's a Twitter account that provides official updates of Chivalry of a Failed Knight anime.
Though the Anime in Season 1 had a good performance, it had not met the expectations of the film crew. This is an important deciding factor behind the release of new Seasons.
Since there are enough source materials, the popularity and acceptance of the Anime also matter.
Let's analyze the factors one by one, in this article.
More Source Material Details for Chivalry of a Failed Knight Season 2
The main source material for Chivalry of a Failed Knight Season 2 was the light novels. It was written by Riku Misora. 'Won' was the illustrator of this. There are currently 18 episodes of it, on the market. The last one being the 18th got released in June 2020.
But there are only 5 volumes of English Manga for this. The rest are yet to get translated from Japanese. There were around 11 Tankobon volumes of the Manga.
Soramichi illustrated them. It featured from 2014 to 2017 in Shonen Gangan, a monthly manga publication.
Here's the list of the release dates of the light novels.
| | |
| --- | --- |
| Volume | Release Date |
| 1 | July 13th, 2013 |
| 2 | October 15th, 2013 |
| 3 | January 15th, 2014 |
| 4 | April 15th, 2014 |
| 5 | August 12th, 2014 |
| 6 | December 15th, 2014 |
| 7 | May 15th, 2015 |
| 8 | October 15th, 2015 |
| 9 | December 15th, 2015 |
| 10 | April 15th, 2016 |
| 11 | January 14th, 2017 |
| 12 | April 15th, 2017 |
| 13 | October 13th, 2017 |
| 14 | April 12th, 2018 |
| 15 | October 15th, 2018 |
| 16 | April 15th, 2019 |
| 17 | November 14th, 2019 |
| 18 | June 12th, 2020 |
The English light novels got released in the following order:
Volume 1: November 16th, 2019
Volume 2: November 16th, 2019
Volume 3: November 16th, 2019
Volume 4: July 6th, 2020
There was another volume that got released on March 14th, 2015. It was 'Chivalry of a Failed Knight Zero'. It came out between Volumes 6 and 7 to add context to the series.
The whole story will get wrapped up in few more volumes as they already reached a conclusion to the Series.
Popularity Details of Chivalry of a Failed Knight Season 2
Chivalry of a Failed Knight is well known among Anime watchers from different parts of the world. There's still enough demand for it from the fans, to expect a good sequel for it.
The spotless narration and plot selection played a big role. The continuity provided by the light novels has made it one of the most awaited sequels.
After Season 1, there was a sharp rise in sales of the Manga comics as fans were eager to know more. We'll go into it in deep, at later sections.
Google Trends
Google's trends show the pulse of the audience searching for content. From a cursory analysis of those trends, we can conclude that there is a demand factor from a strong fan base.
Here are some graphs to put the point across.
This is the search statistics of "Chivalry of a Failed Knight 2", over the past 5 years. This is after the release of Season 1. Searches peaked over the months and rarely saw a serious drop.
The 2020 COVID pandemic boosted the search trend which is clear from this graph.
Here's another graph from the Google trends. This is about the "Chivalry of a Failed Knight" series, in general. It had a constant rise and drop from 2016 to 2019.
But, after 2019, there was only one drop and it has seen a constant rise in trends. This is because the light novels were pumping in the hype. Along with this, the Anime was reaching a broader base, outside Japan.
Google Search for the Chivalry of a Failed Knight Season 2
Google searches also provide a great insight into the reaction of internet fans. Most searches for Season 2 came from the Philippines and America.
The success of the anime was because the film crew crafted it for a global audience. This turns out to be an important criterion determining its success.
A 2018 article by ComicBook, revealed that the Japanese anime market was flat while the growth outside was exponential.
After 2015, the total demand for Anime jumped by 10% and this is why the graph has been rising, post-release of Season 1.
Expected Plot of Chivalry of a Failed Knight Season 2
SPOILER ALERT: This is an assumption of the Series' Season 2 based on the light novels, published. The anime makers are going to follow it, in their future series.
Season 2 of Chivalry of a Failed Knight may show the next 3 or 4 volumes of the light novel. Even the zero episodes - "Chivalry of a Failed Knight Zero" could get telecasted as a single Season, owing to its storyline.
Season 2 is going to be all about Ikki's rising to power and facing deadly challenges along with it. There would also be a triangular conflict between Ikki, Stella, and her sister Shizuku. Ikki's nature would leave everyone confused.
At Hagun Academy, there would be a lot of changes as Ryoma Kurogane, Ikki's great grandfather takes a greater role in shaping him.
The tug of war between Ikki and his other family members will see the Director, Kurono in deep trouble.
He is an important part of Ikki's return to success. Meanwhile, Stella's father who's an Emperor would try his hand in helping out Ikki and Stella in their journey.
Shizuku meanwhile had other plans and ensures that she gets heard or hell breaks loose.
At the end of this, it will be clear why Ikki's fate was so, in the first season. It will come with a lot of twists in the plot.
Online Reactions for Chivalry of a Failed Knight Season 2
Online reactions are a significant parameter to determine the volume of demand and the acceptance degree. Every three in five anime viewers are from outside Japan, as per an estimate.
Twitter Activity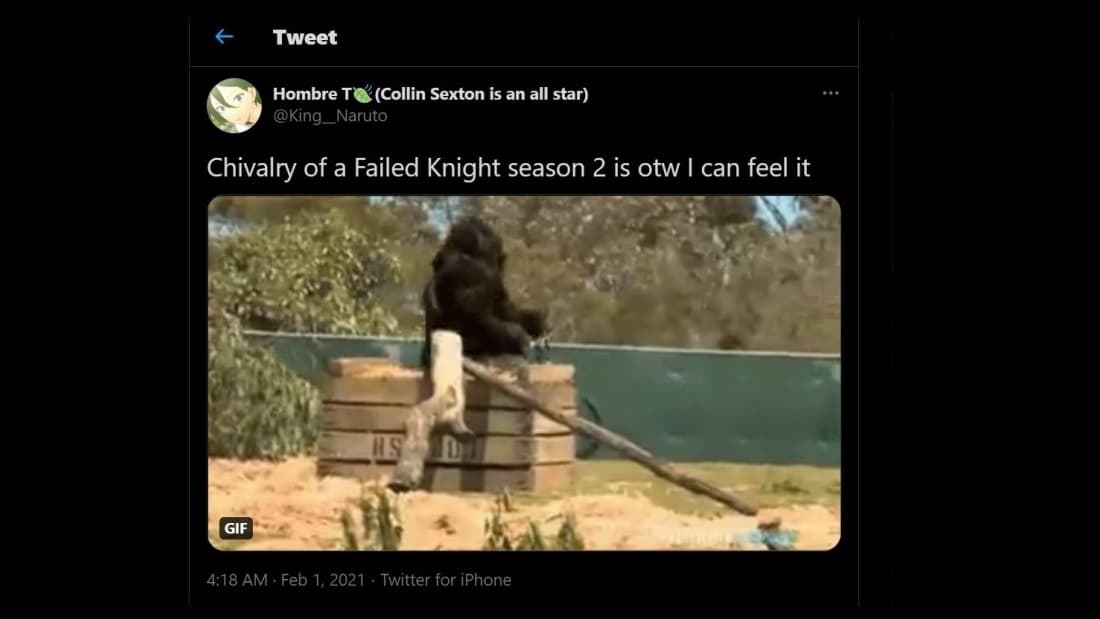 Twitter shows a reasonable picture of demand from the mainstream internet users. The social meters on this make sure that the demand is not artificial.
Fans need not lose hope over Season 2 though chances are less. Here's a user who recently commented and affirmed hope in the release. Though there are no official updates yet, this is a good indicator.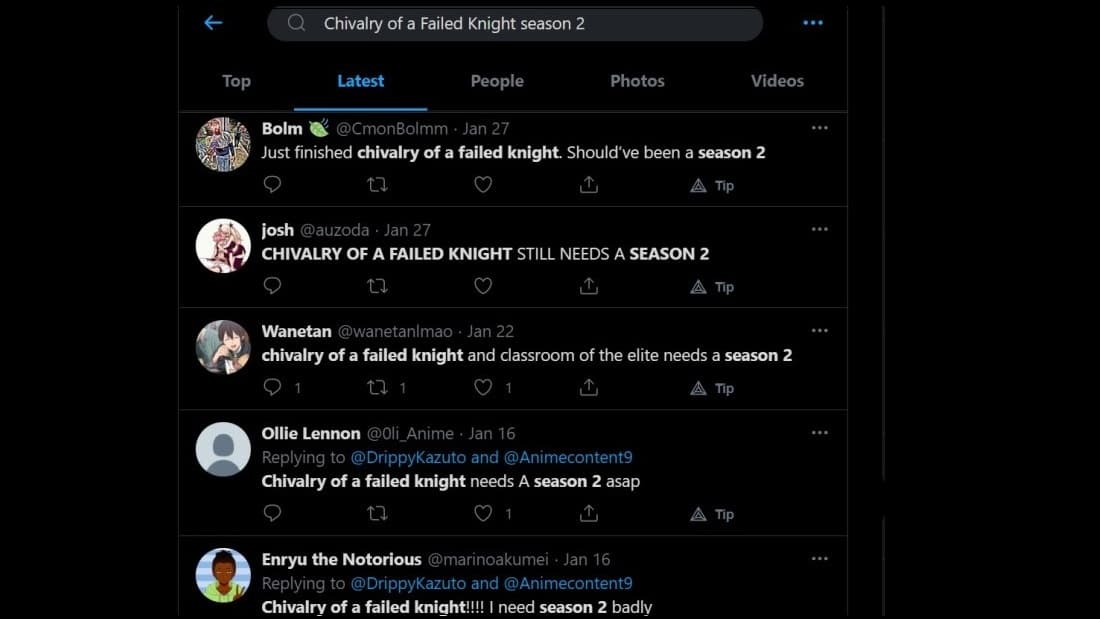 These are some reactions from users who badly want Season 2 of the Series. One of them saw Season 1 in 2021 and remarked that it needed a Season 2.
Quora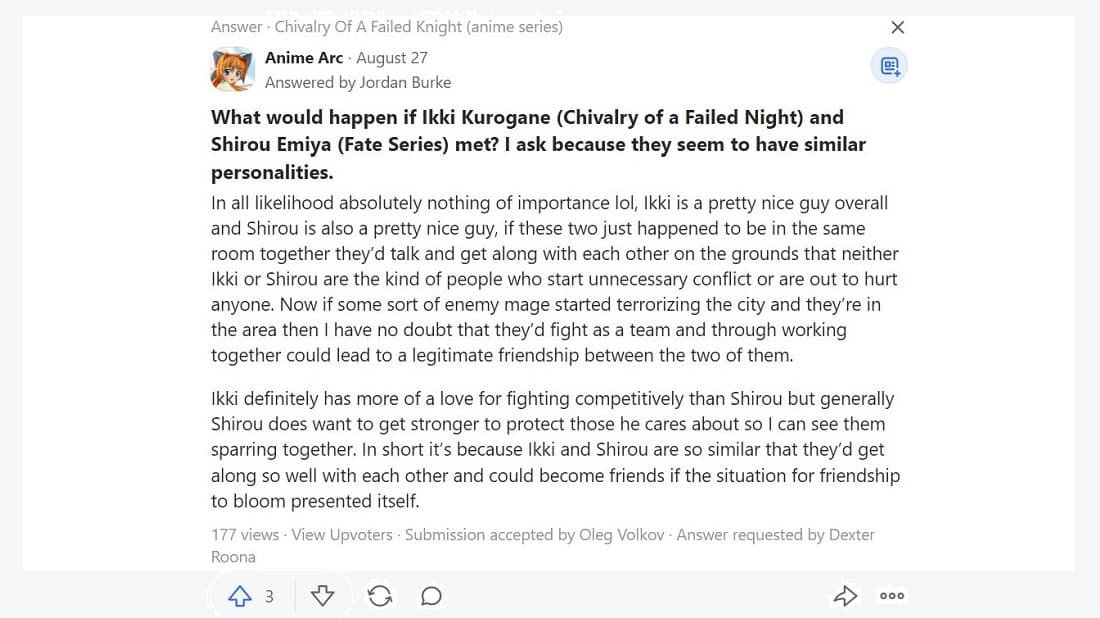 Quora has some interesting tidbits about Anime. Here's one user discussing a creative combination of Ikki with Emiya from the Fate Series.
Reddit
Reddit users were discussing Season 2 in 2019 as there were speculations of Season 2 announcements, back then. The users have mixed feelings as they felt Season 1 was good but had almost lost hope in seeing Season 2.
Ratings and Popularity scores for Chivalry of a Failed Knight Season 2
The ratings it got on IMDB were like the ones which "No Game No Life" also received. The total ratings it got was 7.4 out of 10. This came from 2206 users.
Most of the voters rated it 8 out of 10 and 10 out of 10. This is a good indicator of its popularity. The solid reviews also made it stand higher in the ranking. No doubt, this is a favorite and has enough to deserve a sequel.
These are some good comments and valuable feedback from users on Crunchyroll. The voice of fans explains why the movie did not do as well as expected. Have a look at these.
Here are the ratings it got from different websites, in this table:
| | |
| --- | --- |
| Website | Rating |
| IMDB | 7.4/10 |
| MyAnimeList | 7.53/10 |
| Anidb | 6.86/10 |
| Crunchyroll | 4.8/5 |
From this, we can conclude that the ratings were good. There are so many Anime series that got sequels even after performing worse than this.
Sales and Profit Details of Chivalry of a Failed Knight Season 2
Sales are the lifeblood of an Anime. It determines its performance and scope of growth (i.e. sequels). If it does not get the profit, the producers are likely to abandon it.
The source material was the light novels in this case and there were even 11 Tankobon volumes. Let's get into each and see
Manga Sales
This table can give you an idea of how the last two Light Novels performed in the market.
| | |
| --- | --- |
| Light Novel Volume | Sales |
| 17 – released in 2019 | 15,000 |
| 18 – released in 2020 | 10,000 |

The source material makers expected a better sales volume and this is also why they are likely to wind it up in 3 or 4 more volumes.
DVD/Blu-ray Sales
Close to 3000 discs got sold for the first season. This was in 2015 when it premiered for the first time. The producers got back what they invested but, the margin of profit was too low for a sequel.
If it had made close to 10,000 copies, this would have given them a good profit percentage. In such a circumstance, they'd be able to go ahead with Season 2.
Merchandise Sales
The merchandise sales were very poor. One reason was only 2 characters of the anime got highlighted – Stella and Ikki. It's reported that some 20 products were available as merchandise, for this Anime.
Another reason it did bad was because of the wrong marketing strategy. The focus was more on the wrong audience. The generic use of other characters restricted the scope of more merchandise.
Production cost and success of Chivalry of a Failed Knight
The producers did not lose any money in the First Season, nor did they get much profit. This is why there's reluctance in doing the sequel.
Most sequels make less than the first season. They calculated the drop in sales is and then decide if it's lesser than the production cost, the team does not proceed.
Goblin Slayer did not make losses for the producers. But, Season 2 has very few chances for making a profit.
Why Chivalry of a Failed Knight Season 2?
The First Season ended up getting decent reviews, created a fan base, and also scope for merchandise. The last episode out of 12, ended with a lot of anxiety for the fans.
From the points we have shown above, there are enough source material and demand from fans to make the sequel. The only thing which is standing in its way is the low sales volume. The fan demand does not fully convert into sales of Bluray discs or TV series.
Now, from the story point of view, it's a must to have Season 2. This is because Season 1 ends with Ikki's coming back to form. Season 2 will be about the Seven Star Tournament and Ikki's performance in it.
The fans would be eager to know how he manages his success to climb up the ranks. Also, the conflicting situation he is in between Stella and Shizuku makes it interesting to delve deep.
His great grandfather's power play with the rest of his family also marks a point of pressure on the Director of Hagun Academy - Kuruno Shinguji.
He must strike a balance between Ikki's growth and save him from the others too.
Famous Characters We Hope To See in Chivalry of a Failed Knight Season 2
Ikki Kurogane
He is the F – Rank blazer at Hagun Academy. He was from the famous Kuragone family but, got disowned in his childhood.
Later, his great grandfather Ryoma Kurogane takes him under his wings and gets him enrolled in the Academy.
The "Blade Steel" technique was his secret weapon and his device is intense. He wins a small battle with Stella and she becomes his roommate. They get engaged later, against the wishes of their families.
Stella Vermillion
A-Rank Blazer at the Hagun Academy. Got caught by Ikki, as she was changing in his room. She tried to boss over him and then fails in the battle.
She's considered to be a rare intellectual and now sets out to get Ikki back on track. She helps him in many battles and finally gets engaged with him. She's also a friend of Shizuku.
Shizuku Kurogane
She's Ikki's sister and Stella's friend. A B- Rank Blazer at the academy, she possesses the infamous Yoishigure device.
She's also adept at Noble Arts like Shouha Suiren which gives her an advantage over many opponents of Ikki.
She could not make it to the finals of the Seven Star tournament because she got eliminated in a qualifying round. She accepts Stella as her brother's bride.
Ryoma Kurogane
He is Ikki's great grandfather and a respected member of the Kurogane clan. After he saves Ikki, he guides him to success at the Academy, slowly.
Other decisive factors for Chivalry of a Failed Knight Season 2
Apart from the reasons we mentioned above, there are few more reasons why there must be a Season 2 for Chivalry of a Failed Knight.
Ending of Season 1
The ending of the Anime is when Ikki starts climbing back to normalcy and Stella gets engaged to him. Being a cliffhanger ending with a hint that there's more to come, it demands the sequel.
The use of Devices in the fight and its faults also make it interesting in the future.
Trailer
There have been no official trailers released yet. But, fans made videos on Youtube about the probable theme of Season 2 and speculated its release.
Controversy
The anime came under criticism for some obscene content and subsequently it got changed. The use of violence was also under heavy scrutiny as it involved some things similar to nukes.
Stella's role and Shizuku's deeds in the story were also questioned as their traits were too graphic.
Conclusion
Chivalry of a Failed Knight Season 1 did well, but not enough. There have been no official updates about the anime.
But, the 18th volume of the light novel came out in 2020. The sales of it have been going down with the last volume.
The reasons to do and not do the Sequel have stood at par. Now, it's left to the Producers and the crew to decide.
We expect that there will be an official announcement by 2021 end or 2022. The COVID pandemic is also a reason why the team got forced to delay its release or share an update.
We, at ENTOIN, will share more updates in the future, as and when things get clearer.