»
Top 50 Best Sports Anime [Recommended Top List]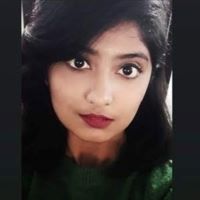 Sneha-Updated March 12, 2021
---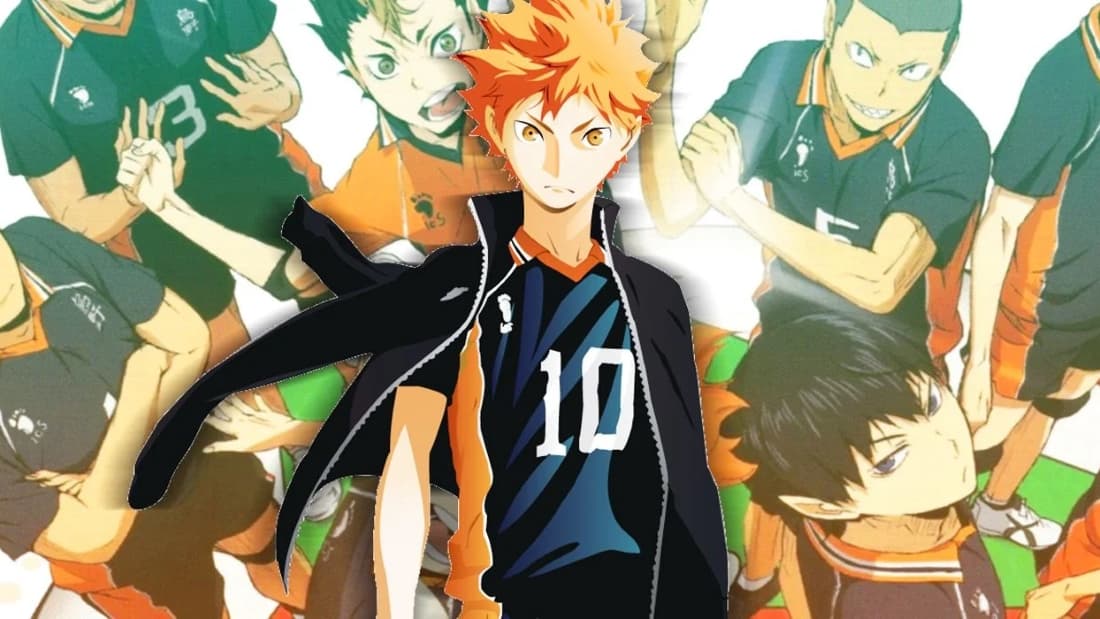 The world of sports and anime is extremely entertaining.
But what happens when both of these are mixed together? A sports anime is created.
Yes, and it's a whole new level of satisfaction that the viewers get.
So, we at ENTOIN are back to entertain you with a list of the 50 best sports anime ever created.
You people are going to love it.
Should we waste any more time? Time is money, right? Let's save it.
So begin!
50. Whistle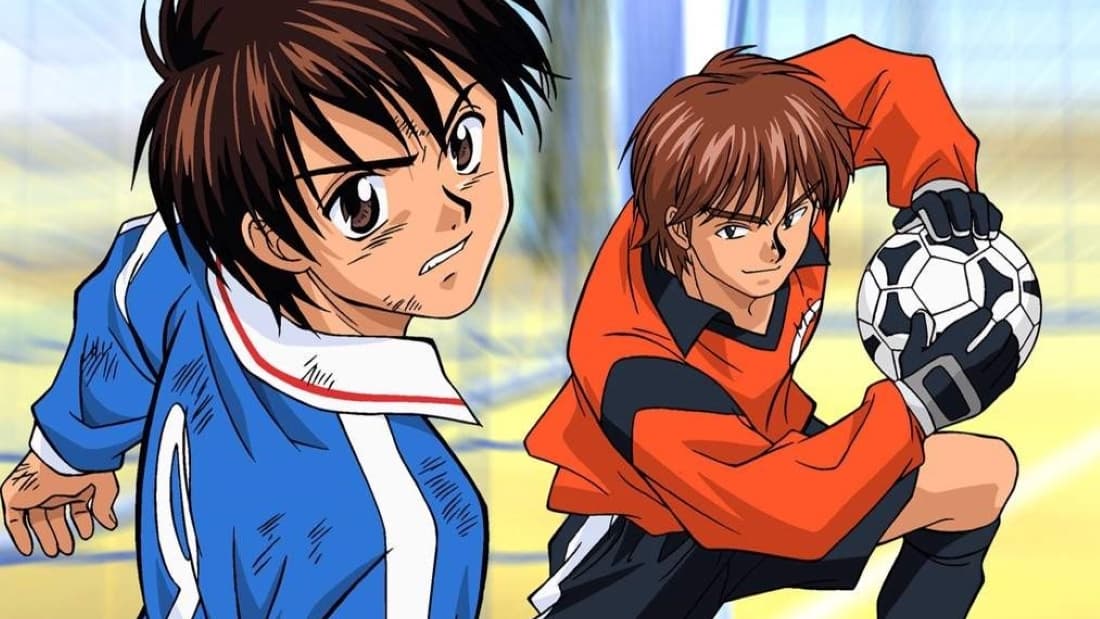 In the 50th position of our list, stands Whistle. It is an anime adaptation of a Japanese manga series.
It has a total of 39 episodes. Daisuke Higuchi is the one who wrote and illustrated the manga.
The anime revolves around Shō Kazamatsuru, a middle school boy who changes his school hoping to get into the soccer team.
Due to his small stature, he faces a lot of discrimination in his old school. He was never allowed to join the soccer team.
Sho is not a very good player because he was never allowed to play.
How can we expect someone to be good at something without even letting them practice it?
Nobody is born as a world-famous soccer player. They pave their own path through practice!
Shō changes his school, hoping that he'll be able to overcome the difficulties, practice, and get his position in the soccer team of his new school.
His small stature is indeed a big disadvantage for him and he needs to compensate for it with his hard work and talent!
49. The Prince of Tennis
The Prince of Tennis, also known as Tennis No Ouji Sam's, is an anime adaptation of the Japanese manga series of the same name.
The manga is written and illustrated by Takeshi Konomi.
Set in the city of Tokyo, the whole plot is centered on the inspiring journey of Ryoma Echizen towards his goal of becoming a tennis prodigy, which he does.
He is a student of Sheisun Academy, a school that is famous for the strong tennis club and players.
After getting into the school, Ryoma very easily gets himself a spot in the team and becomes a regular.
Throughout the series we see him developing his own playing style and evolving as a player every day.
Together, their aim is to win the National Middle School Tennis Championship.
The anime takes us through a very interesting and inspirational story.
We see Ryoma striving hard to fulfill his and his teammate's dream of winning the  National Middle School Tennis Championship.
48. Circlet Princess
Circlet Princess is different.
Why so? Because it does not fall under the category of "anime adaptation of a manga", rather it is an anime adaptation of a role-playing browser game.
I guess most of you might not be aware of what it is, unless you are addicted to games of course.
When I came across this for the first time, I was curious as well. So, I googled it. Want to know the meaning?
A role-playing browser game is a kind of online game that is played on the World Wide Web, where you control the behavior of one character.
So the anime is basically adapted from the game series. The story is set in a highly technological future which has changed Japan absolutely.
Many tech applications are being used in the real world for security purposes, business etcetera.
It is in this era, a popular sport called Circlet Bout is developed, which is played in many schools.
Here you can store the data of the player's academic report. The weapon for the player is developed in accordance with their academic records.
Yuka Sakai is the main protagonist in the anime.
47. Slam Dunk
Do you know of anyone who has been rejected by girls a whopping 50 times, while he is still in middle school?
You don't?
Oh, I do.
Let me introduce you to Hanamichi Sakuragi, the male protagonist of the anime series Slam Dunk.
Hanamichi is a man with immense physical strength which mostly scares girls away from him.
His high temper is an additional factor.
In Shohoku High School, Hinamichi meets the love of his life, Haruko Akagi.
What was the difference between other girls and Haruko that pulled Hinamichi towards her?
Oh, the strength which scared away others was recognized by Haruko and reported to their school's basketball coach.
The story unfolds from there. The anime is an adaptation of a popular Japanese sports manga.
Later, we see how the barely known basketball team of Shohoku High School evolves as one of the most famous teams in Japan.
If you are a fan of sports anime, it is a must-watch.
46. Yawara! A fashionable Judo girl
It is an adaptation of the manga Yawara, written and illustrated by the Japanese mangaka Naoki Urasawa. It was produced by Madhouse.
Yawara Inokuma is the main protagonist of the anime. Yawara has an innate talent for playing Judo and her grandfather knows this.
He aspires to see her win the Judo championship in Japan and later win the 1992 Olympics in Barcelona.
Irritated by this constant pressure and authority of her grandfather, Yawara starts hating the game.
Later in the series, we get to know her grandfather's perspective and his reason for being in love with the game so much!
Eventually, she understands him and sets towards achieving those dreams for him.
It is a beautiful story and as the different layers unfold, you will fall in love with it.
45. Try Knights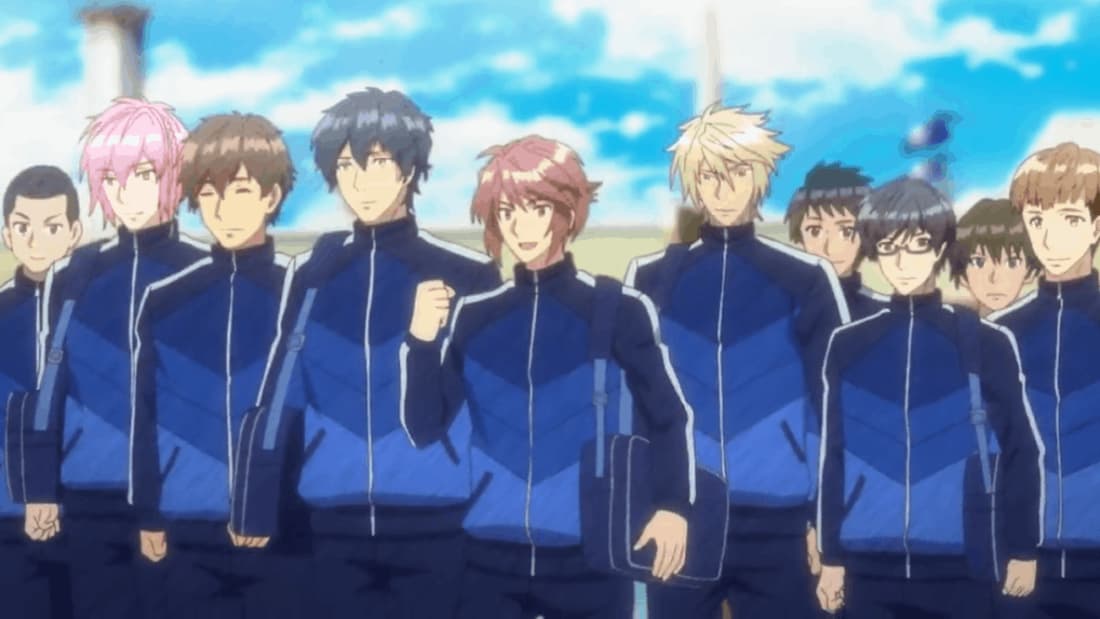 Try Knights is adapted from a Japanese rugby manga, which was written by Shunsaku Yano and illustrated by Shizuka Erisawa.
It tells us the story of Riku Haruma, a rugby player. Riku enters high school more or less, aimlessly.
He didn't have a goal to achieve, neither did he have any plans for his life.
He had a passion for rugby, which due for some reason was suppressed deep inside his heart.
One day, while walking around the campus, he came across Akira Kariya playing rugby.
Casually, and intuitively, he gives her advice and that's the beginning of it all.
His long-suppressed love for rugby awakens and we will see him page his way towards a future full of brightness and glory.
44. Pretty Rhythm: Aurora Dream
Pretty Rhythm: Aurora Dream is an anime adaptation of a game.
In the anime we see Prism Stars, Aira Harune and Rizumu Azamiya perform Prism Shows.
Wondering what Prism Shows are?
Prism Shows are a combination of singing, dancing, fashion, and figure skating in a performance.
The story is set in Japan, where Prism Shows are very popular.
Throughout the series, we see how Rizuma captivates the audience by performing her perfect 'Aurora Rising', the legendary Prism Jump.
On the other hand, we see Aira, absolutely untrained, focusing on her innate fashion.
The series is very interesting, especially the ending.
When Rizuma's mother suddenly reappears and there is a battle going on between Aira, Rizumu, and Mion for the Prism Queen title.
43. Beyblade Burst
Beyblade Burst is the first season of the anime franchise Beyblade. It started airing in April 2016 and continued till 2017.
The story revolves around Valt Aoi, a boy studying in the fifth grade who aspires to become an expert in Beyblade.
Valt along with his partner Bey, Valtreyk, work hard to polish and improve their skills.
His inspiration is one of the "Supreme Four" in the world of Beyblade, Shu Kurenai.
The Beyblade genius Shu participates in the National tournament and that's what inspired Valt to do the same.
He set his eyes on the tournament like an eagle and is no doubt working very hard.
But, what happens? Well, I ain't giving spoilers now (although that's what I'm doing most of the time Lol!).
42. Initial D: Extra Stage 2
Initial D: Extra Stage 2, is the 8th installment of the 10 part anime series Initial D.
And Initial D is an adaptation of the Japanese street racing manga which has the same name. The series focuses on illegal Japanese street racing.
This installation did what was undone in the main series. It provided us with closure to the relationship between Mako Sato and Koichiro Iketani.
The ending will not be disclosed here, but I will tell you the twist that's there in this installation.
In case you are an Initial D fan I'm sure it'll worry you, and that's my motto.
After 6 long months, Mako and Koichiro get reunited coincidentally.
Koichiro wanted to say how sorry he was, he wanted to say a lot of things, but the awkwardness did not allow him to.
Did Mako say anything? No, she too didn't or maybe couldn't. So, instead, they planned for a second meeting.
Koichiro prepared himself mentally and reached the spot early.
What happened then? Did Mako show up? Or, did she turn him down?
Neither of the two. Koichiro reached the spot early and there was an old man who was left behind by the tourist bus.
The man requested Koichiro to help catch the bus, and he went. The rest is history.
It is part of one of the best sports anime ever created and deserves a position here.
41. Ro Kyu Bu!
Ro Kyu Bu is the anime adaptation of a Japanese light novel series. It was written by Sagu Aoyama and Tinkle illustrated it.
The anime revolves around Subaru Hasegawa, a freshman. His passion is playing basketball.
When a team member was accused of sexually abusing a little girl, the team was banned for a year.
Frustrated with this he accepted a proposal by his aunt to train a basketball team of elementary school girls for three days.
What changed then? Subaru comes to know about their circumstances and decides to continue coaching them.
With time, his bonding with the team grew stronger and so does their skill.
But things go on becoming difficult as their opponents go on becoming stronger. The path towards success is never easy.
40. OverDrive
"Why don't you join our bicycle club?" asked Fukazawa, Shinozaki's secret love.
How could he? He doesn't even know how to ride a bicycle. He could not even say no to Fukazawa, she is the love of his life. How cute, isn't it?
Well, this roadblock was nothing. Shinozaki learned to cycle and joined the club.
What then?
He discovers his passion and decides to work hard to become a bike rider.
When you pair up the passion with dedication, there's no looking back, and that's what happened here. Shinozaki works hard and reaches the top.
He became the champion of Tour de France, the biggest bicycle race in the world.
This was a real and uncommon achievement because this time it was a Japanese boy winning the championship, which is a rarity.
39. Skating Rink Kaleidoscope
Skating Rink Kaleidoscope is also known as Ginban Kaleidoscope, is an anime adaptation of the Japanese light novel series written by Rei Kaibara.
It is all about figure skating. Tazusa Sakurano and Pete Pumps are both Olympic figure skating candidates from Japan and Canada respectively.
The happenings in the competition are not favorable for them.
Tazusa gets disqualified due to an accident and Pete's stunt plane crashes due to mechanical trouble, and he dies.
The anime has a strange story. In the gates of heaven, Pete is denied entry because of his sons and is told to wait for 100 days.
To our utter amazement, he gets trapped in Tazusa's body.
Although she continues with her skating, it becomes difficult. She heard some voices, but they were not hers.
Spooky isn't it? Sporty as well. Sporty spookiness!
38. Air Gear
Itsuki Minami wanted to rule the skies, not the street.
He is the main protagonist of the anime Air Gear, which is an adaptation of the Japanese manga series of the same name.
Itsuki is a notorious boy, who loves taking up fights on the street.
He is ambitious and is willing to break through any obstacle that can stop him from reaching the heights.
AT or Air Treks is a new form of aggressive skating.
Breaking rules, and ruling the streets is what they aim for. No wonder, it became very popular amongst the youth.
Itsuki, staying with his three adopted sisters, was absolutely unaware that they belonged to the most notorious A-T gang known as "sleeping forest".
When he finds this out and is introduced to the world of A-T, his fate takes a turn, and his whole life changes.
He also learns more about his past. Eventually, he reached where he wanted to and on the way makes exceptional allies.
The series keeps you on your toes. It is filled with sporty action. One of the best sports anime out there.
37. Cheer Boys
Chia Danshi, or, Cheer Boys is an anime adaptation of a Japanese manga, which on the other hand was an adaptation of a novel.
The storyline is a mixture of fiction as well as reality.
Fans might already be aware of the fact that the anime Cheer Boys is loosely based on the life of the real-life group 'Shockers'.
It is an all-male cheerleaders group from Waseda University.
Haruki and Kazama, were the creators of the cheerleading team 'Breakers' in the anime.
They were disheartened with judo, and out of this feeling, they created an unprecedented all-male group.
All the members of the team are characteristically unique. Some are moody, some are voracious, some are argumentative.
It is this team that brings them together to break the stereotypes related to "how men should behave" and draws them to the sport of cheerleading.
36. Bamboo Blade
This anime is all about kendo! People think it's the usual "cutesy" anime, and there's no denying it, but this is a good one.
Kojirau Ishida is an absolutely broke kendo instructor in Muroe High School.
In the series we see him getting an opportunity in the disguise of getting free meals for one whole year.
But how is that possible? If his all-girls team wins a kendo competition against his senpai's team, he will get free meals.
Does he have a team of his own? No, he doesn't.
Then what is he planning to do? Get five girls who are highly skilled in kendo and train them.
We see his journey getting more difficult. No matter what, the anime is fully packed with entertainment, comedy, romance.
All the elements to keep you interested are present, and you won't regret investing your time in it.
35. Minami Kamakura Cycling Girls Club
Minami Kamakura Cycling Girls Club is a 13 episode anime adaptation of a Japanese manga.
The story revolves around the girls cycling team of Minami Kamakura High School.
When Hiromi Maihuru moved from Nagasaki to Kamakura, little did she know the changes that she will go through, and that's normal?
Are we always aware of what lies ahead in our life? We aren't right?
That's what happened with her as well. Moreover, she almost forgot how to ride a bicycle because of the long period of time she hasn't done it.
Again, it seems relatable.
Things that we learn through practice, need to be practiced for retaining the skill as well. Nothing remains the same without giving much importance to it.
I guess I'm getting more into life than the anime. Lol!
So where were we? Yes, Maihuru almost forgot to ride a bicycle.
When she shifted to Kamakura, she began her new life and her new school life with her bicycle.
Minami tried to ride her way to the school, but we already know she isn't good at it and was noticed by somebody. Who?
Tomoe Akizuki, the leader of the girls cycling club of Minami Kamakura High School, was the spectator.
Well, Tomoe took it on herself to improve Maihuru's cycling skills. Later, she joins the club as well, and her life begins to take another shape.
34. Legendary Blue Shot
Legendary Blue Shot, is also known as Aoki Densetsu Shoot!, and Shot.
The anime is centered around three boys who became best friends while in junior high school.
They decided to go to the same high school named Kakegawa High, which was founded just a year ago.
What do you think might have attracted them to Kakegawa High? It was Yoshihiro Kubo, the star soccer player of Kakegawa.
Fans already know how much the high school trio loves soccer right? Yoshihiro was their idol.
They wanted to be trained by him and win the All Japan High School Championship'.
Yoshihiro was offered to join many world-renowned soccer clubs, but he refused them?
Sounds foolish right? You won't think this way after knowing the reason. He wanted to stay in Kake-high and train the team to reach the top together.
Yoshihiro wanted his team to become legendary, instead of switching to an already renowned team that was built by someone else.
Does he seem to be foolish anymore? I guess not!
Throughout the series we see Toshihiko, Kenji, and Kazuhiro (the trio) going through a lot of difficulties and overcoming the failures to reach the top.
Eventually, their team becomes the legendary soccer of Kake-high.
33. Cross Game
The source material for the anime Cross Game is a Japanese manga series of the same name.
The anime focuses on Kou Kitamura and Aoba Tsukishima.
The Kitamura family and the Tsukishima family have always been close friends, but Kou and Aoba hate each other.
Aoba is a star baseball player and although Kou doesn't like playing baseball, he is very good at it. I don't know how?
In the series, we see him frequently visiting the local baseball center owned by the Tsukishima family and practicing. Seems strange right?
I guess he wanted to hone up his skills to compete with Aoba.
They hated each other so much and mostly the reason was Aoba's sister Wakaba, who was also Kou's destined sweetheart.
Now I didn't mean she creates misunderstandings between the two.
The problem is, they both love Wakabo a lot and Aoba gets very jealous when she sees Wakabo spending more time with Kou instead of her.
This rivalry mixed with the sporty anime makes it even more interesting.
32. Hungry Heart: Wild Striker
Produced by Nippon Animation and Animax, Hungry Heart: Wild Striker is an adaptation of a Japanese football manga series.
The world of anime often reflects real life through fiction. If not wholly, partially.
In the anime Hungry Heart: Wild Striker, we see how Kyosuke has been living in his brother's shadow.
His brother Seisuke, is an extremely famous football player, who left Japan to sign with A.C Milan, the Italian powerhouse.
Kyosuke was compared with him and was even criticized for having a different style of playing. Isn't that ridiculous?
We love critiquing others, but we don't even give a damn about how they feel about it.
Constructive criticism is good, but the thing that happened here, isn't.
Kyosuke was badly affected and gradually he lost his passion for football. Thank goodness it didn't die.
Things that you lose can be regained, but if they die, there is no probability of getting it back. Miki is the one who did wonders in Kyosuke's life.
She rekindled the deep passion that Kyosuke had for football and encouraged him to pursue it, and he did.
It is an amazing journey to see Kyosuke losing it all and then regaining it. His hard work and love for the game and how it changes his life.
Wait, can we ignore that the anime is all about Kyosuke's love for football? We can't, right?
And football is one of the most entertaining sports in the world. There's no chance of getting bored here.
31. Inazuma Eleven Go
10 years after the first sequel, we see a change in Japan as well as in soccer. They aren't free anymore, both are controlled by someone.
Who is that person? How does he control everything?
Well, he is the 'Holy Emperor' Ishido Shuuji. Ishido and his organization Fifth Sector controls how soccer is played in Japan.
Matsukaze Tenma, the protagonist of the anime, tried his hands on Raimen soccer, but soon realized that the game has changed drastically.
It isn't played in the way Matsukaze expected it to be.
What now? Do they fight against it? Or, did it remain the same?
Matsukaze and his Raiman soccer team fought hard against the Fifth Sector. They weren't alone.
Their ally was the organization 'Resistance', which wanted to replace the 'Holy Emperor'.
Together they strive hard to free Japan and Soccer. In other words, you can say that together they fought for freedom.
30. Battle Athletes
How can we miss a battle anime?
Battle Athletes anime is not an adaptation but a retelling of the OVA Battle Athletes.
Although the storyline is more or less similar, the plotline and the characters differ drastically. In this anime, the characters are a bit too outrageous.
The storyline revolves around Akari's struggle for becoming the Cosmic Beauty just like her mother was.
She has been living showing her mother and now tries to become like her.
After getting admitted to the training center, Akari and her classmates go through rigorous testing. What for?
For the selection of representatives to be sent to University Satellite.
Akari is a fragile girl, and doing the physical training turns out to be very difficult for her.
But she doesn't give up and was also helped by Ichan, her close friend.
Throughout the journey we see her transform into a strong personality and a good human being.
29. Ashita No Joe
Unruly and mannerless is what describes Joe Yabuki, the protagonist of the anime Ashita No Joe. He is a troublemaker.
I wonder whether there has been a single day when he hasn't taken up a fight somewhere.
Fate brings him to the slums of Doya, where he attracts the alcoholic, former boxer, Tange.
Tange recognizes Joe's immense power and decides to train him.
The anime revolves around Joe's training and the difficulties in the path of becoming a master of boxing.
Do you think Joe is such a soft nut to crack that someone will offer to train him and he will agree?
Of course not.
Then how does Tange convince him for the same?
When Joe was in danger, Tange saved his life. No matter how hard you are, but if somebody saves your life, it is a human reflex to be indebted to them, right?
That's what forced Joe to agree and listen to him. Reaching the top isn't so easy and everyone has their own path of thorns, so did he.
Overall, it is an amazing adventure with Joe and Tange as your virtual partners.
28. Buzzer Beater
What happens here, might be the reality in our near future. Who knows?
Human beings might not be the ruling race 100 years from now.
Uncertainty is at its height and the turn the world might take after a few decades can and cannot be predicted.
Oh, it's sounding philosophical, isn't it?
I'm sorry, I'm sorry. The connection these animes have with worldly things is so deep. It's just impossible to ignore them.
But I'm trying okay!
In the anime Buzzer Beater, we see that the championship of basketball no longer resides on Earth.
Where else can it be? The game is now dominated by physically superior aliens.
The protagonist Hideyoshi, a homeless boy living in New York finds himself drafted to an absolutely unique and pro basketball team.
Does it not sound strange? A basketball team can be pro, but why are calling it unique as well? 
Well, their aim wasn't just to win a game or tournament. They were aiming to win the championship of basketball back to Earth.
Hideyoshi and the team were training hard to get it back from the aliens and that's the reason they are unique.
Ever seen aliens and humans battling for a championship or anything at all?
I know you haven't, neither have I. So, it's a must-watch for the dreamers out there.
27. Ginga E Kickoff
Ginga E Kickoff, also known as Kickoff to the Galaxy, is a sports animated series.
Shou Oota, a sixth-grade student, loves soccer. Although he isn't very good at it. You don't need to be good at something to fall in love with it, do you?
He is very passionate about the game and wants to hone up his skills.
At the beginning of the anime, we see Shou as the only remaining member of the Momoyama Predators soccer team.
Therefore, the manager disbands the team.
The anime takes us through Shou's journey of getting members for his team.
We witness how dedicated he is to the game. The first member of his team is Erika, whom he met in the park while she was practicing soccer.
He has a hidden ability to never take his eye off the ball, this was noticed by Misaki, another player he brought into the team.
Misaki compliments his skills and says he will become a great soccer player someday. And we know that he will!
26. SK8 The Infinity
SK8 The Infinity is an original Japanese anime series. It is all about skateboarding.
Reki and Langa are the main protagonists of the anime.
It all takes place in Okinawa, where a secret skateboard competition is known as "s" is organized after midnight.
There are no rules or limitations and skaters love the competition.
Reki and Langa are two high school students who become close friends.
Reki introduces Langa to the world of "s'' and pulls him in. Soon they become best friends. The anime is filled with exciting midnight adventures.
25. Dear Boys
Dear Boys is all about basketball and team spirit. Kazuhiko Aikawa, the lead role in the anime, gets transferred to Mizuho High School.
After joining the basketball team of the school, he finds out that there are merely 5 players and that too without a coach.
It disheartens him but could not stop him from moving forward towards his goal.
With his love for the game and dedication, he invigorates game spirit in his teammates and motivates them to give their best.
Aikawa and the team convince the basketball coach of the girl's team to train them as well for the national basketball championship.
The anime takes us through an amazing journey. A journey of sportsmanship, friendship, dedication, and love.
Together they toil, and together they win!
24. Giant Killing
East Tokyo United, or, ETU is a soccer team that plays in the Japanese top soccer league.
We all suffer from failures at some point or the other in our lives, don't we? That's exactly what happened with ETU.
Once a well-renowned team is now facing extreme criticism. Their fans are abandoning them. But why?
Well, they have lost 5 matches in a row and do not seem to be on the way to recovery.
Under immense pressure from the board of directors, they plan to change the coach.
Whom did they hire?
A former ETU player, who abandoned them years ago. The fans address him as the 'traitor' but he has had some great successes.
Will he be able to help the team regain their lost glory? Will he be able to motivate the players and bring back their confidence?
By the way, did you know that the story is probably or may be loosely based on the real-life rags-to-riches story of the team Tokyo Verdy?
23. Big Windup / Ookiku Furikabutte
Privilege is a blessing, but sometimes it might take the form of a curse. The same thing happened in Ren Mihashi's life.
Studying in a middle school where his grandfather was the owner, might sound good right?
In reality, it wasn't. Mihashi was ignored and disliked, not because he was arrogant or proud, but because he was bad at baseball.
Is it the truth? If you go deeper you will realize it's not his fault, rather it's his teammate's fault for not including him and making him feel inferior.
Somehow, this affected his performance quite a bit. And that is very natural.
If you are getting treated like an inferior always, you start losing self-confidence.
Is there anything that we can do without being confident about it? Absolutely not!
His teammates lost all the matches due to bad cooperation and somehow made Mihashi feel guilty about it. Why?
Because they thought he didn't deserve to be there and the sole reason that got him this position was his grandfather's ownership.
Rubbish!
Mihashi gets admitted to another school and decides to start an afresh journey. But of course, baseball didn't leave his back.
He is dragged to join the team and surprisingly the support that he gets from his team members made him feel confident about it.
Believe me, confidence can do wonders in your life. Mihashi experienced it and it changed him.
His baseball skills get better every day and eventually, he becomes worthy of being called an ace.
22. The Knight in the Area
Soccer lovers, I have another one on the list for you! Kakeru and Surgery are brothers, both aiming to become successful soccer players.
While Surgery achieves his goal and becomes a soccer prodigy of his own, Kakeru decides to take up a managerial role after a lot of struggle on the field.
Life hits Kakeru hard and makes him rethink his career choice.
After seeing his childhood friend Nana achieve immense success in the field, he gets motivated and decides to try hard and get into the World Cup.
The amount of dedication these characters have for the sport is highly overwhelming. It's not just action, it involves a lot of emotional investment to get there.
21. Chihayafuru
Chihayafuru is an anime adaptation of a manga that has the same name. Yuki Suetsugu is the writer and illustrator of anime.
You know, this is the first time I'm hearing about the game Karuta, a physically and mentally challenging game.
In this anime, we will see how Chihaya Ayase evolves, from a girl living in her sister's shadows to the Karuta addict in high school.
Arata, Ayase, and Taichi start spending all their time here, and eventually they grow very close.
The trio grows closer to each other, every day. Fate had other plans for them and they were split into different locations.
With Ayase becoming a Karuta freak and her friends in different locations, God knows what they end up doing!
20. Inazuma Eleven
Inazuma Eleven is an anime series that is based on Level 5's video game of the same name.
Earlier in our list, we have talked about Inazuma Eleven Go, which is the second sequel in the series.
The story revolves around the students of Raimon Middle School club and their soccer players.
Their main goal is not to win the national championship, rather, it is to keep a proper team in place.
How can we expect to win without even having a team?
They struggle to build a team and then strive hard to get where they wanted to be.
19. Captain Tsubasa
Tsubasa is the protagonist of the anime Captain Tsubasa. A boy who is 11 years old has unconditional love for soccer.
He convinces his mother to move with him to the city of Nankatsu which is highly popular for its excellent elementary school soccer.
Tsubasa was one of the best soccer players in his old town.
But in Nankatsu, the competition was tougher and he needed extremely good skills to stand out against the crowd.
In his journey towards soccer, he encounters many rivals as well as good friends.
18. Ping Pong the animation
Smile and Peco are always together. Makoto and Yutaka are their original names, respectively.
From childhood, they have been playing ping pong together almost every day, and it is the sport that has brought them so close.
Mutual interest helps you connect with people a lot faster. You feel as if you are in your own comfort zone and you are sharing it with other people.
Although nature-wise they are quite opposite to each other, ping pong is the thread that has attached their hearts together.
We see so many faces of students, working hard to win the Japanese inter-high table tennis competition.
I would like to say something to you all. You might like or love a sport and might not be good at it.
There's nothing shameful about it. You don't need to be a good actor to love good movies right? It is the same scenario here as well.
Moving on with the next anime.
17. Eyeshield 21
Eyeshield 21 is the secret name of Sena, the star player of the team Devil Bats.
Sena, a shy and timid boy, trying to survive high school by running away from all the problems in his life (in this case, bullying).
During an incident, Hiruma notices how fast Sena can run and decides to make him a team member.
Unwillingly, he entered the team and became the lead. He leads them to the Christmas bowl, an annual tournament in Japan.
The Devil Bats have high expectations from him. Let's see what this little boy does for the team.
We will see him transforming from a shy little boy to a mature and confident human being.
16. Major
Major is the anime adaptation of a sports manga, written and illustrated by Takuya Mitsuda.
Goro Honda is the main protagonist of the anime. We are taken through his journey of ups and downs.
All the difficulties and the tremendous challenges that he faces to become a successful baseball player.
As I've said earlier, every person has their own path of thorns to walk on, and reach their goals. Nothing comes easy in this fast-paced world.
Such animes are very inspiring, only if you know how to utilize the inspiration.
15. Prince of Stride: Alternative
Nana and Takeru are the two protagonists of the anime. They are very interested in 'stride', an extreme kind of sport.
While willing to become a member, they found out that there is no active stride club.
It used to be there but presently, it's not active.
Nana and Takeru get themselves to work, first to get a team and then to practice for the prestigious End of Summer competition.
The first member who was recruited by then was Riku Yagami, a first-year student who is a fast runner and good in almost all sports.
14. Days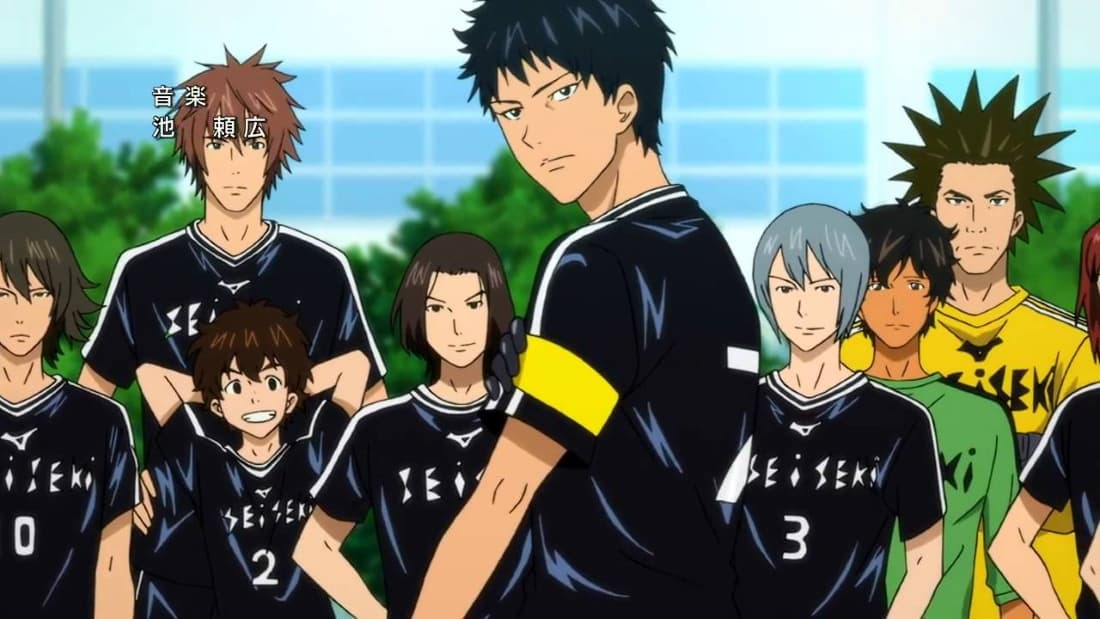 Days is yet another anime adaptation of a manga series that has the same name. The story revolves around two boys, Tsukushi and Jin.
Tsukushi Tsukamoto is a shy and clumsy boy, who is the favorite prey of the bullies in his school.
To avoid these troubles and to start afresh, he decides to study in Seiseki High School, where Sayuri, his childhood friend studies.
His plan failed, but why? Because bad people are everywhere and you cannot run away from them.
The only thing you can do is stand your ground. Tsukushi couldn't, but somebody else did that for him. It was Jin.
From here begins their journey of playing soccer for Seiseki High.
Although Tsukushi isn't good at the sport, his efforts and hard work get him his spot in the team with Jin and others. By the way, Jin is a genius!
13. Baby Steps
You all must have seen a baby, trying hard to walk properly?
Little by little, it takes baby steps, towards his goal of being able to run around the house without falling, right?
The storyline of this anime is similar to that, and hence the name.
Baby steps is an adaptation of a manga.
The story revolves around Eiichirou's life as a student and later as a tennis player. Like most of us, he prioritizes his academics above all.
The reason isn't his love for studies, but because he thinks that is what should be done.
All these beliefs get shattered when he meets Natsu, a first-year student, determined to become a professional tennis player.
He starts playing tennis in his free time, and every day he takes baby steps towards mastering the sport.
Eventually, he falls in love with the sport and discovers his passion.
Who can pull you back, when you are determined to work on your passion? No one!
12. Kuroko's Basketball
The series is an adaptation of a Japanese sports manga. It covers the story of Seirin High School's rise to the top of Japan, leaving everybody behind.
We see how Kuroko, the sixth member of the "generation of miracles", strives towards getting his school to the top.
He, along with his friend Taiga, a naturally talented basketball player, take over every other team one by one.
Kuroko came from the well-renowned Teiko Junior High School, the school of the "generation of miracles".
The team won the Junior High Nationals for three consecutive years. That's the reason they have been given this name.
No wonder, Kuroko is excellent in the sport. Besides, he is also a very good team leader.
The anime is full of sporty action, motivation, and entertainment.
11. Hanebado
Failures are an integral part of our lives, isn't it? But there is a difference between the ways people handle failure.
Some people take it as a stepping stone, while others get too depressed about it.
Nagisa Aragaki falls in the second category. After losing the National Junior Badminton Tournament, she starts losing hope and drifts away from the sport.
She couldn't deal with the shame and this turned her into an absolutely violent and aggressive figure.
The team members started quitting the team because of her behavior. Everybody was scared of Nagisa.
It all changed one day when the team got a new coach, Kentarou, an Olympic-level badminton player.
Along with him came Ayano Hanesaki, the one who defeated Nagisa.
What might have happened when they net? Did it force Nagisa to leave the team as well?
Nothing bad happens. Strange isn't it?
When Nagisa met Ayano, she wasn't the same competitive badminton player anymore.
She was different, always trying to distance herself from badminton due to some unknown reason.
Things change, they get closer, and it falls upon Nagisa to heal her rival's heart, face the inadequacy in her skills and fill the gaps.
The anime is a beautiful story of two rivals coming to each other's rescue when needed. True sportsmanship indeed!
10. One Outs
Toua Tokuchi is the main protagonist of the anime One Outs. Apparently, he is a professional athlete, but if you go deeper, he is basically a gambler at heart.
When offered a position to lead the long unsuccessful team Saikyou Saitama Lycaons, he makes a weird and extremely risky proposal.
Toua suggests a "One-Outs" contract. It basically means, every out that Toua pitches, will earn him 5 Million Yen. Sounds like a good deal?
Here's your surprise. According to the contract, every run that Toua gives up, he loses 50 Million Yen.
Are you kidding me?
I guess, he was highly intoxicated when he confirmed the deal. No sane person will EVER do that!
See, how excited we are getting just by reading about it. Imagine how you're going to freak out when you will actually see it!
It's a must-watch and deserves this position!
By the way, if you have already watched it, or are planning to do so, do let me know about your reactions. I am curious, very curious!
9. Yuri! On ice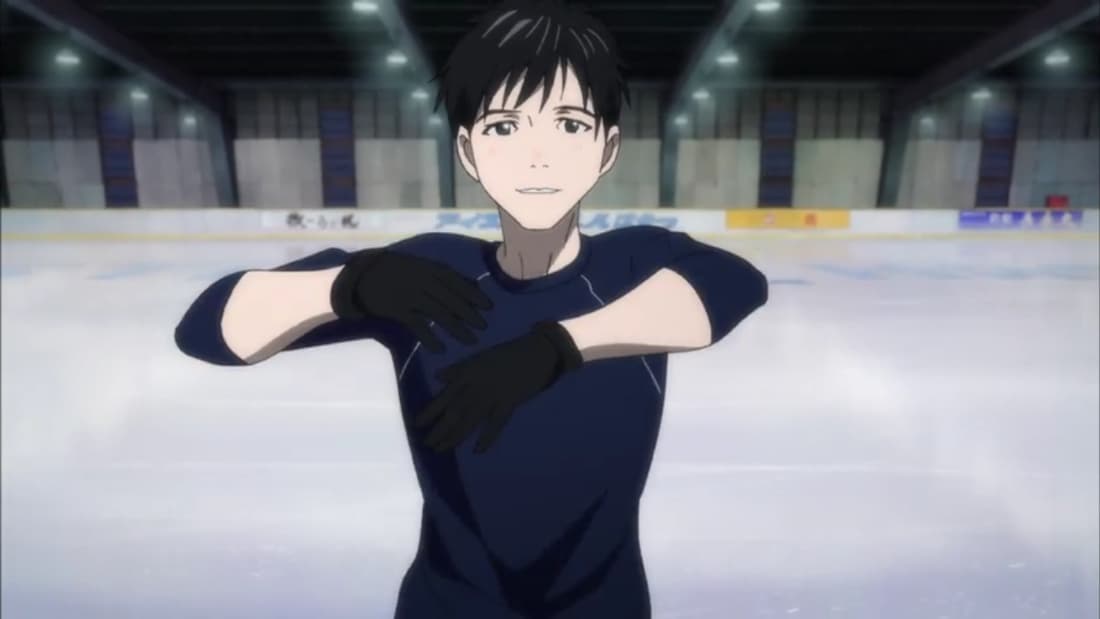 We sit and relax with a cup of coffee, watching our favorite sport's championship, and cheering for the winners.
Unaware that there is another one who has put in the same amount of effort to get there.
It feels disheartening to give it all you have and then lose everything.
Yuuri Katsuki, one of the most famous figure skaters from Japan, reaches the height of success and falls down.
He was broken and gave up all hopes of regaining his position.
Something happened, a miracle perhaps, which made one of his videos performing routine go viral.
It became so popular that the 5 times World Champion, Victor Nikiforov came to his house and offered to become his mentor.
Yuuri being a huge fan, couldn't give up this chance and started his preparation to return and regain his position.
But will that be possible? The competition has grown even more since he left. What if he fails? Will that not break him even more?
Whatever be the results, you have to keep trying.
We can't sit back and regret, imagining what all things we could've achieved, had we taken the risk or put in the effort.
8. Hajime no Ippo
Once you realize what your goal is, and are ready to do whatever it takes, sooner or later you will achieve it.
Ippo was a weak boy who was always beaten up by his classmates. He could not even stand up for his own defense.
Who could imagine he would one day become a world-famous boxer?
Sounds impossible right?
It really isn't, and he proved that.
When Takamura Mamoru saves him from the bullies and takes him to the Kamogawa boxing club, Ippo feels something.
He was fascinated by the power in the surroundings and instantly wanted to become stronger.
Ippo requested Takamura to train him. When given a task, he does rigorous practice to prepare himself. Thus, his journey begins.
Opportunities often come in disguise, and we should always be careful enough to not miss them and commit ourselves to accomplish all our goals.
7. Run With the Wind
Kakeru and Haiji are the two protagonists of the anime Run With the Wind, which is an anime adaptation of a manga with the same name.
While stealing food from a shop, Kakeru is chased by a man. Coincidentally, he meets Haiji, who asks him to stay with them in an old dormitory.
Reluctantly, Kakeru accepts the offer as his financial position isn't very good.
While his stay in "Chikusheisou" the dormitory, he is told about Haiji's plans to participate in the Hakone Ekiden relay marathon.
To participate, you need more members, and everyone in the dormitory except the two of them is complete novices.
So what happens to Haiji's dreams? Do they even get to participate in the relay?
All these curiosities, mixed with the action and emotions in the anime, make it a must-watch.
6. Yowamushi Pedal
First things first, guys I just now came across a word for anime and manga lovers. Most of you might already be aware of it.
The word is "Otaku". An "Otaku" is a person who loves anime and manga a lot! I am an "Otaku".
Why did I tell y'all this? That's because the protagonist of Yowamushi Pedal is an Otaku as well.
His name is Sakamichi Onoda who seems to be really bad at making friends. He decides to try and make friends in his new school's anime club.
The plan flops because the club is presently not active. Anyway, things happen and people notice extraordinary cycling skills.
Even in his city cycle, he can ride up a steep hill with little effort. This impresses the members of the cycling club.
Later we see him being persuaded by Naruko and Imaizumi for joining the school's bicycle club.
After joining the club, the lack of friends in his life vanishes away. He gets a lot of support and admiration from his fellow mates.
No wonder his skills turn out to be very useful for the team.
5. Prince of Tennis
You know what it is all about, don't you? What else can it be rather than tennis!
So I'm skipping the part, "the anime is all about tennis" and stuff, okay?
Prince of Tennis gives us a glimpse of the world surrounding the game. It is harsh and competitive.
No one cares about you until you win the game. If you don't, well, do we even know who you are?
In Japan, the sport is given a lot of importance. Many schools participate in the championship.
Another drop in the ocean is Seishun Gakuen High School's team. They have a strong team, and are quite popular in the field.
But things take a turn and the team becomes even stronger with the arrival of Ryouma Echizen, a determined and highly ambitious player.
His main aim is to break away from being the shadow of his father and get his own identity.
Apart from being a sports anime, it introduces us to so many problems that exist in a teenager's life.
A constant hunt for your passion, fear of losing, ambitions, identity crisis, the pressure of becoming like their parents, and many more.
Watching this will give you a whole new level of motivation.
4. Free! Iwatobi swim club
Haruka, Rin, Nagisa, and Makoto are the four friends who together won the elementary school swimming relay race. Haruka was the best of them.
Life happens, they all part. Years after, in a reunion, they decided to attend the same high school, except Rin.
Something has changed about Rin. He was jealous of Haruka and wanted to prove that he is a better swimmer than Haruka.
Nevertheless, the rest three of them formed a team and recruited Rei Ryugazaki as their fourth member.
Swimming becomes their life and fellow swimmers their lifelines. The main aim is to reach the top and settle things between Haruka and Rin.
The characters keep us excited and curious about the next happenings. SUSPENSE!!!
3. Amanchu!
The vastness of the sea captivates us all, isn't it?
Futaba too, could not take her eyes off the sea and imagined the endless possibilities hidden underneath the water.
She catches the attention of a local diving trainer and joins the team.
There she meets Hikari. Hikari's passion for diving impacts her as well and together they get into their school's diving club as well.
She explores all the possibilities, in the outside world as well as underneath the layers of water.
What an experience it might have been! Honestly, I want to learn diving so badly, but I do not have an option to do that in my hometown.
Hoping for future prospects!
2. Ace of diamond
Defeats are always frustrating.
Eijun Sawamura lost his final middle school baseball match and frustrated by this, he swears to reach the national tournament in high school.
Does he succeed in protecting his and his team's vows?
It's not easy to answer this question. Eijun was offered a spot in the Seidou High School, a prestigious school for baseball.
He hoped of getting more exposure and competition and therefore accepted the offer.
But soon he feels out of place. No doubt he was a good player, but the competition was too stiff to even get him a considerable position.
The anime tells the story of his struggle to make a place for himself and reach the Nationals as a part of the team.
1. Haikyu
Finally, we reached the end of our journey with the superstar on our list.
Haikyu is the best sports anime out there and there's no denying it.
The story is centered around two rivals, Hinata and Kageyama. The latter is known as "the king of the court" in the world of Volleyball.
The first match that Hinata and his team play was crushed by Kageyama.
Of course, this was not very pleasant for Hinata, and he takes a vow to surpass "the king" Kageyama in high school.
Fate had other plans for them and it brought both of them to the same high school. The one whom he wanted to fight with and surpass, was a teammate now.
Things became even more difficult for Hinata. His short stature acted as a hindrance in getting an important position in the team. He struggled hard.
We see how things change between the two rivals when Hinata discovers the problems Kageyama is going through.
Adding on to it, no one except Hinata can help him.
So, the only option available is to work together as a team. In an otherwise scenario, it would affect the cooperation.
It is nothing less than a roller coaster ride (p.s. I saved this proverb to use it here. Lol).
The emotions, the action, the dedication, all these feelings are so well expressed and balanced.
We see two rivals teaming up with each other, keeping aside all the differences they have, for the benefit of their team.
Conclusion
Competition is everywhere. Ambition is everywhere. Commitment runs through their veins and dedication is necessary.
One is termed a failure if they don't "win the game". There's no consolation. There can be none.
After the amount of effort that goes into it, consolation becomes impossible.
Anyway, life goes on, with the problems. There is no life without problems.
So let's end today's journey on a happy note…
Embrace all the problems, compete as long as you can, and do not let failure pull you down; because its job is to raise us even higher, not to pull us down!
Remember that.
Good Bye people!