»
Top 50 Most Popular Slice Of Life Romance Anime [2023 Updated]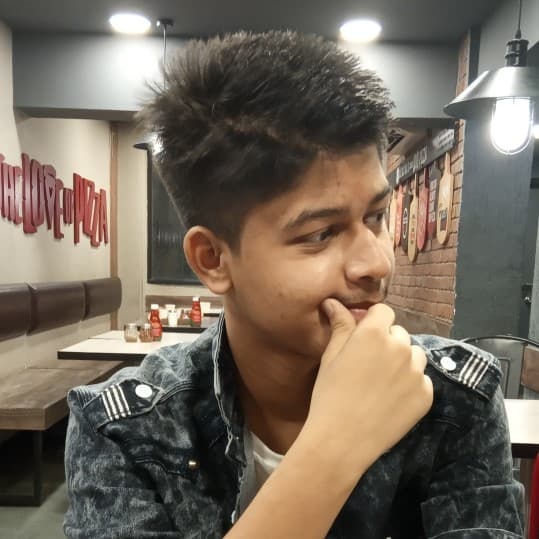 Kay-Updated Jan 12, 2023
---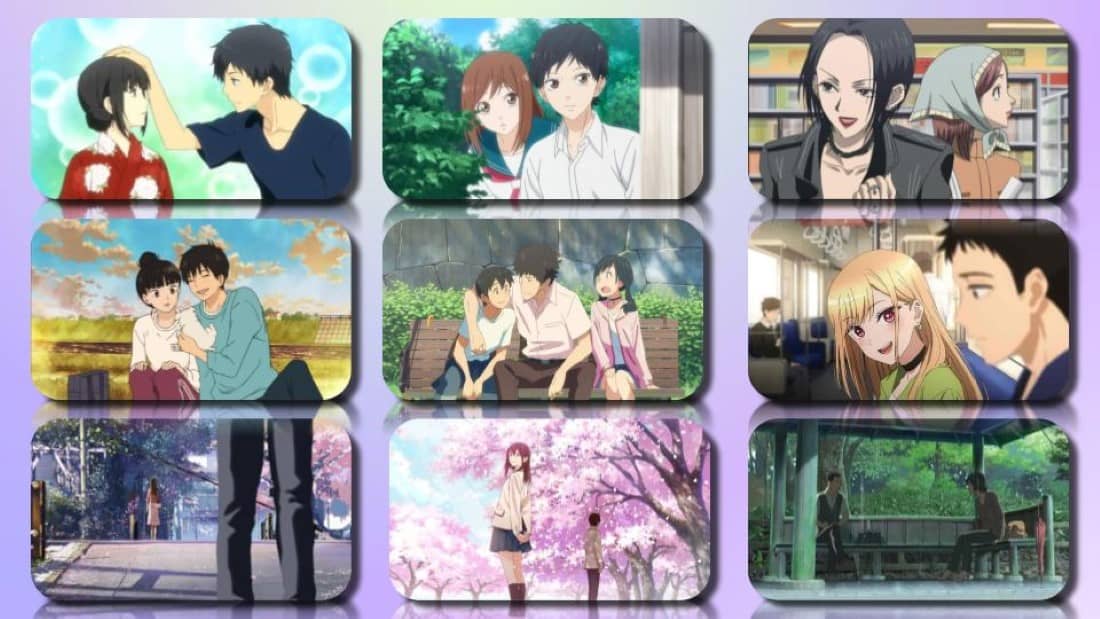 Anime, as a medium, has some of the most exceptional slice-of-life works in the entire world. And as the fandom calls it out, a slice-of-life anime with romance is a work of art on its own.
Therefore, we, as enthusiasts of anime and manga, experience some of the most fascinating features in our lives. And that's why it is important to look back at some of them and bring more light for the next generation to enjoy.
This is why I listed down the Top 50 Most Popular Slice Of Life Romance Anime in this article.
If you want some calm and soothing romance for your story then this is the list for you. I hope you enjoy it.
50. Kimi ga Nozomu Eien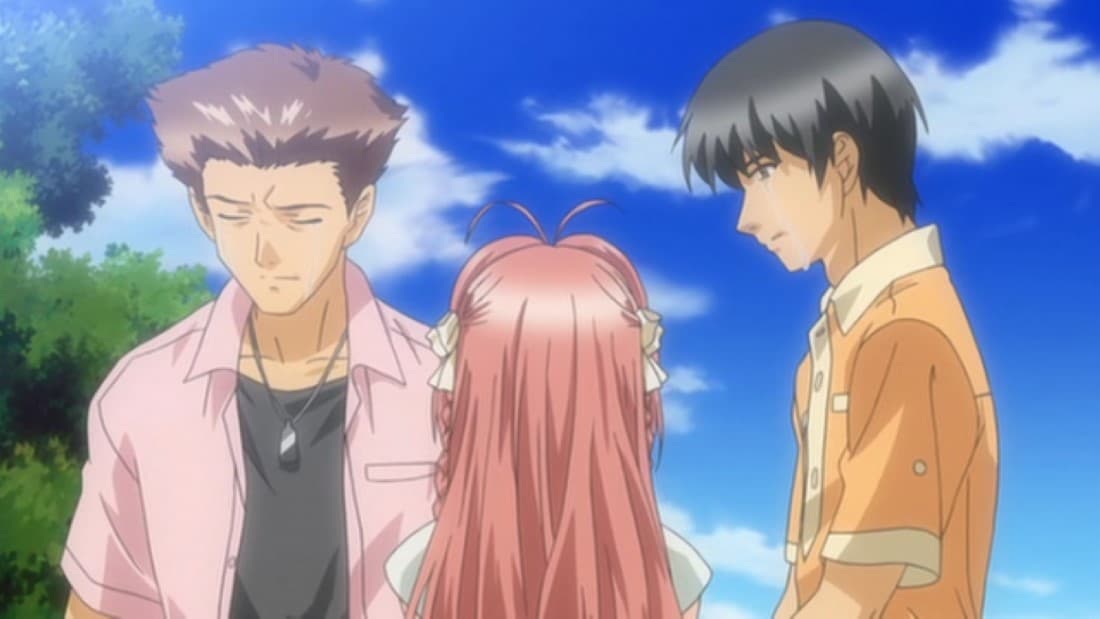 Well well, we are starting pretty strong here. The first anime on our list is something that questions Morales and ethics to the core.
This is why it is such a work of art. The show talks about a couple named Takayuki and Haruka who decide to get together.
And in this bond, they invite two of their friends as well, making this entire event, a group of 4.
However, things start to take interesting turns when one of them faces a major health problem. That person ends up in a Coma and stays out of connection for over 3 years.
After this huge gap, the relationships between these 4 people are going to get more and more complicated. That's where the beauty lies.
49. Seijo no Maryoku wa Bannou Desu
This is a fantasy story that you need to watch as soon as possible. After all, it is quite refreshing as a slice-of-life anime.
The show talks about a world where a constant battle is going on between two creatures. Amidst this battle, a girl named Sei enters this world and happens to be considered a Saint.
However, that was how things were supposed to go. But life takes some different turns and some other girl gets assigned the tag of Saint.
And now Sei is all on her own. She has no choice but to see for herself in this completely new world.
If things don't work out properly, she might have to face another major problem. And that is survival.
48. Kimi no Iru Machi
The love story portrayed in this anime is quite fascinating yet relatable at the same time. After all, long-distance connections are still going strong.
The series talks about a guy named Haruto whose seemingly normal life ends up taking some exciting turns when Yuzuki Eba is with him.
That's what makes them a strong couple altogether. However, this exciting bond doesn't last long enough. Things take different shapes and now Eba is in Tokyo.
Years later, Haruto visits Tokyo to become a cook and get close with Eba again. However, things don't start right and it seems that a new character named Asuka has entered into this relationship. Let's see how it goes.
47. Hitorijime My Hero
An anime that will make you a bit more confident about yourself as well as show you the brighter side of having friends.
The series focuses on a guy named Masahiro Setagawa who is looked upon as an errand boy with no real friends whatsoever.
However, things change when he meets Kousuke. A few months later, it turns out that Kousuke is Masahiro and his friend's math teacher.
Now all these three start to develop a strong relationship and everything seems to be going fine. However, that is until Kousuke's friend enters the group.
Now things will get quite out of hand. And that's why the series is ranked here on our list. Let's see how it goes.
46. Shikioriori
Have you ever felt that life is not fun anymore like it used to? If so, then you are experiencing the shift from childhood to adulthood.
And to understand this change a lot more descriptively, we have Shikioriori. The series talks about 3 different stories that took place in 3 different cities.
And all these 3 incidents will give you an idea of how to feel when things don't seem to be on track with what you wish to acquire.
This is why the show is appreciated so much. It will focus on the transition that takes place when you transform, slowly and steadily, into an adult and understand the hardships of life altogether.
Yup, that's how impactful this anime is.
45. Little Busters!: Refrain
Considered to be an upgrade from the original series, Little Busters Refrain is one of the most entertaining pieces of work that you can watch right now.
The stories continue from where they left off. Our cast lost their first basketball match but the experience they had was incredible.
Therefore, they continue it out with a pancake party. The series continues to dive deep into characters like Rimi and Kyousuke and explores their personalities in a much more fascinating manner.
At the end of the day, things happen and our cast continues to grow both physically and mentally. And this growth will shape the relationship for everyone forever. That's why it is so important.
44. Glasslip
Having the ability to see the future may seem like a superpower at first. However, after watching Glasslip, you might reconsider your thought.
The series talks about a guy named Touka Fukami who is able to see fragments of the future as well as hear voices in his head.
However, he chooses to ignore all of that and continue his normal life like usual. That's why he ends up getting a ton of friends in his school life.
However, with the passage of time, these friends will create a ton of experiences that will be remembered by us in the long run.
Whether they are good or bad, the bonds that will be created here are going to shape our characters forever. This is why the show is so great.
43. Adachi to Shimamura
The name of the anime has already revealed the couple. So there's no more reason to hold back. The series talks about Sakura Adachi and Hougetsu Shimamura who end up becoming friends with each other.
However, this friendship continues to get stronger and stronger to the point that it is no longer qualified for friendship.
It is a lot more qualified for Love. The anime makes its move with its contents and goes on to create an ambiance that replicates the nature of friendship that matured into a relationship.
And having such a strong relationship with someone can definitely tear you apart. However, it can also shape you for the greater good.
42. Cider no You ni Kotoba ga Wakiagaru
A rather tricky name. I know. However, the anime is a lot simpler than that. This anime grasped a lot of attention when it first aired and a great amount of credit for that goes to its animation.
The show talks about a guy named Yui Cherry Sakura who is a poet and Yuki Smile Hoshino who is an influencer.
Both of them have their own lives with their passions in place. However, things get interesting when Cherry and Smile get together.
This bond gets stronger and stronger and soon enough, it turns into something unexpected. This duo was on the mission to assist a senile man.
And maybe they went past that.
41. Date A Live II: Kurumi Star Festival
If you are a fan of the Date A Live series then this OVA is a must-watch for you.
It dives deeper into the relationships that exist between characters and explores them in a fun format. The story talks about the wedding that takes place between Shidou Itsuka and Kurumi Tokisaki.
That's right ladies and gentlemen, the super popular Waifu Kurumi Tokisaki is going to experience a wedding for once.
And while it won't be an actual wedding, it would still be able to replicate the feelings and sentiments along with the setting in which this entire wedding is placed.
Therefore, this show will go on to prove itself as an amazing side episode to watch.
40. Kimi to Boku.
A story that dives deep into the friendship and fun that exists between them. And this is why it is here on our list.
The show talks about a bunch of friends who were living their high school life normally when suddenly, Chizuru Tachibana joins them.
And this is where all the fun begins. Because now this group is going to experience the beauty of friendship in high school as well as the moments that are shared between them.
This is what makes the show so impressive in the first place. After all, the anime is a slice-of-life series.
The simplicity and basic yet entertaining nature of the show are what make it so exceptional in the first place.
Make sure to give it a go.
39. Papa no Iukoto wo Kikinasai!
This is a show that will bring tears to your eyes while also making you smile. And the cuteness in the story is just too much.
It talks about a guy named Yuuta Segawa who was taken in by his sister back when his parents died.
And as he grew up, he respected his sister a lot. However, one day, his sister left her kids with him and went on a business trip with her husband.
However, the plane she was aboard went missing and it was assumed that the passengers were no more. Now, a high school student, Yuuta must strive to balance everything in his life.
From handling the kids to raising them properly to managing his own life. This is going to be fun.
38. Given Movie
A movie that will spark you with keen interest and effort. That's what Given is all about. It focuses on the band named Given which goes on to the final round of their participating contest.
Things are going on track. However, soon enough, the characters start to have their own life, interfering in the functioning of the band.
The show goes on to express the interpersonal relationships that have started to develop between the band. As well as the grudges and feelings that the characters hold for each other.
There's a reason why people love this anime so much. And the movie just goes on to concrete itself as an entertainment beast.
37. Osake wa Fuufu ni Natte kara
This cute love story between an assistant office manager and her boss is going to melt your heart. The show focuses on a girl named Chisato who seems to dislike alcohol.
However, that's just a facade. Instead, she loves to have it all the time and the fun that comes with it is addictive to her.
However, this side of Chisato is only open to her husband Sora. And that's what makes their relationship a lot more fun and interesting.
There's a reason why people look up to this anime. It is quite basic but has a ton of elements that can't be overlooked at all.
This is why it is ranked so high on our list. Make sure to watch it. It might be addicting for you.
36. Paradise Kiss
An interesting name indeed. However, the contents are even more interesting. The show talks about a girl named Yukari Hayasaka who gets her seemingly normal life turned upside down when she catches the attention of a ton of designers.
That's right ladies and gentlemen, a lot of fashion designers and experts have managed to scout Yukari as a great model and they went on to propose the idea to her.
However, for someone as conservative as her, this idea is just as dumb as you might expect. However, the group isn't going to spare her easily and they will make sure to nurture her talent to its finest.
Will Yukari finally take a jump in the realm of modeling?
35. Kareshi Kanojo no Jijou
This anime follows a very standard form of character that is always so fascinating to watch. And this form of character is a seemingly perfect girl.
In our case, it's Yukino Miyazawa. The show talks about Yukino who is known for having exceptional academics, looks, and personality.
Everybody looks up to her and her life seems to be perfect. However, there's someone more perfect than her.
And that's Souichirou Arima. He has every quality that Yukino does but slightly better. And although it was envy that was first developed between them.
Soon enough, it was replaced by something a lot stronger. Something that will shape their bond forever.
34. Nijiiro Days
A standard slice-of-life anime that you wouldn't wanna miss out on. That's what Nijiiro Days is. It talks about a group of 4 guys who are having their own captivating lives and relationships going on with them.
However, as they are all connected with the thread of friendship, they will experience some of the most impactful events of their life.
As heartbreak, new bonds, and a ton of unforeseen experiences take place, Nijiiro days continuously portray a great image for the viewers that can entertain as well as relate with the audience on a different level. This is why it is ranked here.
33. Shin no Nakama ja Nai to Yuusha no Party wo Oidasareta node, Henkyou de Slow Life suru Koto ni Shimashita
Woah! That Title! That's HUGE! The series is set in a fantasy world where demons and war are omnipresent.
The show talks about a D-Rank adventurer named Red who always wanted to have a peaceful life in the countryside.
Fortunately, he manages to create one and gets into a live-in relationship with Rit who gave up all her background to get with Red.
This duo is kind, humble, and generous as the leaders of their area. And there's nothing wrong with them other than their big secret.
A secret that still haunts them, despite having its roots in the past. Will they have a fulfilling life ahead of them? Or will their past take them forever?
32. Bokura ga Ita
It's the first year in high school and Nanami Takahashi is all set to make a ton of new friends.
And she does manage to find them. However, their stories aren't as simple as we might expect. There are past relationships involved with these characters that shape their present and define their future.
As people spend time together, they continue to form bonds that aren't broken in just one. Instead, these bonds are just kept hidden inside the heart.
And when the situation calls for it, the relationships surface with the sole purpose of providing help and comfort.
This is the kind of relationship that will surge between Nanami, Yuri, and Yano.
31. White Album 2
The show talks about the disbandment of the Light Music Club. Things don't seem to be on point since Haruki isn't able to handle them.
And everything is going downhill. The dream of making it to the school festival also seems out of place for now.
And that's when the White Album kicks in. A melodious voice makes its way to the ears and just captivates the audience.
This voice is going to change the course of the show and the lives of all those who are experiencing it, forever.
However, who is this new voice? And how will it help Haruki have her dream come true? That's what the anime is all about.
30. Chuunibyou demo Koi ga Shitai! Movie: Take On Me
This is a phenomenal movie from the Chuunibyou franchise. And if you haven't watched it yet, you are missing out.
The story of this movie is quite simple. It talks about Rikka and Yuuta as they try to go to the same University.
Alright, nothing wrong here. However, things flip when Rikka's sister finds a stable job in Italy. And now, she is going to take Rikka to Italy by herself.
However, this is where the fun begins. The group is going to do all they can to make sure that Rikka doesn't go to Italy and instead stays here along with Yuuta and the others.
However, in order to do so, they might need to explore the depths of Japan. Therefore, things will be looking great for them.
29. Doukyuusei (Movie)
This movie focuses on friendship built out of sheer luck. However, just as they say. A friendship built out of sheer luck is all that it takes to shape the character of someone.
And that's what happens with Hikaru Kasukabe and his new friend Rihito. While both of them are on their way to having a great life ahead of them, their presence is just as simple as you might expect.
However, after meeting each other, the duo starts to take a positive outlook on their life and explore the depths of friendships and their executions that will change the atmosphere forever.
Therefore, if you are into slow yet captivating slice-of-life anime then this is the work for you.
28. Kanokon
This anime is a lot more fantasy-oriented at first. However, the connections do join the real world as well.
The series talks about a guy named Kouta who is experiencing a lot of female issues in his life including affection from animal spirits.
The two spirits that won't leave his side at all are Chizuru and Nozomu. These two girls admire him so much that they would do anything to be with him.
And this admiration goes far beyond anything. After all, not every spirit will take the time and effort to enroll themselves in a school just to be with their beloved master.
Well, Kouta is going to have quite a lot of experiences in his new life.
27. Sakura Trick
The friendship that took shape since childhood is strong on the inside. However, circumstances can change anything, anytime. The show focuses on Haruka Takayama and Yuu Sonda, who have been friends for life.
However, their luck seems to run out when they are given the opposite seats in their classroom. Moreover, the school is about to shut down soon so this is going to be some of the last days of their lives.
And to add up more problems, Yuu seems to be attracting a lot more friends than she should. And that's making Haruka quite jealous.
This relationship is going to take some fascinating turns as they are out to a finite test here!
26. Hachimitsu to Clover
Honey and Clover was a popular series that captured the hearts of the viewers right from the get-go. And the artistic values that it offers are just a cherry on the cake for the series.
The show talks about a guy named Yuuta Takemoto who is known for being a failure in his academics.
Things seem to be going horribly for him as he strives to achieve the most out of his life.
However, that won't change the fact that his love, at first sight, Hagumi Hanamoto, is going to shape his personality forever.
And that's why this man is going to experience the beauty and grace of high school life as he spends more time with the people around him. The excellence of this show is unmatched.
25. Love Hina
Love is not a simple task. There needs to be a lot of time and effort required for love to take shape and pave its way to the heart of the couple.
However, sometimes, you just can't finish what you promised. And that's exactly what happened with Keitaro when he promised a girl that they will meet again at Tokyo University.
Unfortunately, that didn't happen since Keitaro scored horrible marks. However, he didn't lose hope just yet. He ended up in an all-girls dormitory and that's where things started to get interesting for him.
Why? Because now, he is going to deal with a ton of beautiful ladies for quite a lot of time. Not the easiest thing to do in life.
24. Kanon (2006)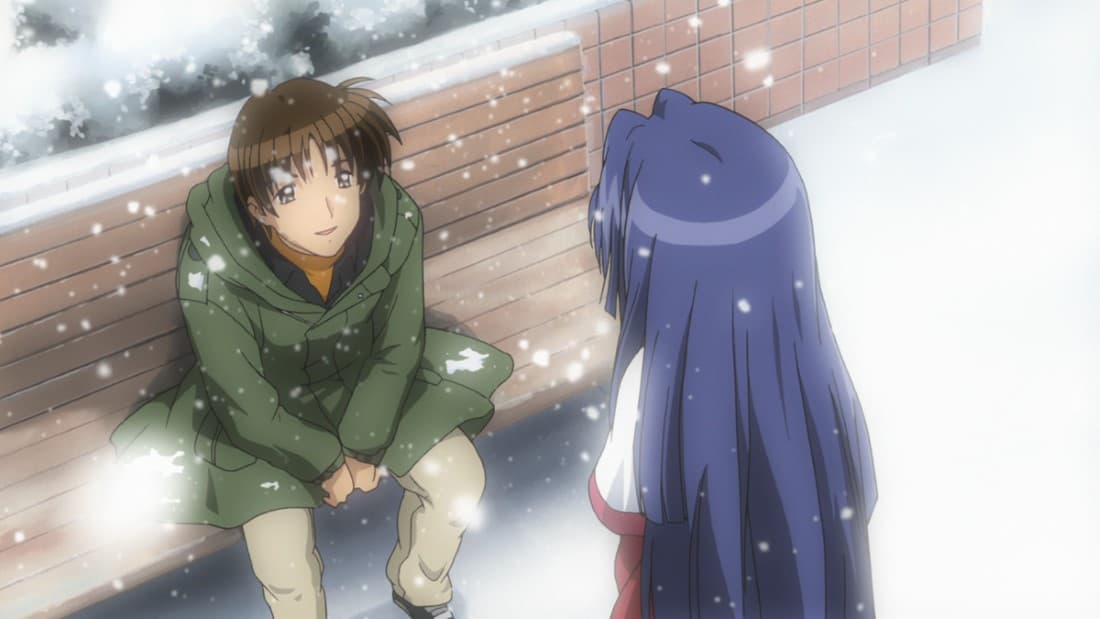 This story will tell you about the power of nostalgia and the feelings that come along with it. And that's what makes the show so impressive in the first place.
The anime talks about a guy named Aizawa Yuuichi who was part of the city during his childhood. However, soon enough, he saw a completely new transition from his beloved city to something unseen.
He should be having memories about the same but he doesn't. And that's what makes this city so special.
But maybe when he starts interacting with the members of the city again, he might have another chance. Well, that's what this is all about.
23. Tada-kun wa Koi wo Shinai
The English title for this anime is Tada Never Falls In Love. Yeah, you can already see the novelty in this story.
The show talks about a guy named Mitsuyoshi Tada who is an aspiring photographer. Nothing catches his attention other than beautiful sceneries and nature.
However, when he continues his high school, things start to get more and more interesting. Soon enough, he gets a ton of friends in his photography club and all of them decide to spend time together.
This is what makes them a great group together. And in the colorful ambiance of high school life, Tada may end up developing strong feelings for something other than photography. That's what it is all about.
22. Koi wa Ameagari no You ni
Akira Tachibana was an absolutely gorgeous runner whose excellence was unreal. However, after a horrible accident, things started going downhill for her.
She is also quite an attractive girl who doesn't seem to be interested in any of her peers. Instead, she is interested in a completely unexpected man.
The manager of her cafe, Masami Kondou has managed to catch the attention of our beloved girl. However, things might take different turns when he ends up facing something unexpected.
And that is the confession from Akira. Masami is 45 years old and so, the age gap can create a lot of hurdles in their bond. However, he might have a way out of it.
21. Bokutachi no Remake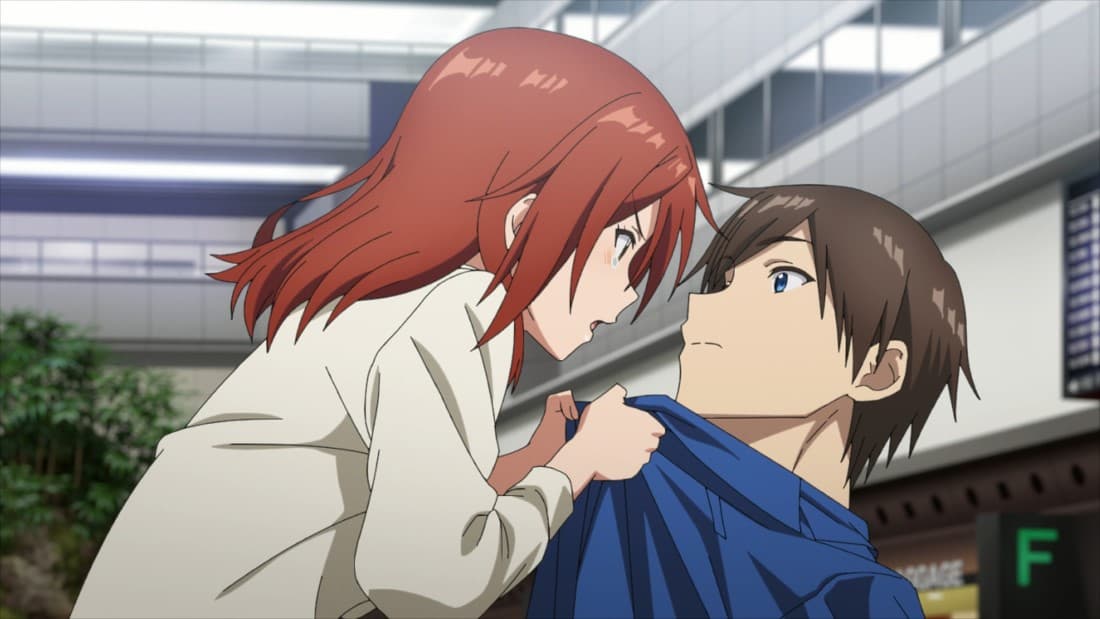 The beauty of this anime lies in its realism and presentation. This is why it is ranked so high on our list.
The series talks about a guy named Kyouya Hashiba who left his job and started pursuing a career in gaming.
However, that doesn't work out all that well and he ends up losing a lot of value in the process.
But things take some unexpected turns. And when I say some unexpected turns, I mean some time travel shenanigans.
This is where the anime gets interesting. Now suddenly, our main character has gone 10 years back in time.
And as someone whose life was quite off-track until yesterday, this is a great opportunity for him to prove himself and his worth as a whole.
20. Just Because!
The end of academics is just as painful as you might expect. And that's why it is hard to let go of everything that made you during your tenure.
The show talks about a girl named Mio Natsume who has a lot to express at the end of her school year.
However, this is not the end of it all. Instead, this is where it all begins. Because with the climax on the horizon, Just Because will give you an experience that will shake you from the core.
Mio and her group that was separated in the past are finally going to be together again, thanks to a certain someone's arrival.
And this is why the show will continue to forge itself as an amazing piece.
19. Yesterday wo Utatte
This anime is quite impressive for anyone who is into a hardcore slice-of-life element. And this is why it is placed here on our list.
The show talks about a guy named Rikuo who was working mindlessly in his life. He had no goals, no dreams, no vision, nothing.
However, his chorus life came to an end when Haru Nonaka showed up. Moreover, along with Haru comes another girl in Rikuo's story named Shinako.
She is Rikuo's previous crush and so, things start to get interesting between these three. Unsaid words, emotions, and feelings are all going to accumulate to make this show as impressive as it is.
18. Air
Air is an anime that just engraves itself in the minds of the viewers. The story is so unique yet attractive that nothing can capture it.
The show talks about a girl named Yukito who is on a special search. She wants to get across the winged maiden who was part of the stories that her mother told her about during her childhood.
And that's why she is going to have a lot of work to do. However, when she gets into a new village due to unforeseen circumstances, she decides to help out the people there and keep the mission of finding the winged maiden on hold.
However, she might have just triggered what is needed to know about her without realizing it.
17. Nodame Cantabile
A cool, calm, and collected story about a couple of characters having a ton of fun in their high school life.
The tranquility of this series is what makes the show so amazing in the first place. The series talks about a guy named Shinichi Chiaki who wishes to be an ace violinist.
He is extremely focused on himself and his actions and so, he isn't able to make many friends. However, things change when he meets Megumi Nora.
While she just seemed like another goofy girl to him, things started to take shape. When he realized that this girl has some unreal talents with respect to singing and music as a whole.
And now their relationship seems to get interlinked.
16. Acchi Kocchi
The anime is so cute, that you might end up losing your cheeks. Although, don't force them much because it will be all worth it.
The show talks about two friends named Tsumiki and Io. And one of them happened to like the other one.
It's Tsumiki who fell for Io and wishes to continue her life with him only. However, that is going to be quite some task since Io doesn't seem to be all that interested.
He admires Tsumiki for sure but seems to be clueless about what was going on with her life. And soon enough, the daily life happenings catch both of them up to Knowing more about each other.
15. Josee to Tora to Sakana-tachi
This movie took the entire medium by a storm. Since it was a new and unique love story with interesting characters and an amazing backstory, it was bound to gain the spotlight.
The anime talks about a guy named Tsuneo who is extremely passionate about the seas. And so, he wishes to attain all the knowledge he can.
However, his life takes some unexpected turns when he meets Josee. She is a girl in a wheelchair who may come off as rude at first but is quite sweet on the inside.
He takes up the job of caretaking for her and soon enough, they develop a friendship that can't be compared to anything they have ever experienced.
This is why the show will go on to become a motivational piece in the near future.
14. Mimi wo Sumaseba
This is a great Ghibli movie that will reach the hearts of all those who are into slow yet captivating series.
The movie talks about a girl named Shizuku who is known for her passion for literature. However, her life changes when she comes across a guy named Seiji.
He used to read the same books that Shizuku did and so, she decided to meet him and explore his passion as well.
However, the search led her to an antique shop where she is going to experience some of the most bizarre things.
However, that will shape the relationship between Seiji and Shizuku, as well as their outlook on life and the goals that they have set for themselves. This is going to be fun.
13. ReLIFE: Kanketsu-hen
This is another installment from the ReLife franchise. And it goes on to express the life of our main character Arata who is still going on through the transition of his ReLife experiment.
However, the climax is right on the horizon and things are seeming too good. This is where the story will take some unexpected turns and the characters will have some unforeseen experiences.
It would be great to see how the story ends with all the characters involved in the experiment. Not only will our main character see a completely new world but he will also be able to make other people experience a better atmosphere than what they had experienced before.
12. Tamako Love Story
Tamako Love Story is all about a cute romance between a couple. The show talks about a girl named Tamako who is part of a family of business owners.
However, she has a definite competitor named Mochizou who is just around the same age as her and has been in contact with her since childhood.
And things have always been quite healthy between them. But Mochizou is going to experience the end of his academic year.
And so, he would have no choice but to express his love to Tamako once and for all. The clock is ticking and if he misses this chance, he might lose her forever.
This is going to be so much fun to watch.
11. Kimi ni Todoke 2nd Season
Have you watched the first season of Kimi ni Todoke? If yes then this one will be a feast for you.
The show continues to explore our characters Sawako and Shouta and their romantic relationship. The anime goes on to express the continuous love and admiration that these characters share for each other while also telling about the beauty of all the other characters involved in this.
The series manages to capture a huge market and fans love this anime from the depths of their heart.
This season focuses on the beginning of Valentine's Week and the inception of unforeseen feelings within the characters. This is going to be quite interesting to watch.
10. Given
Anyone who loves music and has a passion for it will love the hell out of given. Why? Because this slice of life anime will shape your outlook on what truly means to be a musician.
The show focuses on a bunch of characters with different backgrounds getting together under one roof to practice what makes their life meaningful, and that's music.
And as they do so, they decide to take their passion to the next level and compete for everything that they want.
Soon enough, things will get a bit more complex with these characters as their personal life clashes with their activities.
However, all of it will be brought to life with the realistic representation in this series.
9. Nana
This anime is a lot more mature and fascinating than what meets the eye. And this is why it manages to capture a massive audience without breaking a sweat.
The anime talks about two girls that share the same name. Nana. And both of these girls have had past experiences that shaped theirs as personalities.
However, when their fates cross paths, they realize that this world is a lot more interesting and captivating than they initially thought.
And that's when it all began. The growth of Nana as she tries to have a better life ahead of her is what makes the show so entertaining yet realistic.
8. Sono Bisque Doll wa Koi wo Suru
My Dress-Up Darling took the entire fandom by a storm. And that was quite understandable considering that the show had an incredible Waifu for us.
The series talks about a girl named Marin Kitagawa who loves to cosplay and she meets a guy named Gojo who loves to design clothes for dolls.
Although both of their passions may seem a bit out of place at first, in reality, they seem to share a strong sense of connection.
And this connection will be tackled in this series as Gojo goes on to spend most of his time dressing for his dolls.
But in the process, he might have a Marin coincide with her work as well. And their seemingly simple relationship may get too complex.
7. Kotonoha no Niwa
The Garden Of Words is an amazing piece that needs more love and appreciation from the fandom. After all, we aren't seeing many animations as beautiful as this one.
The series talks about a guy named Takao who is on his journey to becoming an elite shoemaker. One day, he decided to skip lectures and sit in a beautiful garden for his work.
There, he comes across a woman who needed a new pair of shoes and so, they both started to be with each other.
They would come into the garden and spend time together. And in the process, they might end up creating some of the most unexpected feelings toward each other.
This is why the series is known for its depiction.
6. Kimi no Suizou wo Tabetai
A cry fest. That's how you would describe this movie. It talks about a guy who seems to be emotionless from all angles.
He doesn't seem to feel sorrow or happiness and his face seems just as stale as you can imagine.
However, all of that comes to an end when he meets Sakura, a girl who has been diagnosed with a lethal pancreatic disease.
Together, both of them will spend time with each other and soon enough, develop feelings that they never expected they would.
However, there's one slight problem. Destiny has defined Sakura. And her death is inevitable. This love story is bound to have a tragic ending. And it will hit harder than a truck.
5. Tenki no Ko
A supernatural story that managed to take the entire anime fandom by a storm. That's what this anime is all about.
A beautiful love story that will melt your heart. The movie talks about a girl named Hina who happened to have unreal powers under her belt.
The hustling and bustling city of Tokyo seems to have constant rainfall going on. However, this will be brought to a different conclusion since Hina has the ability to make sunshine appear out of will.
And with Hodaka, she goes on to help out all those who require sunlight. However, there might be some catch to her powers.
And messing up with nature isn't exactly the smartest thing to do.
4. Ao Haru Ride
A love story that will make you admire the concept of a relationship so much. And with the complexity of high school life in place, the series will continue to pave its name into the books of excellence.
The series talks about a girl named Futaba who always tries to maintain distance from people. Moreover, she is known for being quite a popular girl amongst boys and so, her social life has gotten kind of awkward.
However, things get better when her crush Kou Tanaka comes into the equation. And let's just say that this is where the anime will take some interesting turns.
Will her crush look up to her and have a positive eye? That's what we are going to experience soon enough!
3. Kimi ni Todoke
Another sweet story that will melt your heart and give you a new outlook on love. That's what Kimi ni Todoke is.
The series talks about a girl named Sawako who seems to be quite attractive amongst her classmates. However, her life was changed when she came across Shouta Kazehaya who is the most popular boy in her class.
And he is not only an attractive boy to her but also a model student. There's a reason why people look up to this show so much.
The series continues to create some of the most fascinating moments between couples and pave the way for an experience that we won't have without this series.
Make sure that you watch this anime at all costs.
2. Byousoku 5 Centimeter
5 Centimetres Per Second is an absolute beauty with the contents that it offers. And that's what makes it worthy of the runner-up spot.
The series talks about a couple named Takaki Toono and Akari Shinohara who are beyond close as friends. However, this closeness is all in their mind.
In reality, they are extremely far since they live in two completely different locations. But that won't be the end of their bond.
Because even after this long-distance, they will continue stronger and better than ever as they walk their own paths of life.
The story will nurture itself as a staple for anyone who is experiencing long-distance relationships and their heart will melt like butter.
1. ReLIFE
And the number one spot goes to ReLife. This shouldn't be a surprise to anyone considering that the anime has all that it needs to be an incredible slice-of-life series.
The show focuses on a guy named Arata Kaizaki whose life is not in the best position. Therefore, he accepts the offer of getting into a program called ReLife.
This will allow him to go back to his 17-year-old self and live out everything he missed. And in the process, he might be able to shape his future forever.
The beauty of ReLife lies in the fact that it expresses the idea of changing your past to have a brighter life ahead.
And since this idea is felt by every human in this world, the show continues to engrave itself as an amazing piece of art.
And that's what makes it worthy of this list!