»
Top 30 Best Anime Like Horimiya To Watch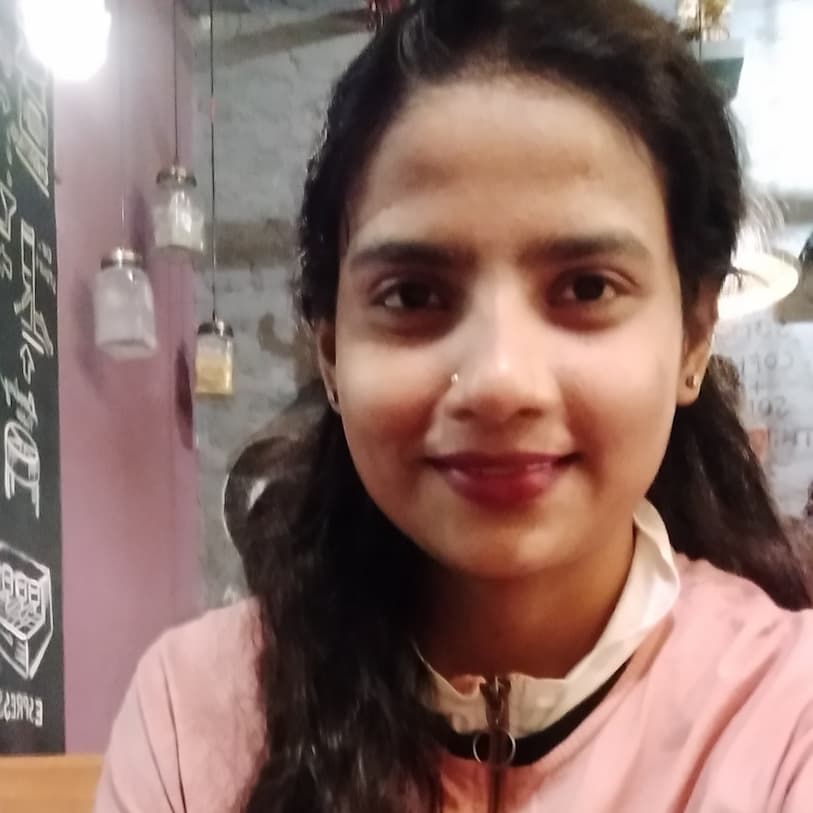 Kumari-Posted Jan 12, 2023
---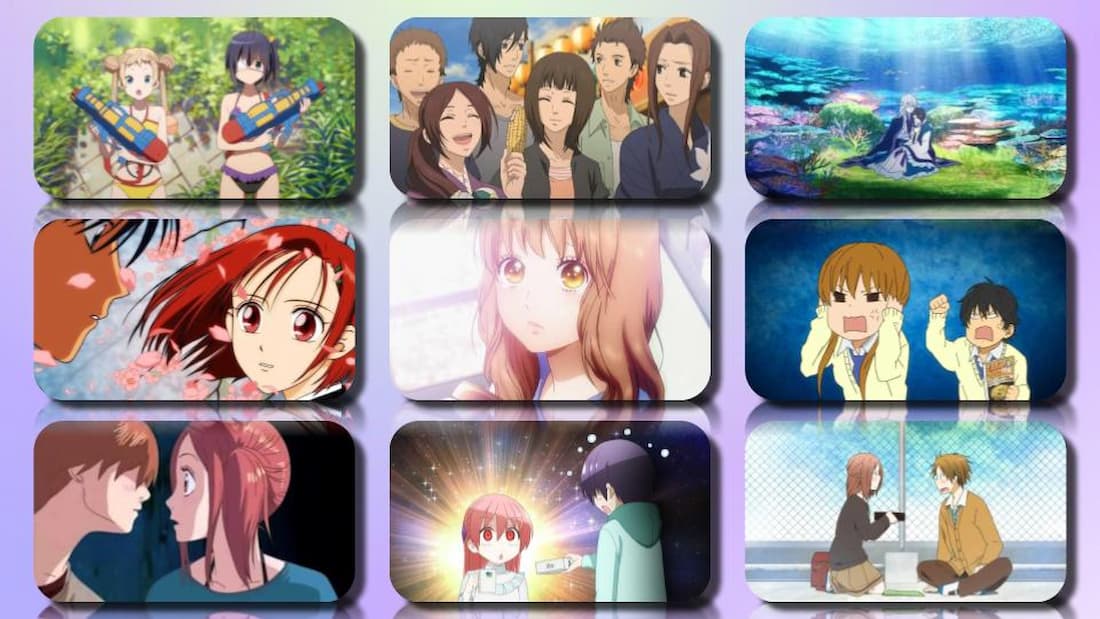 School drama that comes with romance is something that gains a lot of popularity because of its shiny characters and diverse personalities. Horimiya is one of the best in terms of romantic interludes where the story of a famous girl, Hori, at her school comes into existence without having any social life.
On the other hand, Miyamura is a boy who appears distant with secret tattoos and gentle nature. The story and setting appear quite fascinating as it contains an interesting plot, and the attraction of opposite personalities.
The visual aesthetics are also appreciable. So if you ever wonder where to go with any anime like Horimiya then there are a lot that share the same genre, theme, and plot consistency.
So here are the top 30 anime like Horimiya that stand well from every angle.
30. Say "I Love You" (2012)
As per the title, one can guess that it's a love story and that's what is common with Horimiya. Both anime not just share a romantic theme but also school life and the attraction of opposite personalities.
It starts with Mei Tachibana always believing in her friends till the time she was accused of the death of a class pet. That's the reason why she decided to stay away from people even though her life changed when she met with Yamato.
Yamato found the girl very interesting and insisted on friendship; however, zero response was given to him. Soon the two leading characters started developing feelings for each other that started with an accidental kiss and ended with the three lovely words 'I Love You' from the title.
The anime is known for the characters and for the love angle it has created in them. Apart from it, the design and the background music are also appreciable.
29. Nagi no Asukara (2013)
It appears quite fascinating to live underwater and get the privilege of it. However, the anime A Null in the Sea is about the rift between the underwater world and the people that started with those living on the surface.
The story is about Manaka Mukaido and Hikari Sakishima with some of their friends. These characters were forced to live inside water but attended surface school with another fellow student.
Soon the life of these characters, Hikari and friends, changes as they deal with discrimination going on between the underwater world and the surface world that affected their life. Due to the school life corner and the fascinating plot that came with consistency, it shares many similarities with Horimiya.
One can find a romance angle between the students that also matches the parent anime.
28. Kareshi Kanojo no Jijou (1998)
Yukino being the female representative has a great reputation at her school. But in reality, she is more jealous and wants to be the only one's attention. Opposite her is Arima, the male representative of the class who gets more grades than her.
After many attempts, Yukino finally got higher grades than Arima. He came and congratulated her which at last led to many questions about her lifestyle. The story then carries on with the confession of Arima to Yukino but she put him down immediately, and later, regretted it.
Coming to the similarity then comes with school life and the way characters are present in the animation. Whether it is related to forming a love angle with the opposite nature, or the transition in the plot, everything fits very well with Horimiya.
27. My Love Story (2015)
My Love Story is one of the best in terms of romantic anime coming with school life. Just like Horimiya, characters appear differently and hold different natures from the core, this anime also has the same.
The story is related to a muscular and tall male character named Takeo Gouda. He is a freshman in the school whose appearance is opposite to his personality of gold.
Due to his rough appearance the opposite sex generally runs away. However, things changed when he met Rinko Yamato who was molested once and he saved her, eventually falling in love too.
Despite having feelings for Rinko, he decided to help her in her love interest towards Sunakawa and put his own love story away.
26. Tonari no Kaibutsu-kun (2012)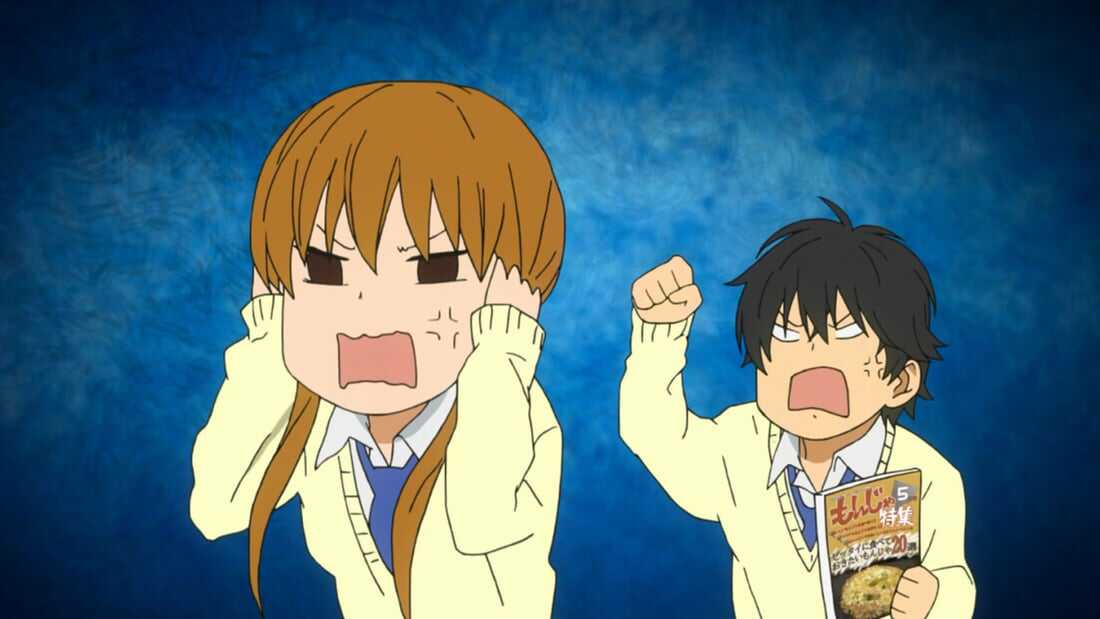 Just like in Horimiya where the love angle started with friendship, My Little Monster has the same. The friendship between Haru and Shizuku at first is good, but later on, ends with a different relationship and emotion.
The story is of Shizuku, only caring about her reputation and grades but her life changes when she meets Haru. Haru is the opposite of her, however, they share a lot of common interests.
The surprise came when Haru confessed his feelings toward her. Coming to Shizuku then due to a lack of social interaction, it was not easy for her to understand her or his feelings and emotions she is going to.
The anime has carried the perspective of both the leading characters but it still has many angles to go for. The comedy is not at all disappointing as it creates an abundance of laughter.
25. Lovely Complex (2007)
The soon going to be a romantic story that changes into a comedy when the crush of Risa and Ootani fail in love with each other, leaving both the characters into comical sketches.
Ootani and Risa came to high school with the motive of finding an ideal partner however, this led to frustration. When their crushes fell in love with each other, they both were labeled as comic because of their personality and difference in height.
Risa is a taller girl, more than an average girl, and the opposite of it is Ootani, shorter than the average boy. The story progresses when they motivate and encourage each other to find true love.
It also deals with their common similarities in music.
24. TONIKAWA: Over The Moon For You (2020)
With fascinating stories of falling in love under impossible circumstances, the anime TONIKAWA: Over The Moon For You is one of them. It has a lot of similarities with Horimiya as it not only forms the love angle but is also a slide comedy with aesthetic visuals.
The story is of Nasa Yuzaki who has written his name in history by getting the first position in the National Mock Exam. His life changes when he saw a beautiful girl across the street which later on leads to his accident.
Despite bleeding hard, he decided to go behind the girl and not leave the chance of meeting. After confessing his feelings towards the girl and getting acceptance, the only condition that lies between them is marriage.
The anime is known for clueless characters and stories. It creates a lot of questions leading to the ending whether the couple gets married or not.
23. One-Week Friends (2014)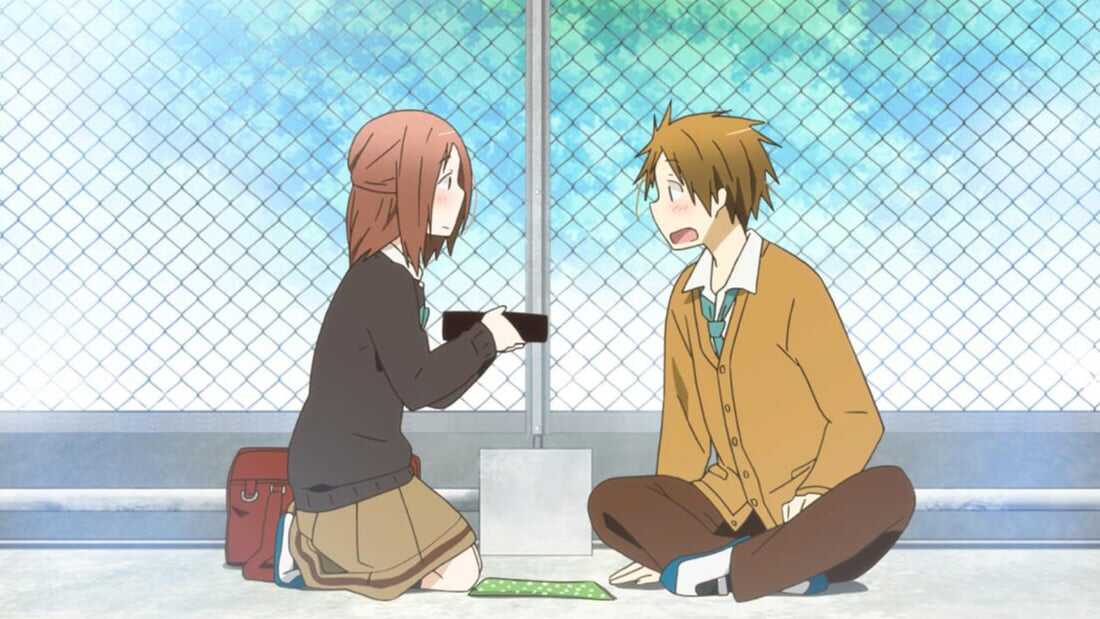 The story of forgetting memories after weeks scares us but for Kaori, it has become her habit. Losing her memory at the end of every week, she dealt with many ups and downs in her life.
But more than that, things became difficult for Yuuki as he always tries to get close to her but eventually gets away when Kaori loses her memory. The theme of friendship and love is very much visible in every episode of the anime, just like in Horimiya.
The story starts when Yuuki has developed feelings for Kaori and wants to start with friendship. The more he gets close to Kaori, the more she opens herself to him.
However, each week the same question gets repeated 'would you like to be friends?' as Yuuki is quite determined in his love.
22. Love, Chunibyo & Other Delusions! (2012)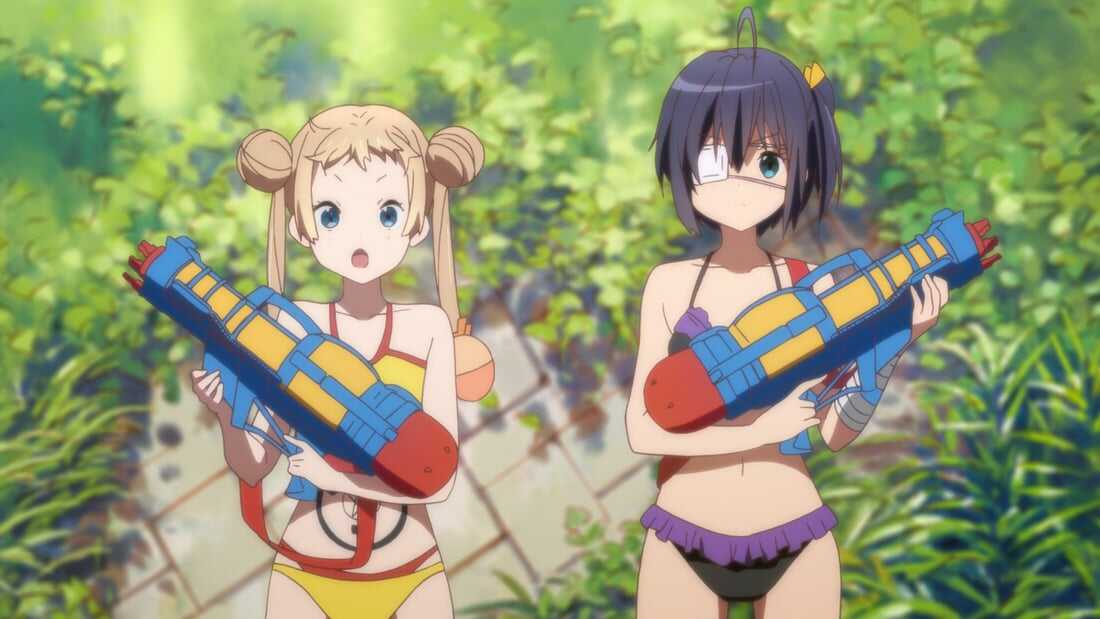 Everybody has the disease of Chuunibyou, a stage in life where people find themselves as special and different. But most of the time it ended with embarrassment. The same happened with Yuuta Togashi as he left his past behind and tried to live a normal school life.
However, his past decided to come back again with the character Rikka. Rikka Takanashi is the new classmate of Yuuta and she crashes all dreams of him becoming an ordinary student by dragging his past in alliteration.
It comes with the genre of school, romance, and comedy which is remarkable for the motivations of characters and beautiful art, just like Horimiya.
21. Nisekoi: False Love (2014)
A love story that started with hate is one of the types in the anime and that's what Nisekoi: False Love is. The story is related to Chitoge and Raku belonging to a family of rival gangs.
They accidentally met which resulted in almost a fight and Raku lost his locket due to Chitoge. When Chitoge got transferred into a new school and met Raku then he forces her to find the locket.
Their hatred towards each other changes into love with a pretension. This pretension came with plotting to be in a relationship as their family wants to marry them off. The plot appears to be quite mediocre however, the characters totally kept it on point.
The art is also quite unique to the story even though it carried a typical theme.
20. Citrus (2018)
Falling in love is not at all strange but if the situation goes opposite to what one thinks then it might appear strange. That's what happened with two leading characters named Yuzu and Mei, the stepsisters.
When the mother of Yuzu remarried and transferred her to a new school, Yuzu just thought of making new friends and falling in love. Unfortunately, things changed when she met her step-sister Mei, a beautiful Student Council president.
By getting fascinated with the body of Mei, Yuzu tried to form a friendship with her later on, which led to a different relationship due to a kiss between them.
This 2018 anime is a romance drama surrounded by school life similar to Horimiya. It is known for being good at art and animation with diverse characters.
19. ReLIFE (2016)
Getting released on 2 July 2016, ReLIFE is a school drama with romance, like Horimiya. The story is about going back ages and relieving the life of High School. It is related to Arata Kaizaki, a 27-year-old man who changes his job from one to another.
He meets with Ryou Yoake, a member of the ReLIFE Research Institute who experimented on him and reverted to a 17-year-old boy. Arata is trying to adapt to the new situation as a transfer student he realizes being a complete change.
On the other hand, Ryou was assigned to observe him and his struggle to adapt new lifestyle. Apart from being a romance it also gives a moral story where one should not take things for granted.
It is a typical period anime that is set in schools, parks, and festivals. Coming to the designs of the characters then it shares the same quality as the setting, quite good.
18. Rascal Does Not Dream of Bunny Girl Senpai (2018)
Puberty is something that has affected teenagers from all perspectives whether it is physical or mental. And that's what is the main plot of this anime where a disease called Puberty Syndrome affected a High School student named Mai Sakurajima.
Mai is a third-year school student who has gained a name and fame as a child actress. But she decided to give a break from her career and hide from any interaction.
While she was roaming around the library, Sakuta notices her and realizes her condition of falling into Puberty Syndrome. Soon, he decided to help her which later on, formed a romance angle.
Again, like any other anime, it also shares the school romance drama as the main theme which made it quite similar to the anime Horimiya.
17. Given (2019)
A friendship started with the same interest in guitar, and the leading characters come together and form the genre of boys' love and drama. It has the theme of music and school which is very much similar to a typical teenage anime.
When Mafuyu Satou was trying to play with his guitar, he entered a dark apartment and encountered a student named Ritsuka Uenoyama. By acknowledging the knowledge of Ritsuka, Mafuyu pleaded with him to teach him to play the guitar.
Due to the beautiful and determined nature of Mafuyu, Ritsuka decided to make him the lead singer of the group. Soon they got the support of new friends which later on led to many mysterious circumstances.
16. Orange (2016)
Orange is again another anime having the same genre and theme as Horimiya, drama, romance, and school life. It was released on 4 July 2016 and one can have access through Crunchyroll.
This anime also has the involvement of the past and future. It is related to the leading character Naho Takamiya who has received an unknown letter addressed to her from 10 years in the future.
At first, she was not believing the fact, however, realized that it was literally from her 26-year-old self. The letter is about improving her younger self and having a close eye on a fellow student, Kakeru Naruse.
Anime is remarkable for a lot of things which include sound, setting, design, art, enjoyment, and characters. The plot of the story is also appreciable as it has taken the audience well into the time of the future and past.
15. Rent-A-Girlfriend (2020)
Consider a good adaptation of its anime Rent-A-Girlfriend, a story about 20-year-old student Kazuya. She has an amazing girlfriend named Mami however their relationship ended up breaking with no clues.
By getting heartbroken, he tried to hire a rented girlfriend with the help of an online app and found Chizuru. At first, Kazuya did not believe in Chizuru and thought of her as a shameless hypocrite.
Due to the same reason, he decided to show his hot-tempered nature to her but things changed when his grandmother arrived in the story. The question of whether Kazuya is going to move on with Chizuru or still try to get back to her previous relationship is always in the front.
And that's the reason why it was appreciated for its plot.
14. Wotakoi: Love is Hard for Otaku (2018)
Instead of going with a school romance, this anime is related to workplace romance and also comes with the theme of an adult cast. Narumi and Hirotaka are in a relationship where Narumi shares an incredible taste in anime and video games.
It is also considered one of the best in terms of slice-of-life anime where surprise and warmth come with amazing choreography. Since it does not have any High School characters, it has got a lot of room for many scenarios that might appear to be mature and at the same time childish.
And that's the reason why it does not have any kind of random blushing like the high school anime. Coming to the similarity then it comes with the character and the transition of the plot.
The romance angle is well appreciated and present in anime, like Horimiya.
13. Ouran HighSchool Host Club (2006)
As one can guess from the title, it is a high school story, and it also comes with the theme of reverse harem and cross-dressing. It was released on 5 April 2006 and fell under the genre of romance and comedy.
The story is related to a studio girl named Haruhi Fujioka who got enrolled in an Academy. Living her peaceful life and focusing on her study, she entered the music room and broke an expensive vase accidentally.
Since she was not able to pay for the damage, Haruhi started working for the music club and became a host. Every character present in the anime is based on the stereotypical nature of teenagers.
It is filled with giggles and random plots however, one cannot avoid its shallow nature.
12. Kaguya-sama: Love is War (2019)
Developing feelings for each other, Kaguya Shinomiya and Miyuki Shirogane also came with honor and pride. Due to their pride in nature, they are not ready to confess their feeling as the one who will confess would be considered the lesser.
The story is of Miyuki being the Student Council President and Kaguya being the vice president and also the one who tops in every field. Considered one of the perfect couples in the school, they both have a determined nature on the battlefield of love.
Due to the angle of love and romance, it shares a lot of things in common with Horimiya. One can match it with not just the characters but the way the designs were done and the plot was crafted.
11. Your Lie in April (2014)
Music is something that fills the world of black and white for any person with colors. The same happened with the leading character of Your Lie In April. When Kousei Arima being an amazing pianist left his determination after the sudden death of his mother, his life was filled with many darknesses.
He started living a quiet life at high school with his friends named Ryouta and Tsubaki. While adapting himself without his mother, he decided to continue his music but his life soon changed upside down.
The moment he met Kaori Miyazono, a violinist, he came back to the spotlight as she felt color in his life. It has an everlasting impression on the audience because of the music and sound.
The anime is also remarkable for its characters and the way romance is portrayed with peace and enthusiasm.ss
10. Yuri!!! on Ice (2016)
It is a sports anime related to winning and breaking records. The story is related to Yuuri Katsuki, who once was considered one of the promising skaters but now he got defeated at the Grand Prix Finale.
When his success was closing, he gained weight which is not helping him in anyways. He once again came to the light when Victor broke the records and appeared in front of Yuuri to be his mentor.
He has taken the opportunity and started his journey to give the world a comeback with the competition. His determination to defeat and win back the title is one of the best in anime.
Coming to the common factors then one can see through the characters and their enthusiasm. Even though it is a sports anime, it does share the feelings and vibes of any school drama.
9. The Quintessential Quintuplets (2016)
Sharing the common theme and genre as Horimiya is not the only point that comes in the way the story is lined up and the plot was presented with good animation is also one of the common factors.
The story is of a high school student named Uesugi. Since his father is in debt so nothing but only one option is left for him to go with private tutoring.
He started giving tuition to a daughter of a wealthy family, Itsuki. When Uesugi got to know that this wealthy daughter is none other than the same person whom he confronted once as she claimed his seat, his life became quite difficult.
He pushes himself to go with the circumstances and arrange for the livelihood of his family. The anime is easy with the plot and the characters are very genuine. A bit of comedy was also added to the characters and their personality which appears to be extroverted and introverted.
8. Kamisama Kiss (2012)
Kamisama Kiss is the story of a high school student named Nanami whose problems are not in her life. After meeting with extreme debt, she was left homeless. But soon her problem was solved as she got home in exchange for saving a man who was being harassed by a dog.
Soon Nanami realized that this home is the Shrine and got caught by two shrine spirits and a fox named Tomoe. These spirits mistook her for the one sent by god.
At first, Nanami tried hard to leave the place but later on accepted it as a divine duty. It is a fantasy romance that comes with comedy and a bit of a mythological story.
And that's how it is opposite in terms of genre and themes but if we go on the surface then it does have a school life.
7. Bloom Into You (2018)
Love is something that appears to be very much in a fantasy world in any anime. But if we consider it in reality then it somewhere gives a hollow space at times.
That's what the anime Bloom Into You is showing through the leading character Yuu Koito. Yuu has always been inspired by love songs and romantic manga series and thought that someday wings of love will appear when she will receive a confession.
But when a confession came to her from a junior then she was feeling hollow in herself; thus understanding the definition of romance. In the same matter, she went to Touko, the Student Council President to get some advice.
She was unknowingly leading into a path of emotion that may cause some trouble.
6. My Dress-Up Darling (2022)
When Wakana Gojou was taking interest in the art of his grandfather he wanted it to pass the level of his own family. The art is related to making dolls and sewing clothes for these dolls.
His hobby is a secret as it might get ridiculed if revealed. The next in the story is Marin who is a pretty girl and opposite to Gojou. When she got to know about the secret of Gojou, she also confessed her own to him.
They both decided to come together and eventually grew close to each other even though their worlds are totally different. It follows the typical line of the plot where a boy and girl meet and fell for each other.
However, the anime prepared the same structure with different storylines and mixed it with a slice of life with school romance, just like Horimiya.
5. Maid-Sama! (2010)
It appears quite strange when a girl gets admitted to all boy's schools but when it comes to Misaki then she is the opposite as she made this strange situation in her favor by becoming Student Council President.
Misaki Ayuzawa was promoted to a new position and that's the reason why started working hard to shape a better life for all the girl students. She met Takumi, a popular boy in the school, and soon started meeting him on a regular basis.
Due to the relationship between Takumi and Misaki, the anime has got a romance angle. The comedy is also there as Takumi used to tease Misaki in one of the most comical ways.
4. After the Rain (2018)
The story of a school girl falling in love with a middle age man is something in After The Rain. It is related to a high school girl named Akira who used to be a great track runner but after having a foot injury, she decided to end it.
Regarded as one of the best and most beautiful among the boys, Akira is not at all interested in it. But a real interest came when she started working at Garden Cafe and fell for a 45-year-old whose name is Masami.
Despite a huge gap between them, Akira decided to grow closer to him and confess her feelings. Apart from being a school romance, this is also a place for the workplace romance drama.
It breaks all the stereotypes and moral implications and blends well with modernity.
3. Toradora! (2008)
It is a romantic comedy that follows many odds. The story is related to helping each other to find their love interest and help to gain their crushes. Ryuuji is a gentle student who loves to do housework while on the other hand, Taiga is a doll-like a girl with fragile nature.
However, at the core, she is more of a sweet person which only gets revealed in front of Ryuuji. She has a crush on vice president Yuusaku while Ryuuji has it on her best friend named Minori.
Everything about this anime is perfect except for the story which gets complicated at times. Whether it is related to the characters or the way animation is portrayed, it fits well in the same way as it was in Horimiya.
2. Fruits Basket (2001)
Apart from being a school drama, it also has a supernatural element coming with 26 episodes. It was released on 5 July 2021 with a love polygon. The story is of Tooru who lost her mother and moved with her grandfather.
But since the house's grandfather was getting renovated, she decided to stay by herself without giving any kind of trouble to her friends and started living in a tent. When her tent crashed due to a landslide, Souma and his cousin decided to help her by giving her temporary shelter.
Coming to the supernatural elements then it comes with Souma. If someone would hug him then that person transforms into an animal of the Zodiac because of a curse. Now question your lies whether this kind-hearted nature of Souma is enough or if is there something else that lies behind the door of the house.
1. Kimi ni Todoke: From Me to You (2009)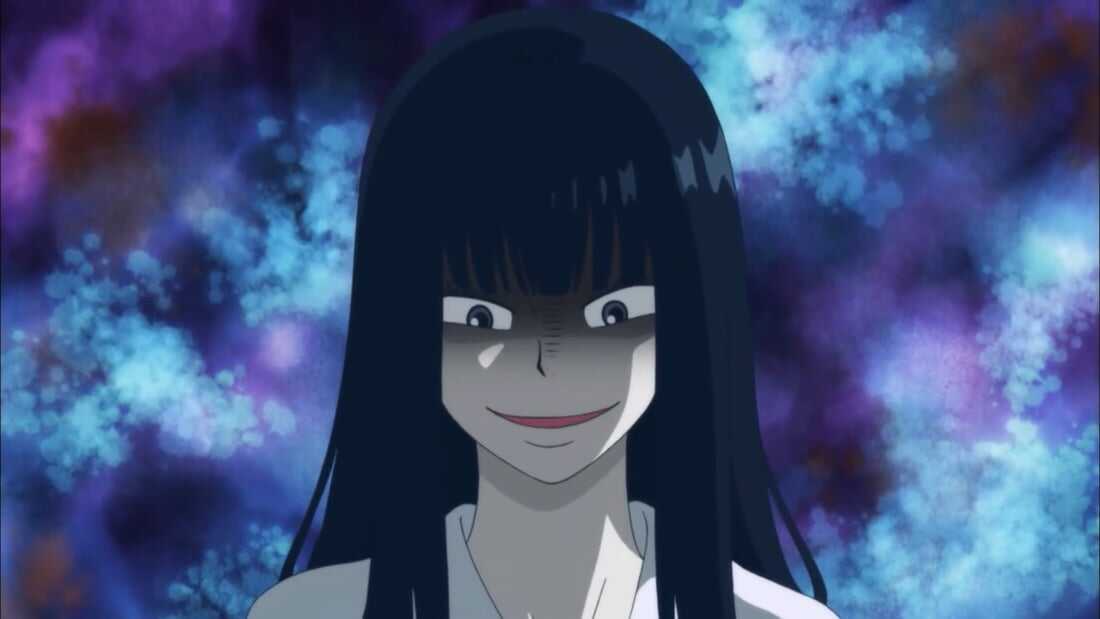 School life is generally related to making friends and interacting with them. That's what was shown in Horimiya and also in Kimi no Todoke: From Me To You. It is a school romance drama that was released on 7 October 2009.
The story is related to Sawako who is a very cheerful personality and wanted to have friends, especially Kazehaya. When Kazehaya organizes a kind of test, he encouraged her to participate.
Sawako took it as an opportunity to get along with other classmates and be close to him. The best thing about this story is the way all the characters got developed.
It can be seen through the two leading characters who change in the influence of each other, that is, Kazehaya and Sawako.