»
Top 50 Best Shoujo Anime [Recommended Watchlist]
Ektaa-Posted March 9, 2021
---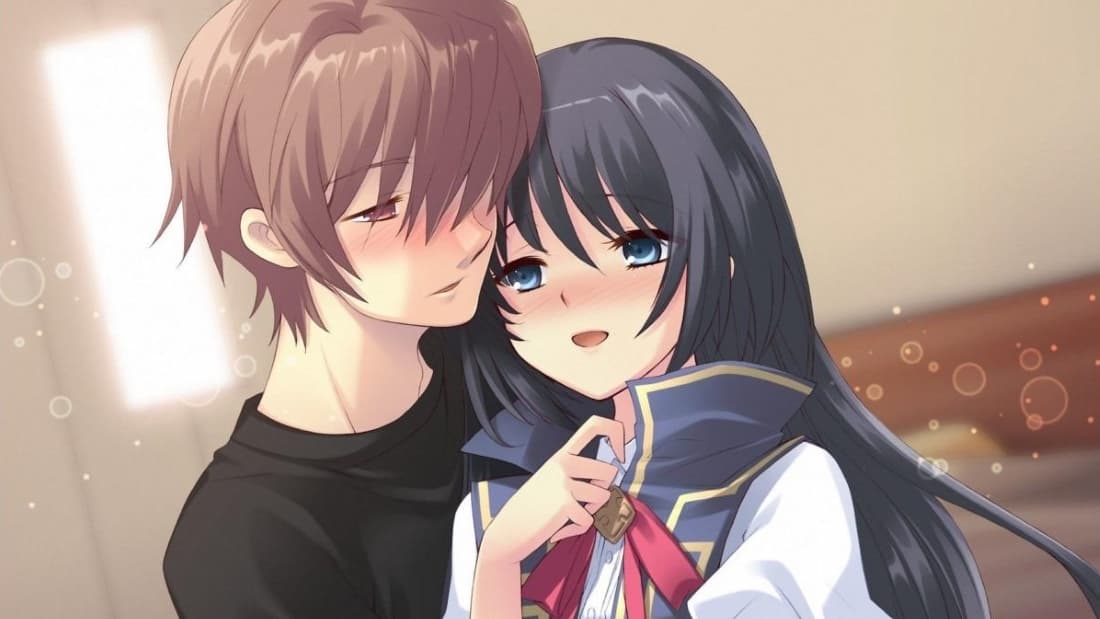 The shoujo genre has for eons been thought of as an only female-targeted genre of stories.
Over the years and the incorporation of various sub-genres, shojo titles have now loved all genders.
From the typical high school romance to sci-fi love stories to heart-wrenching stories, we explore the ultimate list of shoujo anime to add to your watch list.
50. Marmalade Boy
Marmalade Boy is an anime adaptation of Wataru Yoshizumi's manga which released in 1992.
Miki finds herself in a bizarre situation when her parents decide to divorce each other after a vacation in Hawaii.
There she has a chance encounter with Matsuura Yuu, a handsome boy whom she begins to crush on.
Miki isn't aware that Yuu could become her stepbrother and continues to fall for him.
Many find this odd story interesting to watch since it has great humor and fascinating characters.
This one could be a hit or a miss for the unseasoned shoujo fan.
The series began airing across Japan from 1994 until 1995 and has a total of 76 episodes.
The same year, the final tankobon format of the series released as well.
A short film that acted as the prequel to the anime series released too.
The series has an IMDB rating of 7.2 and a MAL (My Anime List) rating of 7.49. 
49. Vampire Knight 
Vampire Knight is a great mix of the supernatural and high school romance genre.
Yuki, a cheerful young girl, gets saved by Kaname Kuran from a vampire attack years ago.
Yuki's encounter with Zero, a vampire hunter, changes her world around.
She and Zero become the guardians of the Cross Academy protecting the humans in the Day Class and the vampires from the Night Class.
The plot twist of the series is that Yuki is actually a Pureblood daughter of the Kuran family.
She becomes Yuki Kuran after her transformation to a vampire herself! It's like a Vampire-Ception!
The series isn't carnage-heavy but in fact, displays a different side (or must we say a romantic side) to the supernatural beings.
The series successfully ran from April to December 2008 with two seasons with a total of 13 episodes in each season. 
48. Uta No Prince Sama / Prince of Song Series.
Uta no Prince Sama was originally a PlayStation Portable game title which released in 2010.
Unlike the usual source material for any anime adaptation, Uta No Prince Sama was later adapted into a manga series.
In 2011, an anime adaptation called Uta No Prince Sama: Maji Love 1000% along with three sequels in the coming years and an animated film in 2019 released as well.
High school romance is the stuff of dreams and this one is no less. 
Haruka Nanami wants to become a songwriter and a composer for her favorite idol.
She gets accepted at a prestigious music school which will allow her to actualize her dreams.
Haruka is now surrounded by faculty members who are either idols themselves or great composers and musicians.
But! the only drawback of the school is 'no romance allowed'.
Being a musical genre series, the anime and the game gained a lot of popularity in Japan. The music even reached the mainstream charts! 
47. Kimi ga Nozomu Eien / Rumbling Hearts
Rumbling Hearts is a slice of life, romance anime series that blends real human emotions and situations.
Kimi ga Nozomu Eien is the story of four friends who share an endearing relationship.
It starts off as your usual high school romance story until one of them falls into a coma affecting their friendship.
After that, the characters of the series explore many emotions such as love, betrayal, aspirations, escapism.
Kimi ga Nozomu Eien has the right amount of drama and emotional factors to drive it towards an exceptionally well-written story.
The series premiered in 2003 and ran until 2004 with a total of 14 episodes. 
46. Nijiiro Deizu / Rainbow Days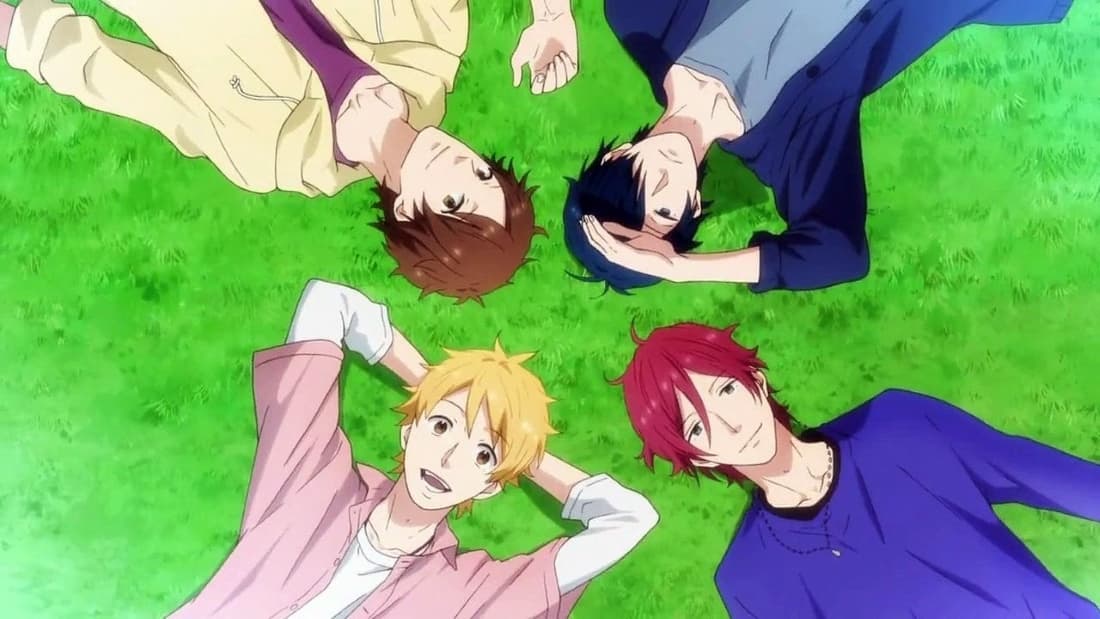 Another feel-good anime series on our list is Nijiiro Deizu.
The story follows the lives of four high school boys; Natsuki, Hashiba, Tomoya, and Keiichi.
They all have girlfriends and are living their high school life to the fullest.
But, when Natsuki's girlfriend dumps him on Christmas Eve, he is heartbroken.
Then a girl dressed in a Santa Claus outfit offers him some tissues and Natsuki immediately falls for Anna.
With the help of his friends, Natsuki manages to woo Anna but with major obstacles.
Being the teenagers that they all are, the show received a great reception.
This series, unlike the others on the list, is very simple, soothing, and can be considered a light watch.
45. Shugo Chara! Series / My Guardian Characters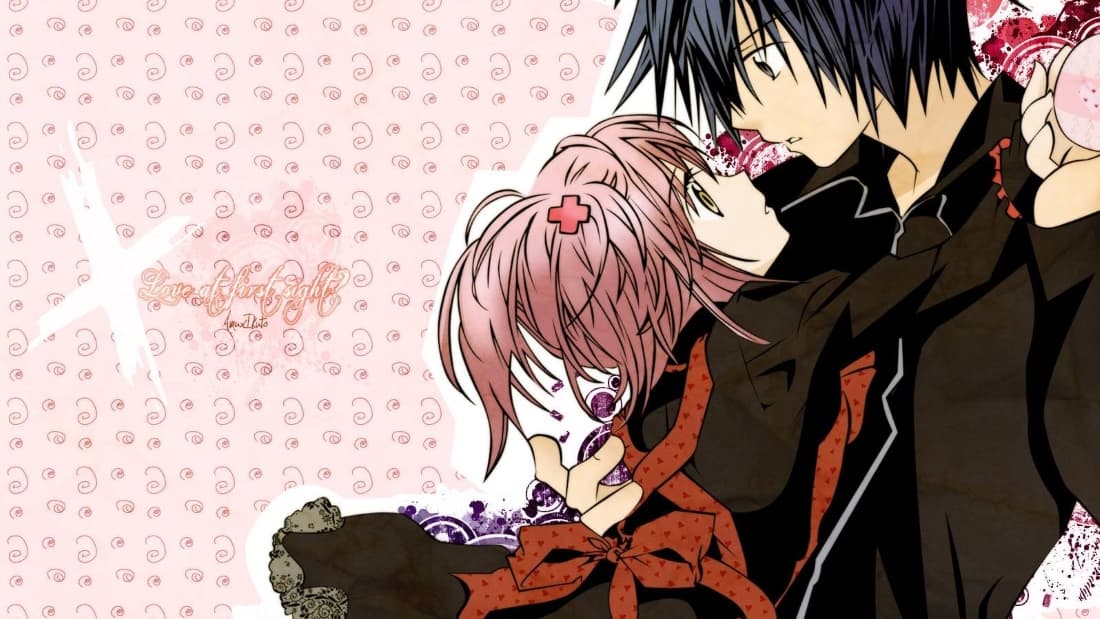 The protagonist of Shugo Chara! Amu Hinamori wishes to become the "would-be" self.
Her wish gets granted when three bright-colored eggs appear on her bed.
The eggs hatch into Character Eggs which aid a person into becoming the selves they visualize them to be.
Amu's life turns when she has to deal with other Characters Eggs who surround her.
The new personalities at the Seiyo Elementary Guardians recruit Amu to seal the X Eggs and X Characters. These are corrupted forms of people's dreams.
You could call this anime a guilty pleasure when you want to explore an uncomplicated yet exciting shoujo storyline.
The series ran between 2007 to 2010 with two more titles releasing after the first one and a video game series as well! 
44. Fushigi Yuugi Series / Mysterious Play
Fushigi Yuugi has a fun plot to it which is why it's on our list!
When Miaka and Yui get transported to an unknown world of the book, 'The Universe of the Four Gods '.
They get sent back into ancient China where Miaka becomes a priestess for Suzaku God.
She has to summon all the celestial warriors to fulfill Suzaku's three wishes.
Meanwhile, the evil rulers of the Seiryuu God nation have maneuvered Yui to become their priestess.
The two friends at war struggle to maintain their friendship in an attempt to return to their original worlds.
The anime series has a different art style for the era that it released in i.e., 1995-1996 with a total of 56 episodes.
It also has a great romantic storyline coupled with action scenes as well. 
43. Love Me. Love Me Not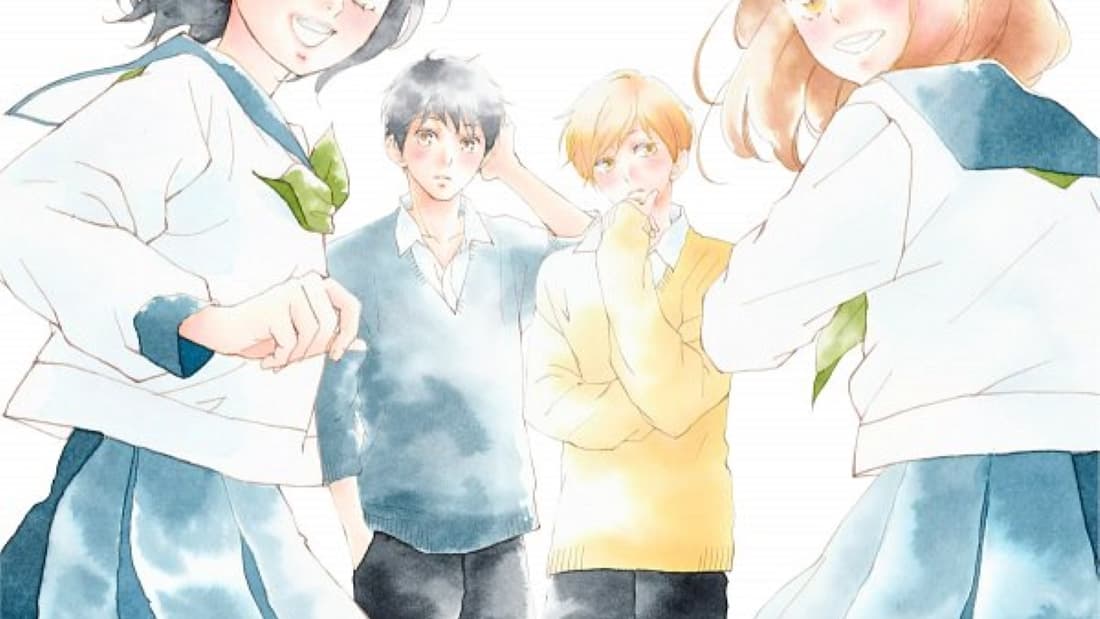 Ah, the days when falling in love seemed like a piece of cake!
Omoi, Omoware, Furi, Furare is a great example of showcasing different perspectives of love.
Yuna is a hopeless romantic while Akari is practical.
Kazuomi is a dolt and Rio believe in judging a book by its cover is the way to finding love.
Each of the characters has a set of expectations they have from their partners or the ones they crush on.
They do end up finding a youthful romance and a connection eventually.
The series is a manga adaptation of the same name and is written and illustrated by Io Sakisaka.
The series premiered in 2020 and has an IMBD rating of 6.69. 
42. Romeo x Juliet
For all Classical Literature and anime lovers, Romeo to Jurietto is the perfect mix for you.
The manga does deviate from the original storyline but the anime story is loosely based on Shakespeare's story.
Fans of the original story know what a drab it is.
But those who have watched the anime series were in for a pleasant surprise.
The show is uplifting and the characters are portrayed in a brighter light.
The music of these 24 episodic series has received a lot of praise as well.
It has also received rave reviews by hardcore fans and elites from the anime scene.
It has an IMDB rating of 7.4 and a MAL rating of 7.65 with a popularity ranking at #959. 
41. Itazura Na Kiss / ItaKiss
Itazura Na Kiss is your run-of-the-mill high school romance. Another series on the list when you want a light watch.
When Kotoko's newly built home gets grazed down due to an earthquake she is forced to share the roof with Naoki.
Naoki also happens to Kotoko's crush whom she had once attempted to reveal her feeling.
But she was shut down by him. Kotoko is optimistic now that she is living in his home, she has another chance to relive her feelings for him.
The show is a hit or miss with shoujo lovers across the world. Some find the evolvement of the characters a treat while some find it annoying.
It has one tv-series and 3 live films and it has an IMDB rating of 7.5. 
40. Youko x Boku SS / Inu x Boku Secret Service
A sharp-tongued young girl, Ririchiyo decides to quit her protected and wealthy lifestyle. She takes up a house at Maison de Ayakashi.
It is a gated apartment complex that houses some of the most bizarre individuals she has come across.
But the only condition of living in the complex is that you must at all times have to be accompanied by a Secret Service agent.
That should be enough to give you an idea of what follows. The anime is your typical rom-com style anime.
But the anime series does deviate from the source material.
Well, let's just say that some did like the episodes which had a completely different storyline while some found the end a tad bit unsatisfactory.
Nonetheless, the series has a great rating on MAL of 7.46 and a popularity ranking at #332. 
39. Full Moon Wo Sagashite / Searching for the Full Moon
A series that moves something within you, Full Moon Wo Sagashite is great to watch for when you want to have a good cry.
Mitsuki dreams of becoming a singer.
She also wishes to be reunited with the love of her life Eichi Sakurai who has traveled to the US to become an astronaut.
But nothing in life comes easy, Mitsuki suffers from throat cancer threatening her dreams of becoming a singer.
She is then greeted by two death gods (the Shinigami) Takuto and Meroko who go out of their way to help Mitsuki achieve her ambitions.
Now it may seem like a sob story but the series has bright animation and light-hearted aspects to it as well.
The anime does deviate from the manga but the crux of it is maintained in the anime series.
Being a musical show the soundtracks from the series are much loved by the fans. 
38. Special A 
Hikari wants to be the best in everything and excel in life. Until she met with Kei.
She decides to challenge Kei in the most random of events and keeps failing. What she doesn't seem to see is his true feelings for her.
The entire show is a sort of "romantic competition" where Hikari just can't see behind his armor.
Special A released in 2008 and has a total of 24 episodes with 24 minutes of runtime.
The animation and storyline of the series are your typical rom-com and pretty basic structure.
But due to its high-octane characters, the show is a sure-fire hit amongst the comedy romance-loving shoujo fans
37. Yamato Nadeshiko Shichihenge / The Wallflower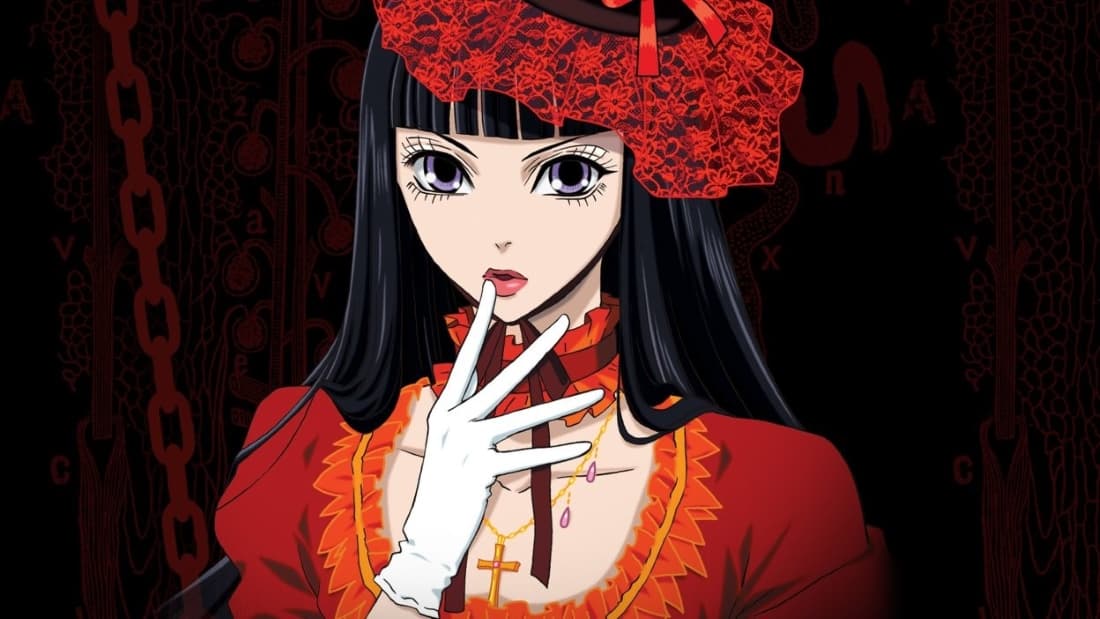 Sunako becomes a complete introvert when her crush rejects her over her appearance.
Sunako goes from being a chirpy girl to loving all things morbid.
She gets sent to live in her aunt's mansion who is traveling on a road trip across the world.
But she has shared her space with 4 immensely handsome boys who are given the task of turning Sunako into a lady.
If they failed to do so, they have to pay rent! Oo, scary. This shoujo title has an original storyline that was loved by many.
With the help of the four boys, Sunako becomes her happy self. She realizes that she doesn't need to be an outcast at all.
The series has an IMDB rating of 7.5 and a MAL score of 8.   
36. Byousoku 5 Centimeters / 5 Centimeters Per Second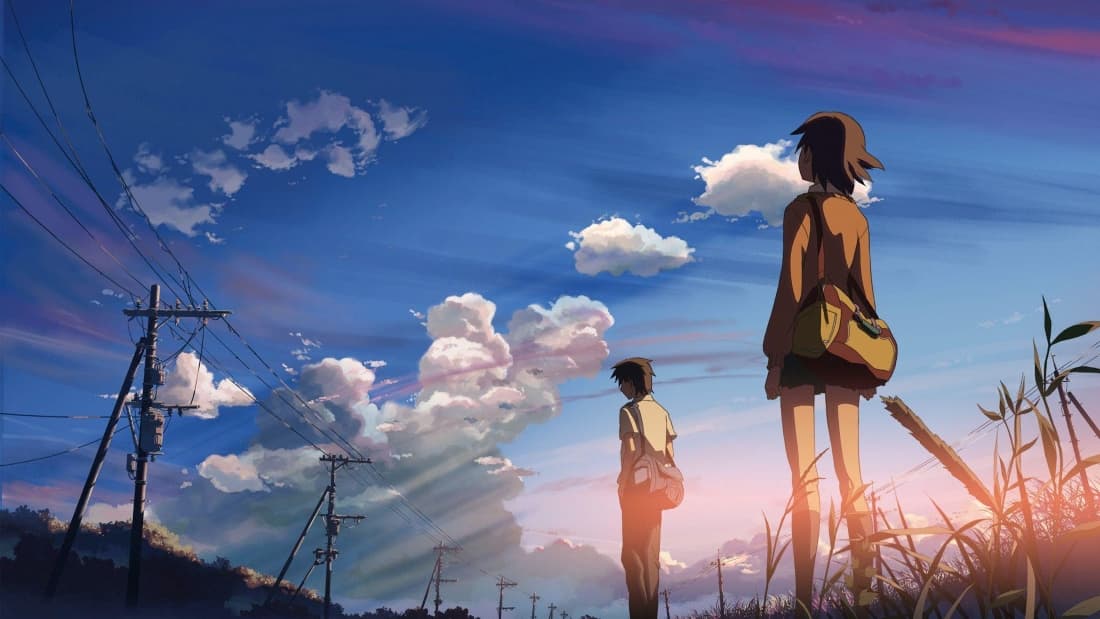 The winner of the 2007 Asia Pacific Screen Award for Best Animated Film, Byousoku 5 Centimeters is a true masterpiece.
The essence of the film is the hardships and pains of being in a long-distance relationship.
Takaki and Akari are childhood friends and they have been in love with each other. Due to unforeseen circumstances, they are separated.
The two live in this state of limbo where they can't move ahead nor act on the feelings, they have for each other, due to the distance.
The film is a beautiful representation of the pain long-distance lovers feel.
The film released in March of 2007 and has an IMDB rating of 7.6. 
35. Cardcaptor Sakura Series 
One of the most iconic characters, Sakura Kinomoto, is an influential figure in the world of Japanese manga/anime.
The series comes across as your Mahou shoujo anime but it has a lot of depth to it.
The creators of the show have gone all out and taken risks giving Sakura and the supporting characters unconventional treatment and importance.
One can choose from various sequels and spin-offs to understand this Cardcaptor universe.
Many of us have shipped for Lee and Sakura's relationship and the best part is the unorthodox way romance is depicted throughout the series.
This one series has earned its rightful place in the Anime Hall of Fame.   
34. Sukitte Li Na Yo / Say 'I Love You'
Now, if you are an ardent fan of the schmooze fest love stories then this is not the title for you.
But if you are looking for a deep and meaningful story that is relatable then give Sukitte Li Na Yo a chance.
Mei has dealt with her share of a troubled life in grade school.
She then begins avoiding everything and everyone until she has a chance encounter with Yamato Kurosawa.
The two of them unknowingly fall for each other.
Mei now not only has a boyfriend but also a whole new set of friends. 
She has to now merge into this life that she was avoiding for so long.
Going by the reviews, the show was either a hit or a total hit with its viewers.
Many fans loved how close to home it was while some found it outright boring.
With a MAL score of 7.49 and popularity ranking at #264, this is definitely a rare find in the sea of shoujo stories.  
33. Golden Time
Another soul-searching story on the list, Golden Time is the story of Banri Tada.
In a devastating accident, Banri finds himself losing a huge chunk of time in his memory.
He forgets his hometown, friends, and self completely and is now looking to piece his past.
He decides to move to Tokyo to find a new life in law school where he meets with Mitsuo.
A lively young woman who becomes this beacon of light in his life.
But then Kouko reappears into his life and Banri is left confused yet again.
Each episode of the series comes across as a puzzle for Banri and the viewer but that hasn't dampened the popularity of the show.
Realistic perspectives have taken center stage in the series making it relatable to a much wider audience.
The series successfully ran from 2013 to 2014. It has an IMDB rating of 7.6 and a MAL rating of 7.78. 
32. Bokura Wa Minna Kawai-sou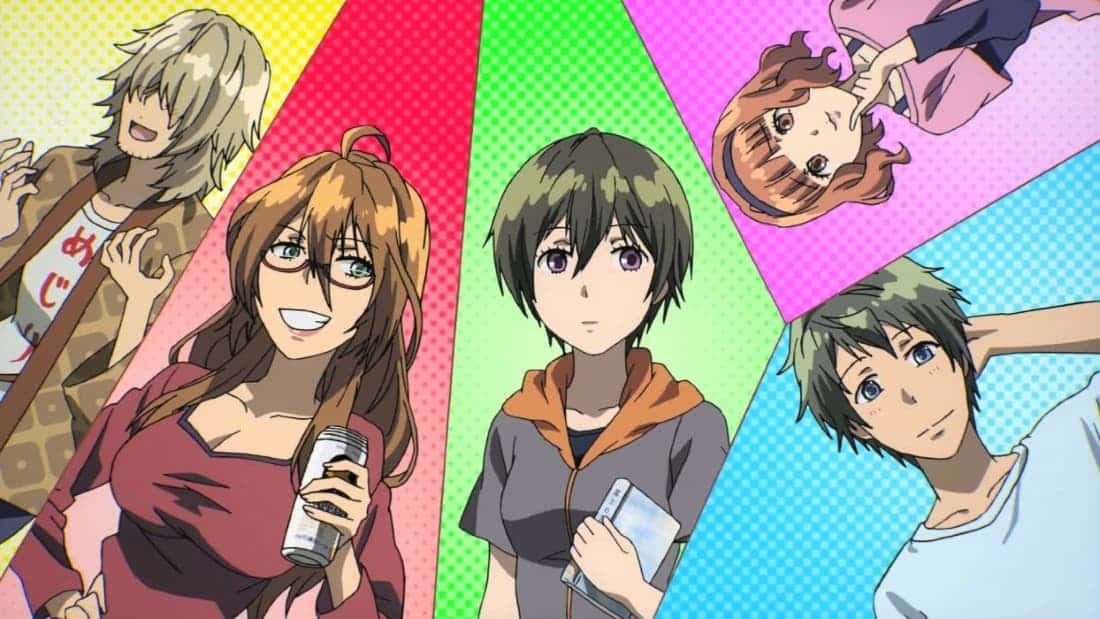 One of the best romantic comedies of 2014, Bokura Wa Minna Kawai-sou is a great light romantic watch.
The series follows the story of Kazunari Usa who is going to live an independent life as a high school freshman.
He is living the dream and the series explores life in a boarding housing complex where he meets with eccentric characters.
All of them have a charm and are extremely loveable characters as each of their individuality shines through in the series effortlessly.
Bokura Wa Minna Kawai-sou has the right of comedy to complement it.
The series released in the Spring of 2014 and has 12 episodes to its name with 24 minutes of runtime.
It has a popularity ranking at #464 and an IMDB rating of 7.72. 
31. Furuba / Fruits Basket 
Fruits Basket is one of the most common titles you will come across when searching for a good shoujo anime to watch.
The anime was televised in 2001 and then in 2019 and the latest episodes released in 2020.
The story is a great mix of supernatural elements and romantic comedy.
It follows the life of Tohru Honda, an orphan girl who learns of the pains of the Soma family.
She has to face them since they are all possessed by the animals of the Chinese zodiac signs.
Helping them through their hardships, Tohru is able to introspect and learns to help herself as much as she does to others.
The series ranked third in 2002's Anihabara's Top Televised Anime series in Japan. This is a must-watch for any anime fan! 
30. Tonari no Kaibutsu-Kun / My Little Monster
Tonari no Kaibutsu-Kun is a story of a boy meets girl, well not exactly the happy version of it.
Shizuku is an anti-social student and cares only about her grades.
She hates people but her perspective on life changes when she meets, Haru Yoshida, a troublemaker but with the same mindset as hers.
The two anti-social people decide on becoming friends.
What is interesting about the story is going on the journey with Shizuku learning to understand these feelings she's going through.
The story does lean more on the comedic aspect than the romantic.
Another hit or miss with the shoujo loving fans but it's definitely a title worthy of being on the list. The series has an IMDB rating of 7.3. 
29. Orange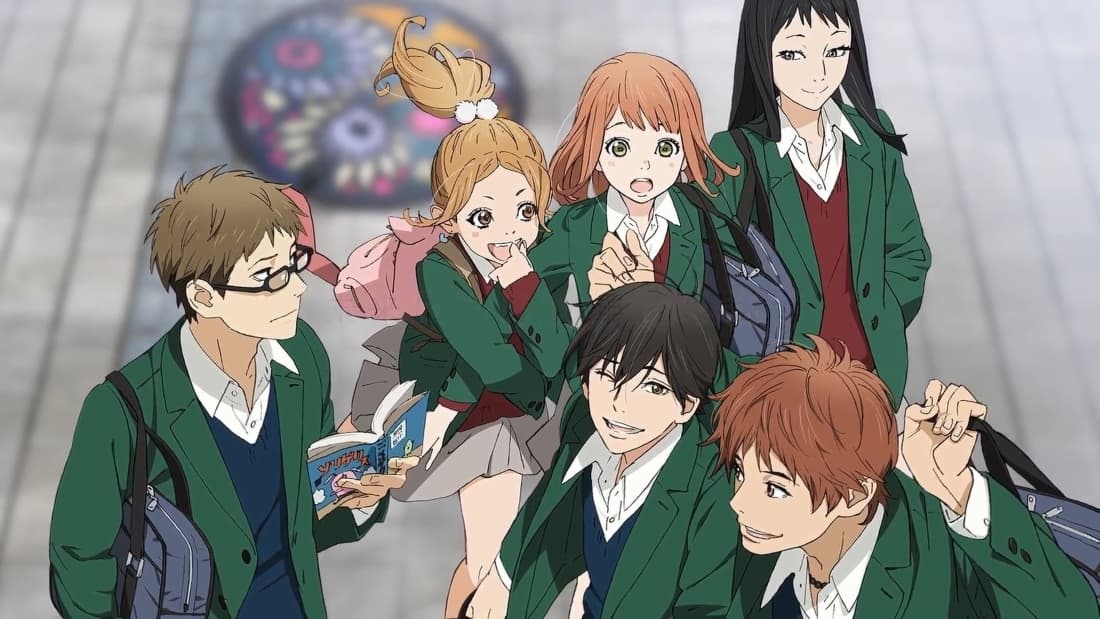 A sci-fi/romance/drama series on our list, Orange is a unique watch.
Naho Takamiya finds a letter addressed to her from her future self.
It states all the regrets she has as an adult and wishes that her younger self can amend those mistakes in order to lead a contentful life.
She finds it odd at first but eventually realizes that all the events in the letter come to life.
The letter from her future self is now the guiding light in her current life, including making tough decisions related to Kakeru Naruse.
The story is a character-driven show that sometimes does fall prey to melodrama, something that shoujo anime tend to overdo at times.
Yet the story emotionally fuels you enough to connect with the characters.
Orange has a MAL score of 7.62 and an IMDB rating of 7.6. 
28. Kokoro Connect
Another mind-bending storyline, Kokoro Connect follows the stories of five high school friends.
An incident leads the five of them to switch bodies under suspicious circumstances.
Through this sudden change, the five friends learn each other's deepest desires, secrets, and scars.
It either tears them apart or brings them closer. The series is a great example of a high school romance drama with a supernatural storyline.
The characters have a realistic approach to their situations blending in comedic and emotional angles to it.
The animation style of the show is a treat to the eyes and so is the music to the ears. With a MAL score of 7.82, this show is a great mood lifter! 
27. Soredemo Sekai Wa Utsukushii / The World is Still Beautiful
Soredemo Sekai Wa Utsukushii is a fantasy shoujo manga written by Dai Shiina.
The anime apparently adapts only 18 or so chapters of the source material.
Dai is a celebrated shoujo writer in Japan and has many successes to her name,
The World is Still Beautiful is one of them.
It is the story of two zany royals, Prince Livius and Princess Nike who are introduced to each other under odd circumstances.
The two of them come from very different backgrounds and their personalities are polar opposites.
Yet, as the show progresses the two of them bond so well that they even risk their lives for each other.
The series is laden with the right amount of humor and emotional aspects.
The series could be unlike any other royal story you've seen before. 
26. Ao Haru Ride / Blue Spring Ride
A different kind of love story that comes across as a breath of fresh air, Ao Haru Ride speaks of Futaba who used to be a popular girl in high school.
But only by the boys and she was given the cold shoulder by the girls.
Futaba doesn't care about anyone else except for Kou Tanaka. She shares a special bond with him until his sudden disappearance.
Futaba shrugs off the sadness of his loss and decides to move on and become the chirpy girl that she was, but fate had different plans for her.
Kou reappears in her life but this time around as Kou Mabuchi.
Even though he looks like the Kou she met under the rain he was a completely different Kou now.
The series is well made and is a really nice light watch with an intriguing storyline. The series has an IMDB rating of 7.4 and a MAL score of 7.67. 
25. Lovely Complex / Love Com
Lovely Complex has a pretty straightforward storyline; the tallest girl and the shortest boy in the class and their search for true love.
Now that may seem like your run-of-the-mill rom-com series, the eccentric approach to the story by the creators of the show makes it a treat to watch.
Koizumi Risa and Ootani Atsushi are both a little bonkers in the head, share the same music and fashion tastes, and have crazy humor.
But they can't see past their friendship to understand that they could just be perfect for each other. If you love love, then you'll love this series.
But if schoomzy romance is not your cuppa then skip this one! The show has a great MAL ranking at #813. 
24. Coquelicot-zaka kara / From Up on Poppy Hill
No anime list can even be complete without mentioning the works of Miyazaki. Created by Goro Miyazaki, son of Hayao Miyazaki.
Just like any other Ghibli movie, From Up on Poppy Hill has a great storyline to it.
Umi Matsuzaki's family runs a boarding house called Coquelicot Manor. Umi carries out all the duties of running the manor.
But when the Olympic Board announces that they need to graze down the house in order to make space for a modern building, Umi and the residents of the Poppy Hillside band together to create awareness to prevent their beloved manor from being demolished.
During this period, she befriends Shun Kazama, with whom she falls in love.
But Shun is an orphan, Umi decides to help him find his past, and a lot of truths are revealed.
Coquelicot -zaka kara is definite must watch! 
23. Kotonoha no Niwa / The Garden of Words
Kotonoha no Niwa is a bittersweet tale of love.
The rainy season is the core element of this story.
Takao Akizuki is a shoemaker who decides to break the mundane and design some shoes in a beautiful garden.
There he meets with Yukari Yukino, a mysterious woman whom he offers to make some shoes for.
As unusual as that sounds, Takao and Yukari both form a bond meeting at the beautiful garden under the pitter-patter of the rains and help each other find happiness in the small bit of time they share.
But, as the rains are coming to an end, so is their relationship. The film is visually stunning given its compelling plot.
Those who have watched the film claim the duration of the film could've been longer than just 46 minutes as the whole package just does not do justice to the marvel this film is!
The Garden of Words has a MAL score of 8.04. 
22. Monthly Girl's Nozaki-Kun
Who doesn't love an anime series which features a mangaka?!
Gekkan Shoujo Nozaki-Kun is the story of Chiyo who is hopelessly in love with Umetarou Nozaki.
When she tries to express her feelings for him, he simply replies by giving her an autograph.
As it seems, Nozaki is a well-known mangaka under the pen name of Sakiko Yumeno.
Chiyo ends up becoming his assistant for his next manga project. She agrees to become his assistant in the hopes of him seeing her true feelings for him.
The series has a tonne of gags, humor and is a complete riot!
The show released in the summer of 2014 and to date had ever-growing popularity for it.
The show even ranks on MAL at #142, which is amazing for the series! 
21. Ore Monogatari! / My Love Story
Takeo Gouda isn't the kind of guy who will tick all your boxes right away.
He has a huge frame and burly face that scares away all the females at school but his friend.
Makoto Sunakawa gets all the attention including from those whom he has a crush on.
During a freak incident of saving Rinko Yamato from a molester and she is indebted to him for life.
Takeo eventually falls for her and wonders if she feels the same for him too or likes Sunakawa just like everyone else.
He then tries to play cupid all the while trying to make a love story for him.
The series will make you aww on many occasions with you wanting to root for Takeo.
The series is a fun ride to experience given the eccentricity of the plot and the characters as well! 
20. Akagami no Shirayuki-Hime / Snow White with the Red Hair Series
Despite the name of the show is "snow white" there is no resemblance to the childhood classic we all know of.
Akagami no Shirayuki-Hime is the story of Shirayuki who works as an apothecary in the country of Tanbarun.
She gets noticed by the dull-witted Prince of Tanbarun, Prince Raji who forces her to become his concubine.
Shirayuki chops her long red locks and runs to the forest to escape the prince's clutches.
There she gets rescued by the prince of the neighboring country, Zen Wistalia, and his two aides.
In order to repay the favor to Zen, Shirayuki decides on becoming the court herbalist of Clarines.
As she begins her journey at the new palace, Shirayuki and Zen grow closer and support each other as they now tread two different paths of their lives.
Both the seasons of the show are much loved.
The manga is written and illustrated beautifully by Sorata Akizuki and the anime to some extent does justice to it as well.
The anime series is more than a tribute to the original story of snow white that we all so love.
It has a MAL score of a solid 8 and an IMDB rating of 7.8. 
19. Sakurasou no Pet na Kanojo / The Pet Girl of Sakurasou
Sakurasou no Pet Na Kanojo is a beautiful take on friendship and love.
The story revolves around a group of misfit "geniuses" who are forced to shift to a rundown dorm at Sakura-sou.
The protagonist of the show, Kouhai too has been asked to shift since he has been sheltering a stray cat in his dorm room which is not allowed.
Once he shifts to Sakura-sou, he is overwhelmed by all the eccentric characters he meets with, especially Mashiro.
Mashiro exudes very feline-like characteristics and Kouhai takes it on himself to look after her as she is incapable of doing so.
The series is based on friendship and plays heavily on emotions making it an amazing series.
The series has 24 episodes with approximately 23 minutes of runtime. The series has an IMDB rating of 7.8. 
18. Kimi ni Todoke / From Me to You Series
Imagine being compared to Sadako from the horror movie franchise, 'The Ring', in your high school and people fearing you might be cursed!
Such was the state of the protagonist of Kimi no Todoke, Sawako Kuronuma despite being kind and gentle to those around her.
When the popular boy from class, Shouta Kazehaya becomes the center of her world, Sawako longs for normalizing her life and making friends.
The series ran from 2009 to 2011 with a total of two seasons and one special feature.
Some consider the story of the series very stereotypical but some consider this to be one of the best shoujo anime series of the decade.
It has a MAL score of 8.02 and a popularity ranking at #151! 
17. Chihayafuru
Chihayafuru is a manga written and illustrated by Yuki Suetsugu.
Chihaya becomes obsessed with the game of karuta.
The game is introduced to her by Arata Wataya, who is a quiet transfer student.
The crux of the series is the game of karuta and the love of friendship.
Chihaya and Arata are very nuanced characters, also the supporting characters are given equal importance here, which is very rare in a shoujo series.
It may seem dry and unpalatable at first but as Chihaya's interest in the game grows so does the viewers.
The anime adaption of the series released in 2011 and successfully ran until 2013 with a second season. It has an IMDB rating of 8.2. 
16. Nana
A title is synonymous in the shoujo anime world. Nana Komatsu is a dreamer and is a dependent young girl.
She wants to achieve her dreams and remove herself from her rural roots, yet she leaves her town for the big of Tokyo following her boyfriend.
Nana Osaki is the complete opposite of her.
She is an independent punk rocker for a popular band and who wants to make it big as a professional singer in Tokyo.
Both Nana and Nana board the same train and even end up living together in the city.
Both of them help each other out through the thick and thin that city life has to offer.
There is never a dull moment in the series, even though some characters may come across as unimaginative, the show is a great lesson for self-introspection.
With an IMDB rating of 8.4 and a MAL score of 8.46, this is a definite must-watch from this list! 
15. Kuragehime / Princess Jellyfish
Amamizukan, an apartment building in Tokyo only houses otaku women (dare we say #goals) and no men are allowed whatsoever.
The building houses many outlandish characters each having their own preferred tastes and Tsukimi Kurashita is one such of its residents.
Tsukimi has a fascination or rather an obsession with jellyfish as it holds a close childhood memory of her mother for her.
Tsukimi befriends a tenant from the building. 
Kuranosuke Koibuchi is actually a man but cross-dresses to avoid the obligations of his political family background.
Tsukimi keeps it a secret from the other man-hating otakus in the building.
With the threat of opportunists wanting to make Amamizukan a cosmopolitan area, the tenants there do everything they can to save their beloved place of residence.
Princess Jellyfish has been chosen as one of the best anime in 2010 by Polygon, Crunchyroll, and the likes.
The manga won the Kodansha Manga Award for the best shoujo manga in 2010. 
14. Mimi wo Sumaseba / Whisper of the Heart
Mimi wo Sumaseba is the only Ghibli movie that Miyazaki hasn't directed along with Takahata.
The story of Shizuku Tsukushima, who is an aspiring writer.
After she follows a cat on the train to an antique shop where she meets with the mysterious book checker, Seiji Amasawa, and his grandfather, Shiro Nishi.
There she sees, 'The Baron' a cat statue that becomes the inspiration for her story.
Shizuku ends up dropping her grades in order to finish her story about a protagonist based on herself and The Baron as the hero out to find his lover.
Eventually, Shizuku finishes her book, her first step to achieving her dreams.
Miyazaki wrote the film based on the original manga by Aoi Hiiragi. Mimi wo Sumaseba was the highest-grossing film in Japan in the year 1995. 
13. Kamisama Hajimemashita / Kamisama Kiss
After being abandoned by her father, Nanami is sheltered by a man she helped rescue from a zany dog. 
But he doesn't live in a regular, he lives in a rundown shrine. As soon as she tries to leave, the two spirits of the shrine and a fox catch her. 
The fox and spirits mistake her as the land god of the shrine who incidentally turns out to be the man she rescues.
Nanami must now walk the path down god-hood and perform her divine duties as she has no other option to survive in the world.
The series is light-hearted and comedic at times as well. 
The animation of the series is soothing and beautifully created as well as the music.
Add this to your list of light watches and you won't regret it! 
12. Skip Beat! 
The Fall of 2008 saw the shoujo title Skip Beat! release. This rom-com follows the journey of Kyouko Mogami.
She diligently works hard to support her friend and crush, Shoutarou Fuwa.
Kyouko is in for a shock when she learns that Shoutarou has only been using her and looks at her as his servant.
She decides to get revenge on him by becoming successful herself.
We follow Kyouko's new journey into the harsh entertainment industry that takes her out of her comfort zone.
The dynamic characters and the riveting storyline make this series a much-loved title amongst the shoujo fans.
There are 25 episodes with approximately 24 minutes of runtime.
The series is so loved that fans are waiting for a Season 2 of the show as well! It has an IMDB rating of 7.9. 
11. Kaichou Wa Maid-Sama / Maid Sama!
Misaki Ayuzawa is the first and newly elected president of the female student council.
The obstacle in her way is that the school is transitioning to a co-ed school.
Misaki is a strict discipline and does not shy away from using her Aikido skills on the naughty boys of the school.
However, there is one secret that this fierce figure is hiding.
The popular Takumi Usui visits a maid café, only to find Misaki there.
What ensues further is a series of Takumi hides her secret identity while Misaki has to drop her guard and befriend him.
Or is Takumi using this opportunity as a way to get closer to Misaki?
The show is a great rom-com with fun elements and the series doesn't seem like a drab whatsoever.
According to a MAL Best Anime of the Decade Favourites List, Kaichou Wa Maid-Sama ranked at #8 for the year 2010.
It also sits at a popularity ranking at #90. 
10. Natsume Yuujinchou / Natsume's Book of Friends
Natsume's Book of Friends is a series filled with unique characters.
Takashi Natsume has been followed by ghosts for as long as he can remember.
He is in possession of a book known as "Book of Friends" passed down by his grandmother who managed to trap some yokai in it.
The enraged yokai now try to haunt Takashi in order to attain freedom.
Takashi now roams around with a peculiar-looking companion known as Madra.
The series is a deep exploration of companionship and the purpose of existence.
This anime has struck the right chord in many making it very popular amongst all.
The anime series is an adaptation of the critically acclaimed manga of the same name.
The rating IMDB rating for this anime is 8.1 and boasting a MAL score of 8.33. 
9.  Akatsuki no Yona / Yona of the Dawn
Yona lived a pampered childhood but after the murder of her father, her world comes crashing down on her.
She decides that she needs to dedicate the rest of her life to the people of her kingdom and fight for its prosperity.
The characters evolve beautifully as the story progresses and the good part is that all their backstories are given importance.
Akatsuki no Yona is series filled with humor and action. It has some iconic moments that are not very common to the shoujo style of a show.
It ranked at #8 in the MAL's list of 2014 Favourites Anime.
Yona was also ranked the most popular princess in the same year. The series has an IMDB rating of 8.1 and a MAL score of 8.05. 
8. Toradora! Series
Toradora is a rom-com that follows the story of Taiga Aisaka, a feisty high school who is anything but cute and adorable.
On the other hand, is Ryuuji Takasu who is misunderstood to be snooty because of his intimidating face, but he is not anything like that.
The two cross paths with each other and surprisingly help the other with their respective crushes, but is this another story where they just can't see the feelings develop for each other?
This exciting series has a unique set of characters that make the show a great watch.
This one too qualifies as a light but emotional watch on our list and is highly recommended.
The light novel of this series was also converted into a PlayStation Portable Title. It's always fun to play your favorite anime as a video game! 
7. Nodame Cantabile
Ah, when two musicians fall in love, it is the greatest! Shinichi Chiaki is a violinist who wishes to play with the best musicians from Europe.
Shinichi is a perfectionist and expects the same from those around him too.
And then we have Megumi Noda, a scruffy young girl who surprises Shinichi with her piano skills.
To add to his surprise, Megumi falls for him and also becomes his accompanist.
Don't think that this series is purely focused on music only.
It explores the multi-faceted characters of the show beautifully adding vibrant color to the story.
Yet again, another series on the list that features its supporting cast elegantly aiding the main characters as they strive to become the best musicians out there.
When the series released in 2007, it was a breath of fresh air amongst the rest of the shoujo titles released that year. The series has an IMDB rating of 8.3. 
6. Ouran High School Host Club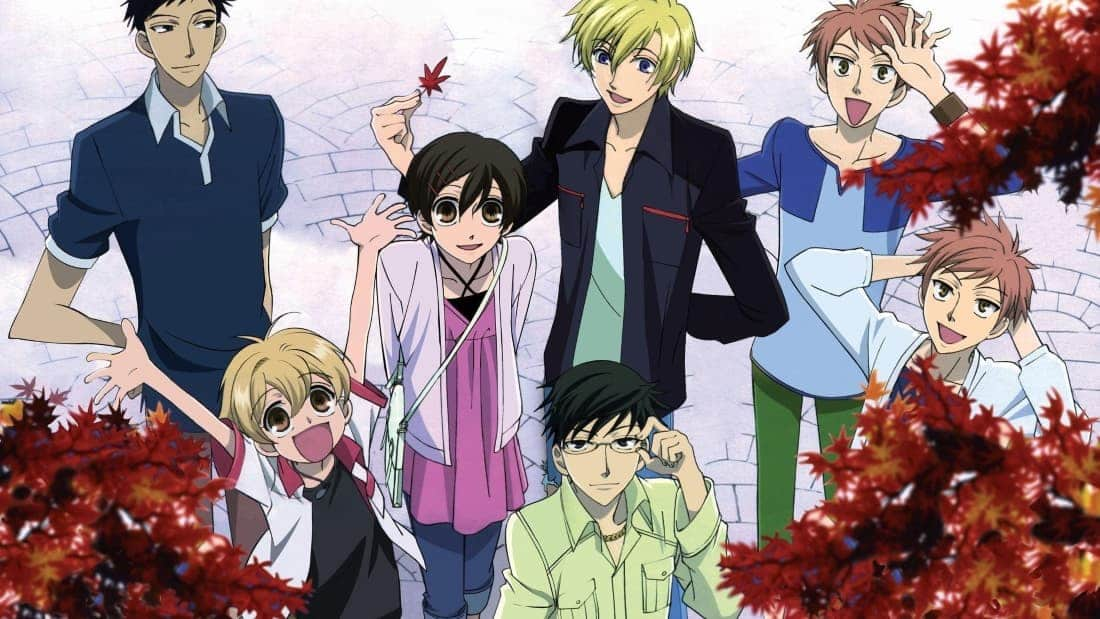 Ouran High School Host Club is a well-known shoujo and reverses harem title.
Haruhi Fujioka gets a scholarship for one of the most prestigious schools which only caters to students of high pedigree.
When she accidentally walks into the Host Club's room, she accidentally ends up breaking an 8-million-yen vase infuriating the members of the club.
Using her masculine features as an added bonus, Haruhi is now indebted to become a host at an all-male club and gets introduced to the world of luxury.
If you're looking for a show filled with laughter, emotions, and romance, then look no further.   
5. Kaguya-Sama: Love is War 
Kaguya-Sama: Love is War is a seinen/romance comedy/drama series.
In the series, Miyuki and Kaguya are top student body representatives with Miyuki serving as the president.
Kaguya hails from a wealthy family and is literally the best at everything.
Now that may seem like a straightforward story for now but the plot twist is that despite the two of them having feelings for each other, they cannot display their affections to each other.
If they do, they will lose the honor and pride they currently have due to their responsibilities.
Breaking hearts since 2019, this title has an even popular sequel and the fans of the show yearn for more.
With an enviable IMDB rating of 8.4 and a MAL score of 8.43.
You have to give this one a watch for the entire package that Kaguya-Sama: Love is War is. 
4. Hotarubi no Mori e / The Light of a Firefly Forest
Hotaru gets lost in an ancient forest while visiting her uncle after learning of a mountain god who lives in the forest.
There she meets with a masked forest spirit who goes by the name of Gin.
Hotaru learns that if she touches Gin he disappears for a long time.
Gin then leads Hotaru out of the forest and asks her to promise him that she will never visit again.
But Hotaru visits Gin each summer and they develop a close bond, as years pass by, they begin to develop romantic feelings for each other but the only drawback is they cannot touch each other no matter what.
This touching tale is so amazing to watch it unfolding before your eyes. A great title for a good cry. 
3. Shigatsu Wa Kimi no Uso / Your Lie in April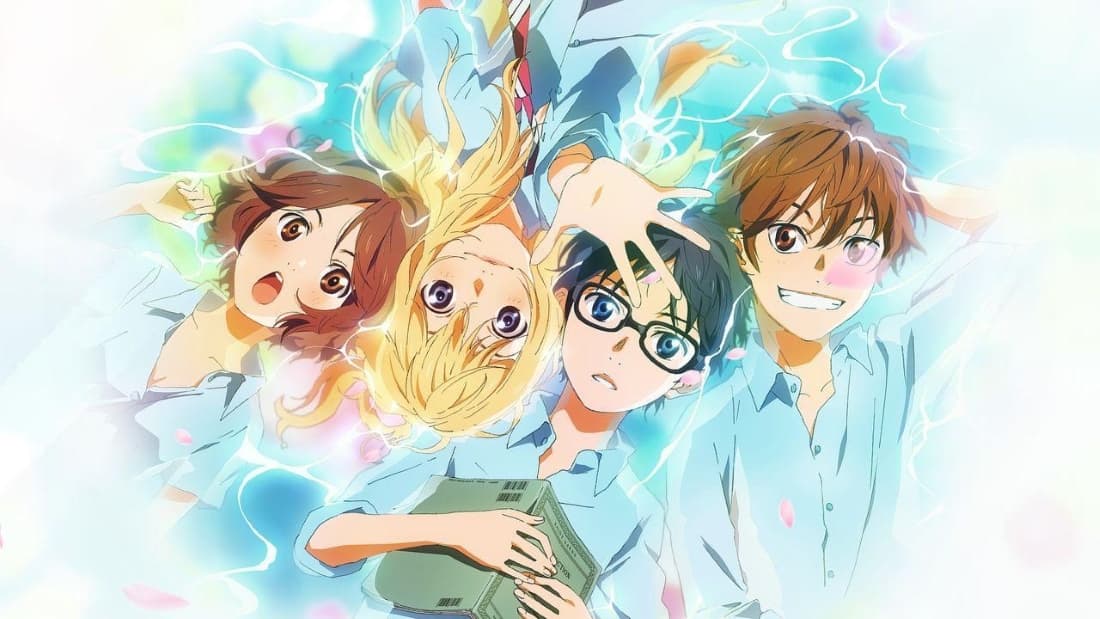 Another story of two musicians in love.
Arima Kousei has had a somewhat troubled childhood when he goes into a complete creative blackout after the death of his mother.
Kaori Miyazono becomes the beacon of light who lifts the sheets off his piano to help him become the piano prodigy that he is.
As she chooses him to become his accompanist for a music competition.
It becomes clearer to Kaori that she needs to help Arima get out of the funk, but at what cost?
Your Lie in April has to be one of the most iconic titles of all time and it never been a disappointment.
It strikes the right notes within you and is just a completely perfect shoujo story to revere.
The series has a MAL ranking at #98 and an IMDB score of 8.6. 
2. Clannad: After Story
Clannad: After Story is the sequel to the critically acclaimed Clannad.
It emphasizes the struggles of adulthood and the importance of family.
Time in the Illusionary World shifts and the weather changes to winter posing as an obstacle for Illusionary Girl and Garbage Doll.
Meanwhile, Tomoya and Nagisa ride through an emotional roller coaster that helps deepen their relationship further.
The series highlights the "feels" factor, it lets you explore almost every emotion known to mankind and that is an amazing feat!
The series has an IMDB rating of 8.6 and a MAL score of 8.96 with a ranking at an astonishing #29!
1. Koe no Katachi / A Silent Voice
And the title ranking on our list goes to Koe no Katachi!
The film has a MAL score of solid 9 and a popularity ranking at #5 and is also the winner of the Excellence Award at the 20th Japan Media Arts Festival.
That's enough said as to why this title makes it to #1 on our list.
It explores the amazing love story of Shouya and Shouko. Shouya is an eccentric teenage being living his life to the fullest.
When a deaf girl, Shouko transfers to his school, everyone makes fun of her for being deaf including Shouya.
Due to the troubles in her new school, Shouko gets a transfer to another school and Shouya feels responsible.
What follows is the Shouya on a journey of self-realization to amend his mistakes and build a relationship with Shouko while being bogged down by his past.
No words can describe the beauty of this tear-jerker of a story.
Despite the story being loved by the majority, there are some who find the movie a tad bit offensive to a deaf individual.
How about you watch it make a decision for yourself?