»
Top 50 Best Yaoi Anime Of All Time [Ultimate Gay Anime List]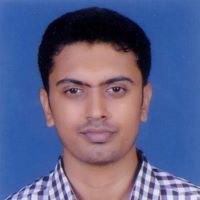 Vignesh-Updated June 12, 2023
---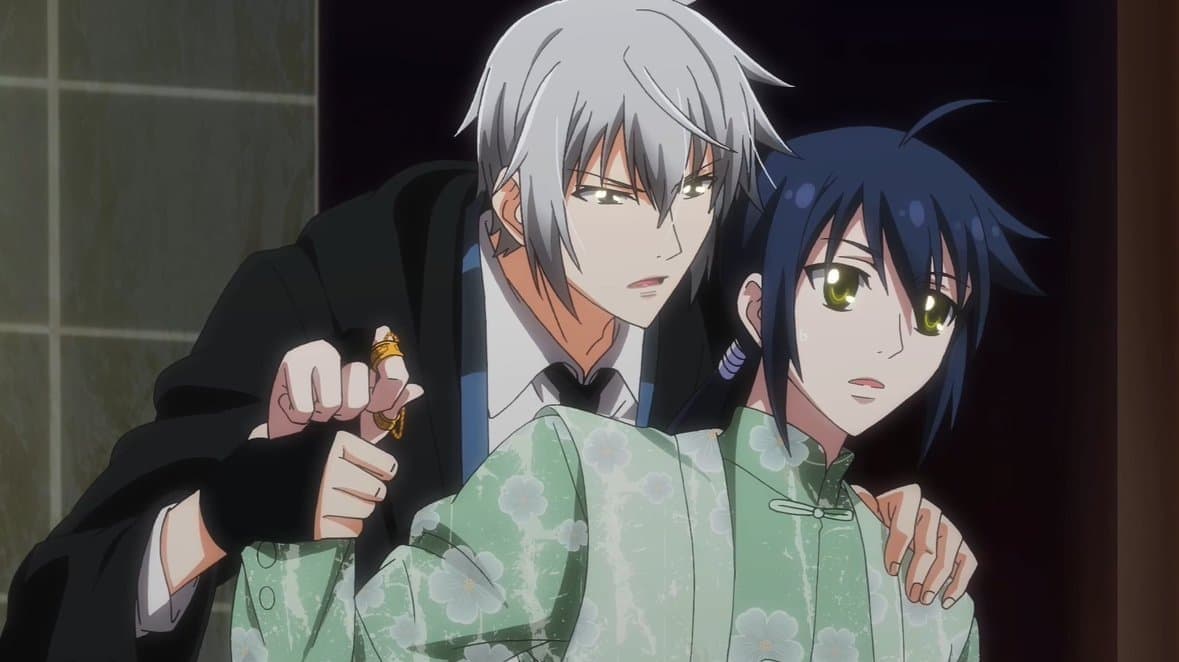 Yaoi or Gay animes are those which deal with same-sex relations in their plot. It's the male counterpart of Yuri anime.
Though it's a sub-category of Hentai, it's not like the Bara anime. Bara was for the gay audience which focused on sexuality.
Yaoi does not focus much on it. They only depict homosexual relations which are part of another theme.
Though they are around since the 70s, it was in the 1990s that they started becoming commercially successful.
Today, each of these industries is worth more than $180 million per year.
Anime in this genre may or may not have graphic adult scenes.
Today, they are also known as shōnen-ai (boy love) which is a milder version of Hentai showing Gay relations.
If you thought Yaoi anime showed a stereotyped version of Gay, it's wrong. The characters in it rarely identify themselves as one.
The Yaoi characters are masculine and strong. They use the uke (weak) and seme (strong) equations between the characters.
In this article, we at ENTOIN have made a list of the top 50 Yaoi animes, for you. These are a must-watch for anime fans that follow this genre.
50. Pico to Chico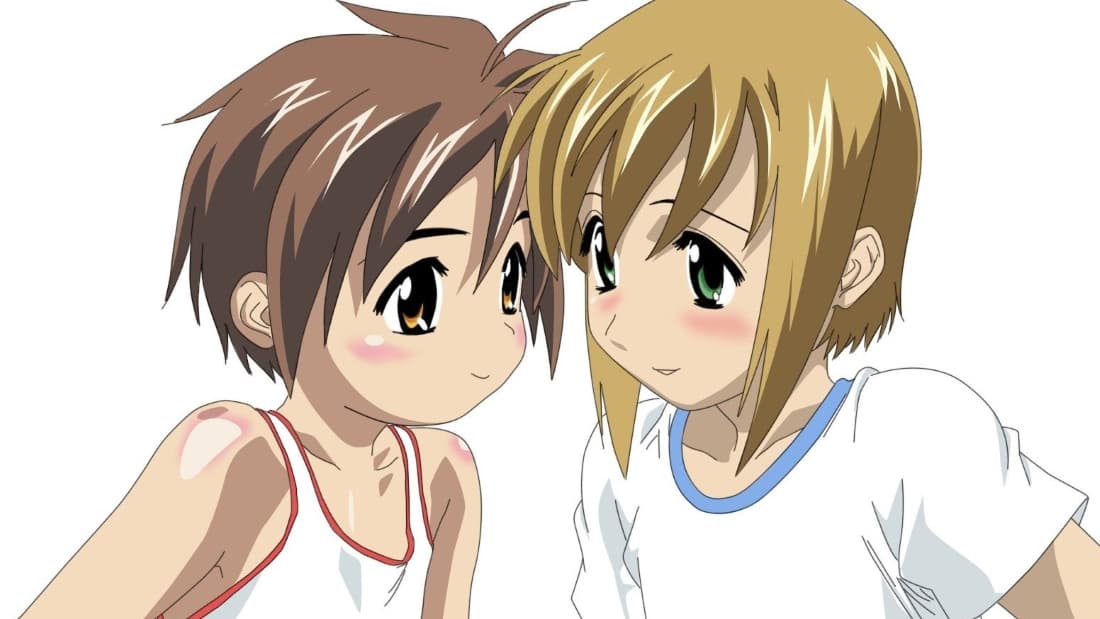 Pico to Chico is the only material available. It was released over OVA in 2007 and received mixed reviews. This Yaoi anime was a mix of fantasy and thrill.
The story is about two boys – Pico and Chico. Pico is elder than Chico and they meet each other on a biking expedition.
Chico has a younger sister and often wonders what she does secretly. One day Chico catches her pleasuring herself.
He decides to call Pico and show him. So he decides to guide Chico and they get into a relationship.
How far will Pico and Chico go? Will Chico's sister catch them?
49. Marudase Kintarou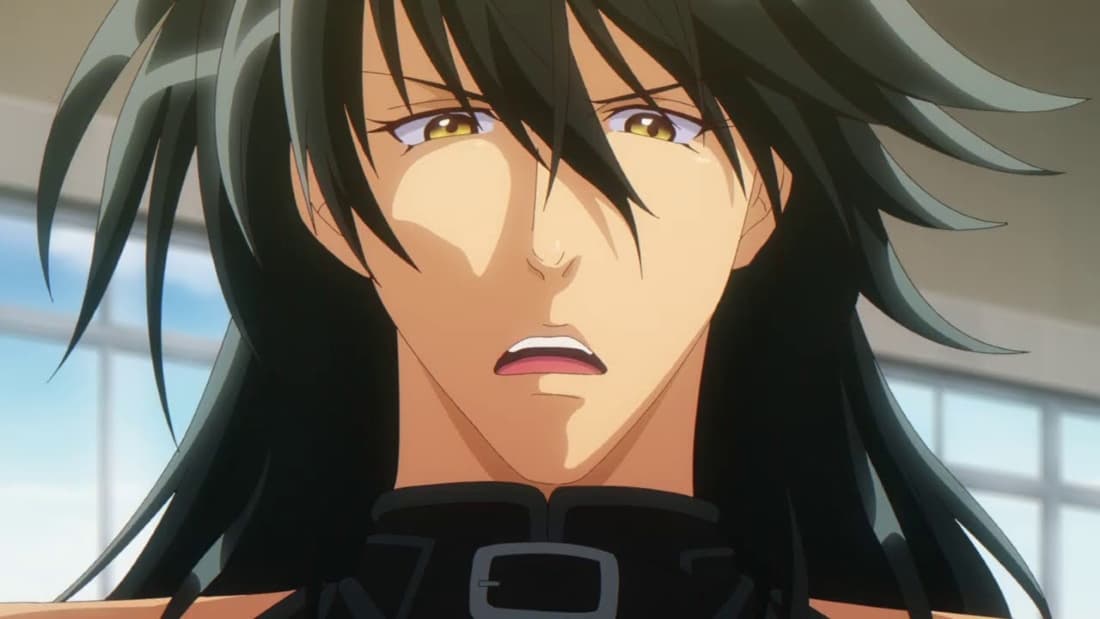 Marudase Kintarou is an adaptation of its manga comic. It's a single-episode anime that got released in 2020.
The anime was presented as a movie. It had received close to 2000 reviews.
Makato, the protagonist loses his grandfather. A lot of chaos ensues as the latter was the chief of Onodera Academy.
This was a very powerful and reputed institution. Soon, they discover his will which has a very strange condition.
It said that the control of the institute would go to whoever pleasures Makato.
He soon finds himself in danger and approaches his friend Kintaro for help. Will he help him?
48. Enzai
Enzai was a televised version of its visual novel. It was released in 2004 over OVA and got close to 19000 reviews.
It's a historical thriller anime, with a touch of drama.
The story of this is quite similar to Dickens' Oliver Twist. The protagonist Guys is an urchin who's caught for petty theft in Paris.
So, he tries to flee and ends up getting onto a railroad car and moving into a new city.
Guildias, a detective helps him in this mission. To his surprise, he is arrested from that city for a murder which he has no clue about.
After the arrest, he gets tortured in a very cruel way. Will he make it out alive?
47. Ginga Teikoku no Metsubou Gaiden: Aoki Ookami-tachi no Densetsu
Ginga Teikoku no Metsubou Gaiden: Aoki Ookami-Tachi no Densetsu is a science fiction anime.
It got released in 1996 and was the only source material. It also had elements of action and mecha.
The story is about Jonathan and Leonard. They become friends after they meet at the military academy.
Jonathan is an elite soldier and can control human beings. He is also the very few who can effectively use a cheap version of today's Artificial Intelligence.
Soon, they discover the corruption within the army. They also learn that the apocalypse of Pluto was a sham.
What more will follow? Will they win over the corrupt ecosystem?
46. Shounen Maid Kuuro-kun: Tenshi no Uta
Shounen Maid Kuuro-Kun: Tenshi no Uta is a Hentai anime with a touch of ecchi in it. Since it involved realism, it got known better than its sequels.
This episode was released in 2010 on OVA and got around 17000 reviews.
The story is about a boy Kurro whose father is in debt. Left with no option, he decides to sell Kurro to his debtors.
They desired to make him their slave. Soon Kurro is working for them, as a slave to pay off his father's debts.
He tries to plan an escape and then save his father. Will Kurro make it?
45. Fujimi 2-choume Koukyougakudan
Fujimi 2-choume Koukyougakudan is a psychological thriller. It's well known for the slice of life thrown in to make the plot interesting.
It's a story in the backdrop of a musical orchestra. It's a single-episode anime that is taken from its visual novel.
This Yaoi anime is about the tale of Morimura Yuuki, a music wiz who teaches at a high school. He has an amateur orchestra named Fujimi.
One day, a young conductor approaches him with a work request. Soon, he joins. His name is Tonoin Kei.
He impresses everyone in the orchestra and even the girl Yuuki loves. Yuuki is heartbroken and decides to leave.
Strangely, he is stopped by Tonoin who reveals a secret. What was it? Will Yuuki give up everything or stay? Watch it to know!
44. Boku no Sexual Harassment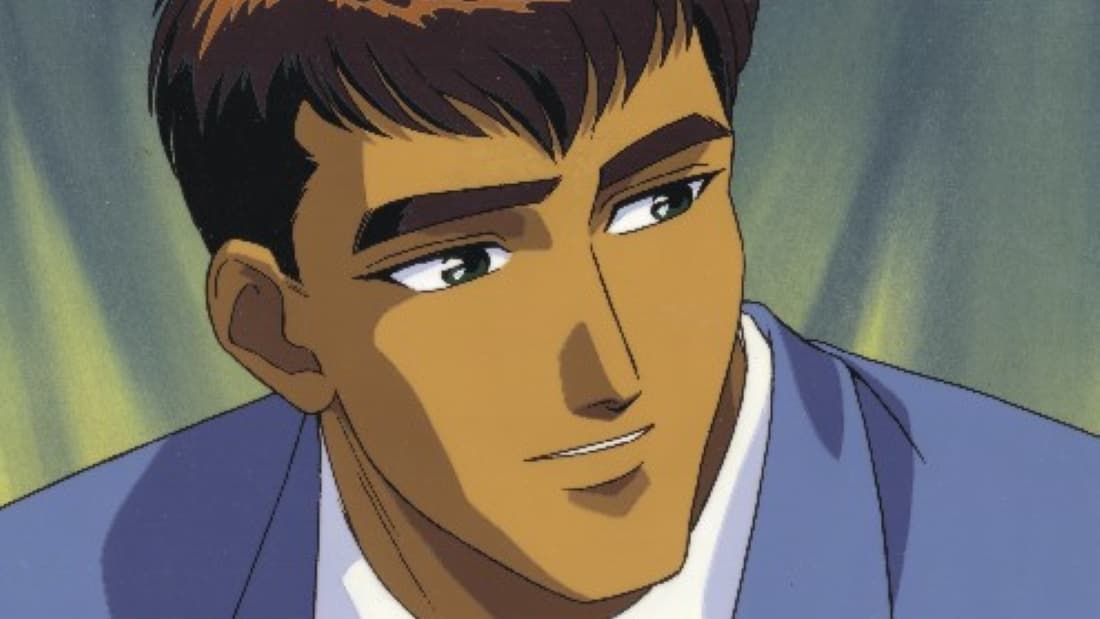 Boku no Sexual Harassment is a three-episode-long anime series. It was taken from the novel under the same name.
The movie is set in a corporate landscape and depicts life there. It got released in 1994 on OVA and got more than 15,000 reviews.
Have you heard of tales where people compromise on their morality for a career? This is one such story.
The protagonist Mochizuki, is forced to cooperate with his lecherous boss. Honma the boss, tells him he has to cooperate to climb the ladder.
Soon, many other men also force themselves on Mochizuki. He endures everything with the hope that he will reach the top. Will he?
43. Gakuen Heaven
Gakuen Heaven is an engaging anime series that takes place at Bell Liberty Academy, an elite boarding school known for its prestigious student council. The story follows Keita Ito, a cheerful and ordinary student who unexpectedly receives an invitation to join the student council, known as "Heaven's Gate."
As Keita navigates the challenges and rivalries within the student council, he forms deep bonds with his fellow members, discovering hidden secrets and personal growth along the way.
With a blend of comedy, romance, and friendship, "Gakuen Heaven" offers an entertaining and heartwarming anime experience set within the vibrant backdrop of a prestigious academy.
42. Otokonoko ♂ Delivery
Otokonoko ♂ Delivery script is the only source material for this single-episode anime. It's a pure Hentai anime with a touch of ecchi.
It got released on OVA in 2016 and was later made as a movie.
The story is about Shuuji whose friend becomes a transvestite. Now, this is someone who dresses as someone of the opposite sex.
Shuuji is a naughty teenager who's always seeking adventure.
Soon, Shuuji joins him and they get closer. Their relationship makes the rest of the story. Will Shuuji confess her feelings?
How will it get taken? All these worry her a lot.
41. Fairy Ranmaru: Anata no Kokoro Otasuke Shimasu
Fairy Ranmaru: Anata no Kokoro Otasuke Shimasu is a delightful and enchanting anime series that follows a group of handsome young men known as the "Fairy Team." Led by Ranmaru, they possess the power to heal people's hearts and grant them happiness.
In a world threatened by dark forces, the Fairy Team uses their magical abilities to help individuals overcome their inner struggles and find solace. With a perfect blend of fantasy, comedy, and heartwarming moments, "Fairy Ranmaru" delivers a captivating and uplifting anime experience that explores the transformative power of empathy, friendship, and the pursuit of true happiness.
40. Papa to Kiss in the Dark
Papa to Kiss in the Dark was a Yaoi anime, produced by TNK. It came out in 2005 first, over OVA.
However, it was based on the light novel of the same name. If you're looking for romance and drama, this anime is for you!
Apart from romance, a lot of twists make up the central theme. It deals with the oedipal complex, infidelity, and conflict in a family.
The things that go behind the scenes make it even more thrilling to watch.
The cross–relationships that go on without any problem, create havoc suddenly. A lot is at stake and the story then goes on to show the problems in store.
39. Yebisu Celebrities 1st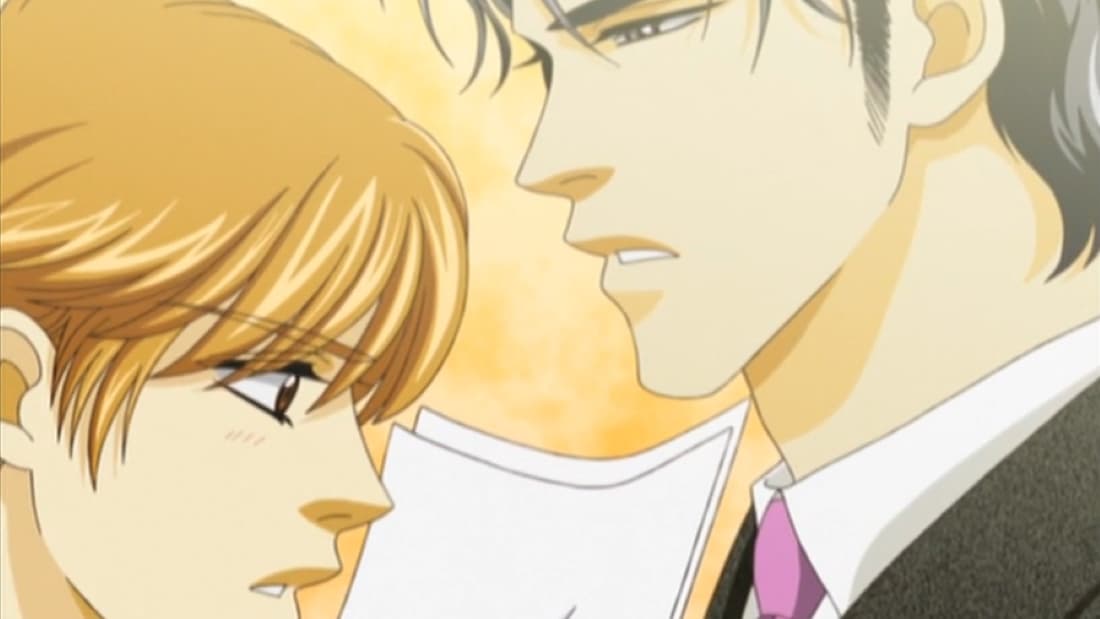 Yebisu Celebrities 1st is an adaptation of its Manga comic. It is a single-episode series.
It got released in 2013 on OVA and got close to 8000 reviews. If you're looking for a pure entertainer, this is a must-watch.
Yebisu Graphics is the firm where this story starts. Haruka Fujinami, the new employee is getting accustomed to it.
He reports to Daijou, who's a very cruel and merciless boss. Daijou abuses and harasses Haruka a lot. He assigns the most menial tasks to Haruku.
Daijou is behind Haruka to get him to surrender. But, Haruka understands that and realizes the real cause behind his troubles.
Now, he is in confusion. Should he cooperate or rebel?
38. The Titan's Bride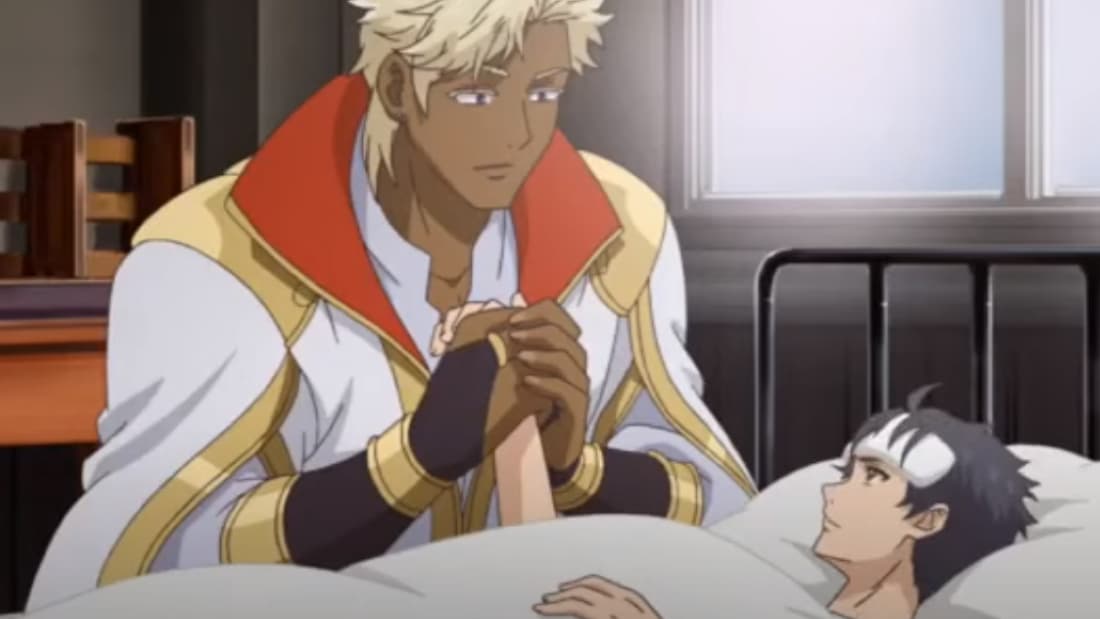 The Titan's Bride is a story similar to Gulliver's travels. It was released in 2019 as a predominantly Isekai work.
It had around 9 episodes in the first series and did well commercially.
The story is about a high school basketball enthusiast – Mizuki. He enjoys his life in Otaku and immerses himself in the game.
One day, he gets summoned to a different world. This world is full of giants.
Lao Vistaille, the prince of the new world, wants him to marry him. Will Mizuki marry him? How will Mizuki accept the ways of that world?
37. Ikoku Irokoi Romantan
Ikoku Irokoi Romantan is a story set in the Yakuza world. It first came out in 2007 over OVA and got mixed reviews. It was a mix of realism and drama.
Ranmaru Oumi, the son of a yakuza leader wishes to marry his friend Kaoru.
The real intent behind this is to ally with the two families. But, Kaoru does not like this proposal and revolts.
He meets a crew member named Valentino, after his fight on the cruise.
He gets enchanted and they fall in love. Now Kaoru must choose wisely or he may have to pay with his life.
36. Mo Dao Zu Shi
Mo Dao Zu shi means "founder of diabolism". It was a thriller anime with supernatural events.
Though it's a single-episode anime, there are rumors of its sequels coming out soon. It was released in 2018 as a movie.
The story is about Wuxian who tries to overthrow the ruler Clan. Years after his death, he was sent to live in the body of a lunatic.
Now, he got a body and plans to take revenge.
However, he is not sure how he died. As he unravels the mystery with the help of a sage – Lan, he gets shocked. How did so many deaths occur?
35. Okane ga Nai Specials
Okane ga Nai Specials is a Yaoi anime that looks like a Bara. It's the special version of the Okane ga Nai series with 4 episodes.
It got released in 2007 along with the main anime.
This version is a specialized series. It's rated higher because of its splendid direction. It performed better than the combined original anime.
Its theme was set in the event of a University conflict. This traces the story of how the protagonist enters it and starts life.
The story does not drag much into this. The rapidly changing plot reveals a lot of things.
This makes it supplement the main anime, without which it won't make sense.
34. Kachou no Koi
Kachou no Koi is a Yaoi anime that shows a confused man's life. It was a manga turned anime with just a single episode. It got released in 2010 on OVA.
Odakara is a man who lives for decades without any girlfriends. He is unaware of his sexuality and does not intend to discover it.
Being a busy businessman, he's engrossed with work.
After he meets a new employee, he discovers he's gay. The story then revolves around the two and then ends abruptly.
It's one of the rare pure romantic Yaoi animes which makes it a must-watch.
33. Okane ga Nai
Okane ga Nai is also a Yaoi anime that has some element of romance. But, this is more targeted toward Drama lovers.
The whole anime is about dramatic sequences. It got released in 2007 on OVA and had four episodes, in total. This is based on its Manga.
It tells the tale of a young university student who gets sold off at an auction. The seller happens to be his cousin's brother.
The twist is when the buyer reveals that he knows the protagonist. He further says that he bought him, to save him.
The story then moves as he gets forced to sell himself and gets horrified. But, later they develop a bond and it gets clear what happened.
32. Kizuna
Kizuna is an action thriller Yaoi anime. It's based on the manga under the same name. The two episodes in the series got released in 1994.
It was a moderate success, back then.
Yakuza rivalry and clanship make this filled with conflict. The dramatic and sudden occurrence of events makes it exciting to watch.
There are no stones left unturned when it comes to blending emotions in it.
This is exactly why this anime got ranked higher. It contains a stellar mix of action, drama, and romance in a long-distance relationship.
The return and regret of the protagonist make up the rest of the story.
31. Gravitation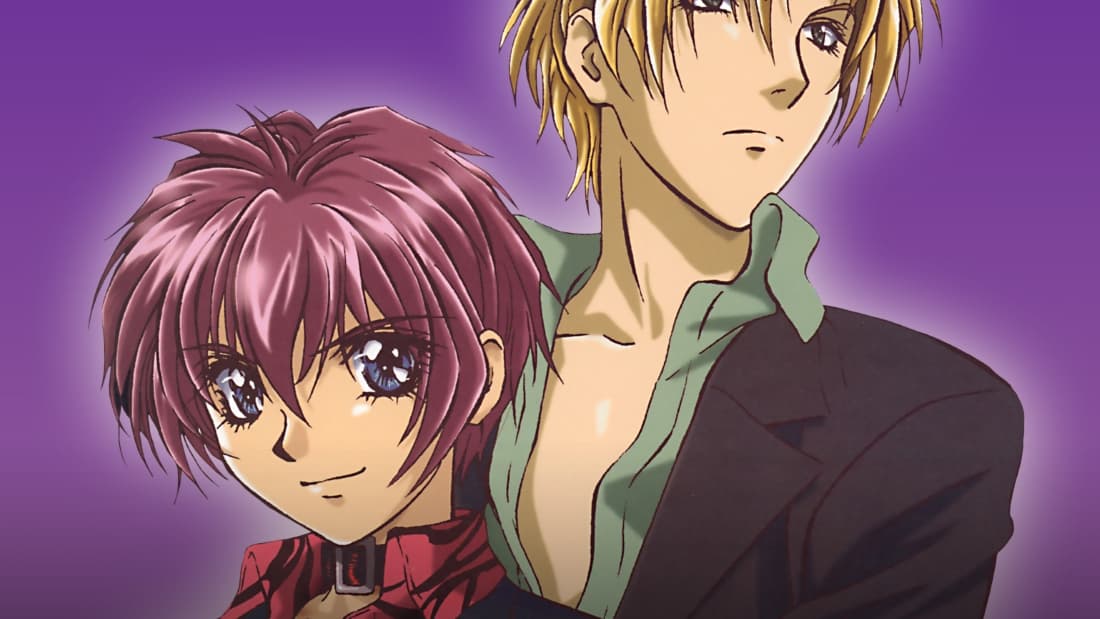 Gravitation was an adaptation of its manga comic. It was released in 1999 on OVA and grossed the most that year.
There was also a 13-episode-long adaptation of it on television.
The tale is about a singer named Shindou who performs in a band. The band is named Bad Luck and is a joint venture with his friend Hiroshi.
He aspires to become a leading star in Japan.
One day, he meets a guest who pours cold water on his head. He is shocked to get ridiculed. But soon, they start a long-lasting relationship. Who was the stranger?
And could he help Shindou?
30. Loveless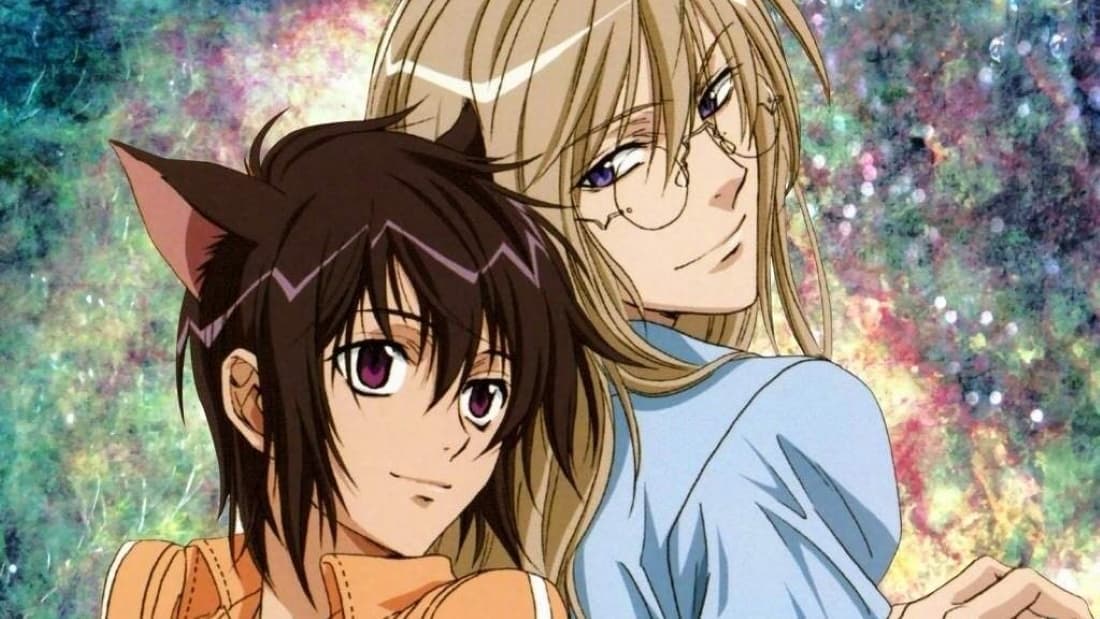 Loveless is a 12-episode-long manga adaptation. It got featured first in 2017 and was a hit.
This is primarily a cat anime with a touch of Yaoi in it. There are a lot of interesting twists in this story.
The story is about Ritsuka and Soubi. Soubi happens to be a friend of Ritsuka's deceased brother.
Ritsuka finds Soubi's files and then learns about an organization named Septimal Moon.
Seimei, Ritsuka's brother was a buddy partner of Soubi, in a battle against the organization. Now, they team up and take the organization on.
Will Ritsuka get back the lost memories?
29. Zetsuai 1989
This was an anime created from the 1989 manga under the same name. Zetsuai 1989 was released in 1992 and had only one episode.
It's appealing to the sports niche as it's made in that genre.
The Yaoi element in this is very limited and this makes it friendlier to the general audience. Dramatic sequences cover the plot like a chain leading to the next.
Koji, the main character makes some startling discoveries about his past. This causes conflict as he decides against moving up in his career.
His struggles with that and how he embraces his past make it interesting.
28. Bronze: Zetsuai Since 1989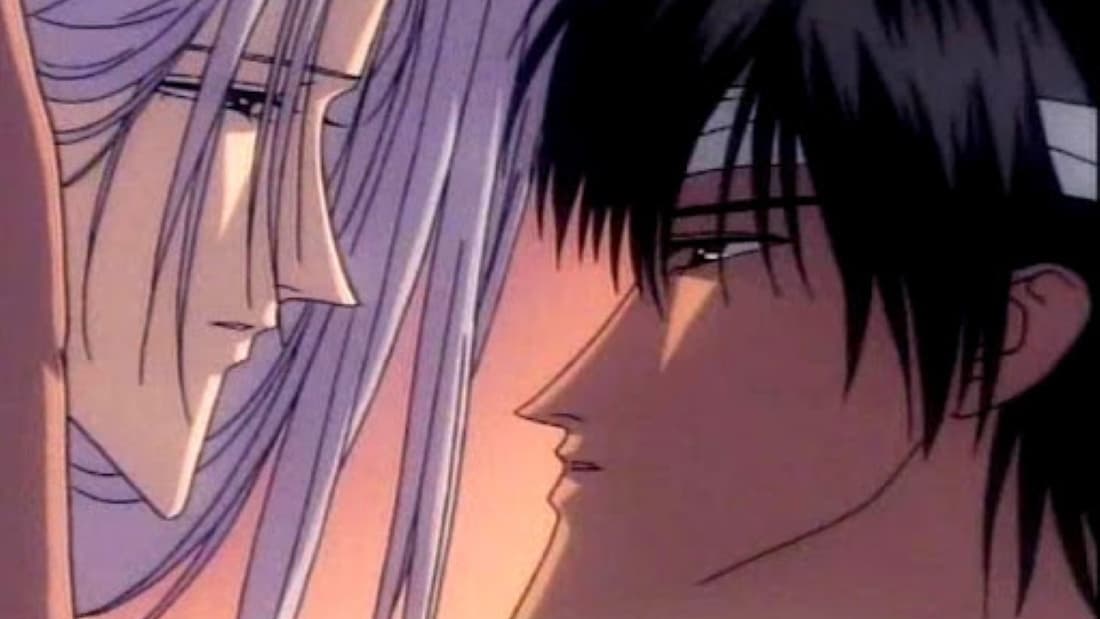 This is also a single-episode anime. It was released in 1996 to give more context to the previous Series.
The tale of conflict in his soccer career rips apart Koji. He has to make some decisions soon before more complications arise.
He is also confused about Izumu, whom he loves. This is the only aspect where it's revealed to be Yaoi.
Another interesting part is how the family dynamics are shown. The conflict between the characters and the family pressure makes it a must–watch.
The other popular point of this was – Music. It had a good soundtrack.
27. Hybrid Child
Hybrid Child is a four-episode-long anime series. The source material for this is the Manga comics.
Each episode is around 25 minutes and it's an action thriller. It was first released in 2014 on OVA.
Kuroda, a skilled artisan builds dolls with lives. They are called Hybrid Children. They can feel all human emotions and feelings.
They also have their conscience and require love.
Izumi, a kid from the noble family gets a Hybrid Child and takes it home.
The family tries to discard Hazuki, the Hybrid Child. But, by then it becomes impossible as Izumi falls in love with Hazuki.
26. Finder Series
Finder Series was a popular anime of 2012 and got more than 16000 reviews. It was an action anime made from its manga.
The Yaoi element is a central part of this story.
The anime is crafted well for action lovers. It involves realistic fights and stunts to convey the storyline well.
Since it was only 2 episodes, the anime was compact. It tells the story of a freelance photographer who's kidnapped.
This happens after he clicks some pictures of illegal dealing.
The mafia lord who kidnaps him happens to be a sadomasochistic thug. Then, he is dragged into the underworld.
The second episode is about how a rival mafia lord tries to use the victim as bait. It ends with a cliffhanger climax.
25. Saigo no Door wo Shimero!
Saigo no Door wo Shimero! was a Yaoi anime set in a cultural backdrop. It was released on OVA in 2007 and was the only episode of the series.
This anime is a must-watch for those who love comedy dramas.
The plot is about a wedding event that takes place. The groom's best friend realizes that he's in love with the groom.
On the other hand, the groom begins to hate the bride. That's where the third person enters the story.
The drunken groom is now caught between his best friend and the third person. It has an unexpected ending with a dramatic finish.
24. Sex Pistols
The supernatural drama is the specialty of Sex Pistols. Yaoi happens to be a subplot to the main one.
It was popular enough to gain 26000 reviews with the 2 episodes. The first one was released in 2010.
We all believe that we evolved from monkeys. What if you realized that you originated from something different? Wouldn't your features be different?
Norio is such a character and he struggles to survive in the modern jungle. He makes contact with a stranger who opens new doors for him.
He soon learns that he has a different set of challenges to face as he moves.
23. Hyakujitsu no Bara
Hyakujitsu no Bara is a war anime of 2009. The 2 episodes focus on how the Yaoi theme is looked down on with disgust in battle.
The tale is about a hard-to-solve crisis that is like a maze.
It's based on the manga which shows the relationship between two soldiers. They are from different fronts and this makes the events interesting.
They forge a bond beyond borders and work as a genuine alliance.
This makes them different from their surroundings. They become an oasis in the middle of a cruel world.
The rest of the plot is about how they overcome the scars and live in peace.
22. Ai No Kusabi (2012)
Ai No Kusabi was a popular anime of 2012 and garnered 28000 reviews. This is adapted from its light novel under the same name.
The first episode was released in 2012 January and the rest of the 3 episodes came out in 2012 end and 2013.
The movie begins by showing a different planet. It's computerized and is dominated by a special class of people.
They keep slaves with different hair colors. These slaves are often abused and harassed.
But, Iason, an elite man takes up Riki from the slum and recruits him.
As their relationship begins to grow, the other elites oppose it. It then depicts how Iason strives hard to live with Riki.
21. The Tyrant Falls in Love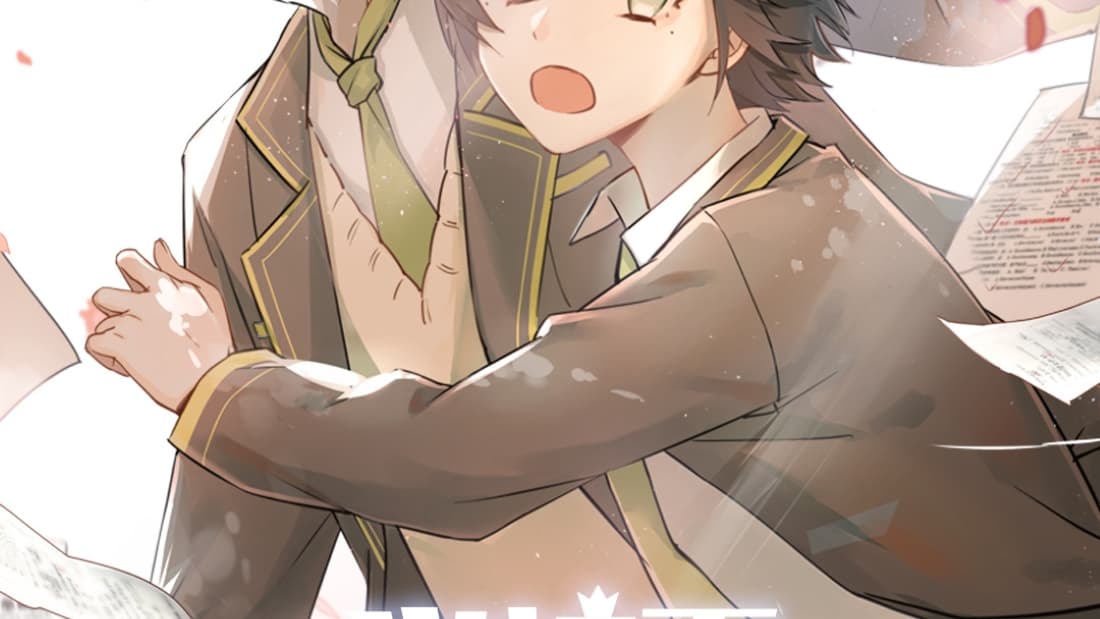 The Tyrant Falls in Love was an adaptation of its Manga comic series. It was a romantic drama with a touch of realism.
It was released in 2010 as multiple episodes.
Tetsuhiro, the protagonist is in love with his co-worker Souichi. Though they are good friends, the latter does not know the intentions of the former.
The worst part is that Souichi is a homophobic person. He can never accept a gay relationship.
The story is about how Souichi sheds his inhibitions and embraces a change. But, this will come at a severe cost. Will Tetsuhiro bear it?
20. Yarichin ☆ Bitch-bu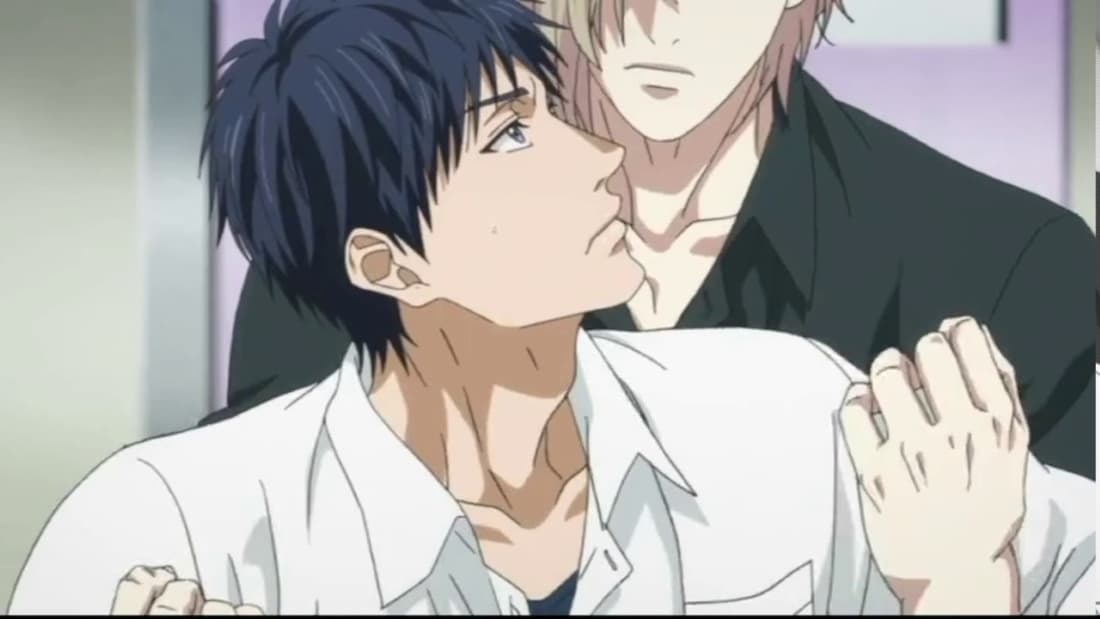 Yarichin ☆ Bitch-bu is a Yaoi anime that came out in 2018. It had just two episodes. It was more viewer-friendly as it deals with a school story.
The plot is based on an academy that runs as a residential one. All students must choose a domain of their interest and work.
But, unknown to them a lot of clubs are running forbidden activities.
The first episode tells the tale of the academy and its ways. It does not delve much into the graphical scenes.
But, the second episode is about the gruesome secret that is hidden in it.
19. Kirepapa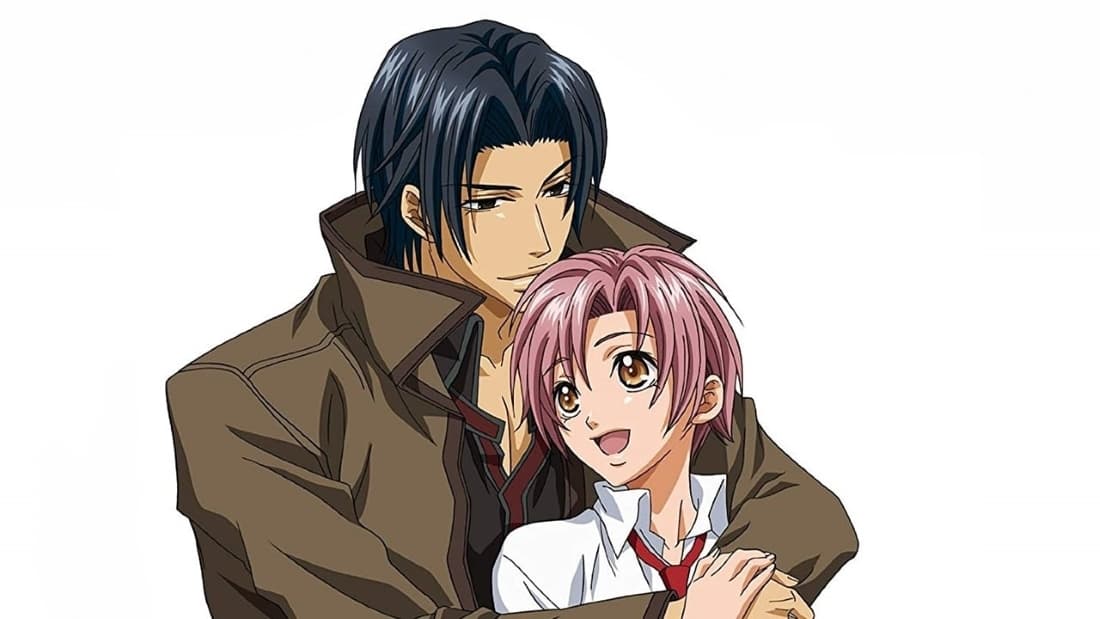 Kirepapa is a Yaoi anime that deals with deception. It is an adaptation of the manga and has two episodes.
It was released in 2008 and got more than 40000 reviews in a short time.
It tells the tale of an author who's obsessed with a celebrity. The author, who is younger than he looks, has a small son.
His work faces constant distractions as he fears his son is in danger.
His very social son brings home friends. But, these aren't ordinary ones and the father suspects them to be predators.
He is caught between writing his latest novel and trying to ensure his son is safe. This is the tension point the anime is all about.
18. Kizuna: Koi no kara Sawagi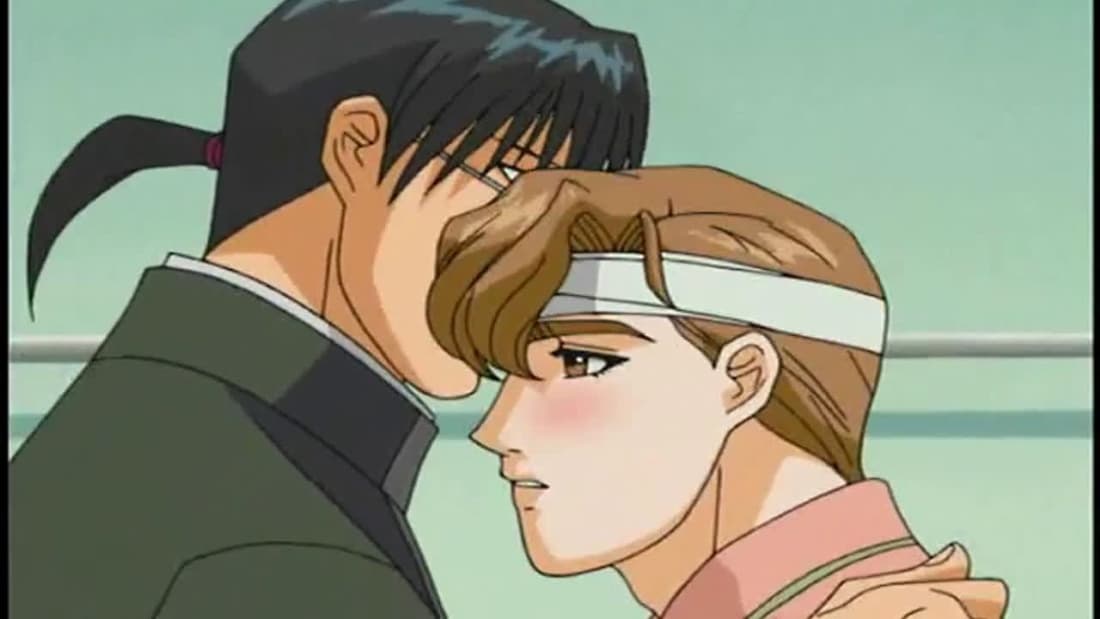 Kizuna: Koi no kara Sawagi is about a Yaoi story between a king and a warrior. It's a mix of drama, action, suspense, and romance.
The balance between all the elements makes it a suitable anime for most viewers.
It was first released in 2001 on OVA and got mixed reviews. The main theme focuses on status differences and the tension between them.
If you're interested in movies in which the confused character finds his way, this is for you.
The story ends in a contrarian tone. They realize and accept their mistakes. Both the men separate and discover themselves and their destinies.
17. Hyakujitsu no Bara: Jinginaki Nikukyuu-hen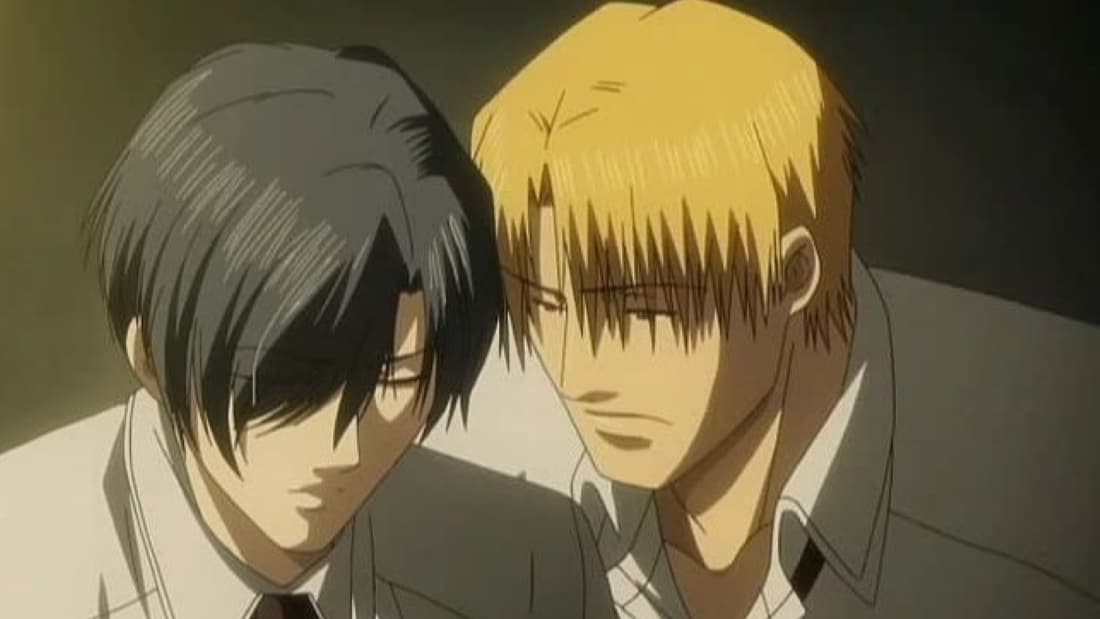 Hyakujitsu no Bara: Jinginaki Nikukyuu-hen is the special episode for Hyakujitsu no Bara. The 2 episodes in it are about how the characters fight two wars.
They are about to take a call on their lives and then realize something wrong. It's a philosophical quest they take to discover themselves.
The war serves as a message for them and puts things in trouble.
If you want to enjoy a good dose of sentimental drama and philosophy, this anime does justice. It focuses more on the internal battles of the mind.
The viewers can connect with the characters as the anime has been crafted in such a way.
16. Soul Contract
Soul Contract is a Chinese animation that is controversial. It got adapted from the Manga and premiered on OVA in 2017.
It was rated average, commercially but, did well as an art form.
It's more of an occult anime and involves some supernatural aspects. Keika, who's from a famous family of exorcists, is now hand-to-mouth.
This is because he has been on the streets after losing his parents.
He meets Tanmoku Ki, another exorcist at a dump yard. Ki was fighting an evil spirit and soon he dies mysteriously.
Ki then approaches Keika. Will Keika support him? What are the consequences of their pact?
15. Junjo Romantica
Junjo Romantica was an adaptation of its visual novel. It has 12 episodes and the telecasting began in 2008. It was another school that set up anime.
The reason for the higher ranking was its soundtrack and direction. The world-class artwork also contributed to its success.
The tale is about two couples. One is, Misaki and his old friend Hiroki. Fate separated them.
The next couple is Misaki's elder brother Takahiro and his friend Usami. Usami happens to meet Misaki and has feelings for him.
Meanwhile, Misaki is confused as he still loves Hiroki. What will happen to them? Will Takahiro get a clue about all this? Will there be dangerous consequences?
14. Super Lovers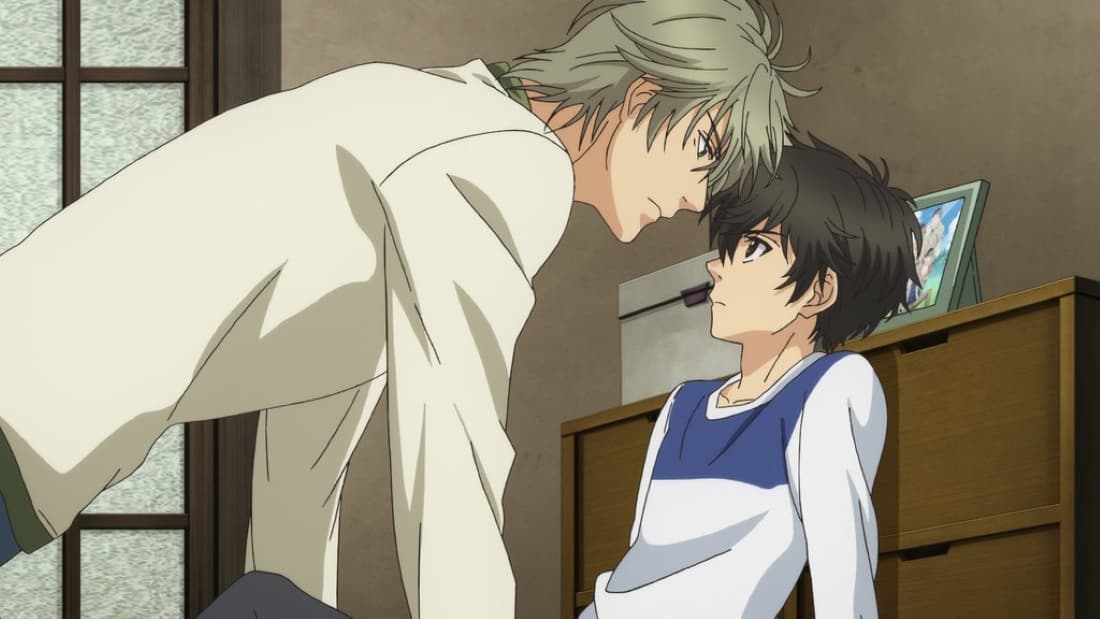 Super Lovers is a theatrical drama anime. It was an adaptation of its manga series and had 20 episodes.
The first episode came out in 2016 and the last one was in 2017. It was run as a television series.
The story is a tragedy that Haru faces. He is forced to raise a little boy named Ren. Haruko, the mother wants Ren to be civilized.
Soon, they start treating each other as brothers. Ren moves to Japan with Haru.
Haru goes on a trip abroad and loses his parents. The shock causes memory loss. Will he recognize Ren? How will Ren behave now?
13. Sensitive Pornograph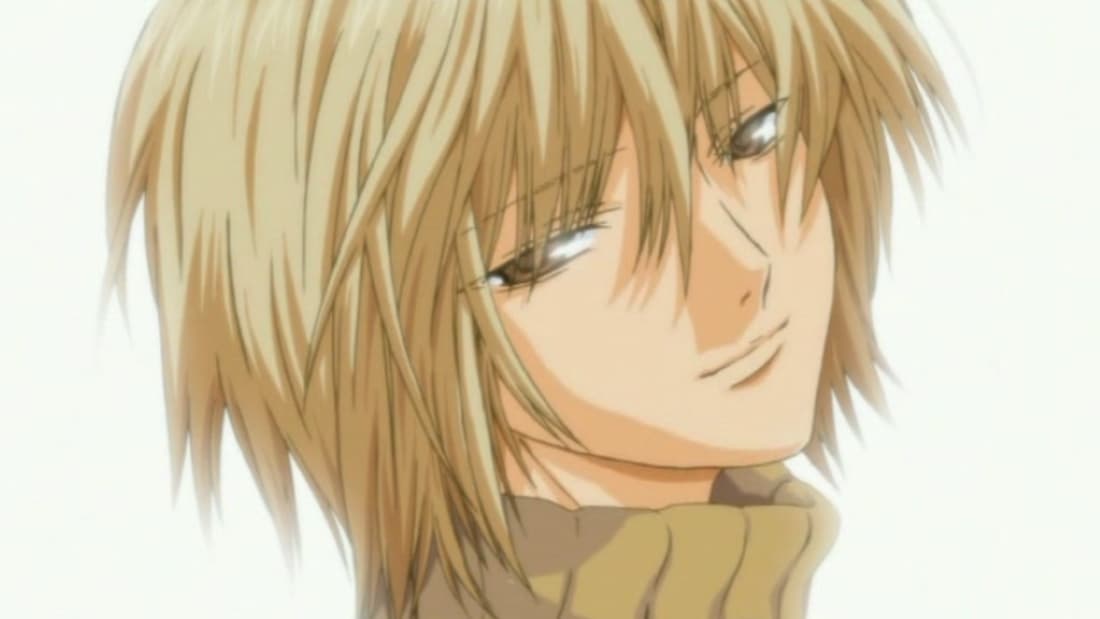 Sensitive Pornograph is a double-tale anime. It was released in 2004 and got more than 35000 reviews.
Though there are two Yaoi tales, it's covered in just one anime.
There are four men in this. Two in each tale. The first one is about how two manga artists fall in love.
Then to his shock, he catches his partner in another affair. Though fidelity is not expected, it's implied. This is where the duo discovers the boundaries.
The second tale involves some action and drama with light comedy. It's all about breath-holding suspense and graphic scenes.
The two stories summarise the same emotion in different situations.
12. Haru wo Daite Ita
Haru wo Daite Ita is a Yaoi anime that came in 2005. It was a decent commercial success.
The two episodes deal with a relationship between two masculine adult actors.
Uke. seme principle is not used in this anime. This shows the ascent of 2 actors who make it in a dirty industry.
They find some comfort in each others' company but, there is a turn. This is when one of them realizes he's being used.
Problems go from bad to worse as their career graphs change. One of them gets into a movie while the other fails in an audition.
Will they continue the relationship? How will it change? These are questions the anime will answer.
11. Sekai Ichi Hatsukoi: The World's Greatest First Love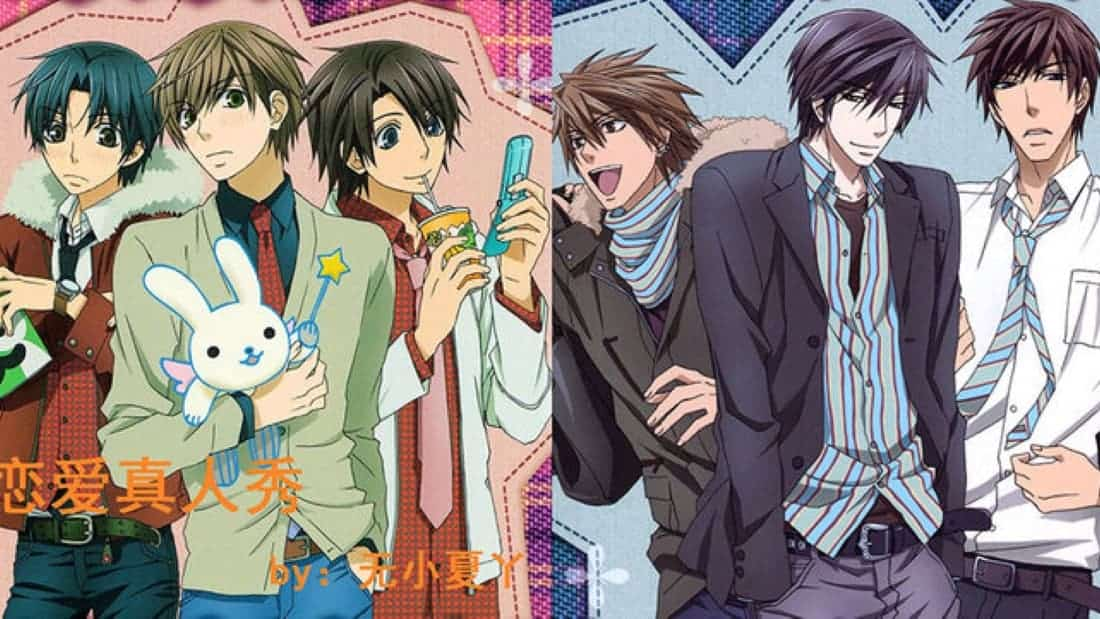 Sekai Ichi Hatsukoi: The World's Greatest First Love is an adaptation of its light novel. Though the novel had only 4 episodes, the anime ran 12.
It made its debut in 2011 along with the source material. The story is a mix of drama and thrilling events.
Ritsu Onodera resigns from his father's publishing company. He was serving as a literary editor there when he ran into trouble.
He then joins Marakuwa Publishers, to try his hand at the business independently. He gets assigned to a dangerous department there.
His boss, Takano is hiding his real name. Ritsu soon finds this out and realizes that he was an old friend who had a crush on him.
Will Ritsu resign? Or will he submit to the new boss?
10. Ikoku Irokoi Romantan
Ikoku Irokoi Romantan is a story of a marriage gone wrong. It was a two-episode series from the manga.
It was widely acclaimed and got more than 38000 reviews.
What happens to a Yakuza who does not spend the night with his bride? This is exactly what the anime depicts.
After a yakuza's failed marriage, he finds solace in the ship captain. They part ways after the trip.
Later, their meeting in Italy sparks a new beginning. Will it last? And how long will a married warrior be with a boyfriend?
The anime will show the strange twists and turns of this!
While the first episode deals with the events on the ship, the second one is about the ones in Italy. The sync between both was crafted perfectly.
This makes it easy to watch both of them at a single stretch. The anime contains fewer graphic scenes. The reason it got ranked so high is its script.
9. Fuyu no Semi Special
Fuyu no Semi Special is a thriller anime. It was a single-episode anime that was made from its manga. It was released on OVA in 2008 by Venet.
The story starts with a narration of the historical issues in the far east. It goes on to share the story of two Samurais who did their best to combat their enemies.
This Yaoi tale involves action, military, and drama in the events. The duo is separated during combat and forgets each other. The battle continues, meanwhile.
They don't know if they may come out alive. During the long period of their separation, they plan to make reparations.
But, fate takes a different turn when they meet each other at a hospital. They are reluctant about revealing their past relationship.
It's because it can make them invalid, in the code of conduct.
Though it did only average in the market during its release, it was later rated high. The theme, story, and perfect illustration are what helped in doing that.
8. Seitokaichou ni Chuukoku
Seitokaichou ni Chuukoku is a 2009 Yaoi anime. It had 2 episodes which were from its original manga.
It got over 40000 reviews in a short period and became a commercial success too.
Another reason it got ranked high is because of its sublime plot. It showed school life as a key theme of the story.
A tug-of-war on power corridors makes this interesting to watch. Chigakun regards himself as strong and contends to win.
But, unknown to him, his opponent uses a different tactic. It was something that was never expected from a country boy.
Chigakun takes a lot of time to understand this and gets swept away. He finds himself breaking the boundaries unknowingly.
Later, he decides to yield to the superpower and play.
But, he doesn't realize that things are getting worse than he thought. It won't be long before he ends up in a mess. Will he escape the looming threat?
Can he restore the pride he had in himself? Viewers will know it in this anime.
7. Koisuru Boukun
Koisuru Boukun is a conflicting story. Though it's just two episodes long, it had shot to popularity. It was first released over OVA in 2010 as a manga adaptation.
It received over 50000 reviews.
This Yaoi anime is about a reluctant relationship between two men. It involved some amount of nonconsent and domination.
Though it came under criticism for explicit scenes, this did well commercially.
A gay man tries to woo a homophobe. You can just imagine how the story would go. But, things take a different turn, later.
They are forced to be together in a trance. This makes a lot of swift changes.
Will they get closer? Or will their enmity grow? What happened for them to have a bitter ending? All these are shown in the two episodes.
6. Ai no Kusabi
Ai No Kusabi is an anime based on magical realism. It was adapted from its light novel and had only 2 episodes in its anime.
It received close to 30000 reviews in 1992 which made it popular. Are you aware that there's a social system on other planets?
The one in which people are ranked according to their hair color! This is about planet Amoi – where the anime is set. It has a set of two classes that live in different areas.
The elite lives in the city and the poor live in a slum. What makes it harsh is the slum dwellers cannot move beyond it.
It sounds unfair, right? But, this is how it worked. It tells the tale of how a boy gets kidnapped from the slum.
He was taken as a pet by the elites. The heart-wrenching sequences of the boy – Riki are shown in the first episode.
He gets out of captivity soon and goes back as a stronger man. He thinks that his torture has ended but, a lot more is yet to come.
Riki now realizes that things have become worse. He has no go but, to fight those who may come for him again.
5. Doukyuusei
Doukyuusei means classmates in Japan. It was an adaptation of its manga under the same name.
Though it had 8 volumes, the anime ran as a single episode. It was rated very highly thanks to the character-driven plots and animation.
The story is set at Touichikou High school where Rihito studies. He is a very quiet and decent kid in that boys' only school.
He grows close to Hikaru, who's a choir leader. Hikaru now protects him from the gay music teacher.
A year later, Rihito has to take an exam. He suffers a massive panic attack and gets help from Hikaru.
He confesses that he was a bad student and ended up in this school for a remedial lesson. Hikaru encourages him to study well. Will Rihito pass the exam?
This is an extremely cute story with a great message. So make sure to check this anime out.
4. Yuri on Ice
Yuri on Ice is an adaptation of its manga series. It had around 12 episodes excluding the special episode.
It was featured on television in 2016 and became popular soon. It was a super success at the commercial level too.
Yuri Katsuki is a skater who's in low form. He faced massive defeats and started to doubt his abilities.
Realizing this, his friend Yuko decides to help him. They decide to take coaching from Russian super player Victor.
Now, after they get mentorship of Victor, a lot of changes occur. They happen to be trapped in a love triangle with him.
And they also realize the presence of different people in this event. Will Yuri cheat Yuko? Whom will Victor live with?
Watch this anime to know more. This anime will be great for people who love drama and intense emotions in their anime.
3. Hitorijime My Hero
Hitorijime My Hero got released on TV in 2017. It is an adaptation of its light novel. There are 12 episodes including special telecasts.
This was a mix of drama, romance, and a slice of life. All the elements played a key role in its success.
Masahiro Setegawa is a pushover boy. He is at a stage where he is fed up with his life. Bullies trouble him always.
But, things change after he befriends Kosuke, a strong man. He begins to admire him.
Later, Setegawa finds out that Kosuke is a math teacher at a high school. They grow a bond beyond school, now.
Kosuke helps Setegawa protect himself and also teaches him math.
Asaya, Setegawa's friend now enters. He starts seeing Kosuke as a partner and wants him all for himself.
Will the three of them make it through school? Or will there be any drastic consequences?
2. Fuyu no Semi
Fuyu no Semi is the first part of the Fuyu no Semi Specials. It's a historical and military-themed anime with three episodes.
The first one came out in 2007 and received many positive reviews.
Time is the focal point in this anime. It is all about how two people go through their lives – meeting each other rarely.
The two people, who start as one, end up in different positions over time. That's when they have to embrace some changes to get even.
It goes through the portals of history and politics. In the Meiji period, where the story of the anime revolves, things were volatile.
Two men are bound by a cruel thread of fate. They don't intend to meet again but have to.
Since they're on two opposing sides, a lot of casualties occur. They were fighting each other – unknowingly. Was it too late for them to realize it?
Or how far have they come? Will things go back to what it was, before?
1. Saezuru Tori Wa Habatakanai: The Clouds Gather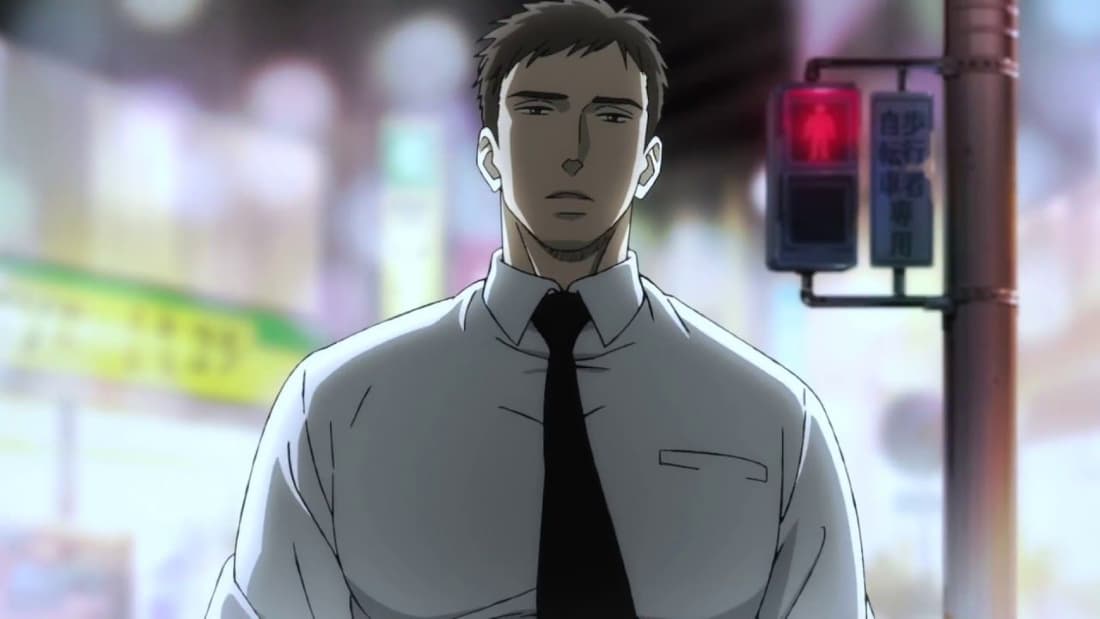 Saezuru Tori Wa Habatakanai: The Clouds Gather is the top-rated Yaoi anime. It got released in 2020 and got more than 17000 positive reviews.
The reason it ranked highest was because of its splendid direction. It was set on a perfect theme. The theme is modern-day slavery which many fail to recognize.
Another factor that led to its success was the corporate backdrop of the plot. It showed abuse of power and modern-day slavery.
Everyone thinks that a rich man's life is very comfortable. This anime just proves it wrong by showing what reality looks like.
It shows the conflicts and pressure they go through. People around these people also become victims of their behaviour.
Though they look inferior, they wield a powerful influence.
Double lives and split personalities are the next thrilling part of this. The deviant acts and cruelty meted take this to another level.
You can say the success of this anime was because its story connects with the real world.