»
Top 50 Best Seinen Anime [Top Watch List]
Bijesh-Updated Jan 8, 2023
---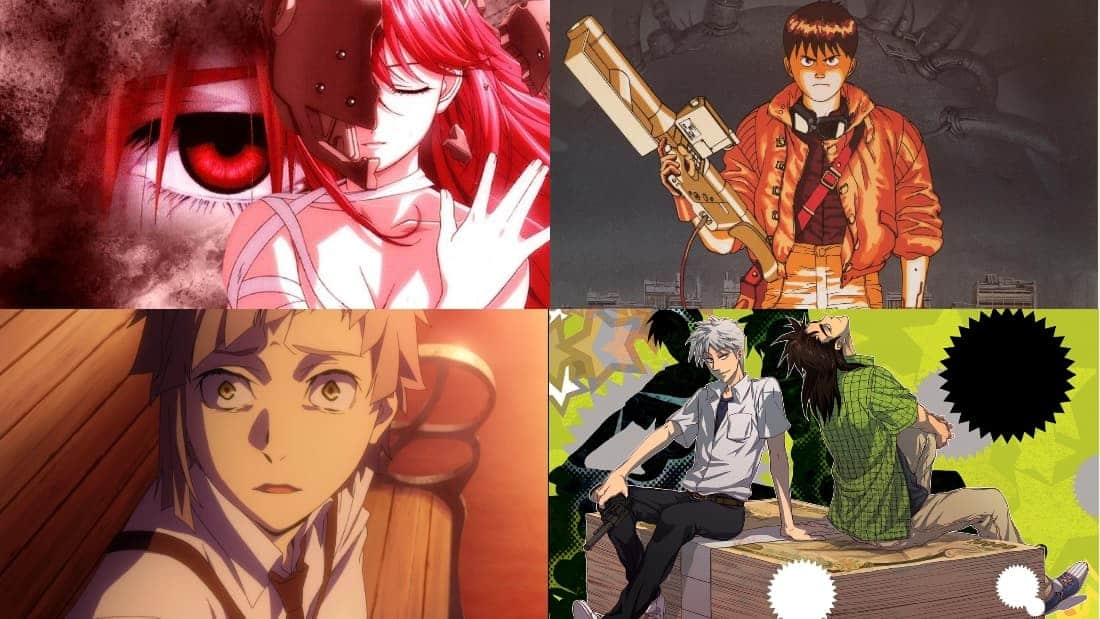 Are you an anime fan but feel like you're constantly left wondering about questions like "What is Seinen Anime?" You're probably thinking you're enjoying all the wrong kinds of anime.
Perhaps you're also feeling 'left out as if you are not elite enough to watch 'real' anime with the 'cool kids.
This writer is here to tell you to stop throwing yourself such a flawless pity party.
Anime is anime, and anyone who loves it is welcome to do so. 'Seinen' is just a technical term that defines a sub-genre of storytelling styles and themes in the broader anime and manga realms.
This particular classification of anime tends toward 'youth-centric' (8-15-year-olds) topics based on anything from Sci-Fi, Fantasy, and Politics to Action, Sports, Comedy, and Romance.
No matter your age, we bet you've seen several Seinen anime without realizing it.
As usual, you'll find movies and series alike on this list, and none of them come numbered according to importance.
Let's get started exploring ENTOIN's top 50 recommendations from the realm of Seinen Anime.
50. Vinland Saga (series)
| Entity | Detail |
| --- | --- |
| Title | Vinland Saga |
| Type | TV |
| Studios | Wit Studio |
| Premiered | Jul 8, 2019 to Dec 30, 2019 |
| Source | Manga |
| MAL Score | 8.721 |
| Duration | 24 min. per ep. |
At a young age, Thorfinn was one of several people who fantasized about finding Vinland, a place where utopia reigns, fighting is unheard of, and the land is as fertile as it is beautiful.
Despite being an old sailor's tale, the place is always at the forefront of travelers' minds.
As a mercenary, Thorfinn finds himself hard-pressed to grapple with the possibility that Vinland could even be accessible to him.
He, who has only ever known War all his life. Though he grew up hearing his father spout non-violence in so many words, Thorfinn tasted life's bitter truth and couldn't un-taste it afterward.
His fellow mercenaries and he are constantly embroiled in a never-ending war between the Brits and the Danes.
The mercenaries get to keep the spoils and are mainly sought after for their tide-turning abilities in battle.
Seeking fame and fortune where he can, Thorfinn strives to balance reality with his dreams of peace.
A lot is happening in the 2019 "Vinland Saga" anime, including Thorfinn silently seeking out Askeladd, who murdered his father and deserves what's coming to him.
49. Made in Abyss (series)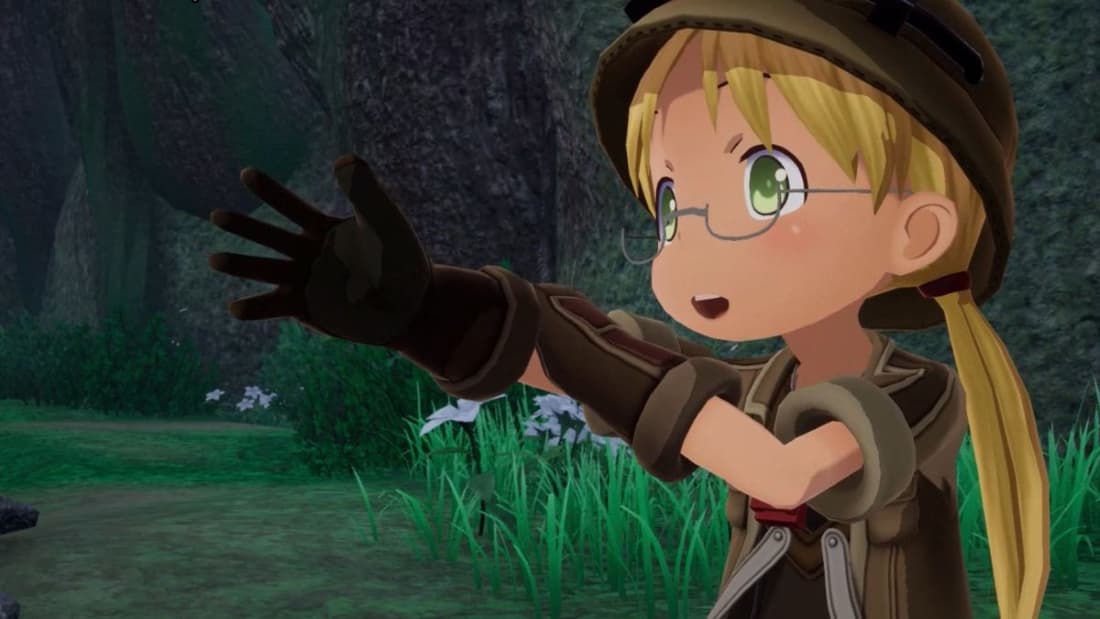 | Entity | Detail |
| --- | --- |
| Title | Made in Abyss |
| Type | TV |
| Studios | Kinema Citrus |
| Premiered | Jul 7, 2017 to Sep 29, 2017 |
| Source | Web manga |
| MAL Score | 8.711 |
| Duration | 25 min. per ep. |
Home to fatal mysteries, deadly creatures, and the great unknown, The Abyss remains a focal point in the 2017 "Made in Abyss" series.
Different 'Divers' have attempted to solve the ever-piling questions regarding what even created the Abyss, let alone what purpose it fulfills in the world.
But descending into dark depths can create problems of a dangerous kind. Even the 'White Whistles', who happens to be the cream of the Divers crop, are yet to get to the bottom (no pun intended) of the Abyss's raison d'etre.
One of their members, Lyza the Annihilator, has gone missing. Her daughter Riko is ambitious in following her mother's footsteps and becoming an Abyss explorer herself.
Riko is a Red Whistle Diver, in other words, a novice. She is only granted access to the Abyss's upper layers.
When she encounters a robot that looks like a boy, Riko senses she's on to something portentous.
The Robo-boy, Reg, has no memory of where he came from. Riko and surmise that the technology that created him must have come from the Abyss.
Together they venture past the safety zones in the Abyss, all to see the pit with their own eyes and hopefully discover something of value concerning Reg's origins.
Unforeseen truths lie in wait within the Abyss for these two young, unwitting, and innocent explorers.
48. Mushi-Shi (series + movie)
| Entity | Detail |
| --- | --- |
| Title | Mushishi |
| Type | TV |
| Studios | Artland |
| Premiered | Oct 23, 2005 to Jun 19, 2006 |
| Source | Manga |
| MAL Score | 8.681 |
| Duration | 25 min. per ep. |
The 2015 OVA anime movie "Mushishi Zoku Shou: Suzu no Shizuku ova" and the 2014 series "Mushishi Zoku Shou (aka MUSHI-SHI -Next Passage-)" that preceded are both great examples of Seinen excellence.
In the series, bizarre misshapen entities come to be called 'Mushi'. They pose no real danger to people, but they do suffer from nuanced side effects specific to their nature.
For instance, anyone who tries to exploit a Mushi will sooner or later court disaster.
The show is carried by Ginko, who's a Mushishi striving to bring harmony between the Mushi and all those in the visible world.
His travels exposed him to unique individuals, some of whom are fully cursed while others maintain a strange symbiosis with Mushi-entities.
Ginko gradually delves into the possibility that people and Mushi may not get along too well in the long term.
Being a Mushishi has put Ginko in the curious position of being able to study and learn about the fragile relationship between humans and Mushi, and whether or not he should interfere in its development.
In the movie version of this brilliant series, Ginko experiences captivating circumstances that lead him to the discovery of a cute baby girl with weeds growing out of her.
Along with a pre-established character called Yoshiro, Ginko makes strides into learning more about this girl named Kaya, who dwells in the mountain.
The movie adapted the final story arc in the original manga and highlights the beautiful occult themes that pervade this franchise.
47. ERASED (series)
| Entity | Detail |
| --- | --- |
| Title | Boku dake ga Inai Machi |
| Type | TV |
| Studios | A-1 Pictures |
| Premiered | Jan 8, 2016 to Mar 25, 2016 |
| Source | Manga |
| MAL Score | 8.341 |
| Duration | 23 min. per ep. |
Anytime an accident takes place, Satoru Fujinuma is abruptly sent back in time by several minutes.
An introverted manga artist, Satoru does not prefer being the only one to know what's about to happen and often being unable to stop it.
But Satoru does his best to use this bizarre phenomenon – which he calls 'Revival' – to save lives where he can.
One day he finds himself being accused of murdering his mother. This time, when he is pushed into the past, he is sent back eighteen years to 1988 (!).
Satoru finds himself at a time when Kayo Hinazuki, a solitary and aloof former classmate of his, was abducted and murdered.
The 2016 "ERASED" anime series is filled with dark but realistic themes. In it, Satoru connects the dots between what happened in his actual present and what unraveled in his past.
The boy thus attempts to derail the events that ended Kayo's life, and in the process stop the misfortune that took place (or rather, will be taking place) concerning his mother's murder.
46. I Want to Eat Your Pancreas (movie)
| Entity | Detail |
| --- | --- |
| Title | Kimi no Suizou wo Tabetai |
| Type | Movie |
| Studios | Studio VOLN |
| Premiered | 2018-09-01 00:00:00 |
| Source | Novel |
| MAL Score | 8.591 |
| Duration | 1 hr. 48 min. |
Lost in his bookworm life, Haruki Shiga enjoys being by himself, content in the self-crafted illusion that nobody has any interest in him and vice versa.
When he comes across a book titled 'Living with Dying', the fact that it is completely hand-written isn't the most curious thing about it in his opinion.
He gradually learns that it belongs to Sakura Yamauchi, his classmate known for being happy-go-lucky and super-popular.
When he broaches the subject with her, Haruki learns about Sakura's pancreatic ailment, and that it's terminal.
Only her immediate family is aware of the truth, leaving all of Sakura's friends in the dark.
It's odd at first watching Haruki be nonchalant about the revelation. The 2018 "I Want to Eat Your Pancreas" anime movie blooms when the young man is willing to spend the remainder of Sakura's time getting to know her better.
These two are typical 'opposites', but their interactions are sublime and every second of it is worth watching in this OVA.
Friendship, romance, and the purpose of life are some of the key themes explored in this captivating, though strangely named, anime film.
45. Parasyte The Maxim (series)
| Entity | Detail |
| --- | --- |
| Title | Kiseijuu: Sei no Kakuritsu |
| Type | TV |
| Studios | Madhouse |
| Premiered | Oct 9, 2014 to Mar 26, 2015 |
| Source | Manga |
| MAL Score | 8.371 |
| Duration | 23 min. per ep. |
The name of this 2014 anime series hints at its core plotline. Aliens come to Earth with the sole intention of taking over, starting with the species right at the top.
By burrowing into people's brains, these parasitic extraterrestrials make quick work of their 'invasion'. But several people are still 'unoccupied', adding a crucial counter-balance to the show's intense theme.
These aliens are not only capable of shape-shifting to prey and feed on the vulnerable and unsuspecting, but they also possess complete control over their host bodies.
When Shinichi Izumi, a teenage high-schooler, is targeted by one such alien, the plot twists in a remarkable way.
The alien fails a full takeover of the boy's brain. Instead, all it can host is his right hand.
The alien comes to be called Migi in the 2014 "Parasyte The Maxim" anime. The creature finds himself in a serious bind because it cannot leave Shinichi's hand at will.
This makes the boy and Migi open targets for a plethora of stronger alien entities who think that such a 'discrepancy' needs to be annihilated post-haste.
Migi and Shinichi's 'symbiosis' becomes a serious threat to other aliens. The two of them are forced into a co-existence that hinges on mutual survival at whatever cost.
44. Ghost in the Shell: Stand Alone Complex (series)
| Entity | Detail |
| --- | --- |
| Title | Koukaku Kidoutai: Stand Alone Complex |
| Type | TV |
| Studios | Production I.G |
| Premiered | Oct 1, 2002 to Oct 1, 2003 |
| Source | Manga |
| MAL Score | 8.441 |
| Duration | 25 min. per ep. |
It is an age when full-body flesh-to-machine transplants are incredibly common. Several main and side characters in the 2002 "Ghost in the Shell: Stand Alone Complex" anime series prove capable of superior cybernetic prowess.
The criminal world certainly doesn't shy from taking advantage of this influx in physical power.
Innovation inspires greed, and crime becomes that much harder to quell, resulting in the Japanese Government commissioning 'Section 9'.
This crime branch is tasked with handling specific crimes caused by a whole new breed of bad guys.
Daisuke Aramaki and Motoko Kusanagi rise to the challenge and prove themselves enormously competent in dealing with the lowlifes who think they can cow the Japanese Government into turning a blind eye.
Then along comes the masterful hacker known simply as 'The Laughing Man. His trail of destruction and chaos is nothing short of catastrophic, and it's going to take everything that Section 9 can do to stop this cyber-criminal.
43. Hellsing (series + movie)
| Entity | Detail |
| --- | --- |
| Title | Hellsing |
| Type | TV |
| Studios | Gonzo |
| Premiered | Oct 11, 2001 to Jan 17, 2002 |
| Source | Manga |
| MAL Score | 7.491 |
| Duration | 23 min. per ep. |
The movie "Hellsing Ultimate" was released in 2006 and the series "Hellsing" aired a while back in 2001.
In the show, the titular organization counters all sorts of supernatural dangers. They're especially beset by a vampire that seems to think Cheddar Village is its very own buffet table.
Sir Integra Fairbrook Wingates Hellsing, heir and leader of Hellsing, calls on her most powerful asset, namely a vampire named Alucard.
Using a single handgun, this vamp-ally takes on the creatures plaguing Cheddar, and he does it with a bloody vengeance.
Sadly, a hapless Seras Victoria, a young police officer, is caught in one of the crossfires.
Alucard's offer to save her life by turning her into a vampire is promptly accepted.
Before long, Hellsing welcomes a new member into their fold. But Seras is not emotionally whole yet and struggles with the fact that she's no longer human.
She fights the good fight, but there's a war waging within her soul. In the OVA anime film, fans received further insight into the new professional relationship between Alucard and Seras, along with more captivating battle scenes featuring Hellsing, Integra Fairbrook, and the never-ending fight against the forces of darkness.
42. Bungo Stray Dogs (series + movie)
| Entity | Detail |
| --- | --- |
| Title | Bungou Stray Dogs |
| Type | TV |
| Studios | Bones |
| Premiered | Apr 7, 2016 to Jun 23, 2016 |
| Source | Manga |
| MAL Score | 7.801 |
| Duration | 23 min. per ep. |
The "Bungo Stray Dogs" series aired in 2016 and the movie version "Bungou Stray Dogs: Dead Apple" was released in 2018.
The story in the show focuses on Atsushi Nakajima, particularly a certain spectral tiger that the boy often seems to notice in the orphanage he calls home.
When incidents take place that pegs him at the scene and not some mystical beast, Atsushi is promptly kicked out.
Starving and homeless, the boy one day finds himself at a riverbank. He saves the life of a man called Osamu Dazai, whom he spotted drowning.
The eccentric man he saved is not only a supernatural detective but also a suicide enthusiast (!).
Soon, Atsushi comes to know that Osamu has long been aware, and has been researching, the same tiger spirit that he'd seen back at the orphanage.
One thing leads to another and Osamu, along with his professional partner Doppo Kunikida, works with Atsushi to resolve the mystery.
At the end of the line, the boy finds himself having little choice but to join Osamu's coterie of supernatural investigators.
Together, they explore diverse 'strange cases' that are way beyond the police's pay grade. The OVA anime film version takes the supernatural setting globally, with the spotlight squarely on 'Ability Users'.
These people are later confirmed as suicides who first appeared on the scene through an enigmatic fog.
The 'Armed Detective Agency' gets the unenviable task of resolving the matter. A potential mastermind, known simply as 'Collector', might be behind it all.
Ability users and average people alike are in danger from this person, and on a global scale.
Circumstances force the Agency to ally with the Port Mafia if they are to win any hope of stopping this mysterious person from killing again, and again, and again.
41. Rainbow: Nisha Rokubou no Shichinin (series)
| Entity | Detail |
| --- | --- |
| Title | Rainbow: Nisha Rokubou no Shichinin |
| Type | TV |
| Studios | Madhouse |
| Premiered | Apr 7, 2010 to Sep 29, 2010 |
| Source | Manga |
| MAL Score | 8.511 |
| Duration | 22 min. per ep. |
The year is 1955. Along with five other teens, Mario Minakami arrives at the 'Shounan Special Reform School'.
They've all been arrested for serious crimes – charged for them, at any rate. Sharing the same cell, the five get acquainted with Rokurouta Sakurag, who's a former boxer and an older inmate already present at the Reform School.
A friendship blooms between them, with promises, made that they will meet again on the outside once their sentences have concluded.
Through their bond, all seven delinquents find some solace in this dark place. It doesn't help matters that a sadistic guard named Ishihara stands resolutely against them.
The man holds a serious grudge concerning Rokurouta. Then there's the perverted reform school doctor, Gisuke Sasaki, who makes surviving the place that much harder.
Will the gang lose hope of any future that they might have once they leave?
Will they leave at all? The "Rainbow: Nisha Rokubou no Shichinin" anime answers these questions and more.
40. Space Brothers (series)
| Entity | Detail |
| --- | --- |
| Title | Uchuu Kyoudai |
| Type | TV |
| Studios | A-1 Pictures |
| Premiered | Apr 1, 2012 to Mar 22, 2014 |
| Source | Manga |
| MAL Score | 8.511 |
| Duration | 24 min. per ep. |
The "Space Brothers" anime series was released in 2012, but its narrative is set in the year 2006.
That's when Mutta Nanba and Hibito (his younger brother) both witness what they think is a UFO heading toward the moon.
The sight immediately strikes a spark of inspiration in the siblings, and they aim to become astronauts someday.
Hibito makes it clear that he wants to go to the moon as a full-fledged astronaut.
Mutta, on the other hand, wants always to be one step ahead of his younger bro and so chooses Mars as his future stop.
Years go by and the two brothers become adults. Only Hibito is that much closer to realizing his dreams, while Mutta has only an automotive company job to show for his pursuits.
Hibito is all set to become Japan's first man on the moon. But all is not a misfortune for Mutta.
He loses his job only to gain access to the Japanese Aerospace Exploration Agency's (JAXA) astronaut selection program.
This brings Mutta and Hibito back into each other's lives on a much closer basis.
Mutta certainly goes full steam ahead with this opportunity of a lifetime, one that affords him the chance to make good on the goal he struck with his brother nineteen years ago.
39. Fate/Zero (series)
| Entity | Detail |
| --- | --- |
| Title | Fate/Zero |
| Type | TV |
| Studios | ufotable |
| Premiered | Oct 2, 2011 to Dec 25, 2011 |
| Source | Light novel |
| MAL Score | 8.321 |
| Duration | 28 min. per ep. |
The 'Holy Grail' is an object that can grant wishes. There's no surprise that its very existence inspired three wars, each of them so cruel and atrocious that nobody could call themselves the victor in any one of them.
The Einzbern family, however, with their vast wealth and influence, believe that the 'Fourth Holy Grail War' will be different from the ones that came before.
In the 2011 "Fate/Zero" anime series, the family's confidence stems from the fact that they possess the Holy Grail.
They will do anything to protect it, including hiring Kiritsugu "Magus Killer" Emiya and binding him with a contract that promises the hand of the family's only daughter, Irisviel, in marriage to him.
A game of survival begins involving six outside participants, each with their spirit familiar. Kiritsugu, and his familiar Saber, have to use all their mercenary skills to come out the victor in a battle royale that could send the Holy Grail into the wrong hands.
38. In This Corner of the World (movie)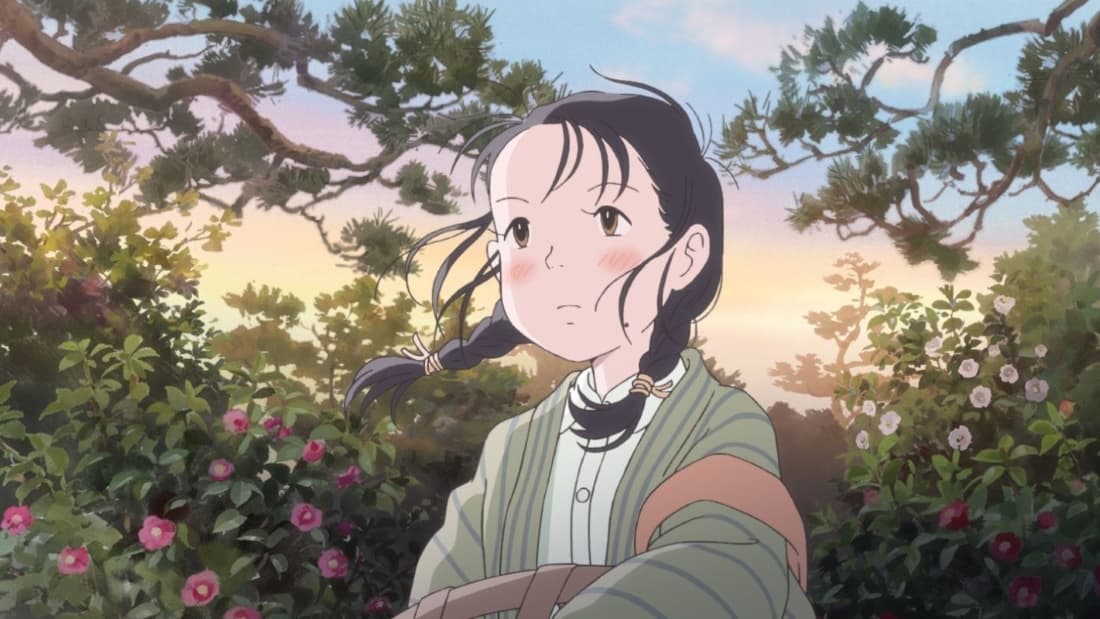 | Entity | Detail |
| --- | --- |
| Title | Kono Sekai no Katasumi ni |
| Type | Movie |
| Studios | MAPPA |
| Premiered | 2016-11-12 00:00:00 |
| Source | Manga |
| MAL Score | 8.231 |
| Duration | 2 hr. 48 min. |
The compassion and purity that Suzu Urano embodies in the 2016 anime film "In This Corner of the World" have earned her character plenty of attention and critical acclaim.
Suzu helps out with her grandmother's nori business and spends an idyllic lifestyle in her home on the outskirts of Hiroshima.
When she comes of age, Suzu is wed (an arranged marriage) to Shuusaku Houjou. A war is going on, and the stress has impacted several families.
In Suzu's case, her unfamiliar environment adds to her woes, to say nothing of how little she knows about Shuusaku.
She grows to love a lot of people along the way, but the war lands firmly on her doorstep, dragging Suzu into a haunting spiral of events that will test her perseverance and fortitude.
Set around events during World War II, the movie paints a beautiful picture of the resolve and commitment of the Japanese people during one of their darkest times in history.
37. Black Lagoon (series)
| Entity | Detail |
| --- | --- |
| Title | Black Lagoon |
| Type | TV |
| Studios | Madhouse |
| Premiered | Apr 9, 2006 to Jun 25, 2006 |
| Source | Manga |
| MAL Score | 8.041 |
| Duration | 24 min. per ep. |
Church officials and other authorities in Thailand's fictional 'Roanapur' are as corrupt as they come.
All sorts of degenerates and convicts call the place home, pumping the lifeblood of illegal activity in the area.
In the 2006 "Black Lagoon" anime, many a crime syndicate plays cruel games with no regard for the consequences.
Rokurou Okajima enters this fray, his life a dull and ordinary one so far. The Japanese businessman is sent on a trip to Southeast Asia, where he is tasked with an important delivery.
The mercenary gang called 'Black Lagoon' intercepts the delivery and takes Rokurou hostage. When his corporate overlords refuse to pay his ransom, Rokurou realizes that his life was never really worth anything to his employers, so the man shifts sides and joins the Black Lagoon's ranks.
Tribulations and bloodshed soon follow as Rokurou learns the ropes, and hopes to be accepted into the dreaded underground organization.
Considered one of the best high-octane thrillers of its kind, this show explores intense themes like virtue and morality without skipping on a realistic portrayal of corruption and deception that's prevalent at every level in society.
36. ReLIFE (series)
| Entity | Detail |
| --- | --- |
| Title | ReLIFE |
| Type | TV |
| Studios | TMS Entertainment |
| Premiered | Jul 2, 2016 to Sep 24, 2016 |
| Source | Web manga |
| MAL Score | 8.011 |
| Duration | 23 min. per ep. |
Arata Kaizaki is a job-hopper. He can't stay employed in one place for too long, a state that gets him labeled a loser by everyone in his circle.
When he meets Ryou Yoake, the 2016 "ReLIFE" anime plot twists into something captivating. Ryou comes to Arata under the aegis of the 'ReLife Research Institute.
He offers the boy the chance to be the best version of himself. All he has to do is take a strange pill – rather 'Matrix', in a way.
Arata pounces on the opportunity and wakes up as the 17-year-old version of himself. He learns that he's now part of a secret experiment, which demands that he live the life of a student, but in another school far away.
He only has to do this for a year. What Arata assumed would be easy soon turns out doubly difficult.
He fails all his tests at the new high school, is left realizing that he's terribly out of shape, and cannot for the life of him keep up with the new school policies that have been in effect for the past several years.
That Ryou observes every circumstance in Arata's new life only adds to the man-turned-boy's consternation.
But Arata soon decides to take things in stride and do better. He starts by getting closer to his new classmates so that through them he can learn to cope with, and adapt to, his new life.
35. Grand Blue Dreaming (series)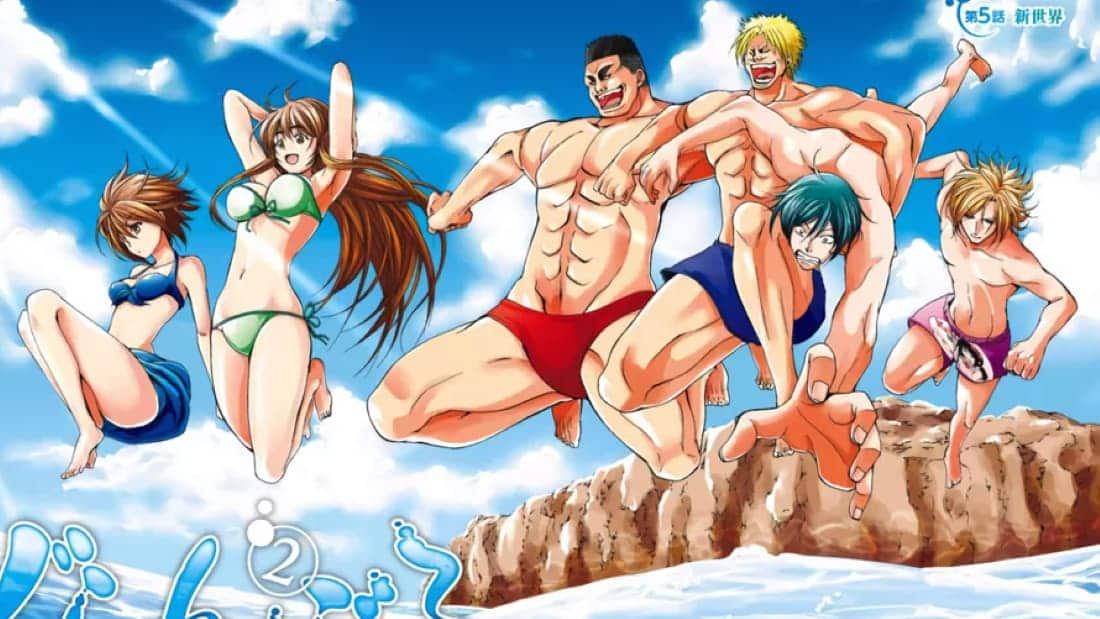 | Entity | Detail |
| --- | --- |
| Title | Grand Blue |
| Type | TV |
| Studios | Zero-G |
| Premiered | Jul 14, 2018 to Sep 29, 2018 |
| Source | Manga |
| MAL Score | 8.421 |
| Duration | 24 min. per ep. |
When Iori Kitahara moved to the coastal town of Izu, little did he realize that his pursuing a freshman year at the university there would also open him to a world of other possibilities.
He lives above his grandfather's scuba diving shop, named 'Grand Blue. Iori's aim in coming to Izu was to enjoy the best that college life could offer.
The Diving Club members who frequent his grandpa's shop enjoy their alcohol quite deeply. Soon, Iori is dragged into their lifestyle.
When upperclassmen like Shinji Tokita and Ryuujirou Kotobuki convince him to join one of their strange parties, Iori finds himself attending it without any care for the consequences.
When his cousin, Chisa Kotegawa, sees him living so dreadfully carelessly, she loses whatever respect she might have had for Iori.
Eccentric friendships and comical misadventures abound in the 2018 "Grand Blue Dreaming" anime in which Iori strives to fulfill his college dreams, learns to scuba dive, and gives in to the craziness that life throws at him.
34. Berserk (series)
| Entity | Detail |
| --- | --- |
| Title | Kenpuu Denki Berserk |
| Type | TV |
| Studios | OLM |
| Premiered | Oct 8, 1997 to Apr 1, 1998 |
| Source | Manga |
| MAL Score | 8.501 |
| Duration | 25 min. per ep. |
Guts are branded for death. Demons haunt him night and day, aiming to finish him off.
Fighting this heartless fate, Guts embarks on a journey with the giant blade 'Dragonslayer'. He believes that only when he drives the blade through the man responsible for his being hounded by demons will he be free of it all.
Vengeance weighing on his mind, Guts steels himself to battle gruesome beasts, and all the while make steady progress toward the man he once called friend.
He makes buddies along the way. An elf named Puck joins Guts. Also, a young thief looking to master swordsmanship wants Guts to be his teacher.
Frightful dangers await the duo who have inadvertently bound their fate to Guts' future in the 2016 "Berserk" anime.
33. Drifters (series)
| Entity | Detail |
| --- | --- |
| Title | Drifters |
| Type | TV |
| Studios | Hoods Drifters Studio |
| Premiered | Oct 7, 2016 to Dec 23, 2016 |
| Source | Manga |
| MAL Score | 7.921 |
| Duration | 23 min. per ep. |
The year is 1600 AD. The Battle of Sekigahara is in full swing. The troops are retreating, and one of the rear-guard Toyohisa Shimazu is critically injured.
When he suddenly finds himself in a gleaming white hallway, Toyohisa is justifiably confused. Innumerable doors stretch out to all sides of the hallway.
Facing him is a stoic man who calls himself Murasaki. The nearest door opens and drags Toyohisa into a whole new world rife with creatures that are the stuff of fantasy.
Warriors who lived and fought in different eras from Toyohisa's world are alive and well in this one, and they're all sharing the same lifetime in the 2016 "Drifters" anime.
This new continent is no stranger to political turmoil. Before long, Toyohisa meets and befriends the infamous Nobunaga Oda, the historical warlord himself.
He also gets close to Yoichi Suketaka Nasu, an ancient archer. They collectively call themselves 'Drifters' and are tasked with countering threats from entities called 'Ends'.
The latter is directly responsible for the creation of the 'Orte Empire'. The stronger they get the more intensely they persecute various demi-human races, especially elves.
Unconventional heroes join forces to fight, and hopefully defeat, those who are intent on instilling a terrible new world order.
32. Planetes (series)
| Entity | Detail |
| --- | --- |
| Title | Planetes |
| Type | TV |
| Studios | Sunrise |
| Premiered | Oct 4, 2003 to Apr 17, 2004 |
| Source | Manga |
| MAL Score | 8.301 |
| Duration | 25 min. per ep. |
Space travel has become a full-fledged reality in the year 2075. The moon has been colonized, and commercialization ventures are booming with Outer Space in mind.
Sizeable space corporations are not new in the 2003 "Planetes" anime. The upbeat Ai Tanabe joins the 'Technora Corporation' where she hopes to make a mark in the established and ever-growing space industry.
Her department is the 'Debris Section'. Ai has to find and remove any space junk floating around between the Moon and Earth's orbits.
Under-staffing has long been a reality for her department. With deplorable funding and an even worse reputation in the industry as a whole, Ai soon learns that there is little to no pride to be had in her job.
A rundown spaceship called 'Toy Box' is the team's only vessel to remove dangerous space debris.
Strange characters comprise the Debris Section staff, but Ai is determined to do good in her job, starting with learning more about those with whom she's working.
This includes Philippe Myers who's the chief clerk and a good-natured person prone to bumbling, Hachirouta Hoshino who's eager to earn his spaceship someday and brings plenty of hot-headed passion to the team, and Edelgard Rivera who's a temp-worker with a mysterious air and tight-lipped attitude.
This show is one of the most unconventional ones in the genre, but one that captivates viewers with themes about personal dreams, star travel, and the future of the human race.
31. Dorohedoro (series)
| Entity | Detail |
| --- | --- |
| Title | Dorohedoro |
| Type | TV |
| Studios | MAPPA |
| Premiered | Jan 13, 2020 to Mar 30, 2020 |
| Source | Manga |
| MAL Score | 8.091 |
| Duration | 23 min. per ep. |
'Hole' is a deadly place, where survival is the need of every hour, every day.
The district is as decrepit as it is disorderly, and has become a 'testing ground' of sorts for various magic users who come here to get away from places where ethics and the law stand strong.
The magic users are collectively seen as the top brass in society, and the ones who visit Hole think everyone there is beneath them.
The district hospital sees numerous cases of patients who are brutally abused and experimented upon by sundry unknown magic users.
Mutilation and murder are just two of several instances to which the residents of Hole are subjected.
Nobody, not even the police or the government, can or will stop the magic users.
A half-human half-reptile called Kaiman thinks differently. He's had enough and wants to do something about the magic users.
It helps that he's immune to magic. Relying on a pair of trusty bayonets, he starts hunting the hunters and aims to gather specific answers.
Kaiman is no stranger to nightmares, and the desire to look fully human. He believes he can bag both birds if he finds the right magic user to help him make sense of it all.
He's always hungry, though. One of his friends and allies is Nikaidou, who runs the 'Hungry Bug restaurant.
Carnage and comedy are both contained in this brilliant anime filled with unexpected plot twists.
The 2020 "Dorohedoro" anime series is rife with several dark themes and is not for the squeamish.
30. One Punch Man (series)
| Entity | Detail |
| --- | --- |
| Title | One Punch Man |
| Type | TV |
| Studios | Madhouse |
| Premiered | Oct 5, 2015 to Dec 21, 2015 |
| Source | Web manga |
| MAL Score | 8.541 |
| Duration | 24 min. per ep. |
To Saitama, being a hero is a passionate hobby and aim. He went so far as to train for three years if it meant gaining powers that would make him a hero.
Saitama lost all his hair in the process, but his heart remains in the right place.
Now that he's attained superhuman strength that makes him near-impossible to defeat, Saitama grows disillusioned.
After all, what's a hero without a suitable villain to challenge him? What's the point of it all if you can defeat your opponent with one single punch?
When the teenage cyborg Genos expresses a desire to become Saitama's disciple, the plot blooms in the 2015 "One Punch Man" anime.
Only a handful of people even know about Saitama and his heroic contributions to society, a fact that perturbs the boy.
He thus takes up Genos's suggestion to become certified by joining the 'Hero Association. This action-comedy anime brings its A-game in more ways than one.
29. Detroit Metal City (series)
| Entity | Detail |
| --- | --- |
| Title | Detroit Metal City |
| Type | OVA |
| Studios | Studio 4°C |
| Premiered | Aug 8, 2008 to Oct 28, 2008 |
| Source | Manga |
| MAL Score | 8.131 |
| Duration | 13 min. per ep. |
The titular band enjoys a niche market, and immense popularity, in the death metal indie music industry.
Its lead singer Johannes Krauser II is known for upholding the darkness and crudity that his band is reputed for.
Some fandoms even think the extravagant Johannes is in truth a demon. The corny marketing line is no different, touting a creature that rose from hell to bend mortals to his death-metal will.
In reality, Souichi Negishi – aka Johannes Krauser II – is an ordinary college graduate who harbors a secret love for Swedish pop music, and an even more covert desire for peace.
The shockingly soft-spoken Souichi crawls into the skin of his boisterous and dark alter ego purely to make ends meet.
His comical misadventures are wonderfully captured in the 2008 "Detroit Metal City" anime series. From obsessive fans to a budding romance, the show has it all, and then some.
28. Tokyo Ghoul (series)
| Entity | Detail |
| --- | --- |
| Title | Tokyo Ghoul |
| Type | TV |
| Studios | Studio Pierrot |
| Premiered | Jul 4, 2014 to Sep 19, 2014 |
| Source | Manga |
| MAL Score | 7.801 |
| Duration | 24 min. per ep. |
A whole different Tokyo comes alive in the 2014 "Tokyo Ghoul" anime series. It portrays an urban world where ghouls and humans have to co-exist, but fail to do so in several regards.
People are ever in fear of bloodthirsty ghouls who have taken innumerable lives in their desire to consume human flesh.
Adding fuel to this fire is the fact that ghouls can adopt various human appearances.
They seamlessly blend in with society, making it that much trickier to figure out where the next attack is going to come from.
Kudos to Sui Ishida's supernatural horror manga for this brilliant take on a dark theme.
The main character Ken Kaneki attends college and is known for being the shy bookish sort.
When he's attracted to Rize Kamishiro, he doesn't yet realize that the word-loving girl is in truth a ghoul intent on literally consuming him.
A mysterious waitress named Touka Kirishima rescues Ken when the going gets tough. The boy's life is never the same after this.
He has already been turned into one of the creatures that haunt Tokyo. Now that he's half-human half-ghoul, Ken has to learn the ropes and fast if he's to survive in both worlds (human and ghoul) – even though he doesn't fully belong in either.
27. Somali and the Forest Spirit (series)
| Entity | Detail |
| --- | --- |
| Title | Somali to Mori no Kamisama |
| Type | TV |
| Studios | Satelight, HORNETS |
| Premiered | Jan 10, 2020 to Mar 27, 2020 |
| Source | Web manga |
| MAL Score | 7.821 |
| Duration | 23 min. per ep. |
Creatures from the Realms of Fantasy exist in the fictional world of the 2020 "Somali and the Forest Spirit" anime series.
Among cyclops and demons, to name just two, everyday humans find it hard to go about living a normal life.
People gradually become outcasts. Angered by their dwindling numbers and lack of power in this new world they start a war that backfires, very nearly wiping out the human race.
Only a mere handful of people (relative to how many there were before) now exist.
The creatures look at them as delicacies, worth nothing more than being hunted and eaten.
A wandering Nature-protector called Golem carries out his usual patrols when he comes across a little human girl named Somali.
Her innocence and ebullience inspire him to take her under his wing and keep her safe.
She seems to have been abandoned or lost, sparking the idea in Golem to help the child find her family.
26. Working!! (series)
| Entity | Detail |
| --- | --- |
| Title | Working!! |
| Type | TV |
| Studios | A-1 Pictures |
| Premiered | Apr 4, 2010 to Jun 27, 2010 |
| Source | 4-koma manga |
| MAL Score | 7.681 |
| Duration | 24 min. per ep. |
Aka "Wagnaria!!", this enormously popular anime series aired in 2010 and is still a favorite among fans of the genre.
Souta Takanashi adores all things tiny and cute. So when the tiny and cute Popura Taneshima offers him a job at her family restaurant in Hokkaido, he can't help but agree.
Called 'Wagnaria', this restaurant becomes the hub for Souta's unceasing appreciation of all things Popura.
It doesn't matter to him that she's older. She in turn feels 'younger' under his attention.
But work is work in the "Working!!" anime. Souta has to remain competent at his tasks, especially considering that his colleagues are professionals in every way.
These people include Yachiyo Todoroki who's the katana-wielding floor chief, Hiroomi Souma who's the bizarrely well-informed sous chef with a penchant for passive sadism, Jun Satou who's the incredibly intimating top chef, Mahiru Inami who's the waitress known for her 'painful' fear of men, and lastly Kyouko Shirafuji who's the manager notorious for his stubbornness and laziness.
Eccentric characters and workplace comedy define this unforgettable series filled with quirky personalities, humor, and shenanigans galore.
25. Jormungand (series)
| Entity | Detail |
| --- | --- |
| Title | Jormungand |
| Type | TV |
| Studios | White Fox |
| Premiered | Apr 11, 2012 to Jun 27, 2012 |
| Source | Manga |
| MAL Score | 7.831 |
| Duration | 24 min. per ep. |
Despite being raised in an environment filled with violence and conflict, Jonathan "Jonah" Mar despises weaponry and all those who wield them.
Along comes international arms dealer Koko Hekmatyar. She makes Jonah one of her bodyguards, creating plenty of interesting plot tension in the 2012 "Jormungand" anime series.
In his new position, Jonah has little choice but to do the one thing he is good at and simultaneously hates: he has to use weapons.
Along with a coterie of former special-ops soldiers comprising the rest of Koko's bodyguards, it becomes Jonah's duty to keep his charge safe at all costs.
It's rather ironic that Koko pursues world peace through her distinctly counter-intuitive job with the global shipping company HCLI.
Her work is illegal within the framework of this series, and many a rule gets broken along the way.
Koko's clients include militias, private militaries, and state armies. Suffice it to say, the CIA's interest in her activities is completely justified.
Even assassins are after Koko, aiming to end her once and for all. But Koko has some captivating ideas where world peace is concerned, and Jonah finds himself doing what it takes to keep her safe until she realizes those dreams.
24. Poco's Udon World (series)
| Entity | Detail |
| --- | --- |
| Title | Udon no Kuni no Kiniro Kemari |
| Type | TV |
| Studios | LIDENFILMS |
| Premiered | Oct 9, 2016 to Dec 25, 2016 |
| Source | Manga |
| MAL Score | 7.751 |
| Duration | 22 min. per ep. |
When Souta Tawara decides to go back to his hometown Kagawa, he finds himself in an entirely different world compared to the busy and ever-moving lifestyle he was used to in Tokyo.
Souta's parents are no longer around, and it falls to him to take care of the family's udon restaurant.
Just stepping into the closed-down eatery takes him down several memory lanes. Souta's reminiscences are cut short when he meets a little boy who is clearly in need of help.
He feeds and clothes him, only to discover the boy sprouting a pair of furry ears and a tail.
Talk around the town is that a shape-shifting tanuki has been living among them for years.
Encountering this nameless child makes Souta assume this little one could be the tanuki they're talking about.
Souta's kind heart inspires him to take the child under his wing. Calling him Poco, Souta enjoys every minute spent with this lost boy who in turn seems to have found a home in Souta.
Poco in turn reminds Souta of the memories he'd once made with his father in the 2016 "Poco's Udon World" anime.
23. Alderamin on the Sky (series)
| Entity | Detail |
| --- | --- |
| Title | Nejimaki Seirei Senki: Tenkyou no Alderamin |
| Type | TV |
| Studios | Madhouse |
| Premiered | Jul 9, 2016 to Oct 1, 2016 |
| Source | Light novel |
| MAL Score | 7.701 |
| Duration | 23 min. per ep. |
A place to sleep and someone to love are all Ikta Solork wants. His desires are stalled when the Katjvarna Empire declares war against its neighbor, the Republic of Kioka.
Along with his childhood buddy Yatorishino Igsem, Ikta joins the army to fight for his people, on the Empire's side.
On the way to the military exam site, he meets three curious individuals: Matthew Tetojirichi the infantryman, Torway Remion the sniper, and Haroma Becker the medic.
An unforeseen storm knocks their boat off course and sinks it. The five somehow survive their ordeal only to end up in the enemy territory.
One thing leads to another and the group learns some terrible news. Princess Chamille Kitora Katjvanmaninik, the heir to the Katjvarnan throne, has been taken, hostage.
Circumstances change drastically, and the five bring their A-game to what has become a rescue mission with only them near enough to make it succeed.
They manage to rescue the Princess and as result earn top military honors, namely the title 'Imperial Knight' for each of them.
In the 2016 "Alderamin on the Sky" anime series, Ikta Solork unwittingly becomes a hero when in truth all he wants is a simple life, one with absolutely no adventures.
22. Goblin Slayer (series)
| Entity | Detail |
| --- | --- |
| Title | Goblin Slayer |
| Type | TV |
| Studios | White Fox |
| Premiered | Oct 7, 2018 to Dec 30, 2018 |
| Source | Light novel |
| MAL Score | 7.441 |
| Duration | 23 min. per ep. |
Swiftly reproducing goblins is never a good idea. Add cunning and ferocity to that mix, and the goblins that feature in the 2018 "Goblin Slayer" anime are veritable threats to the people with whom they co-exist.
For the longest time, the goblins were underestimated, and considered a 'lowly race'. When factions of them start to kidnap human women from rural settlements with the intention of breeding with them (!), even then various adventurers choose missions with more attractive bounties that have nothing to do with goblins.
Priestess Onna Shinkan enters this fray. She's commemorating an important achievement, namely her first time walking in the shoes of a Porcelain-ranked adventurer.
She meets, befriends, and joins a group of other amateur adventurers who have decided to take on the goblin threat and make a name for themselves.
These rookies have heard of the disappearances that have been plaguing some of the villages in the region.
When they happen upon a cave and investigate it, they end up making a huge mistake by falling for a goblin ambush.
One by one, they perish. When it comes time for Onna to face a grisly fate, the renowned 'Goblin Slayer shows up and rescues her with effortless ease.
The Silver-ranked adventurer has quite a shiny reputation, especially when it comes to goblin-related matters.
He allows Onna to join his group – comprising a Lizardman, dwarf, and High-Elf – that pursues goblin-centric missions for the 'Adventurer's Guild'.
21. Knights of Sidonia (series)
| Entity | Detail |
| --- | --- |
| Title | Sidonia no Kishi |
| Type | TV |
| Studios | Polygon Pictures |
| Premiered | Apr 11, 2014 to Jun 27, 2014 |
| Source | Manga |
| MAL Score | 7.671 |
| Duration | 24 min. per ep. |
Only a small number of human beings remain following a great disaster caused by an alien race called 'Gauna'.
It's been several years and Earth has practically been destroyed. The Gauna are actively seeking any remnants of the human race, specifically those who leaped into giant 'seed ships' and escaped to different corners of the universe.
The year is 3394 when Nagate Tanikaze breathes anew after what seems like a lifetime of seclusion inside the belly of the seed ship called 'Sidonia'.
The 2014 "Knights of Sidonia" anime tracks his story as he gets dragged into a serious scuffle with the Gauna aliens who've found his ship and aim to annihilate everyone in it.
Fellow soldiers, who are also Nagate's friends, join in the fight to safeguard Sidonia. Nagate, and others like him, have been 'sleeping' completely unaware of the world that's been over their heads all this time.
Yuhata Midorikawa, Izana Shinatose, Shizuka Hoshijiro, and Nagate Tanikaze become the last line of defense against the Gauna.
20. Akira (movie)
| Entity | Detail |
| --- | --- |
| Title | Akira |
| Type | Movie |
| Studios | Tokyo Movie Shinsha |
| Premiered | 1988-07-16 00:00:00 |
| Source | Manga |
| MAL Score | 8.161 |
| Duration | 2 hr. 4 min. |
The 1998 "Akira" anime movie has its narrative set in that same year. Tokyo is besieged by a young man with psychic powers.
Shoutarou Kaneda is not shy to use his skills, which causes a deadly explosion in the city that promptly sparks off World War III.
Authorities eventually capture and detain the man, who's never heard from again. The next timeline choice in this movie is exceptionally interesting because it's set in 2019.
Fans see a 'Neo-Tokyo' theme pervading the storyline now, with anarchy, gang warfare, and terrorism quite commonplace.
A bunch of outcasts and misfits led by Shoutarou, calling themselves 'The Capsules', ride around in oversized motorbikes.
Their conflicts are often against a rival faction called 'The Clowns'. From custom-made bikes to distinctly 'ahead of its time themes, the "Akira" OVA is a blend of realism and sci-fi.
When Shoutarou converses with his best friend Tetsuo Shima, he learns of his buddy's encounter with an 'Esper' who escaped a government institution and is on the loose.
Tetsuo at some point gains fledgling supernatural abilities, ones that reflect the potential and fatalism of Shoutarou's psychic prowess.
The Tokyo Government goes all out to stop history from repeating itself.
19. K-On! (series)
| Entity | Detail |
| --- | --- |
| Title | K-On! |
| Type | TV |
| Studios | Kyoto Animation |
| Premiered | Apr 3, 2009 to Jun 26, 2009 |
| Source | 4-koma manga |
| MAL Score | 7.841 |
| Duration | 24 min. per ep. |
Making high school memories by joining one of the school clubs is a major theme in the 2009 "K-On!" anime series.
At first hesitant and confused about which club she'd excel in, Yui Hirasawa decides on the 'Light Music Club'.
Her choice ends up taking her on a roller coaster ride of unexpected experiences. The club had little to do with playing simple tunes on everyday instruments.
Realizing that she doesn't know to play any musical instrument, Yui decides to apologize to the club and quit.
The Light Music Club is already reeling under the threat of disbandment, owing to a low member count.
They believe they cannot afford to lose Yui. They woo her with free food and even give her permission to do nothing during club time if it means she stays on as a member.
Yui, desiring to be useful, insists on leaving the club because she has no musical experience whatsoever.
When the club members then put on a show for Yui, the music practically calls to her and she can't help but decide to stay and be a part of the zestful passion that the other club members possess.
Practice sessions see the group messing around with instruments, with no real aim or composition.
This show is a beautiful take on people being drawn together by their mutual love of music in general, without any insistence on technical expertise.
18. Elfen Lied (series)
| Entity | Detail |
| --- | --- |
| Title | Elfen Lied |
| Type | TV |
| Studios | Arms |
| Premiered | Jul 25, 2004 to Oct 17, 2004 |
| Source | Manga |
| MAL Score | 7.541 |
| Duration | 25 min. per ep. |
The 'Diclonius' is a new and unique breed of human being in the 2004 "Elfen Lied" anime series.
One such 'entity' is Lucy who's born with telekinetic hands and a small pair of horns.
Suffice it to say, the government goes all out experimenting with Lucy. It gets so bad that she can't help but escape when the opportunity presents itself.
Torture and confinement have done a dark number on Lucy's psyche. Her escape is a rather bloody one.
Lucy leaves a trail of death and destruction as she flees, only to end up contracting a serious head injury that results in the creation of a split personality inside her mind.
One part of the split is the original Lucy, all chaos and rage and superhuman capabilities.
The other part of her becomes that of an innocent child with limited speech faculties.
Plenty of sub-text and symbolism pervades this show. Following her escape, Lucy soon encounters Kouta.
Along with his cousin Yuka, the two boys initially remain ignorant of Lucy's Diclonius nature.
All they see is a young girl in need of help, and they decide to safeguard and support her.
The government zeroes in on Lucy's position. They are intent on reclaiming what they believe is their property, even if it entails the use of deadly force.
17. Golden Boy (movie)
| Entity | Detail |
| --- | --- |
| Title | Golden Boy |
| Type | OVA |
| Studios | APPP |
| Premiered | Oct 27, 1995 to Jun 28, 1996 |
| Source | Manga |
| MAL Score | 8.021 |
| Duration | 29 min. per ep. |
Holding multiple part-time jobs, and riding his trusty Mikazuki 5 bicycle to each of them, Kintarou Ooe can truly be termed a professional.
He gains an almost encyclopedic level of street smarts. After all, his multifarious employments in the 1995 "Golden Boy" anime movie expose him to real people and real problems.
From romance to politics, friendships to corruption, Kintarou picks up a little bit of everything.
His 'spirit of education and penchant to attract beautiful women make this film a classic 90s OVA in several regards.
Not all his jobs are attractive, though, some of them are downright undignified. But Kintarou manages to get his tasks done and keeps earning what he can while pursuing something better for himself in the world.
16. Cells at Work! (series)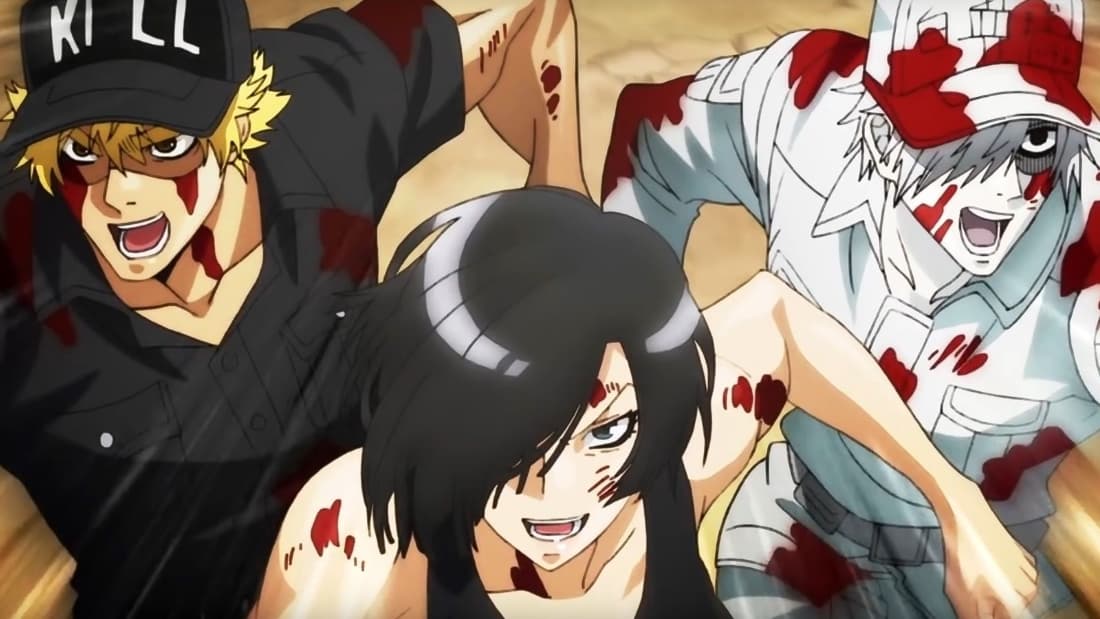 | Entity | Detail |
| --- | --- |
| Title | Hataraku Saibou (TV) |
| Type | TV |
| Studios | David Production |
| Premiered | Jul 8, 2018 to Sep 30, 2018 |
| Source | Manga |
| MAL Score | 7.601 |
| Duration | 23 min. per ep. |
The human body is host to over 30 trillion cells that work in harmony and non-stop every day, with no breaks.
This fact is wonderfully stylized in the 2018 "Cells at Work!" anime series that anthropomorphizes various important 'internal' activities about the human body.
Sekkekkyuu AE3803 is one such character. She's responsible for ferrying oxygen (along with others like her) throughout a person's (unidentified character) body.
Hakkekkyuu U-1146 meanwhile fulfills the crucial role of safeguarding the person's system from foreign bacteria and sundry negative elements.
In other parts of the body, platelets are busy performing construction duties. The memorable characters in this series bond, bicker, and boast as they deal with all sorts of crazy, but very real, things that happen inside the human form.
The hectic lives of cells are practically brought to life in this show, where the ultimate goal of most of its characters is to keep the unknown person's body healthy and strong.
15. Chi's Sweet Home (series)
| Entity | Detail |
| --- | --- |
| Title | Chi's Sweet Home |
| Type | TV |
| Studios | Madhouse |
| Premiered | Mar 31, 2008 to Sep 25, 2008 |
| Source | Manga |
| MAL Score | 7.691 |
| Duration | 3 min. per ep. |
When a little boy named Youhei finds a cute kitten called Chi, a bond is instantly formed.
Youhei's mother allows him to bring the kitty back home to stay with them in the 2008 "Chi's Sweet Home" anime series.
Thing is, the apartment where they live does not permit pets. Keeping Chi secret, Youhei and his family make beautiful memories together, and friends too.
This show is simplicity made manifest, and tugs on all the right heartstrings.
14. Inuyashiki: Last Hero (series)
| Entity | Detail |
| --- | --- |
| Title | Inuyashiki |
| Type | TV |
| Studios | MAPPA |
| Premiered | Oct 13, 2017 to Dec 22, 2017 |
| Source | Manga |
| MAL Score | 7.681 |
| Duration | 22 min. per ep. |
At 58 years old, Ichirou Inuyashiki is no stranger to strife. His wife and kids treat him like he doesn't exist.
That ache is worse than his actual physical back pain. Finding the abandoned Shiba Inu dog called Hanako does a world of good for Ichirou.
Before long, a visit to the doctor throws all of the man's happiness out the window.
Ichirou is diagnosed with stomach cancer and is estimated to have only three months to live.
His family does not quite care, and it draws out an epic emotional breakdown in the man.
He weeps on Hanako after running long and fast into an empty field. A strange figure stood before him there.
Dust and light envelop Ichirou. When he finally regains consciousness, Ichirou finds that he's been transformed into a mecha-weapon on the inside while still looking like himself on the outside.
His confusion and fear are dispelled when Ichirou applies his powers to save a life.
That he has these powers now fills him with happiness and hope. In the 2017 "Inuyashiki: Last Hero" anime series, Ichirou Inuyashiki experiences loss, heartache, and profound empowerment.
He also grapples with the mystery of the stranger who gave him these powers, leading to a slew of questions about that entity's original motive.
13. House of Five Leaves (series)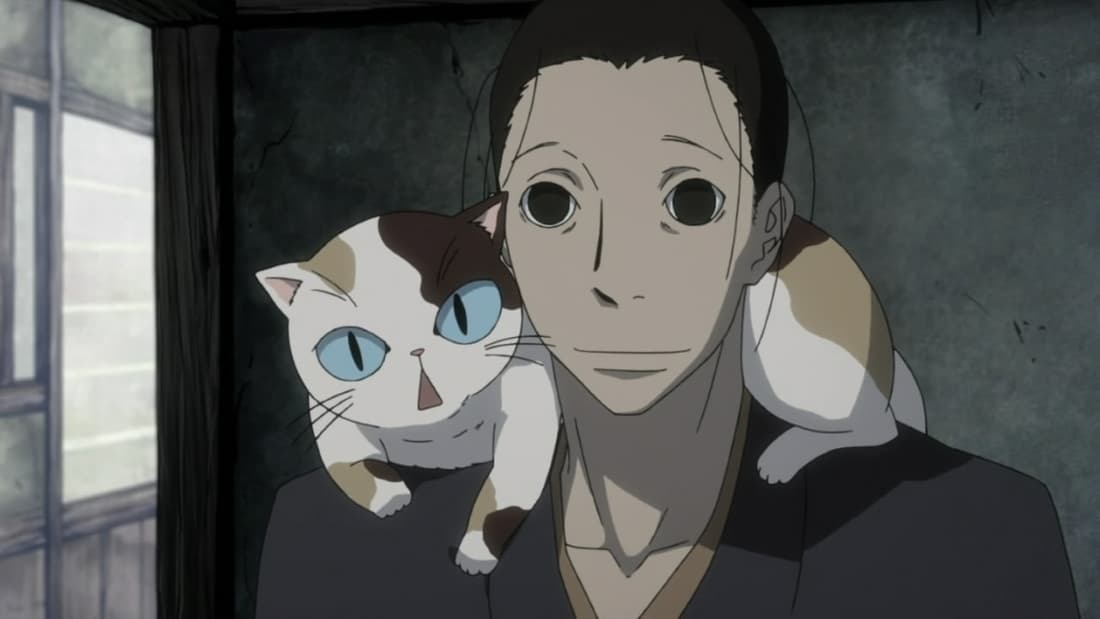 | Entity | Detail |
| --- | --- |
| Title | Saraiya Goyou |
| Type | TV |
| Studios | Manglobe |
| Premiered | Apr 16, 2010 to Jul 2, 2010 |
| Source | Manga |
| MAL Score | 7.811 |
| Duration | 23 min. per ep. |
A Ronin from Japan's Edo period, a wanderer, and a skilled swordsman, Masanosuke Akitsu brings plenty of character value to the 2010 "House of Five Leaves" anime series.
His penchant for meekness makes people assume he's unreliable. His employers shy away from hiring his services, leading Masanosuke to question the core reason behind why he even became a samurai.
When the carefree Yaichi hires him as a bodyguard, the plot blooms in special ways, even though it seems like Yaichi was only indulging in a whim.
His new employer is no pushover, though. Masanosuke soon learns that Yaichi is head of a gang called 'Five Leaves' who are intent on pursuing varied illegal activities.
Masanosuke has valid reasons to recall his samurai principles, but his curiosity and apparent laxity in landing more preferable jobs take him further into the group's functions and exploits.
Masanosuke is in for quite the surprise concerning the motivations and ambitions of the House of Five Leaves.
12. Kingdom (series)
| Entity | Detail |
| --- | --- |
| Title | Kingdom |
| Type | TV |
| Studios | Studio Pierrot |
| Premiered | Jun 4, 2012 to Feb 25, 2013 |
| Source | Manga |
| MAL Score | 8.011 |
| Duration | 25 min. per ep. |
The storyline in the 2012 "Kingdom" anime series pits its characters smack in the middle of China's warring decades.
Over five hundred years, the nation witnesses the rise and fall of multiple kingdoms and dynasties, and just as many kings and generals vying for power.
When the dust settles, only seven core states are left holding on to their supremacy.
A slave and orphan, Li Xin finds himself training with his best friend (also a slave) Piao in the Qin kingdom.
Both boys share one dream, to become a 'Great General of the Heavens' by training hard for the future.
When the King's retainer hires Piao to come work in the palace, the boys find themselves parting ways.
An unforeseen coup besets the royal line. Circumstances lead Piao, who's at death's door, back to his friend Li.
He comes bearing a unique mission that takes Li into the circle of the young king-in-waiting, Ying Zheng.
When Li sets eyes for the first time on the prince, he begins to notice striking physical similarities between His Highness and his best friend.
The boys are dragged into a crucial blood-soaked moment in Chinese history, one that will determine the country's future in more ways than one.
11. Genshiken (series)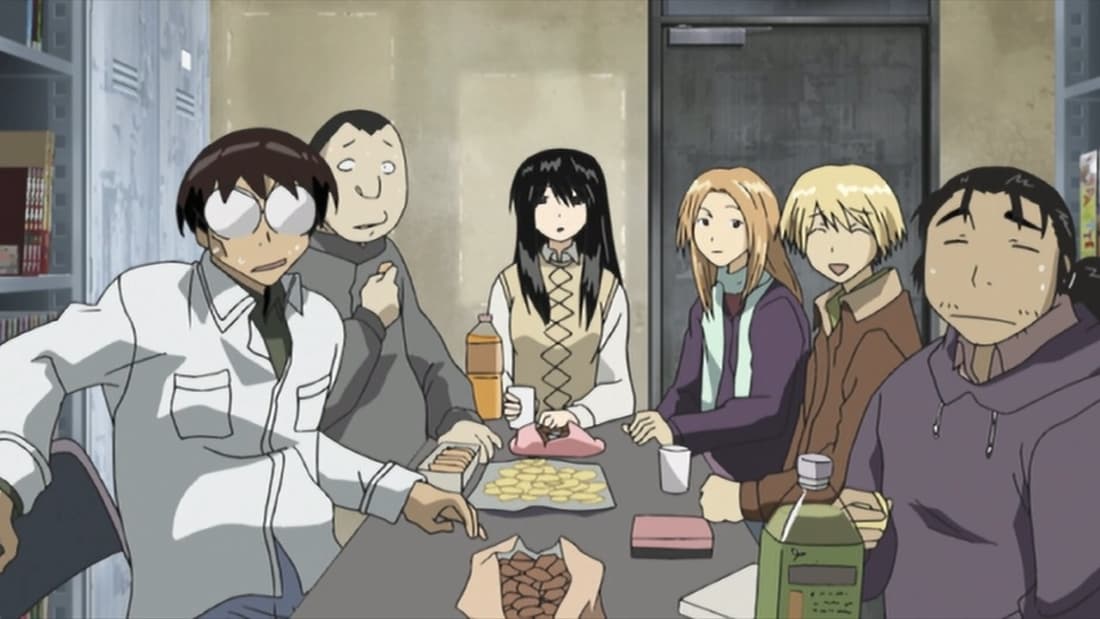 | Entity | Detail |
| --- | --- |
| Title | Genshiken |
| Type | TV |
| Studios | Palm Studio |
| Premiered | Oct 10, 2004 to Dec 26, 2004 |
| Source | Manga |
| MAL Score | 7.651 |
| Duration | 25 min. per ep. |
Seeking a place where he can feel like he belongs, Kanji Sasahara is a college freshman who, despite being an introvert, is eager to fit in.
He encounters a certain club, called 'The Society for the Study of Modern Visual Culture', aka 'Genshiken'.
Its members seem intent on appreciating otaku culture in all its glory under one like-minded roof.
Things don't go too well for Kanji on his first day at the club. His senior Harunobu Madarame rejects him and refuses to accept that he is an otaku.
Kanji makes friends with fellow club member Makoto Kousaka, who is a full-fledged otaku despite looking anything but.
The young introvert gradually comes out of his shell in the 2004 "Genshiken" anime series.
He partakes in varied club activities, including conversations, the members' love for anime, and doujinshi readings.
His buddy Makoto's girlfriend, however, seems intent on rendering her man 'normal', which means taking him away from all the otaku-centric goings-on at the club.
The show beautifully highlights Kanji's ever-growing love for all things otaku and contains plenty of memory as well as romantic moments.
10. Hidamari Sketch (series)
| Entity | Detail |
| --- | --- |
| Title | Hidamari Sketch |
| Type | TV |
| Studios | Shaft |
| Premiered | Jan 12, 2007 to Mar 30, 2007 |
| Source | 4-koma manga |
| MAL Score | 7.451 |
| Duration | 24 min. per ep. |
Yuno's passion for art is almost unlimited. She's been this way ever since she was a little girl.
So when she grows up and gets into the prestigious 'Yamabuki Arts High School, she feels more than elated.
One of her biggest life changes entails living by herself at the 'Hidamari Apartments. Dorm's life initially does not agree with Yuno, but her neighbors soon draw her out of her shell.
These characters bring their unique personalities to the 2007 "Hidamari Sketch" anime series. Hiro is the self-conscious one, Sae is the mature one, and Miyako is the hyperactive one.
Their diverse outlooks and attitudes merge to create a beautiful friendship in the show. The girls enjoy spending time with each other and experiencing day-to-day moments involving life and study.
9. Servant x Service (series)
| Entity | Detail |
| --- | --- |
| Title | Servant x Service |
| Type | TV |
| Studios | A-1 Pictures |
| Premiered | Jul 5, 2013 to Sep 27, 2013 |
| Source | 4-koma manga |
| MAL Score | 7.661 |
| Duration | 23 min. per ep. |
The civil servants who feature in the 2013 "Servant x Service" anime series pack several comedy punches.
The story revolves around the personal behind-the-scenes experiences of three particular government employees. Saya Miyoshi who learns the true meaning of the word 'disillusioned', Yutaka Hasebe who makes being a slacker feel like a job statement, and Lucy Yamagami whose official long name has given her ample strife via her birth certificate.
Lucy's intent on giving a piece of her mind to the civil servant who made that happen.
The clueless and shockingly incompetent Taishi Ichimiya is tasked with training the lot of them, adding to the laugh-fests contained in the show.
And along come customers, each with their crazy provocations. The three main characters grow closer in friendship but grow farther from their initial desires to become civil servants.
8. Gangsta (series)
In the city of Ergastalum, Nicholas Brown and Worick Arcangelo have the distinction of being 'Handymen'.
The mercenaries tackle difficult jobs together in the 2015 "Gangsta" anime series. The police as well as mob syndicates hire the men for odd jobs of the murderous sort.
One of their tasks demands that they end the life of a local pimp. A prostitute is also on the hit list, but Nicholas and Worick decide to save Alex Benedetto's life instead.
Powerful people want her dead, and the mercenaries grow curious as to why. This comes at a time when Ergastalum is experiencing great change in the underground power-play sector.
This city was once home to super-powered people called 'Twilights', who were made that way under the influence of a special drug.
There was a time when these Twilights were hunted by nearly every illegal organization in the city.
Rumors start to spread of another great change unraveling in Ergastalum, and a potential war that's too close for comfort.
7. Shadows House (series)
| Entity | Detail |
| --- | --- |
| Title | Shadows House |
| Type | TV |
| Studios | CloverWorks |
| Premiered | Apr 11, 2021 to Jul 4, 2021 |
| Source | Manga |
| MAL Score | 7.801 |
| Duration | 23 min. per ep. |
Supernatural entities with jet-black forms, and who tend to give off soot when disturbed feature among the core mysteries rampant in the 2021 "Shadows House" anime series.
Living in a sizeable manor house in the mountains, the enigmatic nobles reside far from human beings.
One of their bizarre traditions entails the appointment of a 'Living Doll' to a 'Shadow Child' within their family who comes of age.
These Dolls work as attendants and carry the face of the one they serve – at least, whatever face the Shadow-Child would have had in normal circumstances.
Serving the soft-spoken Kate is a Living Doll named Emilico. Their personalities are worlds apart, but that doesn't stop Emilico from carrying out her duties.
Emilico encounters and learns more about her fellow Dolls, who all live and work under the Shadows House roof.
She also learns more about each of their masters, adding to an understanding of her core purpose.
There are plenty of secrets in Shadows House, and the ever-curious Emilico is eager to discover them, at great risk to her existence.
6. Akagi (series)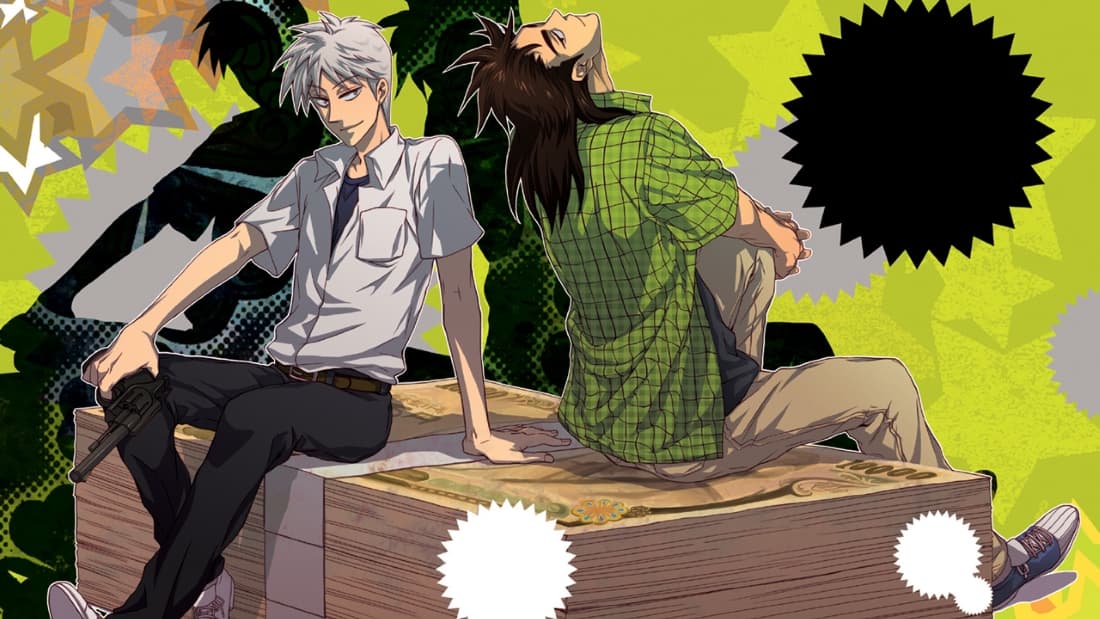 Aka "Touhai Densetsu Akagi: Yami ni Maiorita Tensai", this 2005 series features the game Mahjong.
Dark elements in society play this game for purposes of their own.
A compulsive gambler with over three million yen in debt, Nangou has reached a desperate point.
He bargains his life with the mafia over a game of Mahjong, with the promise of complete debt clearance if he wins.
This particular game sees him as the worse for wear. Nangou realizes that his life might well be forfeit.
At this crucial juncture, a runaway fugitive named Shigeru Akagi intrudes the scene only to fall into the Mahjong game on Nangou's behalf.
Shigeru amuses the mafia, more so when Nangou permits the young man to play the game for him.
Whatever happens, Nangou decides to take the hit or the win. The mafia didn't quite bet on the fact that Shigeru has an inherent talent for gambling.
The man does not fear death either, making him more than an intimidating opponent in this game that's life or death for Nangou if Akira fails to play his tiles right.
5. Utawarerumono (series)
| Entity | Detail |
| --- | --- |
| Title | Utawarerumono |
| Type | TV |
| Studios | OLM |
| Premiered | Apr 4, 2006 to Sep 26, 2006 |
| Source | Visual novel |
| MAL Score | 7.651 |
| Duration | 23 min. per ep. |
When Eruruu comes across an injured man in the woods, she doesn't realize that his mystery of him will lead her down a whole new path in life.
He has no idea where he's from, he doesn't even know his name. Eruruu invites him into her home.
Her younger sister, Aruruu, and grandmother decide to call him Hakuoro. The fictional characters in the 2006 "Utawarerumono" anime series have ears and a tail, something Hakuoro distinctly lacks.
He only has a mask that he somehow cannot remove. One thing leads to another and Hakuoro gradually assimilates into his new setting.
He is soon part of plans to end the current-reigning emperor's tyrannical rule. While getting nearer to learning more about his past, Hakuoro grows deeply connected to his new village home and the many people in it whom he has come to cherish and admire.
4. ACCA: 13-Territory Inspection Dept. (series)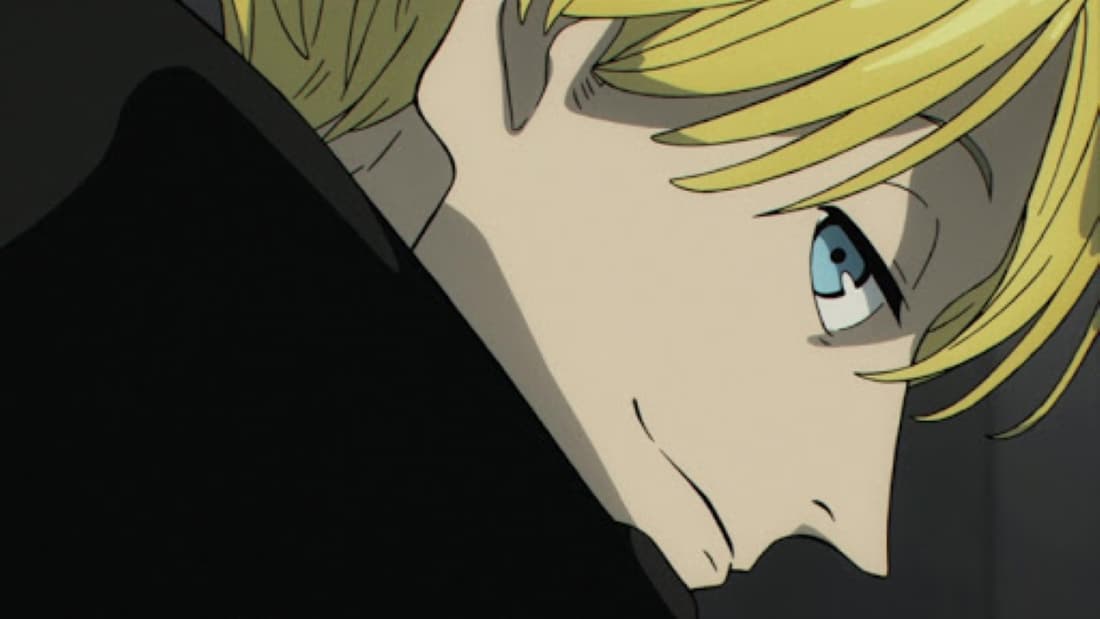 | Entity | Detail |
| --- | --- |
| Title | ACCA: 13-ku Kansatsu-ka |
| Type | TV |
| Studios | Madhouse |
| Premiered | Jan 10, 2017 to Mar 28, 2017 |
| Source | Manga |
| MAL Score | 7.671 |
| Duration | 24 min. per ep. |
Providing its citizens with public service, the kingdom of Dowa – comprising thirteen states – founded a national body called ACCA.
Dowa initially came up with ACCA to keep calm following a major revolt that beset the nation a while back.
Essentially a 'peace settlement', it promised and delivered on its goals. Dowa has been at peace for a century in the 2017 "ACCA: 13-Territory Inspection Dept." anime series.
However, word spreads of a potential coup in the making. ACCA's second-in-command in the Inspection Department, namely Jean Otus, is on the case.
It falls to him to investigate these ill rumors through each of the ACCA branches in the thirteen states.
A 'political mystery' theme pervades this brilliant show. A diverse burst of lifestyles and cultures add to its quality.
Its characters are beautifully connected, and intricately so.
3. After the Rain (series)
| Entity | Detail |
| --- | --- |
| Title | Koi wa Ameagari no You ni |
| Type | TV |
| Studios | Wit Studio |
| Premiered | Jan 12, 2018 to Mar 30, 2018 |
| Source | Manga |
| MAL Score | 7.521 |
| Duration | 22 min. per ep. |
A former track runner, the reserved Akira Tachibana met with a foot injury that derailed her future sporting plans.
All the boys at her high school think she's the bee's knees, but Akira is more interested in accomplishments than dating.
However, when she joins the 'Garden Café' as a part-timer, she gradually starts developing feelings for her 45-year-old manager, Masami Kondou.
The way Masami treats his customers, with genuine kindness and acceptance, triggers Akira's appreciation in more ways than one.
They may share a professional space, but love sure is brewing at this café, despite the age gap between the so-called lovers.
Akira has indulged her one-sided love for Masami long enough, and she finally decides to confess her feelings to the man.
How will it pan out? No spoilers here, mate. You may want to see the 2018 "After the Rain" anime series to find out.
2. Ajin: Demi-Human (series)
| Entity | Detail |
| --- | --- |
| Title | Ajin |
| Type | TV |
| Studios | Polygon Pictures |
| Premiered | Jan 16, 2016 to Apr 9, 2016 |
| Source | Manga |
| MAL Score | 7.451 |
| Duration | 24 min. per ep. |
Around seventeen years ago in the 2016 "Ajin: Demi-Human" anime series' timeline, strange creatures called 'Ajin' were established as real.
It didn't take long for people to start assuming they were a serious threat to humankind.
These Ajin possessed powers that could be used against ordinary people. Add to that the fact they were nearly impossible to kill and everyone was justifiably concerned.
Any Ajin found roaming freely in society was thereafter arrested for questioning. A high-schooler called Kei Nagai knows little to nothing about what's going on with all this Ajin nonsense.
He's busy studying hard and pursuing his aim to become a doctor. Whenever talks about Ajins in society begins in class, Kei unintentionally diverts his attention to something else.
One day Kei meets with a near-fatal accident and comes out discovering he's an Ajin himself.
Thus begins his remarkable journey, from being a fugitive to discovering that there are a lot more Ajin living secret lives than he thought possible.
1. Master Keaton (series)
| Entity | Detail |
| --- | --- |
| Title | Master Keaton |
| Type | TV |
| Studios | Madhouse |
| Premiered | Oct 6, 1998 to Mar 29, 1999 |
| Source | Manga |
| MAL Score | 7.601 |
| Duration | 23 min. per ep. |
Half-Japanese and half-British, Taichi Keaton is a competent archaeologist. The Falklands War veteran was once part of the SAS.
Not only does Taichi investigate insurance fraud claims these days (on behalf of Lloyd's), but he also dons an entirely different hat when it comes to solving varied mysteries that capture his attention along the way.
The 1998 "Master Keaton" anime series is a testament to memorable storytelling and sharp characterization.
The titular Taichi Keaton roves the world, adding to the visual diversity contained within this excellent, educational, and noteworthy show.
The animation is beautiful and the characters and the backgrounds look majestic. But that's one of the attractions of this anime.