»
Top 35 Best Morgan Freeman Movies [Ranked]
Bijesh-Updated Jan 19, 2023
---
You will recognize this legendary American actor simply from his voice whose suave cadence and deep growly pitch have been mimicked, emulated, revered, and celebrated in its own right.
As an accomplished actor, Morgan Freeman has worked in a great many hit-making movies over the years. His artistic work extends to television (shows for children) and the stage (Shakespearean plays).
He won a "Best Supporting Actor" Oscar for his role in "Million Dollar Baby". But his character in "The Shawshank Redemption" (for which he was Oscar-nominated) was what truly earned him the respect and admiration of fans.
Let's explore all the movies that made Morgan Freeman an illustrious artist and movie icon.
1. The Shawshank Redemption (1994)
This movie beautifully portrayed the friendship, over several years, between two men in jail. Simple acts of courtesy, humility, and kindness made them attain a level of personal redemption that most prisoners would fail to experience in a lifetime.
This movie was based on the bestselling novel by Stephen King. It captured the dark side of incarceration, especially the toll it took on the minds of prisoners.
An innocent banker (Andy Dufresne, played by Tim Robbins) found himself in a dangerous system where he later befriended a fellow prisoner (Ellis Boyd "Red" Redding, played by Morgan Freeman) who made his life in jail tolerable.
Other superb artists like Clancy Brown, Bob Gunton, William Sadler, and Gil Bellows enriched the plot.
2. Million Dollar Baby (2004)
An aspiring boxer was ready to do whatever it took to win in this remarkable and motivating story based on actual people and events.
Hilary Swank played Maggie Fitzgerald to outstanding effect. She turned to Frankie Dunn (played by the one and only Clint Eastwood) to help train and prepare her.
Dramatic ups and downs followed, and Maggie eventually acquired the grit, resolve, and skill she needed to make herself and her trainer proud.
Working in the gym where she trained was Eddie Scrap-Iron Dupris, played by Morgan Freeman, who gave a moving and pivotal performance.
Notable talents like Mike Colter, Anthony Mackie, Margo Martindale, Jay Baruchel, and Michael Peña added to the brilliant performances in this production.
3. Se7en (1995)
An amateur and veteran detective were paired up to hunt a twisted serial killer who didn't know when to stop or with whom.
He was cunning in the way he set up each murder, one for each of the "seven deadly sins" (pride, gluttony, greed, wrath, lust, envy, and sloth) from the Christian bible.
This gripping mystery saw Morgan Freeman playing a veteran detective named Somerset. The rookie he had to work with was Mills, played by Brad Pitt.
They both had to contend with the depraved killer known simply as John Doe, expertly portrayed by Kevin Spacey.
Skilled artists like Daniel Zacapa, Gwyneth Paltrow, Richard Roundtree, John Cassini, and Reg E. Cathey enhanced the script.
4. Transcendence (2014)
Scientist Will Caster was brilliantly played by Johnny Depp in this Science-Fiction movie that featured Artificial Intelligence at its core.
Amazing artists like Rebecca Hall, Paul Bettany, Kate Mara, Cillian Murphy, Lukas Haas, Clifton Collins Jr., and Cole Hauser played important roles.
Morgan Freeman as Joseph Tagger was amazing as well. The story highlighted the pursuit of progress, particularly in the AI sector.
The creation of sentient machines with a complete range of human emotions enriched the plot in relevant and meaningful ways.
Adding to the danger factor were anti-technology extremists and a knowledge-hungry scientist who didn't seem willing to stop chasing his AI goals.
5. Invictus (2009)
A dramatized biography of one of the greatest world leaders who ever lived, this movie saw Morgan Freeman playing the one and only Nelson Mandela.
He was nominated for the "Best Actor" Oscar for his performance as the reputed President of South Africa. The story featured Mandela facing up to the Apartheid scourge in his country and cleverly using the national rugby team to spread his message in the 1995 Rugby World Cup.
Other superb artists in this movie included Matt Damon, Adjoa Andoh, Julian Lewis Jones, Danny Keogh, Bonnie Mbuli, and Penny Downie.
6. Nurse Betty (2000)
A Kansas City waitress named Betty (played by Renée Zellweger) unwittingly developed a post-traumatic obsession with a soap star.
Before her husband was murdered and she became a widow, Betty nurtured dreams of becoming a nurse. One thing led to another and she became so delusional from the shock that she believed herself to be the fiancé of her favorite soap opera star.
In her mind, the series was absolutely real, prompting her to go to LA to find the cardiologist she loved.
Her husband's killers were after his stolen stash of drugs, which Betty accidentally drove off with. Playing a hitman tasked with retrieving the goods was Morgan Freeman's Charlie.
Endearing artists like Chris Rock, Greg Kinnear, Aaron Eckhart, Allison Janney, Elizabeth Mitchell, Crispin Glover, Pruitt Taylor Vince, and Harriet Sansom Harris added to the drama and hilarity in this production.
7. Glory (1989)
Based on true historical events, this Morgan Freeman war movie saw the man playing Sgt. Maj. John Rawlins alongside excellent artists like Denzel Washington, Matthew Broderick, Cary Elwes, Bob Gunton, and Andre Braugher.
The movie portrayed a dramatized version of how Robert Gould Shaw led the North American Civil War's first all-black volunteer company against the Confederates while experiencing racial tension from his own Union faction.
8. The Bucket List (2007)
Jack Nicholson and Morgan Freeman paired up to give their fans some of the most memorable on-screen collaborations in the comedy genre.
Talented artists like Sean Hayes, Ian Anthony Dale, Rob Morrow, Rowena King, Alfonso Freeman, and Beverly Todd played key roles.
The story portrayed two terminally ill men (Freeman and Nicholson) who made good their escape from a cancer treatment facility and promptly went on a road trip to fulfill their bucket-list aspirations before it was too late.
9. Gone Baby Gone (2007)
Two detectives in Boston were tasked with investigating the kidnapping of a little girl. They had little experience handling such cases, though.
Before long, they experienced personal and professional crises that promised to leave an indelible mark on their souls. Morgan Freeman's Jack Doyle and Ed Harris's Remy Bressant gave moving performances in this crime drama.
Casey Affleck, Michelle Monaghan, Amy Ryan, Amy Madigan, Titus Welliver, and Michael Kenneth Williams further enriched the plot. From moral dilemmas and professional blunders to drug dealers and pedophiles, this movie portrayed Morgan Freeman in one of his most inspiring roles.
10. The Dark Knight (2008)
This outstanding "Batman" movie starred Christian Bale as the titular 'Dark Knight' and Heath Ledger as the Joker – whose performance is still one of the most golden in the franchise.
Playing Bruce Wayne's tech expert (at Wayne Enterprises) was Morgan Freeman who gave the character Lucius Fox an elegant and tech-passionate spin.
Brilliant artists like Aaron Eckhart, Maggie Gyllenhaal, Gary Oldman, Michael Caine, Cillian Murphy, Eric Roberts, and Nestor Carbonell helped make this "Batman" movie one to remember.
Morgan Freeman also played Lucius Fox in both "Batman Begins" and "The Dark Knight Rises".
11. Deep Impact (1998)
A comet on a collision course to Earth may seem like a cliché, but this 90s Morgan Freeman movie made it work.
Noteworthy Sci-Fi and action-adventure tropes played out in this gripping story in which Freeman fulfilled the role of U. S. President Beck. Elijah Wood, Robert Duvall, Vanessa Redgrave, Téa Leoni, Maximilian Schell, James Cromwell, Dougray Scott, and Jon Favreau helped enrich the plot in this interesting doomsday movie.
In some ways, this production was ahead of its time, because of how well it detailed the rise of global water levels – a situation we are now facing with the Climate Change emergency.
12. Unforgiven (1992)
Retired gunslinger William "Bill" Munny (played by the inimitable Clint Eastwood) was cornered into taking up one last job.
He turned to his former partner Ned Logan (played by Morgan Freeman) and later dragged in a young hand known as the "Schofield Kid" to help him accomplish his goal and be done with his former career.
Quality artists like Jaimz Woolvett, Frances Fisher, Saul Rubinek, Richard Harris, and Gene Hackman played important roles in this "Wild West" script.
13. Wanted (2008)
With the incomparable Angelina Jolie in the lead, this heart-racing action-crime movie unearthed mysteries, conspiracies, and more in what some fans considered bold and audacious storytelling.
Morgan Freeman expertly portrayed Sloan alongside Angelina Jolie's Fox and James McAvoy's Wesley. Superb talents like Terence Stamp, Common, Thomas Kretschmann, Kristen Hager, David O'Hara, Konstantin Khabenskiy, Marc Warren, and Chris Pratt played key roles in this under-rated production.
14. Bruce Almighty (2003)
In this outstanding Jim Carrey movie, Morgan Freeman had the privilege of playing god himself. Carrey shone as Bruce Nolan in this unforgettable comedy about a dissatisfied New York news reporter who miraculously received a once-in-a-lifetime opportunity to be god for a while.
Nolan's life was in shambles, but his newfound powers made him (quite literally) feel on top of the world.
Enchanting artists like Jennifer Aniston, Philip Baker Hall, Steve Carell, Tony Bennett, Timothy Di Pri, Sally Kirkland, Eddie Jemison, Catherine Bell, and Lisa Ann Walter added to the fun-funny madness in this movie.
Morgan Freeman later reprised his role in the 2007 sequel "Evan Almighty" which starred Steve Carell in the lead.
15. Amistad (1997)
The year was 1839, and captives from the revolt of Mende found themselves aboard a Spanish slave ship, which later became the source of a deep conspiracy when it was captured off the Long Island coast in the United States of America.
The American courts took it upon themselves to judge whether the slaves were legally free or still contractually enslaved to the Spaniards.
Outstanding artists like Anthony Hopkins, Djimon Hounsou, Matthew McConaughey, Nigel Hawthorne, Stellan Skarsgård, Anna Paquin, Chiwetel Ejiofor, and David Paymer played key roles in this Steven Spielberg movie.
Morgan Freeman shone as Theodore Joadson as he helped tell this powerful based-on-true-events drama.
16. The Maiden Heist (2009)
Plenty of comedy and even more crimes played out in this Morgan Freeman movie in which he starred as Charles Peterson.
On the screen with him were captivating artists like Christopher Walken, Wynn Everett, Marcia Gay Harden, Joseph McKenna, and William H. Macy.
Three middle-aged museum guards realized that their art wing had been sold off to a private collector. Each of them had their favorite art pieces from which they drew great inspiration every day.
The men understood that those pieces would soon be lost to them forever if they didn't do something about it.
And so they decided to steal and stash each art piece to use clever forgeries to replace them.
Comedic complications unraveled as the men tried to see the heist through to a successful end.
17. Lucy (2014)
An unconventional and at times unnerving Sci-Fi movie, this story dealt with conspiracies, synthetic drugs, futuristic tech, and a woman who was less human than anyone ever thought possible.
The titular character was played by the inimitable Scarlett Johansson. Morgan Freeman filled the shoes of Professor Norman and gave a neat performance.
Noteworthy artists like Choi Min-sik, Julian Rhind-Tutt, Pilou Asbæk, and Amr Waked made this complex and credible plot a thrill to watch.
18. Kiss the Girls (1997)
Morgan Freeman gave a captivating performance as Dr. Alex Cross in this mystery movie where a serial kidnapper found himself cornered after one of his latest victims escaped to warn the police.
Superb artists like Cary Elwes, Bill Nunn, Brian Cox, Tony Goldwyn, Richard T. Jones, Roma Maffia, Alex McArthur, and Ashley Judd played significant roles.
Freeman's acting was impressive as a Washington D. C. cop and forensic psychologist. He had an emotional part to play in this story because among the kidnapped women was his niece.
Alex Cross was therefore doubly determined to bring the dreaded murderer, who went by the name Casanova, to justice
19. The Comeback Trail (2020)
A little crime, a little comedy… Both made this movie work in several ways. It starred legends like Robert De Niro, Tommy Lee Jones, and of course Morgan Freeman.
Insurance scams, filmmaking, and murder defined the crux of this story which portrayed bizarre friendships, mob-based dangers, and outrageous characters.
Memorable talents like Emile Hirsch, Kate Katzman, Sheryl Lee Ralph, Eddie Griffin, and Zach Braff added to the hilarity of this crazy script.
20. Last Vegas (2013)
A group of four childhood friends made plans to throw their last single buddy a memorable bachelor party in Las Vegas.
Billy (played by Michael Douglas), Paddy (played by Robert De Niro), Sam (played by Kevin Kline), and Archie (played by Morgan Freeman) didn't yet realize that in their attempts to relive the glory days, the Sin City would test their friendship and create whole new memories for them.
Superb artists like Mary Steenburgen, Roger Bart, Michael Ealy, and Jerry Ferrara played key roles in this comedy-drama.
21. Along Came a Spider (2001)
Despite her Secret Service protection detail, a senator's daughter found herself kidnapped from her private school and held for ransom.
Detective Alex Cross (played by Morgan Freeman) was put on the case to find the young girl before it was too late.
With the recent loss of his detective partner still fresh on his mind, Cross strove to maintain professionalism as he inched closer to saving the senator's daughter.
Michael Wincott, Monica Potter, Dylan Baker, Anton Yelchin, Billy Burke, Mika Boorem, and Michael Moriarty further enriched the plot.
22. High Crimes (2002)
Morgan Freeman (as Charles Grimes), Jim Caviezel (as Tom Kubik and Sgt. Ron Chapman), and Ashley Judd (as Claire Kubik) gave noteworthy performances in this mystery-crime movie that featured the arrest of a successful attorney's husband.
He was charged with the murder of nine villagers in El Salvador back in 1988 when he went by a different name and served as a soldier in the U. S. Army.
Claire defended her husband in court while attempting to get to the truth of the matter. Skilled artists like Adam Scott, Bruce Davison, Amanda Peet, and Shannon played important roles in this courtroom drama.
23. Flights Up (2014)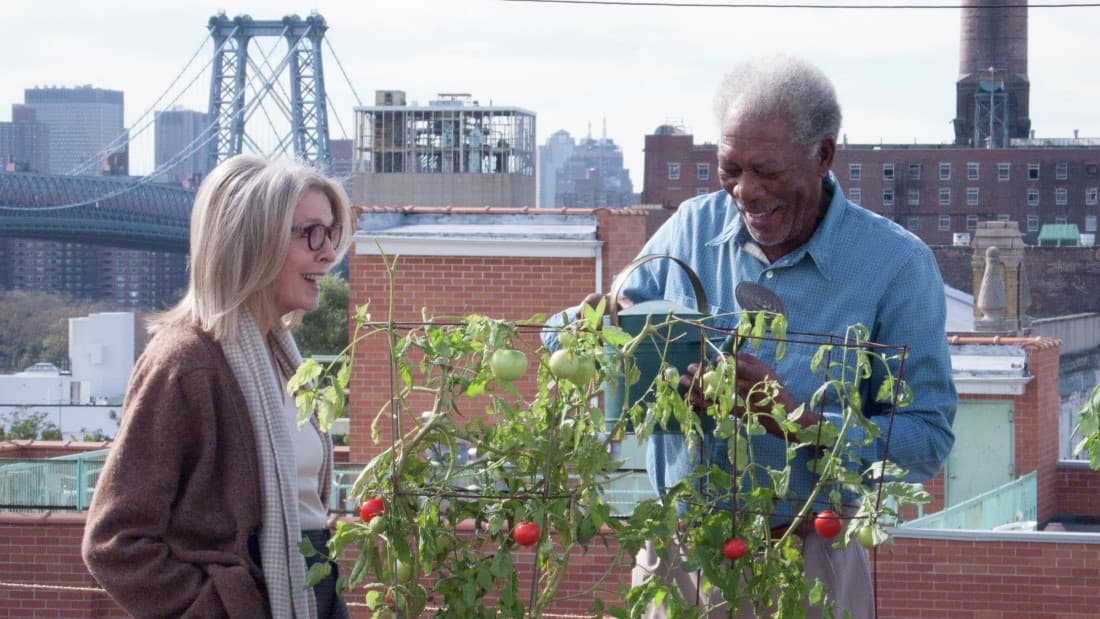 One of the most enchanting on-screen pair-ups came when Morgan Freeman was cast alongside Diane Keaton in this comedy-drama about a longtime married couple who had been living in the same NYC apartment for 40 years.
However, when they planned to move, a slew of real estate and personal problems rose to the surface and started to overwhelm them.
Cynthia Nixon, Carrie Preston, Josh Pais, Claire van der Boom, and Korey Jackson further enriched the script. Media-generated chaos, a failing family dog's health, a pushy niece who was also the realtor, and strange open-house guests all added to the hotpot of madness and amusement in this Morgan Freeman comedy.
24. Now You See Me (2013)
Morgan Freeman played an interesting character named Thaddeus Bradley in this thrilling movie about stage magic gone wrong. The FBI and Interpol observed a team of illusionists.
A series of bank robberies happened in the same locations where the group held public events. In what appeared to be 'robin hood' style heists, the illusionists give their audiences free money whose source remained a mystery.
Suspicions arose and tensions too in this crime-thriller that featured remarkable artists like Jesse Eisenberg, Isla Fisher, Michael Caine, Michael Kelly, Dave Franco, Mark Ruffalo, Common, and Woody Harrelson.
Freeman later reprised his role in the 2016 sequel "Now You See Me 2".
25. The Code (2009)
Morgan Freeman was intriguing in the role of Ripley as he took his fans into a world of crime and high-octane action.
Antonio Banderas added to the intensity of this movie. Other notable artists included Robert Forster, Corey Johnson, Radha Mitchell, Rade Serbedzija, Gerrit Vooren, Ivan Petrushinov, Victor Boichev, and Nickolay Hadjiminev.
Veteran thief Ripley found himself roping in a younger criminal to execute one last heist that would set him free from the Russian mob, and clear the debt he owed them.
26. Oblivion (2013)
This Sci-Fi action-adventure movie starred superb talents like Tom Cruise, Nikolaj Coster-Waldau, Andrea Riseborough, and Olga Kurylenko. Morgan Freeman's contribution came through the character Beech.
Decades of war with an alien race known simply as the Scavs left Earth a veritable ruin where a handful of drone repairmen worked to take measurements so their higher-ups could monitor important occurrences.
Before long, Tom Cruise's Jack came upon a spacecraft that led him to question everything he knew was true.
The moment inadvertently placed the fate of humankind in his hands.
27. Hitman's Wife's Bodyguard (2021)
Bodyguard Michael Bryce (played by Ryan Reynolds) and hitman Darius Kincaid (played by Samuel L. Jackson) enjoyed a deadly partnership.
This sequel movie added to their dangerous adventures. Events accelerated when Kincaid's international con artist wife Sonia (played by Salma Hayek) spurred him back into the game.
Before long, they learned of a conspiracy that threatened the integrity of Europe due to the ambitions of a power-mad man.
Morgan Freeman played a captivating character named Senior. Other outstanding names who were part of this production included Antonio Banderas and Gary Oldman.
28. Going in Style (2017)
This story starred a bunch of old-timer characters in a surprisingly inspiring movie that was equal parts entertaining, funny, and criminal.
Eager to ensure the happiness of their loved ones and to be able to pay their bills, three senior citizens who had been friends for decades decided to risk everything by executing a bank heist.
They didn't choose just any establishment, but the same one that stole their hard-earned savings. Willie Davis (played by Morgan Freeman) was one of the core friends.
He held his own alongside veteran legends like Michael Caine and Alan Arkin. Skilled performers like Joey King, Maria Dizzia, Matt Dillon, Siobhan Fallon Hogan, Peter Serafinowicz, Kenan Thompson, Ann-Margret, and Christopher Lloyd (the one and only) played important parts in this funny and emotional story.
29. The Sum of All Fears (2002)
This script adapted one of the harrowing adventures of the popular fictional CIA analyst Jack Ryan, created by bestselling author Tom Clancy.
In this movie, Ryan went up against a neo-Nazi faction that was busy instigating a nuclear war between the USA and Russia.
A major football game in Maryland soon became the hub of a deadly bomb-tastic conflict. Morgan Freeman captivated as DCI William Cabot.
Ben Affleck was great as Jack Ryan. Other memorable artists who added to the worth of this action-thriller were Ian Mongrainm James Cromwell, Bruce McGill, Russell Bobbitt, Ken Jenkins, John Beasley, and Philip Baker Hall.
30. Olympus Has Fallen (2013)
A series of high-octane action movies can be found in the "Has Fallen" movie franchise. In this first installment, hit-maker artists like Gerard Butler, Aaron Eckhart, and Angela Bassett played key roles along with talents like Dylan McDermott, Radha Mitchell, Rick Yune, Cole Hauser, and Melissa Leo.
Speaker Trumbull was a pivotal character, and he was played by Morgan Freeman. In this story, terrorist masterminds took over the White House and kidnapped the President of the USA.
Secret Service Agent Mike Banning (played by Gerard Butler) had to use everything in his arsenal and wits to save the nation from being crushed under the heel of chaos.
Other titles in this movie franchise are: "London Has Fallen" (2016), "Angel Has Fallen" (2019), and "Night Has Fallen" (TBA).
31. Dolphin Tale (2011)
A boy and a dolphin shared a powerful friendship in this emotion-packed movie. A trap soon proved deadly and a dolphin lost its tail.
The boy helped save its life but also campaigned to get the dolphin a prosthetic tail to help it survive in the wild.
Morgan Freeman's Dr. Cameron McCarthy played a pivotal role in this heartwarming story. Other amazing artists in this movie included Harry Connick Jr., Kris Kristofferson, Nathan Gamble, and Ashley Judd.
32. Ben-Hur (2016)
Though this movie paled in comparison to the 1959 original, it still gave fans several memorable moments. Morgan Freeman played Ilderim in this production along with captivating artists like James Cosmo, Ayelet Zurer, Sofia Black-D'Elia, Moises Arias, Marwan Kenzari, Nazanin Boniadi, Pilou Asbæk, Rodrigo Santoro, Toby Kebbell, and Jack Huston.
This timeless tale featured a Jewish-origin prince who was accused of treason by his adopted brother, who served in a high post within the Roman army.
The titular character soon escaped from his homeland and spent years at sea only to return with vengeance in heart and redemption in mind.
33. Under Suspicion (2000)
A prominent and rich San Juan lawyer is called to the police station one day upon suspicion that he had a hand in certain rapes and murders whose evidence all seemingly pointed to him.
In this crime drama, Morgan Freeman played Captain Victor Benezet. Great artists like Gene Hackman, Thomas Jane, Miguel Ángel Suárez, Pablo Cunqueiro, and Monica Bellucci (the one and only) added to the suspense and drama.
34. Ted 2 (2015)
Morgan Freeman was interesting as Patrick Meighan in this comedy flick that also starred amazing talents like Amanda Seyfried, Giovanni Ribisi, Mark Wahlberg, John Slattery, John Carroll Lynch, Liam Neeson, Dennis Haysbert, Tom Brady, Ron Canada, and Patrick Warburton.
Patrick Stewart as the narrator was superb, and Seth MacFarlane as the voice of the teddy bear named Ted was fantastic.
This sequel movie saw Wahlberg and Ted going on yet another crazy adventure, only this time Ted was married to Tami-Lynn and had to prove he was human in court to have a baby.
35. The Nutcracker and the Four Realms (2018)
Based on the immensely popular short story "The Nutcracker and the Mouse King" written by E. T. A. Hoffmann, this adaptation brought creative twists and thrills galore that captured the essence of this timeless tale but gave it an action-packed fantasy twist.
Morgan Freeman was memorable as Drosselmeyer (Clara's godfather). Great talents like Mackenzie Foy, Keira Knightley, Tom Sweet, Richard E. Grant, Omid Djalilim, Jayden Fowora-Knight, Jack Whitehall, and Misty Copeland had important roles.
In this version, the Nutcracker realm grew unstable, prompting the need to find a special key that would set things right.
All three realms – Land of Snowflakes, Land of Flowers, Land of Sweets – gradually united to face the fourth realm headed by the ruthless Mother Ginger (played by the one and only Helen Mirren).