»
Top 49 Best Mark Wahlberg Movies Of All Time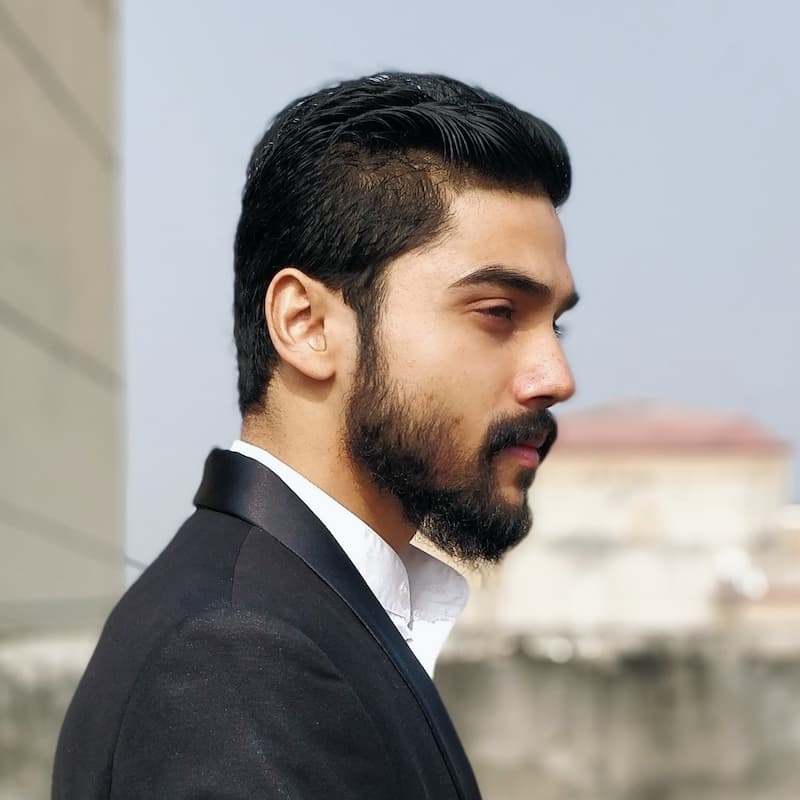 Shivam-Updated Feb 11, 2023
---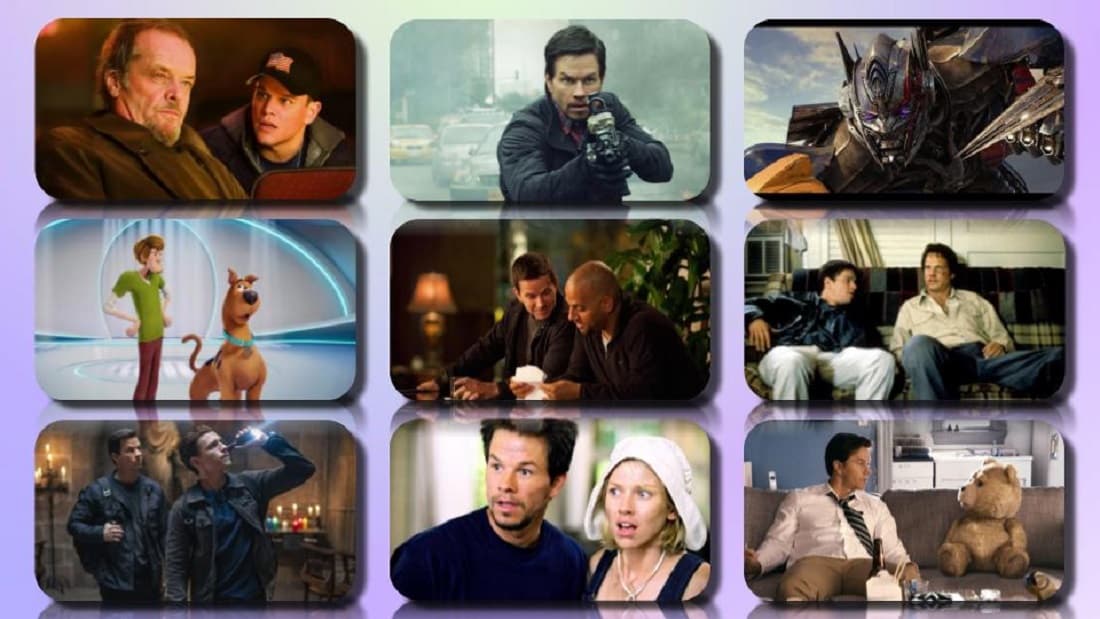 Back in the early '90s, not a lot of people would have been able to foretell that Mark Wahlberg, who was then known as "Marky Mark", would go on to establish himself as one of the most dependable stars of our generation.
The singer-turned-actor is an A-list celebrity today who has also been nominated for two Oscars. Besides headlining a ton of independent credits, he has also been a part of several commercial hits over the years.
Not only has Wahlberg worked with some of the finest filmmakers in Hollywood but he has also collaborated with other top stars of the fraternity.
Needless to mention, the actor continues to expand his creative outreach and dazzle the viewers with his undeniable screen presence.
To celebrate his successful screen career, we thought it'd be fitting to reflect on the motion pictures that Mark Wahlberg has been a part of, thus far.
49. The Truth About Charlie (2002)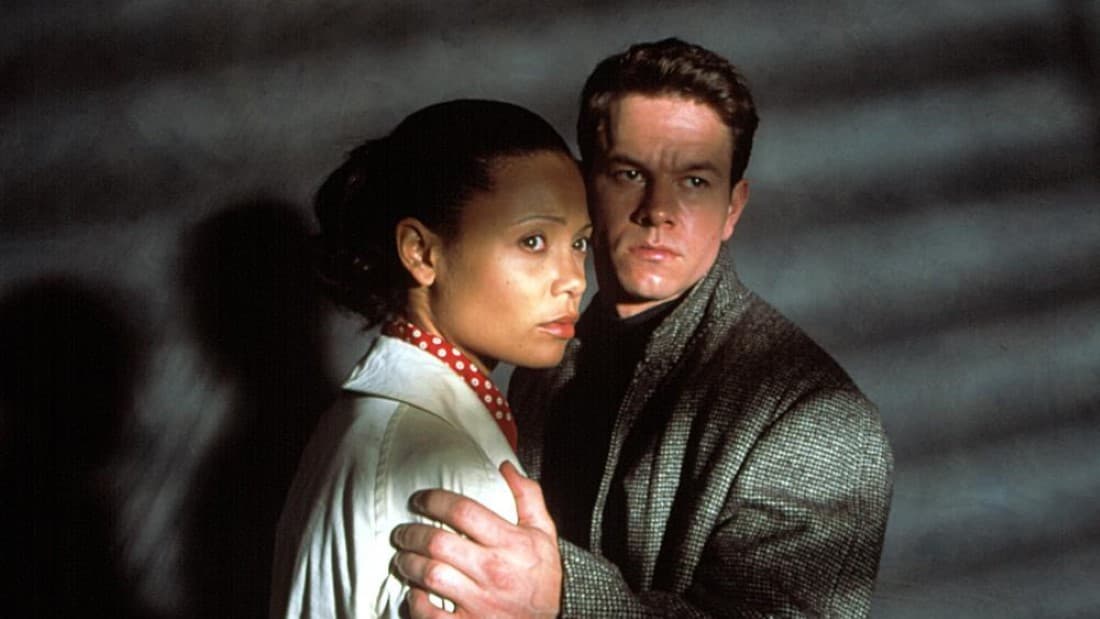 Produced, directed, and co-written by Jonathan Demme, The Truth About Charlie is a remake of the 1963 classic Charade.
It stars Mark Wahlberg and Thandiwe Newton in pivotal roles. The film follows the journey of Regina, who, right before divorcing her husband, finds him dead.
Meanwhile, a man turns up at her doorstep and stakes his claims on the family money. However, things get exciting for the viewers when they see more characters turning up dead.
All we can say about this title is the fact that it falls flat when it comes to its execution and is, unfortunately, a terrible remake of the original.
48. The Happening (2008)
One of Mark Wahlberg's least popular motion pictures, The Happening traces the journey of a family that is forced to be on the run as the United States of America is swept by a mysterious toxin in the air; one that causes people to kill themselves.
While it might be a tad exciting to find out if Mark Wahlberg's character can find a way to save his family, what perhaps is something truly worth discovering is if the actor actually read the script before signing the project!
Going by how the film was executed, it is safe to say that nobody knows for sure. It is only fitting then that The Happening was panned by critics all over for being incoherent and unconvincing.
47. Me Time (2022)
Headlined by Kevin Hart and Mark Wahlberg, this buddy comedy film has been written and directed by John Hamburg.
Even though it is Hart's Sonny Fisher who drives the story, Wahlberg does infuse a fair amount of energy as the wayward Huck Dembo into this absolute no-brainer.
The motion picture tells the tale of a stay-at-home dad, who decides to meet his dear old pal for his bombastic birthday celebrations over a wild weekend.
While the plot has likable characters, the script truly is dim-witted. However, it could turn out to be a decent watch if it is easy to make you laugh.
46. Mojave (2015)
Written and directed by William Monahan, Mojave stars Garrett Hedlund, Oscar Isaac, Mark Wahlberg, Louise Bourgoin, and Walton Goggins in prominent roles.
The crime thriller tells the story of a suicidal filmmaker who drives into the Mojave Desert to get away from an expensive divorce.
Unfortunately for him though, he stumbles upon a drifter who turns homicidal and targets his family. Even though there is no dearth of talent in the cast and crew of this motion picture, it still turns out to be a missed opportunity in the true sense of the word.
45. Transformers: The Last Knight (2017)
Even though the Transformers series is one of the most popular film franchises of the new millennium, it might also be one of the weakest when it comes to content-making.
A true-blue Mark Wahlberg vehicle, the fifth installment of the series showcases how Quintessa brainwashes Optimus Prime and heads to Earth to search for an ancient staff.
Soon after, the viewers get to see Cade, Bumblebee, and the Autobots racing against time to find it; all while trying their absolute best to escape an anti-Transformers force.
While a lot of people still paid to see this mainstream feature, not many of them came out of the cinemas smiling, and we don't blame them at all!
44. Max Payne (2008)
In this John Moore directorial venture, we see a police detective, whose family has been killed, and an assassin, who is looking forward to avenging the death of his sister, come together to topple a gang, a merciless corporation, and the police.
The only thing worth mentioning about this neo-noir action thriller film, which is based on the video game series of the same name, is that it can be seen as a mark of respect for Mark.
However, it is not a performance that the actor would like to be remembered for himself. Let's just leave it to that.
43. Infinite (2021)
In this Antoine Fuqua-helmed mainstream feature, we get introduced to Mark Wahlberg's Evan McCauley; a man who can remember things from the past and is in possession of information about the location of a device that can destroy the world.
Needless to mention, he is hounded by groups that have their own reasons for wanting to get their hands on the device.
Infinite starts most intriguingly but veers into incoherence in no time. Thankfully, it headed straight to the streaming platform Paramount+ because it certainly didn't stand a chance in the cinemas.
42. Transformers: Age of Extinction (2014)
The fourth installment of the live-action Transformers film series and the sequel to Transformers: Dark of the Moon, this Michael Bay project was yet another credit in the series that opened to negative reviews.
In the movie, the viewers get to see how the Autobots, a faction of robots from the planet Cybertron, are hunted down by an elite CIA black ops unit and a merciless bounty hunter.
Running out of options, their only chance is to turn to a struggling inventor and his daughter for assistance.
Reportedly the first feature film to be shot on smaller digital IMAX cameras, Transformers: Age of Extinction was a box office smash.
However, it was also nominated for 7 awards at the 35th Golden Raspberry Awards, including Worst Picture and Worst Director.
41. Scoob! (2020)
Mark Wahlberg plays Blue Falcon in this computer-animated mystery comedy film, which is based on Hanna-Barbera's beloved Scooby-Doo franchise.
Helmed by Tony Cervone, the movie follows Shaggy and Scooby, who learn that the villainous Dick Dastardly is out to apprehend Scooby.
The Mystery Inc gang comes together intending to avert the supercriminal's hostile plans. In this daring mission, they seek the help of the masked superhero Blue Falcon.
While Scoob! is poorly written, one can try to give it a watch if they are willing to listen to the voices of screen personalities such as Zac Efron, Will Forte, Gina Rodriguez, Amanda Seyfried, and Mark Wahlberg.
40. Planet of the Apes (2001)
Not many of you would be aware of the fact that Tom Cruise and Arnold Schwarzenegger were both attached to play the main lead in this Tim Burton-helmed project.
However, it was Mark Wahlberg who was eventually signed to play the protagonist. What was surprising though was that the actor let go of Matt Damon's role in Ocean's 11 to be a part of this project.
Loosely adapted from Pierre Boulle's novel of the same name and serving as a remake of the 1968 film version, Planet of the Apes traces the journey of Leo, an astronaut, who, courtesy of a space detour, lands on a planet where talking apes rule over humans.
Seeing the morbid condition under the terror-ridden regime, he joins forces with a rebel chimpanzee and a few humans to end it for good.
39. Renaissance Man (1994)
Directed by Penny Marshall, Renaissance Man stars Danny DeVito, Gregory Hines, James Remar, and Cliff Robertson in crucial roles.
The film marked the debut of Mark Wahlberg, who was seen playing a small part in it. The slight comedy aims to tell the story of a down-on-his-luck advertising executive, who desperately takes the one job that he has been offered; that is to teach a bunch of underachieving United States Army misfits to read and think.
Wahlberg didn't have much to do in this motion picture that catered to Danny DeVito's strengths.
38. Mile 22 (2018)
In this collaboration with director Peter Berg, Mark Wahlberg can be seen portraying an American intelligence officer, James Silva, who is entrusted with the task of ensuring that an informant in possession of confidential information escapes the country unharmed.
An artless and incoherent action film, it can be seen only if you love to see bullets fly. While Wahlberg could be the reason for many to sit through this motion picture, it doesn't negate the fact that there's nothing really to take away once it finishes.
37. Daddy's Home 2 (2017)
A sequel to 2015's Daddy's Home, Daddy's Home 2 stars Will Ferrell, Mark Wahlberg, Linda Cardellini, John Cena, John Lithgow, and Mel Gibson in pivotal roles.
The story follows Dusty and Brad, who want their kids to have the most perfect Christmas. However, their plans are crushed when their fathers decide to join them for the holidays.
Even though this formulaic comedy opened to unfavorable reviews from film pundits, it managed to turn into a commercial success at the ticket windows.
While not all the jokes land or are funny, this Sean Anders project can be seen when one is in the mood to catch an entertainer which doesn't allow them to think as such.
36. Broken City (2013)
This neo-noir political crime thriller film has been headlined by the formidable duo of Russell Crowe and Mark Wahlberg.
Directed by Allen Hughes, it tells the story of a temperamental ex-cop, Billy, who aims to seek revenge from the city's most dominant figure, Mayor Hostetler.
This is after he is double-crossed and framed for the murder of a rapist. Broken City might be able to work for the least demanding noir aficionados.
Its script is thinly sketched and formulaic but Crowe and Wahlberg do their best to make the project watchable.
35. The Gambler (2014)
Based on the 1974 James Caan star vehicle The Gambler, which, in turn, was partially based on Fyodor Dostoevsky's novel of the same name, this Rupert Wyatt directorial venture had its premiere at The American Film Institute (AFI) Fest in late 2014.
One of the more ambitious projects of Mark Wahlberg's career thus far, it showed him playing the character of Jim Bennett; someone who comes in harm's way courtesy of his obsessive gambling habits.
Sure enough, he has no option but to find a way out of his debts while protecting himself at all costs.
However, his many exploits and adventures end up leading him to cumbersome situations. While The Gambler isn't your trademark crowd-pleaser, it does its bit by introducing us to a walking trainwreck like Jim Bennett.
34. The Big Hit (1998)
This Kirk Wong directorial venture tracks the tumultuous journey of hitman Melvin Smiley, whose loyalties are put to the test when he falls head over heels in love with a young woman, Keiko Nishi, whom he has abducted.
The catch here is that she happens to be the beloved goddaughter of a mob boss named Paris. The film, which was shot in Hamilton and Pickering, Ontario, Canada, opened to strictly mixed reviews from critics.
Mark Wahlberg plays Smiley; a good guy who tries, and sometimes succeeds, at being bad. This is something that makes you want to root for his character.
Even though this isn't a feature that would have shown up at award ceremonies, one can still watch it for the way it has been filmed.
We say so because it does come across as one of your '90s flicks in which the classic underdog anti-hero ends up getting the good that he deserves as the story inches closer to its finale.
33. The Corruptor (1999)
This James Foley-helmed action film has been headlined by the likes of Chow Yun-fat and Mark Wahlberg, in which the latter can be seen playing Detective Danny Wallace.
The story follows a top immigrant cop, who, with the aid of a New York City policeman, endeavors to stop drug trafficking and corruption by immigrant Chinese Triads.
However, things go awry when the Triads try to bribe the policeman. The body toll mounts up by the second in this extremely violent motion picture.
While it is certainly not bad, the writing does let the lead performers down. But, for what it's worth, both Mark Wahlberg and Chow Yun-fat share good chemistry on screen and deliver decent performances each.
32. Spenser Confidential (2020)
This Peter Berg directorial venture tells the story of a former police detective, who returns to Boston's criminal underworld with the sole aim to unravel a twisted murder conspiracy.
An adaptation of the novel Robert B. Parker's Wonderland by author Ace Atkins, it marked the fifth collaboration between actor Mark Wahlberg and director Berg.
Wahlberg plays Spenser, an ex-cop and ex-con, who plays by his own rules in this half-baked action comedy flick which ceases to make an impression.
31. Joe Bell (2020)
Helmed for the screen by Reinaldo Marcus Green, this Mark Wahlberg starrer follows the true story of an Oregonian father, Joe Bell, who pays tribute to his gay teenage son, Jadin, by embarking on a self-reflective walk across the United States of America.
In addition, he strives to speak to the heartland people about the unnerving costs of bullying. A star vehicle for producer-star Mark Wahlberg, Joe Bell shows a son bonding with his father over star singer and actor Lady Gaga.
The plot, which is both painful and encouraging, is anchored by an honest performance by Wahlberg.
30. Fear (1996)
Fear, which stars Mark Wahlberg, Reese Witherspoon, William Petersen, Alyssa Milano, and Amy Brenneman, tells the story of a 16-year-old girl, Nicole Walker, who meets the enigmatic and attractive David McCall at a nightclub, and ends up falling in love with him.
As charming as McCall may be, things take a turn for the worse when he goes on to reveal his darker side to his lady love.
Even though the motion picture was derided by film critics upon its release, it managed to grab eyeballs since its two main leads were romantically involved at the time.
The James Foley directorial venture is now considered to be a cult movie.
29. Daddy's Home (2015)
This Sean Anders directorial venture shows Mark Wahlberg trying his best to be funny and missing the mark by a whisker.
Backed ably by both Will Ferrell and Linda Cardellini, Daddy's Home tells the story of radio executive Brad Taggart, who attempts to be a good father to his stepchildren.
However, his issues only increase when the biological father of the kids, Dusty Mayron, suddenly comes back into their lives.
While the motion picture suffers from a dearth of funny ideas, Will Ferrell and Mark Wahlberg's comedic chemistry is certainly a delight to watch.
28. Traveller (1997)
After having made his presence felt in Renaissance Man and gained critical acclaim for his performance in The Basketball Diaries, Mark Wahlberg was seen appearing in the movies quite frequently.
One of the projects from his early days as an actor was Traveller. Helmed by Jack N. Green, the crime film tells the story of Pat, who visits his clan of gypsy-like grifters but is rejected.
However, his cousin, Bokky, is more than willing to take him on as a trainee. Soon after, the viewers get to see Pat getting good at his game and Bokky falling in love and, subsequently, wanting a different life.
Wahlberg delivered another promising performance in the motion picture and ascertained that he was here to stay.
27. Rock Star (2001)
The good-looking pair of Mark Wahlberg and Jennifer Aniston join forces in this lesser-known musical drama that has been helmed for the screen by Stephen Herek.
The story follows Chris, who happens to be the lead singer of a tribute band. After having performed an exceptional imitation of the original singer's voice, he gets noticed.
However, the plot thickens and his life alters when he gets the golden opportunity to represent the band he idolizes.
The script of Rock Star was apparently inspired by the real-life story of Tim "Ripper" Owens, who was the singer in a Judas Priest tribute band.
While the film comes across as a rather generic drama, what does work for the audience is the performances of its two leads.
26. Uncharted (2022)
One of the most entertaining motion pictures to have been released in 2022, Uncharted is already being counted among Mark Wahlberg's finest performances.
The movie, which features a star-studded cast that includes Tom Holland, Bryan Cranston, Antonio Banderas, and of course, Mark Wahlberg, traces the journey of Victor Sullivan and Nathan Drake, who try to find the lost fortune of Ferdinand Magellan.
Based on the video game franchise of the same name, this Ruben Fleischer-helmed feature film shows Wahlberg playing the role of the amiable game series character, Victor Sullivan; someone who acts as a mentor to the protagonist, Nathan Drake, who seeks his help.
25. Pain & Gain (2013)
In this semi-enjoyable action comedy, we see director Michael Bay pitting Mark Wahlberg against Dwayne "The Rock" Johnson to appease the fans of both stars.
While neither of them helps the other look spectacularly good in this motion picture, the duo does share a few moments that will compel you to sit through things.
The film traces the journey of Daniel, who, along with his pals Adrian and Doyle, abducts an affluent businessman to extort money.
However, things go for a toss when the foolishness of the trio takes center stage. Pain & Gain sure has its moments and can serve as your perfect guilty pleasure watch in which two well-built guys go hammer and tongs to come out of the mess that they put themselves in in the first place.
24. Date Night (2010)
Mark Wahlberg hasn't got a lot to do in this motion picture, besides just showing up in a few interesting scenes.
His character, which comes across as passive and minimal, exudes confidence but lacks depth. However, the actor handles it well.
The story follows Phil and Claire, both of who happen to be living a dull suburban life. Their attempt to spice up their special date night fetches more thrills than they would have ever imagined.
Helmed for the screen by Josh Klausner, Date Night opens up a lot of possibilities for a comedic set-up but ceases to work on them with fervor.
That said, it is still a mildly entertaining film to catch.
23. The Perfect Storm (2000)
This biographical disaster motion picture thrives on its talented star cast and aims to track the journey of Captain Billy Tyne and his crew members, who embark on a seemingly adventurous fishing expedition aboard the Andrea Gail.
However, things go haywire after their ship gets caught up in a perfectly destructive storm that refuses to abate.
Mark Wahlberg plays Robert "Bobby" Shatford, who is the least experienced in the crew of Andrea Gail. Although the movie opened to mixed reviews, it went on to become a huge success at the box office.
Watch out for the impressive special effects in this one.
22. Contraband (2012)
A remake of the Icelandic film Reykjavík-Rotterdam, Contraband has been helmed by Baltasar Kormákur and features Mark Wahlberg, Kate Beckinsale, Ben Foster, and Giovanni Ribisi in significant roles.
The story follows Chris, who is compelled to head to Panama to smuggle counterfeit currency and pay off a drug lord's restitution, all thanks to his brother-in-law.
However, when this seems like an impossible task, he decides to make things riveting by contrabanding drugs instead. This motion picture has an engaging storyline that combines action, thriller, and drama in equal measure.
While Mark Wahlberg is believable as the main lead, Giovanni Ribisi is almost unrecognizable in the role of a wicked drug dealer.
You can give Contraband a try for their presence alone.
21. The Yards (2000)
Helmed by James Gray and starring talented actors such as Mark Wahlberg, Joaquin Phoenix, Charlize Theron, and James Caan in the lead, The Yards tells the story of Leo Handler, who, after having stepped out of prison, joins his family business.
However, soon after, he discovers that his uncle, Frank Olchin, has turned the business into a murky and dangerous world of sabotage, corruption, and murder.
Although this crime caper is really not talked about much today, it carries an authentic feel which makes it refreshing to catch.
Watch out for the sturdy performances and direction in this one.
20. Father Stu (2022)
Written and directed by Rosalind Ross in her directorial debut, Father Stu traces the journey of a boxer-turned-priest whose life goes on to be an inspiration to countless people around him.
Headlined by Mark Wahlberg and also starring Mel Gibson in a significant role, this biographical drama motion picture thrives on its lead star's adroit performance.
That being said, you do sometimes feel that the macho Mark may have just been miscast in this project.
Be that as it may, Father Stu is, indeed, a sincere drama about religious feelings.
19. The Lovely Bones (2009)
Based on Alice Sebold's novel of the same name, The Lovely Bones tells the story of a 14-year-old girl, Susie, who gets brutally murdered.
However, her spirit refuses to move on since she has unfinished business. She continues to watch over her family and does everything she can to reveal the name of her murderer to them.
An international co-production between the United States of America, the United Kingdom, and New Zealand, this supernatural thriller drama film thrives on its bold and daring execution.
Mark Wahlberg ably plays Susie's father, Jack Salmon, who becomes overwhelmed and increasingly obsessed with his daughter's murder case.
18. The Italian Job (2003)
An American remake of the classic 1969 British film, but with an original story, The Italian Job traces the journey of John Bridger and Charlie Croker, who put together a team with the sole aim to steal gold bars from a vault in Venice.
However, things go haywire after the crew is betrayed but one of their team members. But years later, we see Mark Wahlberg's Charlie meticulously planning another heist.
Even though not as charming as the original, the highlight of this F. Gary Gray directorial venture were its action sequences, performances, and humor.
Needless to mention, The Italian Job was an entertaining modern-day heist film.
17. I Heart Huckabees (2004)
It is safe to assert that I Heart Huckabees isn't everyone's cup of tea. A quirky indie movie of the early '00s, this David O. Russell directorial venture has been executed smartly and stylishly for the silver screen.
That said, its execution has most certainly been elevated by its all-star ensemble, which includes actors such as Dustin Hoffman, Lily Tomlin, Jude Law, Naomi Watts, Jason Schwartzman, Isabelle Huppert, and Mark Wahlberg.
The film tells the story of Albert, who intends to solve the coincidence of seeing the same stranger thrice in a day.
In his rather bizarre pursuit, he is backed by a pair of existential detectives who not only spy on his everyday life but also share their views on existential issues.
Wahlberg plays one of his funniest characters to date in this sort of off-beat, high-minded entertainer.
16. 2 Guns (2013)
The fact that Denzel Washington and Mark Wahlberg play two undercover agents is a reason good enough for many like me to sit through this buddy cop action comedy film.
Directed by Baltasar Kormákur, 2 Guns tells the story of Robert and Michael, two undercover agents, who aim to expose a drug lord named Manny "Papi" Greco.
The catch here is that the agents are completely unaware of each other's true identities. Needless to say, they end up getting into trouble when they finally chance upon Papi.
While Wahlberg can be seen portraying an over-the-top version of his cop character from The Other Guys, Washington is both charming and goofy as Bobby in this one.
15. We Own the Night (2007)
Written and directed by James Gray, this crime thriller film stars Joaquin Phoenix, Mark Wahlberg, Eva Mendes, and Robert Duvall in prominent roles.
The story tracks the journey of a nightclub manager, Bobby Green, who does everything in his capacity to keep himself out of trouble; even though a lot many gangsters seem to frequent his club.
However, things go sideways after his brother is attacked by the Russian mafia. The biggest plus point of this atmospheric and intense motion picture is the focused performances by both Wahlberg and Phoenix; something that not only elevates the movie but also stops it from going astray.
14. Four Brothers (2005)
The very underrated Four Brothers tells the story of four brothers, namely Bobby, Jack, Angel, and Jeremiah, who join forces to take down a ruthless gangster; someone who goes by the name of Victor Sweet.
The brothers believe that the man they wish to hunt down is solely responsible for killing their adoptive mother; a woman who raised them to the best of her abilities.
Mark Wahlberg plays the hotheaded hockey player Bobby superbly in this ultra-violent project that has been helmed for the big screen by John Singleton.
Don't miss out on this one if you genuinely like the actor.
13. All the Money in the World (2017)
Helmed for the screen by Ridley Scott, All the Money in the World traces the journey of John Paul Getty III, the grandson of oil tycoon J Paul Getty, who is abducted by an Italian mob in Rome.
We get to see how his mother desperately tries to persuade his billionaire grandfather to pay the ransom and get him back before things go haywire.
While the feature film does not show Mark Wahlberg playing an important role, he is pretty much a part of the storytelling.
That being said, the primary reason to watch this flick would be that it is, indeed, an absorbing portrayal of a compelling true story.
12. Ted (2012)
While it is true that Mark Wahlberg has mainly excelled as an action star or as a dramatic performer, what cannot, however, be overlooked is that he possesses brilliant comedic skills.
It is not surprising then that some of his best performances have come in comedies such as Ted. The story of this motion picture follows John; someone whose wish comes true when his teddy bear, Ted, comes to life.
However, things go for a toss when he plans to move in with his girlfriend. Ted, who is perhaps not ready for the change, ends up damaging their relationship, albeit unintentionally.
Wahlberg flexes his talents and delivers a heartfelt performance as a good-hearted man-child in this lighthearted and breezy entertainer.
The film is a must-watch for those who like the actor.
11. Invincible (2006)
Several underdog sports movies in Hollywood seem to have worked well for the cine-goers. However, one underrated project in the genre is the Ericson Core directorial venture, Invincible.
The story introduces us to a 30-year-old man Vince, who is shattered to discover that his wife has filed for a divorce.
However, his life alters for good when he joins the football squad of the Philadelphia Eagles. It is a delight to catch Mark Wahlberg playing a humble and hard-working man who realizes his dream of playing for his hometown football team.
Even if one isn't too fond of the sport, it is way too easy to root for his character as he sprints toward greatness in the grand finale.
10. Deepwater Horizon (2016)
This Peter Berg directorial venture, which is based on the real-world events of the 2010 oil spill that occurred in the Gulf of Mexico, tells us the story of Chief Electrical Technician, Mike Williams, played by Mark Wahlberg.
We find the actor's character doing everything in his capacity to protect and save as much of his crew as possible as things begin to spiral out of control swiftly.
Aside from projecting the technical malfunctions that led to the catastrophic events, the film also showcases how the workers scramble to survive the situation.
Wahlberg plays his character rather wonderfully here and delivers what we would call a highly underappreciated performance.
9. Three Kings (1999)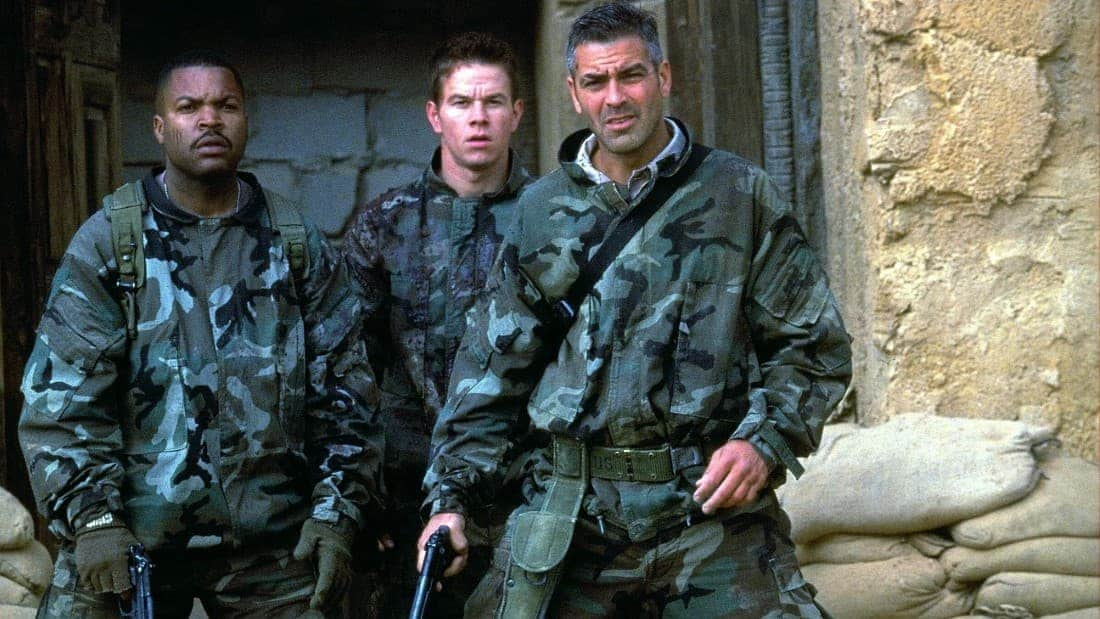 Mark Wahlberg makes his undeniable presence felt in this David O. Russell war motion picture that also features George Clooney, Ice Cube, and Spike Jonze in significant roles.
We see how three soldiers stumble upon a piece of information about a huge cache of gold being hidden near their base towards the end of the Persian Gulf War.
However, a few unexpected discoveries turn what might have been an adventure into a difficult mission for them. Three Kings manages to engage by combining comedy, drama, and action in its storytelling.
Needless to say, it is one of the finest screen collaborations between Mark Wahlberg and filmmaker David O. Russell.
8. Shooter (2007)
Based on Stephen Hunter's novel Point of Impact, Shooter follows the story of a top Marine sniper, who is coaxed to return to service after a plot to assassinate the President of the United States of America comes to the fore.
However, the viewers soon get to see how Mark Wahlberg's Bob Lee Swagger is stabbed in the back and made out to be the ruthless assassin.
The actor delivers an astonishingly detailed performance in this one and makes his character shines throughout the film's run time.
Obviously, his character is cleared of all the chaos towards the end and the journey to see it all unfurl is truly gritty.
7. The Basketball Diaries (1995)
The crime drama, The Basketball Diaries, was the second full-length film of Mark Wahlberg's career. Even though the screenplay centers on young Leonardo Di Caprio's character as a basketball player, Wahlberg can be seen stealing the scene on more occasions than one.
While Wahlberg's Mickey is shown to be one of Jim Carroll's good friends in the story, he does not turn out to be a great influence on his life.
Based on an autobiographical novel of the same title by Jim Carroll, this Scott Kalvert directorial venture thrives on the performances of its leading men.
However, its muddled finale was subjected to criticism.
6. Instant Family (2018)
Arguably the best family-friendly film of Mark Wahlberg's career, Instant Family chronicles the journey of prospective parents Pete and Ellie, played by Mark Wahlberg and Rose Byrne, who decide to adopt a teenager, Lizzy, from foster care.
The plot thickens when the couple discovers that she has two more siblings. Even though the motion picture might feel a tad lengthy at 1 hour 58 minutes, there are no uninteresting or unnecessary moments in its screenplay.
This project does a commendable job of portraying the real situation of adoption. Among other endearing sequences in Instant Family, the ones that show Wahlberg trying to be a great new dad to his kids stand out.
5. Patriots Day (2016)
Aside from acting, Mark Wahlberg also served as one of the producers of the mind-blowing action crime drama, Patriots Day.
The movie, which is based on the real events that transpired at the 2013 Boston Marathon and the manhunt that ensued, showcases Wahlberg playing the main protagonist.
Having said that, it is imperative to mention that there were several other heroes both in the film and in the real-world scenario.
Patriots Day does an outstanding job of projecting the realism of what occurred at the time. Even though the title might be difficult to stomach at times, it does its best to honor the heroes and victims involved with the event.
4. Lone Survivor (2013)
Mark Wahlberg plays the main lead in a film based on a true story in Lone Survivor. We see the actor portraying Marcus Luttrell, the leader of a four-man SEAL team.
Things go unbelievably bad when Marcus and his small team are sent to locate Taliban leader Ahmad Shah in the Hindu Kush region of Afghanistan.
The undeniable heroism of Luttrell and his men has been shown brilliantly in the motion picture. Wahlberg delivers an awe-inspiring performance with his intensity and emotion doing the talking for the better part of the film's run time.
Do yourselves a favor and watch this incredible story as soon as you possibly can.
3. The Fighter (2010)
Helmed for the screen by David O. Russell, The Fighter outlines the journey of a struggling boxer named Micky Ward, who teams up with his older half-brother Dicky Eklund to get his career back on track.
Mark Wahlberg packs a solid punch as a former champion who refuses to give up, come what may. His Rocky-like determination to emerge victorious is what helps this film emerge triumphant in the long run.
Also starring Christian Bale and Amy Adams in significant roles, the screenplay of The Fighter underscores the drama surrounding the many family problems of its main protagonist.
That said, there is no shortage of fighting in this phenomenal biographical sports flick either.
2. Boogie Nights (1997)
Yet another Mark Wahlberg movie from the early years of his career is the critically acclaimed Paul Thomas Anderson project, Boogie Nights.
The film strives to tell the tale of a porn movie producer Jack Horner, who wishes for nothing more than for the industry to improve with time.
Soon enough, we see the idealistic porn producer stumbling upon a hot young talent who might just help him elevate his craft.
Wahlberg confidently portrays Eddie Adams, who, at first, appears humble and kind. However, soon after coming to fame as Dirk Diggler, he transforms into a lost and egocentric star who becomes incredibly difficult to handle.
Boogie Nights begins in the late 1970s and subsides when the 1980s hit. It is a must-see for those who wish to comprehend how the porn industry works and, of course, to witness Wahlberg's act.
1. The Departed (2006)
Considered to be one of the greatest movies of the 21st century so far, The Departed, helmed by Martin Scorsese, is the cherry atop the list.
A winner of four well-deserved Academy Awards, it stars Leonardo DiCaprio, Matt Damon, Jack Nicholson, Mark Wahlberg, and Vera Farmiga in crucial roles.
The story of this cult classic follows an undercover agent and a spy who constantly try to counter-attack each other to protect themselves from being exposed in front of the authorities.
At the same time, they both try to infiltrate an Irish gang. Even though Wahlberg did not take home an award, he received a nomination for best performance by an actor in a supporting role.
His character projection in this critically and commercially successful feature film is truly one of the finest of his career.