»
Top 32 Best Sandra Bullock Movies To Watch In 2023
Bijesh-Updated Jan 18, 2023
---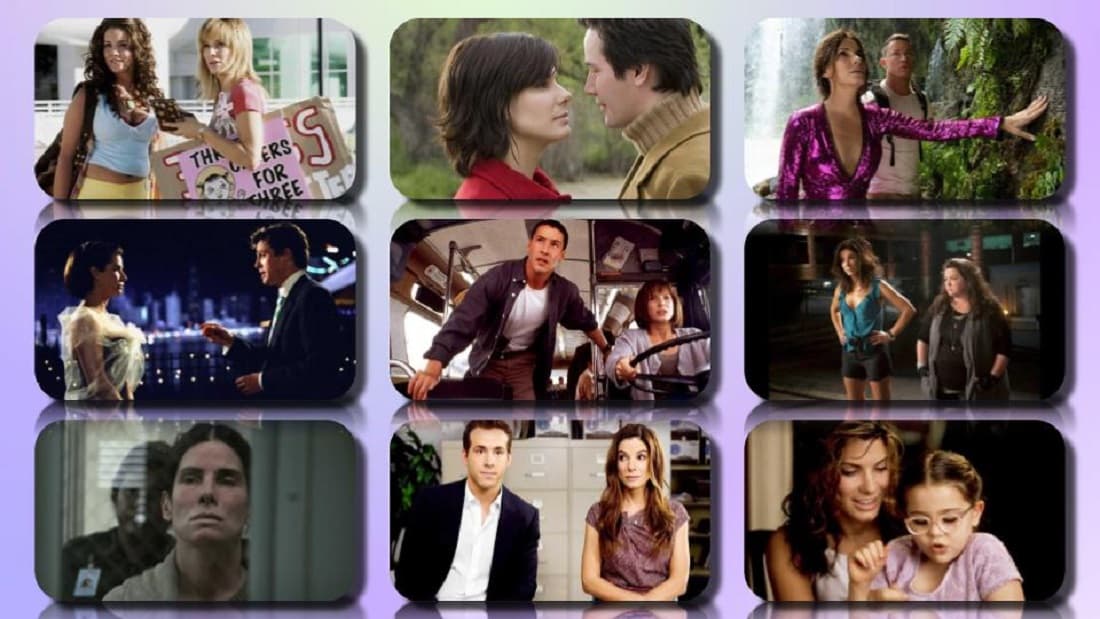 American actress and movie producer Sandra Bullock is known for her outstanding versatility as a performer. Her comedic timing and dramatic intensity helped propel her career to new heights.
She gave her fans every opportunity to appreciate and adore what she brought to each of her characters. Celebrated for her beauty and renowned for her philanthropy, Sandra Bullock has assuredly earned her place among the top echelons of Hollywood movie stars.
She won the Oscar and Golden Globe for her role as Leigh Anne Tuohy in the 2009 movie "The Blind Side", which is her best role to date.
In this blog, we will explore all the movies that made Sandra Bullock a household name, an inspiration to millions, and a veritable superstar.
32. Two Weeks Notice (2002)
Using her law career to shore up her social activism, Lucy Kelson (played by Sandra Bullock) had big dreams to succeed at both.
Her boss, however, proved to treat her more like a nanny than a capable employee. Fireworks soon started going off in this rom-com, but not in a lovey-dovey way.
Stars like Hugh Grant, Alicia Witt, Dana Ivey, and Dorian Missick added to the comedic frills in this entertaining Sandra Bullock flick.
31. Premonition (2007)
Not only was Linda Hanson (played by Sandra Bullock) depressed, but she also lost her husband to a car accident.
Creepy things started to unravel when she saw him alive and well at home only to disappear and come back once more.
Linda soon grew worried if her experience was simply wishful or brought on by actual premonitions of a deceased loved one.
Amazing artists like Julian McMahon, Amber Valletta, Irene Ziegler, Nia Long, Courtney Taylor Burness, and Peter Stormare added to the mystery.
30. Hangmen (1987)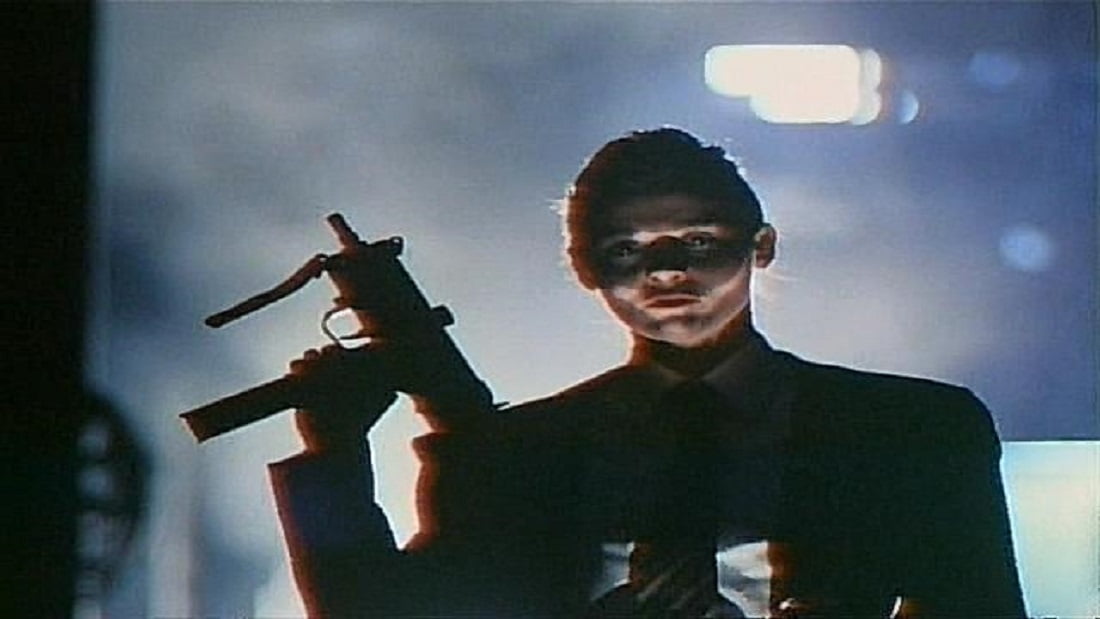 This action-adventure saw Bullock slipping into the role of Lisa Edwards who was dragged into a deadly investigation featuring covert terror teams inside the CIA, subterfuge, hair-breath escapes, and action galore.
Lisa soon had a target on her back simply for being close to Danny who, along with his father, were the main targets of an intra-agency plot.
This wasn't one of Bullock's best movies, but it helped her find new roles in the years to come.
Artists like Keith Bogart, Rick Washburn, J. Christian Ingvordsen, Dog Thomas, and Jake LaMotta played key roles in this production.
29. Speed (1994)
The first in a handful of hit sequels, this gripping edge-of-your-seat movie starred Keanu Reeves, Dennis Hopper, Jeff Daniels, Joe Morton, and Sandra Bullock (who played Annie).
Annie was soon caught up in a serious terror scheme that promised an explosion aboard a public city bus.
It soon fell to Keanu and Sandra's characters to keep that bus going at a steady 50mph or it was curtains for all the innocent passengers on board, themselves included.
This movie became one of Sandra Bullock's biggest hits and boosted her movie career.
28. The Lake House (2006)
Teaming up again with the incomparable Keanu Reeves, Sandra Bullock played a subdued and soft-romantic role in this production.
She slipped elegantly into the role of Kate Forster who encountered Reeves' Alex Wyler in a strange time-travel twist that involved a lake house.
Superb talents like Christopher Plummer, Ebon Moss-Bachrach, Shohreh Aghdashloo, Dylan Walsh, Lynn Collins, and Willeke van Ammelrooy played important roles.
Love letters, old-fashioned romantic exchanges, and a curious mystery enriched this script, which portrayed Bullock in one of her tragic roles.
27. The Unforgivable (2021)
After serving time for a violent crime, Ruth Slater (played by Sandra Bullock) re-entered society only to experience just how difficult it was to gain trust and respect from those in her community.
Aside from her guilt trips, Slater found it hard to seek forgiveness. She had no choice but to abandon her sister, who had since been adopted by another family.
This emotional story portrayed Ruth in a human light and captured her many personal hurdles on the road to redemption.
Other notable stars who played important roles in this movie were Linda Emond, Will Pullen, Richard Thomas, Vincent D'Onofrio, Jon Bernthal, and Viola Davis.
26. The Proposal (2009)
This rom-com saw a coercive boss forcing her young assistant into a marriage of convenience that would help her stay in the U. S. and avoid being deported to Canada.
An outstanding pair-up between Sandra Bullock's Margaret Tate and Ryan Reynolds' Andrew Paxton made this movie hilarious and entertaining.
Talented artists like the late-great Betty White, Mary Steenburgen, Craig T. Nelson, Denis O'Hare, and Malin Akerman added to the fun and amusement in this funny Sandra Bullock movie.
25. Extremely Loud & Incredibly Close (2011)
After losing his father in the 9-11 terror attack, young Oskar tried to cope in the only way he knew how.
He couldn't help but lash out at the world, including at his mother (played by Sandra Bullock). The boy soon discovered a strange key and, before long, went on a scavenger hunt.
It reminded him of the time he used to spend with his father. Oskar hoped to find the matching lock and, hopefully, any memories his father might have left him.
This heartbreaking story featured amazing artists like Zoe Caldwell, Thomas Horn, John Goodman, Max von Sydow, Viola Davis, Jeffrey Wright, and Tom Hanks (the father who died).
24. The Lost City (2022)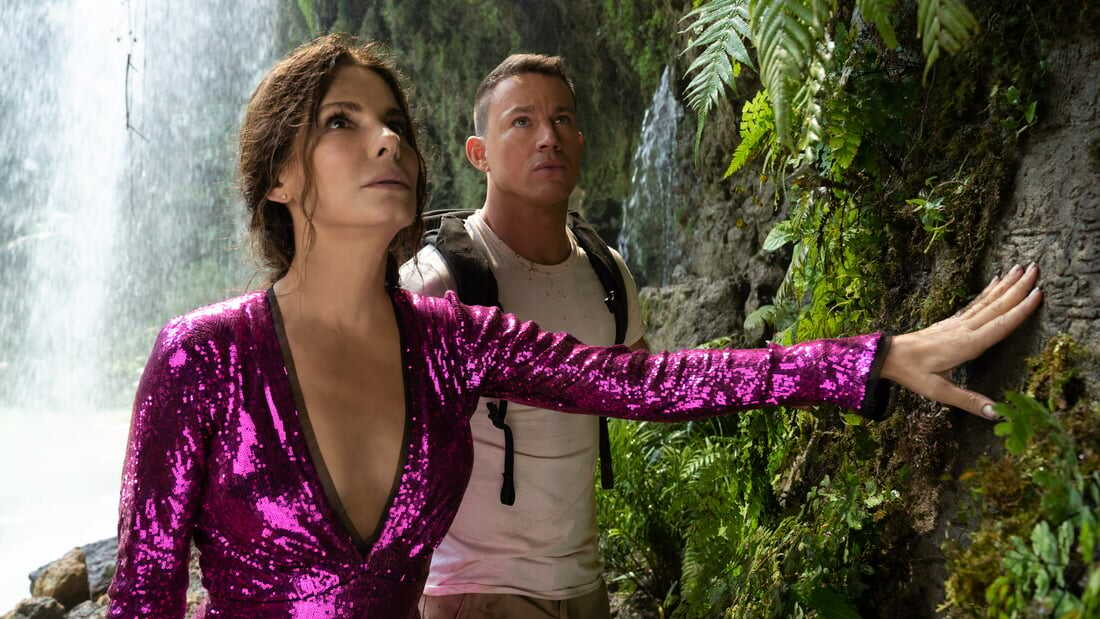 Hilarity and adventure merged into a fun but clichéd story filled with high-octane action, ancient treasure hunts, and a greedy villain.
Sandra Bullock gave a memorable performance as Loretta Sage. Sharing the screen with her were superb artists like Daniel Radcliffe, Brad Pitt, Channing Tatum, Stephen Lang, Patti Harrison, Bowen Yang, Oscar Nuñez, and Da'Vine Joy Randolph.
23. The Heat (2013)
This action-comedy saw Sandra Bullock playing Ashburn alongside Melissa McCarthy's Mullins in a hilarious script that was a little clichéd but in keeping with the corny spirit of their misadventure.
Sandra's uptight FBI officer aptitude contrasted with Melissa's potty-mouth Boston cop nature. Together, they aimed to bring down a cruel drug lord.
Memorable artists like Demián Bichir, Michael McDonald, Marlon Wayans, Michael Rapaport, Jane Curtin, and Tony Hale played essential roles in the script.
22. Hope Floats (1998)
Following a heartbreaking divorce, Birdee Pruitt (played by Sandra Bullock) went through personal hell before witnessing one of the men from her past returning to express his love for her.
Caught between her principles and the need for hope, Birdee tried to make a decision that would benefit her as well as her daughter, who disapproved of the 'new' man in her mother's life.
Gena Rowlands, Kathy Najimy, Harry Connick Jr., Michael Paré, Mae Whitman, and Connie Ray were some of the amazing talents featured in this Sandra Bullock romance movie.
21. Our Brand Is Crisis (2015)
Part comedy and part drama, this movie saw a tough American political consultant named Jane Bodine (played by Sandra Bullock) heading to Bolivia where she was hired to help re-elect a particularly controversial president.
There she encountered a long-time rival who was busy working to elect the opposition. Superb artists like Billy Bob Thornton, Anthony Mackie, Ann Dowd, Joaquim de Almeida, Scoot McNairy, and Zoe Kazan further enriched the plot.
20. All About Steve (2009)
In this rom-com, popular stars like Bradley Cooper, DJ Qualls, Keith David, Thomas Haden Church, Ken Jeong, and Beth Grant created great comedy together.
Sandra Bullock's Mary Horowitz wrote crosswords for the Sacramento Herald. She soon fell head over heels for news reporter Steve (played by Cooper).
One thing led to another and she ended up following him cross-country to profess her love for him only to experience some of the craziest misadventures along the way.
19. 28 Days (2000)
Gwen Cummings (played by Sandra Bullock) was a New York-based writer with a drinking problem. Her destructive cycle was fueled in large part by her live-in boyfriend Jasper.
Before long, she found herself checking into rehab but not before performing a drunken limo heist and ruining her sister's wedding.
Amazing artists like Viggo Mortensen, Dominic West, Alan Tudyk, Margo Martindale, Steve Buscemi, Azura Skye, and Elizabeth Perkins added to the madness in this dramedy.
18. Loverboy (2005)
Sandra Bullock didn't play a big role in this movie but delivered a memorable performance as Mrs. Harker. This emotional story was about a possessive mother who became that way following her childhood neglect.
Notable artists like Kyra Sedgwick, Campbell Scott, Oliver Platt, Matt Dillon, Dominic Scott Kay, Marisa Tomei, and Kevin Bacon made the movie interesting.
The production was not well received by audiences but contained some good moments.
17. Ocean's 8 (2018)
An all-woman crew of thieves was being assembled. Recruiting them for a dangerous heist was Sandra Bullock's Debbie Ocean who was amazing in the role.
Outstanding talents like Cate Blanchett, Anne Hathaway, Mindy Kaling, the one and only Rihanna, the incomparable Helena Bonham Carter, Dakota Fanning, Awkwafina, and Sarah Paulson worked on this fun production, which was part of "Ocean's Eleven" franchise.
Together, these ladies strategized, timed, and pulled off a seemingly impossible heist at New York City's annual Met Gala.
Danger found them soon after, which demanded a change in tactics if they were to survive jail time.
16. Who Do I Gotta Kill? (1994)
Playing Lori in this comedy where crime certainly ended up paying, Sandra Bullock gave a fun-funny performance. Struggling and often brushed-aside writer Jimmy Corona was determined to find his big break.
His girlfriend Lori wanted him gone despite them having great chemistry, especially in bed. The man had serious writer's block, which only made matters worse for his prospects.
One thing led to another and Jimmy found himself turning to the mob to pursue a life of crime.
Artists like James Lorinz, Stephen Lee, Ted Sorel, John 'Cha Cha' Ciarcia, Vincent Pastore, and John Costelloe played key roles in this funny but clichéd movie.
15. Divine Secrets of the Ya-Ya Sisterhood (2002)
One of the most endearing movies about friendship and sisterhood, this movie saw Sandra Bullock playing Sidda who discovered her mother Vivi's scrapbook filled with memories of the woman's wild and carefree past.
Siddalee Walker may have been a popular playwright in NYC, but the best story she ever heard would come from her mother, aka "The Queen of Dancing Creek".
Before long, members of the original Ya-Ya Sisterhood whisked Sidda away to the American South where they guided her on the many wonderful facets of Vivi.
The sisterhood hoped to restore the fraying bond between Sidda and her mum Vivi in this memorable and heartwarming adventure.
Playing key roles were superb artists like Fionnula Flanagan, Fionnula Flanagan, Cherry Jones, Shirley Knight, the one and only Maggie Smith, Ashley Judd, Katy Selverstone, Jacqueline McKenzie, Kiersten Warren, and James Garner.
14. Demolition Man (1993)
This SciFi story featured captivating artists like Sylvester Stallone, Wesley Snipes, Benjamin Bratt, Bob Gunton, Denis Leary, and Grand L. Bush, Grand L. Bush, and of course Sandra Bullock (who played Lenina Huxley).
Thrown into suspended animation in 1996, convicted crime boss Simon Phoenix was later revived in 2032 and released on parole.
He resumed his deadly business, which prompted the revival of the one police officer, namely John Spartan, who managed to capture Simon back in '96.
High-octane action, deception, and dystopia flowed strongly in this engaging movie.
13. Gravity (2013)
A normal space-walk mission took a turn for the worse and became a harrowing attempt to survive for two astronauts.
An unexpected meteor shower left a medical engineer and veteran astronaut stranded after their space station was destroyed. Until or unless help arrived, they only had each other out there in the cold darkness.
Sandra Bullock's Ryan Stone and George Clooney's Matt Kowalski gave compelling performances as the astronauts. Other amazing artists in this Academy Award-nominated movie were Ed Harris, Amy Warren, and Phaldut Sharma.
12. Bird Box (2018)
Both horror and Sci-Fi tropes blended frightfully well in this scary Sandra Bullock movie about deadly invisible creatures that all but took over the Earth.
Anyone who relied on vision could become a victim of this bizarre alien species. With most of society either killed or made helpless enough to commit suicide, this story saw an isolated mother attempting to keep her two little children safe as she strove to find a safe community.
Sandra Bullock as Malorie gave a riveting performance. Excellent artists like Colson Baker (aka Machine Gun Kelley), Jacki Weaver, BD Wong, Tom Hollander, Pruitt Taylor Vince, Rosa Salazar, Trevante Rhodes, Lil Rel Howery, Danielle Macdonald, Vivien Lyra Blair, Julian Edwards, John Malkovich, and Sarah Paulson all played good roles in this unnerving production.
11. The Net (1995)
This Sandra Bullock movie was ahead of its time, especially considering how intricately it delved into computer coding, hacking, and online digital secrets.
Bullock shone as Angela Bennett, a computer expert who not only loved her job but also proved too great at it for her good.
She received a debugging request from a friend only to realize that the code contained secret information she was never meant to see.
Conspiracies, crimes, and digital dangers galore were bottled in this captivating though underrated movie. Playing important roles in this project were Dennis Miller, Jeremy Northam, Ray McKinnon, Ken Howard, and Diane Baker.
10. Crash (2004)
Revolving around a Los Angeles community, this story witnessed how people leading entirely different lives and with distinct racial backgrounds came together.
Race tensions between African-Americans and Caucasians were at breaking point in this story where individuals' views were biased based on race.
East Asian and Persian ethnicities are also featured in this script about the very real and relevant problems faced by different people.
Aside from Sandra Bullock's Jean, amazing artists like Don Cheadle, Thandiwe Newton, Karina Arroyave, Art Chudabala, Officer Ryan, Jennifer Esposito, Keith David, Loretta Devine, William Fichtner, and Brendan Fraser played key roles.
9. While You Were Sleeping (1995)
Being a humble Chicago Transit Authority token collector could prove lonely. It sure did for Lucy (played by Sandra Bullock) who silently fell for a handsome commuter.
Soon, circumstances aligned and she saved the man from a fatal accident. Little did Lucy realize that the now-comatose man of her dreams already had a fiancée.
He awoke only to assume that Lucy was his betrothed. One lie became many and Lucy soon found herself facing the music.
Excellent artists like Bill Pullman, Peter Gallagher, Peter Boyle, and Jason Bernard played important parts in this tragic romance drama.
8. Bullet Train (2022)
Five assassins, one bullet train, and all the twists and turns viewers could ask for in such a setting defined the style of this movie.
Sandra Bullock played a small role in it and barely even appeared on the screen. However, as the field handler for Brad Pitt's character, she became a pivotal part of the plot.
Other outstanding artists in this latest Sandra Bullock movie included Aaron Taylor-Johnson, Joey King, Andrew Koji, Bad Bunny, Hiroyuki Sanada, Brian Tyree Henry, Zazie Beetz, and Michael Shannon.
7. Murder by Numbers (2002)
When two clever high school rich kids pulled off the 'perfect' murder, little did they realize that their wits would soon be tested by an experienced and unrelenting homicide detective named Cassie Mayweather (played by Sandra Bullock) and her professional partner.
Remarkable artists who added to the suspense and desperation in this crime drama were Ryan Gosling, Tom Verica, Agnes Bruckner, Chris Penn, Michael Pitt, and Ben Chaplin.
6. The Thing Called Love (1993)
This story saw Sandra Bullock playing a memorable role as a newbie in the country music business. Her attempts to find stardom and romance were inspiring and heartwarming.
Bullock played Linda Lue Linden in this flick along with captivating artists like Dermot Mulroney, River Phoenix, Samantha Mathis, Anthony Clark, Trisha Yearwood, Pam Tillis, Earl Poole Ball, and K. T. Oslin. Songwriting, music auditions, and hasty marriages are all featured in this engaging Sandra Bullock movie.
5. Practical Magic (1998)
Raised by eccentric aunts who were in truth full-fledged witches, Sandra Bullock's Sally Owens and Nicole Kidman's Gillian Owens became two of the most endearing pair-ups fans ever knew they needed.
This comedic fantasy flick saw them trying to break a curse that ensured neither would ever find true love.
Memorable artists like Stockard Channing, Evan Rachel Wood, Goran Visnjic, Dianne Wiest, Aidan Quinn, and Margo Martindale made the story feel extra-enchanting.
4. A Time to Kill (1996)
A brave young lawyer and his aide strove to defend an African-American man named Carl Lee Hailey who was accused of the murder of two white men in Mississippi.
These racist men allegedly raped his 10-year-old daughter and had themselves to blame for Carl's rage. Tensions rose and the dreaded Ku Klux Klan raised its ugly head in this revolutionary story about justice and humanity.
Matthew McConaughey's Jake Tyler Brigance, Sandra Bullock's Ellen Roark, and Samuel L. Jackson's Carl Lee Hailey gave stunning performances.
Other talented artists who featured in this movie included Kevin Spacey, Oliver Platt, Charles S. Dutton, Kiefer Sutherland, Ashley Judd, RaéVen Kelly, Tonea Stewart, Chris Cooper, and the one and only Donald Sutherland.
3. Miss Congeniality (2000)
Playing an undercover FBI agent who had little choice but to transform herself and compete in a major beauty contest, Gracie Hart (played by Sandra Bullock) brought plenty of hilarity and heart to this amazing action-comedy flick.
Sharing the screen with Bullock were noteworthy talents and legends like Michael Caine, William Shatner, Benjamin Bratt, Candice Bergen, Ernie Hudson, Deirdre Quinn, Wendy Raquel Robinson, Asia De Marcos, and Melissa De Sousa.
2. The Prince of Egypt (1998)
One of the most unforgettable animation movies ever made, this one contained a wealth of brilliant visuals and voice talents.
Based on the story of the Egyptian Prince Moses, this tale saw him learning about his Hebrew roots and harkening to god's call to lead his people to the 'promised land.
Voicing one of the most important characters in this production was Sandra Bullock, who gave her character Miriam plenty of humanity.
Other superb stars who lent their voices to this singular movie included Michelle Pfeiffer, Val Kilmer, Patrick Stewart, Ralph Fiennes, Jeff Goldblum, Danny Glover, Helen Mirren, Martin Short, Steve Martin, Eden Riegel, and Ofra Haza.
1. The Blind Side (2009)
Based on the true story of Michael Oher, this movie highlighted the homelessness and personal trauma that plagued the boy in his journey to becoming an All-American football player and the first-round NFL draft pick.
Portraying Leigh Anne Tuohy, who went out of her way to help Michael, was Sandra Bullock. Her performance was deep, determined, and compassionate.
This role won Bullock a well-deserved Oscar. Other amazing artists featured in this movie were Quinton Aaron, Tim McGraw, Jae Head, Lily Collins, Ray McKinnon, Adriane Lenox, Kathy Bates, and Kim Dickens.