»
Top 50 Best Vacation Movies To Watch In 2023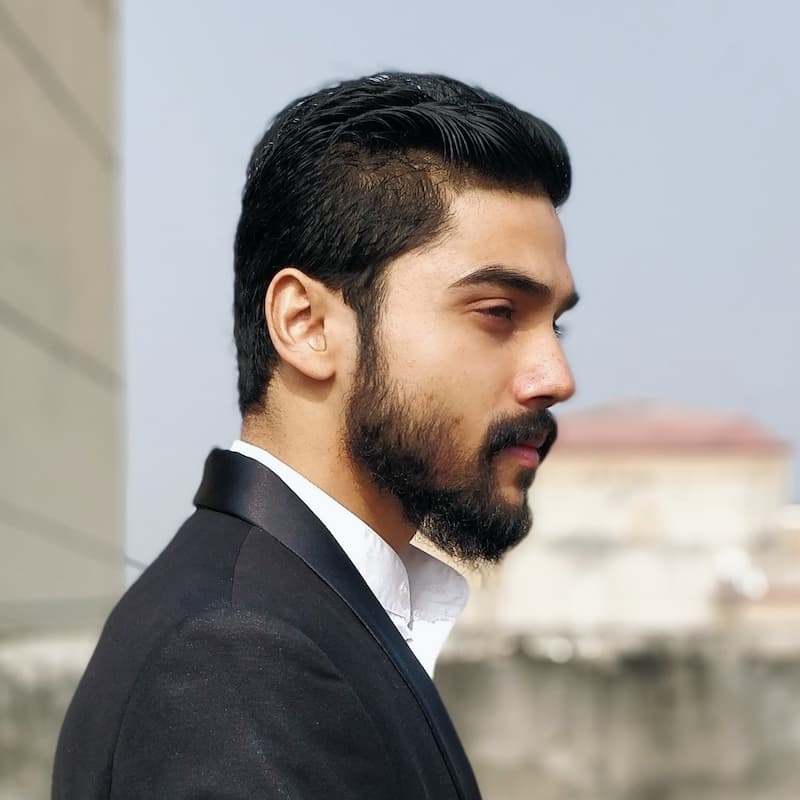 Shivam-Updated Jan 17, 2023
---
Most of us agree that vacations allow us to break away from our normal, monotonous schedules and head out on an amazing trip with our family or friends.
Needless to say, some of the finest memories of our lives are made when we are out holidaying. Therefore, it is only fitting that a lot many motion pictures continue to be produced to bring vacation stories to light.
While there are quite a few comedy vacation features to relish, we mustn't forget that several coming-of-age and inspirational titles have been bankrolled by the film fraternity for us to get a kick out of while we are vacationing as well.
That being said, a few of our most notorious on-screen protagonists have also been seen going on some truly miserable, but hilarious, bachelor party trips.
What we are trying to tell you is that there is a vacation movie for everyone who's planning to hit the roads anytime soon.
So, whether you are on a trip currently or not, it'd be wise on our part to give a shout-out to some of the best vacation-themed mainstream projects out there; mainly to keep you prepared for your forthcoming holidays.
50. Couples Retreat (2009)
Director Peter Billingsley's Couples Retreat tracks the journey of Jason and Cynthia, who are seeking marriage counseling. Soon enough, we see them roping in three other couples for a vacation in a therapy resort.
However, the pairs realize in no time that the therapy is, indeed, compulsory and that there are obvious flaws in their respective married lives.
Most of the viewers who have been able to catch this film in the cinemas hold the opinion that the one main reason for this title to exist in the first place would be that the cast and crew might have been willing to enjoy a nice tropical vacation.
Well, watch it and decide for yourselves.
49. Wine Country (2019)
When you are getting together with lifelong friends for a weekend full of wine and wild shenanigans, you certainly are calling for an adventurous vacation.
And, that is precisely what happens in Amy Poehler-helmed Wine Country. We see a group of longtime friends coming together for a brief birthday "vacation" of sorts to Napa Valley.
However, their plans continue to get messier with every passing minute. This middle-of-the-road dramedy might just be the motion picture that inspires you to gauge inspiration for a much-needed summer vacation with your loving friends.
48. RV (2006)
In this Barry Sonnenfeld directorial venture, we see Bob Munro and his dysfunctional family going on a road trip to the Colorado Rockies.
Even though Munro goes out of his way to rent an RV for the vacation, things do not go as planned.
RV may have failed with critics and audiences back in the day, but it is still a vacation comedy worth revisiting.
The biggest plus point of this motion picture is catching the magnificent Robin Williams starring as the burnt-out father, who does everything in his capacity to make it to the Rockies in time for a significant business transaction.
Needless to say, he carries the weight of the film rather admirably on his shoulders.
47. How Stella Got Her Groove Back (1998)
Helmed for the screen by Kevin Rodney Sullivan, this romantic comedy-drama flick has been adapted from Terry McMillan's best-selling novel of the same title.
It tells the story of a stockbroker Stella, who has been so busy making a life for herself that she seems to have forgotten what it means to live.
Sounds familiar? So, just like our protagonist plans a vacation to Jamaica to discover herself and put things into perspective, we'd like to suggest our readers select a destination of their choice and do the same this coming holiday season.
46. Vegas Vacation (1997)
Since the Griswolds were best known for going on vacations a bit too often, it is not surprising to find them making it to our list multiple times.
In Vegas Vacation, we witness Clark taking his family to the casinos and glitzy attractions of Las Vegas. However, upon their arrival in Sin City, he ends up losing a fair amount of money.
The general formula remains quite similar to the other movies of the National Lampoon series, and that is perhaps why the wild elements come across as funny in this Stephen Kessler-helmed project.
Props to the makers for showing a family trying to have a good time in Las Vegas; a plot structure that has not been exploited in mainstream cinema yet.
45. Monte Carlo (2011)
Helmed for the screen by Thomas Bezucha, this adventure-romantic comedy film has been based on Headhunters by Jules Bass.
We are introduced to Grace, who is vacationing in Paris with her best friend and stepsister. However, we see how everything changes when she is mistaken for a popular British heiress.
Soon after, the three women are swept to Monte Carlo, where they get to relish a celebrity-style summer vacation.
Even though this mainstream feature is a bit too predictable, it has its moments that exude a vacation vibe.
44. Grown Ups (2010)
Helmed by Dennis Dugan, Grown Ups tells the story of five childhood friends who decide to take their respective families for a weekend trip to a lake house in their hometown.
There, they come together to attend the funeral of their former high school basketball coach. Don't be fooled by the seemingly "serious" tone of the film's summary.
We say so because this motion picture is full of lowbrow humor and an amiable cast of comedy vets who create several maddening moments for their eager viewers.
43. Murder Mystery (2019)
This vacation whodunnit film may not be the best of features starring either Adam Sandler or Jennifer Aniston, but it is also not their worst.
The two leads reunite for this comedy, in which they, as a couple, can be seen taking a European vacation with the sole aim to revive their fizzling marriage.
However, the couple receives more than what they asked for when they get entangled in a murder investigation of an elderly billionaire.
While this Kyle Newacheck-helmed feature film is surely a mediocre flick, it does its best to keep you guessing and flabbergasted until the very end.
42. Vacation (2015)
Directors John Francis Daley and Jonathan Goldstein introduce us to Rusty Griswold, who plans a cross-country road trip with his wife and two sons.
His only aim? To fix the obvious family issues and revive the lost ties between them. However, soon after they begin, things begin to spiral out of control; therefore, turning their much-awaited trip into a series of unforeseeable mishaps.
Starring Ed Helms, Christina Applegate, Leslie Mann, Beverly D'Angelo, Chris Hemsworth, and Chevy Chase in crucial roles, Vacation is a nostalgia-driven retread that is both funny and forgettable; if that makes any sense at all.
41. Summer Rental (1985)
This Carl Reiner directorial venture chronicles the journey of an overworked air-traffic controller who decides to take his family on a beach vacation.
However, as expected, his vacation is soon beset by a series of misfortunes. As the laughs keep coming, we get to see a family trying its best to pull together and work side by side to achieve a common goal.
40. National Lampoon's European Vacation (1985)
While it is not the most notable vacation movie of the National Lampoon franchise, it sure is good enough for anyone who'd like to experience a foreign trip without actually going on one.
The fans of the bizarre comedy stylings of the series will be more than willing to take another crack at having fun as they get to watch their beloved Griswold family getting themselves into even more shenanigans this time around.
As nostalgic as National Lampoon's European Vacation might make you feel, you can't possibly escape its situational and physical comedy that continues to hit the right beats even today.
39. Meatballs (1979)
This Canadian comedy-drama, which has been helmed by Ivan Reitman, traces the journey of 11-year-old Rudy, who is sent to a summer camp by his father during his vacation to gain self-confidence.
There, camp counselor Tripper tries his best to help Rudy gain confidence and break out of his shell. Meatballs won the Golden Reel Award and was the highest-grossing Canadian film of all time in the United States of America and Canada at the time of its theatrical release.
38. Girls Trip (2017)
Director Malcolm D. Lee's Girls Trip tells the story of Ryan, who, after having been invited to speak at the annual Essence Festival, turns it into an opportunity to reconnect with her best friends.
Soon enough, we find the girls setting out on the titular girls' trip to New Orleans where fighting, drinking, connecting, and hooking up take center stage.
This comedy, which stars Regina Hall, Queen Latifah, Jada Pinkett Smith, and Tiffany Haddish in pivotal roles, has its fair share of crass moments; each of which helps in adding a level of escapism to its story.
37. Vacation Friends (2021)
Marcus and Emily are a well-mannered couple who intend to tie the knot soon. To take the next big step in their relationship, the former plans a week-long trip to Mexico aiming to propose to his long-time girlfriend for marriage.
However, his plan is ruined after their room is flooded with an overflowing Jacuzzi from the presidential suite above; rented by Ron and Kyla.
Soon after, we see the chilled-out Ron and Kyla inviting Emily and Marcus to share their luxurious suite and, thus, kicking off their wild and adventurous weekend.
WWE megastar John Cena finally seems to be doing good for himself in the cinematic universe, and Vacation Friends is a testament to this statement.
Now, this buddy comedy does not rely on logic or a plot to deliver. To be honest, it has neither.
Nevertheless, Cena and Lil Rel Howery's joyous chemistry makes it fun to watch.
36. Just Go With It (2011)
In this Dennis Dugan-helmed romantic comedy movie, we see a plastic surgeon trying to convince his diligent assistant to join him along with his young girlfriend for a vacation to Hawaii.
However, there is a catch to the situation. He wants his assistant to pose as his ex-wife to cover up a lie.
Needless to say, it ends up complicating the situation. Although Just Go With It opened to unfavorable reviews, the viewers welcomed it with open hands and turned this fresh entry in the dire rom-com genre into a successful box-office outing.
35. The Hangover Part II (2011)
In the second installment of the much-loved franchise, we see Phil, Stu, Alan, and Doug heading to Thailand to celebrate Stu's wedding.
However, things go awry and comedy kicks in when Stu's soon-to-be brother-in-law, unfortunately, goes missing.
Well, as unfortunate as it might be for the wedding guests and his would-be bride, Stu's disappearance works wonders for the viewers who are glued to their screens to catch a series of rollicking adventures unfold.
Even though The Hangover Part II lacks the element of surprise, it gives the fans of The Hangover trilogy exactly what they want, and that, my friends, is limitless entertainment.
34. Wet Hot American Summer (2001)
Set during the last day of a "happening" summer camp in 1981, Wet Hot American Summer follows a group of counselors who try their best to complete their unfinished business before heading back to the real world.
Helmed for the screen by David Wain, this teen comedy is meant to be a parody of sorts for the teen titles that hit the screens during the late 1970s and early 1980s.
We assure you that you'll have a lot of fun seeing the return of the terrible haircuts, too-short shorts, and the rock music of the bygone era in this mainstream entertainer.
33. Mr. Bean's Holiday (2007)
Our beloved Mr. Bean and his ceaseless physical comedy can never age. The absurd antics of this lovable character are a treat to re-watch in the Steve Bendelack-helmed Mr. Bean's Holiday.
We see Mr. Bean leaving a dreary London behind for a delightful vacation in the French countryside.
While there, he is mistaken for a kidnapper after having picked up an aspiring actress and a young boy.
Needless to say, it opens the doors for Bean to put his typical shenanigans on display; all while trying to avoid the relentless cops.
32. Last Holiday (2006)
In this Wayne Wang directorial venture, we are introduced to Georgia; a girl who is shocked beyond measure after having discovered that her body is battling a terminal illness.
Soon enough, we find her quitting her job, gathering all her savings, and going on a luxurious vacation to Europe.
Last Holiday rides solely on Queen Latifah's shoulders, whose performance is full of charm and humor. However, the motion picture failed to set the cash registers ringing.
31. Road Trip (2000)
Co-written and helmed for the screen by Todd Phillips, Road Trip tracks the humorous journey of Josh; a guy who accidentally emails a controversial tape to his girlfriend.
Now, he is left with no option but to travel across cities with his three friends to save his relationship.
Even though not all the jokes hit the bull's eyes, this comedy film manages to remain funny throughout its runtime courtesy of its relatable college cliches and enjoyable characters.
30. The Sisterhood of the Traveling Pants (2005)
In The Sisterhood of the Traveling Pants, we get to see four best friends spending their first summer apart.
Even though they are distanced, they end up finding a pair of denims that helps them stay connected with each other.
The exciting bit here is that the jeans fit each one of them even though they have different body structures.
Having said that, we catch the girls having a different experience each during their summer vacation. Needless to say, this motion picture thrives on its undeniable summer vibes and aims to depict women's friendships in a fresh and fantastical light.
29. A Goofy Movie (1995)
Helmed by Kevin Lima, A Goofy Movie is pretty much Disney's family-friendly take on vacation features. The movie showcases Goofy and his son Max as they prepare to hit the road for a summer trip.
However, both have different reasons to go on the said vacation. Soon enough, we see how the son deceives his father into driving across the country to a concert; only so that he can get a chance to impress his high school crush.
This vacation movie gives a vivid throwback to the early days of Disney when viewers could carry VHS tapes for their many vacations.
28. Blended (2004)
Drew Barrymore and Adam Sandler join forces yet again for Blended; only this time as two people with a horrible first date who are accidentally stuck together at a resort for families.
While Barrymore plays the recently divorced Lauren with two sons, Sandler's Jim is a widower with three daughters.
To add to the charm of its lead actors, we also get some gorgeous on-location shooting in this motion picture which goes on to tell us a lot about letting new people into our lives and, of course, not judging a book by its cover.
Watch Blended for being utterly sweet at its core.
27. EuroTrip (2004)
If you think that a comedy like this would appeal only to Americans and Europeans, think again. This inherently funny motion picture tracks the journey of Scott, who, after having been dumped by his girlfriend, decides to travel to Europe to search for his pen pal, Mieke.
EuroTrip, which showcases a bunch of typical teens going for a little quest through Europe, is a great comedy entertainer to watch in the company of your friends; especially if they hail from different countries.
26. Under the Tuscan Sun (2003)
This Audrey Wells directorial venture introduces us to the affable Frances Mayes; a 35-year-old San Francisco writer, who, after having gotten a divorce, is compelled to make peace with terminal writer's block and depression as well.
While dealing with the ordeal, she decides to travel to Italy and ends up purchasing a beautiful villa in Tuscany to turn her life around.
Based on Frances Mayes' memoir of the same name, Under the Tuscan Sun takes full advantage of its eye-catching locations to tell a pretty straightforward story.
It is sappy and a tad unrealistic but still incredibly charming.
25. Weekend at Bernie's (1989)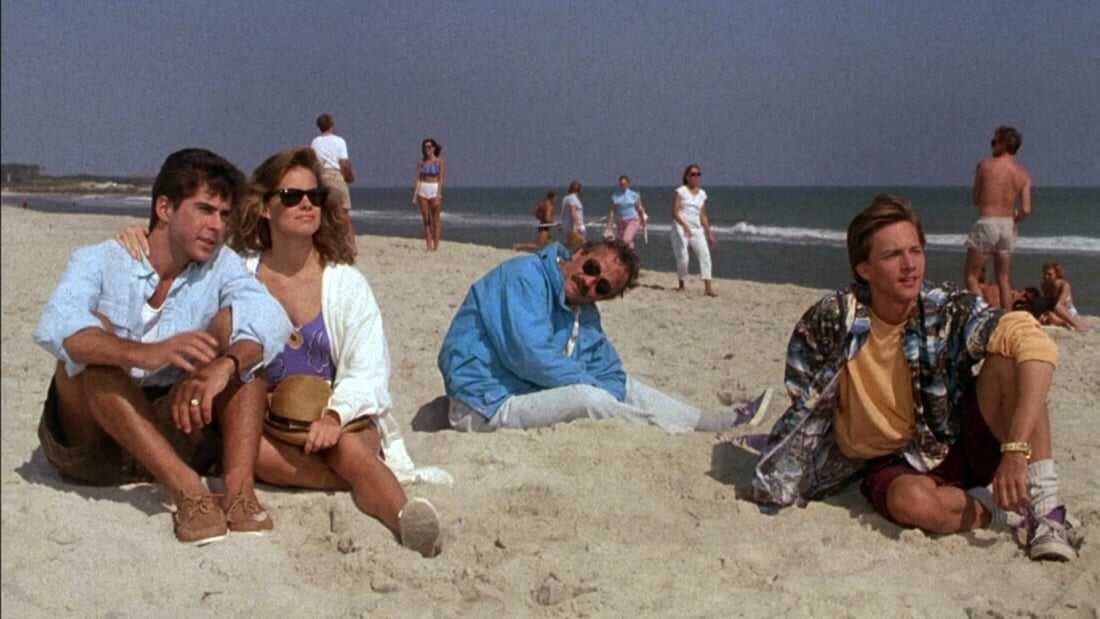 While some vacation movies carry the remarkable zeal of quickly turning into horror fare, there are a few others that take a potentially horrific plot and turn them into something comedic in the true sense of the word.
One such title is Ted Kotcheff's Weekend at Bernie's. We are introduced to two salesmen, Richard and Larry, who are almost killed in their boss Bernie's attempt to assassinate them at his beach house.
This is because the duo seems to have uncovered a fraud that he has committed. Unfortunately for Bernie, he is the one who accidentally gets murdered during the attempt.
And, while this may be his bad luck, it turns into a boon for the viewers as the physical comedy that takes precedence is not something that you'd want to miss out on.
24. The Great Outdoors (1988)
Directed by Howard Deutch, The Great Outdoors features comedy veterans Dan Aykroyd and John Candy in the main lead in its attempt to cover a vacation out in the wild.
The story follows Chet, who wants nothing more than to enjoy a quiet vacation in the woods with his family.
But, after their trip is crashed by brother-in-law Roman and his wife and daughters, the vacation remains everything but tranquil.
The fact that the viewers get to see the two families butting heads during the whole vacation makes for a fun watch.
Meanwhile, we also notice the two clans trying to navigate their seemingly tumultuous relationships; something that makes this title even more watchable and relatable for the average viewer.
23. The Parent Trap (1998)
Co-written and directed by Nancy Meyers, this romantic comedy film is a remake of the 1961 film of the same name, and an official adaptation of Erich Kästner's German novel, Lisa and Lottie.
The story follows identical twins Hallie and Annie, who are separated after their parents' divorce. However, years later during their summer vacation, they chance upon each other at a camp and decide to switch places; all with the sole aim to reunite their beloved parents.
While this warm motion picture opened to favorable reviews from critics, it was Lindsay Lohan who turned out to be the scene-stealer in this summer vacation-themed flick.
22. Home Alone 2: Lost in New York (1992)
While the first installment of the smash-hit Home Alone franchise showed an eight-year-old Kevin being accidentally left behind as his family goes on a vacation, the second installment shows him boarding a flight to New York City and, thus, getting separated from his folks once again.
If the summary isn't exciting enough for you, you'll be elated to know that Kevin soon bumps into two of his old foes, who plan to loot a toy store this time around.
Another box office success for the makers of the series, the second Home Alone film thrives on its amazing performances.
While it certainly is lazily conceived, one can't deny the fact that it is staged with undeniable holiday cheer.
21. City Slickers (1991)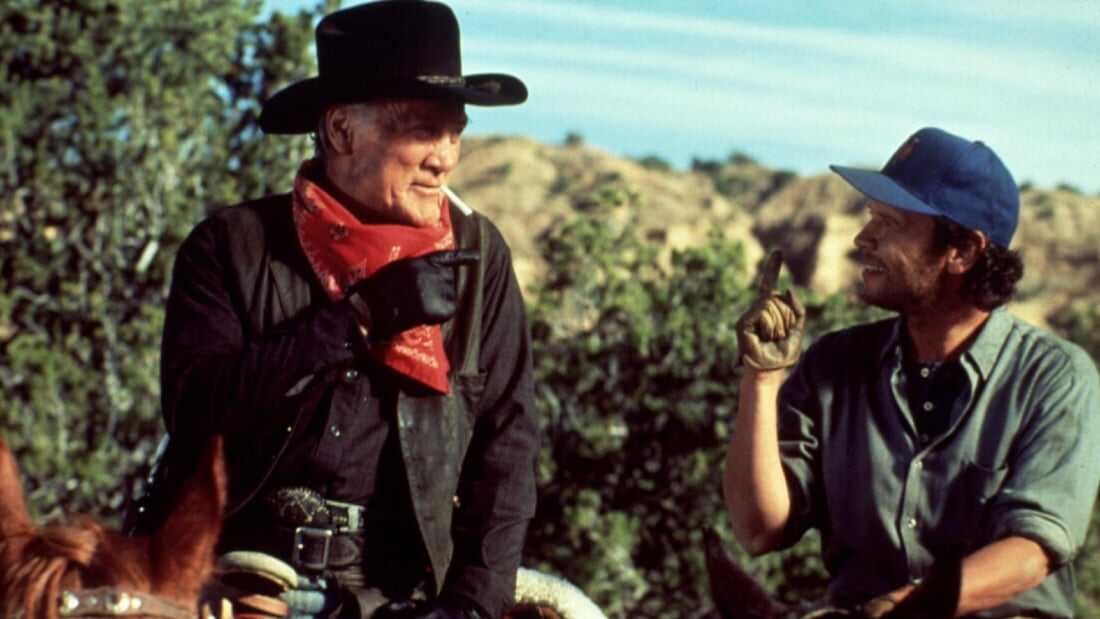 Directed ably by Ron Underwood, this western comedy flick tells us the story of three married urban males who seem to be experiencing midlife crises.
They decide to join forces and take a swing at reigniting their masculinity by taking a supervised cattle drive across the southwestern United States.
The journey, which almost feels like a much-needed vacation for the trio, is jam-packed with fun twists and turns.
It'd be safe to assert that City Slickers is a one-of-a-kind slapstick comedy that might just end up surpassing all expectations.
Its storyline is funny but, come to think of it, it certainly does amount to something more.
20. The Holiday (2006)
Written, produced, and helmed for the big screen by Nancy Meyers, The Holiday tells the story of two wonderful girls from different countries who decide to swap homes for the holidays to take a break from their respective relationship woes.
However, their lives change for the better when they stumble upon and end up falling in love with two local lads.
Even though this partly predictable motion picture carries an evident Christmas vibe, it can be enjoyed at any given time of the year.
The romantic comedy was praised for the performances of Kate Winslet and Cameron Diaz, and its visual aesthetic design.
19. Dil Dhadakne Do (2015)
The second motion picture helmed by filmmaker Zoya Akhtar to make it to our list, Dil Dhadakne Do has been credited with making cruise vacations popular among the Indian audience.
The story follows Kamal and Neelam, who, on the occasion of their 30th anniversary, invite their family and friends to go on a cruise trip.
However, the large group gets to learn a ton of things about each other in particular and life in general during their journey.
Following the release of this modest box office success, travel agencies within the country started to design cruise packages to cash in on its popularity.
18. Dirty Dancing (1987)
In Emile Ardolino's classic late 1980s feature, we are introduced to a girl named Baby, who, while on a vacation with her parents at a placid resort, gets smitten with the resort's rebellious dance instructor.
The father, as usual, is shown to be the villain here as he firmly opposes the relationship between the two; something that naturally ends up creating a rift between him and his daughter.
Not only do we see Baby's character making sense of a lot of things in her life during the vacation but we also see her realizing what it means to truly grow up.
Add to that the fact that the film carries steamy romantic sequences between its two main leads and a solid soundtrack that feels very modern.
17. What About Bob? (1991)
We all know that, sometimes, work doesn't spare us a few days to ourselves even when we decide to go on a vacation.
It follows us to where we are headed in a symbolic sense. However, things get a bit too literal and, subsequently, complicated for renowned psychiatrist Dr. Leo Marvin when he discovers that his new and needy patient, Bob Wiley, has followed him to get counseling while he is on summer vacation with his family.
Talented actors like Bill Murray and Richard Dreyfuss share an electrifying chemistry in this Laura Ziskin directorial venture which contains a ton of classic comedy sequences, each of which only seems to have gotten better with time.
16. Forgetting Sarah Marshall (2008)
Helmed by Nicholas Stoller, this star-packed vacation movie ticks a lot of boxes. While those who are dealing with a terrible break-up may find something to look forward to in this motion picture, the ones who aren't in the middle of devastating circumstances may end up enjoying it immensely as well.
The plot, which concerns itself with showing the repercussions of a break-up, also underscores the significance of finding true love in the unlikeliest of places.
We see Peter Bretter deciding to go for a Hawaiian vacation following his break-up with Sarah. However, he gets the shock of his life after discovering that she has checked in at the same resort as his.
This raunchy comedy, which comprises tender moments and likable characters, thrives on the sharp performances of its entire cast which includes talented performers such as Jason Segel, Jonah Hill, Mila Kunis, Kristen Bell, and Russell Brand.
Better still, you get to see the beautiful beaches of Hawaii which will prompt you to go on an island vacation right away.
15. Monsieur Hulot's Holiday (1953)
This critically and commercially successful French comedy-drama, starring and directed by Jacques Tati, introduces us to the well-meaning but clumsy character of Monsieur Hulot.
It showcases Monsieur Hulot traveling to a beachside hotel for a vacation. There, his many "accidental" antics end up creating havoc for fellow travelers.
Even though there is no story as such to follow in this classic piece of cinema, Hulot's very antics help it explode with merriment.
Watch out for its many collections of sight gags which, many believe, might just be among the best to have ever been portrayed on celluloid.
14. Force Majeure (2014)
One of the most distinct and wonderful features to make it to our list, this Ruben Östlund directorial venture tells the story of a modest family that is on vacation in the French Alps.
However, we soon get to notice how an avalanche ends up having an unthinkable and rather dramatic impact on the entire family.
While Johannes Bah Kuhnke plays the emotionally disturbed husband/father superbly, Lisa Loven Kongsli is effortless as the wife/mother. The film's summary could mislead many for it is not a "natural disaster" drama.
It is a commentary on relationships and the expectations attached to males and females as two separate genders. In addition, Force Majeure also casts a light on the fact that human beings are a victim of their instincts and interpretations.
13. The Way, Way Back (2013)
Written and directed by Nat Faxon, this coming-of-age comedy-drama feature traces the journey of a reticent 14-year-old Duncan, who is compelled to go on a summer vacation with his mother, her overbearing boyfriend, and her boyfriend's daughter.
After having failed to fit in with the rest, Duncan finds an unexpected friend in Owen, who happens to be the manager of the Water Wizz water park.
All thanks to its talented star cast and a well-executed plot, The Way, Way Back is a satisfying coming-of-age drama that serves as a solid vacation film as well. Go watch.
12. Sideways (2004)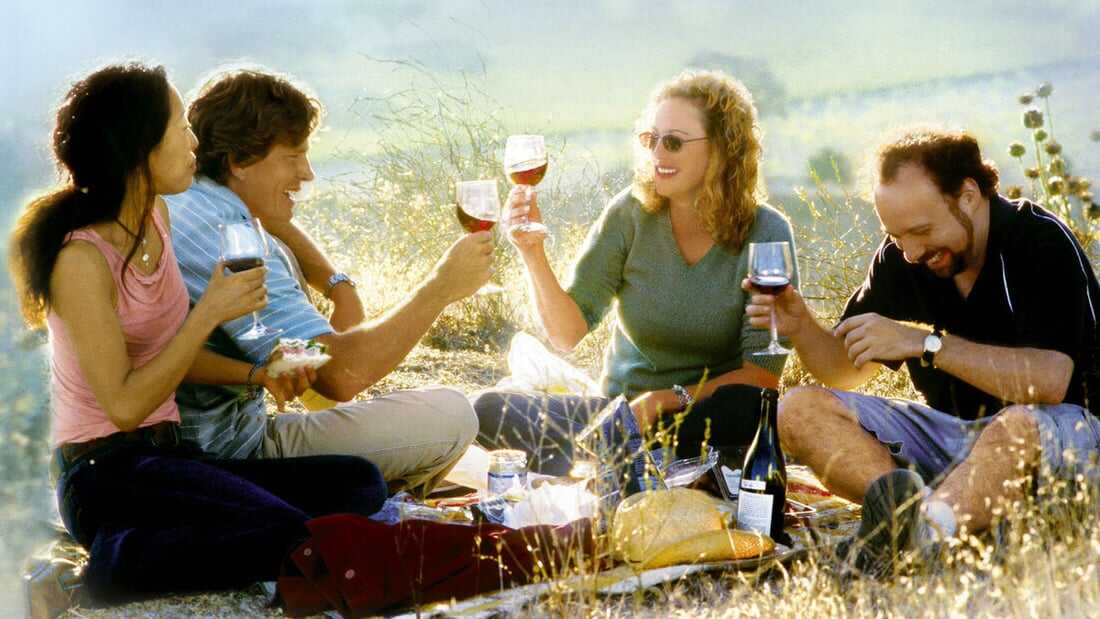 A film adaptation of Rex Pickett's novel of the same name Sideways traces the journey of a budding writer, Miles, and his soon-to-be-married actor friend, Jack, who decide to take a road trip through Santa Ynez Valley wine country to celebrate his awaited bachelor party.
Helmed by Alexander Payne, this comedy-drama road feature premiered at the Toronto International Film Festival and received widespread acclaim from critics.
Furthermore, the smart and funny motion picture went on to win the Best Adapted Screenplay trophy at the 77th Academy Awards.
11. National Lampoon's Vacation (1983)
Make way for Clark Griswold and his over-enthusiastic family members who decide to embark on a cross-country expedition from Chicago to a Los Angeles amusement park.
At the same time, be prepared to encounter several hurdles that threaten to turn their long-awaited vacation into a total nightmare.
All thanks to the admirable spirit of the family though, they do their very best to ensure that nothing stops them from having a good time during the vacation season.
One of the most well-known vacation movies out there, National Lampoon's Vacation also qualifies as your trademark road trip movie.
10. National Lampoon's Christmas Vacation (1989)
Even though you'll find this motion picture making it to the list of the best Christmas movies, it has to be noted that it doesn't show the family traveling anywhere.
This time around, the family members can be seen filling their homes with enough festive cheer to make the vacation a memorable one for both their guests and viewers.
Packed with campy humor and slapstick moments, National Lampoon's Christmas Vacation can be seen any time during the year by the fans of this beloved classic.
This solid seasonal treat will be appreciated better if it is seen in the presence of your dear ones.
9. Little Miss Sunshine (2006)
Starring an ensemble cast that includes Steve Carell, Toni Collette, Greg Kinnear, Paul Dano, and Abigail Breslin, this Academy Award-winning tragicomedy tells the story of a family that decides to travel across the country to allow their daughter to participate in a beauty pageant.
However, they are unaware of what the journey has in store for them, and that is precisely where the charm of the film lies.
Little Miss Sunshine, which shows a beautiful step-siblings relationship between Dano and Breslin's characters, should be seen for its praiseworthy performances and screenplay.
A family that loves to travel together will end up adoring the on-screen journey in this one.
8. The Hangover (2009)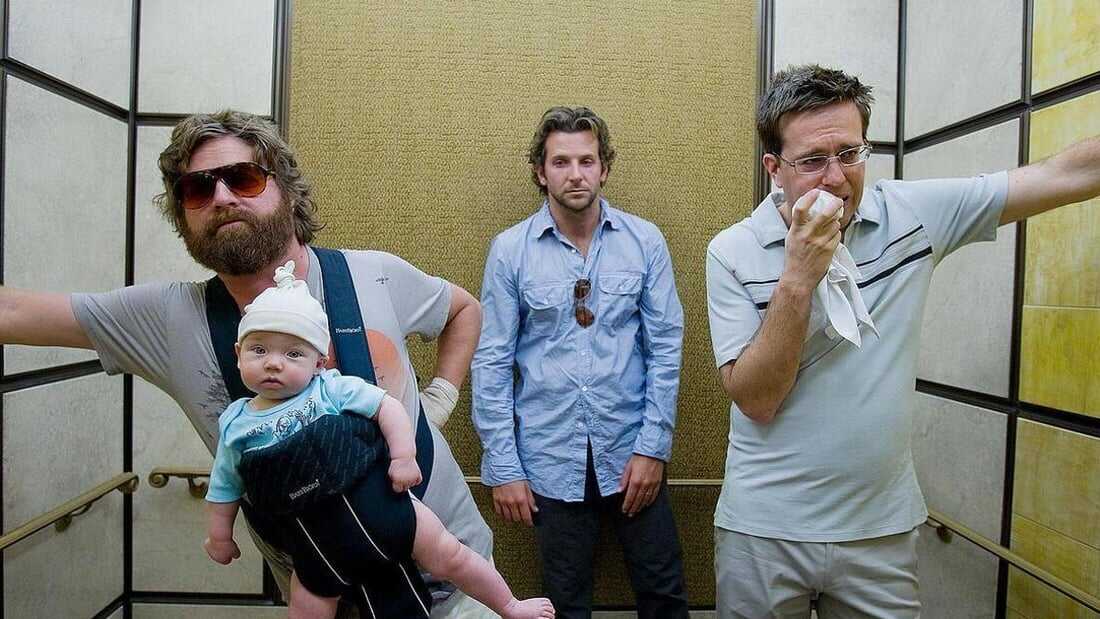 Arguably the most popular feature film to make it to our list, The Hangover is a testament to the fact that not all vacations are supposed to be enjoyed in the presence of one's family.
Therefore, it allows the bad boys the world over to chaperone the superior trio of Zach Galifianakis, Bradley Cooper, and Ed Helms on a boys' trip to Las Vegas.
However, the plot soon thickens when the boozy bachelor party goes haywire and, consequently, sets the stage for ceaseless chaos and a comedy-filled adventure.
Furthermore, things get even more complicated when one of the friends goes missing. Needless to mention, the group has no option but to retrace their steps and find the groom before his wedding starts.
Trust the genius Galifianakis and his pals to provide you with countless belly laugh-worthy moments in this one.
7. Before Midnight (2013)
The third installment in the much-loved Before trilogy, Before Midnight, showcases longtime lovers Jesse and Celine spending a summer vacation in Greece with their children; all while reminiscing about their lives together.
Directed by Richard Linklater, this feature film premiered at the Sundance Film Festival and received widespread critical acclaim for its thoughtful exploration of romance and age.
The Before trilogy of movies is essentially about its protagonists indulging in meaningful conversations. But, when the conversations are so relatable and thought-provoking, who is ever going to complain? Surely not us!
6. Up (2009)
Trust Pixar Animation Studios to bankroll projects that are more than capable of moving you. It is not surprising to note then that filmmaker Pete Docter's Up is right up their alley.
The computer-animated film tells the story of an elderly widower who makes up his mind to go on a trip to South America with a Wilderness Explorer to fulfill the wish of his late wife.
Aside from the two main protagonists, the supporting characters also come off as visually appealing and endearing in this one.
In addition, the top-notch sound design and the film's emotional core hit you right in the feels.
5. Queen (2013)
Helmed by Vikas Bahl and headlined by Kangana Ranaut, Queen is a critically and commercially successful Bollywood feature that tells the story of Rani; a girl who decides to go on a honeymoon-cum-vacation alone after her fiance leaves her just before their wedding.
While out and about, she gets the opportunity of a lifetime to pull herself out of her comfort zone and rediscover herself.
This drama film won several accolades at prominent Indian and international award ceremonies and has been cited as a groundbreaking and influential feminist entertainer by many scholars.
While it is not your traditional vacation flick, it certainly is a must-see.
4. Before Sunset (2004)
Celine and Jesse stumble upon each other yet again in this Richard Linklater-helmed romantic drama. The duo crosses paths for a single day in Paris; only this time to figure out how things may have turned out to be if they had acted on their feelings back when they first met.
While the first installment of the Before trilogy captured the immediacy and urgency of ideal youthful love, the second installment, which is also equally refreshing and original, reflects amazingly on the aftermath of that perfection.
3. Before Sunrise (1995)
This critically acclaimed romantic drama does not only serve as a vacation film but also aims to explore postmodern romance with remarkable sincerity and authenticity.
The ravishingly beautiful motion picture tells the story of an American tourist, who, at the end of his European vacation, happens upon a young French woman on a train.
The two decide to spend their remaining hours in each other's company. While it is not a big-budget entertainer, Before Sunrise is a cut above the rest of the love stories that portray their characters vacationing in a foreign land.
2. On Golden Pond (1981)
Starring the great Katharine Hepburn and the iconic Henry Fonda in his final theatrical outing, On Golden Pond, tells a heart-warming tale that will connect with anyone who likes to spend time in their quaint cabin or their respective holiday homes.
A classic summer vacation movie, its beauty lies in the fact that, aside from exploring the twilight years of a loving marriage, it also casts a light on all of its characters and the individual relationships that they share.
Helmed by Mark Rydell, the timeless family drama earned high acclaim from viewers and critics alike. While it is an absolute delight to see legends like Hepburn and Henry sharing the screen space, Jane Fonda's inclusion as a critical supporting character serves as a cherry on top of the cake.
Trust us when we say that missing out on this motion picture is going to be a huge loss on your end. It is simply a true-blue masterpiece.
1. Zindagi Na Milegi Dobara (2011)
Emotional, poetic, and surprisingly deep, Zindagi Na Milegi Dobara is easily one of the best vacation movies to have hit the screens anywhere in the world.
Helmed by Indian filmmaker Zoya Akhtar, it traces the journey of close friends Kabir, Imran, and Arjun, who plan to take a vacation in Spain before Kabir's marriage.
However, the trip turns into a much sought-after opportunity to not only heal old wounds but also fall in love with life and battle their worst fears.
This light-hearted slice-of-life movie remains true to its narrative and thrives on its solid lead performances, mind-blowing cinematography, and soothing music to make an impression.