»
Top 50 Best Lion Movies Of All Time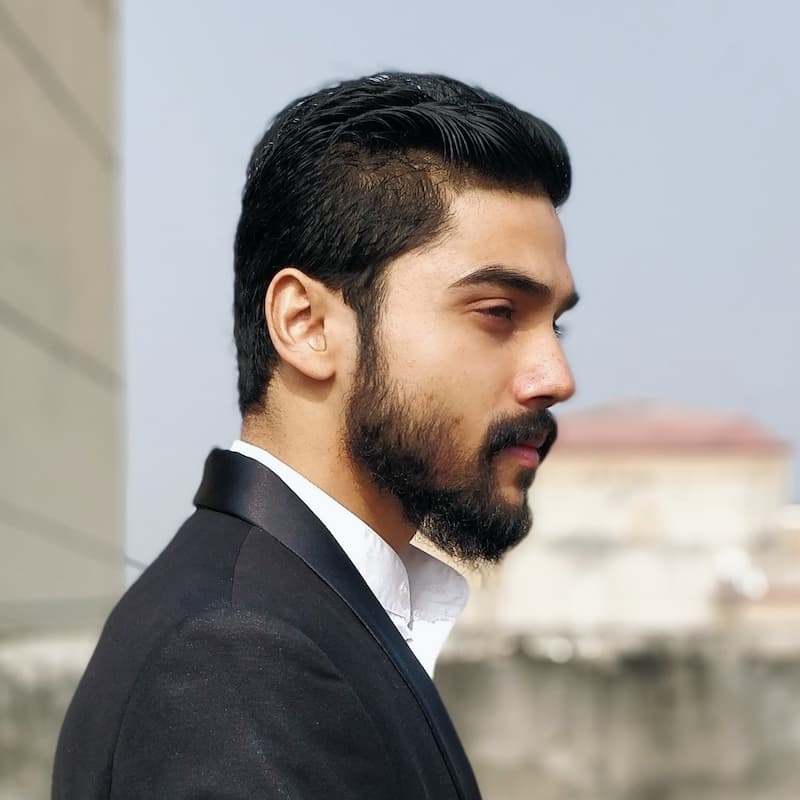 Shivam-Updated Jan 6, 2023
---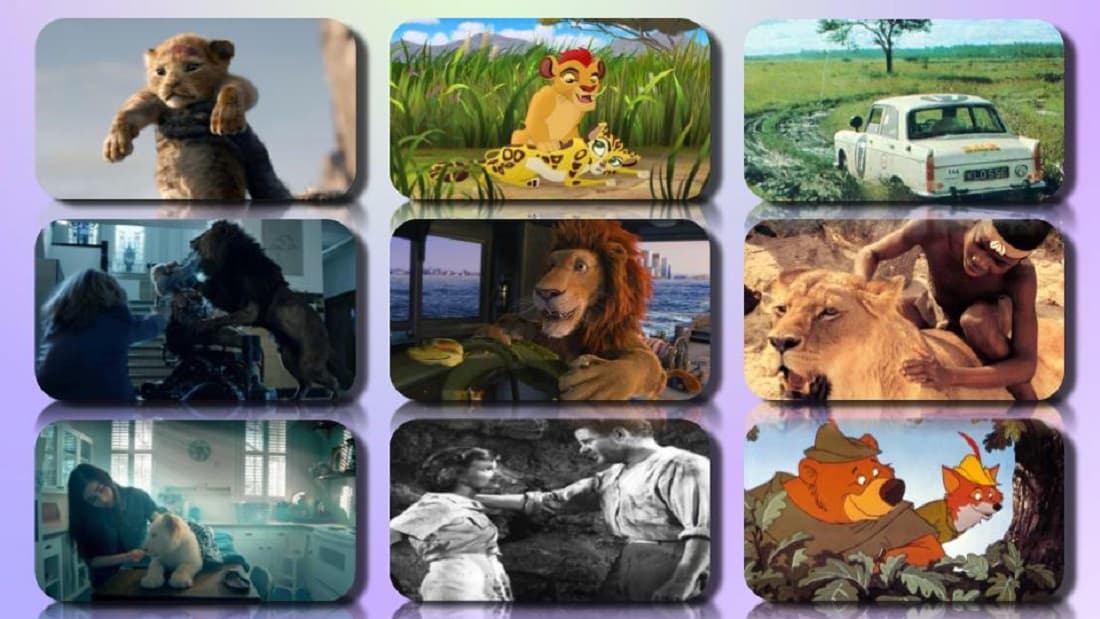 A lion is a truly majestic creature that, aside from the wild, can also be observed in motion pictures and documentaries that are inspired by its life.
It is often depicted as a bloodthirsty animal not because it is, but because of its rather frightening appearance; one that can scare people out of their wits.
That said, the wild creature is certainly a meat eater that can go off the hook if it is pushed to its limits.
While people do not like to see violence against animals in the movies, they are usually okay with the idea of going against lions if the makers of a particular project have designed a nightmarish scenario for the purpose of entertainment.
We have chanced upon several mainstream features and documentaries in which the characters can be seen invading the territory of the said animal.
However, there isn't a dearth of titles that also portray people actively trying to understand the significance of lions in our ecosystem.
Therefore, we are doing our part and fetching you a compilation of the best credits that feature lions in several different ways.
Stay with us and read through to find out which film takes the top spot.
50. Tarzan and the Golden Lion (1927)
Based on the novel of the same name by Edgar Rice Burroughs, this J. P. McGowan directorial venture tracks the journey of Tarzan, who races against time with his pet lion Jad-bal-ja to save his sister, who is set to be sacrificed to a lion-god.
While the plot of this motion picture doesn't entirely revolve around a lion, the creature does have a fair role to play in the screenplay.
Having said that, Tarzan and the Golden Lion is strictly for the people who may have made it a point to see all of the Tarzan films in their lives so far.
49. Killers of Kilimanjaro (1959)
This old-school safari adventure feature is full of action and wild animals. We are introduced to railway engineer Robert Adamson, who, during the German colonial rule in the 19th century, is seen arriving in the Kilimanjaro Region to finish building a railroad through hostile territory.
Killers of Kilimanjaro may not come across as a great film, but it is certainly not bad. While the performances are more or less fair, it thrives on its cinematography and shots that focus primarily on the wild beasts of the jungle.
48. The Sword and the Claw (1975)
Helmed for the screen by Natuk Baytan, The Sword and the Claw tells us the story of a baby prince, who, after the murder of his father, is taken into the forest and raised by a pride of lions.
As a result of his upbringing among beasts, he grows into a super-strong individual who is able to use his beastly strength and claws to get revenge on the new king and his troops.
While you'll read about a ton of lion features in our piece today, none of them showcases a "Lionman" who likes to tear apart people's faces with his mere fingers. Yes, you read that right!
47. The Wild (2006)
The Wild is an unabashed mass entertainer. Its super crazy plot has a ton of comedy, action, and emotion to keep the viewers amused.
The story follows an adolescent lion, Ryan, who is accidentally shipped from the New York Zoo to Africa. However, that is only a part of the adventure that the screenplay projects.
We get to see how Ryan's father and fellow animals join forces to embark on a mind-blowing journey to find and rescue him.
The movie, which takes you along on a ride with these loveable animals, is not only perfect for children but also an excellent watch for adults who are looking forward to having a good time.
46. The Lion Guard: Return of the Roar (2015)
Directed by Howy Parkins, this animated television movie is a spin-off of the much-admired The Lion King trilogy of films.
The story follows Kion, the young cub of Simba and Nala, who puts together a team of young and tenacious animal confidantes known as the Lion Guard.
Their only aim is to keep watch over the Pride Lands and protect the circle of life at all costs.
Since both the animation and storytelling of The Lion King franchise had set new benchmarks, the execution of The Lion Guard: Return of the Roar was dubbed a disappointment by fans and critics alike.
Be that as it may, we are certain that the children might find something to look forward to in this lion flick as well.
45. Prey (2016)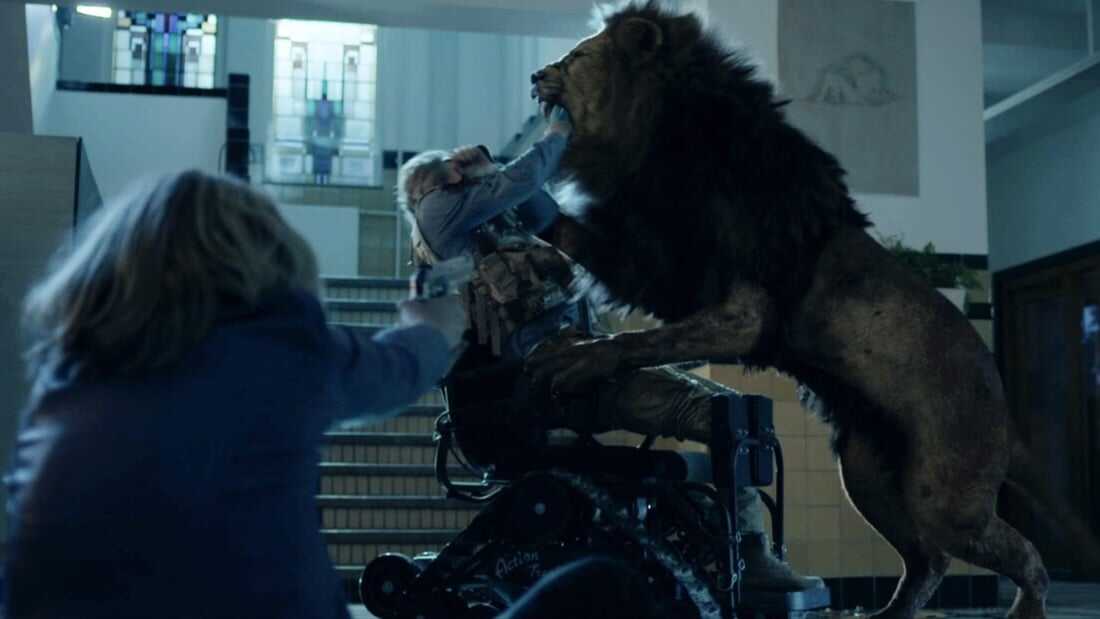 This Dick Maas directorial venture is a true-blue thriller that showcases a zoo veterinarian leading the hunt for a monstrous lion that has terrorized the Dutch capital of Amsterdam and shocked its residents.
While the enormous beast does its job of injecting chilling sequences that comprise lots of blood and gore, what the viewers wouldn't expect is a subtle dose of black comedy that is peppered throughout the film's screenplay.
Furthermore, the colorful and competent cinematography and the atmospheric musical score make Prey a fair one-time watch.
44. The White Lions (1981)
This Mel Stuart-helmed feature film outlines the journey of a college professor, his wife, and daughter, who visit the African wildlife to live and study the rare white lions of the region.
A must-see for all animal lovers, The White Lions is a touching feature that will allow its kid audience to wholeheartedly enjoy the adventures of the family.
Also, watch out for the adorable lion cubs who are ready to steal your hearts; in case you, indeed, decide to give this title a try.
43. Lena and Snowball (2021)
This heart-warming family film introduces us to two endearing characters: a lonely teenager named Lena and a white lion cub, who end up forming an unlikely but lovable bond.
We get to see how the girl goes out of her way to protect her furry friend from the poachers who kidnapped it and are willing to do whatever they can to get it back.
Directed by Brian Herzlinger, Lena & Snowball is a tale of friendship that can and should be seen with young kids around.
42. George of the Jungle (1997)
Directed by Sam Weisman and based on Jay Ward and Bill Scott's American animated television series of the same name, this action comedy film tracks the adventurous journey of George, who happens to be the lone survivor of a plane crash.
He is found and raised by a wise gorilla in the jungle. However, one fine day, he saves Ursula and is convinced to move from his comfortable jungle life in Africa to San Francisco.
Will he be able to withstand the complexities of the modern world? Starring Brendan Fraser and Leslie Mann in the lead, George of the Jungle comprises wrestling scenes with a lion that were performed by its trainer itself to avoid any injury to the cast and crew.
Also, both a real and a fake lion were used during the shoot.
41. Lion of Oz (2000)
Directed by Tim Deacon and based on Roger S. Baum's book Lion of Oz and the Badge of Courage, this animated feature is set before the events depicted in the 1900 children's novel The Wonderful Wizard of Oz.
The screenplay shows us a young circus lion traveling via hot air balloon to the extraordinary land of Oz.
After having been separated from his dear pal Oscar, he happens to run into the Wicked Witch of the East.
Soon after, we see the witch forcing the lion to fetch her the legendary Flower of Oz; something that will make her more powerful.
Even though this lion motion picture has failed to age well, it has a clever story that will be appreciated by kids even today.
While the animation may not really be up to the mark, the central characters do have depth in them.
40. Clarence, the Cross-Eyed Lion (1965)
Helmed for the screen by Andrew Marton, Clarence, the Cross-Eyed Lion became the basis for the television series Daktari.
The story of the motion picture follows a veterinarian and his doting daughter who happen to be living in Africa.
Together, the duo does its best to take care of a cross-eyed lion, make friends with other animals, and learn about local wildlife and the rich cultural heritage of the region.
Those who are looking forward to seeing a decent family-oriented animal adventure feature will not be disappointed with this one.
There is a ton of human interaction and comedy to boot here.
39. Fearless Fagan (1952)
Those who are fond of pets are considered to be compassionate individuals. However, how exactly would you describe someone who wishes to raise a lion?
Well, this Stanley Donen directorial venture might just answer the question for you. The story follows a circus clown, Floyd Hilston, who loves his pet lion Fearless Fagan and raises it dutifully since its birth.
However, when Hilston is drafted into the military, he has no other option but to train Fearless Fagan to join him as well.
Inspired by the 1951 Life Magazine story Fearless Fagan Finds a Home, this feature film is almost certain to provoke uproarious laughter.
38. Savage Harvest (1981)
This action-adventure natural horror flick shows us how a horde of hungry lions, who are victims of a severe drought in Kenya, end up surrounding a wealthy family on their plantation.
With little chance of survival, a guide attempts to devise a much-needed plan of escape. It is imperative to notify our readers that even though Savage Harvest hit the screens in 1981, some rather harrowing attack sequences might end up startling the viewers even today.
Furthermore, the ferocity with which the beasts attack the characters is almost as severe as the confrontation that they have among themselves.
37. Fluffy (1965)
Director Earl Bellamy's Fluffy tells the story of a college professor, Daniel Potter, who gets into trouble when he tries to prove that any animal, with the right amount of love and care, can be domesticated.
However, things go haywire when the people around him are introduced to his dreadful pet, which happens to be an African lion.
It's been well over half a century since this movie was released, but it continues to be a pleasing watch; especially if you're catching it with your family and friends.
Even though the comedy might feel a little corny today, you are in for a treat if you wish to take some time to get acquainted with Fluffy.
36. Androcles and the Lion (1953)
Helmed by Chester Erskine and inspired by the 1912 George Bernard Shaw play of the same name, Androcles and the Lion traces the journey of Androcles; a devout Christian who follows his religion's teachings and strives to apply them to the treatment of animals.
After having removed a huge thorn from a lion's paw, he ends up creating a friend for life. This is their story.
Aside from having the lion as a significant character, this motion picture is also backed by its refreshingly off-beat sense of humor, costumes, and lead performances.
35. Napoleon and Samantha (1972)
This adventure drama film, which has been directed by Bernard McEveety, tracks the journey of Napoleon, who escapes to the wild with his pet lion Major and his friend Samantha, following the demise of his beloved grandfather.
However, he decides it's time to head back to the city after Danny convinces him to do so. Toplined by talented actors such as Michael Douglas and Jodie Foster, Napoleon and Samantha introduce us to two runaways and a guardian lion who go on to have an incredible adventure in the wilderness.
That being said, not many are aware of the fact that Foster was attacked by one of the lions while shooting for the motion picture.
She apparently carries the scars of the attack to this very day.
34. The Lion and the Horse (1952)
In this B-Feature western, which has been directed by Louis King, it is a horse that is essential to the plot.
However, there is also a minor plot surrounding an escaped circus lion. The story follows a cowboy who snares a wild stallion and then sells it to a cruel rodeo owner.
But, things get interesting when he makes an effort to buy the horse back. While the chemistry between the cowboy, the stallion, and a young girl is something to watch out for in this motion picture, what also gives it a definitive edge is the fact that there is humor and action in equal measure as well.
33. East of Java (1935)
The film traces the journey of a group of survivors of a shipwreck, who find refuge on a tropical island.
However, they are soon compelled to fend off attacks by the ship's cargo of lions and tigers.
East of Java, which has been directed by George Melford, is a horror/adventure motion picture that showcases a ship with a cargo of lions, panthers, leopards, and tigers crashing on the shore on a small island and, subsequently, stalking the band of survivors for their own survival.
32. Beast (2022)
Based on a story by Jaime Primak Sullivan, this gripping survival thriller pays a fitting tribute to the one true king of the beasts.
The plot of the motion picture starts modestly and first familiarizes its viewers with a recently widowed father and his two teenage daughters.
As they visit a South African game reserve, they, along with the villagers, soon find themselves being hunted by a massive rogue lion who will stop at nothing!
Beast, which has been helmed by Baltasar Kormákur and stars Idris Elba in the lead, delivers non-stop entertainment, albeit at the cost of trite and surface-level writing.
It is an enjoyable ride that works primarily because of the legit jump scares and the pertinent anti-poaching "message" that it ferries.
31. The Wolf and the Lion (2021)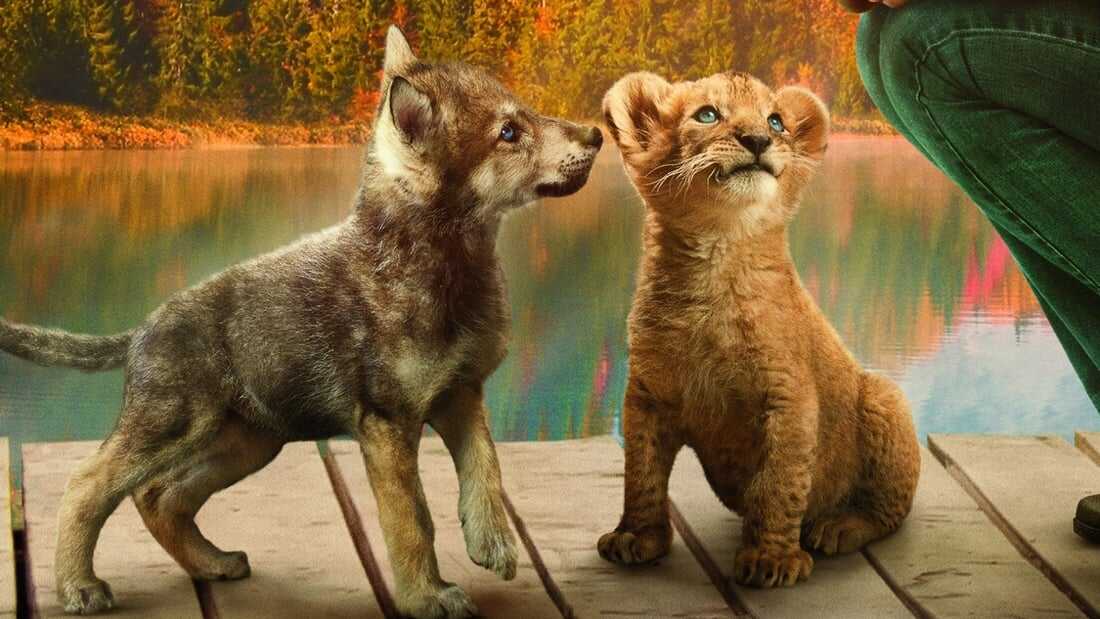 Helmed by Gilles de Maistre, The Wolf and the Lion tells us the story of a wolf pup and a lost lion cub who happen to be rescued by a girl in the heart of the Canadian wilderness.
We soon witness the trio forging an inseparable bond; one that changes their lives forever. While the plot of this motion picture revolves around the journey of its three central characters, it also, in several ways, goes on to tell a lot about the undeniable significance of care, fidelity, and love; especially in today's age and world.
Thanks to their production, motion pictures such as these remind us that we are human and that we need to be a bit more considerate and humane as we continue to evolve in life.
30. The Lion (1962)
Helmed by Jack Cardiff and starring William Holden, Trevor Howard, and Capucine in pivotal roles, this British-American adventure drama is based on Joseph Kessel's 1958 novel Le lion.
The viewers get acquainted with a young Tina, who, while in Kenya, befriends a lion and embraces local customs gladly.
However, her mother summons her American father and suggests he bring Tina back to civilization so that she can have a "proper" upbringing.
Given the fact that this feature film hit the screens back in the early 1960s, it might be difficult for most of us to relate to the characters.
But, what we'd certainly relate to is the lion in the movie who does its best to keep us all amused.
29. Pride (2004)
This live-action television comedy-drama venture follows the adventures of a rebellious young lioness, Suki, as she strives to make her way through life in the dangerous wilds of Africa.
After having declined to hunt other animals for her survival, she is compelled to leave her pride and join a group of rogue lions known as the Wanderers.
The viewers catch hold of Suki falling for the dashing Dark and clashing with the ruthless Harry. Eventually, they even get to see her trying to find her way back to her pride.
The feature, apart from its use of CGI technology, thrives on the vocal performances of acclaimed British actors such as Kate Winslet and Dame Helen Mirren.
28. Roar (1981)
Headlined by Hollywood star Tippi Hedren, Roar, first and foremost, makes sure to notify its viewers that no animal was harmed during its production.
However, it barely goes on to say anything about the safety of the humans involved in its making. The leading actress later went on to confess in her autobiography that a large group of lions and tigers were involved in the filmmaking process.
As a result, the cast and crew members were injured due to multiple animal attacks on the sets. The story follows the journey of Madeleine and her three children who go on to join their father, Hank, during their holidays.
Hank, who lives with wild animals, fails to do much when the family is confronted by the creatures. Often described as "the most dangerous film ever made", Roar may not be a technically superior flick but the real-life dangers involved in its production make it difficult to not want to see it.
27. Rivers of Fire and Ice (1968)
This documentary drama, which has been helmed by wildlife enthusiast Ron Shanin, has found a place on our coveted list not only because it includes a lion hunt but also because it allows the viewers to see snakes, pygmies, a Congo volcano, and the Mountains of the Moon as well.
Shot entirely in documentary format, Rivers of Fire and Ice is a praiseworthy attempt to explore Africa's diversity and the life of the continent's inhabitants; all while making sure to culminate with the eruption of Mount Kilimanjaro.
26. The Lion Child (1993)
This Patrick Grandperret directorial venture tracks the ambitious journey of a young African boy who uses his friends and wild animals to defend his village from Arab slave traders.
This hidden gem does a commendable job of showing the interaction between young African people with animals. Also, the amazing cinematography is like the icing on the cake.
The Lion Child is not only for the admirers of "The King of the Jungle" but also for those who like to see an authentic story involving young people.
25. The African Lion (1955)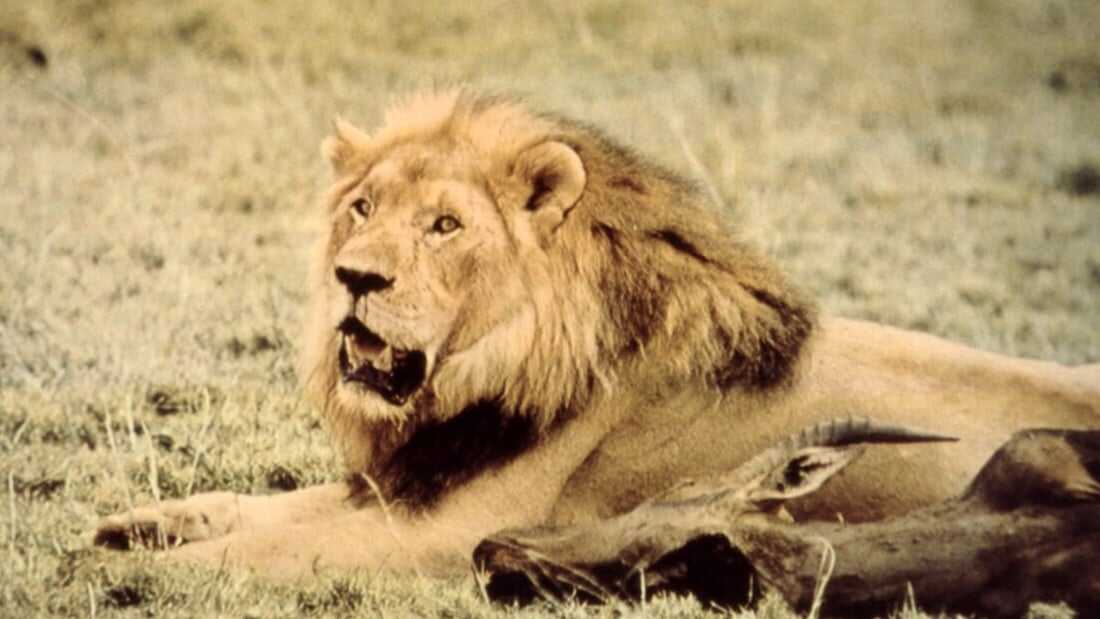 This James Algar-helmed documentary feature is especially for those who have a fascination with lions.
Through the experienced eyes of wildlife experts Elma Milotte and Alfred Milotte, we get to glimpse heartwarming sequences of a mother lion caring for her playful cubs.
Also, how can there be a dearth of action when a project is being filmed on lions? Needless to say, The African Lion also allows you to experience the thrill of the hunt.
24. The Lion King II: Simba's Pride Sing-Along (1998)
The second installment in The Lion King trilogy of feature films traces the journey of Simba and his beloved daughter, Kiara.
The viewers get to see how their relationship is put to test when she escapes Timon and Pumba's care and ventures into the forbidden lands.
Furthermore, things get a bit edgy when she ends up befriending Kovu, the son of the wicked Scar. The Lion King II: Simba's Pride Sing-Along, which was at least partially influenced by William Shakespeare's Romeo and Juliet, initially opened to strictly average reviews.
However, the animated film has managed to age well and is now considered to be one of Disney's finest direct-to-video releases.
23. The Lion King 1 1/2 (2004)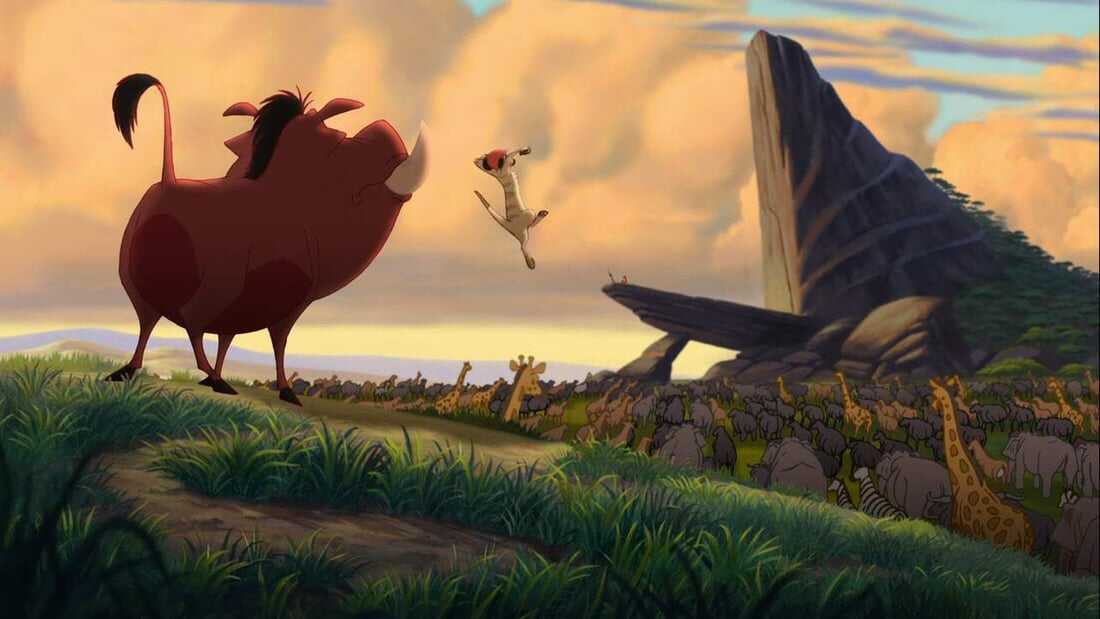 The third and final installment in The Lion King franchise of motion pictures aims to track the journey of Timon, who leaves his colony because he feels that he is a total misfit.
Soon after that, he meets the lonely Pumbaa. The two grow extremely fond of each other as they traverse through numerous adventures while looking for a place they can refer to as home.
Based on The Lion King's Timon & Pumbaa, The Lion King 1 1/2 is one of the most distinct direct-to-video releases to have ever been bankrolled by Disney.
We say so because it is a retelling of The Lion King (1994) from the point of view of comic sidekicks Timon and Pumbaa; something that certainly makes it an integral part of the series.
22. Relentless Enemies (2006)
Narrated by Jeremy Irons, this dramatic documentary revolves around a pride of lions as they religiously stalk and attempt to hunt a powerful buffalo prey on an island in the Okavango Delta.
This documentary pays a fitting tribute to mother nature and its wonderful creation, the beastly lions. It is a must-see for people who share an affinity for the vivid projects of National Geographic.
The wonderful scenery and exceptional cinematography in Relentless Enemies help in making it tell an emotionally wide-ranging and dramatic story with elan.
21. Robin Hood (1973)
This classic animated Disney motion picture from the first half of the 1970s brought the kids one of their favorite animated heroes in Robin Hood.
We see the popular outlaw forming a gang in Sherwood Forest to fight against the injustices of the Sheriff of Nottingham.
The gang decides to go against the authorities because the sheriff has levied unjust taxes on the people after the greedy and inconsiderate prince orders him to do so.
Directed by Wolfgang Reitherman, this feature film projects Prince John as a young and childish lion. In comparison, his older brother King Richard is portrayed to be a stronger lion with a large and full mane.
20. Christian the Lion (1971)
Christian the Lion is a rather underappreciated documentary film that is based on a true story that took place in the 1970s and was duly covered by the newspapers of the time.
We join Christian on his journey after he is born in a zoo in 1969. Soon after his birth, he is bought and sold by Harrods to mates John Rendall and Ace Bourke, who decide to keep him in the basement of their London furniture store.
However, in 1971, they return him to his ancestral home in Kenya under the care of lion expert George Adamson.
Adamson soon reintroduces Christian to the wild, where he begins to head his own pride in due time. Even though Rendall and Bourke had not seen Christian in over nine months, the viral clip and documentary show the trio reuniting; something that forms the basis for a story of a lifetime.
19. Jungle Emperor Leo (1997)
This Yoshio Takeuchi-helmed animated feature film traces the journey of greedy humans searching for precious stones for their personal gain.
During their relentless pursuit of the same, they end up entering the territory of a white lion named Leo and his beloved family.
When Leo and his family and friends sense danger, they take the onus on themselves to protect the forest from outsiders.
As entertaining as Jungle Emperor Leo may be, it also comes with an ever-so-relevant social message; one that advises human beings to protect nature and stop exploiting the earth's natural resources for their limitless greed.
18. To Walk with Lions (1999)
Helmed for the screen by Carl Schultz, this drama feature is based on the life of naturalist George Adamson; someone whose tryst with nature also went on to inspire the book 'Born Free'.
We see George and his brother run a lion conservatory and assist lions from zoos to return to the wild peacefully.
It has to be pointed out that Adamson continued to spend the latter part of his life protecting the lions and other wildlife in the Kora National Reserve, Kenya.
To Walk with Lions is an inspiring story that underscores the fact that people can achieve almost anything in their lives if their hearts are in the right place and if they really put their minds to it.
17. White Lion (2010)
This Michael Swan directorial venture lends you the feel of a documentary, but it doesn't seem to get monotonous at any point.
The film tracks the journey of an African tribesman who tries to prevent a trophy hunter from killing a sacred and magnificent white lion; one that has been rejected by his pride due to its skin color.
This scenic beauty of this fascinating motion picture gets half the job done for its viewers. The screenplay, thankfully, moves at a constant pace and ensures that the children enjoy the exploits and comprehend the message behind the motion picture.
16. Madagascar: Escape 2 Africa (2008)
Directors Tom McGrath and Eric Darnell bring together the formidable team of Alex, Marty, Melman, and Gloria, who find themselves in Africa, where Alex, the beloved lion, reunites with his long-lost parents.
At the same time, his father's rival, Makunga, hatches a plan to be the undisputed king of the jungle as soon as he possibly can.
This computer-animated adventure comedy project, which was the sixth highest-grossing motion picture of 2008, was considered to be an improvement on its predecessor by several film pundits.
While Madagascar: Escape 2 Africa was praised for sketching its characters well, it also received a fair amount of appreciation for its crispier animation this time around.
15. The Last Lioness (2009)
This documentary traces the journey of a sole warrior; lioness Lady Liuwa, who lives alone on Zambia's Liuwa Plain.
Unfortunately, illegal trophy hunting has gone on to destroy the rest of her species in the region. Needless to say, Lady Liuwa has absolutely no pride to help her survive.
She alone must do everything in her capacity to ensure her survival. Indeed, she is the one true Last Lioness.
The Last Lioness is a project that not only familiarizes its target audience with the plight of the species today but it does so through the eyes of its esteemed titular character.
14. Mia and the White Lion (2018)
This Gilles de Maistre directorial venture is credited with portraying one of the finest human-lion relationships on the big screen.
A captivating lion movie for people of all age groups, Mia and the White Lion traces the life-altering journey of Mia, who moves to South Africa with her family to manage a lion farm.
While there, the eleven-year-old girl ends up developing a special bond with a white lion cub named Charlie. However, things soon go for a toss when she uncovers her father's well-kept secret.
Mia and the White Lion thrives on its subject matter and has a rather relevant message to convey about tourism and hunting. It is a must-see for all lion enthusiasts out there.
13. The Ghost and the Darkness (1996)
Now, we all know that lions are not evil creatures at all. However, if we try to push them in any way, they, like most wild animals out there, can be motivated to kill.
That is exactly what we get to see in this historical adventure drama flick helmed by Stephen Hopkins. The viewers are introduced to a bridge engineer who teams up with an experienced hunter to track down and kill two lions.
The creatures are apparently responsible for attacks on local laborers who are working on the development of the Uganda-Mombasa Railway in East Africa in 1898.
Even though wild animal enthusiasts are duly aware of the fact that lions tend to go out of their way to avoid humans since they prefer meatier prey, The Ghost and the Darkness does a splendid job of portraying them as cold-blooded killers.
This fictionalized account of the Tsavo man-eaters paints a rather interesting and dramatic picture of what may have happened in Tsavo decades ago.
12. The Lion King Sing-Along (2019)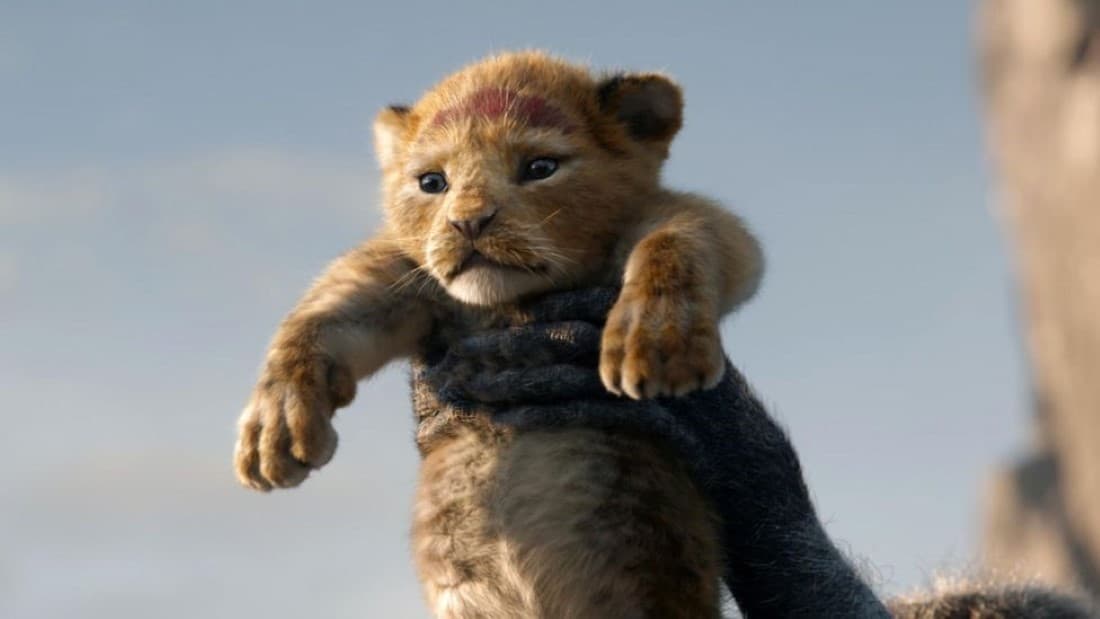 A photorealistic computer-animated remake of Disney's traditionally animated 1994 cult classic film of the same title, this musical drama has been helmed for the screen by Jon Favreau.
The plot follows a young lion prince Simba, who is forced to flee his kingdom after his father, Mufasa, is slaughtered.
However, years later, an encounter with a lioness named Nala motivates him to return and take back what belongs to him.
Even though this motion picture opened to mixed reviews, it went on to set the box office ablaze the world over.
The fact that the makers decided to go from animation to live-action paved the way for a few notable changes in its already gripping storytelling.
11. Madagascar 3: Europe's Most Wanted (2012)
The third installment of the Madagascar film series shows us how Alex, Marty, Gloria, and Melman embark on a bombastic adventure after having joined a traveling circus group.
Not only do they wish to get back home but they also do their very best to evade capture by a relentless Animal Control official.
While Madagascar 3: Europe's Most Wanted retains its charm and is silly enough for young kids, it also incorporates enough surprising elements to keep the adults engaged right throughout its runtime.
Following the theatrical outing of the feature film, the consensus was that it was a sequel that has outshone its predecessors comfortably.
In fact, many even went on to claim that the film was almost too good for kids.
10. Out of Africa (1985)
We know that a lot many of you would be surprised to find this classic motion picture on our list.
But, we have a valid reason to give Out of Africa a place here. The story follows the journey of a Danish baroness, Karen von Blixen, who, after having established a coffee plantation in South Africa, falls head-over-heels in love with a local big-game hunter, Denys Hatton.
This Sydney Pollack directorial venture might be a romantic adventure drama, but it also comprises a few scenes featuring merciless lions.
Streep, who plays Karen in the film, actually fended off a real lion when her stunt double got cold feet right before shooting for an important lion attack sequence.
9. The Wizard of Oz (1939)
One of the most popular mainstream Hollywood films of all time, The Wizard of Oz brings to us the fantastical tale of young Dorothy Gale and her dog Toto.
After a tornado rips through their Kansas farm, the duo ends up getting transported to the magical Land of Oz.
There, they embark on a magical journey with three new companions to see the Wizard, who is apparently the only person who can help the duo return home.
Possibly for the very first time on the big screen, we get to see a lion who is known for its cowardice.
It is not surprising then that the character has been named "The Cowardly Lion." Even though the lion pretends to act tough, his fearful self comes to the fore when he finds himself in the middle of an alarming situation.
That said, the comic timing of the character is good and definitely makes a creature as beastly as a lion a delight to watch.
8. The Chronicles of Narnia: The Lion, The Witch, and The Wardrobe (2005)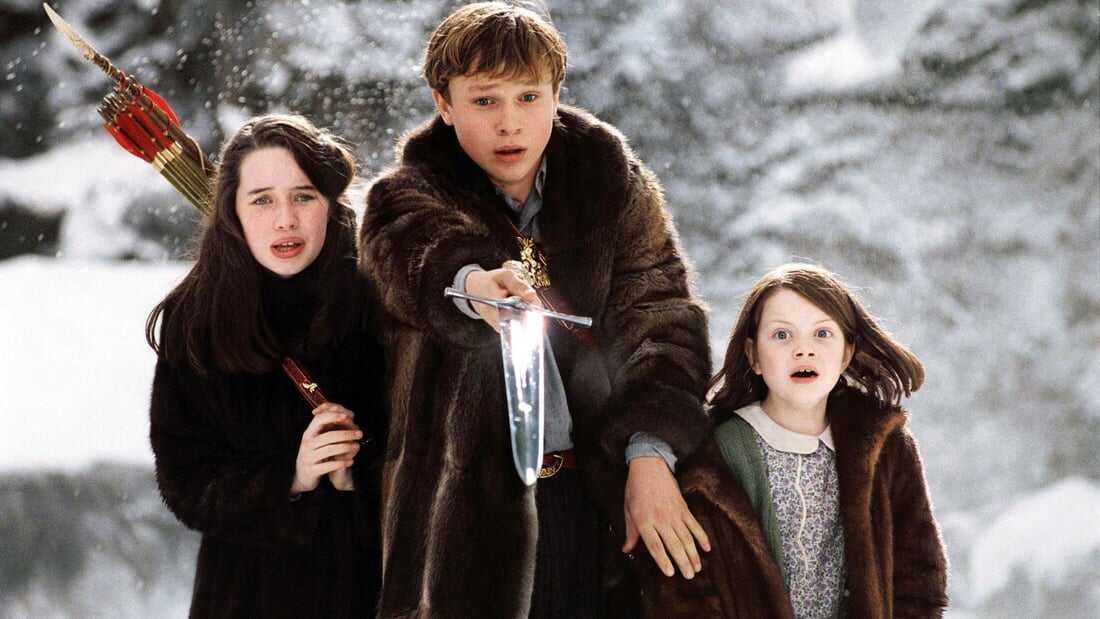 Besides the Harry Potter franchise of motion pictures, another series that tried to ferry us to a fantastical world of solid adventures and drama was The Chronicles of Narnia.
The story follows an adorable Lucy and her siblings, who, while playing, find a wardrobe that lands them in a mystical place called Narnia.
After having reached there, the siblings decipher that their arrival was fated and that they have to unite with a lion named Aslan to topple an evil queen.
Aslan is not only one of the most laidback and kindest lions that you'll ever get to catch on screen but he also serves as a peacekeeper of sorts in the film's story.
Needless to mention, he is one of the most inoffensive lions to have ever been featured in a mainstream title.
7. Zootopia (2016)
Even though this insanely popular computer-animated buddy cop action-comedy film is not exactly a lion-oriented project, it does include an interesting lion character in its screenplay.
The story follows a rookie officer in the Zootopia Police Department, Judy Hopps, who is able to unearth a sinister plot.
In order to solve the case and put the plot to rest, she seeks the help of a con artist.
One of the major supporting characters in the movie is Mayor Lionheart; a lion who is the noble, yet, pretentious Mayor of Zootopia.
Even though he is a controversial figure, Lionheart does his best to come across as inspiring to the residents of his city.
While he has vowed to keep the citizens and the city safe, he does not shy away from resorting to illegal means to achieve these goals.
6. Madagascar (2005)
The beauty of Madagascar lies in the fact that despite being a crowd-pleasing comedy, it also contains sequences that can get the average viewer teary-eyed occasionally.
This animated lion movie comprises many interesting animal characters that go on a hilarious adventure. The story follows four spoiled animals from the New York Central Zoo, who escape with the unintended aid of four fugitive penguins.
They find themselves stranded on the island of Madagascar soon after their daring escape. Even though its plot structure is patchy in parts, this popular animated credit carries enough charm to keep the kids engrossed in its storytelling.
5. Born Free (1966)
Helmed for the screen by James Hill and Tom McGowan, this classic motion picture is certain to find a place on any write-up that aims to do justice to the on-screen portrayal of The King of the Jungle.
The film showcases how Elsa, one of the three lion cubs tamed by George, is forced to be sent back to the wild by the latter's bosses after she ends up creating a ruckus.
However, George is delighted to discover that Elsa hasn't forgotten him even after a year. Even though the picture quality might come across as a bit dated to viewers today, Born Free is one lion flick that they cannot afford to miss out on.
Based on Joy Adamson's non-fiction book of the same name, the film was one of the most popular credits at the box office in Britain during the time of its release.
4. Secondhand Lions (2003)
This Tim McCanlies directorial venture introduces us to a fourteen-year-old Walter Caldwell and a lioness named Jasmine. We see Walter's irresponsible mother, Mae, sending him to live with his unwelcoming bachelor great-uncles, Hub and Garth.
She does so in order to ready herself to go on yet another husband-hunting trip. Contrary to what most of you'd expect, Jasmine, the lioness, turns out to be a rather fun character to watch despite her old age.
The wonderful creature, who is brought in to be killed on some senior hunting trip, ends up inspiring a young Walter to do a comic strip later on.
The best part of Secondhand Lions shows the amazing chemistry that Jasmine shares with the young boy. Not long after the screenplay kicks off, the viewers realize that the lioness would do anything in her capacity to protect her friend.
Walter, in many ways, starts to feel like her cub, which is endearing to see.
3. African Cats (2011)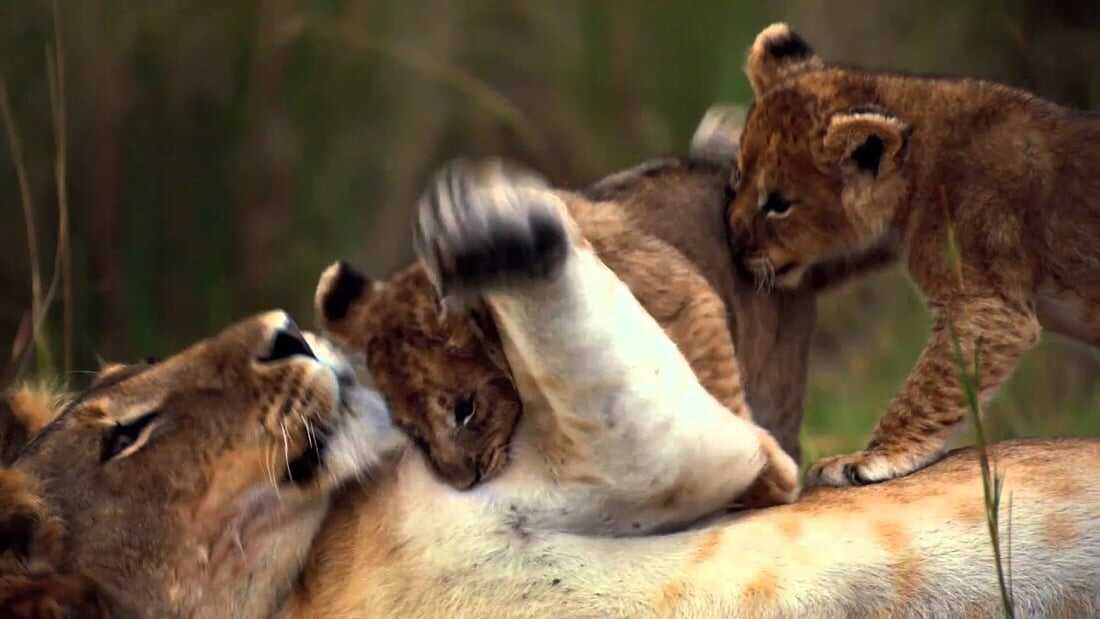 Directors Keith Scholey and Alastair Fothergill's nature documentary, African Cats, was filmed over two-and-a-half years in the Maasai Mara National Reserve in Kenya.
We are introduced to Mara, an endearing lion cub who wishes to be like her mother; Sita, a cheetah and single mother of five, and Fang; a proud leader of the pride who must do everything in his capacity to protect his clan from a ruthless rival lion.
Besides stunning the viewers with its astounding footage, African Cats also goes on to put its big heart on display; all while keeping things entertaining at all times.
2. The Last Lions (2011)
One of the most renowned lion documentaries to have ever been produced, The Last Lions has a very cinematic story to tell for nature and lion enthusiasts across the globe.
We get to see lioness Ma di Tau ("Mother of Lions") trying her best to protect herself and her three cubs after a rival pride attacks and kills her mate.
She is duly aware of the fact that the conquering lions will kill her offspring if they are found, so she, very smartly and steadily, leads them to Duba Island.
However, things only seem to get a bit more cumbersome for the group as they not only have preying lions to fear now but also famished crocodiles.
Aside from its subdued drama, this incredibly narrated tale is backed by its solid musical score and cinematography.
1. The Lion King (1994)
Arguably the most popular lion feature film to have ever hit the screens, The Lion King is a cult classic whose success paved the way for a highly sought-after franchise.
The motion picture tells the story of a cub named Simba, who is forced to leave the Pride Lands after his beloved father, Mufasa, is killed by his evil uncle, Scar.
Years later, we get to see a young and ambitious Simba return to not only avenge his father's death but also reclaim his throne.
The movie has all the elements that make it a must-watch for families across the globe. It is not surprising then that the story of The Prince of the Pride Lands went on to become the top-grossing cinematic tale of 1994.
While The Lion King set benchmarks through its music, story, themes, and animation, it was also duly acknowledged at numerous award functions.