»
Top 50 Best Al Pacino Movies Of All Time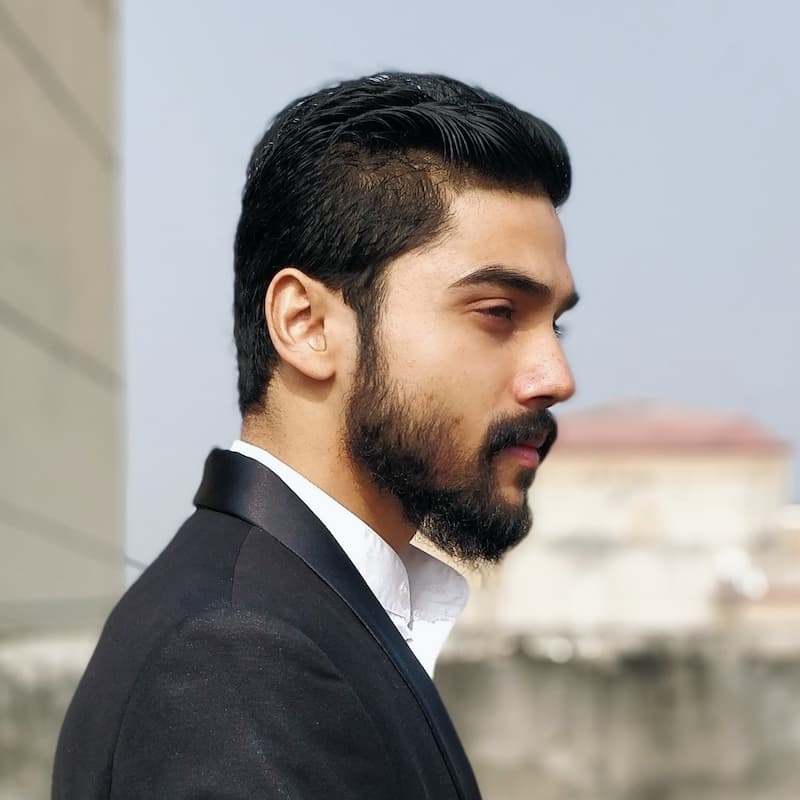 Shivam-Updated Jan 19, 2023
---
Al Pacino, one of Hollywood's best and most recognizable actors of all time, has had an indisputable catalog of iconic performances to his name.
The legendary performer, who has won an Oscar, an Emmy, and a Tony (known as the "Triple Crown of Acting"), rightfully keeps compelling us to go fishing for the perfect words to describe his unquestionable greatness.
He has been a solid movie star for over five decades now and has, therefore, been a part of several critically and commercially successful motion pictures.
Born in New York City in 1940, he had a troubled childhood and adolescence; something that is palpable in the kind of roles that he has chosen to portray on celluloid over the years.
While his emotionally charged performances are known to have overwhelmed him, they have also, often, allowed the rage deep within him to explode on the big screen.
Reportedly, Pacino struggled to cope with stardom and his peers during the early years of his career. It's not surprising then that he is, arguably, the only mainstream performer to have oscillated between the extremes of complete control and the complete lack of it, from time to time.
Like most legendary actors in the world of cinema, he, too, has many good feature films under his belt. Thus, it's only obvious that some of them are going to be worth being talked about more than others.
While each of his finest projects has been a true blue classic in its own right, they have also been a testament to his life and acting career being full of unbelievable ups and downs.
That said, as an admirer of Al Pacino and his work, I'm elated to mention that the screen icon has had his mini-Renaissance of late; all thanks to his notable character projections in acclaimed motion pictures and television shows such as The Irishman, Once Upon a Time… in Hollywood, House of Gucci, and Hunters.
However, his formidable string of performances does not end with these credits. Neither has his smoldering stare that has penetrated the hearts and minds of avid cinema-goers for many a decade now.
Quickly then, allow us to introduce or, in this case, re-introduce you to the best movies and performances of an actor whose intense stare has burnt its way into our cultural consciousness.
1. The Godfather (1972)
Based on Mario Puzo's bestselling novel of the same name, this Francis Ford Coppola-helmed epic crime drama is widely considered to be one of the greatest movies of all time.
A stirring tale of family, power, lawlessness, loyalty, and betrayal, it follows Don Vito Corleone, head of a mafia family, who decides to hand over the reins of his empire to his youngest son Michael.
However, little does he know that his decision will unintentionally put the lives of his loved ones in danger. Even though the studio never wanted Al Pacino to play Michael Corleone, Coppola was confident that the young actor would do his best to breathe life into the character with his steely eyes and cold demeanor.
The Godfather, which highlights the dark side of power and the corruption of the American Dream, was nominated for 11 Oscars.
Pacino played his character to perfection and the rest, as they say, is history.
2. The Godfather: Part II (1974)
Michael Corleone is not only the greatest role of Al Pacino's career but is also one of the greatest characters ever sketched for a mainstream motion picture.
While the first installment gave us an idea about Michael's rise, the second does a remarkable job of illustrating his unbelievable transformation.
We see the man trying to expand his family's criminal empire as the betrayals and grave danger continue to lurk around the corner.
The Godfather Part II depicts Michael's corrupted nature, but also allows the viewer to feel for him. While most of his actions are to safeguard the interests of his family, he still feels that he's all alone in the world.
It is said that Al Pacino's path-breaking performance in The Godfather series continued to have an impact on his mental health throughout the 1970s.
3. The Insider (1999)
Al Pacino collaborated with director Michael Mann twice in his career with winning results. His second project with the filmmaker, The Insider, stuns you with its engaging and hard-hitting narrative.
Nominated for a whopping seven Academy Awards, the motion picture tells the story of Jeffery Wigand; the former head of Brown & Williamson Tobacco Company who pledges to go live on television to disclose the harsh reality about the functioning of tobacco companies.
Never once does Michael Mann's spectacular storytelling feel blunted by its duration (158 minutes). While Pacino carries the legal drama on his rock-solid shoulders by playing Lowell Bergman with astounding subtlety, it is Russell Crowe's winning act that overshadows everything.
Props to the makers for underscoring the importance of speaking the truth at all times. This film is, indeed, a must-see.
4. Heat (1995)
Al Pacino's remarkable filmography contains yet another great motion picture in the form of the Michael Mann directorial venture, Heat.
In fact, it wouldn't be an exaggeration to claim that this sleek, stylish, and compelling crime drama marked a high point in the filmmaker's career.
The story follows Lieutenant Hanna; an exuberant and loud detective who resolves to apprehend a highly competent seasonal criminal who has vowed to pull off one last robbery before he quits for good.
The main attraction of this motion picture is undoubtedly the face-off between the legendary Pacino and Robert De Niro. Needless to say, director Mann masterfully sets up their meetings, but there is only one outstanding sit-down conversation between the two leads throughout the movie.
You simply cannot afford to miss out on this intense cat-and-mouse thriller.
5. Scarface (1983)
An updated remake of the 1932 movie of the same title, Brian De Palma's epic crime drama Scarface saw Al Pacino bring the character of Tony Montana to life.
The star played this iconic role so well that it not only became a greater part of popular culture but also a character that every aspiring actor in the world tried to emulate.
The story outlines the journey of Tony Montana and his close friend Manny, who work hard to build a strong drug empire in Miami.
However, the undeniable rise in Tony's power is coupled with the bolstering of his ego. And, as he is surrounded by enemies, his paranoia begins to plague his empire and push away his loved ones.
Al Pacino's Tony Montana drops legendary lines left and right and ensures that the character becomes the superstar's second most influential role of all time (behind Michael Corleone).
6. Once Upon a Time… in Hollywood (2019)
Among the best films directed by Quentin Tarantino, Once Upon a Time in Hollywood primarily revolves around the lives of two of its most prominent protagonists, namely Rick Dalton and Cliff Booth, played with distinction by Hollywood superstars Leonardo DiCaprio and Brad Pitt, respectively.
While Al Pacino is seen playing a rather short role in this modern-day masterpiece, he sure makes his presence felt as the legendary casting agent Marvin Schwarz.
Tarantino's ninth project manages to recreate the atmosphere of a constantly evolving Hollywood with great expertise, courtesy of his meticulous direction, outstanding photography, mesmeric background score, and the appropriate set designs; all of which come in handy in giving the golden age of cinema a befitting tribute.
7. The Irishman (2019)
Al Pacino mostly found himself playing either a cop or a gangster in the numerous crime flicks that he has been a part of.
However, the Martin Scorsese-helmed The Irishman allowed him to portray the powerful real-life Teamster Jimmy Hoffa. The film tracks the journey of truck driver Frank Sheeran, who gets deeply involved with Russell Bufalino and his Pennsylvania crime family.
Soon after, the viewers get to see Sheeran climbing the ranks to become a top hitman. His heroics introduce him to Jimmy Hoffa, and he starts working for the man in no time.
The first successful combination of Al Pacino and Robert De Niro since the '90s, The Irishman made headlines for its usage of digital de-aging techniques on its actors.
The motion picture, which comprises a solid ensemble cast, does a commendable job of showing the older crew of Hollywood heavyweights at the top of their game.
It is not surprising then that it was nominated for 10 well-deserved Academy Awards.
8. Dog Day Afternoon (1975)
The great director Sidney Lumet paired up with Al Pacino yet again for the very entertaining heist drama Dog Day Afternoon.
Easily among the most influential movies of Pacino, it saw the actor deliver one of his all-time great performances. Based on real events, the plot traces the tumultuous journey of a man who decides to rob a local Brooklyn bank to pay for his lover's operation.
However, his heist does not go as planned and he is forced to take hostages. Not only is this project a fascinating portrayal of a robbery gone haywire but it also, interestingly, serves as an effective critique of American society in the 1970s.
A must-watch for ardent fans of Pacino, Dog Day Afternoon is tense and amusing from start to finish. It is not surprising then that this project went on to influence heist movies for years to come.
9. Glengarry Glen Ross (1992)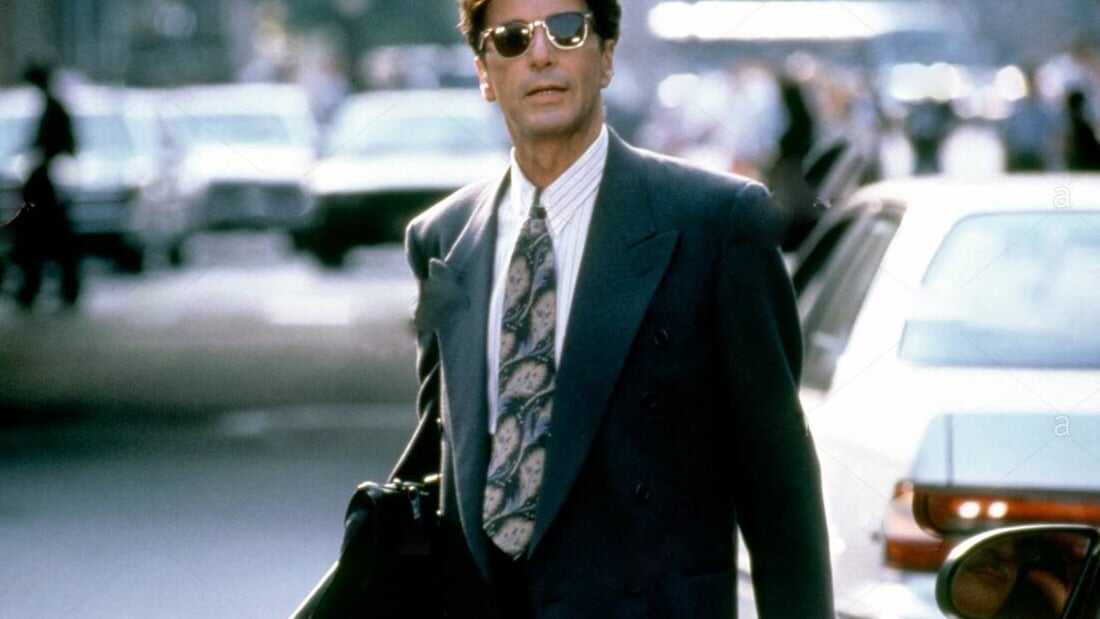 Adapted by David Mamet from his Pulitzer Prize-winning play of the same title, this tense drama film serves as an examination of the behind-the-scenes machinations at a real estate office.
The motion picture, which was noted for featuring one of the greatest casts of actors ever, is an enduring classic that thrives on the remarkable performances of its entire cast.
Even though Al Pacino did not have the largest role to play in this James Foley directorial venture, his charisma was palpable, to say the least.
No wonder he was the only cast member to earn an Oscar nomination for his character play.
10. Serpico (1973)
Sidney Lumet is known to have directed several great titles in his long and fruitful cinematic career. When he joined forces with Al Pacino for Serpico, the result was an emotionally charged cop drama that helped the latter solidify his reputation early on as an actor of unparalleled intensity and inherent charm.
We are introduced to Frank Serpico; a conscientious policeman of New York who vows to unearth the deep-rooted corruption in the local police force.
However, he soon figures out that his dishonest comrades are turning against him. This compelling drama, which was tucked in between the first two Godfathers, fetched the great Al Pacino a deserving Academy Award nomination for Best Actor.
11. Insomnia (2002)
There is no denying that not many filmmakers across the globe can challenge Christopher Nolan when it comes to directing smart, atmospheric, and scientific psychological thrillers.
However, Insomnia, starring Al Pacino and Robin Williams in the lead, is a rather underseen and underrated Nolan project. The story introduces us to a police detective who goes to an Alaskan town to inquire into the killing of a teenage girl.
Upon his arrival, he understands that the prime suspect in the case has started to play a psychological game of cat and mouse with him; therefore, taking a toll on his mental stability.
Based on the critically-lauded 1997 Norwegian film of the same name, this riveting motion picture thrives on the superb performances of both Pacino and Williams.
12. Donnie Brasco (1997)
Even though Al Pacino has played a mob man several times in his career, he has managed to somehow treat each of those characters uniquely.
In the Mike Newell-directed Donnie Brasco, he delivers an honest and affecting performance playing the real-life 1970s Mafia hitman "Lefty" Ruggiero.
The plot follows an undercover FBI agent, who agrees to infiltrate one of the five crime families in New York.
His sole aim is to rise through the ranks swiftly and seek the right opportunity to bring down the gangsters and their empires once and for all.
While the addition of Johnny Depp does make Donnie Brasco a lot more watchable, it is Pacino who proves his range once again as a bonafide screen performer.
The legendary actor expresses his woes and disappointment rather subtly in this gripping and well-acted crime drama.
13. Carlito's Way (1993)
Based on the novels Carlito's Way and After Hours by Judge Edwin Torres, Carlito's Way reunites Al Pacino with director Brian De Palma after the stupendous success of Scarface a decade ago.
The plot follows Carlito Brigante, who has chosen to live a seemingly quiet life after being released from prison. However, he soon discovers that he has reluctantly become a part of a drug deal with no possible escape in sight.
Directed with panache and utmost sincerity by De Palma, this crime drama is almost as stylish and energetic as they come; even though it is tonally alien to Scarface.
The fact that Sean Penn also plays a critical supporting role in the film makes it worth visiting.
14. Scent of a Woman (1992)
Al Pacino's memorable catchphrase, "Hoo-ah!", not only managed to move the audience back in the early 1990s but also struck a chord with the Academy voters.
It is not surprising then that the actor earned his first and only Academy Award for the film. The sentimental drama tells the story of a prep school student, who needs money.
Soon after, he agrees to be the caregiver of a man with visual impairment while his family is away. However, little does he know that the colonel has other plans for the weekend.
While Pacino's feisty portrayal of a blind and cranky retired Army Lieutenant Colonel has and will stand the test of time, the same cannot be said about this poignant Martin Brest directorial venture.
15. The Devil's Advocate (1997)
If you ever thought that an actor and human as refined as Al Pacino could never be a "Satan", well, he certainly can play one for his ardent admirers.
The star's flair for the dramatic served him well in The Devil's Advocate; a distinct supernatural horror film that was based on Andrew Neiderman's novel of the same name.
The story follows Kevin Lomax; a lawyer who gets a job with a law firm in New York. However, a much-needed realization soon dawns upon him that his employer is the devil himself who will leave no stone unturned to torment him.
In a movie that also stars the charismatic Keanu Reeves, it is Pacino who gives an appropriately over-the-top performance. That said, the former holds his own and does a praiseworthy job as well.
Even though this Taylor Hackford directorial venture is not as hard-hitting or serious, it tells a stylishly atmospheric tale that has been brought to life courtesy of the committed performances of its star cast.
16. ...And Justice for All (1979)
While Al Pacino offered wonderfully restrained performances in The Godfather Part I & II and Serpico, his character projection in Norman Jewison's legal comedy-drama, ...And Justice for All, was arguably the most flamboyant one from his early years in the movies. We are introduced to Defence attorney Arthur Kirkland, who finds himself in an ethical dilemma when he is forced to defend a judge in a rape case.
Watch out for Pacino whose highly entertaining courtroom squabbles and snappy riposte are a treat to watch in this screenplay which went on to receive a worthy Oscar nomination.
17. You Don't Know Jack (2010)
The actor in Al Pacino made sure to shine once again in this made-for-television biopic which was helmed by Barry Levinson.
The film tells us the story of Dr. Jack Kevorkian, who pioneers physician-assisted suicide and introduces the strange idea to the public.
While those who are close to him are seen backing his ideology, he goes on to face stiff opposition from outside.
You Don't Know Jack's screenplay was based on the book Between the Dying and the Dead by Neal Nicol and Harry Wylie.
While the drama received numerous award nominations, Al Pacino won Primetime Emmy, Golden Globe, and Screen Actors Guild awards for his performance as Kevorkian.
18. The Panic in Needle Park (1971)
Helmed for the screen by Jerry Schatzberg, The Panic in Needle Park follows the lives of heroin addicts who frequent "Needle Park" in New York City.
While it was only the second motion picture that Al Pacino did, it was his first 'central' role in the true sense of the word.
Also, the film marked the debut of his co-star Kitty Winn, who went on to win Best Actress at the Cannes Film Festival for her character projection.
Pacino played the role of a heroin addict in the film, which was noted for its realistic depiction of drug use at the time.
The actor delivered a performance that was both important and mesmerizing in equal measure. Both he and his co-star did their best to illustrate all the highs and lows of the addiction cycle.
While Pacino turned out to be a major cine star soon after, Winn's career could not bloom as much.
19. Scarecrow (1973)
In this Jerry Schatzberg directorial venture, we are introduced to two friends - Max, an ex-con, and Lionel, who is a sailor.
Al Pacino, who plays the role of the downtrodden drifter Lionel, teamed up with his The Panic in Needle Park director once again to offer another praiseworthy performance during the early years of his illustrious career.
The viewers get to see The Godfather sensation engaging in clownish acts to mask the grief buried deep within. And, when he finally breaks down in the 'fountain' scene, it becomes a sequence to watch out for.
Pacino shared the screen with Gene Hackman in this one, and it is said that both great performers journeyed across California as drifters to prepare for the role.
Well, now we know why they shared such amazing chemistry on screen.
20. The Godfather Part III (1990)
Filmmaker Francis Ford Coppola decided to recreate the enormous success of the first two installments of The Godfather series with the release of its third part in 1990.
We see an aged and wise Micheal Corleone taking the tough call to end his family's criminal empire. But, even though he chooses his nephew as his successor, the mob refuses to let him go.
The Godfather Part III, which concludes the fictional story of Michael Corleone, also aims to cast a light on a few real-world events, such as the death of Pope John Paul I and the Papal banking scandal.
While the critics lauded the performances of Al Pacino and Andy García, they were not too pleased with Sofia Coppola's poor character play and the film's convoluted plot.
21. Danny Collins (2015)
The style in Al Pacino makes a comeback in this Dan Fogelman-helmed comedy-drama that has been written and directed by Dan Fogelman in his feature directorial debut.
The plot follows an aging superstar, Danny Collins, who finds a letter from John Lennon; something that makes him want to alter his lifestyle.
Not only does he reunite with his illegitimate son and his family but he also attempts to make peace with his past demons that return to haunt him.
The motion picture rides heavily on Pacino's praiseworthy central performance for which he was nominated for the Golden Globe Award for Best Actor - Motion Picture Musical or Comedy at the 73rd Golden Globe Awards.
22. The Merchant of Venice (2004)
It is a well-documented fact that Al Pacino has long had a love for Shakespeare. So, we were not even remotely surprised to catch him deliver one of his most underrated performances in Michael Radford's big-screen adaptation of The Merchant of Venice.
This romantic drama film, which is based on Shakespeare's play of the same name, had a Royal Premiere in the presence of Prince Charles in 2005.
Pacino plays Shylock with remarkable ease and efficiency in this motion picture which thrives on Radford's handsome production and apt costume designs.
23. House of Gucci (2021)
This Ridley Scott-helmed biographical crime drama is based on Sara Gay Forden's book The House of Gucci: A Sensational Story of Murder, Madness, Glamour, and Greed.
The story follows Patrizia Reggiani; an outsider from humble beginnings who marries the Gucci family. Soon after, we see her undaunted spirit and unbridled ambition triggering an overdaring spiral of betrayal, decadence, revenge, and, ultimately, cold-blooded murder.
Even though Al Pacino does not play a central role in the movie, his character projection of Aldo Gucci sure is significant to its plot structure.
24. Chinese Coffee (2000)
If you, being a potential film buff, weren't aware of the fact that the iconic Al Pacino has also directed a film, well, you didn't really know everything about the man after all, did you?
Chinese Coffee is an independent full-length feature that was helmed by Pacino. It tracks the journey of Harry and Jake, two unsuccessful writers, who spend a rather cathartic evening engaging in a discourse about money, aesthetics, their friendship, and Harry's new manuscript.
The film premiered at the Telluride Film Festival and was screened at the Tribeca Film Festival in 2000. At the latter event, it was introduced by another legend of the movies, Robert De Niro.
25. Ocean's Thirteen (2007)
Trust Al Pacino to startle his many fans as a diligent performer even after all these years; as is evident in his portrayal of a casino owner who double-crosses a member of the titular team of con men.
Needless to say, his performance as Willy Bank makes the concluding chapter of Steven Soderbergh's ultra-cool trilogy worth visiting. In the film, we catch Danny and his gang of thieves attempting to pull off their most difficult heist to defend one of their own.
Little do they know that luck alone cannot break the ruthless Willy and his casino. Even though the plot lacks substance, Ocean's Thirteen offers an amazing star cast and humorous entertainment to its viewers.
26. Sea of Love (1989)
Helmed for the screen by Harold Becker, Sea of Love was Al Pacino's first major film to hit the cinemas after a four-year hiatus.
The story follows a detective who is investigating a series of murders. Soon after, he gets himself romantically involved with a woman who may be the culprit.
Pacino received a Golden Globe nomination for his sincere character play in this psycho-sexual thriller. Even though the screenplay progresses predictably, its execution is as sensual as it could have gotten with an acclaimed A-lister at the helm of affairs.
Also, Pacino and Barkin share undeniable chemistry in this one.
27. Frankie and Johnny (1991)
Adapted for the silver screen by Terrence McNally from his own off-Broadway play Frankie and Johnny in the Clair de Lune, this Garry Marshall directorial venture reunited co-actors Al Pacino and Michelle Pfeiffer for the first time since the release of Scarface in 1983.
The plot follows a former convict, Johnny, who gets a job as a cook at a local diner. While working there, he finds himself falling for an emotionally wounded waitress, Frankie, whose love he is determined to win.
The sweet-natured romantic comedy was a welcome change for Pacino who was best recognized for his intense performances. However, the beauty of Frankie and Johnny lies in the fact that two beautiful movie stars were seen portraying lonely little people struggling to find true love.
28. Paterno (2018)
Directed by Barry Levinson, this television drama film stars Al Pacino as former Penn State football coach Joe Paterno, who is often referred to as the best coach in American football history.
However, in the film, we get to see how the man found himself embroiled in a sexual abuse scandal which lead to his inevitable dismissal.
This hard-hitting dramatization of a soul-stirring real-world event is elevated by Barry Levinson's deft direction and Al Pacino's potent role-play.
Even though the motion picture doesn't really answer the lingering questions about the once-beloved college football coach, it does provide much-needed insight into the scandal.
29. Any Given Sunday (1999)
This Oliver Stone directorial venture is a behind-the-scenes look at a fictional professional football squad. The story follows a veteran football coach, who, while dealing with his team's losses and internal disputes, must make peace with his fallout with the team's owner.
At least partly based on the novel On Any Given Sunday by NFL defensive end Pat Toomay, this motion picture stars Al Pacino in the lead along with talented actors such as Cameron Diaz, Dennis Quaid, and Jamie Foxx in supporting roles.
In addition, Any Given Sunday featured several former American football players in cameo roles.
30. Wilde Salomé (2011)
This docudrama was written, directed by, and starred Al Pacino. It premiered at the 68th Venice International Film Festival. Salomé, which hit the screens a couple of years later, was a new version of this film sans documentary elements.
Wilde Salomé won the Queer Lion award and was a fine dissection of Olivia Wilde's Salome. It relies on the inimitable performance of Jessica Chastain, without whom Pacino would never have made the movie.
That being said, this project is definitely an enlightening journey into the world of Wilde.
31. Me, Natalie (1969)
This Fred Coe-helmed comedy-drama marked Al Pacino's film debut. Based on an original story by Stanley Shapiro, the motion picture traces the journey of a young woman who seems to be struggling for independence.
This coming-of-age story aims to sensitively depict the generational gap in an era during which it was perhaps most extreme.
A pleasant movie that is also equally amusing, Me, Natalie thrives on its vivid New York atmosphere and its terrific cast.
While Patty Duke carries the film on her shoulders, newbie Al Pacino makes an impact right from his very first scene.
32. The Recruit (2003)
Helmed for the silver screen by Roger Donaldson, this spy thriller stars Al Pacino, Colin Farrell, and Bridget Moynahan in pivotal roles.
In the story, we find a young and bright CIA recruit, James Clayton, being hired by Walter Burke, his senior instructor to ensure that he is able to find a sleeper agent who has apparently infiltrated the agency.
While this polished thriller is engaging enough for the better part of its run time, it does take a twist too many to turn out to be rather predictable towards the end.
That said, Pacino and Farrell turn in sincere performances each in this one.
33. Cruising (1980)
In this William Friedkin directorial venture, we see Al Pacino's Steve Burns going undercover in the underground S&M gay subculture of New York City with the sole aim to nab a serial killer who is preying on gay men.
Partially based on the novel of the same name by New York Times reporter Gerald Walker, Cruising opened to mixed reviews and performed moderately at the ticket windows.
However, its shooting and promotion were dogged by gay rights protesters who were of the opinion that the motion picture stigmatized them.
Even though Pacino delivers a committed performance in this hot-button thriller, it ceased to do justice to its sensitive subject matter.
34. Stand Up Guys (2012)
Directed by Fisher Stevens, this black comedy crime flick features talented actors such as Al Pacino, Christopher Walken, and Alan Arkin in important roles.
The film tells the story of Doc, who is assigned to slay his old pal, Val. However, before he completes his task, he takes a call to spend some time with his potential victim and their other friend Richard.
First things first, catching the great Walken, Pacino, and Arkin sitting in a diner and discussing the good old days makes you feel comfortable as a viewer and brings a sense of nostalgia.
The fine performances by each of the aforementioned actors make Stand Up Guys worth seeing.
35. Dick Tracy (1990)
Warren Beatty's Dick Tracy is a stylish film based on the 1930s comic strip character of the same name. The story shows the legendary police detective Dick Tracy taking on gangster boss Big Boy Caprice and his band of pitiless mobsters.
While Al Pacino was praised for his portrayal of the leading crime boss in the city, it was pop star Madonna who offered a scene-stealing performance as Breathless "The Blank" Mahoney.
A rather unique entertainer, this motion picture was acknowledged for its star cast, prosthetic makeup, and art direction.
36. Salomé (2013)
Written and helmed for the screen by Al Pacino, Salomé stars Pacino and Jessica Chastain in the lead. The motion picture tells the Biblical story of Salomé; a girl who agrees to perform the "dance of the seven veils" in return for John the Baptist's head on a silver platter.
A companion piece to Pacino's Wilde Salomé, the overall effect of this movie is deeply moving. However, it is important to point out that Salomé is not everyone's cup of tea.
37. City Hall (1996)
This suspense drama film was filmmaker Harold Becker's second collaboration with Al Pacino after the success of Sea of Love in 1989.
The plot shows an innocent boy getting killed in a shootout between a cop and a member of a mob.
The escalating tensions leave no option for the Deputy Mayor but to intervene. However, he soon discovers that uncovering the truth may have terrible consequences.
Also starring John Cusack, Bridget Fonda, and Danny Aiello in crucial roles, City Hall aims to explore political corruption with smartness while keeping its entertainment value intact.
38. Phil Spector (2013)
Helmed for the screen by David Mamet, Phil Spector is a biographical drama television film that is based on the murder trials of record producer, songwriter, and musician Phil Spector.
The story follows the titular character who is accused of Lana Clarkson's murder. While dealing with his trials, we also get to see the complicated relationship that he shared with his defense attorney, Linda Kenney Baden.
Starring terrific performers such as Al Pacino and Helen Mirren in the lead, the film thrives on its uniformly excellent performances.
However, the makers were criticized for fictionalizing several aspects of the case for the big screen.
39. Two Bits (1995)
Starring Al Pacino, Mary Elizabeth Mastrantonio, and Jerry Barone in pivotal roles, Two Bits was written by Joseph Stefano, who considered the film a personal project.
The plot follows the 12-year-old Gennaro who plans to get into a new movie house while fulfilling an ailing grandfather's wish in 1933 South Philadelphia.
A forgotten piece of Pacino's rich and highly successful film career, the movie managed to depict the realism of 1930s Philadelphia with elan.
A noticeable change for the cine-star back when it hit the screens, Two Bits has a heartwarming story to tell without getting too sappy.
40. S1m0ne (2002)
This satirical science fiction film, which was written, produced, and directed by Andrew Niccol, outlines the tense journey of a producer who finds himself getting increasingly anxious after a famous actress quits his film.
However, he decides to take matters a bit more seriously and ends up creating an actress digitally to substitute for the star.
Even though the satire is not sharp enough and the characters are routine, this Al Pacino-starrer is a reasonably decent watch.
S1m0ne opened to mixed reviews at the box office but turned out to be a fair success.
41. Author! Author! (1982)
Before Al Pacino set the screens on fire with the release of Scarface, he was seen playing Playwright Ivan Travalian in a drama helmed by Arthur Hiller.
The plot follows Travalian, who, while facing the stress of his play being produced on Broadway, also has to deal with having to raise his son, his stepdaughters, and his stepsons, respectively.
Author! Author! opened to strictly average reviews at the ticket windows. While a few film pundits found the drama to be slightly amusing, others were confused about the superstar performer being a part of this mess.
42. Two for the Money (2005)
Director D. J. Caruso's Two for the Money outlines the journey of Brandon Lang; a former college football star who suffers a career-ending injury.
Soon after, he is seen joining hands with a gambling tycoon based in New York, Walter Abrams. Headlined by powerful screen performers such as Al Pacino, Matthew McConaughey, and Rene Russo, this sports-drama film carries a sportsmanlike swagger.
However, its unambitious plot structure and box office prospects weren't worth betting on. Unsurprisingly, the feature film opened to unfavorable reviews and was both a critical and commercial debacle.
43. Righteous Kill (2008)
Expectations were sky-high when veteran superstars Al Pacino and Robert De Niro joined forces after years in this Jon Avnet-helmed action thriller.
But, unlike their immensely successful previous collaborations, Righteous Kill missed the mark by a good few miles. The plot of the film introduces us to two detectives, Turk and Rooster, who are trying to nab a serial killer that targets sociopathic criminals.
However, they start facing several issues when they are compelled to team up with a pair of younger detectives. Even though Pacino and De Niro do their best to elevate this rather routine project, they are betrayed by a hackneyed script and its dopey finale.
44. The Humbling (2014)
Superstar Al Pacino and filmmaker Barry Levinson reunited once again for this comedy-drama which was based on Philip Roth's novel of the same name.
The story follows an aging stage actor, who, tired of his life, attempts to commit suicide. However, his life changes for the better when he stumbles upon a young woman, Pegeen, and gets into a relationship with her.
The Humbling was screened in the Special Presentations section of the Toronto International Film Festival and the Out of Competition section of the 71st Venice International Film Festival.
While the drama plays out as a highlight of sorts of Pacino's late-period filmography, it is still, at best, a one-time watch.
45. Manglehorn (2014)
Director David Gordon Green's Manglehorn was selected to compete for the Golden Lion at the 71st Venice International Film Festival.
Headlined by the superb Al Pacino, the film tracks the journey of Manglehorn, an eccentric small-town locksmith, who was left heartbroken by the woman he adored and lost many years ago.
Soon after, we see him attempting to start his life all over again with the help of a newfound friend.
While Pacino delivers an understated performance in the titular role, it is not enough to compensate for an uneven script.
However, the motion picture can and should be visited by the fans of the star.
46. Bobby Deerfield (1977)
Make way for Al Pacino's Bobby Deerfield, who is a popular American race car driver on the European circuit. Besides getting acquainted with the titular character, we also get an opportunity to get familiar with his love interest Lillian Morelli, who, unfortunately, is terminally ill.
Based on Erich Maria Remarque's novel Heaven Has No Favorites, this over-the-top melodrama disappointed the fans who were hoping for the story to unfurl on the race track.
While the action footage was filmed by racing cinematographers and was appealing, it was Al Pacino who was the only driving force behind the movie.
Needless to say, the actor received a Golden Globe Award Nomination for Best Motion Picture Actor (Drama).
47. Minutes (2007)
This Jon Avnet directorial venture introduces its viewers to a forensic psychologist, Jack Gramm, who helps in the condemnation of a serial killer, Jon.
However, on the eve of Jon's execution, Jack ends up receiving a threat call that tells him that he only has 88 minutes to live. 88 Minutes opened to an underwhelming response both critically and commercially.
Needless to mention, the makers failed to do justice to the talent that they had in hand.
48. The Local Stigmatic (1990)
Produced by and starring Al Pacino in the lead, this David Wheeler directorial venture was shot and edited during the late 1980s.
However, it wasn't released until the dawn of the 1990s. The story follows Graham and Ray, who are seen playing ceaseless mind games with each other by engaging in random acts of violence.
Based on a stage play of the same name by Heathcote Williams, The Local Stigmatic is only 56 minutes, which is probably why it was never released in the theaters.
49. People I Know (2002)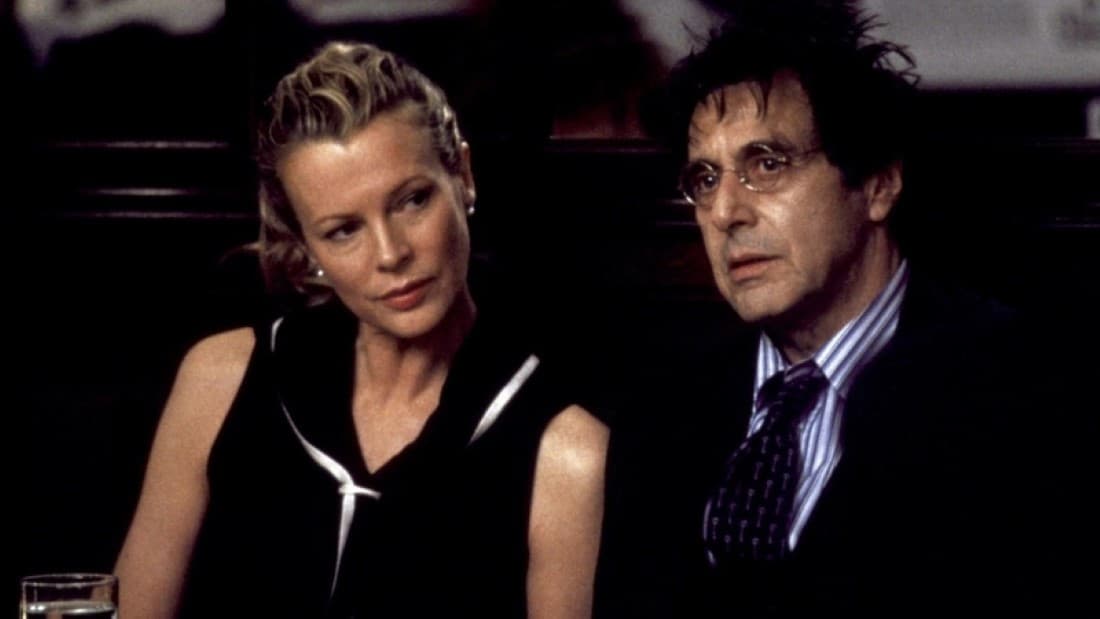 Daniel Algrant's People I Know allows us to get acquainted with Eli Wurman; a burned-out PR professional who witnesses the murder of his client's girlfriend.
Soon after, a realization dawns upon him that some really powerful people must be behind the murder and that he, unfortunately, could be their very next target.
Al Pacino's subdued performance and the scenes that he shares with Kim Basinger are the major highlights of this fascinating but deeply flawed thriller.
While the legendary actor carries the film through and through, he is also aided by a charming Téa Leoni.
50. American Traitor: The Trial of Axis Sally (2021)
Helmed for the screen by Michael Polish, this historical drama film tracks the journey of an American singer and actor, who, after being forced by the Nazis to sing defeatist war propaganda, is captured by the American authorities and sent to trial.
While lawyer James Laughlin agrees to defend Mildred Gillars, he struggles to redeem her reputation. All we'd like to say about this full-length feature is that aside from Al Pacino, the rest of its cast is uniformly awful.
Therefore, it wouldn't be a hyperbole to claim that it will probably only be visited by admirers of the beloved actor in the future.
It is imperative to mention that the film is based on the book Axis Sally Confidential by William E. Owen.