»
Top 50 Best Wedding Movies Of All Time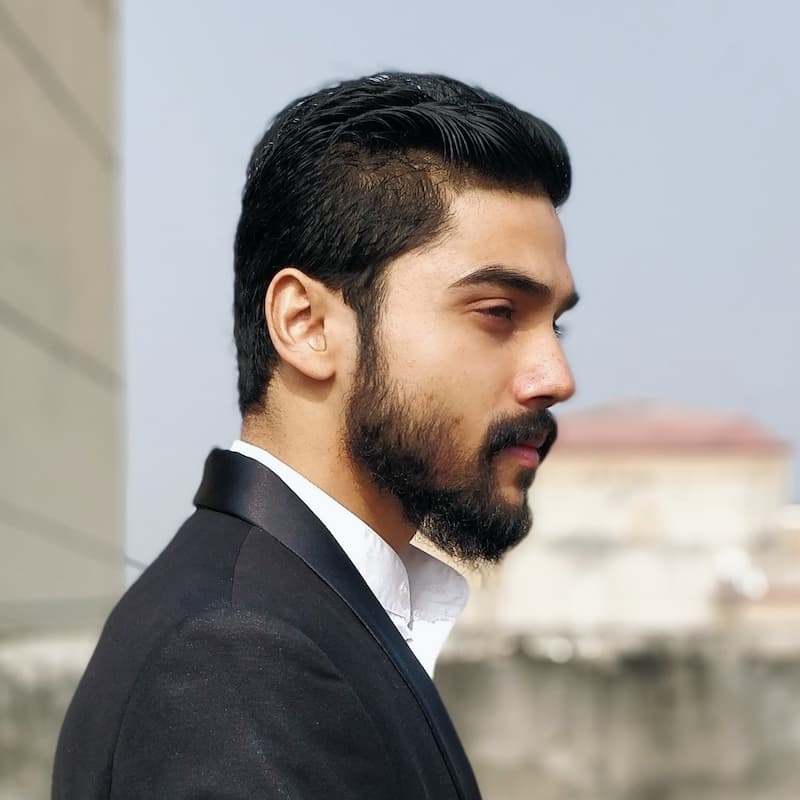 Shivam-Posted Jan 26, 2023
---
Wedding season is basically always looming. So, if you do love love, why should you not allow yourself to get in the mood with some at-home screenings of the best wedding-themed motion pictures of all time?
Come to think of it, marriages might just be the toughest and arguably the most complex step that one takes to further their bond. However, if you take all the logistics away, it's just two people declaring that they love each other in the greatest way possible.
Needless to say, a ton of wedding movies have been bankrolled by various film industries across the globe. While there certainly are slapstick comedies and classic rom-coms to explore, there also are a ton of moody dramas that thrive on their sappy and serious plot structures.
It is not surprising then that just like real weddings, these films also tend to make you laugh, cry, and even cringe. So, without any further ado, let's familiarize you, dear reader, with some of the finest wedding titles to have been produced the world over.
We do take pride in mentioning that this is the most inclusive list on the subject that you will stumble upon on the internet. This isn't an exaggeration because we are not only adding popular Hollywood credits to our story but we are also going to surprise you with a handful of Bollywood "wedding" classics that have managed to stand the test of time.
50. The Wedding Planner (2001)
Using the known ingredients of classic, early-aughts rom-coms, The Wedding Planner has been directed by Adam Shankman, in his feature film directorial debut, and stars Jennifer Lopez and Matthew McConaughey in the lead.
The story follows a wedding planner named Mary Fiore, who, after having been rescued by the charming Steve Edison, believes that she has found her true love. However, things go topsy-turvy when she learns he is the fiance of one of her clients.
While this light romantic comedy is certainly contrived in its execution, it can still be seen once if you are really an admirer of one of its two main leads.
49. Bachelorette (2012)
This unapologetic dramedy follows the drunken escapades of Regan, Gena, and Katie, who plan a bachelorette party for their buddy Becky. However, things take a turn for the worse when the inebriated ladies end up tearing and staining Becky's magnificent wedding dress.
Bachelorette, which thrives on its callous characters and caustic comedy, will make you both cringe and laugh in equal measure. The motion picture premiered at the Sundance Film Festival and is a tartly written but decently performed drama.
48. Runaway Bride (1999)
In Garry Marshall's Runaway Bride, we see a big-city reporter falling in love with a small-town handywoman, who is notorious for fleeing from the altar every single time she decides to tie the knot.
Headlined by Julia Roberts and Richard Gere, the motion picture was criticized for its unoriginal story, tepid execution, and the unexpected lack of chemistry between its main leads. However, the contrived plot seemed to have been enjoyed by the average cine-goer as Runaway Bride emerged as a huge hit at the box office; therefore, consolidating Julia's position as the top female star in Hollywood at the time.
47. Sex and the City (2008)
Written and directed by Michael Patrick King in his feature film directorial debut, this motion picture serves as a continuation of the television series of the same title. The plot follows Carrie and Big, who decide to get married.
However, the latter ends up developing cold feet after his lover's friend, Miranda, goes on a rant about the "realities" of marriage to him. While the screenplay of the film loses steam in its much-awaited transition to the big screen, it may still appeal to the ardent fans of the show.
46. Made of Honor (2008)
Directed by Paul Weiland and starring Patrick Dempsey, Michelle Monaghan, and Sydney Pollack in crucial roles, Made of Honor follows a man who is in love with an engaged woman.
Needless to say, he tries to win her over even though she has already asked him to be her maid of honor. This, unsurprisingly, goes on to complicate things in their respective lives.
Even though it was criticized for its formulaic humor and script, sharp performances by Patrick Dempsey and Michelle Monaghan salvaged the film some pride; thus, helping it emerge as a surprise hit at the ticket windows.
45. The Princess Diaries 2: Royal Engagement (2004)
Director Garry Marshall's sequel to The Princess Diaries tracks the journey of Princess Mia, who finds herself in a quandary when her coronation is stopped by a scheming nobleman, Viscount Mabrey.
This is because the rules apparently state that an unmarried woman cannot possibly be made the queen. While the very talented Anne Hathaway and Julie Andrews bring charm and elegance to the movie, there is not much to catch here other than their performances.
44. Mike and Dave Need Wedding Dates (2016)
This hilarious motion picture tells the story of two hard-partying brothers, Mike and Dave, who post an online advertisement in the hope of finding dates and, subsequently, bringing them to their sister's wedding in Hawaii.
However, little do they realize that they are being outplayed by their new partners. Directed by Jake Szymanski and starring Zac Efron and Adam DeVine as the titular characters, this romantic comedy thrives on its screwball premise but is only sporadically hilarious.
43. American Wedding (2003)
Directed by Jesse Dylan, American Wedding is the sequel to American Pie and American Pie 2, which showcases Jim Levenstein and his girlfriend deciding to get married. As the lovers make up their minds to tie the knot, Jim takes the onus to plan the wedding with the help of his wayward friends.
As expected, hilarity ensues when the fun-loving Steve decides to set up a bachelor party for the groom-to-be. Without adding more here, let's just sum it up by saying that this raunchy adult comedy will surely please the fans of the popular franchise.
42. 27 Dresses (2008)
Katherine Heigl's Jane may have been a bridesmaid 27 times, but it has never bothered her to be a part of someone else's happiness. However, one day, things change when she's asked to be one in her sister's wedding to the man she secretly loves.
It is fun to watch a smart, funny lady find love in director Anne Fletcher's 27 Dresses, which perfectly follows the well-worn romantic comedy formula to entertain its viewers.
41. The Five-Year Engagement (2012)
Sometimes love takes priority, but, often, life seems to get in the way. The Five-Year Engagement is a romantic comedy that will resonate with every couple who has ever felt ready to commit, but then, for whatever reason, not been able to do so.
The story tracks the journey of Tom and Violet, who decide to get engaged just a year after having met each other. As their marriage keeps getting pushed due to their respective careers, a realization soon forces them to rethink their choices.
Written, directed, and produced by Nicholas Stoller and toplined by Emily Blunt and Jason Segel, this funny but warm motion picture benefits from the easy chemistry that its lead actors share.
40. The Best Man (1999)
Written and directed by Malcolm D. Lee, The Best Man thrives on the endearing chemistry that its main protagonists share. We catch the advance copy of Harper's first book landing unexpectedly in the hands of an ex-flame.
But, since he is the best man at a wedding, he is more than afraid of her spilling out the rather well-kept secret that he had an affair with the to-be bride.
Starring an ensemble cast led by Taye Diggs and Nia Long, this motion picture manages to work with the viewers courtesy of its occasional doses of ripe humor.
39. Royal Wedding (1951)
This rather underseen motion picture from the early 1950s showcases a brother and sister dance act encountering challenges and romance when booked to perform in London during the Royal Wedding.
Toe-tapping phenom Fred Astaire and perky starlet Jane Powell play the brother-and-sister duo in this light and amusing drama that is packed with musical numbers and multiple weddings. Its story is set in 1947 London at the time of the wedding of Princess Elizabeth and Philip Mountbatten.
38. Ready or Not (2019)
One of Hollywood's most promising new-age actors, Samara Weaving, stuns viewers and critics alike in this sleeper hit with her confident character play. She is seen portraying Grace; a bride who marries her dream man and then spends her wedding night trying to, literally, survive her sinister in-laws.
Directed by Matt Bettinelli-Olpin, Ready or Not is a darkly funny crowd-pleaser that manages to deliver on what its exciting premise promises.
37. My Best Friend's Wedding (1997)
Two people fall in love while the third one faces heartbreak. It's always the same with all love triangles! The only discerning factor among them is how the third wheel expresses heartbreak; ranging from overwhelming depression to sheer exultation.
So, where does My Best Friend's Wedding fit in here? The story chronicles the journey of Julianne, who is stunned to learn that her best friend Michael is soon getting married.
She is soon overwhelmed with emotions and decides to sabotage his wedding and win him over. A mammoth success worldwide, this movie exhibits progressive storytelling of a cliched theme; thus, making it a winner all the way.
Julia Roberts stands out and keeps the screenplay together while Cameron Diaz leaves a solid impression. So, is friendship love or love friendship? Watch this rom-com to get some significant answers.
36. Mamma Mia! (2008)
This fan-favorite musical romantic comedy traces the journey of Sophie and her family, who are busy preparing for her wedding. The plot thickens when the bride-to-be secretly invites three men - who happened to have loved her mother in the past - hoping that one of them might just be her father.
The magical Meryl Streep portrays the mother, who, at her daughter's wedding, finds herself confronted by the three men in this riotous big-screen adaptation of the Broadway hit. A feature film that is almost certain to put you in a good mood, Mamma Mia! provides you with an enjoyable cinematic experience.
It became the highest-grossing live-action musical following its theatrical release at the time.
35. The Proposal (2009)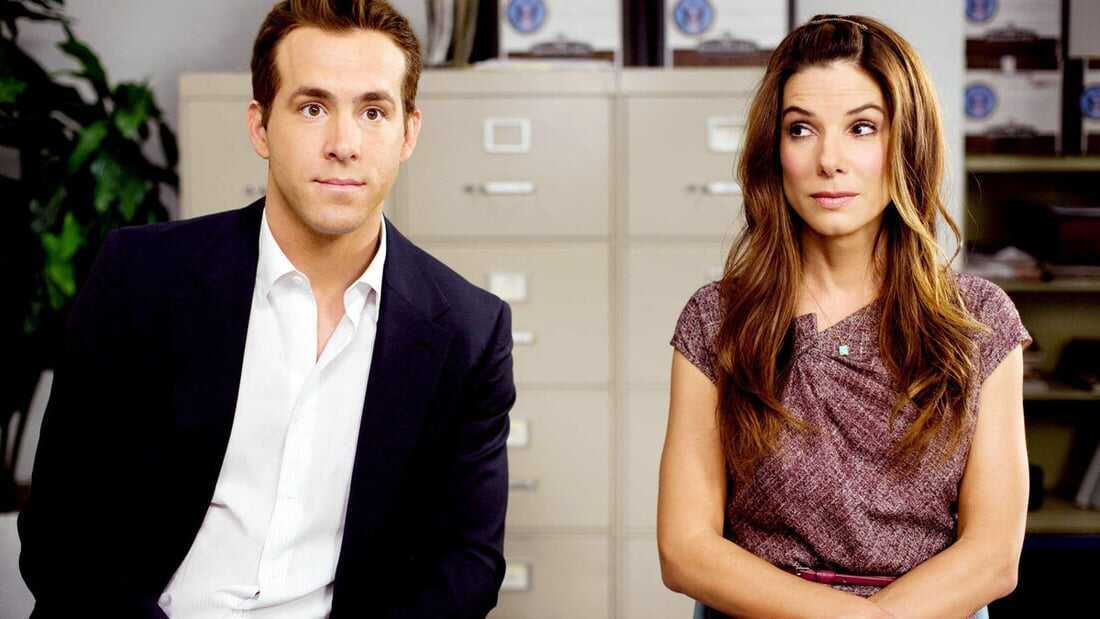 Headlined by one of Hollywood's biggest stars, Sandra Bullock, The Proposal chronicles the journey of a New York editor who coerces her young assistant to marry her so that she can keep her visa status in the United States and avoid subsequent deportation to Canada.
Actors Sandra Bullock and Ryan Reynolds exhibit plenty of chemistry in this likable romantic comedy. In fact, the two seem to be having so much fun on camera that the viewers might just be ready to digest everything that they see, no matter how predictable or silly.
34. Father of the Bride (1991)
There is no denying that most wedding movies are quite fantastical and sappy, but Father of the Bride gets as real as cinematically possible about the stress that comes with planning a fairytale wedding.
Steve Martin stars as George Banks; a beleaguered dad who is struggling to watch his loving daughter grow up. While he seems to be living the perfect life with his wife, daughter, and son, he is surprised to learn that his daughter, Annie, is ready to get wedded.
Needless to mention, he has a hard time letting go of her and keeping up with the skyrocketing costs of a "smallish" at-home wedding.
33. Crazy Rich Asians (2018)
We all know that events like weddings are a chance to meet the friends and family of your better half. So, anyone who has gone through the meeting-the-family step of the relationship will relate to the storyline of Crazy Rich Asians.
The story follows Rachel, a professor, who dates a man named Nick and looks forward to meeting his family. However, she is shaken up beyond measure to discover that he belongs to one of the richest families in the country.
The romantic comedy thrives on its terrific cast and visual splendor to make an impression. Also, there is something in it for those who relish over-the-top and ostentatious wedding celebrations.
32. Steel Magnolias (1989)
This Herbert Ross directorial venture, which is basically a film for every season, tells the story of a young beautician, who arrives in a small Louisiana town and aims to find work at the local salon.
There, we catch a small group of women, who share a close bond of friendship, welcoming her with open arms and hearts. Thriving on powerhouse actresses such as Sally Field, Julia Roberts, Dolly Parton, Olympia Dukakis, and Shirley MacLaine, the motion picture shows the ladies getting Julia's character ready for her big day.
31. The Wedding Plan (2016)
Helmed for the screen by Rama Burshtein, The Wedding Plan introduces us to a woman, who does not cancel her wedding reservations despite her fiancé having called off their ceremony a month ago.
She believes that when the time of the marriage comes, God will end up providing her with a groom. Brimming with reasons to laugh, The Wedding Plan is an Israeli romantic comedy that premiered at the 73rd Venice International Film Festival in the Horizons section.
30. Plus One (2019)
Written, directed, and produced by Jeff Chan and Andrew Rhymer, Plus One introduces us to two longtime friends, Ben and Alice, who agree to chaperone each other at every wedding they're invited to during a busy summer where everyone seems to have caught the wedding fever.
Even though the premise of this feature film might come off as familiar, it goes on to pleasantly surprise its viewers courtesy of the unfettered chemistry of its main leads and its unfiltered humor.
Plus One premiered at the Tribeca Film Festival and is a film worth visiting for fans of the romantic comedy genre.
29. My Big Fat Greek Wedding (2002)
In this Joel Zwick-helmed romantic comedy, we catch Toula, a Greek woman trying to come to terms with her heritage, falling in love with a non-Greek man, and, subsequently, doing her best to persuade her family to accept him.
However, the catch here is that her parents want her to marry a Greek man. A fantastically funny portrayal of cultural differences and the blending of clans, My Big Fat Greek Wedding is a feature that will definitely resonate with couples who are dating someone with an entirely different background.
Also, the fact that it takes the pain to elucidate the entire process of planning and executing a wedding works for those looking for a true-blue wedding flick to sit through.
28. Vivah (2006)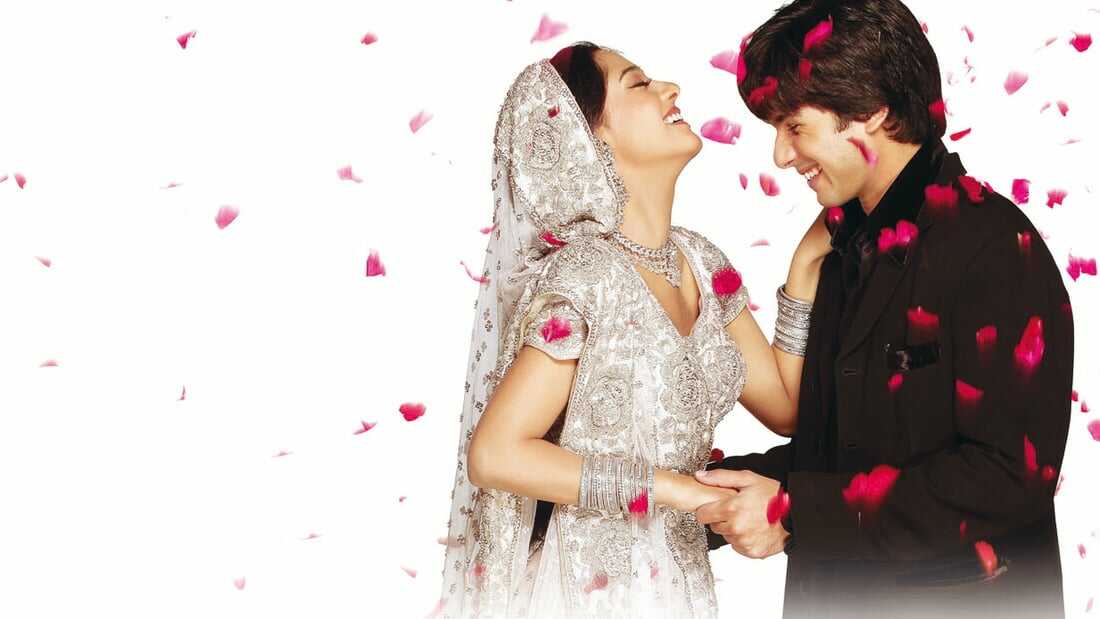 A smash hit at the ticket windows in India, Vivah is the third motion picture helmed by acclaimed Bollywood filmmaker Sooraj Barjatya to make it to our story. The film chronicles the journey of an orphan named Poonam, who is engaged to Prem; a guy who hails from an affluent family.
However, two days before their wedding, she suffers from first-degree burns after her house catches fire amidst the celebrations. This romantic family drama is not only credited with triggering changes to the way marriage is depicted on the Indian silver screen but also for showcasing how it is largely planned in the heartland of India.
27. Emma (2020)
Those who have flipped through Jane Austen's novel, Emma, would understand that the 19th-century tale pivots around marriage. We are introduced to Emma; a self-proclaimed matchmaker who is infamous for meddling in the romantic relationships of her mates.
Sooner than later, her misguided matches and romantic missteps lead her to find the love that has been there all along. If any of you are confused about this Autumn de Wilde directorial venture being a wedding flick, perhaps the fact that its star Anya Taylor-Joy wore a vintage Bob Mackie wedding dress to its premiere will help.
26. Sabrina (1954)
Headlined by Hollywood icons Humphrey Bogart, Audrey Hepburn, and William Holden, Sabrina has been helmed for the screen by acclaimed filmmaker Billy Wilder. While the plot does not revolve around its titular character tying the knot, it certainly does show the wedding of a man who is in love with her in progress.
The story traces the journey of a playboy who becomes interested in the daughter of his family's chauffeur. However, it is his serious brother who would perhaps be the better man for her.
The climax of this popular vintage drama isn't so much about "I do" as it is about "I choose you." Fair enough, we say.
25. I Love You, Man (2009)
Written and directed by John Hamburg, this bromantic comedy tracks the entertaining journey of Peter, who sets out to find out the perfect best man for his wedding. However, things take a rather dramatic turn when his fiancee gets sore about his and his newly found best man's burgeoning rapport.
Starring Paul Rudd, Jason Segel, and Rashida Jones in pivotal roles, I Love You, Man manages to make the most of its simple premise all thanks to startlingly original and heartfelt performances of Paul Rudd and Jason Segel.
Also, the attractive Jones holds her own in a screenplay driven primarily by her male co-stars.
24. Bend It Like Beckham (2002)
Director Gurinder Chadha's Bend It Like Beckham may come off as a sports movie on the surface, but a good quarter of it revolves around a wedding. We are introduced to a girl who decides to bend the rules by fulfilling her dream to play professional soccer.
However, her extra-conservative parents want her to hang up her football boots, find a nice boy, learn to cook, and ultimately, "settle down" in life. Praised for its light-hearted tone and commentary on South Asian social norms and culture, Bend It Like Beckham is a positive and delightful motion picture that deserves to be seen.
23. Looking: The Movie (2016)
This Andrew Haigh-helmed drama follows Patrick, who, after having lived in Denver for almost a year, reunites with the gang back in San Francisco. Then, we find him reflecting on where his life is in the present, and in what direction could it possibly head in the future.
The focus of the screenplay here is its main trio of San Francisco gay men, who gather for a much-awaited wedding. Needless to say, several loose ends are tied, romantic connections are unexpectedly made, and "I dos" are lovingly said; all resulting in providing the viewers with an amusing tale.
22. Bridesmaids (2011)
Even though pop culture and gender stereotypes have made us believe that women love weddings, it is also an underappreciated fact that not all ladies are born with perfect-wedding-planning genes.
Bridesmaids introduce us to a jobless chef, Annie, who is requested by her best pal, Lillian, to be her maid of honor. However, things go for a toss when she ends up ruining the wedding due to her relentless conflicts with one of the bridesmaids.
This female-driven comedy, which has been helmed by Paul Feig, duly captures the internal conflict and external stress that a lot of women go through while planning a close-to-perfect wedding.
21. Palm Springs (2020)
This Max Barbakow-helmed project, which stars Andy Samberg and Cristin Milioti in the lead, flirts with the science fiction and horror genres. The audience-approved time loop trick gets the wedding treatment in this nihilistic comedy, in which we catch two wedding guests developing a budding romance while living the same day over and over again.
While it's certainly not your trademark wedding flick, the strong performances, assured direction, and refreshingly original concept make it a rom-com worth visiting.
20. Coming to America (1988)
This John Landis directorial venture is an '80s classic that most of the world may have seen by now. The movie, which very subtly highlights the complications that can pop up in potential arranged marriages, traces the journey of the magnanimous African Prince Akeem, who, on his 21st birthday, is asked to wed a woman he has never seen.
However, he seems more than determined to break tradition. So, he decides to head to the United States of America to look for a potential bride he can truly love and admire.
Based on a story created by and starring Eddie Murphy in the lead, Coming to America is a cult comedy feature that continues to attract viewers.
19. Meet the Parents (2000)
Meeting the beloved family members of your special someone might just be the biggest moment before taking the next, very important step in the relationship. Helmed by Jay Roach, Meet the Parents is a comedy that explores unexpected issues that may pop up with introducing the love of your life to your family.
Set against the backdrop of a wedding, the plot follows a good-hearted but hapless nurse named Greg Focker, who decides to spend a weekend with his girlfriend's parents before proposing to her.
Unfortunately for him, her father instantly dislikes Greg, which ends up making his stay far worse than he could have ever imagined. Meet the Parents works big time primarily because of its subtle but solid humor and competent performances.
18. The Hangover (2009)
One of the most popular features to make it to our list, The Hangover may not entirely revolve around a wedding but the adventures it shows all stem from one.
Helmed for the screen by Todd Phillips, it allows us to chaperone the superior trio of Zach Galifianakis, Bradley Cooper, and Ed Helms on a trip to Las Vegas. However, the plot soon thickens when the boozy bachelor party goes haywire and, consequently, sets the stage for ceaseless chaos and a comedy-filled adventure.
Furthermore, things get far more complicated when one of the friends goes missing. Needless to mention, the group has no option but to retrace their steps and find the groom before his wedding starts.
Trust the genius Galifianakis and his pals to provide you with countless belly laugh-worthy moments in this one.
17. The Wedding Singer (1998)
It has been noted in film industries across the globe that some rom-com leads just click with the kind of chemistry that they happen to share on celluloid. One such pairing is that of Drew Barrymore and Adam Sandler, whose 1998 outing, The Wedding Singer, marked the beginning of their decades-spanning on-screen love.
We are introduced to a wedding singer named Robbie, who stumbles upon a waitress, Julia, and promises to sing at her wedding. However, the two are unaware of what destiny has in store for them and, therefore, plan to spend their lives with different people.
Often ranked as one of Sandler's best comedies, this Frank Coraci-helmed romantic comedy is funny, beguiling, and sweet, all in equal measure.
16. Ali's Wedding (2017)
This Jeffrey Walker-helmed project is an affectionate and poignant love story that aims to cast a positive light on Muslim-Australian life. The story follows the son of a cleric, who, after having lived a reckless life to date, finds himself caught between his sense of duty and following his heart.
Now, he is facing arguably the biggest dilemma of his life. As his marriage has been arranged, he must either follow through with it or be audacious enough to be with the girl he truly adores.
Ali's Wedding uses a highly relatable plot to explore universal ideas about relationships and marriages.
15. Melancholia (2011)
Directed by Lars von Trier, this critically acclaimed motion picture is not your conventional wedding project. It uses a wedding in the background to showcase how two sisters find their already strained relationship challenged as an enigmatic new planet threatens to collide with Earth.
As the screenplay progresses, one feels that the wedding serves as a way of putting the central character in an extreme situation where she "should" be happy; irrespective of what the circumstances are.
That said, the film truly triumphs in its attempt to highlight how depression often has nothing to do with what's going on in your life at a given moment.
14. Wedding Crashers (2005)
Helmed for the screen by David Dobkin, Wedding Crashers traces the journey of two womanizers who love to gatecrash weddings. However, the duo soon finds itself in a fix when one of them ends up falling in love with the bridesmaid at one such wedding that they happen to have crashed.
This raunchy and sweet comedy may bank on the performances of Christopher Walken, Rachel McAdams, Isla Fisher, Bradley Cooper, and Jane Seymour to make an impact, but its true strength lies in the top-notch character projections of leads Vince Vaughn and Owen Wilson.
A sleeper hit at the box office, Wedding Crashers is credited with helping to revive the popularity of adult-oriented, R-rated comedies.
13. Muriel's Wedding (1994)
Written and directed by P. J. Hogan and starring the inimitable Toni Collette in the titular role, Muriel's Wedding tracks the journey of a young woman who goes about the business of landing herself a husband.
However, the catch here is that she has never even been on a date before. Hilarious, sentimental, and very Australian in its approach, this rather underrated wedding-themed motion picture is exuberantly funny and a genuine crowd-pleaser.
Packed with oddball Australian characters, it premiered at the Toronto International Film Festival in 1994.
12. Portrait of a Lady on Fire (2019)
While I agree that Portrait of a Lady on Fire is not your conventional wedding movie, I sure am allowed to flex my editorial muscle and include it in the piece.
However, I have my reasons. The award-winning story, which is set on an isolated island in Brittany at the end of the eighteenth century, traces the journey of a female painter, who is obliged to paint a wedding portrait of a young woman.
Erotic, passionate, and soul-stirring, this Céline Sciamma directorial venture comprises most of the components present in a wedding: a would-be bride, a wedding dress, and, of course, the dreaded cold feet.
The film won the Queer Palm at Cannes, thus, becoming the first film directed by a woman to win the coveted award.
11. The Philadelphia Story (1940)
Starring three of the biggest Hollywood stars of the time, namely Katharine Hepburn, Cary Grant, and James Stewart, this beloved romantic comedy strives to tell the tale of a rich woman, whose ex-husband and a tabloid-type reporter turn up just before her planned remarriage.
However, all thanks to the presence of the charming men, she soon begins to learn the truth about herself. This motion picture, which is still considered one of the best examples of a "comedy of remarriage", culminates with a memorable wedding sequence.
More importantly, this George Cukor directorial venture offers you the luxury to watch three screen legends sharing the screen space.
10. Corpse Bride (2005)
Tim Burton's imagination knows no bounds and if the inimitable filmmaker can enthrall one and all with his rather dark and distinct stories, trust him to give us a rather unique movie centered around a wedding.
Offering a dose of bittersweet wedding whimsy, Corpse Bride tells the story of Victor, who is shown to be practicing his wedding vows in the woods. However, as he continues to rehearse, he ends up marrying a skeleton-like creature, Emily, who then whisks him off to the land of the dead.
Based on a 17th-century Jewish folktale, this stop-motion animated musical dark fantasy film was lauded for its imaginative and emotionally bittersweet storyline.
9. Love Actually (2003)
Yes, we know that this British romantic comedy is a very popular holiday movie, but it is also a project that kick-starts with a memorable wedding scene. The story takes the onus to acquaint us with eight London couples who are trying to deal with the complications of relationships in different ways.
Featuring an ensemble cast that mostly comprises popular British screen performers, this Richard Chrtis-helmed motion picture is a roundly entertaining romantic comedy that is stuffed with too many love stories to narrate.
8. Much Ado About Nothing (1993)
Based on William Shakespeare's play of the same name, Much Ado About Nothing tracks the journey of Hero and Claudio; a much-in-love young couple who are set to get married.
Soon into the movie, we find the couple tricking Benedick and Beatrice into confessing to their real feelings for each other. Surprisingly, their plan goes on to work without a hitch.
A mega drama is seen materializing among the friends and foes inhabiting a Tuscan villa in this romantic comedy, which comes alive in the true sense of the word courtesy of the amusing performances by actors Denzel Washington, Michael Keaton, and Emma Thompson.
Also, the film marked the big-screen debut of the lovely Kate Beckinsale.
7. Four Weddings and a Funeral (1994)
Often counted among the best British films to have been produced, Four Weddings and a Funeral, as its title suggests, is set through the course of four weddings and a funeral.
The plot follows Charles, a good-hearted young introvert, who tries his best to discover his true love for Carrie as he attends the wedding of four of his friends and a funeral.
Thriving on the many hiccups, hilarities, and heartbreaks in its screenplay, the film went on to become the highest-grossing British film in history at the time of its theatrical release.
This delightful and sly light-hearted entertainer also derives its strength from its superb performances; especially that of Hugh Grant.
6. The Farewell (2019)
Awkwafina stars as Billi Wang in Lulu Wang's pump-fake wedding dramedy, which chronicles the journey of a Chinese family that learns that their grandmother has less time to live. So, to give her a sweet reason to smile, they organize a wedding before her death.
However, Billi seems to be unhappy with the family's decision. This well-acted drama captures complex family dynamics with poignant and relatable themes to boot. Awkwafina's character projection in the movie earned her the Best Actress nod at the Golden Globe Awards in 2019.
5. Monsoon Wedding (2001)
Set in New Delhi and featuring an exclusively Indian cast, Mira Nair's Monsoon Wedding tracks the journey of a tensed father, a bride-to-be with a secret, a smitten event planner, and relatives from the world over, who come together for a boisterous arranged marriage preparations.
This motion picture, which shows a vivid family reunion bursting with joyous pomp and culture, is a fine way to get acquainted with the upper-middle-class setup in India. Monsoon Wedding premiered in the Marché du Film section of the Cannes Film Festival in 2001 and went on to win the Golden Lion award at the Venice International Film Festival.
4. About Time (2013)
Written and directed by Richard Curtis and starring Rachel McAdams and Domhnall Gleeson in the lead, About Time is a time-jumping fantasy that calls for a celebration of love and life.
Comprising a remarkable cinematic wedding scene that makes for a stellar Kodak moment, the film tells the spectacular story of Tim Lake, who, like all the men in his family, possesses the power to travel in time.
Thanks to the life-changing advice of his father, he uses his special ability to pursue his love interest, Mary and set things right. About Time, like most other movies out there, has its fair share of flaws, but it finds director Richard Curtis at his sentimental best and rides on the charming performances of its two main leads to make an unforgettable impression.
3. Dilwale Dulhania Le Jayenge (1995)
Aditya Chopra's Dilwale Dulhania Le Jayenge is arguably the most popular romantic film to have hit the screens in India. Credited with establishing both Kajol and Shahrukh Khan as prominent screen stars, the movie introduces us to Raj and Simran, who meet during a trip across Europe and end up falling in love with each other.
However, the plot thickens when Raj learns that Simran is already promised to another. So, without wasting any time, he follows her to India to win her and her family over.
Shot extensively in India, London, and Switzerland, DDLJ was praised for striving to connect different segments of society through its overdramatic storytelling.
2. Maine Pyar Kiya (1989)
This critically and commercially successful Sooraj Barjatya directorial venture was the feature film debut of India's biggest movie star, Salman Khan. The story traces the journey of a wealthy young man, Prem, who falls deeply in love with a working-class woman, Suman.
However, her father will allow them to get married only if Prem can go the extra mile to prove that he is worthy and capable enough to take care of his beloved daughter.
An all-time blockbuster at the box office, this classic family drama is considered to be one of the most iconic romantic films to have ever been produced in India. Maine Pyar Kiya went on to become a cult favorite, all thanks to its chartbuster songs, insanely popular dialogues, and the endearing chemistry between Salman and Bhagyashree.
1. Hum Aapke Hain Koun..! (1994)
One of the biggest blockbusters in the history of Indian cinema, Hum Aapke Hain Koun..! is credited with changing the face of Indian weddings forever. The classic hit of '94, which is an extension of director Sooraj Barjatiya's beliefs, traces the journey of Prem, who meets his brother's sister-in-law, Nisha, and falls head over heels in love with her.
However, fate has other plans in store for the lovers! So, when Nisha's sister unexpectedly passes, she is expected to marry Prem's brother. Headlined by India's biggest box office star Salman Khan, the film also sees popular actress Madhuri Dixit playing the best role of her cinematic career.
Hum Aapke Hain Koun..! brings to light the culture of joint families in India where there is no space for malice, and where celebrations and love are often in abundance.
Arguably the most accurate depiction of Indian weddings on celluloid, this iconic hit even went on to underscore the fact that the chances of meeting your partner at a wedding are much higher than meeting them at a bar.