»
Top 50 Best Vampire Anime [Must-Watch List]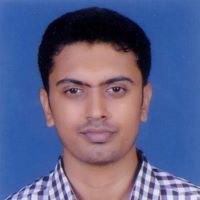 Vignesh-Posted Feb 4, 2021
---
Is there anyone who does not know about Vampires?
Vampires have been a common part of most folklore stories and carry an aura of undefeatable horror.
The first instance of such a creature is dated back to Sumerian and Babylonian mythology which is used to call a spirit that rose out of a body that was not properly buried.
They are also mentioned in the Greek and Egyptian writings which describe them as blood-drinking creatures who seek vengeance.
Vampires, therefore, have been an important part of the horror genre in any media. In books, Count Dracula was immortalized. There are many such works that have been made into anime series too. Here are the top 50 vampire Anime as curated by ENTOIN.
50. Master Mosquiton '99
Master Mosquiton '99 first premiered on TV in 1997. The series had 26 episodes that ran on TV over the next few years. It was rated 6.52 on the MyAnimeList.
It's the story of a mosquito vampire who feeds off the blood of the students in Catholic school. Inaho, the protagonist discovers this and kills Mosquiton.
However, she takes pity and revives him with her blood. This makes him her slave and he joins her school as a teacher.
Together, they embark on various missions and try to find out the O-Part which was a long lost legacy.
The story also involves Inaho's friends – Yuuki and Honou.
This is more of an entertainment anime and is perfect for all watchers. However, the simplicity and naiveté of the plot make it rank lower in this list.
49. Blood-C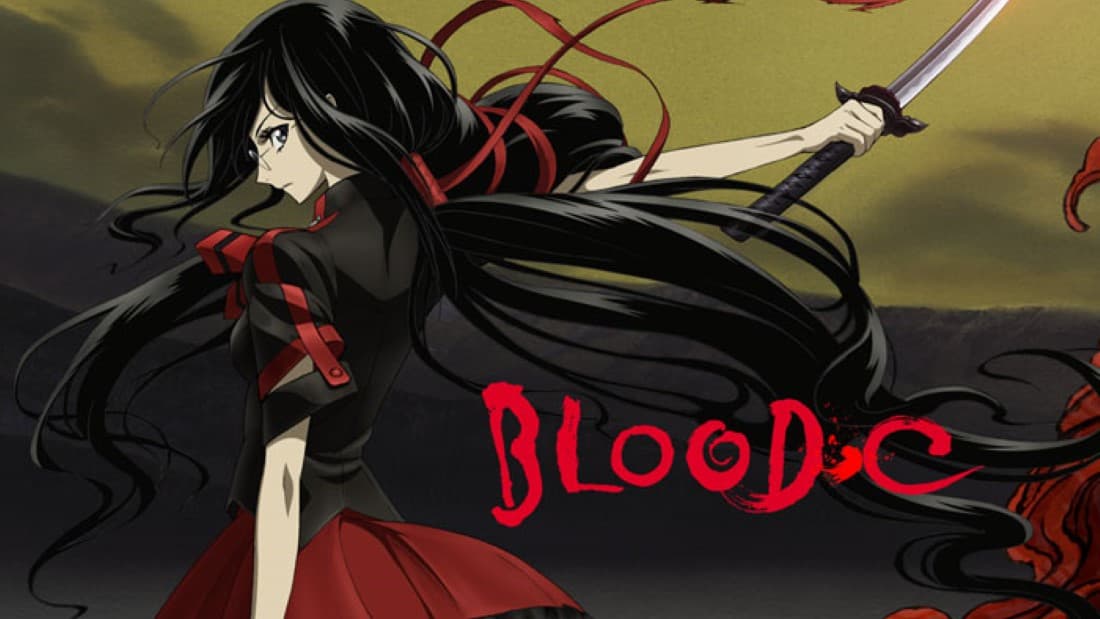 Blood-C was released in 2011 and ran a total of 12 episodes. It had a rating of 6.61 with 1,14,000+ votes.
Similar to Mosquiton, this plot also revolved around a school story where the protagonist had a split role. In the day, Saya Kisaragi lived as a scholar and at night she turned into a vampire slayer.
She slays all the vampires who threaten to spoil the peace of her village and is quite successful. She had the talent of finding out the conversations happening between the demons. This is when she stumbles upon a broken covenant principle.
This leads her to a journey in finding the truth behind the broken covenant.
48. Vampire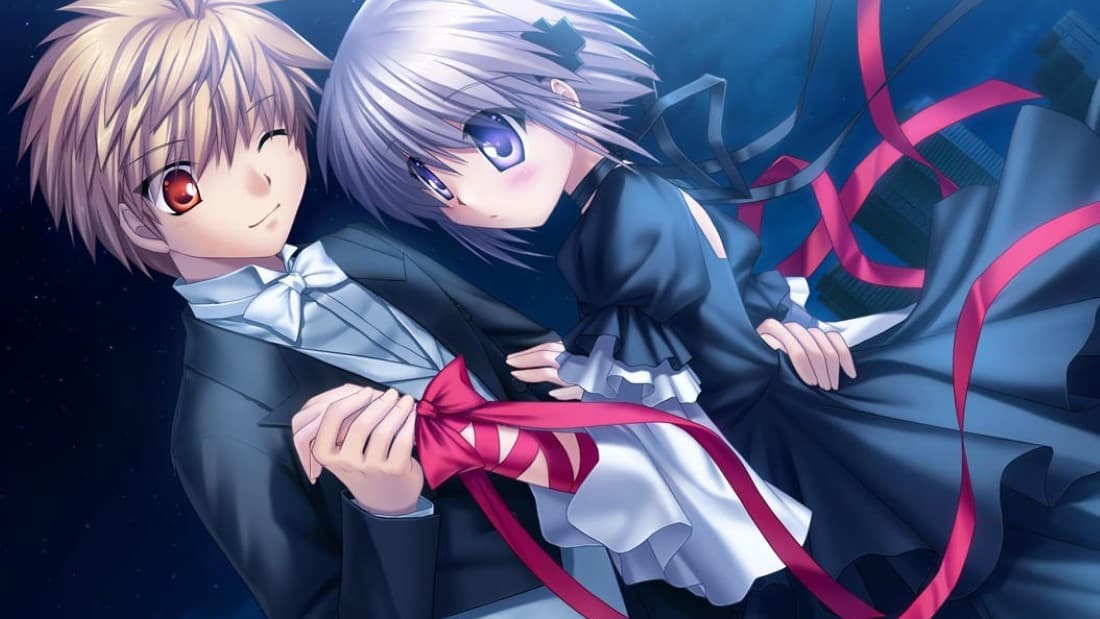 This first came on OVA in September 2011 and was a short one - with just 2 episodes. It's a hentai genre vampire anime which was under criticism for the graphic content it had. It was rated 6.58.
It outlines the life of a butler Yuuto Akiyama who served in a bungalow of vampires. They were not ordinary ones - but needed to be satisfied by the only human there. Yuuto knows that he is going to end if he does not figure out a way at the earliest.
His struggle against the laws of the house and his curiosity to find an escape route makes up the rest of the story.
47. Itsuka Tenma no Kuro Usagi
Itsuka Tenma no Kuro Usagi is based on a light novel. It first came on TV in early 2011 and had more than 11 episodes in total. Over 1 lakh people rated it as 6.61, which is a decent score.
It contains comedy and is laced with the Ecchi influence. It's the dreams of Taito which are shown from the start. He meets and talks to a female vampire in his dreams. She talks about a poison she has given him which he is unaware of.
What is strange is when Taito starts hearing her voice even when he is awake and starts to see the dreams repeat in real life. This is when he starts connecting to the vampire in his dreams and hopes to fight the real world with visions from his dreams.
46. Vampire Hunter
It is based on a game and was released over OVA in 1997 when it was becoming popular. It's rated at 6.64 by around 15000 viewers on MyAnimeList.
The story is about a dark world ruled by Darkstalkers and plagued by constant conflict between them as they fight for supremacy. Zombies, Humans, Robots, vampires, and werewolves fight each other to gain dominance.
That's when Hutzil robots decide not to support mankind and instead dominate the world. The Darkstalkers then launch a conquest to save the world.
45. Wild Arms: Twilight Venom
This is also based on a game and featured on TV between 1999 and 2000.
The plot revolves around people who travel to Filgaea. There are four of them - Sheyenne Rainstorm, Kiel Aromax, Roleta Oratorio, and Mirabelle Graceland.
Their journey comes with a lot of ups and downs in it thereby keeping the viewers excited, glued to watch the entire series.
44. Blade
The blade was released on TV in 2011 and had 12 episodes. It was rated 6.24 by 22000 votes and had made a decent collection.
The story is about a "Day walking" vampire hunter named Blade. He was born with the mixed blood of a human and a vampire after his mother got attacked by one.
Blade visits Japan on a mission and tracks down the vampires who killed his mother. The vampire is named Deacon Frost and runs a group called Existence. It's basically a cartel to hide the evil deeds and defend Frost.
Blade then fights and gets into the castle of Frost to confront him. This fight goes on till the end of the movie. They are joined by various allies who make it a power play.
The best scenes of this anime are the fighting moves involved here. Frost gets defeated and killed in the end as Blade avenges his mother's death.
43. Dance with Devils: Fortuna
It was released in 2017 November and had a total of 12 episodes. Fortuna is one of these episodes. It was rated 6.35 by close to 1 lakh people.
Ritsuka Tachibana, a good and decent student gets notoriety as a trouble maker by the school committee authorities. The council is named Rem Kaginuki and is headed by Shiki Natsumizaka, Urie Sogami, and Mage Nanashiro on its board.
Their sinister moves are found out soon when certain things happen.
Soon, her mother gets kidnapped and she stumbles upon the demon world. She gets to know about the "Grimoire" which is an item that enables the holder to rule the world. All the groups of these demons have been searching for exquisite items in their conquest.
Her brother Lindo returns from abroad and it relieves her. He acts suspiciously which makes her concerned. She soon confronts him and then solves the mystery and the tale ends with the student council trying to win over her.
42. Phantom in the Twilight
It featured on TV in 2018 and was rated 6.42. This anime is about modern-day London, where 'shadows' are born out of human fear and anxiety.
A young girl arrives there for her studies and gets caught in a bizarre and strange incident as she joins the new college. In that city with no acquaintances, she visits "Café Forbidden," which is a mysterious shop. It is open only at midnight for the passers.
There, she meets many handsome men who are employed at the shop.
This shop gets visits from guardians who protect the divine boundary between human worlds and demon worlds. They meet there to discuss their plans at work and the strategies.
41. Yichang Shengwu Jianwenlu
Yichang Shengwu Jianwenlu is a novel that was telecasted on ONA in 2019 June. It was rated higher as it involved a good illustration.
Yoshihito is 23 and male, who is a loner – lives all by himself. Since he needs to make ends meet, he has to rent out portions of his home to tenants and one night dwellers.
His first tenant is a girl named Lily, who gets assaulted by a vampire called Vivian. After this encounter, Yoshihito discovers that Lily is actually a werewolf.
Yoshihito is recruited for a club that enforces the law and order of the parallel realities. Soon, he discovers that some strange creatures start becoming tenants at his own house, without his knowledge.
40. Yuugen Kaisha
Yugen Kaisha was released in 1994 amidst the fanfare.
In a country where companies are categorized into many auxiliary corporations and divisions, one of them is a ghost company. It's known as the Phantom quest corporation. Some unknown supernatural phenomenon comes to threaten the city and its dwellers.
It's then Ayaka Kisaragi, an important character and her employees take it on themselves to fight the supernatural menace and win over it.
This fight is what's captured in the series as they go on a race against time to formulate the worst and fight it. Defying all the natural and logical boundaries, they finally meet the end, which questions their existence.
39. Tenshi ni Narumon!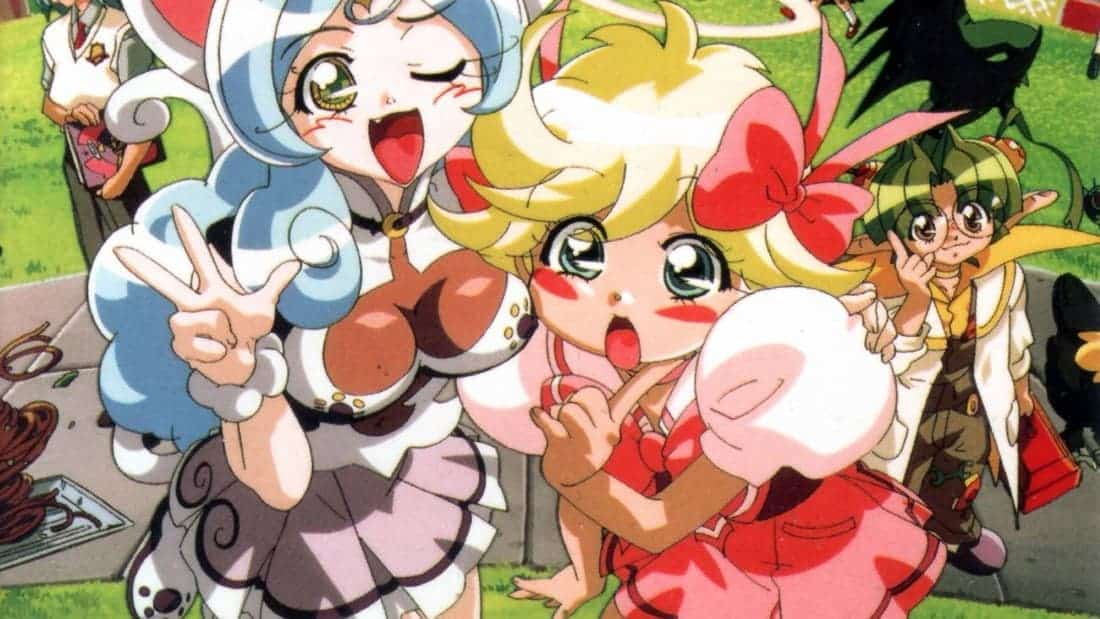 Tenshi ni Narumon! was the original series and it was released on TV in April 1999. It is ranked 6.71 by around 5000 votes. The reason it's lower in the list is that it could not make it beyond a limited audience.
Yuusuke was just a normal kid going to high school and enjoying life in his little world. Later, he finds himself recruited into an organization of unknown creatures.
His new parents are a Frankenstein monster and a beautiful woman obsessed with round objects. His elder sister Sara is invisible and his brother Gabriel is a vampire who has a bad attitude. His youngest sister is a demon named Ruka, who's a professional researcher.
Yuusuke has a one-sided love for Natsumi (a girl from his school). Natsumi considers him nothing more than a pervert.
38. Fortune Arterial: Akai Yakusoku
It was a series of 12 episodes that were released in October 2010. It was a mix of comedy genre and attracted kids. It was ranked 6.73.
Fortune Arterial is about the saga of Kohei Hasekura. He is transferred into a reputed public school that has both – juniors and high school students.
The school is located on Tamatsu Island which is an island and the only way to reach there is by ship or a boat. Soon after his transfer, he discovers that one of the students Sendo Erika is a vampire.
His fight to bring Erika back to normal forms the rest of the story. He also faces a dilemma as to whom he must save – whether himself or Erika.
37. Master Mosquiton
Master Mosquiton first premiered on TV in 1996. It had a total of 6 episodes which ran across the next few years. It was rated 6.70 on the MyAnimeList.
Inaho, a young woman resurrects Mosquiton with her blood.
The vampire awakens and becomes her slave. Now, Inaho goes after the mythical O-Part, which will apparently grant her the bliss of immortality.
36. Blood +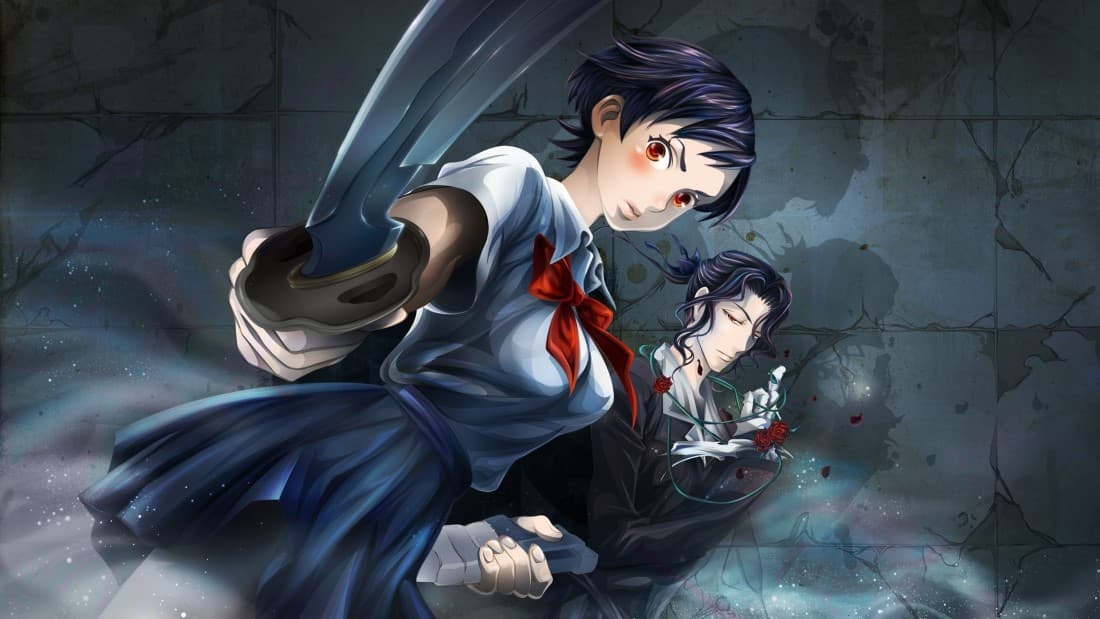 Blood + was released in 2005 and ran a total of 50 episodes. It had a rating of 7.66 with 3,15,000+ votes.
Similar to Mosquiton, this plot also revolved around a school story where the protagonist had a split role. In the day, Saya Kisaragi used to be an ordinary human but, at night she'd turn into a zombie who went on slaying vampires.
Saya's obsolete memory comes back to haunt and scare her. She's attacked at school one night by a vampire that feeds off human blood. That's when a mysterious creature Haji suddenly enters and defends her from the creature.
He then forces her to drink his blood and she suddenly enters a trance. She then slays the monster easily, using her own blood as the ingredient.
The unaware humankind does not differentiate them and one night Saya almost gets killed.
35. Devils Line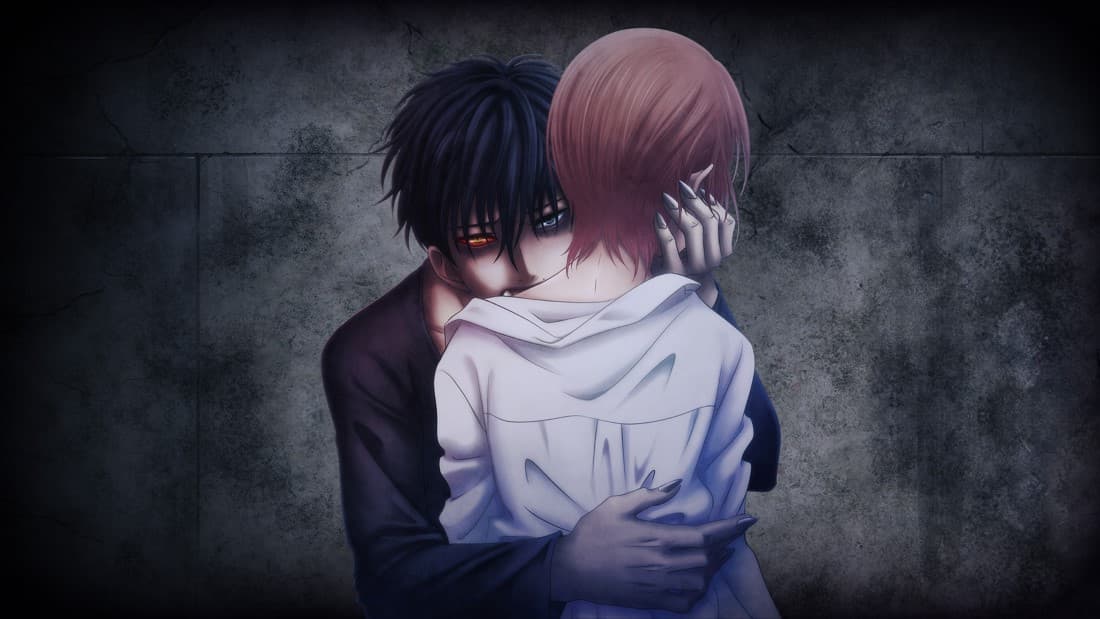 Devils Line was released in 2018 and had 12 episodes in the series. It was based on the Manga comic. It was ranked 6.79.
Vampires roam around in society and exist as outcasts. They may not need blood to thrive but, any extreme emotions can cause problems. It can immensely increase their bloodlust and turn them into dangerous bloodthirsty beasts.
Tsukasa Taira, the female protagonist of the series, is a 22-year-old college student who has no idea that her friend is a vampire. It is revealed to her when her friend and Anzai, the male protagonist confront each other.
Anzai is a mixed-blood vampire who helps a police task force to solve the crime. Later in the series Tsukasa and Anzai develop feelings for each other.
However, this unconventional romance proves to be hard to continue. This is because Anzai has to battle that part of him who wishes to eat up Tsukasa.
34. Noblesse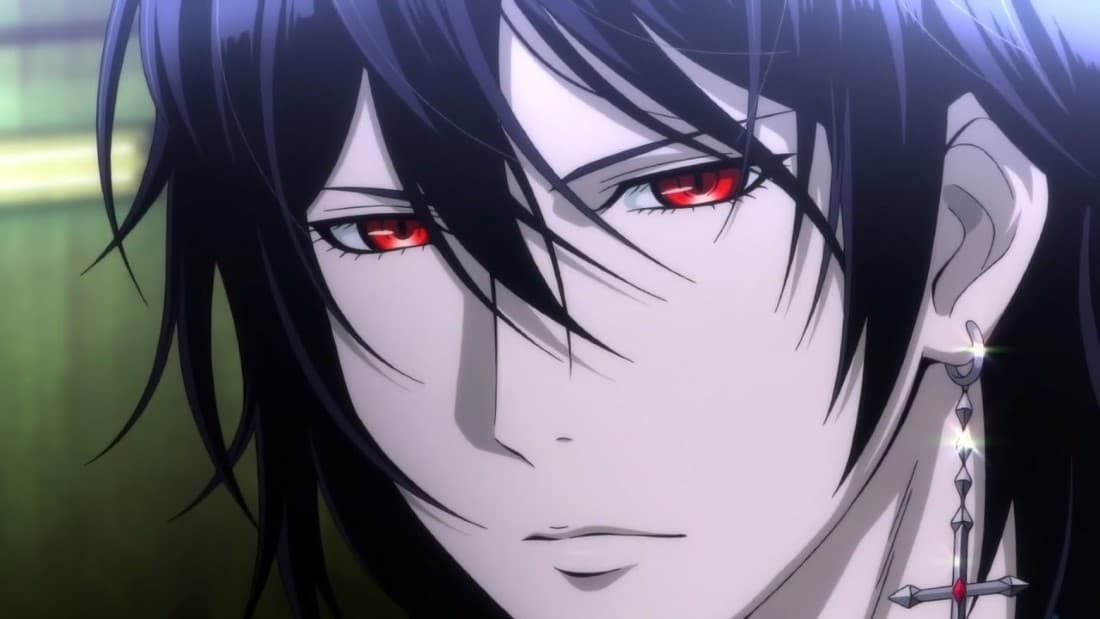 Noblesse is a series of 13 episodes which is based on a South Korean webtoon of the same name.
The story revolves around Raizel who was asleep for 820 years wakes up. When he wakes, he finds a very different world around him.
He's however unfamiliar with the simple ways of humankind. So his servant Frankenstein gets him enrolled at a school called Ye-Ran High School. Raizel learns a lot from there and gets upskilled. He makes many friends too.
He holds the coveted title of Noblesse which is designated to a pure-blooded Noble and is destined to be the protector of the class of Nobles.
However, a strong and covert organization – Union who has a global influence and aims to dominate the world, notices him.
They send hybrid humans and observe Raizel's life in a slow manner. Their intentions after this are to make him destroy the Nobles around him.
33. Vassalord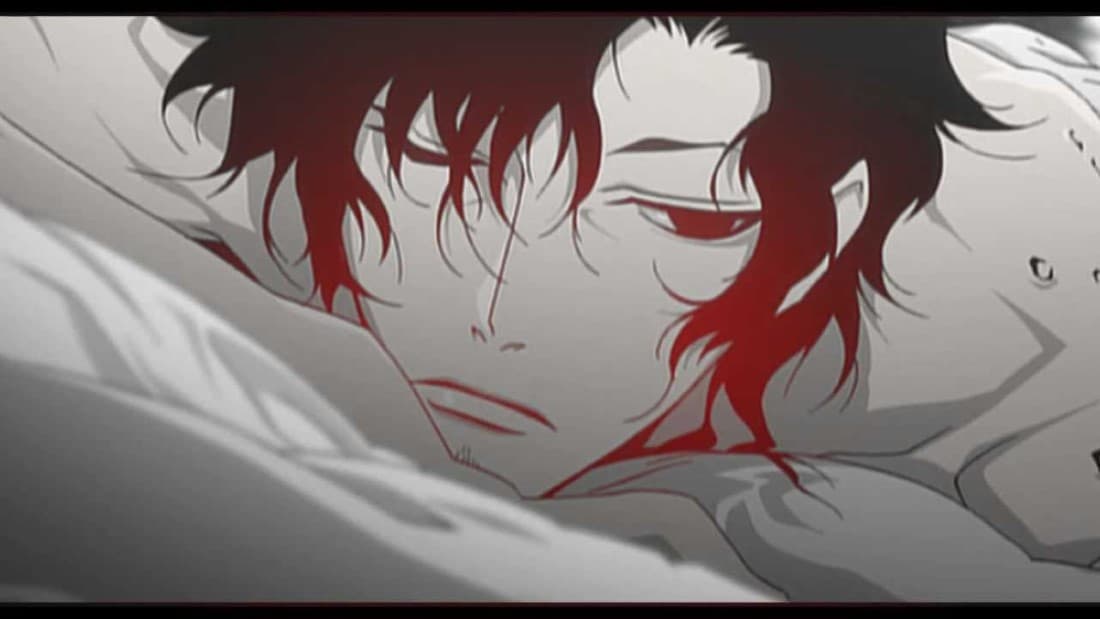 Vassalord was released in March 2013 and was the only episode of the series. It combined the comedy and fantasy genres. It premiered on OVA successfully. It was rated 6.85 but stands higher as it's more accepted.
This story is about Charley who's a cyborg vampire tasked to do the Vatican's covert operations. He is the thrall of a local vampire. This is not any ordinary one but a playboy who calls himself Johnny Rayflo.
The story is about the demonic duo which vows to fight against a childlike vampire princess, part of a secret order of the Unitarian Church who has strange ways.
They are not known to reveal themselves unless they wish to finish off someone.
32. Rosario to Vampire
It is based on the Manga series and has a total of 13 episodes. It was released in January 2008 on TV worldwide. It was rated 6.85
The story starts at a Youkai Academy. It's a residential school which trains demons on how to live with humans by teaching them mannerisms and the science of human existence. The demons show up as human beings and study all human subjects like art, literature, science, and so on.
They are also taught foreign language and gym to make them fit. This academy is strictly for demons and any human found on the campus would be condemned to death.
A creature named Tsukune unknowingly visits the academy. He stumbles upon the most sought after girl on that campus - Moka Akashiya. He's unaware of her demonic intentions and takes the risk to stay put on the campus to carry his relationship further.
The rest of the story is about how he finds her real nature and the strategies he uses to escape from her trance and find himself back to his original world. The ending was so beautifully depicted.
31. Shingetsutan Tsukihime
It was a visual novel released on TV in October 2003. It ran a series of 12 episodes and was rated 6.91 as it had good graphics.
The story is about Shiki Toono. He had survived a life-threatening injury as a kid and was sent away from her household to be brought up by a distant relative.
Some years later, his father who's also the head of the Toono household passes away. He gets this news when he is in high school and he is also ordered to go back home, by his sister Akiha. She takes charge as the new head of the Toono household.
However, there's a secret behind Shiki. He sees all lines as objects which was a result of the injury caused to him and he can't manage it unless he uses specially crafted goggles that correct his vision.
The other catch is that he had forgotten everything in his life which happened before his life-threatening accident. He has a short temper and ends up beheading a woman named Brunstud in a fit of anger. This woman was part of the Toono household.
Later, she shows up and surprises him. He gets shocked when she asks him to be her bodyguard and protect her.
The rest of the story is about how he tries to time travel and unravels the mysteries of his life before the accident and how he got sent out from the household. The woman plays an important role there.
30. Blood: The Last Vampire
This was also rated 6.91 but stood lower as it lacked the storyline which enthralled the viewers. It was released in 2000 November and had only one episode.
The story is about some demons called Teropterids. They disguise themselves as human beings and live so only to feast on blood. On the other hand, in the human world, there are some hunter groups who are dedicated to fighting and destroying the Teropterids.
This group goes on a mission to kill every single Teropterid in the world to secure it permanently.
Saya is one such hunter leader who's a mysterious girl. She gets deputed by her country to go to a US Military Base which is plagues by Teropterids. The forces are not equipped to fight them and count on Saya's help.
29. Jitsu wa Watashi wa
This was released in July 2016 and has 12 episodes.
Asahi Kuromine, an ordinary human discovers that his crush Youko Shiragami is a bloodthirsty vampire. When Youko realizes that her cover has been blown, she goes to her father. He then tells her to quit school as her family is in danger because of this.
However, Asahi is disappointed as he wants her in school. So he promises that he will keep her true identity confidential. Unfortunately, Asahi is a big-mouthed man by nature and is very talkative. He cannot keep any secrets. He hears things that he knows are not true and instantly tries to correct them.
This starts a series of problems in his life and brings a lot of misfortune. Some demonic creatures start to enter his life. He is compelled to keep it under wraps or face the terrible consequences.
His life is now about dealing with his new friends and the tough challenges posed by them. He struggles to keep his mouth shut all along, and strives hard to win Youko's heart amidst the crisis.
28. Servamp
Servamp was a 2016 released TV series that premiered 12 episodes. It was rated as 6.94 on the list due to its simplicity in enthralling the viewers.
When Mahiru Shirota firmly believes that being simple is the best policy and avoiding troublesome things is the only way to peace, he stumbles on confusions.
He goes against his principles when he decides to adopt a stray cat that was in need of care.
He names the cat Kuro and knows very little about what's in store for him next. This meeting will spark an extraordinary change in his life very soon.
One day, he discovers that Kuro is missing at home. He is shocked to see something quite strange in place of the cat. It's a mysterious man whom he has never met before.
He questions the man and he reveals that he is a lazy shut-in vampire who disguised himself as the cat Kuro. He also assures to leave Mahiru, once night falls.
However, Mahiru faces many disasters after that and soon gets forced to accidentally forming a contract with his new freeloader vampire. This drags him into many life-threatening battles of otherworldly creatures, Servamp, and other bloodthirsty beings.
The rest of the story is about how he struggles to get rid of them while trying to save his life along and realizing how true his principles were.
27. Night Walker: Mayonaka no Tantei
The story is about a vampire named Shido Tatsuhiko. He had no memory of his past and he works as a private investigator.
He is joined by a female government agent, Yayoi Matsunaga for his expertise in solving breed involved cases. Riho Yamazaki, a teenage orphaned girl works for him as a secretary.
There are some Nightbreed creatures whom Shido must fight as a part of his work.
Cain, the vampire who turned Shido into a vampire and made him forget his past holds selfish motives against Shido.
The fight between the duo is what makes up the rest of the story and seals his fate. Prior to the end, Shido recognizes the harsh truth and it gives him the inspiration and purpose to fight. Cain has ended up in defeat and begs Shido to spare him.
26. Kurozuka
This is an adaptation of Takashi Noguchi's manga. The manga itself is adapted from a romance novel by Baka Yumemakura. It was released on TV on October 7th, 2008, and had showcased 12 episodes.
It's about a man named Minamoto no Yoshitsune (who is also known as Kurou) who is alive from the 12th century. Kurou loses his brother Minamoto no Yoritomo in a fierce battle and flees his home – the mountains. His brother was the first Shogun to rule Japan.
Popular history signifies that he committed suicide, in despondency. But the truth is different. Kurou meets a beautiful woman - Kuromitsu who stays in her mountain hermitage.
Unknown to him, she holds a secret close to her heart. He eventually ends up falling in love with her and then begins to feel something strange.
Slowly, he learns that he is unable to die as he has become immortal. He stays alive for more than a thousand years and witnesses Japan evolves into a modern future society.
25. Rosario to Vampire Capu2
This Ecchi fantasy was based on its original Manga novel and came on TV in 2008. Ever since then, it has come up with 13 episodes.
The story is about Tsukune Aono who has enrolled in the Youkai Academy. After one year, his life began taking an interesting turn. He is the only human at a school made exclusively for demons.
He gets attracted to a group of pretty girls who want to use him. They are - Yukari Sendou, a witch; the succubus Kurumu Kurono; and yuki-onna Mizore Shirayuki.
He also befriends a demon named Moka Akashiya who's a kind vampire. But, when her rosary is gone, she reveals a darker personality that can frighten him.
Moka has a younger sister, named Kokoa Shuzen. She also studies at the same Youkai Academy. Troubles begin when she realizes that her elder sister's self is sealed within a rosary. She could not tolerate that and then pledges to bring out Moka's real self.
However, Kokoa does not know much about its consequences. Her less thought out actions ends up affecting the whole academy and other students.
The story then captures the sequences that lead to restoring the peace which the academy has before Moka's rosary was destroyed.
24. Renkin San-kyuu Magical? Pokaan
Renkin San-kyuu Magical? Pokaan is a story about the lives of four young girls who live a pleasant life. But, there is just one catch - they are not normal in their worlds.
This group of friends consists of — Liru, a werewolf who's enthusiastic; Uma, who's a happy-go-lucky witch; Aiko, who's motherly and, then Pachira who's a vampire. All of them are princesses from the underworld and have ended up in the human world in their search for a new home.
They decide to create a new life for themselves and begin a fresh start. As they attempt to do that, they attract all sorts of vicious creatures including one named Dr. K-Ko, who's notorious.
The scientist then speaks about her views. She believes that the four people are of no good for the earth and they don't do anything worth it.
She's also eager to get the approval of the scientific community and decides to catch them & carry out research to prove their existence.
The rest of the story is about how the girl put up with her tantrums and avoid the danger which lurks. Those adventures are a mix of humor, thrill, and adventure.
23. Kyuuketsuhime Miyu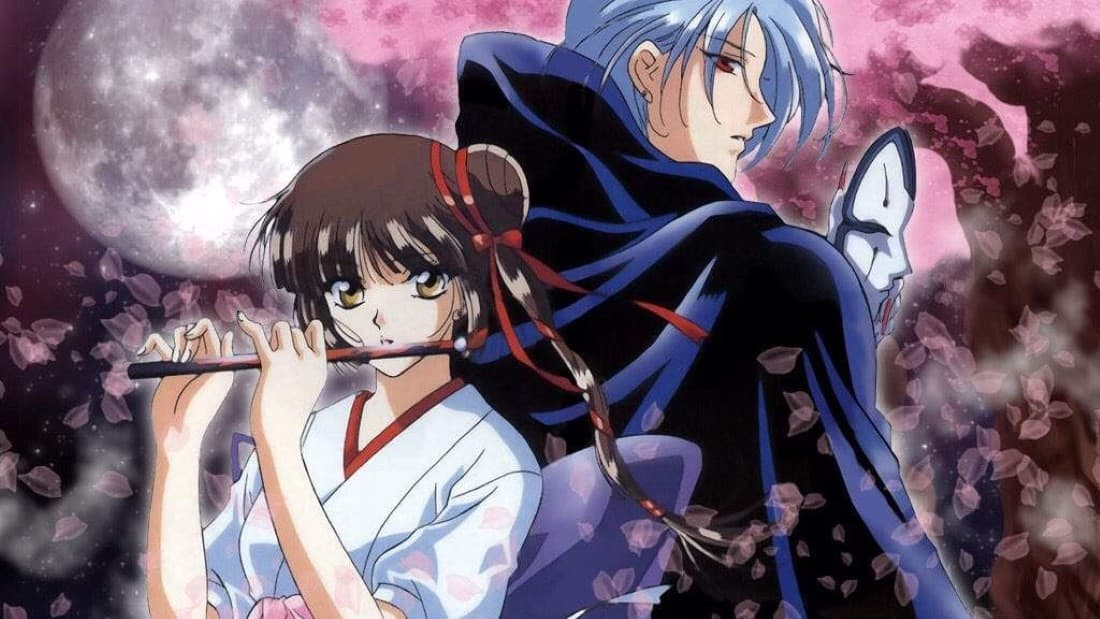 This is a quiet gothic horror story about a vampire girl, Miyu. Her destiny is to slay murderous vampires who are also known as Shinma. She then has to make them return to their homeland, which is called the Dark. Miyu is similar to vampires and drinks human blood.
A Spiritualist Himiko is interested in finding out more about such creatures. So he is determined to catch and tame Miyu. He also plans to stop her from drinking blood from a few helpless humans.
All the episodes of this series show her conflict with the Human beings and the Shimna. It captures the saga from the eyes of Himiko who's pursuing her. It's enthralling as they discover more about Miyu and the reason behind her mission.
22. Tsukuyomi: Moon Phase
This is a long series with 25 episodes. It is based on its Manga and got rated by 60000+ as 7.0 on MyAnimeList.
The story starts with a Freelance photographer named Kouhei Morioka who's traveling to a castle in Germany. He intends to capture photos of reported paranormal activity there.
He meets Hazuki in the castle. She's a young girl in white clothes and has cat ears. She soon gets interested in Kouhei and tries to offer him a kiss. But, that's when she reveals her true identity as a vampire. She overpowers him, drinks his blood, and turns him into a slave.
However, Hazuki finds out that Kouhei is not impacted by her vampire bite. He plans to escape from the haunted castle. Hazuki has a butler named Vigo whom she seeks to escape from.
She takes Kouhei's help to escape. Then the duo approaches an exorcist cousin of her named Seiji Midou. He does the rites and helps the two make it out safely.
After that, Hazuki flees to Japan, where her mother lives. She then decides to go to Kouhei's home. He finds her home when he returns and reluctantly permits her to stay. Meanwhile, other demons come out of the castle to pursue the missing vampire - Hazuki.
21. Kaibutsu Oujo
This was a series of 25 episodes which got released in 2007 April. It was based on its Manga comic story and got rated 7.02.
The story starts with Hiro Hiyorimi who tries to save a gorgeous young woman named Hime from impending death and ends up dying as a savior. That gorgeous young woman is the daughter of the king of monsters.
He is rewarded back to life and is recruited to work as a guard of honor for her as he saved her life from disaster. It means that he has to fight the legion of other world monsters who are unleashed by Hime's siblings.
This is because they wanted to stop her from moving up the ladder of success and inherit the kingdom.
Hiro who was a hero before did not expect such an assignment. He was anguished but knew he had no other options. He also felt Hime is a good girl.
20. Sirius
In 1930, Tokyo has been infested by Vampires. Their only craving is to feast upon poor and unsuspecting human beings. The authorities can take it no longer as the tempers rise over the number of deaths which are rising fast. They decide to rope in a group called Jaegers.
They are a magical and diverse group of Slayers recruited by the V Shipping Company. Their main job is to slay the vampires scourging around the world.
They carry musical instrument cases to disguise their real identity. Meanwhile, the Jaegers fight off the dreaded vampires with the same aggressiveness as their foes.
Yuliy leads Jaeger and is also its most skilled fighter. He was the only survivor of a vampire attack on his hometown, in his childhood. He is a half-werewolf.
He uses the strength granted by that blood and he works with other Jaegers. They successfully solve Tokyo's law enforcement issues with the vampire scourge.
Unknown to Tokyo's authorities, the real intentions of Jaegers are different. They are actually fighting the vampires globally and over the mystical Ark called the Ark Sirius. This has the power to change the fate of the world.
Yuliy and his comrades must discover the artifact and save it before the vampires can get hold of it to power them.
19. Yami no Matsuei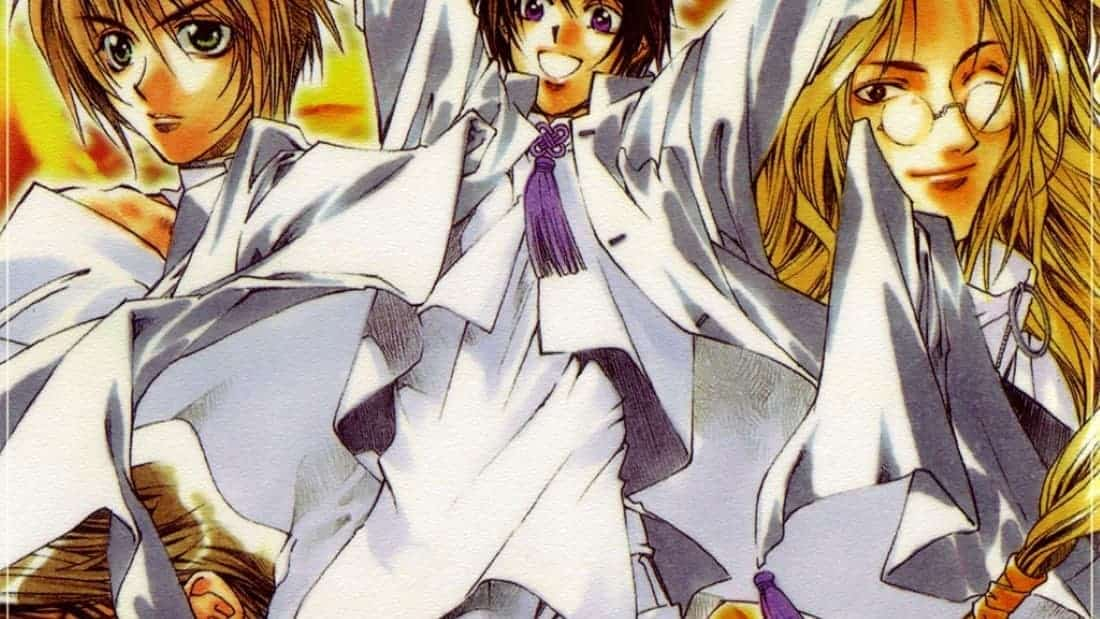 This series of 13 episodes was based on JC Staff's manga. It was rated 7.07 by 40000+ people and was shown on TV in October 2000. In the anime, you still have to do paperwork even after death.
Tsuzuki Asato is a 26-year-old, simple and sometimes dorky shinigami. It means the god of death. Their task is to ensure that those who die remain in the dead. They also check if they are remaining in their proper realms, which is important for the dead.
He has been working for 70 years with the worst pay and is disappointed. That's because he was bad at co-operating as a team. The shinigami work in teams of two. Now, he sets out to find a new partner and gets a 16-year-old boy named Kurosaki Hisoka.
Though he sounds stubborn and defensive, Asato feels that he will stick around with him.
They set out to work and they come closer to discover the intricate conspiracies of a serial killer. They trace him and find out about Dr. Muraki Kazutaka.
18. Tonari no Kyuuketsuki-san
This was straight out of the Koma Manga and contains 12 episodes. It was released in October 2018 as a TV series.
The Rumors depict an ageless girl who only shows up at night. She lives in a huge mansion in the middle of the dark woods, which are not accessible. People have different views about the girl. Some claim that it's a doll that is possessed by a soul.
Akari Amano, a curious woman tries to investigate these claims and goes out to seek this girl.
Akari gets lost in the dark woods amidst the darkness and the lurking dangers. She is saved by a good vampire named Sophie Twilight.
However, Sophie is not like the traditional vampires in mythologies as she does not attack humans. She's a tech-savvy vampire who orders blood online for drinking it.
Akari who witnesses all this falls in love with her. The story ends as Akari moves in with the Vampire and decide to start a family together, ending all the mysteries.
17. Touhou Niji Sousaku Doujin Anime: Musou Kakyou
This was based on the game under the same name. It first premiered in OVA in December 2008.
The story is about the fascinating world of Gensokyo. It has the youkai (spiritual beings), animals, and even some humans living together in harmony. They are, however, completely separated from our realms of the world.
This is done by a magical barrier that is invisible. There's only one gateway connecting the two worlds. It is the Hakurei shrine.
Then there's Reimu Hakurei who is a maiden at that shrine. She witnesses the movements between the two worlds and sneaks in to see how both of them are. Whenever there were incidents or any problems of supernatural or otherworldly behavior, she goes to investigate them.
The end of the story is when she and her friends work together on a joint mission to bring equilibrium or Gensokyo, as it's called.
16. Black Blood Brothers
This is a light novel consisting of 12 episodes and got reviewed by close to 1 lakh people. It was rated 7.14 and was first released in September 2006.
The story starts ten years after the Holy War in Hong Kong. Mochizuki Jirou (the Silver Blade), and the lone hero after defeating the Kowloon Children, returns to his country (Japan) with his brother, Mochizuki Kotarou. He has lost his lover in the war.
They find out that the Kowloon Children who came through the Holy War are desperately trying to infiltrate the "Special Zone".
It's a growing and thriving city which is protected by a powerful invisible barrier that will stop the Children from entering it. They can make the entrance, only if they're invited.
Red Bloods in parlance refers to human beings. Black Bloods refer to the blood-sucking vampires. The Mochizuki Brothers are known as Old Blood. This means they were the last descendants of an elite clan of horrible vampires.
When Kotarou is abducted by the Kowloon Children, Jirou has to fight them once more. The ending is when Jirou wins the fight and makes a shocking discovery about a mystery that was hidden for generations.
15. Kizumonogatari I: Tekketsu-Hen
This was a January 2016 release movie that was rated at 8.4 by over 3 lakh viewers.
This details the tale of a Vampire who starts out strong and then goes to conquer the world. Koyomi, as he is called, begins to fear the sunlight as he discovers that it can burn his skin.
Araragi downplays the rumor as he is happy and goes about the evening in a cheerful and carefree manner. But, on his way back home, he finds splatters of blood. It was leading down the round stairs to the subway.
His curiosity made him investigate ahead. So he followed the scary pools of blood into the depths of the station behind his area.
When he arrived at the source of the blood, he gets terrified. He sees the scary blonde vampire whose body is completely dismembered. She calls for his help, making Araragi confused. He must make a decision that has the potential to turn his life around, forever.
Intrigue, action, horror, and thrill are the main elements in this anime series. It can leave you sitting at the edge of your seat & spook you to no end.
14. Dance in the Vampire Bund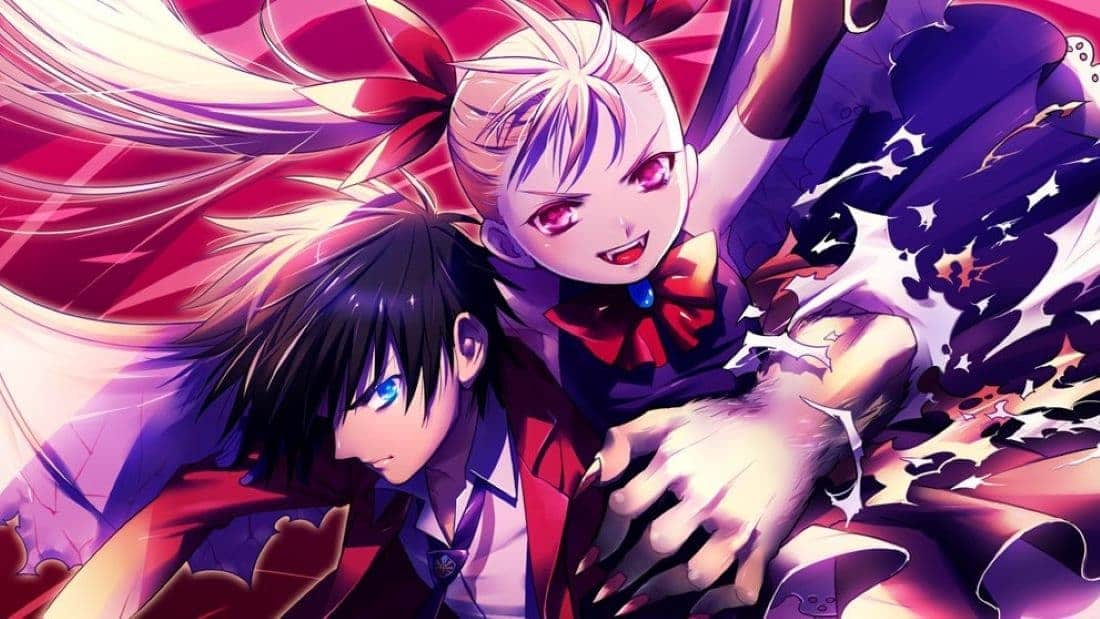 This was based on its Manga series and got released on TV in January 2010. It featured more than 12 episodes and got reviewed by over a lakh and half viewers.
This is a must-watch if you've got a liking for social justice and horror. It traces the attempt of a vampire to co-exist with human beings. This brings a lot of consequences to both vampires and human beings.
Mina Tepes, a royal member of the demon world literally pays of the Japanese national debt to aspire for life among humankind.
Akira Kaburagi refuses to believe in vampires. She also gets offended whenever the topic is brought up. He has not yet realized why he feels so. Though he suffered a head injury a year ago, he leads an ordinary life. This goes on till he meets Mina.
She makes him remember the old events of life which he had forgotten. He began liking her and soon he takes it on him to protect her and save her from the brutal world. But he does not know the secret behind Akira. It was stranger than he could have ever imagined.
One day he suddenly discovers that he is a werewolf, who is sworn to protect the vampire queen from birth. Even at the peril of his life.
The desperate rush to live beside humans comes with twists and turns ending up in a phenomenal climax. Would you trade places with a vampire who offers to pay off your debts?
13. Kekkai Sensen (Blood Blockade Battlefront)
This is part of the Kekkai Series which contained 12 episodes. It was released in 2017 and got close to 3 lakh reviews. This is the 4th episode of the series. It was released in October 2017.
Kekkai is all about New York City, which gets renamed to Hellsalem's Lot. What's interesting here? A lot of the supernatural creatures roam around.
The story goes back to three years ago. It was when a gateway between Earth and the other world beyond opened in New York City. This led to the trapping of some supernatural creatures, beings and humans alike, in an impermeable bubble-like structure.
After the city was restored, the monsters, magic, and madness had common in the area now called the Hellsalem's Lot.
Leonardo Watch is a young photographer. To restore his sister's eyes, he unwillingly obtained the power of "All-seeing Eyes of the Gods". He came to the paranormal city to discover answers regarding the mysterious power he apparently had.
He later discovers his life changed a lot when he joins a group called Libra. It's a secret organization of people who have extrasensory and unknown abilities who were enforcing law and order in the everyday governance of Hellsalem's Lot.
The fight between those who want to break the bubble and those who don't want is encompassed in this with many cliffhanging moments. This is where Libra plays the role.
12. Kizumonogatari III: Reiketsu-hen
Kizumonogatari III: Reiketsu-hen was released in January 2017. It was featured as a single episode light novel which had no scope for further sequels. It was rated 8.82.
Araragi a human saves Kiss-shot, a vampire. In the event of doing so, he unknowingly becomes a vampire. Now he becomes a slave to Kill-shot and helps her to regain her full power.
After Araragi accomplishes everything worth fighting, he finds himself in dilemma. The dilemma is whether to turn back human or not?
Araragi also needed to consider what if, a newborn vampire like him could win over those hunters? How did they overpower Kiss-shot who was invincible? Can he really trust her capabilities to bring him back to humanity? How is that even possible in the first place for such a deed?
11. Blood Lad
Blood Lad's season 1 was of 10 episodes. It was based on its Manga comic and the last episode was in 2013 July.
This is about Staz Charlie, a vampire commander who's into Otaku more than his real work. He runs a horror regime under his henchmen and spends time lazing around – playing video games and watching anime.
The story is about his meeting with Fuyumi, a human who wanders into the demon world. Staz plans a trip to visit the good human world along with her but, she ends up being killed.
His attempts to revive her and solve the maze of the demon world to take her out, make the rest of the story.
10. Strike the Blood
It was released in OVA in November 2015. The reason it stands high in this list is because of its impact on the global audience and its demand among the other viewers.
It is about a vampire lord named Akatsuki Kojou who owns a harem. Unknown to him, the inmates of the harem are more interested in drinking his blood.
He's the Fourth Progenitor of the vampire world and wanted to conquer the next realms of it, with his friends who are the other Progenitors. This strikes a balance between horror and rags to riches genre among the anime series.
9. Karin
Karin is a 24 episode long series that was released in November 2005. It is reviewed by more than 1,50,000+ viewers and got ranked on the top, undisputably.
Karin is not the typical gory and dark genre of Anime. It's about a vampire that does not even drink some blood. She is engaged in producing blood which even humans in the anime lack, beyond a capacity. Imagine that! If you enjoy a good dose of comedy, this is the best one to pick.
Karin's inability to fit into the vampire company and her anti-vampire actions can make you churn into laughter at times. If not, it will give you a humorous vibe to the generally graphic anime expectations you had from the vampire genre.
Karin has suffered from polycythemia. It's a rare blood disorder that makes her create excessive amounts of streaming blood. And this causes anemia and nose bleeding which puts her in deep pain.
She has siblings—Anju and Ren, who help her fight this disease and find out a permanent solution to it., Karin feels that her blood reacts unusually to Kenta's presence.
Kenta is her classmate and on the investigation, they discover that she's very suspicious and there's a lot of missing links in her tale.
The story ends as Karin discovers the reason behind her strange disease and why it was plaguing her so much.
8. Shiki
Shiki is an adaptation of the horror novel of Fuyumi Ono. It was released in July 2010 on TV and rated 7.79. It is beyond an average vampire horror anime.
It depicts the tragic story of survival in a world where one cannot easily distinguish between good and evil. Forsaken by God, Shikis (vampires call themselves so) have only their own will to survive as they have to constantly clash with paranoid human beings and hopeless village folk.
So Shiki goes on to discover the narrow boundary that separates a man from the demon.
Shiki is a vampire who's serious, unlike Karin. She is a type that strikes terror in the hearts of her comrades. To tell the truth, it's nothing special. The reason it ranks so high is because of the subtle injection of realism into it.
The portrayal of vampires with human characteristics in a dimension where both the creatures can meet and interact brings out the best of this genre. The dark side of humanity is highlighted in this and it can be related to them, easily.
The vampires RE forced to go beyond their regular calls of duty to ensure peace.
7. Vampire Hunter D
Have you read Bram Stoker's original novel called Dracula? Yeah, this story is a lot similar to that classic piece of horror. That's exactly why it's ranked higher though it's rated 7.01 only. It was released in December 1985 as a movie. The light novel features on top of the favorite lists.
This gothic anime has all the features of the media in the days of Dracula. The medieval touch is the key factor in attracting the viewers and it is liked by fiction viewers too.
D is the half-vampire in this anime. Living as both, the human and the vampire during different times of the day. The story is based on the hamlet which is scourged by demon raids and lives under the rule of Count Magnus Lee. He's a powerful vampire demon who has ruled this land for millenniums.
Once a young girl gets bitten by Count and is chosen as his current plaything. So she desperately tries to seek the intervention of any quiet wandering stranger. That's where D happens to pass by.
The rest of the story is about saving a girl who gets bitten by another vampire and putting an end to the vampire business.
6. Jojo's Bizarre Adventure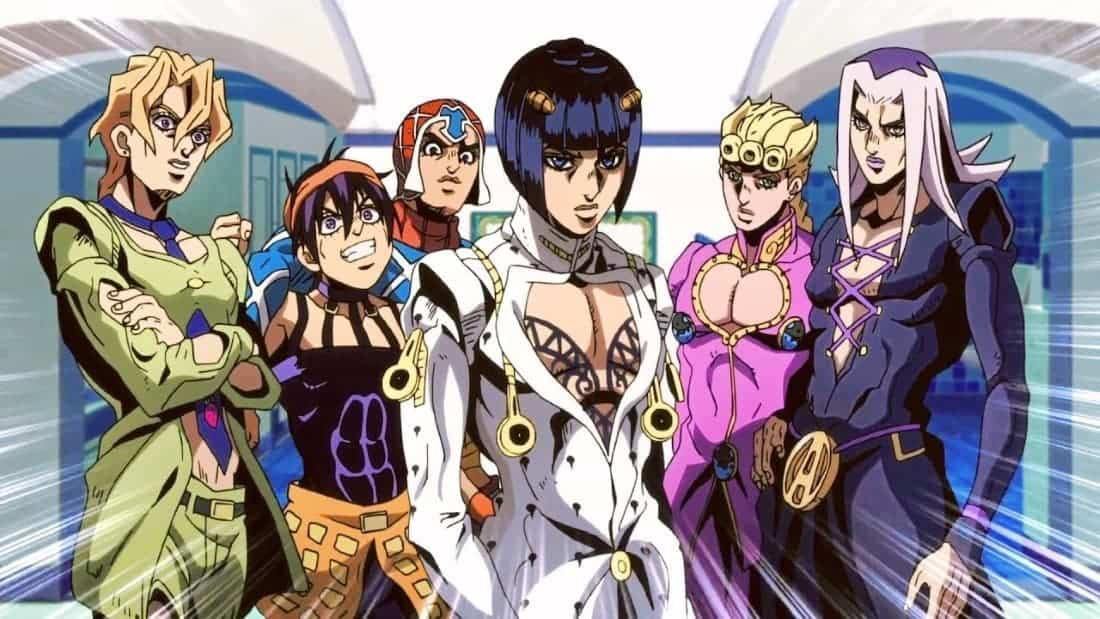 Jojo's Bizarre Adventure is rated 7.1 by close to lakh viewers. It was initially a Manga comic with a simple episode that got released in February 2007.
Jojo is a kid who's living the real pop culture. You can connect easily to him if you're a 90s kid. The anime focuses on a tragic horror theme combined with musical mysticism. It's heavily influenced by pop bands and styles.
Jonathan Joestar is the real name of JoJo. He is an aristocrat whose life gets suddenly turned topsy turvy because of a strange new boy. His name is Dio Brando. Dio has a secret connection to his father. Over a period of time, a rivalry brews up as Dio becomes obsessed with a mask that JoJo's father owns. It was an ancient, mythical, secret, and mystical mask carved in stone.
JoJo's journey through the vampire world will take you to the realms of horror. The ending can make any viewer feel the pain of losing someone to disaster. Jojo's Bizarre Adventure is all about hyping the emotions till the tipping point and then offering a tragic end to him.
5. Castlevania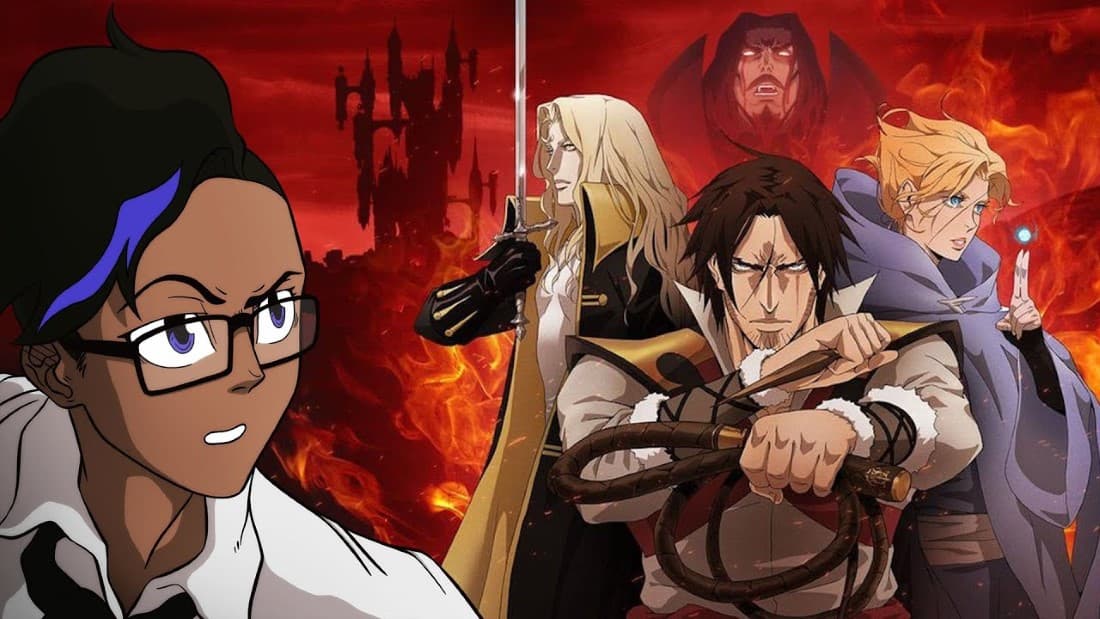 This one ranks higher than Vampire Hunter D because of its storyline and emphasis on the vampire hunting aspect. It revolves around the hunter who races against time to save a city from the scourge of vampirism. It was released in 2017 and rated 8.2 on IMDb.
Lisa Tepes is the wife of Vlad Tepes and gets accused of practicing witchcraft. She is condemned and then burnt at the stake by a bishop. So the Dracula declares war on Wallachia and unleashes an army of murderous vampires from hell. Luckily, Trevor Belmont who is the last survivor of the Belmont clan is still there. He agrees to fight them as he is also from a family famous for fighting vampires.
A lot of actions come with fewer consequences and some, pile up & then return to haunt you. This anime is one such story that has the plot to enthrall the audience and captivate them.
The involvement of witchcraft and the other medieval practices of unleashing curses make it a really scary plot. The demonic creatures have been perfectly crafted to give the appeal of a particular type and they can never be replicated.
4. Trinity Blood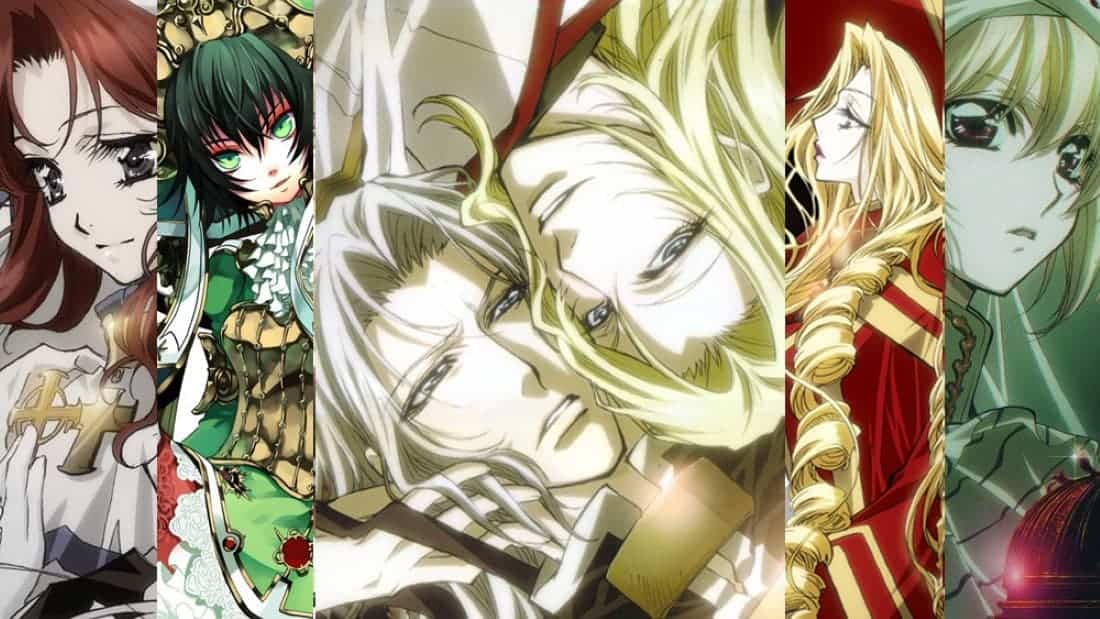 This was a 2005 action drama episode that got rated 7.1 on the IMDb list. It was based on the manga series under the same name.
Trinity Blood ranks higher than Castlevania as it goes futuristic. It's easier to shape the future than recreate the past.
The Armageddon theme makes its real emphasis on the background of such a plot. It has prominent religious heads as characters.
It has some Dan Brown kind of signatures in between where the Church faces a question of survival and then struggles to survive among the rifts between various groups.
Man has built a new civilization on the ruins of the old one, after Armageddon (apocalyptic event). there are two major races. One that returned from mars called 'Methuselah' and they have vampire-like abilities. Another one being humans known as Terrans who remained on earth to save human civilization.
The Vatican is a place where the church has its military base and they have military forces there, to save a human from methuselahs.
The Vatican is divided into many special interest groups, subgroups, and a lot of other secret societies. The rise of Mankind is also opposed by a new player in this game- the demonic Vampires.
The series also features the 3rd type of species – a Cruznik. This is a breed that is neither man nor vampire. They play a vital role in mankind's struggle by joining them in the fight. So, Vampires lose their upper hand in this war.
3. Hellsing Ultimate
The 10 series anime was released first in February 2006 and got rated 8.4 by close to 7 lakh viewers. This itself is proof of its success. It was released under the same name in OVA.
This is also heavily based on the original Dracula story which has a character named similar to the protagonist. The vampire hunter goes on a quest to save the city from lurking danger that has engulfed it.
The friendly vampire and the cross fighting between humans and vampires make this more interesting and therefore putting it higher in the ranking.
The plot spills over Europe and Latin America where the description of travel and the places makes it exciting. Integra's the last of Hellsing's family is the main protagonist of this anime. Alucard, a vampire is a loyal servant to her.
He solely works against his own tribe as an eliminator for Hellsing. With his new vampire assistance, Seras Victoria, Alucard fights everything from vampires, superhuman beings, and even humans who stand in the way of Hellsing.
An element of suspense is what drives this story ahead. The realistic inclusion of political and religious heads with the background of medieval history revolves around the plot, carrying an element of fascination.
2. Vampire Knight
This was released in April 2018 which had 13 episodes. It was rated 7.03 on animalist.
This anime is a classic and a reference for a lot of filmmakers. The vampires here are of two types – the pure and the rogue blooded ones.
Yuki, the prominent character discovers this difference sooner as she got attacked and saved by them. She soon falls in love with one pure-blooded vampire and protects him.
Ten years ago, Kaname Kuran, a Pureblood vampire saves Yuuki from a vampire raid. Yuuki later falls in love with him and this makes things complicated for her.
Her path reaches crossroads when she is facing an imminent dilemma. Being torn apart between protecting a good vampire and handling a human being who does not understand it, nearly kills her.
Unknown to her, there are various other backstories to the good vampires. It makes it difficult for her to make a decision and proceed. Her internal torment is the crux of this story.
The reason this ranks so high in this list is because of the inclusion of subtle contexts and the deception used to thicken the plot. This ranks well among the IMDB ratings (7.4) and has a high number of votes and participants in the discussion.
1. Owari no Seraph
If you've watched Vampire Knight, this is a must-watch. The realism in it is just marvelous and picturesque. It has 12 series which were first released in October 2015. It was rated 7.65 by more than 5 lakh viewers.
This ranks on the top of this list purely because of the sophistication of the story. It has many angles covered in this – family, civilization, dynamics, and career. The vampire's world in this anime is akin to the human world.
The tale begins with conflict and has the perfect ups and downs to keep you hooked onto the screen till its end. This is exactly why it's an undisputed #1 on the list of Vampire Anime. The theme of it is highly relevant even today when the world faces a pandemic (Spoiler alert).
Kureto Hiiragi hears that a large legion of vampires will be coming to Nagoya. They were preparing for their raids on the Imperial Demon Army's Base located in Tokyo. They were led by Guren Ichinose.
Yuuichirou's team is one of the groups tasked to trace and eliminate the vampire elites and send them to hell forever.
The members of the elite Shinoa squad are meanwhile mastering their strategies and weapons. They are also improving on their teamwork which comes with good coordination and effort.
Yuuichirou must gain the strength soon as he needs to slay the elites. Only this can help save his friend before he succumbs to the vampire of the Cursed Gear and dies a horrible death.