»
Top 33 Best Dirt Bike Movies To Watch In 2023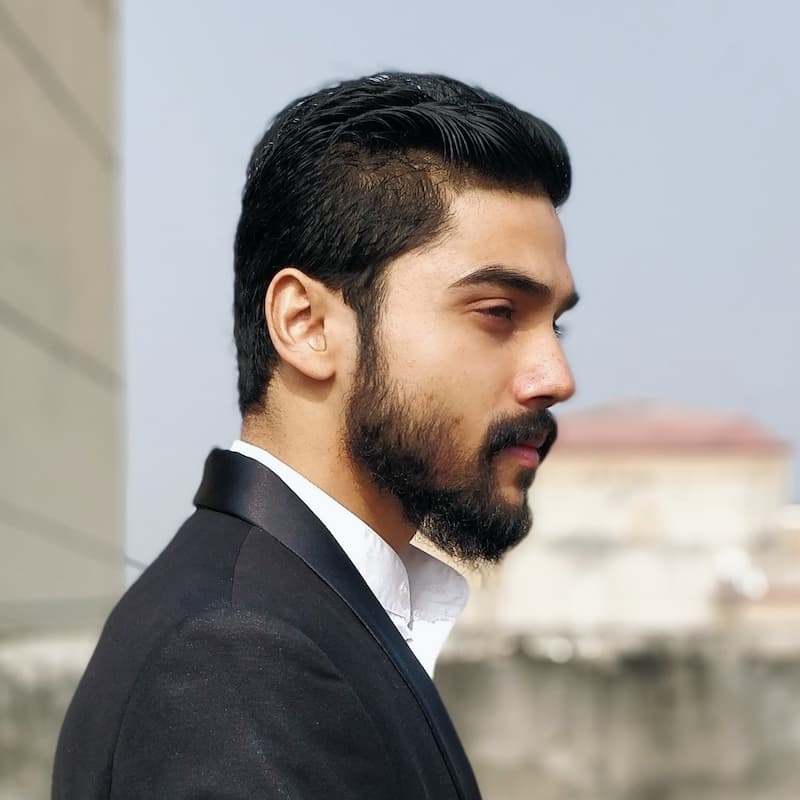 Shivam-Updated Jan 6, 2023
---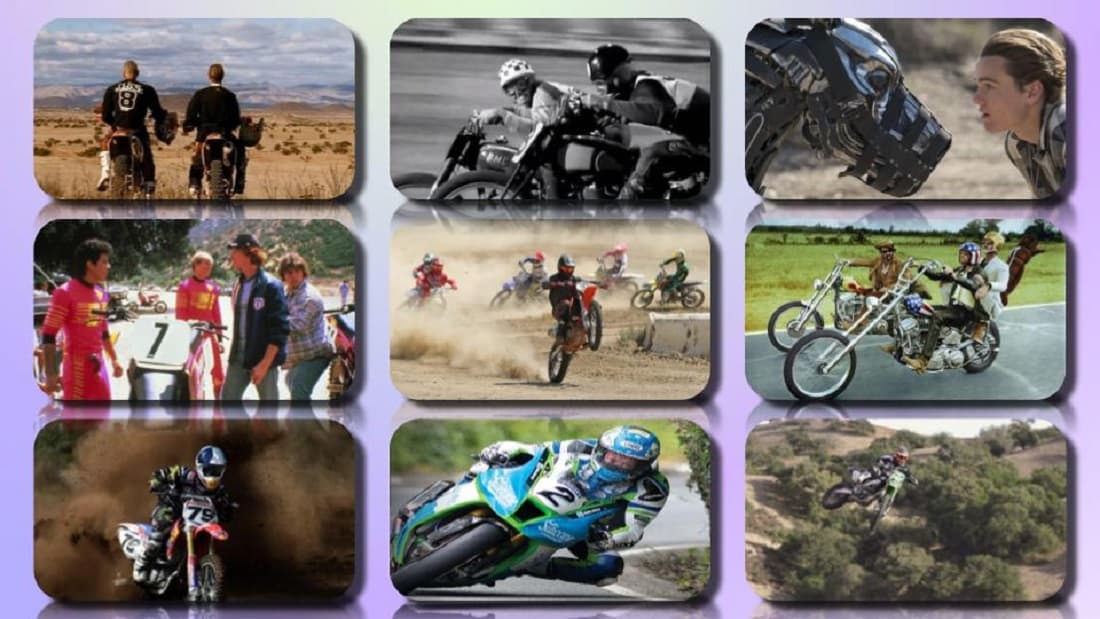 Some people are of the opinion that dirt bike movies are almost as exciting to watch as actual dirt bike events themselves.
While they would probably carry a different perspective if they were on the bike themselves, there are no doubts about the fact that dirt bike movies are, indeed, a fantabulous way to get your adrenaline pumping.
Those who love to catch action and adventure in mainstream cinema are in for a treat here. We say so because the motorcycle-themed motion pictures that we are going to be assessing today can be a bonafide source of high-octane entertainment for many.
Irrespective of whether you like to be on the bike or not, these features do a great job of introducing a neutral viewer to the extreme sports of dirt biking.
Not only do they showcase what goes behind the scenes of the sport but they also cast a light on the respective careers of a few noted athletes who have gone on to dominate the world of off-road bike racing.
Having said that, some feature films that we have mentioned also happen to be entirely fictitious. So, grab something light to eat and get ready to get a kick out of the heart-pumping ride that these credits promise.
33. A-X-L (2018)
This Oliver Daly directorial venture is a little different from the rest of the features on our list. This is because it doesn't revolve entirely around motocross but it carries its essence in its screenplay.
The film tracks the journey of Miles and a robotic combat dog named A-X-L. As they end up forming a bond, things take an unusual turn when A-X-L's original inventors come looking for it.
Watch out for the daring chase scenes that are peppered throughout the film's runtime. The main protagonist here is also shown to be extremely fond of his bike, which is perhaps why he can be seen riding it for the major part of the movie.
While it is not exactly about the sport, A-X-L is pretty much a dirt bike project in its own way.
32. Silver Dream Racer (1980)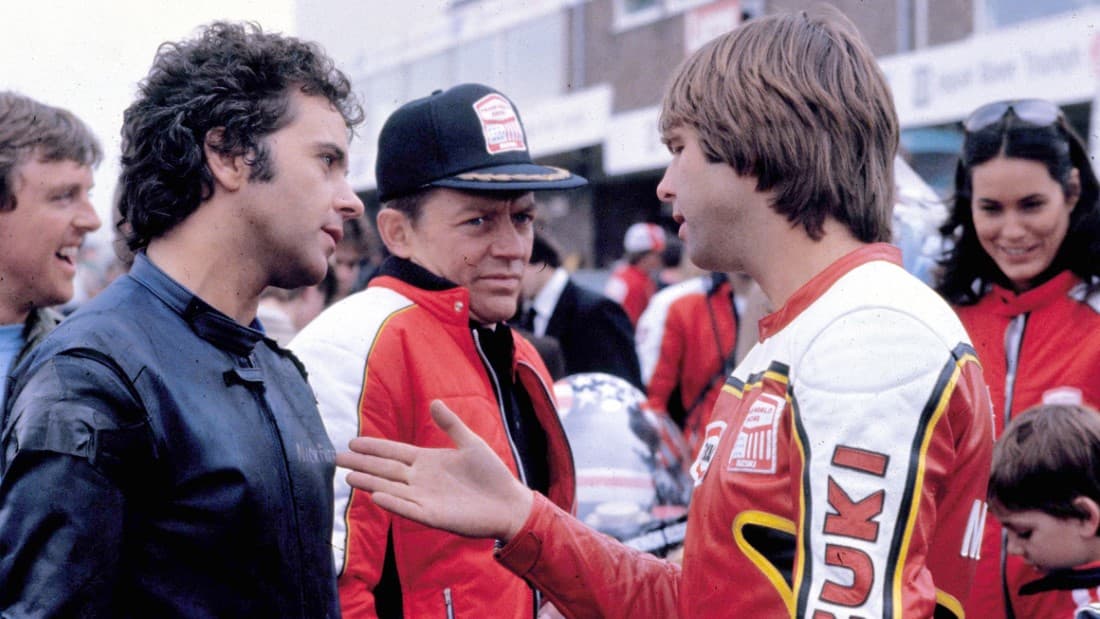 Written and directed for the screen by David Wickes, Silver Dream Racer is a motor-racing film that features British pop stars David Essex and Beau Bridges in crucial roles.
The story follows an upstart British motorcycle racer who goes on to compete against an American hotshot with the help of his brother's 500cc prototype.
Even though it was a critical and commercial failure, this motion picture can be at least seen once by loyal bike enthusiasts.
Like most racing films on our list, Silver Dream Racer also uses a fair amount of real racing footage to wow a certain section of its audience.
31. Frezno Smooth (1999)
This motion picture is an ultra-cool action flick that traces the journey of the motocross legend Seth Enslow; someone who is banned from competing in an upcoming freestyle contest by a corrupt judge.
Visibly frustrated due to the wrongful ban, Frezno goes on a messy spree of brawls, gatherings, and white trash madness.
Frezno Smooth could prove to be an amusing watch for the diehard fans of the sport. While its awesome cast makes things work in more ways than one, those who have been harassed by the cops for riding dirt bikes or skateboards at least once will relate to this title even more.
30. The Pace That Thrills (1952)
Directed by Leon Barsha, The Pace That Thrills is a fair attempt at merging romance and motorbike racing into one mainstream project.
The film traces the journey of a hot shot motorcycle racer Dusty Weston who is known for taking too many chances.
Even though he and his design companion Chris Rhodes agree on almost everything, things take a turn for the worse when both of them end up falling for reporter Eve Drake.
This not only endangers their precious understanding but also puts Dusty's career on the line. The viewers will acknowledge the fact that the inclusion of exciting footage of authentic flat-track and TT racing works massively in the film's favor.
29. Speed Is My Need (2019)
Speed is My Need is a documentary feature that was released in 2019. It attempts to cast a light on star dirt bike riders who are happy to be risking their precious lives for the thrill of speed and the undeniable adrenaline rush that tags along with it.
The documentary takes a look inside the competitive world of motocross, all while putting enough emphasis on the psychology of racing.
Furthermore, spectacular racing footage and unbelievable crashes have also been included in it for the viewers.
So, while trying to understand the ultimate driving force that pushes the riders to literally be limitless, one also gets to learn a ton of things about the world of bike racing itself through this project.
28. Deuces (2016)
This Jamal Hill directorial venture is essentially an action film that will be enjoyed by the dedicated viewers of both crime thrillers and bike movies.
Starring Larenz Tate, Meagan Good, Lance Gross, and Siya in pivotal roles, Deuces incorporates a fair bit of romance and race in its screenplay as well.
The feature film tracks the journey of a cop who decides to go undercover with the sole aim to take down a crime syndicate.
However, in due time, he finds himself getting drawn toward the group's leader. That said, things get far more complicated when the undercover officer finds out about the dual life of his immediate superior.
27. SGT. Will Gardner (2019)
This feature film has been both written and helmed for the screen by Max Martini. It tells the story of a disabled Iraq War veteran named Will Gardner; someone who chooses to leave the many pains of his past behind and go on a motorcycle journey to meet his beloved son.
While SGT. Will Gardner is not exactly a dirt bike motion picture, it is, indeed, a bike-themed project by all means.
It not only shows its central protagonist struggling to reintegrate into society but also casts a light on how he rides across the county to live the rest of his life with his loved ones.
26. Little Fauss and Big Halsy (1970)
Director Sidney J. Furie's Little Fauss and Big Halsy stars actors such as Robert Redford, Michael J. Pollard, Lauren Hutton, Noah Beery, and Lucille Benson in prominent roles.
It traces the journey of a mild-mannered and slow-witted motorcycle racer, who ends up befriending a loudmouth professional who has been prohibited from making his presence felt on the tracks again.
However, their friendship is put to test when they both find themselves getting attracted to a young woman. The biggest selling point of this motion picture has got to be the believable chemistry between Robert Redford and Michael J. Pollard.
25. Bennett's War (2019)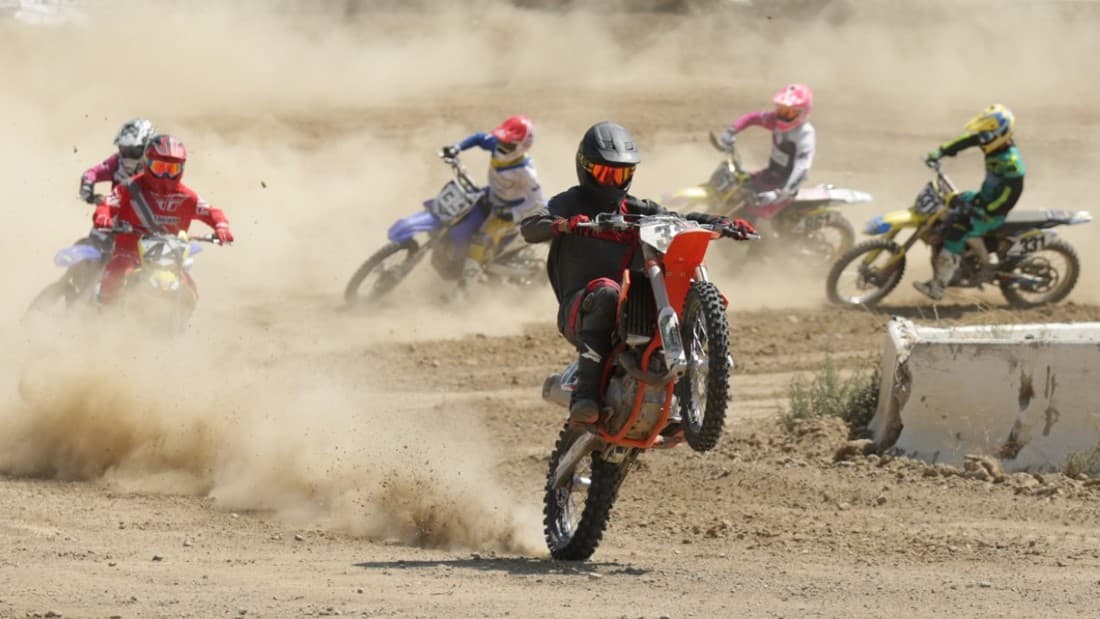 Bennett's War is a mildly entertaining motocross movie that tells the story of military veteran Marshall Bennett who returns home after having sustained injuries from an explosive device overseas.
Even though he is discharged from the hospital with a broken leg and back, he decides to become a competitive motocross racer soon after he is back home.
This is to ensure that he can earn enough money and help his family keep their farm. Written and directed by Alex Ranarivelo and starring Michael Roark, Trace Adkins, Ali Afshar, and Allison Paige in significant roles, this drama-sport film relies heavily on its impressive racing footage and stunt work.
24. Winners Take All (1987)
Director Fritz Kiersch's Winners Take All is yet another exhilarating depiction of how the present-day gladiators fight it out in the wild sports extravaganza of Supercross.
This feature film aims to showcase the clash and companionship between two young men and blends it with the thrill of riding.
It is going to be a joy ride for those who cherish watching the ultimate confrontation between man and machine.
Even though the movie did not originally intend to be a comedy, years later it stands out as one for sure; which isn't exactly a shortcoming per se.
While the footage shown from the original 80s pro races works in the film's favor, one has to consider the fact that this project turned out to be entertaining in a way that it was never meant to be.
23. Moto 7: The Movie (2015)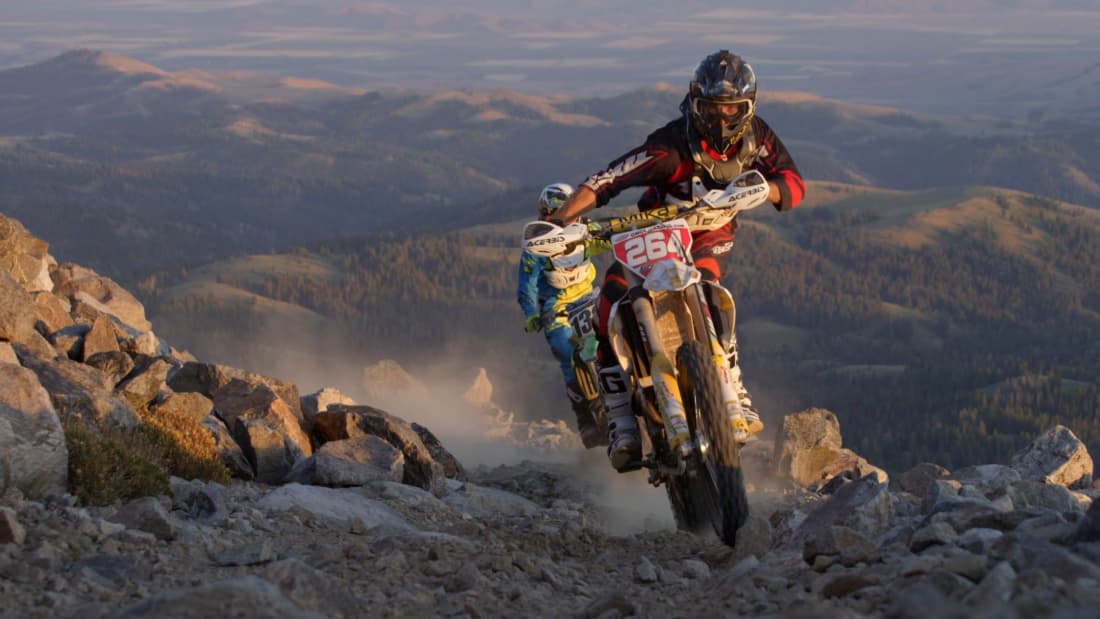 Decently filmed and comprising a variety of riders, Moto 7: The Movie is yet another dirt bike film that showcases motocross riders performing some of the most daring stunts ever performed on a motorcycle.
The hardcore fans of the extreme sport will be enticed to ride a bike themselves as they get to see some of the most remote locations ever touched by a motorcycle in this feature.
This is a title for those who love to defy logic and ride with everything that they've got. Needless to say, it is a flamboyant and not-so-lengthy dirt bike project for the fans of the sport.
22. Maniacs on Wheels (1949)
Director Jack Lee's Maniacs on Wheels tracks the tough journey of factory worker Bill Fox; someone who is fired from a seemingly reliable job and has to, therefore, become a successful motorbike racer.
However, he faces his biggest challenge yet when his dear wife threatens to give up on him unless he comes to his senses.
The makers, especially the cameraman, have to be given due credit for making use of the limited technology to assemble the footage of the races for the film back in the day.
21. 12 O'Clock Boys (2013)
12 O'Clock Boys traces the journey of a Baltimore boy named Pug in an urban area of Baltimore. Pug is someone who looks up to a group of dirt-bike riders who wreak havoc on the city streets.
However, since he lacks the presence of a significant role model in his life, he decides to join the thriving group of bikers himself one day.
Not only does this feature film show numerous interesting interviews with a number of urban dirt bike groups but it also includes a lot of video clips in its storytelling to make the desired impact.
Therefore, if you share an affinity for action-packed motocross movies and shows, you should definitely give 12 O'Clock Boys a watch.
20. Motocrossed (2001)
A modest adaptation of William Shakespeare's Twelfth Night, Motocrossed is a Disney Channel Original Movie that tells the story of a girl named Andrea Carson; someone who truly likes motocross.
However, her father is not too supportive of her involvement with the sport. Soon after, Andrea decides to take her twin brother Andrew's place in a race after he meets with an unfortunate accident.
With an opportunity positively in her grasp now, Andrea decides to give it all she's got. This motion picture derives its strength from the fact that many of the clothing, motocross gear, and bikes that were shown in it were from real and renowned extreme sports companies.
19. Full Throttle (1995)
Co-written and directed by Tung-Shing Yee, Full Throttle tells the story of one of Hong Kong's finest motorcycle racers who, after having been badly injured, is compelled to choose between his sport and the woman that he loves.
Needless to say, he is forced to reexamine his entire life after the accident. If you're looking forward to watching an out-and-out road racing or dirt bike movie, you must be notified that this motion picture goes beyond its obvious interpretations.
We say so because it is less about bikes and more about relationships. However, to its credit, the feature film shines in its drama department even though the scenes depicting racing have been filmed decently.
18. This is MOTO (2019)
'This is MOTO' is a documentary that aims to showcase what it must feel like to be among the top riders in a tough sport.
The focus of this feature is not only on showing the many challenges and battles that each of the riders has to face in pursuit of greatness but also on the issues that they may confront rather regularly in their day-to-day lives.
The beauty of this documentary lies in the fact that it allows the average viewer to step into the shoes of the riders to be able to relate to them on a deeper level.
Those who love to chance upon real-life stories of strength, perseverance, and passion will develop a liking for this project as soon as they get to see it.
17. Charm City Kings (2020)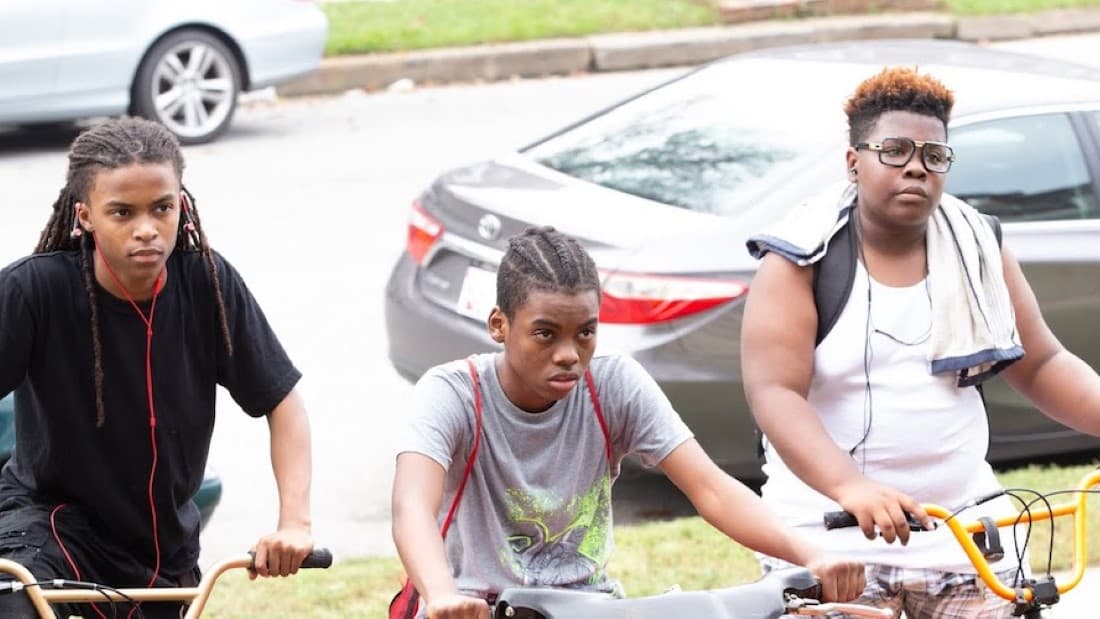 Based on the 2013 documentary 12 O'Clock Boys by Lotfy Nathan, Charm City Kings is a drama film that has been helmed by Angel Manuel Soto.
The story follows the journey of a 14-year-old boy Mouse; someone who yearns to enter an infamous group of reckless dirt-bike riders.
Later, when Mouse is selected to be a part of the team by its leader, a realization dawns upon him that he may have chosen a felonious path after all.
Starring Jahi Di'Allo Winston, Meek Mill, Will Catlett, and Teyonah Parris in crucial roles, Charm City Kings had its world premiere at the Sundance Film Festival in the January of 2020.
In some notable ways, it is a coming-of-age feature that banks on its engaging performances and meticulous direction.
16. Nitro Circus: The Movie (2012)
This 3D action comedy reality film has been directed by Gregg Godfrey and Jeremy Rawle and is based on the MTV eponymous reality comedy series.
Even though it was both a critical and commercial failure, it shows the mind-boggling racing adventures of Travis Pastrana and his tight-knit, highly-skilled friends.
The group strives to bring their insanely hysterical adventures to the big screen for the first time. Not only do they show their skills with bikes but their many events involving busses and trikes are also put on blatant display.
The movie thrives on its death-defying stunts and fun set pieces. However, it is strictly for the fans of the sport who are more or less adrenaline-addicted.
15. Spetters (1980)
Spetters tells the story of three young and cocky Dutch amateur dirt bike motorcycle racers as each of them end up falling in love with an ambitious girl, who works at a concession stand at the races with her brother.
Helmed by Paul Verhoeven, this motion picture essentially shows how Dutch teenagers realize the awful difference between their dreams and reality.
Even though it is at least partially over the top, Spetters does a fair job of demonstrating the absurdities of everyday life.
Upon its theatrical release all across, the film was criticized for some of its graphic sequences. However, it is also a project that casts a lot of light on the extreme pressures that young adults have to live under.
14. Rad (1986)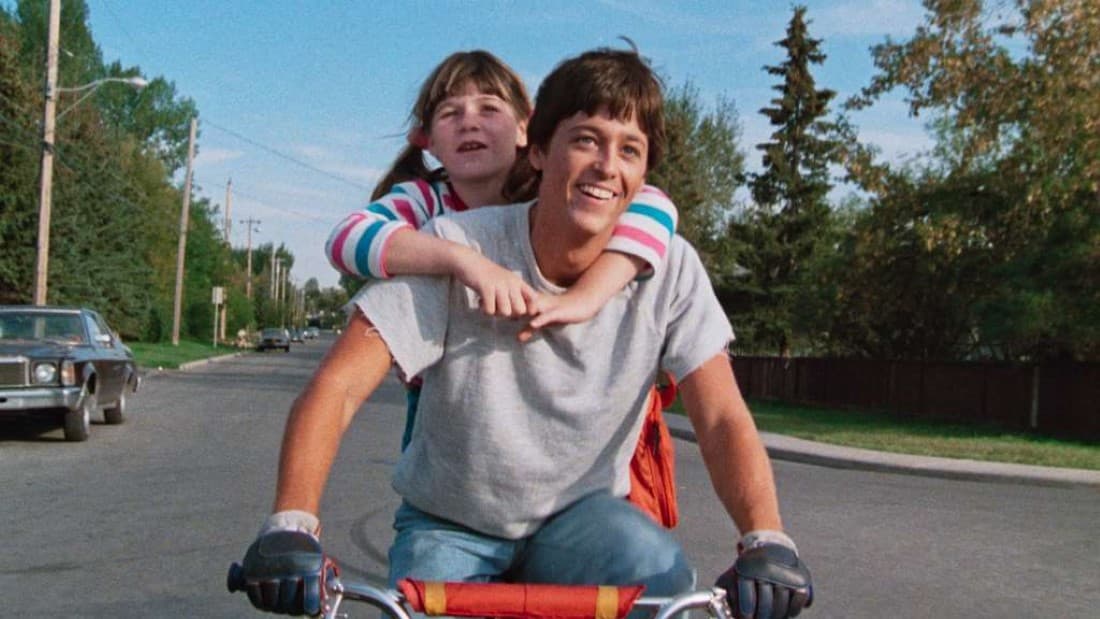 Director Hal Needham's Rad features Bill Allen, Lori Loughlin, Talia Shire, and Ray Walston in significant roles. The 1984 Olympic gymnastics champion Bart Conner also makes an appearance.
The story follows a young man named Cru Jones, who strives to enter a dishonest promoter's nationally televised race for an enormous cash prize.
It illustrates Jones' intensity and appetite to win a BMX race called Helltrack. Rad failed to find an audience at the box office upon its theatrical release and was almost universally panned critically.
However, according to its decent ratings on IMDb, it is apparent that there has been a certain section of viewers that has accepted the motion picture for what it is today.
13. The Wild One (1953)
Headlined by Hollywood legend Marlon Brando, this Laslo Benedek directorial venture is touted to be one of the first prominent depictions of motorcycles in mainstream cinema.
While On the Waterfront turned Brando into a bonafide star, The Wild One is credited with being the movie that transformed him into a cultural icon of the 1950s.
The story follows two rival motorcycle gangs that go on to terrorize a small town after one of their leaders is imprisoned.
Even though not a dirt bike title per se, it deserves a spot on our list purely because of the impact that it had on popular culture.
12. Road of Giants (2018)
Road of Giants is a not-so-popular feature that traces the journey of a 23-year-old motorbike racer from Kent, England, named Tom Weeden.
Tom wants nothing more than to win at the most challenging road circuit in the world, the Isle of Man TT.
The viewers get to follow Tom and his lifestyle as they notice how he strengthens himself to ride on the ragged edge in the pursuit of glory.
We see the young lad climbing mountains, skimming curbs, and dodging stone walls and trees at over 200mph. Yes, you read that right!
11. Coming to My Senses (2017)
Director Dominic Gill's Coming to My Senses aims to tell the moving story of Aaron Baker; someone who is left paralyzed after getting involved in a tragic motocross accident.
However, after having spent 16 years struggling to regain as much mobility as possible, he decides to cross Death Valley unsupported on foot.
This documentary feature should be watched because it successfully shows how far a person can go relying solely on his grit and determination.
In many ways, Coming to My Senses puts life itself into perspective while striving to convey that it is all about journeying towards our respective destinations, without giving much thought to what the outcome of the journey could be like.
10. Easy Rider (1969)
Easy Rider traces the journey of two hippie bikers who head from L. A. to New Orleans through the open country and desert lands in search of spiritual truth and more.
While on their way, they stumble upon a few more travelers who are each looking for an alternative lifestyle.
The movie is an eye-opener in the sense that it does not shy away from showing drug use, communal lifestyle, societal landscape, and other socio-political issues that were prominent in the United States of America during the 1960s.
It is not surprising then that this Dennis Hopper directorial venture was selected by the library congress for preservation because of its cultural, historical, and aesthetic importance.
More of a biker film than a dirt bike one, Easy Rider received two Academy Awards nominations; one for Best Original Screenplay and another for Best Supporting Actor for the magnetic Jack Nicholson.
9. Dust to Glory (2005)
Directed by Dana Brown of the Step Into Liquid fame, Dust to Glory is a promising documentary on the Baja 1000.
For those who do not know, the Baja 1000 is an annual off-road race held in Baja, Mexico. It not only tempts hundreds of racers and their fully-powered machines but also thousands of fans every single year.
Ambitiously edited in Adobe Premiere Pro, this documentary feature is an entertaining and informative depiction of the off-road motorsport race held on the Baja California Peninsula.
Those who are attracted by the annual event and motorbike features cannot really afford to miss out on this one.
8. Blood Line: The Life and Times of Brian Deegan (2018)
This adrenaline-pumping documentary follows the legendary life and career of motocross superstar, Brian Deegan. Deegan was one of the most adored action sports athletes in history.
This feature shows his transition from being an impatient rebel to becoming a doting father to the next generation of motorsports celebrities.
Blood Line: The Life and Times of Brian Deegan, which is a really good motocross documentary, has been backed by the creators of Unchained, which is an Emmy Award-winning documentary itself.
Courtesy of this project, the viewers get introduced to the freestyle dirt bike rider Brian Deegan. They get to know how the man who started without any money and then, eventually, went on to become one of the well-known stars of the sport.
Credit has to be given to the makers of this project for showcasing the story of the aforementioned star and how he managed to chase his childhood dream.
7. Fastest (2011)
Written and directed by Mark Neale, Fastest is a bittersweet sports documentary that aspires to explore the greatest risk coupled with the greatest feeling of being a true-blue rider in MotoGP racing.
While there is an attempt to focus on the career of Valentino Ross, what makes this documentary fascinating to watch is that it will keep even the non-motorcycle fans glued to their seats.
Needless to say, Fastest can be considered to be a fast and praiseworthy attempt in detailing the effort, distress, and ultimate glory that follows in MotoGP.
Having said that, the documentary has been narrated by Ewan McGregor and features a number of riders throughout its runtime.
Be ready to not only find interviews and practice sessions in the film but also some exciting race footage and back-breaking crashes.
6. On Any Sunday (1971)
This documentary film about motorcycle sport has been directed by Bruce Brown. It stars Steve McQueen, Mert Lawwill, Malcolm Smith, and Paul Carruthers.
McQueen's inclusion can be backed by the fact that he has been a real-life racer in his own right.
The project strives to display how unique talents are preferred for different forms of racing. That said, a decent amount of screen time has been allotted to show those various types as well.
Additionally, there is a clear endeavor to cast a light on both the business-like and carefree approaches to racing, and rightfully so.
Often credited with being the most significant motorcycle documentary to have ever been produced, On Any Sunday featured incredible bikes from motorcycle brands such as Triumph, Montesa, Husqvarna, Harley Davidson, Honda, Yamaha, Suzuki, BSA, CZ, Bultaco, and Hodaka.
5. Engaged to Death (1957)
Helmed by Romolo Marcellini, Engaged to Death is a tale of love, competition, and passion that is set in the 50s, in the thrilling world of seemingly unending motorcycle speed races.
It tracks the journey of a motorcycle racer who gets involved in an ill-fated love affair with the daughter of his former boss.
This eventually results in him losing a major race rather poorly. However, following his retirement, the racer begins to work on an experimental bike with the aim to face off against his former employer.
Veteran German star Hans Albers can be seen making an appearance in this Italian sports drama feature film.
4. Unchained: The Untold Story of Freestyle Motocross (2016)
This outstanding documentary is a commendable attempt by its makers to trace the origins of one of the most intense sports on the planet: Freestyle Motocross.
Its adrenaline-soaked story is a fitting tribute to the agility, bravery, and skills of the modern-day gladiators who come in the form of dirt bike racers.
While tracing the birth and boom of the sport, a lot of consideration is also given to the relentless challenges faced by the motocross superstars.
Narrated by actor Josh Brolin, the documentary features several real motocross heroes such as Brian Deegan, Seth Enslow, Carey Hart, Tony Hawk, Mike Metzger, and Travis Pastrana.
3. The World's Fastest Indian (2005)
Helmed for the screen by Roger Donaldson, this biographical sports drama feature film has been based on the Invercargill, New Zealand, speed bike racer Burt Munro and his amazingly altered 1920 Indian Scout motorcycle.
The feature film stars Anthony Hopkins, Diane Ladd, Paul Rodriguez, and Aaron James Murphy in crucial roles. It tracks the journey of a Kiwi motorcycle enthusiast named Burt Munro; someone who spends quite a few years rebuilding and polishing a 1920 Indian motorcycle.
Ultimately, he decides to put everything on the line when he goes on to set a land speed world record.
Even though The World's Fastest Indian carries the undeniable vibe of being a feel-good motion picture, one has to remember the fact that it is inspired by the true story of a spirited man.
Also, the supporting actors in this one each manage to make an impression.
2. TT3D: Closer to the Edge (2011)
This British documentary film has been directed by debutant director Richard de Aragues and narrated by well-known actor Jared Leto.
It charts the Isle of Man TT motorcycle race that takes place on the Isle of Man every year; all while showing the motivated bikers partaking in the deadly event to become the undisputed King of the Mountain.
The film shows the above by focusing on the maverick riders in the 2010 race, most notably Guy Martin and Ian Hutchinson.
TT3D: Closer to the Edge opened to critical acclaim and was praised for being a thrilling human drama that will connect with almost everyone.
Be certain about the fact that your heart will be in your mouth while watching a lot many heart-stopping sequences unfold in this one.
1. Hitting the Apex (2015)
Narrated by Hollywood superstar Brad Pitt, Hitting the Apex is a documentary that aims to tell the story of six of the fastest motorcycle racers the world has ever seen and their respective fates while they were on the top of their game.
While exploring the exciting battle for supremacy between six MotoGP drivers, the documentary also shows glimpses of racing footage and exclusive interviews.
This feature is an absolute goldmine for any Moto sports enthusiast. Not only does it demonstrate how the MotoGP riders risk their lives to fulfill their dreams and desires but it also reveals how these world-class racers battle their respective injuries to sustain in the world of bike racing.