»
Top 50 Best Cooking Anime [Recommended Food Anime List]
Bijesh-Updated Oct 15, 2022
---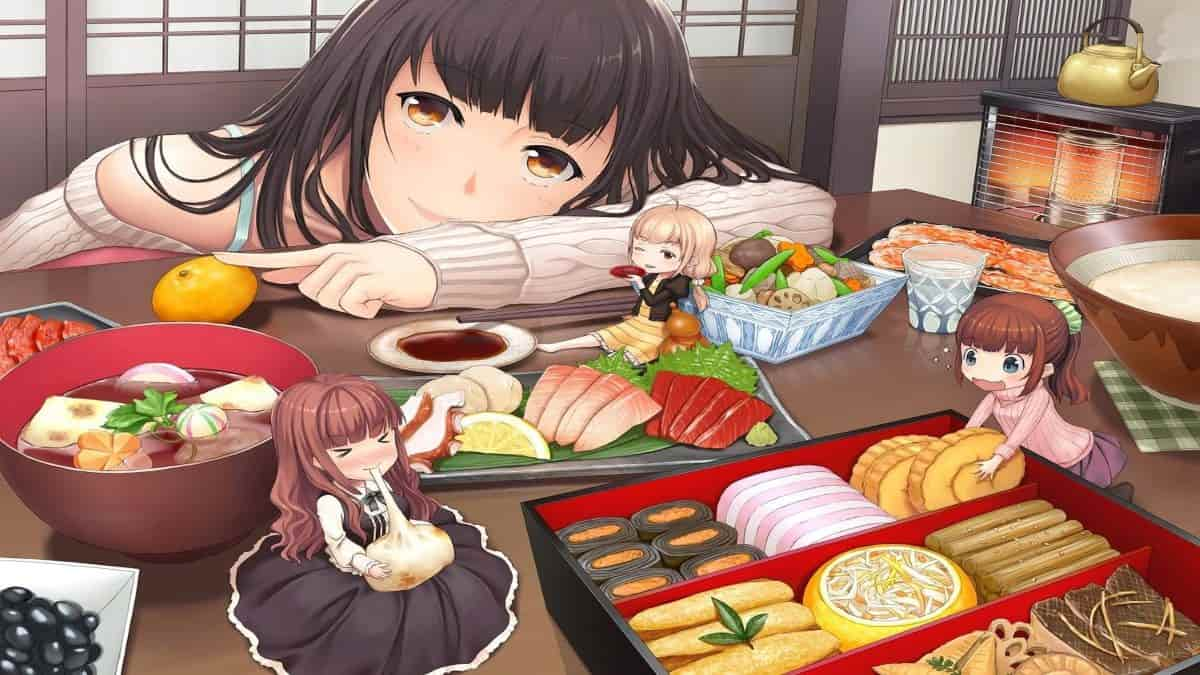 Foodies enjoy delicious meals served hot, warm, cool, chilled, or cold.
Anime foodies seek much the same experience but through their favorite cooking anime series.
In this special Top-50 edition from Entoin, we have collated the cream of the crop when it comes to such shows.
Remember: all our Top-50 lists do not show importance based on numbering. It's a mere technicality, nothing more.
If you find some entries more descriptive than others, that's because we added all the data we could find on these shows for every type of anime-lover to appreciate.
This list is all about food and cooking. You're certain to come across entries that deal with either one or both of these themes.
Your watchlist dinner is served. Bon Read-étit!
50. Food Wars!
| Entity | Detail |
| --- | --- |
| Title | Shokugeki no Souma |
| Type | TV |
| Studios | J.C.Staff |
| Premiered | Apr 4, 2015 to Sep 26, 2015 |
| Source | Manga |
| MAL Score | 8.231 |
| Duration | 25 min. per ep. |
A son aiming to beat his father in a cooking contest, after which he will be found eligible to take over the family diner… Sounds harmless enough.
Until you factor in Souma Yukihira's (the son's) ambitions. They exceed even his expectations.
His father, however, derails Souma's dreams when he decides to shut down the restaurant and send his kid to cooking school.
At 'Tohtsuki Academy', Souma finds competition and challenges like never before in the "Food Wars!" anime.
To say this school is prestigious is putting it mildly.
Its roster of alumni includes big names from the culinary industry.
Erina Nakiri catches Souma's eye, mainly because she too is trying to keep a low profile.
Both she and Souma consider themselves privileged to even attend this institution.
Plenty of snobberies and constant 'wars' lead Souma to understand that if he's going to be number one he's going to have to sharpen his knives.
After all, only a few graduate from Tohtsuki each year. This lights a fire of determination in Souma's heart to win. There is something so satisfying about watching this anime and all the delicious meals getting cooked.
Everything is so high stakes and every step of cooking is fun to watch.
49. Cooking Master Boy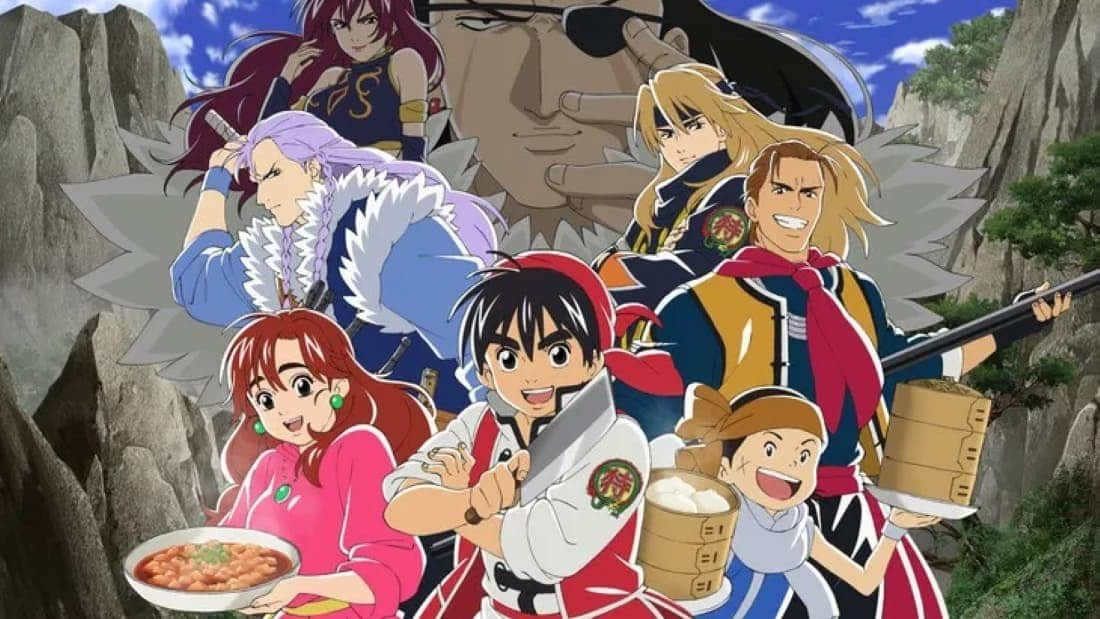 | Entity | Detail |
| --- | --- |
| Title | Chuuka Ichiban! |
| Type | TV |
| Studios | Nippon Animation |
| Premiered | Apr 27, 1997 to Sep 13, 1998 |
| Source | Manga |
| MAL Score | 7.621 |
| Duration | 23 min. per ep. |
Liu Maoxing's mother, Bei, has left behind a boast-worthy culinary legacy.
Her son, a young and aspirant chef, finds himself trying to fill her large shoes.
His mom was not just a chef, she has been nationally celebrated and considered a cooking genius.
The setting is 19th-century China. Liu wins a cooking contest called 'Super Chef', making him the youngest in history to do so.
A good chef never tires from the art of cooking. Liu learns that he needs to broaden his skills.
His master Zhou Yu advised as much in the "Cooking Master Boy" anime series.
Taking his buddies Meili and Shirou along for the ride, Liu travels the length and breadth of China learning, cooking, and expanding his culinary horizons.
After returning to his native, he finds himself facing up against the 'Underground Cooking Society.
He takes them on accompanied by Xie Lu and Lei En. This is when Liu discovers the '8 Legendary Cooking Tools'.
They're a great secret in their own right.
There was a time when Liu's mom, Bei, stood against the Underground Cooking Society which held fairness in low esteem.
The only way for Liu to uphold his mother's dreams and legacy is for him to win big against Society, and keep the Tools out of their greedy hands.
48. Bartender
| Entity | Detail |
| --- | --- |
| Title | Bartender |
| Type | TV |
| Studios | Palm Studio |
| Premiered | Oct 15, 2006 to Dec 31, 2006 |
| Source | Manga |
| MAL Score | 7.361 |
| Duration | 23 min. per ep. |
Eden Hall has its backstreets. Ginza District is home to one of the most talented cocktail mixers in the fictional world of the "Bartender" anime.
Ryuu Sasakura is considered to be something of a prodigy.
Nearly everyone fond of their liquor comes to him to get a taste of some of the most delicious cocktails ever made.
The strange thing is not everybody can find the place. In this show, Eden Hall finds its patrons instead of the other way around.
Beverages are a staple part of the food industry. So it shouldn't come as a surprise to find a show based exclusively on drinks being featured here.
Back to Eden Hall… All sorts of customers are led to the place, each having their trials, travails, and troubles.
Each brings its background to the show's characterization arc. These people are all 'distraught souls'.
But Bartender Ryuu knows precisely which cocktail will lift their spirits and give them much-needed consolation.
Note: We feel duty-bound to add that not all answers to life's problems can be found at the bottom of a bottle J.
47. Drifting Dragons
| Entity | Detail |
| --- | --- |
| Title | Kuutei Dragons |
| Type | TV |
| Studios | Polygon Pictures |
| Premiered | Jan 9, 2020 to Mar 26, 2020 |
| Source | Manga |
| MAL Score | 7.011 |
| Duration | 23 min. per ep. |
The title is not watch-bait, there are actual dragons in this show.
Justifiably considered rulers of the sky, this series is filled with thrills and amazements of the draconian kind.
However, to several people living on solid ground, these dragons pose great peril.
They are also the source of crucial resources: food, oil, and medicine.
The "Drifting Dragons" anime also has dragon hunters who rove in search of reptilian targets on Steampunk-ish airships.
'Quin Zaza' is the main ship featured in the show. It tracks the characters, or rather crew, who call it home.
Mika, Vanabelle, Takita, Jiro, and the rest of the air-worthy gang have given fans of this series an appetite for the hunt.
Catching dragons for their meat is only part of their repertoire. They also cook the meat into varied drool-worthy dishes.
On a serious note, hunting is a means to survive for the Quin Zaza crew.
Otherwise, they go hungry, perhaps even starve.
Plenty of scenes in this series feature some fantastic gourmet cooking that will give the "Monster Hunter" game a run for its money.
46. Mister Ajikko Special
| Entity | Detail |
| --- | --- |
| Title | Mister Ajikko |
| Type | TV |
| Studios | Sunrise |
| Premiered | Oct 8, 1987 to Sep 28, 1989 |
| Source | Unknown |
| MAL Score | 7.071 |
| Duration | 24 min. per ep. |
Helping his mother manage the 'eating house', Ajiyoshi Yoichi goes about his childhood days with barely a thought of his future.
Others think the kid is a culinary genius.
But it's only when Murata Genjiro (Japan's most respected food critic) makes his appearance in the show that we see a major change taking place in Ajiyoshi's life.
One taste of the boy's katsu-don dish is all it takes for Murata to affirm that Ajiyoshi is a prodigy.
Murata silently believes he may have found an heir to take over his empire.
When the 'untrained chef' is invited to the Aji-oh Building to be part of a spaghetti match against Marui (the in-house Italian chef) he is more excited than worried.
This is to be expected from the jovial Ajiyoshi who has only ever served food to his guests with the desire to give people his best.
Suffice it to say it was a game, set, and match for Marui.
But Ajiyoshi's culinary journey was only just beginning at that point in the "Mister Ajikko Special" anime.
The boy wonder's fresh approach to cooking certainly brings its charm to the series.
45. Cooking Papa
| Entity | Detail |
| --- | --- |
| Title | Cooking Papa |
| Type | TV |
| Studios | Eiken |
| Premiered | Apr 9, 1992 to May 25, 1995 |
| Source | Manga |
| MAL Score | 6.601 |
| Duration | 25 min. per ep. |
This memorable anime focuses on a family, specifically Mr. Araiwa's.
The man's passion for cooking reveals itself every time he is back home from work.
Being employed at a large enterprise certainly has not dampened Araiwa's love for the culinary arts.
He prepares delectable dishes for his wife, Nijiko, and adds to his lovability in the "Cooking Papa" anime series.
The way this anime highlights the beauty of making tasty homemade food truly makes it worth watching.
Araiwa has a young son (whom fans first see when he is seven years old), for whom he also cooks. His love for the boy is admirable to watch.
His wife works quite hard as a full-time journalist. This makes Araiwa feel that it is up to him to bring much-needed foodie comfort into her overworked life.
Energetic and perfectly capable of managing his duties at the workplace as well as back home, the show's protagonist seems like the perfect husband and father.
Nijiko's attempts at being a cheerful mom do her great credit in this food-loving anime.
44. Today's Menu For Emiya Family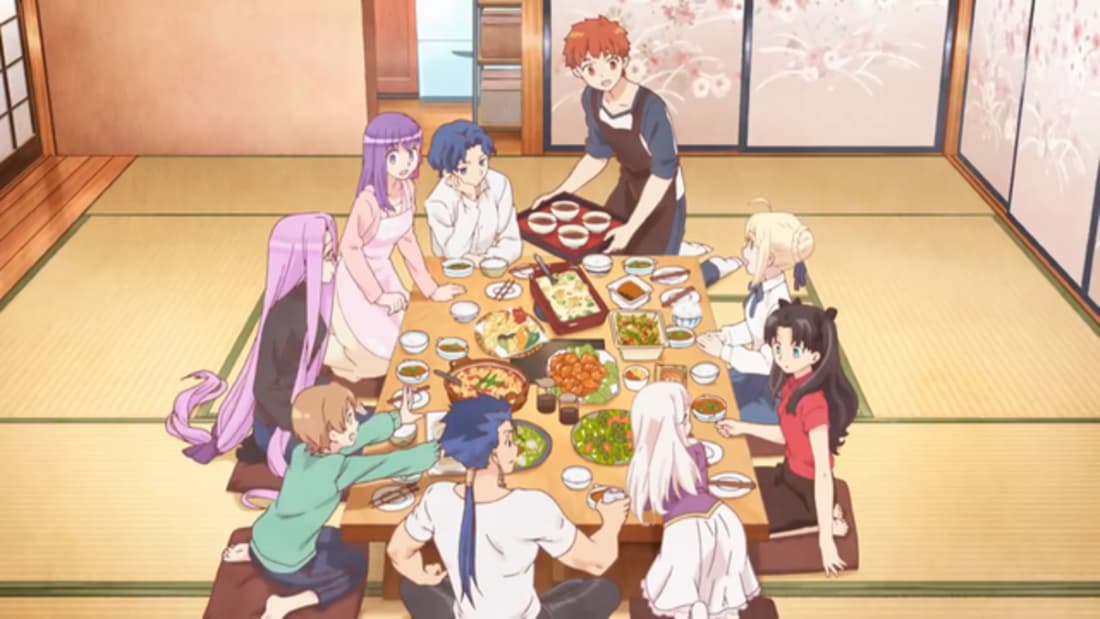 | Entity | Detail |
| --- | --- |
| Title | Emiya-san Chi no Kyou no Gohan |
| Type | ONA |
| Studios | ufotable |
| Premiered | Jan 25, 2018 to Jan 1, 2019 |
| Source | Manga |
| MAL Score | 7.811 |
| Duration | 13 min. per ep. |
Fuyuki City has been living under the threat of 'The Holy Grail War' for some time in the fictional narrative of the "Emiya-san Chi no Kyou no Gohan" anime.
But peacetime has arrived, and its residents make the most of it.
Life has become rather mundane for the 'Masters' and 'Servants' of Fuyuki. Shirou Emiya has a penchant for cooking.
He not only cooks up excellence for his household but also the streets of Saber.
He explores every way he can up his cooking game using a small budget and unique ingredients.
Uninvited guests show up to counter Shirou in his attempts to prove himself the best at what he does.
He takes his household through step-by-step cooking stages for the meals he makes for them.
This renders the "Today's Menu For Emiya Family" anime a foodie delight to watch.
Some of the most prominent meals Shirou has crafted include cheesy bamboo shoot gratin, New Year soba with shrimp tempura, and steamy foil-baked salmon.
43. Sweetness & Lightning
| Entity | Detail |
| --- | --- |
| Title | Amaama to Inazuma |
| Type | TV |
| Studios | TMS Entertainment |
| Premiered | Jul 5, 2016 to Sep 20, 2016 |
| Source | Manga |
| MAL Score | 7.521 |
| Duration | 24 min. per ep. |
Kouhei Inuzuka becomes a single dad when his wife passes away.
He tries his best to take care of his little girl, Tsumugi while balancing a busy teaching career and armed with little to no cooking know-how.
One day he becomes frustrated that ready-made meals are all he seems capable of giving his daughter.
His life changes when he accepts an invitation from one of his students, Kotori Iida, to come to dine at her family restaurant.
Kouhei and Tsumugi figure out that Kotori often eats alone because her mother is away at work.
Loneliness and necessity bind the three of them together in the "Sweetness & Lightning" anime.
Kouhei and his daughter both go to eat as well as cook at Kotori's family restaurant.
There, Kouhei can give his baby girl fine home-cooked food while learning something about cooking for his own sake.
By giving Kotori much-needed company, everyone's happy in this cook-a-licious anime.
It explores themes of family, togetherness, and the importance of not taking good food for granted.
42. Meng Qi Shi Shen
| Entity | Detail |
| --- | --- |
| Title | Meng Qi Shi Shen |
| Type | ONA |
| Studios | Wawayu Animation |
| Premiered | Dec 29, 2018 to Mar 9, 2019 |
| Source | Novel |
| MAL Score | 7.281 |
| Duration | 21 min. per ep. |
A body-swap tale, a time-travel narrative, and a cooking story all rolled into one delicious anime.
The main character Ye Jiayao inadvertently goes back in time. She wakes up in the body of a boy called Ye Jinxuan.
Plenty of twists and thrills pervade this series as its main character Ye Jiayao grapples intending to become Huai Song's premier restaurant owner.
It all boils down to the amazing food in the "Meng Qi Shi Shen" anime. Jiayao is not without challenges.
Other characters come in, fulfilling the role of antagonists. They come with the sole intention of ensuring her abject failure.
41. Cooking' Idol Ai! Mai! Main
| Entity | Detail |
| --- | --- |
| Title | Cookin' Idol Ai! Mai! Main! |
| Type | TV |
| Studios | Studio Deen |
| Premiered | Mar 30, 2009 to Mar 22, 2013 |
| Source | Original |
| MAL Score | 6.221 |
| Duration | 6 min. per ep. |
This beautiful fun-filled anime is quite child-centric. Kids learn to cook with the main character Main via a fictional show within the show.
The program that all the kiddies in this series turn to is 'Cooking Idol'.
In it, Main provides fun instructions on how to craft various yummy meals.
An interesting idea they incorporated into the "Cookin' Idol Ai! Mai! Main" anime is to use a live-action segment.
It features Fukuhara Haruka in the flesh. She voices the character of Main in the anime portions of the series.
Fukuhara follows the instructions of her anime counterpart and sees if she can re-create the same meal using real-life ingredients and tools.
40. Koufuku Graffiti
| Entity | Detail |
| --- | --- |
| Title | Koufuku Graffiti |
| Type | TV |
| Studios | Shaft |
| Premiered | Jan 9, 2015 to Mar 27, 2015 |
| Source | 4-koma manga |
| MAL Score | 6.801 |
| Duration | 24 min. per ep. |
Before she became great, Ryou Machiko's food looked the part but tasted average.
Her grandmother once told her that to become a fine wife, she must first become a fine cook.
This sexist-traditional thinking ended up motivating Ryou's decisions.
The plot twists when Ryou learns of Kirin Morino's (her second cousin's) coming to stay with them every weekend.
Kirin's schooling circumstances demand this commute.
It is around this time when Ryou's cooking improves considerably.
She learns that sharing culinary experiences with those closest to her inspires her art form, and enables her to cook better.
There's a significant symbolic message in this for any foodie who can read between the lines.
39. Bonjour Koiaji Pâtisserie
| Entity | Detail |
| --- | --- |
| Title | Bonjour♪Koiaji Pâtisserie |
| Type | ONA |
| Studios | SILVER LINK., Connect |
| Premiered | Oct 10, 2014 to Mar 20, 2015 |
| Source | Game |
| MAL Score | 6.121 |
| Duration | 5 min. per ep. |
Romance and cooking both feature strongly in this anime.
To pursue her dreams of becoming a pastry chef, Sayuri Haruno enrolls herself in an elite school called 'Fleurir Confectionary Academy' (in Tokyo's Aoyama district).
Surrounded by charming young men, each with their distinct cooking techniques, Sayuri finds herself striving hard to stand out in class.
Her competition is fierce. Mitsuki Aoi is the most popular boy in this prestigious school and is given to acting princely.
The French Gilbert Hanafusa often sets the mood among his classmates.
And the reserved Yoshinosuke Suzumi covertly wields a passion for Japanese sweets called 'Wagashi'.
38. Wakako-Zake
| Entity | Detail |
| --- | --- |
| Title | Wakako-zake |
| Type | TV |
| Studios | Office DCI |
| Premiered | Jul 5, 2015 to Sep 20, 2015 |
| Source | Manga |
| MAL Score | 6.641 |
| Duration | 2 min. per ep. |
Murasaki Wakako cherishes going out and spending time by herself eating and drinking (in a good sense).
She feels this urge to head out, especially when situations get hectic at work.
Her solitary roving makes for pleasant viewing in this anime. It is mainly focused on her life and the things happening in it.
What she eats and drinks is particularly highlighted. This only serves to enhance the 'lone foodie' ambiance that pervades the "Wakako-Zake" anime.
Fans have enjoyed the way she learns new food-and-drink pairings.
It is just as amusing when she says "Pshuuu" after finding a meal especially alluring.
37. Muteki Kanban Musume
| Entity | Detail |
| --- | --- |
| Title | Muteki Kanban Musume |
| Type | TV |
| Studios | Telecom Animation Film |
| Premiered | Jul 5, 2006 to Sep 20, 2006 |
| Source | Manga |
| MAL Score | 7.101 |
| Duration | 24 min. per ep. |
The translation "Unbeatable Delivery Girl" pretty much sums up this comedy.
Miki Onimaru works at the restaurant run by her mother where she serves as a delivery girl.
The Chinese ramen place may be admirable but Miki's attitude is anything but.
While amusing to some, her energetic and rather boisterous behavior gets Miki into trouble with those who find it frustrating.
Her over-the-top behavior lends exquisite comic relief to the "Muteki Kanban Musume" anime. Plenty of foodie moments are also woven into the show.
Those scenes where Miki parodies other popular anime styles (rivalry, fighting, and sundry themes) are certain to entertain anime aficionados.
36. Ristorante Paradiso
| Entity | Detail |
| --- | --- |
| Title | Ristorante Paradiso |
| Type | TV |
| Studios | David Production |
| Premiered | Apr 9, 2009 to Jun 25, 2009 |
| Source | Manga |
| MAL Score | 7.351 |
| Duration | 22 min. per ep. |
Nicoletta had a rough childhood. Her mother Olga abandoned her when she was little and made for Rome where she remarried.
Seeking justice, a grown-up Nicoletta arduously tracks her mother down. She discovers she working at a place called 'Casetta dell Orso'.
Nothing remains the same for Nicoletta from the moment she enters the restaurant.
Only mature gentlemen comprise the staff of the Casetta dell Orso. She finds it odd that all of them wear spectacles.
Even the clientele reflects the warmth and wisdom of the staff.
The 'delicate romance' of Italian living takes Nicoletta by surprise. This certainly includes cuisine. The place is owned by the man whom Olga married.
But all thoughts of getting back at her mother gradually fade. Nicoletta gives up on her grudges.
She no longer wants to tell the new man in her mother's life that she was married once before, and that Nicoletta is the daughter she'd left behind.
Despite the age gap, a romance starts brewing between Nicoletta and Claudio (one of the staff).
Nicoletta works as an apprentice chef at Casetta dell'Orso. Her new aim in the "Ristorante Paradiso" anime is to become a great cook.
35. Ben-To
Any apartment complex with a supermarket on the premises is attractive for plenty of reasons- safety, and convenience, to name two.
But something goes wrong with this idyllic atmosphere when the store in question holds one of its nightly half-off sales.
The as-yet-unsold bento boxes suddenly seem to catch everyone's attention. The residents clamor for dinner, in more ways than one.
Friends turn foes as the store comes under a pride-filled honor-bound Black Friday-style battle for goods.
Winners are referred to as 'Wolves' and losers, as 'Dogs'. Unwittingly stepping into this war zone is You Satou.
He presently makes up his mind to return fire.
His amateur attempt at 'bread winning' catch the attention of not just upperclassmen but also Wolf Sen Yarizui.
He invites the boy over to his place. Yarizui also calls over a girl called Hana Oshiroi whom he spotted spectating the 'fights'.
Sen Yarizui then works on educating the two about the differences between Dogs and Wolves.
He also enrolls them in his 'Half-Priced Food Lovers Club'.
You and Hana are taught about the importance of fighting for food.
Note: Entoin does not condone such behavior, which only seems reasonable when it happens within the framework of Anime J.
34. Moyashimon
| Entity | Detail |
| --- | --- |
| Title | Moyashimon |
| Type | TV |
| Studios | Telecom Animation Film, Shirogumi |
| Premiered | Oct 12, 2007 to Dec 21, 2007 |
| Source | Manga |
| MAL Score | 7.581 |
| Duration | 23 min. per ep. |
Tadayasu Sawaki may look like a typical freshman college student. But the boy can 'look' into just about anything.
He has the peculiar ability to see things on a microscopic level using just his natural eyes.
The "Moyashimon" anime highlights Tadayasu's capability to spot micro-organisms, anything from alcohol-making yeast to athlete's foot-inducing fungi.
Suffice it to say that his studying at an agriculture university seems apt.
Fermentation Professor Itsuki is one of the faculty members who see potential in Tadayasu's gifts.
The boy never knew he had it in him.
Not until he attended uni and found that he could 'see' beyond what normal people could.
Support from the eccentric community at the university and his desire to learn more about his skill lead Tadayasu into the world of elements.
After all, these are what comprise ingredients, which in turn comprise food.
This anime does not directly focus on food.
It certainly sheds interesting light on the bacteria (good and bad alike) that make up so much of what we consume.
33. Yakitate!! Japan
| Entity | Detail |
| --- | --- |
| Title | Yakitate!! Japan |
| Type | TV |
| Studios | Sunrise |
| Premiered | Oct 12, 2004 to Mar 14, 2006 |
| Source | Manga |
| MAL Score | 7.941 |
| Duration | 24 min. per ep. |
Bread lovers will adore what this anime brings to their 'viewing palate'.
In this show, Japan attempts to best the likes of France, Germany, and Britain when it comes to unique bread types native to the country.
These pieces of bread are certainly celebrated on an international level.
This applies pressure on Japan to stand out from among the illustrious baked-goods crowd. Enter, Kazuma Azuma.
He discovered his passion for bread-making at a young age. He wishes to contribute more now that he's older.
Kazuma appoints himself to the quest to create Japan's unique national bread.
With his strange ability to use 'warm hands' to speed up the dough fermentation process, Kazuma becomes the new name in bread-based innovation.
He gets to work at 'Pantasia', a reputed Japanese bakery chain. While there, he experiences everything to do with the competitive world of baking.
He makes friends as well as enemies in his journey to establish a revolutionary new bread for Japan.
32. Toriko
| Entity | Detail |
| --- | --- |
| Title | Toriko |
| Type | TV |
| Studios | Toei Animation |
| Premiered | Apr 3, 2011 to Mar 30, 2014 |
| Source | Manga |
| MAL Score | 7.551 |
| Duration | 23 min. per ep. |
This is one of the most bizarre cooking anime shows featured on this list.
It is not uncommon to find ice-cream mountain ranges, volcanoes containing warm mac and cheese, and four-leaf clover hamburgers existing naturally in the "Toriko" anime world.
It is the 'Gourmet Age', and 'Gourmet Hunters' rove about trying to get their hands on premium, if not rare, ingredients.
Holding the record for discovering 2% of all known rare ingredients is Gourmet Hunter Toriko.
He's accompanied by his buddy Komatsu, who works at a 5-star hotel and is an amazing chef.
Toriko aims to attain the 'Full Course Menu of Life' achievement.
Along the way, he finds himself battling monsters, deadly organizations, and often food itself.
31. Yume-Iro Pâtissière
| Entity | Detail |
| --- | --- |
| Title | Yume-iro Pâtissière |
| Type | TV |
| Studios | Studio Pierrot, Studio Hibari |
| Premiered | Oct 4, 2009 to Sep 26, 2010 |
| Source | Manga |
| MAL Score | 7.851 |
| Duration | 24 min. per ep. |
Not only is Ichigo Amano a klutz, but her fondness for eating cake eventually draws her into a life of baking.
When she meets popular patissier, Henri Lucas, she discovers that her cake-tasting skills are nuanced enough to warrant his attention.
She is invited to attend the reputed 'St. Marie Academy', a dessert cooking school of the highest degree.
Henri's recommendation gets Ichigo placed among the 'Sweets Princes'. They're an elite coterie of promising young students.
Ichigo thus comes to meet and befriend – Traditional Japanese sweet expert Sennosuke Andou | Skilled chocolatier Makoto Kashino | and Candied-flower prodigy Satsuki Hanabusa.
In the "Yume-Iro Pâtissière" anime, fans also see the involvement of 'Sweets Spirits'.
These fairies help make dreams come true for worthy patissiers. The series portrays the competitive nature that prevails in the sweet-making world.
30. JK Meshi!
It takes skill and effort to master the art of preparing 'JK Meshi'.
These are nothing but simple B-class meals. Reina, Ryouka, and Ruriko are second-year high school classmates.
They together cook such meals in the "JK Meshi!" anime.
The show is about girls getting distracted while studying for tests.
During such instances, they take to the kitchen and cook up some surprisingly delicious JK Meshi meals.
There's little more to be said about this anime, except that it has foodie value and has therefore made it to this list.
29. Shinsengumi Kitchen Diary
Izumi Inaba is a high school girl. Her talents in the realm of cooking are so prodigious they rival that of actual industry professionals.
The show's narrative flings her back in time to the middle of the 19th century. Specifically, Japan's Bakumatsu period.
Her meeting with Hijikata Toshizou becomes a driving force in the "Shinsengumi Kitchen Diary" anime.
Hijikata is a popular commander of the shogunate's Shinsengumi police.
She ends up impressing the man with her culinary skills. As a result, she's inducted into the corps.
This is yet another straightforward food-related anime that makes for nice viewing.
28. Nu Wushen De Canzhuo
| Entity | Detail |
| --- | --- |
| Title | Nu Wushen de Canzhuo |
| Type | ONA |
| Studios | Blade, Thundray |
| Premiered | Jun 28, 2019 to Aug 30, 2019 |
| Source | Game |
| MAL Score | 6.871 |
| Duration | 5 min. per ep. |
The idea of dining at an actual dinner table is a cherished traditional practice that goes back centuries.
In this anime, which translates to 'Cooking with Valkyries', you will find memories galore being made at one such table.
The "Nu Wushen de Canzhuo" anime features Valkyries in lead roles. They cook and share memories in an ambiance of camaraderie and good food.
Fans see this fictional world unfold through the eyes of six Valkyries – Himeko, Kiana, Theresa, Bronya, Mei, and Fu.
27. Piace: Watashi no Italian
Summer break has arrived, and Morina Nanase is on the hunt for a part-time job.
She lands a waitressing gig at a popular Italian restaurant called 'Trattoria Festa'.
Not only does she fall in love with the place, it being so near her house adds to her reasons to work there.
A while into her employment, she discovers there's a lot more to Italian cooking than she knew possible.
Her co-workers are an eccentric lot, but she finds them fun to hang with.
In the "Piace: Watashi no Italian" anime, fans experience a gorgeous dive into Italian cuisine.
The show boasts some lip-smacking selections – penne arrabbiata, caponata, and tiramisu, to name a few.
Morina's customer-service scenes are counter-balanced with her learning more about whom she works within this beautiful cooking anime.
26. Kakutou Ryouri Densetsu Bistro Recipe
At 11 years old, Zen Makunouchi has proven he can tackle all sorts of challenges.
Along with his younger sister Karen, he teams up with Pitan, a boy with a large appetite.
Together, all three face up to an evil empire in the "Kakutou Ryouri Densetsu Bistro Recipe" anime.
Their weapons, if you can call them that, are 'Foodons', which are bizarre monsters created using, well, food.
Diverse foods are involved in the crafting of these Foodon monstrosities.
They play a core role in the narrative of this cooking anime series.
25. A Chef of Nobunaga
A modern chef with a time travel story for the ages. Ken wakes up one day in war-torn 16th-century Japan.
Knowing no other way to carry on, he finds a way to blend in. The only way he can do that is to do what he does best – cook.
Despite finding suitable employment, he fails to remain hidden for a long.
His cooking is so good that word about him reaches the ears of warlord Oda Nobunaga. Soon, the warlord demands that Ken cooks for him.
"A Chef of Nobunaga" anime is all about an ordinary man with extraordinary talent trying to live in an era where he doesn't belong.
Ken's passion for cooking seems to be the only thing that makes him want to wake up each morning.
24. Antique Bakery
| Entity | Detail |
| --- | --- |
| Title | Seiyou Kottou Yougashiten: Antique |
| Type | TV |
| Studios | Nippon Animation, SynergySP, Shirogumi |
| Premiered | Jul 4, 2008 to Sep 19, 2008 |
| Source | Manga |
| MAL Score | 7.041 |
| Duration | 22 min. per ep. |
Becoming a world-class chef has made Ono Yuusuke a household name.
No matter his accomplishments, he's silently yet to get over his high school crush, Tachibana (once a middle-weight boxing champion).
Ono's cooking skills are not the only thing steamy about him. He's also become a world-famous gay playboy.
Fate leads Ono down a strange path. Fourteen years later, he finds himself working for the same Tachibana who rejected his advances in school.
How differently does Tachibana feel about Ono? And what's all that cake got to do with it?
The "Antique Bakery" anime imparts a Boy's Love spin on the cooking anime trope.
23. The Way of the House Husband
| Entity | Detail |
| --- | --- |
| Title | Gokushufudou |
| Type | ONA |
| Studios | J.C.Staff |
| Premiered | 2021-04-08 |
| Source | Manga |
| MAL Score | 7.011 |
| Duration | 17 min. per ep. |
This is an upcoming anime series, and therefore finds its well-earned place on this list.
Tatsu was once a legend in the Japanese Yakuza. He was known as the "Immortal Dragon".
But he leaves it all behind to become a domestic house-husband.
Police and criminals alike feared the man, if the original manga version of this yet-to-happen anime is anything to go by.
Tatsu's disappearance and consequent reappearance as a 'docile' hubby have made for amusing reading.
He is far from succeeding at his self-appointed goals.
Failures in the kitchen, multiple mistakes at the supermarket, and misunderstandings galore suffuse the "Gokushufudou" ("The Way of the House Husband") anime.
This is one comedy anime that fans of the genre are going to adore watching.
22. Isekai Izakaya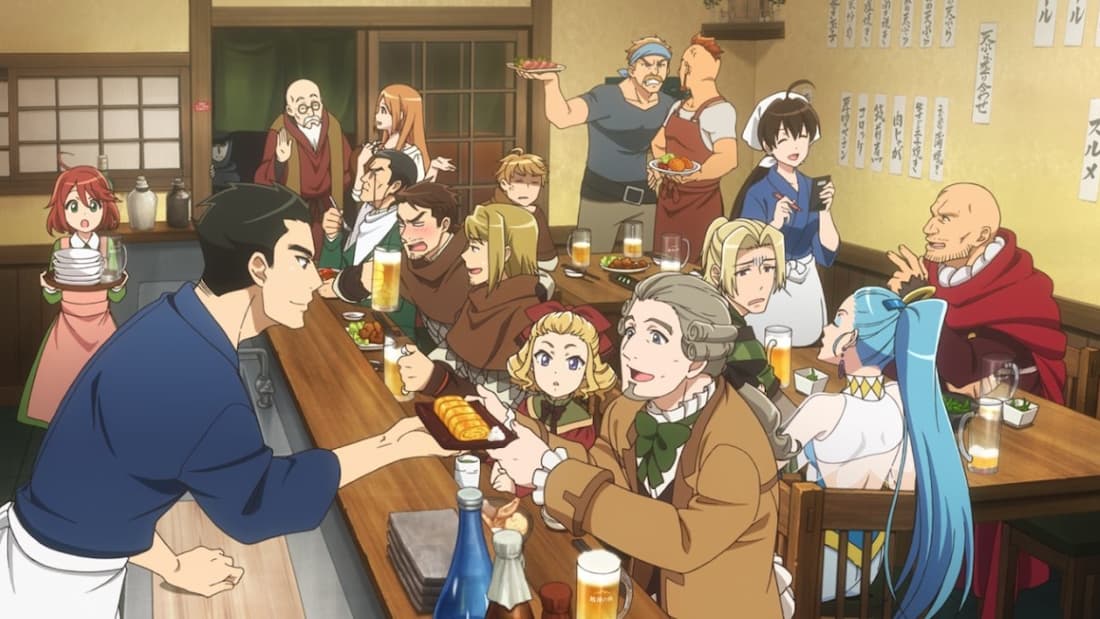 There's a bar called 'Nobu' in Japan Kyoto. In it, the main characters discover a doorway that leads to another bar situated in an alternate world.
All sorts of inter-dimensional travelers crowd the joint, seeking good food and better drink.
The "Isekai Izakaya" anime subtly highlights how food unites everyone.
The culinary scenes are a delicacy in their own right. Fans have always wondered what the super-popular 'Toriaezu Nama' ale might taste like in real life.
21. Kakuriyo no Yadomeshi
| Entity | Detail |
| --- | --- |
| Title | Kakuriyo no Yadomeshi |
| Type | TV |
| Studios | Gonzo |
| Premiered | Apr 2, 2018 to Sep 24, 2018 |
| Source | Novel |
| MAL Score | 7.511 |
| Duration | 23 min. per ep. |
Being abandoned by her mother is only the first of several challenges for Aoi Tsubaki.
That she can see 'Hidden Realm spirits' called 'Ayakashi' only adds to her problems.
It is a genetic trait because her grandfather was also able to see them.
He taught Aoi all she needs to know about living in peace with these spirits that are prone to preying on humans.
After her grandpa passes away, Aoi relies on her cooking skills to keep the creatures sated.
She goes about feeding all the stray Ayakashi that come her way.
In doing so, she keeps people safe in this 'bed and breakfast for spirits' story.
The "Kakuriyo no Yadomeshi" anime introduces a major twist when one of Aoi's lunch services to a spirit ends up ferrying her to their world.
The spirit in question turns out to be an ogre god called Oodanna, aka 'Master Innkeeper'.
Aoi discovers that all this time she has been collateral for a 100-million-yen debt owed by her grandfather to the Ayakashi ogre god.
This creature asks for Aoi's hand in marriage as suitable repayment.
She refuses but offers to open an eatery at the ogre god's inn instead.
Delicious cooking and paranormal activity blend beautifully within the framework of this anime.
20. Kodoku no Gourmet
Inogashira Gorou is a lone-wolf foodie critic. But his sentiments are reserved solely for his pleasure.
He eats at ramen shops and sundry restaurants, savoring anything and everything from street foods to blue ribbon.
He is a liberal foodie who does not live to fulfill social obligations.
The "Kodoku no Gourmet" anime is a delight for several reasons.
Eating for oneself, with oneself, apparently brings the most comfort and satisfaction, at least for Inogashira.
He has practically made a lifestyle out of uninterrupted dining.
The anime version of this manga is voiced by Kenyuu Horiuchi.
19. Love Kome: We Love Rice
Anthropomorphic rice… You read that right. Rice that is transformed into a schoolboy is at the heart of the "Love Kome: We Love Rice" anime's narrative.
The culinary plot unfolds at the 'Kokuritsu Inaho Academy' (a wordplay on national schools | that translates into 'Rice Ear Academy').
These rice-turned-boys attempt to replace bread as the school staple.
They are part of the 'Love Rice' unit which aims to make a mark at the school's upcoming 'Harvest Show'.
This anime is as funny as it is interesting.
It is particularly fun to watch the main characters go about 'selling' the idea of rice grains – 'Japan's soul food.
The challenges they face at the Harvest Show further add to the comedic value of the plot.
18. Maiko-san chi no Makanai-san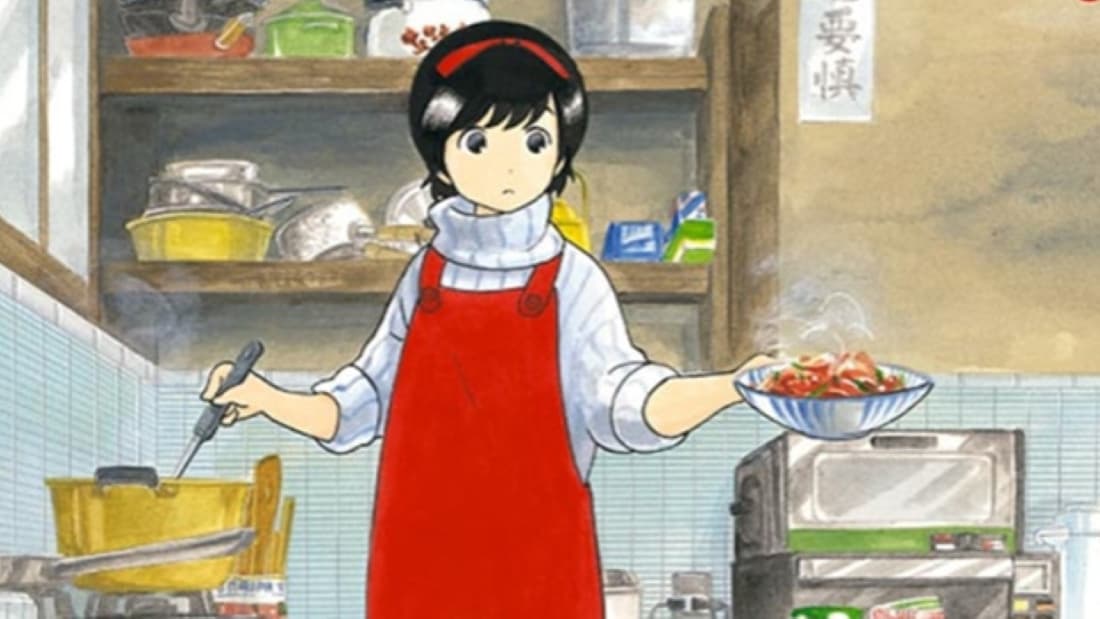 | Entity | Detail |
| --- | --- |
| Title | Maiko-san Chi no Makanai-san |
| Type | TV |
| Studios | J.C.Staff |
| Premiered | Feb 25, 2021 to ? |
| Source | Manga |
| MAL Score | 6.621 |
| Duration | 25 min. per ep. |
Hailing from Kyoto's Aomori Prefecture, Kiyo and Sumire harbor dreams of becoming Maiko.
A series of unexpected events unravel in the "Maiko-san Chi no Makanai-san" anime. Kiyo ends up working as a live-in cook.
The plot unfolds across three Kyoto districts: Maiko, Geiko, and Kagai. Other characters include fellow maiko housemates.
Kiyo's beautiful home-cooked meals are the real show-stealers in this series.
Sumire, on the other hand, works hard every day to become a once-in-a-century maiko.
From kitchen episodes to behind-the-scenes anecdotes, this cooking anime has something for everyone.
It centers on two childhood friends who motivate one another to pursue their dreams.
17. Ms. Koizumi Loves Ramen Noodles
| Entity | Detail |
| --- | --- |
| Title | Ramen Daisuki Koizumi-san |
| Type | TV |
| Studios | Studio Gokumi, AXsiZ |
| Premiered | Jan 4, 2018 to Mar 22, 2018 |
| Source | Manga |
| MAL Score | 6.531 |
| Duration | 22 min. per ep. |
Also called "Ramen Daisuki Koizumi-san", this anime follows the life of a beautiful Ramen-loving high school girl called Koizumi.
She deliberately travels miles from home to find Ramen.
Then again, Koizumi also does not mind standing for hours under the sun if it means getting some tasty Ramen.
Yuu Oosawa, her female classmate, starts developing feelings for her.
The show unravels with the two of them getting closer through their Ramen adventures. Yuu is not always welcome.
But that does not stop the infatuated Yuu from trying to steal Koizumi's heart.
Yuu is equally shocked and amused by Koizumi's gigantic appetite.
Koizumi's passion to taste every variety of Ramen out there makes for memorable viewing. This anime full of aesthetic ramen cooking and mouth-watering visuals.
16. Walking Meat
Fair warning: this is the most disgusting and nauseating addition to this list.
The "Walking Meat" anime plotline has a strong food foundation. This, more than anything else, has ensured it a place on this list.
We do not recommend those with weak stomachs to watch this show.
After all, this ridiculously crazy series focuses on zombies of the savory kind.
This is a zombie-centric story where instead of fleeing from the undead, people find nifty ways to eat them – sautéed, stewed, squeezed.
'Flesh Inc.' is the fictional Japanese corporation at the heart of events in this show, which takes place in the roaring 60s.
They intentionally create zombies using African voodoo techniques with the sole purpose of finding any ways to commercialize them via the food industry.
Hamburgers, pet food, soda beverages, and instant noodles aside, the show also finds insane ways to incorporate lab-grown zombies into an assortment of cosmetics.
Entering this crazy narrative are three selfish millennials who find themselves working at Flesh Inc.
They get trapped at one of the fully automated zombie farms.
Along with their 'techno-tard' supervisor, they are thrown into a survival scenario they never saw coming in this bizarrely interesting anime.
The show is filled with comic relief and more than a handful of stomach-turning moments.
15. Oishinbo
| Entity | Detail |
| --- | --- |
| Title | Oishinbo |
| Type | TV |
| Studios | Shin-Ei Animation |
| Premiered | Oct 17, 1988 to Mar 17, 1992 |
| Source | Manga |
| MAL Score | 6.471 |
| Duration | 23 min. per ep. |
This anime is essentially a drama revolving around newspaper reporters. The main character is a food critic known for being cynical.
This is Shirou Yamaoka, and fans see plenty of foodie moments unfurl whenever he comes on the scene.
This show, particularly its comic book version, even found mention in an episode of the hit 90s TV series 'Iron Chef'.
This anime contains some nice meal-worthy moments and makes some rather provocative points as well.
14. Restaurant to Another World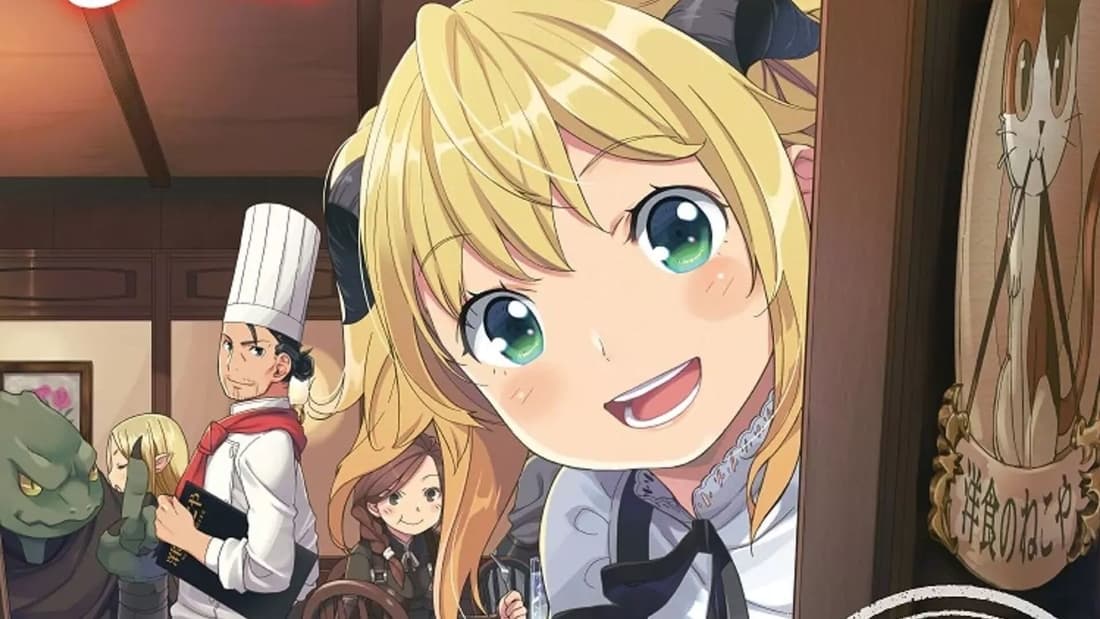 | Entity | Detail |
| --- | --- |
| Title | Isekai Shokudou |
| Type | TV |
| Studios | SILVER LINK. |
| Premiered | Jul 4, 2017 to Sep 19, 2017 |
| Source | Light novel |
| MAL Score | 7.351 |
| Duration | 23 min. per ep. |
Also called "Isekai Shokudou", this anime unfolds inside a restaurant called Nekoya (in Tokyo's shopping district).
Its patrons enjoy Western as well as Japanese meals at this eatery.
But the place also has a bizarre clientele distinct from the usual crowd.
Every Saturday – when Nekoya is purportedly closed – the restaurant hosts residents from another world.
Fairies, mages, elves, dragons… You name it, they're there. The chef of this curious joint is quite the enigmatic character.
Known simply as 'Master', the show does an excellent job of sustaining the mystery surrounding this individual.
He crafts some of the finest meals, enough to draw crowds from other realms.
Much is hidden behind the chef's smile as he serves everyone their favorites in the "Restaurant to Another World" anime.
13. Petit Dream Stars! Let's La Cooking? Showtime!
A strangely loud title for an interesting yet doubly strange anime that is worth checking out.
The story is seen through four non-human characters named Pekorin, Moforun, Aroma, and Pafu. They spend their time making delicious cookies.
All this until a foreign ingredient is added to the dough, which results in the creation of a monster.
This creature is given to chasing the fairies.
It also ends up adding strange yet captivating storytelling value to the "Petit Dream Stars! Let's La Cooking? Showtime!" anime.
Granted, the animation style used in this show is more 3D than old-school anime.
However, the characters' dewy big-eyed features and core story structure reflect Anime's narrative techniques.
This is why we chose to add this one to the list.
12. Pororo Daemoheim
Yet another animation-anime blend is the "Pororo Daemoheom" series.
The eponymous Pororo is a penguin prepping for Christmas.
Along with his buddies, they receive a direct message from none other than Santa Claus.
This show is a curious twist from the traditional version. Fans see Claus falling ill and therefore unable to bring cheer to 'Candy Castle'.
This place is run by King Cream Puff under whose aegis cookies of all kinds are baked, ready to be served to children all over the world.
Pororo and friends thus take it upon themselves to save the Christmas spirit by ferrying the cookies to Candy Castle on Santa's behalf.
As with all such tales, there's bound to be a villain.
Enter, the wicked Witch of Winter whose scheming presents obstacles to our 'heroes'.
When all is said and done, this show makes for interesting viewing.
11. Kekkai Sensen: Ousama no Restaurant no Ousama
| Entity | Detail |
| --- | --- |
| Title | Kekkai Sensen: Ousama no Restaurant no Ousama |
| Type | OVA |
| Studios | Bones |
| Premiered | 2016-06-03 |
| Source | Manga |
| MAL Score | 7.391 |
| Duration | 24 min. |
Members of the mysterious organization called 'Libra' stepped out of the shadows so they could dine with a special guest.
Who is this guest? The next in line to the nation's throne.
To provide a glimpse into the best that Hellsalem's Lot can give, the group chooses to host the future king at the popular Molzzogazza restaurant.
The pressure is on for the whole experience to turn out flawless. Libra is looking to gain crucial political favors in the future.
Their leader, Steven A. Starphase, supervises everything. But even he seems unaware of the eldritch effects that Molzzogazza's cuisine has on its diners.
However transcendent or flavourful, the food drives its patrons mad to varying degrees.
As composed as the setting may initially seem in the "Kekkai Sensen" anime, the narrative presents plot twists that 'twist' like daggers in the dark.
10. Kaidan Restaurant
| Entity | Detail |
| --- | --- |
| Title | Kaidan Restaurant |
| Type | TV |
| Studios | Toei Animation |
| Premiered | Oct 13, 2009 to Jun 8, 2010 |
| Source | Picture book |
| MAL Score | 7.271 |
| Duration | 19 min. per ep. |
A spooky town filled with haunted locations and enough ghost stories to go around does not deter Shou, Ako, and Reiko.
The three buddies check out one such abandoned place – the Kaidan Restaurant.
Tales of supernaturalism abound in this anime, with the three main characters finding themselves smack in the middle of them.
The 'Thriller Restaurant' takes fans on a fun-filled legend-packed spirit-suffused paranormal adventure.
It serves cuisine and interactions with the dead in equal measure.
The "Kaidan Restaurant" cooking anime has a distinct structure. Each episode comprises three 'dishes' or stories.
These represent appetizers, main courses, and desserts.
9. Chuumon no Ooi Ryouriten
| Entity | Detail |
| --- | --- |
| Title | Chuumon no Ooi Ryouriten (1991) |
| Type | Movie |
| Studios | None found, add some |
| Premiered | 1991 |
| Source | Book |
| MAL Score | 6.221 |
| Duration | 19 min. |
This show is based on an original published short story written by Kenji Miyazawa and uses the same name.
Since the story came out in the early 1920s, this is possibly the oldest anime adaptation of all.
It uses a stop-motion animation technique that remains captivating to this day.
The "Chuumon no Ooi Ryouriten" anime tracks two British hunters who lose their dogs in a woodland zone.
They, in turn, get lost while attempting to find their pets.
Before long, they happen upon a restaurant whose outlandish location is not the only thing strange about it.
Counting their blessings, they decide to rest up inside.
Little do they know that they are in for a life lesson about the difference between predator and prey.
8. Watashi no Coffee Samurai: Jihanki-Teki Na Kareshi
This anime does not begin with coffee, or anything food-related.
It involves a samurai named Jin who falls in battle and wishes to be reincarnated in an 'invincible metal body'.
The narrative then shifts to modern-day Seoul where this unfortunate samurai has reincarnated as a coffee vending machine (!).
Talk about being careful what you wish for J.
Jin's battle-worthy days are far from over.
The 'coffee-rai' wages battle with other similarly reincarnated samurai in the crazy "Watashi no Coffee Samurai: Jihanki-Teki Na Kareshi" anime.
Then Hemi comes along, a girl who purchases a beverage from Jin's now vending-machine form.
She inadvertently draws the romantic attention of the samurai within. This show takes 'coffee and dating' to unconventional levels.
7. Coffee Ikaga Deshou
Since we're on the topic of coffee, here's another interesting anime that uses the beverage as part of its core narrative.
It contains a food truck that sells coffee on the go.
The barista, however, does not casually fill and serve. He takes his time intentionally making each cup special for every customer.
The sincerity with which Hajime Aoyama brews and delivers each coffee makes the "Coffee Ikaga Deshou" anime a definite must-have on this list.
After all, our top-50 cooking anime list includes the promise of dedicated deliciousness.
In this anime, for instance, how Hajime makes each coffee directly influences how it makes his customers feel. Now THAT hits the spot.
6. Dagashi Kashi
| Entity | Detail |
| --- | --- |
| Title | Dagashi Kashi |
| Type | TV |
| Studios | feel. |
| Premiered | Jan 8, 2016 to Apr 1, 2016 |
| Source | Manga |
| MAL Score | 6.621 |
| Duration | 24 min. per ep. |
For nine generations, the Shikada family has been successfully running a sweet shop in the countryside.
Known matter-of-factly as 'Shikada Dagashi', their Japanese sweet shop has only grown in popularity over the decades.
The anime takes a turn when the latest heir to the family business wishes to become a manga artist instead.
Kokonotsu Shikada seems to have become something of a black sheep in the family and by extension the "Dagashi Kashi" anime.
The story soon shifts when the eccentric Hotaru Shidare visits them.
This young lady wishes to poach the talents of Kokonotsu's dad.
She wants to hire him for her world-stage sweet manufacturing business, 'Shidare Corporation.
Of course, the father refuses the offer but also appends that he will join Hotaru on one condition…
If she can somehow drive some sense into Kokonotsu about taking over the family business, Shikada senior says he will more than gladly join Hotaru.
Everything hinges on the characters' interactions with one another, including the future of the most delicious Dagashi in Japan.
5. Chocolate Underground
| Entity | Detail |
| --- | --- |
| Title | Chocolate Underground |
| Type | ONA |
| Studios | Production I.G, Trans Arts |
| Premiered | Jun 12, 2008 to Sep 4, 2008 |
| Source | Novel |
| MAL Score | 6.131 |
| Duration | 5 min. per ep. |
The 'Good For You PPartyis a political organization that has legally banned all sweets and chocolates in the "Chocolate Underground" anime.
They enforce their new laws with fervor and force that should be reserved for the military.
Silently rebelling against their policies are two teenage boys, Smudger and Huntley.
They just desperately want to eat chocolate again, and who can blame them? Their journey begins when they seek out chocolate bootleggers.
Before long, the boys come up with their own chocolate underground distribution system that flies in the face of everything the 'Good For You Party' stands for.
4. Poco's Udon World
| Entity | Detail |
| --- | --- |
| Title | Udon no Kuni no Kiniro Kemari |
| Type | TV |
| Studios | LIDENFILMS |
| Premiered | Oct 9, 2016 to Dec 25, 2016 |
| Source | Manga |
| MAL Score | 7.751 |
| Duration | 22 min. per ep. |
Souta Tawara is back in his native Kagawa (in Japan). He no longer has a family to call his own, only the family-owned udon restaurant.
It brings back memories of when they were all together.
When he visits the closed-off place, he discovers a small boy there. Seeing that the little boy needs help, Souta provides him with food and clothing.
When the boy suddenly sprouts ears and a tail, suffice it to say Souta is quite shocked.
There has been a longstanding rumor of a shapeshifting tanuki inhabiting Kagawa.
Souta believes the little boy is that entity. He takes the child in and calls him Poco, thus sparking off the core narrative in the "Poco's Udon World" anime.
So begins a beautiful bond, one that reminds Souta of his time with his father. Accenting it all is Udon, the food business that connected Souta and Poco in the first place.
3. Grave Of The Fireflies
| Entity | Detail |
| --- | --- |
| Title | Hotaru no Haka |
| Type | Movie |
| Studios | Studio Ghibli |
| Premiered | 1988-04-16 |
| Source | Novel |
| MAL Score | 8.511 |
| Duration | 1 hr. 28 min. |
The "Hotaru no Haka" anime opens at the tail end of World War II, 1945.
Japan is suffering from the threat of American bombings. In this hopeless setting come Seita and his sister Setsuko.
Just like thousands of other children, Seita and Setsuko's lives are ravaged by war-torn Japan.
They were orphaned and rendered homeless thanks to the bombings.
Facing disease and starvation, the kids roam the countryside receiving little aside from apathy from various adults whom they encounter along the way.
They are reminded of how easily desperate circumstances can bring out the worst in otherwise kind people.
This anime is heartwrenching and the best portrayal of the aftermath effects of wars.
We chose to add the "Grave Of The Fireflies" anime to this list purely to remind us about the importance of food by highlighting the sheer lack of it.
If this show does not make you genuinely savor and appreciate each bite that's on your plate, few things will.
2. Flavours Of Youth
| Entity | Detail |
| --- | --- |
| Title | Shikioriori |
| Type | Movie |
| Studios | CoMix Wave Films |
| Premiered | 2018-08-04 |
| Source | Original |
| MAL Score | 7.141 |
| Duration | 26 min. per ep. |
We adore China's food, its people, and its culture.
This next entry on our list focuses on the beautiful side of China, namely its hard-working people.
The "Shikioriori" anime features three well-defined coming-of-age stories.
It highlights the wonders of youthful memories and short-lived childhoods.
Food, love, and family are all explored in this gorgeously simplified anime.
Fans live these themes vicariously through the eyes of three separate characters in the "Flavours Of Youth" series.
These characters go about recalling and cherishing the oft-neglected flavors of their youth.
This anime will make you see a warm bowl of noodles in a whole other light.
1. Silver Spoon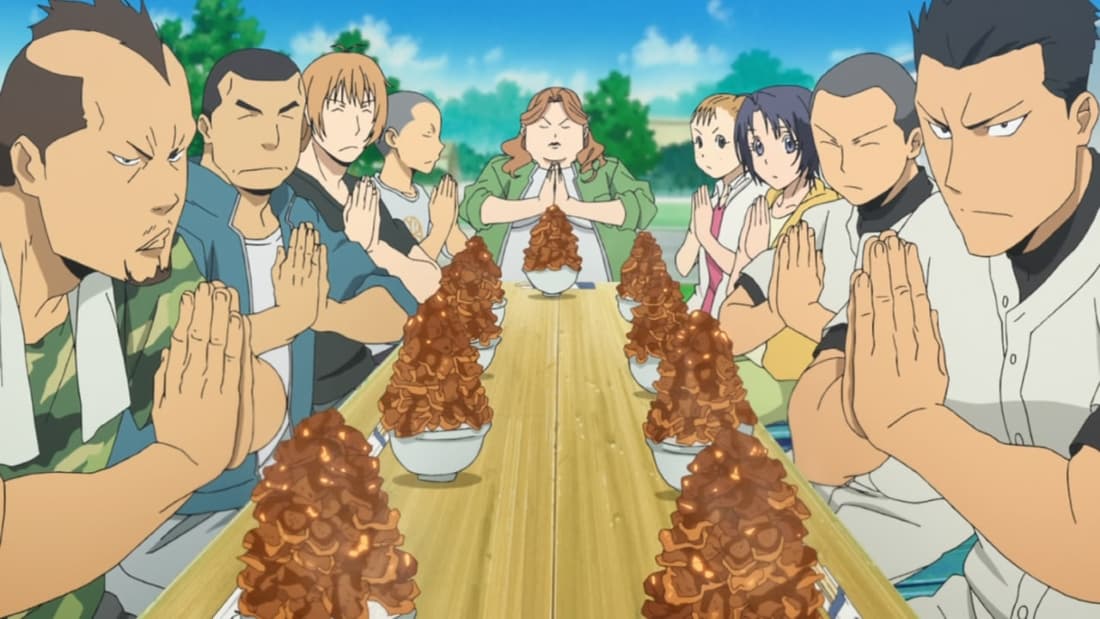 | Entity | Detail |
| --- | --- |
| Title | Gin no Saji |
| Type | TV |
| Studios | A-1 Pictures |
| Premiered | Jul 12, 2013 to Sep 20, 2013 |
| Source | Manga |
| MAL Score | 8.101 |
| Duration | 23 min. per ep. |
We now come to the last point on our list, and a rather apt one at that.
The "Gin no Saji" anime's narrative is carried on the shoulders of its main character Yuugo Hachiken.
This hard-working and studious young man makes up his mind to enroll in the 'Ooezo Agricultural High School'.
He does this mainly to escape parental pressure back home.
At the reputed institution where Yuugo assumed he would shine, he's met with great competition.
His fellow students are actual farmers whose knowledge and experience let them excel in the academic arena.
The "Silver Spoon" anime features themes about livestock, food, and farming. All three perfectly highlight the source of all cuisine.
The show portrays the harshness and difficulty of agricultural living, and the responsibilities it entails.
You might be receiving your food from packets of grains or shops but you will understand the hard work involved when you visit an actual farm.
There is also plenty of comedy, as seen through Yuugo being a fish out of water in his new learning environment.
He does not give up, though. Yuugo meets new people on his journey to live life on his terms.
In the process, he gains a fresh appreciation for food and the people who grow them.