»
Top 50 Best College Movies Of All Time [2023]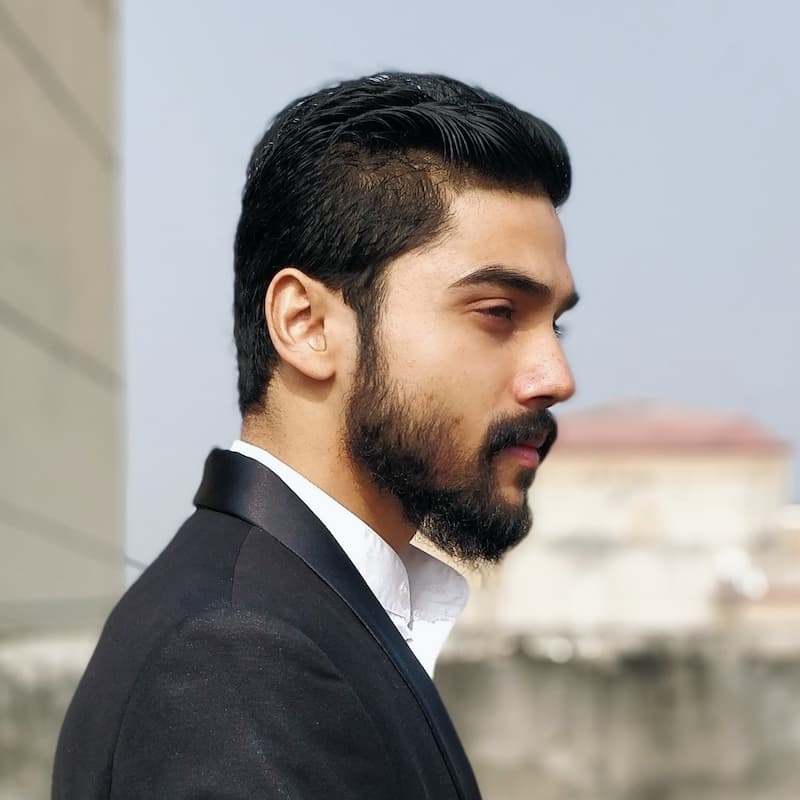 Shivam-Updated Jan 30, 2023
---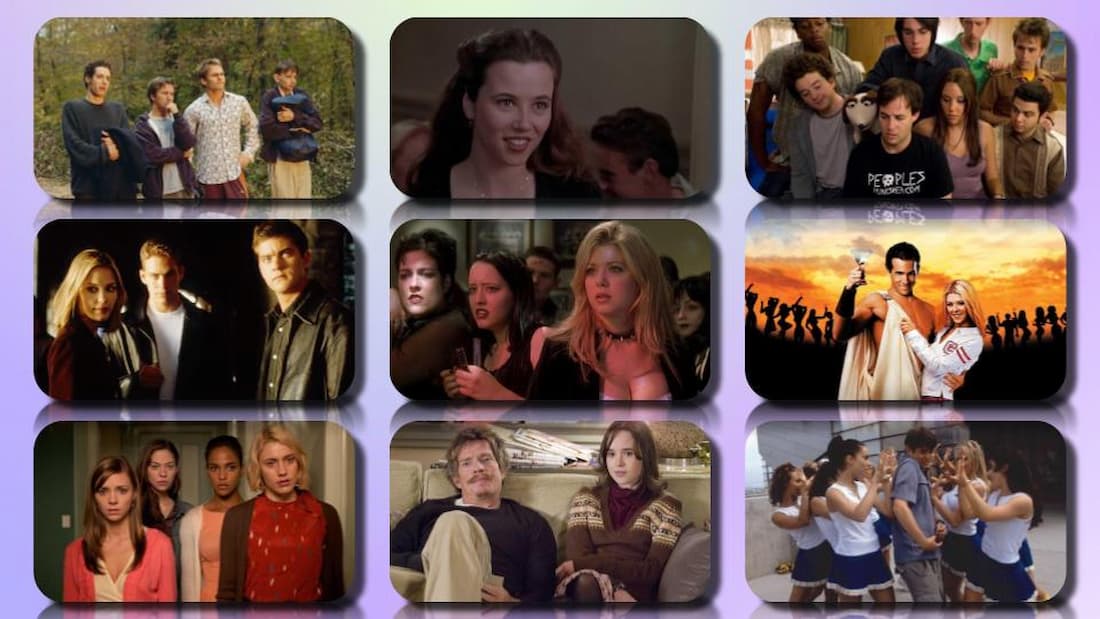 We all know and acknowledge that the time we spend in college gives us much-needed exposure and makes us far more confident as individuals. As spontaneous and unpredictable as our days in college are, they are also equally challenging and full of new friends and exciting adventures.
Since college plays a critical role in shaping our future by imbibing qualities like sensitivity, creativity, and critical and analytical thinking into our lives, a ton of amusing and inspiring college-set motion pictures have been produced across the globe over the years.
Needless to say, a lot many of us jump at the opportunity to relive our college days through these titles that seem to be aging like fine wine. So, allow yourself some space to go through our piece on the finest college-set movies of all time; ones that will help not only in making you relieve your glorious college days but will also make you wish that you could apply for the same all over again.
50. The Skulls (2000)
This Rob Cohen-helmed thriller details the secret and horrific inner workings of a campus secret society. The plot follows a sincere senior at an ivy league college who gets accepted into the secret society The Skulls.
Unbeknownst to him, his inclusion in society does not better his chances at Harvard, but, in fact, comes at a price. Little do people know that the story of this motion picture is based on some of the conspiracy theories surrounding Yale University's Skull and Bones student society.
49. Urban Legend (1998)
Helmed for the screen by Jamie Blanks, the first installment in the Urban Legend series of movies brings together actors such as Jared Leto, Alicia Witt, Rebecca Gayheart, Tara Reid, and Michael Rosenbaum.
The story follows Natalie; a girl who deciphers that the murders taking place in and around her university might just be inspired by various urban legends. This slasher flick, which was criticized for being a blatant rip-off of the cult classic Scream, thrives on its edgy sense of humor and tricky plot to appeal primarily to teenagers.
48. Damsels in Distress (2011)
Written and directed by Whit Stillman and starring Greta Gerwig, Adam Brody, and Lio Tipton in crucial roles, Damsels in Distress tracks the journey of a trio of beautiful girls, who endeavor to bring about a change in their male-dominated college campus.
We also catch them doing their best to rescue their peers from living depressing and substandard life while they are around. Screened at the 68th Venice International Film Festival and the Toronto International Film Festival, this whimsical campus comedy thrives on Gerwig's performance which is both effective and complicated in equal measure.
47. Smart People (2008)
In Noam Murro's Smart People, we find Lawrence, a widowed college professor, and intellectual giant, falling in love with his former student, which leads to bizarre consequences for both him and the people around him.
The film, several of whose sequences were filmed at Carnegie Mellon University and the Pittsburgh International Airport, premiered at the Sundance Film Festival in 2008. Even though this comedy-drama thrives on the performances of its cast, it is too thinly plotted to fully resonate with most people.
46. Dead Man on Campus (1998)
In this rather distinct black comedy drama that has been helmed by Alan Cohn, we catch two college roommates venturing out to identify a student, who is most likely to commit suicide.
Do you know why? Because it might just help them pass the semester. For those who are less aware, it's an urban legend as old as the Ivy League that the roommates of a student - who may have given up on his life - are granted straight A's.
Shot at the University of the Pacific in Stockton, California, the theatrical release of the film was in sync with the start of the new college school year in late August 1998.
45. Sydney White (2007)
Joe Nussbaum's Sydney White introduces us to its eager titular character, who is banished from the most popular sorority. Soon after, we catch her being taken in by seven socially challenged guys.
So, with the help of her new best pals, she decides to take on the campus queen in a fierce popularity showdown. Starring Amanda Bynes, Sara Paxton, and Matt Long in pivotal roles, this motion picture may not be the best modern-day screen version of the classic "Snow White" tale, but it certainly has quite a few delightful moments to offer to young ladies who might be looking forward to watching a decent "teen girl" movie.
Sydney White's passion to entertain her viewers and do the right thing should be a reason good enough for most young girls to sit through this trademark chick flick.
44. National Lampoon's Van Wilder (2002)
Walt Becker's National Lampoon's Van Wilder tells the story of its titular character, who happens to be the most popular guy on his collegiate campus. Often seen spending a major part of his time organizing fundraisers, he makes no effort whatsoever to graduate.
In due time, a competent journalist gets him to admit his fear of graduation. The motion picture stars Ryan Reynolds as the titular character along with actors such as Tara Reid, Kal Penn, and Tim Matheson in supporting roles.
Since the jokes in this one are of a very low level, we suggest you think less and prepare yourself to consume 90 minutes of brainless entertainment.
43. Orange County (2002)
In Jake Kasdan's Orange County, we find a determined student named Shaun's application to Stanford University getting rejected as his academic transcript is mixed up with that of another student.
However, in a bid to improve his chances of getting accepted, he decides to use any means necessary; even if it means taking help from his stoner brother. We agree that the summary of this motion picture sounds a tad serious.
However, trust us when we assert that it ends up providing an experience that can only be relished when one sits through it. While there is a paucity of belly laughs in the screenplay, it's still an above-average college-set comedy.
42. Road Trip (2000)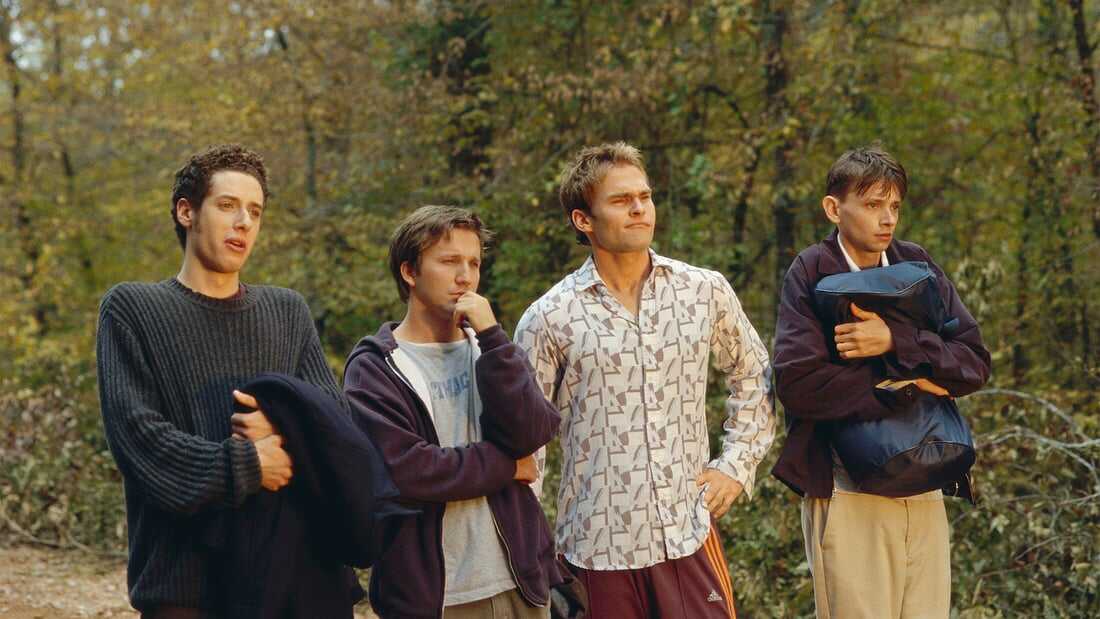 While not college-set in the true sense of the word, Road Trips brings to us a story of four college buddies who embark on a road journey to retrieve an illicit tape mistakenly mailed to a female friend.
Needless to mention, the friends have no option but to race against time to retrieve it. This incredibly funny motion picture will connect with most college friends who may have undertaken a road trip at some point during their time in college.
Similar to American Pie in style, this Todd Phillips directorial venture has the right ingredients to resonate with its target audience.
41. Dear White People (2014)
In this thought-provoking satire helmed by Justin Simien, which inspired the Netflix show of the same name, we see a campus culture war between blacks and whites taking center stage.
In the predominantly white school, tensions reach an all-time high when an outspoken Black student's radio show prompts a white student to throw a blackface party. This satirical dark comedy-drama strives to tackle timely and ever-so-relevant sub-themes like racism, privilege, and navigating white spaces as a Black student.
Dear White People premiered in a competition in the US Dramatic Category at the Sundance Film Festival in 2014.
40. Accepted (2006)
In this Steve Pink directorial venture, we find Bartleby, an idler, getting rejected by all the colleges he applies to, much to the dismay of his overly expectant parents. So, he decides to take matters into his own hands and, along with his friends, goes on to create an institution for hundreds of nincompoops.
This Justin Long vehicle may be criticized for its preposterous premise, but that is also why it managed to appeal to its targeted audience. Watching Bartleby start a fake college near his house and accept as many rejects and misfits as he can is as clumsy as it is fun.
Also, yes, the scheme does eventually blows up in his face.
39. Scream 2 (1997)
Well, I bet not a lot of you were expecting to find the solid sequel to 1996's Scream in our piece on the finest college-set flicks. But, here we are with all our justifications in place.
Wes Craven's slasher film strives to tell the story of Sidney, who is now in college and is, yet again, the target of a psychotic killer. Needless to say, the killer's murder count ceases to increase even as the setting of the film has been relocated to college.
So, if several serious students, wayward brats, and clueless geeks can find a spot on our list, why should a masked killer with a penchant for horror movie trivia be left behind?
38. 21 (2008)
Helmed for the screen by Robert Luketic, 21 has been inspired by the story of the Massachusetts Institute of Technology Blackjack Team as told in Bringing Down the House, the best-selling book by Ben Mezrich that was published in 2003.
The plot tracks the exciting journey of Micky, a math professor, who recruits five brilliant students intending to use their skills to win millions of dollars at blackjack in Las Vegas.
The fascinating feature film, which thrives on its suspenseful and solid plot line, is peppered with doses of occasional humor as well. Also, the climax ensures that the screenplay culminates on a good note.
37. Kill Your Darlings (2013)
Directed by John Krokidas in his feature film directorial debut, Kill Your Darlings is set in 1944. It follows a young Allen Ginsberg who has a rival for the affections of his charismatic classmate Lucien Carr.
However, when the rival is shockingly found dead, Carr, William Burroughs, and Jack Kerouac are arrested for the allegedly planned murder. The screenplay, which strives to cast a vivid spotlight on the college days of some of the earliest members of the Beat Generation, thrives on the undeniable chemistry between Daniel Radcliffe and Dane DeHaan.
Kill Your Darlings had its world premiere at the Sundance Film Festival and was shown at the Toronto International Film Festival in 2013.
36. Happy Death Day (2017)
Christopher Landon's Happy Death Day strives to showcase the college experience through its horror-driven storyline. The motion picture tells the story of college student Theresa Gelbman, who continues to relive the day when she was killed to discover the identity of her murderer.
It is up to her to figure out who the killer is if she truly wishes to escape the dreadful time loop. Happy Death Day was a critically successful venture that spawned a sequel.
35. Night of the Creeps (1986)
Fred Dekker has to be lauded for being audacious enough to pack every single B-movie trope into a college flick in his very first project as a filmmaker. He blends the genres of science-fiction, horror, and college comedy to tell us what happens after an alien experiment containing slug-like organisms crashes Earth and goes on to infect a fraternity member.
Expectedly, mayhem ensues when a couple of college boys discover the cryogenically frozen corpse. Enjoyable in a ramshackle sort of way, Night of the Creeps is one of the most unique features to make it to our list.
It goes on to pay a homage of sorts to every subgenre in its own wicked way.
34. Legally Blonde (2001)
The unbelievably talented Reese Witherspoon had headlined a few big features before the college-set Legally Blonde hit the screens, but it was here where she made the cinematic universe fall madly in love with her.
The plot follows Elle, whose boyfriend dumps her for a smarter girl as he plans to become a politician and join Harward law school. However, to teach him a lesson, she gets enrolled in the same institution.
This cool, girl-power movie about college life has managed to resonate with many the world over all thanks to Witherspoon's funny and charming character play. Not only does Legally Blonde go on to underscore that looks and gender are not important if one wishes to be successful in life but it also sheds light on various aspects of law school and its backbreaking admission process.
33. School Daze (1988)
A rather underseen motion picture, this is partially based on director Spike Lee's experiences as a Morehouse student at the Atlanta University Center during the 1970s. The story acquaints us with a not-so-popular young man who wants to pledge to a popular fraternity at his historically black college.
While it is essentially a college-set movie, it does use its plot structure to touch upon sub-themes of colorism, elitism, classism, political activism, hazing, groupthink, female self-esteem, social mobility, and hair texture bias within the highly misunderstood African-American community.
32. St. Elmo's Fire (1985)
Helmed by Joel Schumacher, this coming-of-age drama traces the journey of seven close but self-centered friends in Georgetown. Just out of college, they seem to be struggling to deal with the transition from adolescence to adulthood.
Needless to say, it takes them little time to figure out that life is not as easy as they expected. However, despite facing the struggles of everyday life, they continue to have each other's back; thus, making the film's depiction of friendship something to watch out for.
It wouldn't be an exaggeration to claim that this movie serves as a cultural document of sorts to be looked back on today.
31. The Program (1993)
Pre-Monster's Ball Halle Bery stars in this poignant drama, which follows the lives of several college athletes from different backgrounds, who try their best to cope with the pressures of playing football at a major university.
While the motion picture showcases each of the athletes dealing with the pressure differently, it also goes on to reflect upon critical issues such as parental neglect, alcoholism, and steroid abuse.
Helmed by David S. Ward and also featuring James Caan in a significant role, The Program sure is clichéd but it has its moments that do stand out.
30. Mona Lisa Smile (2003)
Helmed by Mike Newell and starring Julia Roberts, Kirsten Dunst, Julia Stiles, and Maggie Gyllenhaal in pivotal roles, Mona Lisa Smile follows the journey of a non-conformist teacher, who strives to change the rules of an age-old game with her teaching and thought process.
While teaching at an all-women's private school in the 1950s, she goes on to encourage her students to pursue their dreams and question the orthodox roles that women are expected to play in society.
Even though this motion picture risks coming across as predictable, it espouses the value of breaking barriers.
29. With Honors (1994)
Toplined by Brendan Fraser, Joe Pesci, and Moira Kelly, this Alek Keshishian directorial venture introduces us to Monty; an honors student at Harvard who finds that his thesis paper is being held hostage by a homeless man, Simon.
While the screenplay of this motion picture does certainly come off as clichéd as a whole, it does go on to tell you certain crucial things about life; especially how important it sometimes is to step back and acknowledge that we're only human after all.
Extra marks to Pesci and Fraser for their believable performances.
28. The Rules of Attraction (2002)
Written and directed by Roger Avary and based on Bret Easton Ellis' novel of the same name, The Rules of Attraction tracks the journey of the wayward and privileged students of Camden College as they serve as a backdrop for an unusual love triangle between a drug dealer, a virgin, and a bisexual classmate.
On the surface, this motion picture comes across as another tiresome movie about unsympathetic college kids engaging in self-destructive behaviors while making the most of their student life. However, we do believe that it is an underrated drama that may have opened to mixed reviews because it was slightly ahead of its time.
27. Back to School (1986)
In this good-natured comedy helmed by Alan Metter, we find a fun-loving but uneducated self-made millionaire signing up as a student to help his discouraged son get through college. Thriving on its brisk pace and flawless timing, Back to School is the brightest possible illustration of Rodney Dangerfield's range as a comedic performer.
While he is solid as the obnoxious father here, Robert Downey Jr. is pretty hysterical as his best bud.
26. Higher Learning (1995)
Written and directed by John Singleton and starring an ensemble cast, Higher Learning tells the story of three freshmen from diverse backgrounds who find themselves at the receiving end of racism while learning on a university campus.
Even after all these years, the themes that this motion picture constitutes continue to be of significance. Through the experiences of its protagonists, this dark, heavy drama aims to ask us if diversity can find its niche in places that are marred by blind hatred and stereotypes.
25. 2States (2014)
Based on popular Indian author Chetan Bhagat's novel of the same name, this Abhishek Varman-helmed romantic comedy-drama tracks the journey of Krish and Ananya, who chance upon each other at the IIM-Ahmedabad College and end up falling head over heels in love.
However, the circumstances surrounding the two get far more complicated and sensitive after the program comes to an end and they decide to get married. 2 States uses its fair share of comedy and drama to shed ample light on the culture of two different states in India; all while thriving on the performances of its main leads as well as its diligent supporting cast.
24. 22 Jump Street (2014)
In this satirical buddy cop action comedy film directed by Phil Lord and Christopher Miller, we catch Jonah Hill and Channing Tatum starring as two undercover cops, Schmidt and Jenko, who are sent on a mission to a college to scrutinize the use of a recreational drug known as WHYPHY.
However, their bond is soon tested and the mission is threatened when Schmidt ends up befriending a girl, Maya. 22 Jump Street rides heavily on the bromantic chemistry between its stars and its good-natured comedy to make an impression.
It wouldn't be hyperbole to assert that the film, in fact, improves on its predecessor.
23. Liberal Arts (2012)
Written by, directed by, and starring Josh Radnor in the lead, Liberal Arts is a criminally underrated college-set drama that tells the story of a 35-year-old admission officer, Jesse. When Jesse heads back to his college for a professor's retirement party, he gets unexpectedly attracted to a college student.
Sincerely helmed for the screen and with its heart in the right place, Liberal Arts is a warm motion picture that offers a nice take on nostalgic romanticism. It is full of sweetness, charm, and, believe it or not, wisdom.
22. Like Crazy (2011)
Director Drake Doremus aims to tell the story of a British college who student falls in love with an American student but is later separated from him when she's banned from the United States after overstaying her visa.
Not a lot of people are familiar with the fact that Doremus based the storyline of the film partly on his own long-distance relationship. Credited with allowing its characters to express beyond dialogues, Like Crazy premiered at the Sundance Film Festival and ended up receiving the Grand Jury Prize there.
The infectious love story rides on the adroit performances and chemistry of Anton Yelchin and Felicity Jones.
21. Mistress America (2015)
One can't possibly deny that adjusting to college life as a freshman is no easy task, and Tracy Fishko knows this better than anybody else. Feeling lonely and out of place, the naive college freshman decides to start living with her notorious future stepsister.
Needless to say, Tracy soon finds her rather simple life turned upside down. While Mistress America manages to bring out the best in collaborators Noah Baumbach and Greta Gerwig, it also goes on to showcase that the latter, besides being an acclaimed filmmaker, is also a good actress.
20. Starter for 10 (2006)
Directed by Tom Vaughan, this charming coming-of-age tale shows James McAvoy portraying an intelligent college freshman who aims to join the quiz team of his university for a sought-after TV show called University Challenge.
However, things go sideways for the bright young lad who has to manage his feelings between two women. Starter for 10 banks heavily on its solid British humor to make a lasting impact.
Additionally, its cast is packed with talented screen performers such as McAvoy, Alice Eve, Rebecca Hall, Charles Dance, Lindsay Duncan, and Benedict Cumberbatch. Needless to mention, there is not a single dull moment in this spirited and charming comedy.
19. The Paper Chase (1973)
In this James Bridges directorial venture, we witness a first-year Harvard law student discovering that his girlfriend is the daughter of his toughest professor on campus. The comedy-drama, which wound up earning John Houseman an Academy Award for Best Supporting Actor, is based on John Jay Osborn Jr.'s novel of the same title.
Even though it was slightly criticized for being a tad silly and clichéd, the screenplay of The Paper Chase carries enough funny and intelligent sequences that work for the viewers.
18. Real Genius (1985)
This Martha Coolidge directorial venture might be an absurd, sci-fi take on college, but it certainly does manage to tell a lot about group projects and on-campus living. The plot follows an uptight teenage prodigy who enters a top engineering college but feels a tad gauche among the freewheeling students.
However, when a professor intends to turn their laser project into a military weapon, he and his weird roommate maneuver to ruin the plan. Watching Val Kilmer play a college-aged math and science prodigy is a true delight in this college-set feature that continues to be relevant.
17. Everybody Wants Some!! (2016)
Billed as the "spiritual sequel" to his quintessentially mid-'70s, high-school-set Dazed and Confused, Richard Linklater's Everybody Wants Some!! aims to tell the story of college life in the 1980s. Set in Texas, the story follows college athlete Jake Bradford, who moves into the communal house of his baseball team.
While there, the hilarious roommates soon begin to navigate the many ups and downs of growing up unsupervised. Thriving on the several superb supporting performances of its cast, the motion picture manages to capture the essence of freedom and youth fantastically.
16. Jo Jeeta Wohi Sikandar (1992)
The third motion picture to be toplined by Bollywood icon Aamir Khan to make it to our compilation, Jo Jeeta Wohi Sikandar is a classic coming-of-age sports drama that has managed to stand the test of time.
Directed by Mansoor Khan, the story tracks the journey of a rich and self-indulgent brat and a poor chap, who go to extreme lengths to woo a lovely girl. We catch their exciting and dramatic rivalry culminating in the most prestigious college event - the marathon cycle race.
A box office success, this motion picture was praised for the performances of Aamir Khan, Ayesha Jhulka, and Pooja Bedi.
15. Old School (2003)
Todd Phillips's classic comedy follows a lawyer and his two friends who decide to relive their most treasured days by setting up a fraternity house next to their former college campus.
Packed with a ton of humorous moments from beginning to end, Old School banks on the performances of seasoned comedic actors such as Vince Vaughn, Will Ferrell, and Luke Wilson to make a solid impression.
More importantly, the film goes on to prove that Phillips is, indeed, a master of comedy. That said, Ferrell particularly shines here as the beer-guzzling Frank The Tank.
14. Revenge of the Nerds (1984)
This Jeff Kanew directorial venture, which is a classic tale of good versus evil, aims to bring to light the two extremes of the student-life spectrum that often marks life in college.
The plot follows two college outcasts as they set up their own fraternity for similarly un-hip and "uncool" students to give the obnoxious campus sporting jocks a run for their money.
While the movie showcases how the nerds are smart enough to satisfy their wish of getting their revenge, it also goes on to highlight the special friendships in college that last a lifetime; even if they happened to have been formed due to proximity in the first place.
13. Pitch Perfect (2012)
College life is as much about extracurricular activities as it is about studying and making something out of our sorry selves. Trust Pitch Perfect to familiarize you with what it must feel like to be a part of music groups while learning.
Helmed by Jason Moore, this popular musical comedy introduces us to Beca, a college fresher, who reluctantly joins an all-girls a cappella group and later infuses freshness into their repertoire.
Soon after, we find the group taking on a male a cappella group in a fierce contest. A sleeper hit at the ticket windows, Pitch Perfect may have a formulaic plot, but the excellent performances and toe-tapping musical numbers certainly do make it worth visiting.
12. Munna Bhai M.B.B.S. (2003)
The second college-set motion picture helmed by Rajkumar Hirani to make it to our list, Munna Bhai M. B. B. S. tracks the journey of its titular character who sets out to fulfill his father's dream of becoming a doctor.
With the help of fellow goons and his closest pal Circuit, he cheats his way into a reputed medical college in the city and, eventually, goes on to drive its Dean crazy.
A recipient of several awards, this critically and commercially successful motion picture is at heart a quintessential Bollywood entertainer. Munna Bhai M. B. B. S. helped its lead star Sanjay Dutt bounce back as an actor after his public image had taken a beating following a ton of terrible controversies.
Also, it went on to give a ton of ideas about how to survive college, especially if you are a mediocre student. However, we sure would like to point out that following the footsteps of the notorious Munna may certainly not prove to be beneficial to you in the real world.
11. Monsters University (2013)
Pixar deserves accolades for having the confidence to make a great college movie and then marketing it to children who have no college experience whatsoever. The story follows two monsters, Mike and Sulley, who join Monsters University to graduate as the scariest monsters on the planet.
Even though they start on the wrong foot, they end up becoming best mates. Directed by Dan Scanlon, this computer-animated monster comedy film goes on to demonstrate how hard it often is to make and keep friends in college, even if one doesn't happen to be a literal monster.
10. Wonder Boys (2000)
Based on Michael Chabon's novel of the same name, this Curtis Hanson-helmed comedy-drama chronicles the journey of a college professor, who is trying to overcome his writer's block and complete his novel.
While he is desperate to have his latest book published, he also seems to be dealing with a divorce, his affair with the chancellor's wife, and his enigmatic, suicide-obsessed student.
The chemistry that he shares with his student is darkly quirky and reminds us of just the sort of professor that made us consider grad school in the first place.
However, unlike a ton of college-set flicks out there, you may not be able to predict the finale of Wonder Boys, which, we must add, is incredibly satisfying.
9. The Great Debaters (2007)
Based on an article written about the Wiley College debate team by Tony Scherman for the spring 1997 issue of American Legacy, this biographical drama film is directed by and stars the wonderful Denzel Washington in the lead.
We are introduced to Melvin B. Tolson; a professor at Wiley College who motivates his students to form the first-ever debate team. Their combined hard work pays off when the team ends up defeating Harvard in the national championship.
This touching, uplifting drama allows Washington to shine as the legendary coach.
8. Rudy (1993)
If you are looking to be inspired while in college, Rudy is the perfect film for you to sit through. It is based on the life of Daniel "Rudy" Ruettiger, who harbored dreams of playing football at the University of Notre Dame despite the odds being stacked heavily against him.
The first film that the Notre Dame administration allowed to be shot on campus since Knute Rockne, All American in 1940, it tells the story of the titular character who is always being asked to quit.
However, he decides to never give up and, eventually, goes on to prove everybody wrong in this triumphant story of chasing one's dreams. More importantly, it inspires us to listen to what our heart says is right.
7. Animal House (1978)
Those who have seen Animal House would admit that there have been a ton of frat movies that have hit the screens post its release in 1978. But, not a lot of them managed to strike a chord with the audience because it simply felt like they were all trying to be Animal House.
However, it is Animal House alone that managed to capture the unbridled crudity of both campus Greek life and the National Lampoon periodical at its very peak. Set in a college in 1962, the story follows Dean Vernon Wormer as he seems more than determined to expel the entire Delta Tau Chi Fraternity.
Unfortunately for him, the troublemakers have other plans in store. Thriving on its stellar cast that includes actors such as John Belushi, Karen Allen, and Kevin Bacon, this John Landis directorial venture is a true-blue classic and definitely one of National Lampoon's best movies in the series.
6. Chhichhore (2019)
Helmed for the screen by Nitesh Tiwari, this critically and commercially successful coming-of-age comedy-drama introduces us to a middle-aged man, Anirudh, who is compelled to take a trip down memory lane when a tragic incident ends up shocking him and his wife.
Not only do we catch him reminiscing his college days along with his friends but we also get to learn a ton of important things about love and life through their hilarious and heartwarming journey.
Based on the director's experiences as a student of the Indian Institute of Technology, Bombay, Chhichhore comprises a theme of academic success that both youngsters and parents can easily comprehend and relate to.
5. Whiplash (2014)
One of the finest motion pictures to make it to our story, Whiplash takes us into the world of college arts, as we follow a promising young drummer coming under the guidance of a ruthless instructor who will stop at nothing to realize a student's true potential.
This is arguably the closest that a mainstream motion picture has come to showcasing the torment and struggles of chasing one's dreams while trying to do right by your mentor.
Undoubtedly the finest project of filmmaker Damien Chazelle's career so far, Whiplash was a huge success and went on to win three Oscars. Watch it for the outstanding performances of J. K. Simmons and Miles Teller.
4. Rang De Basanti (2006)
This critically and commercially successful Bollywood dramedy might just be the most unique and thought-provoking mainstream feature to make it to our story. The story follows Sue, who handpicks a few students of Delhi University to portray various Indian freedom fighters in her docudrama about India's revolution against British rule in the 1920s.
However, as the filming progresses, the unthinkable happens and the youngsters steadily turn into modern-day freedom fighters who want the best for their nation. Helmed diligently by Rakeysh Omprakash Mehra, Rang De Basanti may not strictly be a college film, but it certainly takes a leap to demonstrate how issues of social and political significance can turn students into rebels for a cause.
3. The Social Network (2010)
One of David Fincher's most acclaimed cinematic endeavors to date, The Social Network tells the story of Mark Zuckerberg and the creation of Facebook. Aiming to cast a light on student entrepreneurship and computer programming, the movie thrives on Aaron Sorkin's dialogue which is both sharp and filled with drama and conflict throughout.
While Fincher's precise direction helps in bringing this wonderful story to life, it is Jesse Eisenberg's top-notch character projection of Zuckerberg that leaves quite an impact. Based on the book The Accidental Billionaires by Ben Mezrich, The Social Network won the Academy Award for Best Adapted Screenplay, Best Original Score, and Best Film Editing, respectively.
2. 3 Idiots (2009)
One of the most loved Indian movies of all time, this Rajkumar Hirani-helmed coming-of-age comedy-drama motivates you to first achieve excellence if, indeed, you wish for success to come looking for you.
The story follows Farhan and Raju, who, while in college, end up forming a great bond with Rancho due to his refreshing outlook on studies and life. Years later, a seemingly silly bet allows them to go looking for their long-lost friend whose very existence they eventually begin to question.
The motion picture is narrated through two parallel dramas, one in the present and the other set ten years in the past. Not only does it serves as a satire about the social pressures under the Indian education system but it also inspires you to do things that help you become more capable on your own.
1. Good Will Hunting (1997)
Gus Van Sant's classic story follows Will Hunting, who, aside from being a janitor at the Massachusetts Institute of Technology, is a self-taught natural genius who is mostly seen spending his free time drinking with his pals.
However, with the life-altering help of a psychologist, the young man strives to find his identity and purpose while working on campus. Also, his conversations with his psychologist help him create important relationships and bonds along the way.
Written amazingly for the screen by the talented pair of Matt Damon and Ben Affleck, Good Will Hunting goes on to tell a lot about professor/student relationships, college dating, and student identity, among other things.
Also, its storytelling is enriched by the presence of the phenomenal Robin Williams who, as expected, is brilliant here as well.