»
Top 100 Most Popular Cartoon Characters Of All Time [2023]
Bijesh-Updated Jan 25, 2023
---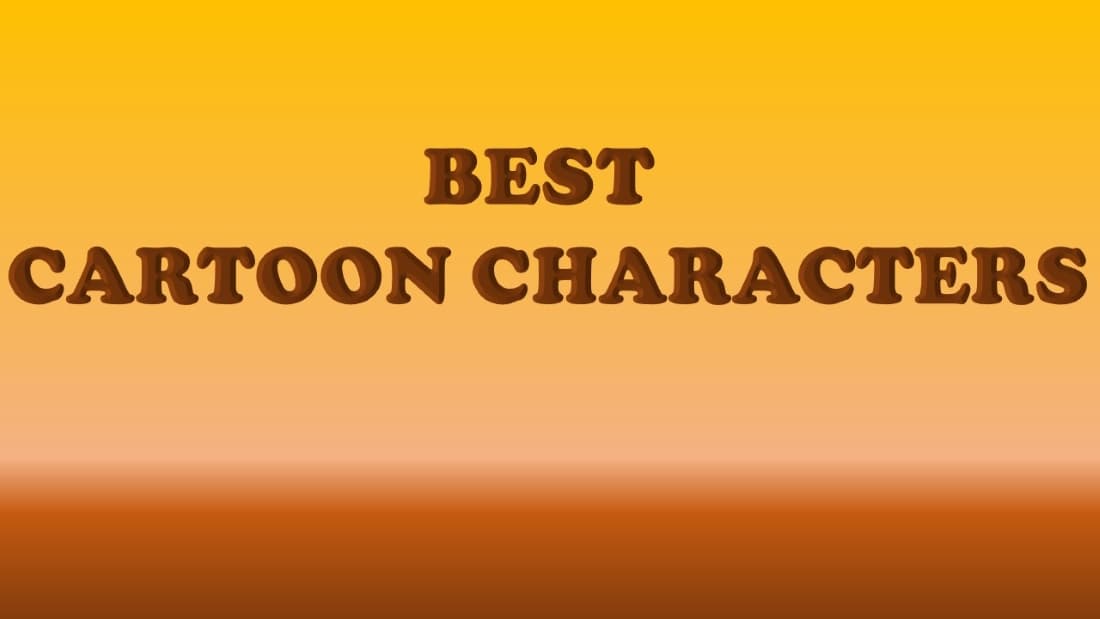 As a huge fan of both Anime and Cartoons, this writer cannot bring himself to club them both under the same banner.
So this next blog from yours truly is all about cartoon characters – and the writer emphasizes the word 'cartoon' – spanning various generations and genres.
Each of the characters that made it to this list was handpicked by this writer, so if you feel someone has been forgotten or left out, you're more than welcome to share your favorites and recommendations.
All characters have equivalent importance. Characters from Disney are compiled into a separate article as best Disney characters. In case you are a Disney fan you should refer to it.
100. Pinky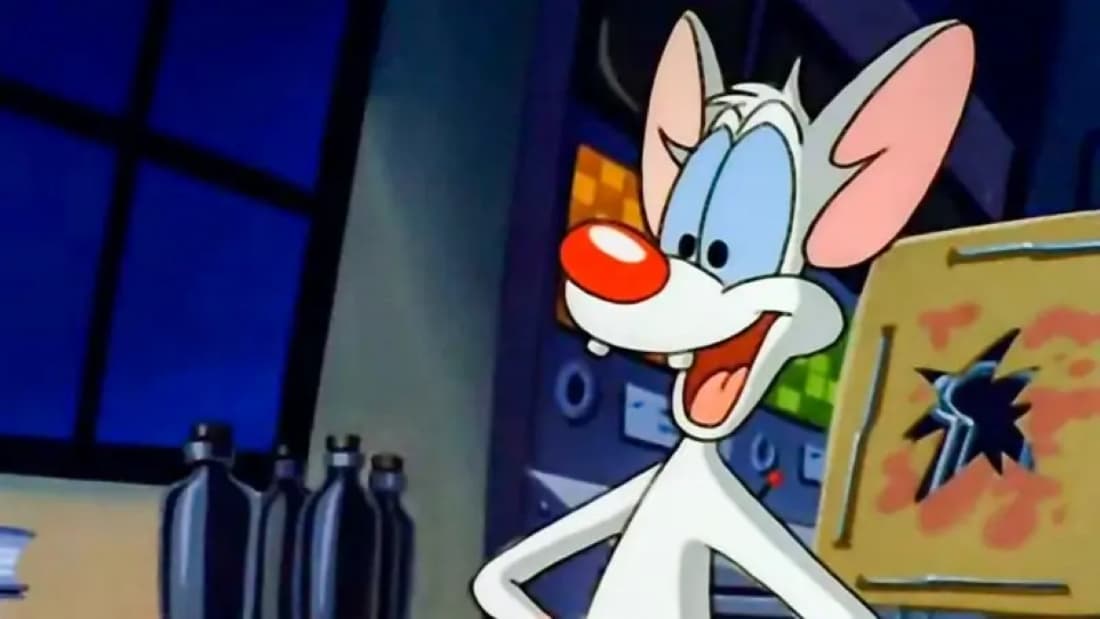 From the wacky theme song to his crazy-good voiceover by Rob Paulsen, Pinky is one of the most recognizable cartoon characters in the world.
The white mouse's bizarre use of non-existent words like "Narf", "Zort", "Poit", and "Troz" has only endeared him in the eyes of fans.
His innocent presence in the "Pinky & The Brain" series (1995-1998, 4 Seasons total) is remarkable.
He plays second fiddle to Brain and an enthusiastic one at that. There are plenty of redeeming factors for Pinky that have made him a favorite in the realm of cartoons.
He has been Brain's moral compass on more than one occasion.
99. The Brain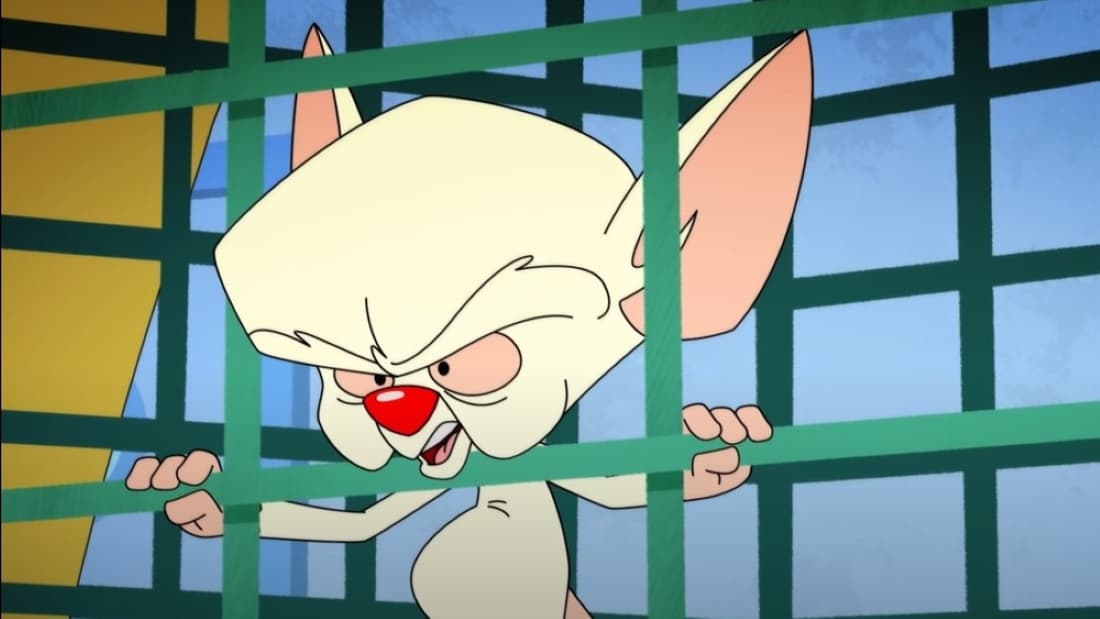 The 'Moriarty' of the two in the "Pinky & The Brain" series (1995-1998, 4 Seasons total), Brain is yet another popular cartoon character whose methods and plans to "take over the world" are nothing short of hilarious.
Voiced by Maurice LaMarche, Brain is the, um, brains behind all global takeover strategies at Acme Labs where he and Pinky 'evolved' – Pinky, not so much.
Brain is quite the megalomaniac and has been associated with Don Quixote, Napoleon, and Orson Welles.
There are times in the show when this supposedly evil mastermind helps save the world from the dire threat instigated by his rival Snowball.
98. Yakko
One of the main characters in the beloved "Animaniacs" (1993-1998, 5 Seasons total) series, Yakko Warner is the oldest of three siblings and fulfills the role of 'team leader'.
He is often the first to hatch an escape scheme for the trio and is often a parent figure for his brother and sister.
A fast-talker (his name was inspired by the word 'yaks' coz he yaks on and on all the time), born leader, and witty all the way, Yakko is a popular character for numerous reasons.
He was voiced by Rob Paulsen. Yakko is known to state memorable catchphrases like: "Hellooo Nurse!", "Goodnight everybody!", "Uhhhhhhhh...", "Our new special friend!", and "It's that time again!".
97. Dot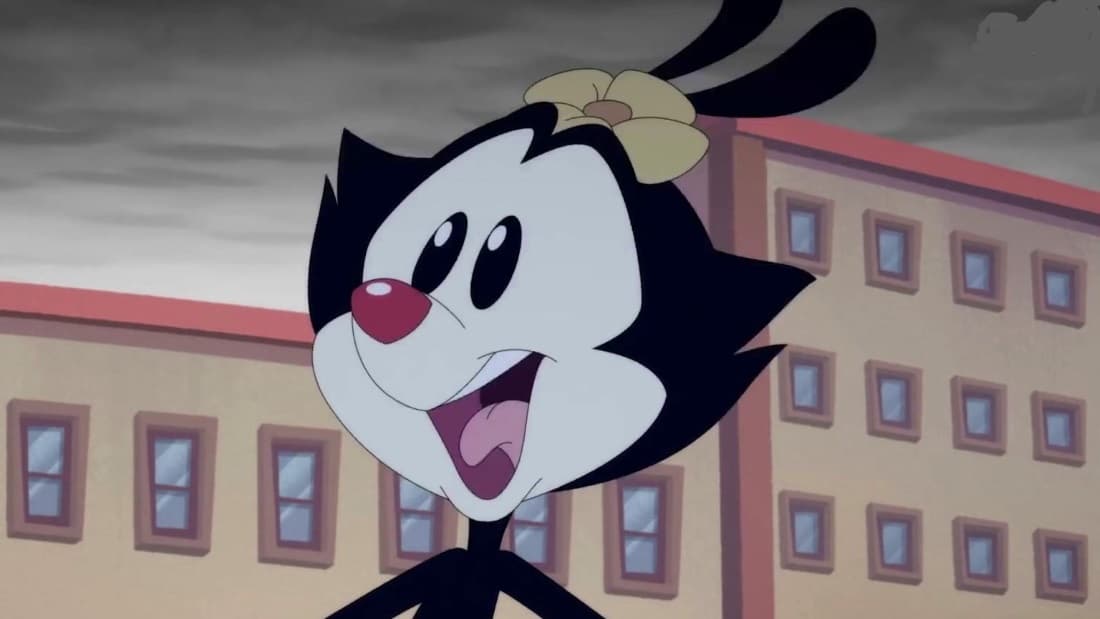 The last sibling in the "Animaniacs" (1993-1998, 5 Seasons total) series, Dot Warner is sister to Wakko and Yakko and is one of the most adorable characters you'll ever see.
She takes pride in calling herself the 'Warner sister' and brings remarkable and rather sardonic wit to bear on the show.
As demure as she is witty, this precocious sweetheart knows who she is and is not shy to state it out loud.
Given life by the voice talents of Tress MacNeille, Dot is known to use curious catchphrases like: "Boys, (go fig).", "Call me Dottie, and you die.", "Hellooo Nurse!", "And I'm cute!", "It's just a little thing I do!", and of course" ...
And the Warner sister!
96. Cyborg
"Teen Titans" is a superhero series comprising five seasons that ran from 2003-2006. Cyborg is one of its core characters.
Voiced by Khary Payton, Cyborg is exactly as his name suggests, half-boy half-robot. He is one of the group's founding members and plays the role of chief technology expert.
Cyborg is a fun character to watch. He is very energetic and loves to be part of silly scenarios. He is good friends with Beat Boy as both share many similarities.
Both of them love to do crazy stuff and enjoy each other's company.
95. Robin
The accepted leader of the group in "Teen Titans", Robin comes with ample investigative and mission-solving experience from his time working with Batman.
He's voiced by Scott Menville. He later becomes Starfire's love interest in the series. Robin also goes up against his arch-rival Slade in the show.
He might be the leader of the team, but he got his issues and sometimes gets doubtful about his leadership qualities. But his teammates are always there to help and cheer him up.
They support him and he supports them. Such a beautiful friendship.
94. Raven
A human-demon hybrid and daughter to one of the series' biggest villains, Raven originally came from an alternate dimension called Azarath, in fact, all her powers source from there.
She is voiced by Tara Strong. She later develops feelings for Beast Boy in the series.
Raven is one badass girl with awesome superpowers and a unique look gives her a little emo look. She is very straight-forward and does not let anyone tell her what to do or how to live her life.
She is also extremely private about her thoughts and personal life. Even her teammates do not know much about her.
93. Beast Boy
Sometimes called "BB", Beast Boy was once a member of Doom Patrol and comes bearing shape-shifting abilities that allow him to transform into various animals and birds.
He is voiced by Greg Cipes. The character later enjoys an emotional/romantic arc with Raven in the series.
Beast boy is known for his powers but he is also known for his child-like innocence. He is bubbly and always ready to have fun.
He can be hyperactive and does not think before taking major actions. But this is what makes his character so fun to watch.
92. Starfire
She is also called 'Star' but her original name is Princess Koriand'r. Starfire is an alien princess who hails from the faraway home planet of Tamaran.
She and Robin share a romantic bond later in the series. Starfire is voiced by Hynden Walch.
Starfire is an alien princess so, of course, she has her princess manners and her princess tantrums. But she is an overall fun character to watch.
Her presence always makes the viewers laugh. She has beautiful pink hair and green eyes which makes her character memorable.
91. Johnny Bravo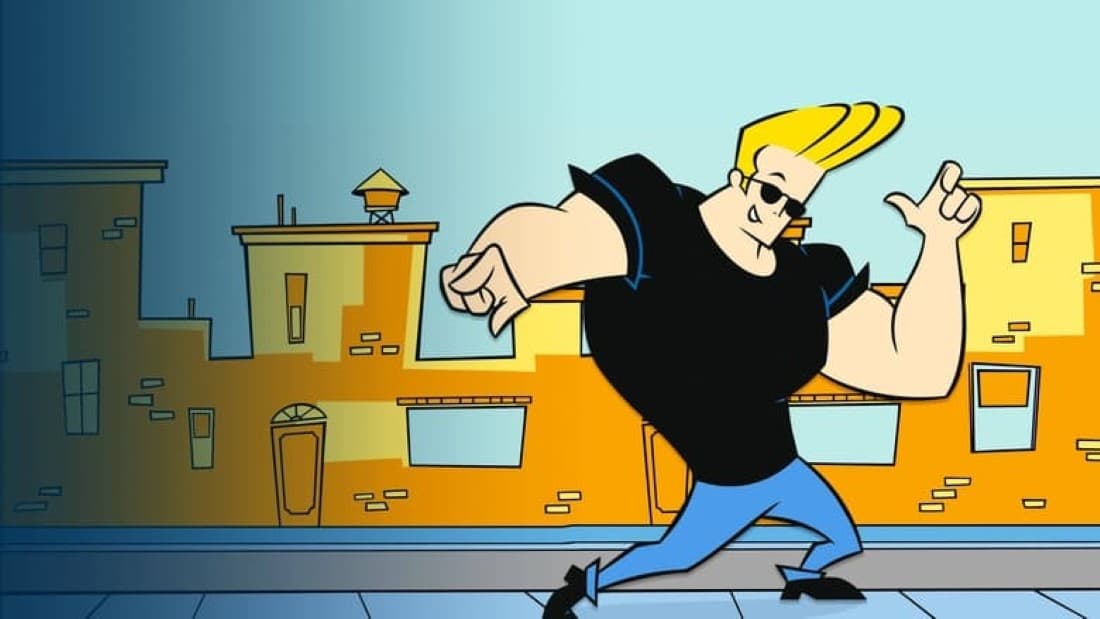 The protagonist of this popular cartoon is a blond-haired hunk who proves annoyingly narcissistic. Despite his good looks, his self-obsession does not help him get the girls he likes.
Johnny Bravo (full name Jonathan Bravo) is voiced by Jeff Bennett. He is essentially a comedy character whose experiences make for a running gag throughout the series.
The show ran from 1997-2004 and comprised four seasons. Johnny Bravo is a self-claimed lady-charmer. He thinks that his one look is enough to impress a woman. But that is generally not the case.
90. Ed
"Ed, Edd, And Eddy" is based entirely on a comedic theme. The show features three pre-teen boys named Ed, Edd, and Eddy who call the suburban town of Peach Creek home.
The series ran for six seasons from 1999-2008. Tall, dopey, and with a buzz cut and unibrow, Ed is one of the crazy trio.
He is known to wear the same outfit more often than not and has proven to possess remarkable physical strength.
He was voiced by Matt Hill in the series. He is fun to watch as he is not known for being the smartest and make good choices.
89. Edd
Aka "Double D", Edd is the cleverest of the trio, though by far the physically weakest. He is as scrupulous as he is polite. He adores order over chaos and especially despises harmful physical activities.
Edd was voiced by Sam Vincent in the "Ed, Edd, And Eddy" (1999-2008) animated TV series. Edd loves to explore and be creative with stuff.
Creative generally means destructive and dangerous but that is what he likes and makes sure his group also gets involved in his adventures.
88. Eddy
Eddy is the self-appointed leader of the trio. He schemes ways to make money so the three of them can indulge their favorite confection, Jawbreakers.
The crazy and oft-humiliating scenarios they experience make for laugh-worthy viewing. Eddy is known to be ambitious and selfish and has also proven to be a coward on several occasions in the 1999-2008 "Ed, Edd, And Eddy" animated TV series.
Eddy was voiced by Tony Sampson in the series.
87. Clifford
The show "Clifford, The Big Red Dog" follows the adventures of an uncommonly large red dog called Clifford who lives on Bridwell Island with his pet-owner Emily Elizabeth.
The 8-year-old girl often rides him and they go on some memorable adventures together. The series is based on the popular children's book by Norman Bridwell.
The 2-year-old dog is voiced by John Ritter. The series ran from 2000-2003 for two seasons.
Clifford used to be the runt of the litter until his enormous size kicked in and made him stand out.
86. Blossom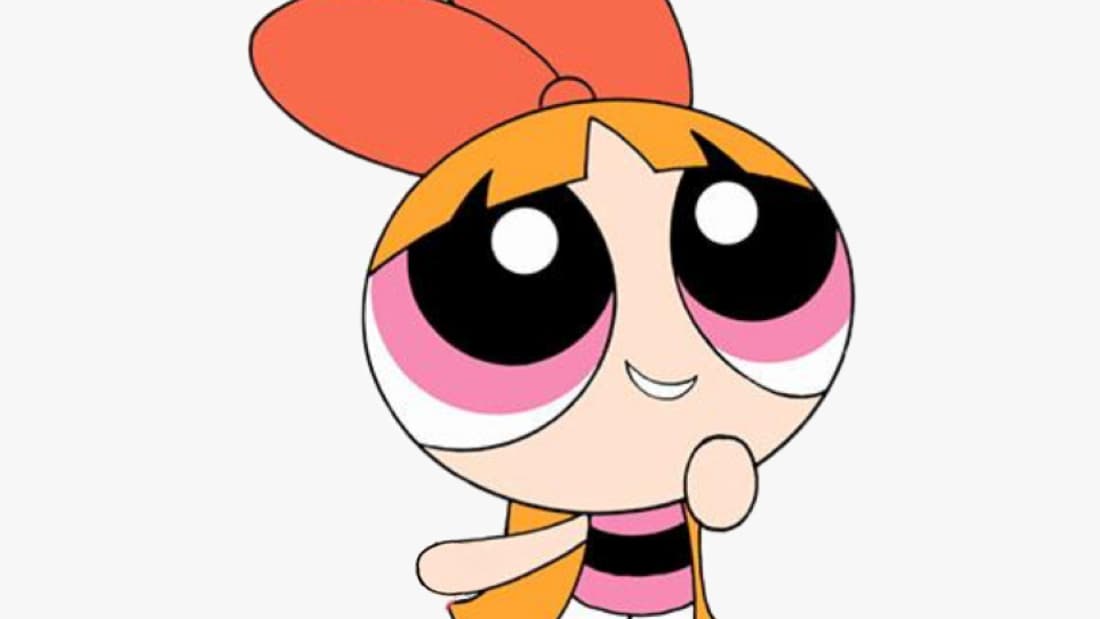 "The Powerpuff Girls" is a show where three super-powered girls were created in a lab, grow up with their scientist-father, and experience daring exploits and dangerous moments as they strive to keep their city safe.
The series ran for six seasons from 1998-2005 and featured some of the most popular characters in all of cartoon-land.
A plethora of baddies pervades this show. From Princess Morbucks and Him to the Rowdyruff Boys and of course Mojo Jojo.
Each villain is distinct and brings their style. The leader of the trio, Blossom, may appear studious and sweet but she takes her responsibilities rather seriously.
This Powerpuff Girl was voiced by Cathy Cavadini.
85. Bubbles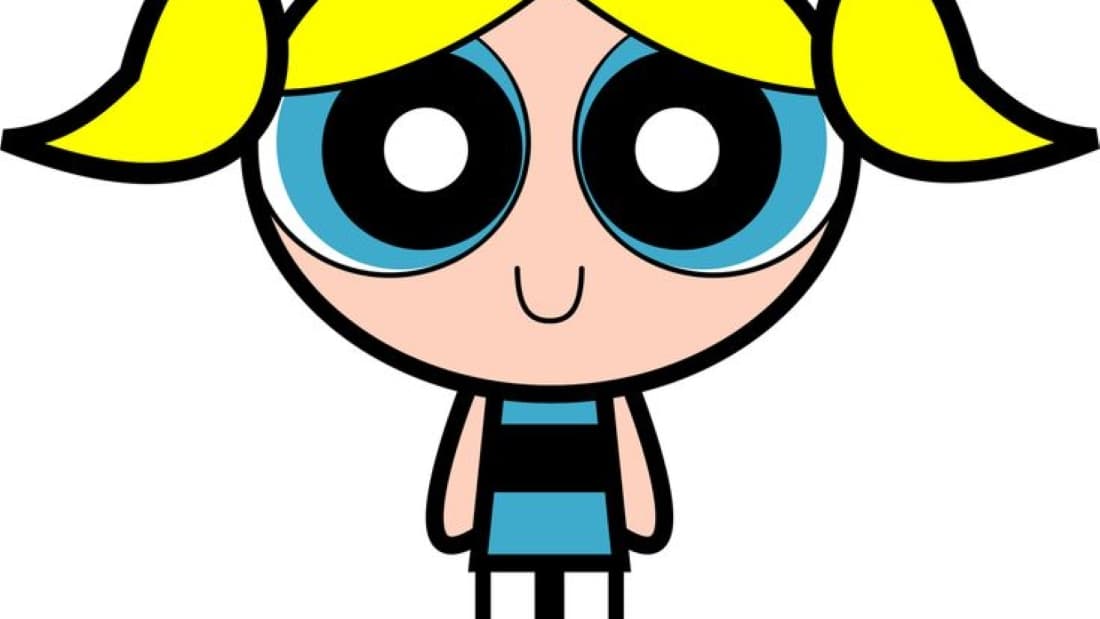 The 'baby' in the family and one of the cutest characters around, Bubbles lives up to her name and has quite the 'bubbly' nature in the 1998-2005 "The Powerpuff Girls" animated TV series.
Her blue dress and steadfast loyalty to her sisters have endeared her to viewers. Bubbles was voiced by Tara Strong.
She is one of the cutest cartoon characters of all time. Buttercup has a sweet voice and is a girly girl for sure. She is kind and always puts her sisters first.
She is very strong when it comes to fighting evil but extremely adorable and bubbly when it comes to her actual personality.
84. Buttercup
Tomboyish, headstrong, and rebellious, Buttercup brings plenty of spice to the family. She is known for her short temper and reserved nature in "The Powerpuff Girls" (1998-2005) animated TV series.
She stands up to defend her siblings no matter the cost. Buttercup was voiced by Elizabeth Daily.
Buttercup can be a little bossy sometimes but that is what viewers want to see. She knows what she wants and will never choose to compromise.
She is lovable and extremely protective about the people she care about.
83. Casper the Friendly Ghost
This is one of the oldest series on this list. The adventures of Casper the friendly ghost go back to 1945-1952.
He's certainly grown into his name. By this time, everyone and their grandmothers have heard of this cute and innocent specter.
He is one of the few 'ghost' characters out there who are lovable, not frightful.
Alan Shay originally voiced Casper. Casper is not scary at all. He tries really hard to be scary and dangerous, but his heart is too pure and kind to scare anyone.
Casper is an extremely popular cartoon character and one of the most favorites, especially of the 90s kids.
82. SpongeBob SquarePants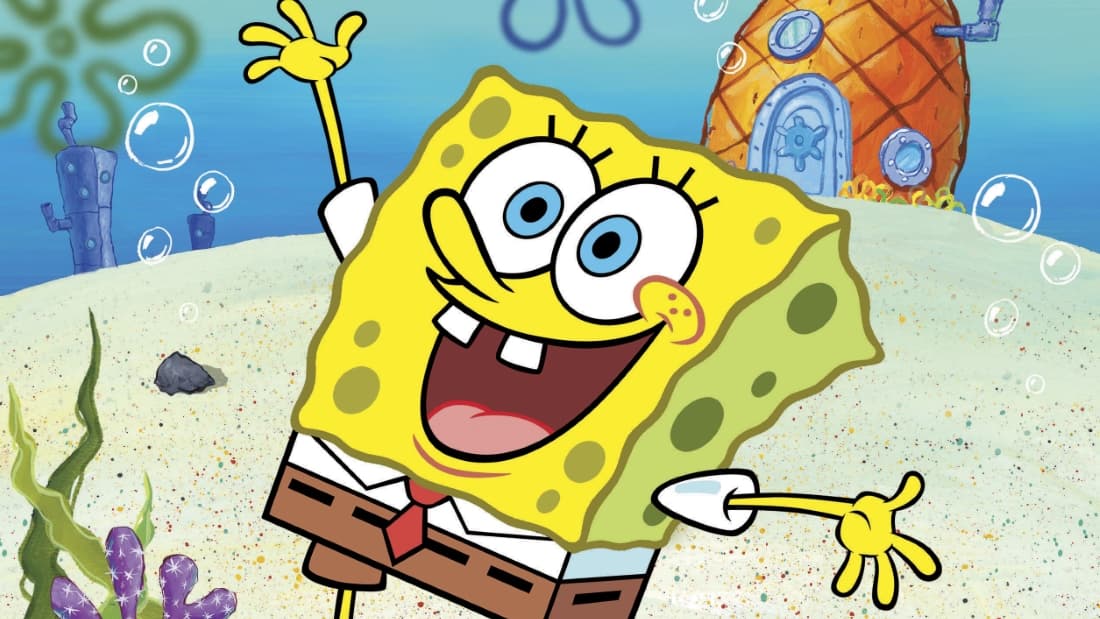 The ultra-popular "SpongeBob SquarePants" animated TV series has thirteen seasons to its name. It initially aired in 1999 and is still ongoing, through different iterations.
Some of the most popular characters in cartoons can be found in this show, which follows the misadventures and shenanigans of a small group of under-sea creatures who become fast friends.
They live in an underwater city called Bikini Bottom. The main protagonist of the series, SpongeBob, is a yellow sea sponge.
He is as clumsy as he is cheerful, and childlike throughout. His one big dream is to get his boating license, but he has, ironically, not quite taken to riding them.
In the show, he has worked as a cook, waiter, janitor, cashier, and manager. Tom Kenny lent his voice to this iconic character.
81. Patrick Star
Overweight and rather naïve, the pink starfish named Patrick brings plenty of emotional value to the "SpongeBob SquarePants" (1999-Present) animated TV series.
He often teams up with SpongeBob on various like-minded schemes and exploits. He is voiced by Bill Fagerbakke in the series.
Patrick is Spongebob's best friend which means he will do anything for him and is always there to support him. Luckily, they both are neighbors too, which means they see each other daily.
He is a sweetheart who loves to eat and does not care about what others think. He can be a little stupid sometimes but that is the part of his lovable personality.
80. Squidward Tentacles
Playing SpongeBob's grumpy and irate neighbor in the 1999-Present "SpongeBob SquarePants" animated TV series, Squidward shares traits similar to that of an octopus, which makes his choice of the name rather odd.
As selfish as he is cynical, Squidward is known to help SpongeBob when he most needs the support, but he is often miffed with Bob's upbeat attitude.
He was voiced in the show by Rodger Bumpass. Squidward just wants to live his life alone and peacefully. But thanks to his neighbor and coworker, Spongebob, his wish of peace cannot be fulfilled.
79. Fievel Mousekewitz
Cute, reckless, adventurous, and innocent, Fievel is one of the main characters in "An American Tail" (1986) animated feature film.
He faces plenty of danger upon arriving in The United States of America after he gets separated from his immigrant family.
From great music to outstanding characterization, this Don Bluth film is certainly one for the books. Fievel, voiced by Phillip Glasser, has since become one of the most famous characters – and mice – in the world.
Fievel is a lovely character and viewers always praise the writing for him and how his personality is portrayed on the screen.
78. Tulio
One of the two main protagonists in the superb animated feature film "The Road to El Dorado" (2000), Tulio is given life on screen by the voice talents of Kevin Kline.
The character proves to be a logical quick-thinking feller who has romantic stirrings for Chel.
Tulio also has a penchant for improv-acting. He goes on quite the adventure with his bestie Miguel, and the two of them somehow end up discovering the lost city of gold, El Dorado.
77. Miguel
The other best friend and the main protagonist in the year-2000 animated feature film "The Road to El Dorado", Miguel is voiced by Kenneth Branagh and brings plenty of fun-loving mischief to his role.
He is as free-spirited as he is adventurous and as loyal as he is empathetic. In contrast to Tulio, Miguel is a tad dim-witted but goes the distance to save the ones he loves.
He discovers the lost city of gold along with Tulio and proves to be rather funny all the way.
76. Littlefoot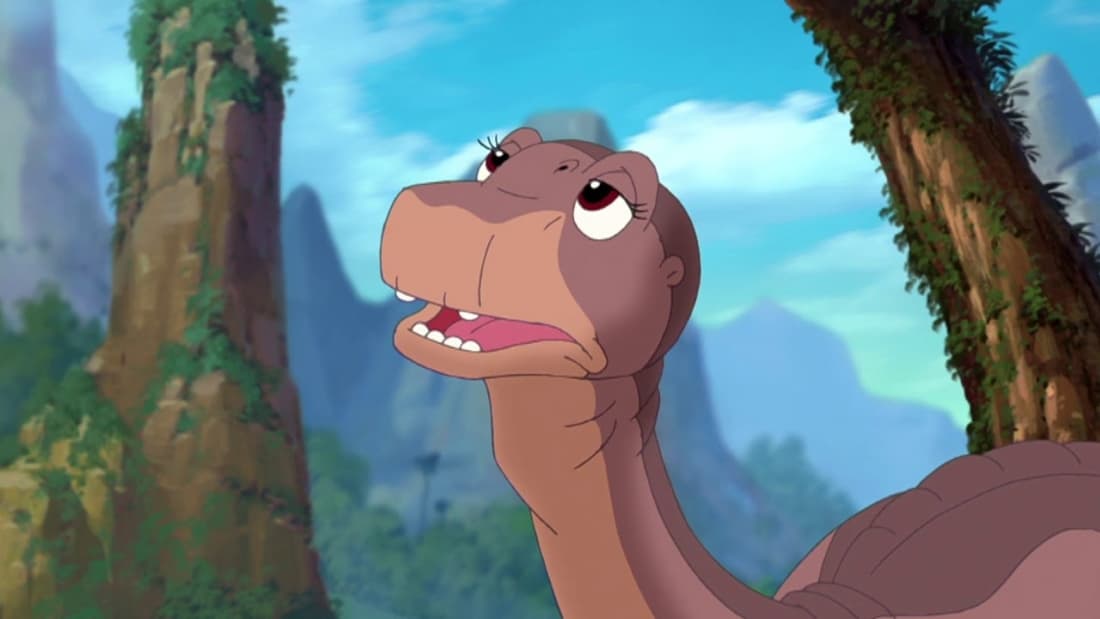 Voiced by Gabriel Damon, Littlefoot is a baby Apatosaurus in the beloved 1988 animation feature film "The Land Before Time".
In addition to being proud and determined, he is also adorable. Along with his other dino friends, Littlefoot experiences dark times and sad moments, as well as more dangerous than he deserves, in his attempt to find – and hopefully also lead his buddies to – a safe place where he expects to find full-grown dinosaurs like himself, including his grandparents, who as a herd have migrated there.
Littlefoot's playfulness often wars with his need to prioritize safety in a deadly carnivore-ridden world ruled by dinosaurs.
75. Ducky
Judith Barsi voiced the talkative, innocent, and sweet-natured Ducky in the hit animated feature film "The Land Before Time" (1988).
The competent swimmer's exact dino species is still a matter of debate – Ducky is said to be either a Saurolophus, Anatosaurus, or Parasaurolophus.
She is yet another popular cartoon character from this worthy franchise. The optimistic Ducky is always looking out for her friends.
She ushers peace among her dino buddies when they enter into a tiff. Ducky is also one the most naïve of all her friends.
74. Cera
The hard-willed and headstrong Cera is yet another memorable character in the 1988 animated feature film "The Land Before Time".
She becomes an antagonist for a short while but then returns to her friends. Giving her a voice in the movie is Candace Hutson.
Cera belongs to the Triceratops species, which is why her dino buddies give her the nickname 'Three Horn'.
While she is usually sweet and caring, and at times demure and almost ladylike, Cera also proves to be dominant and whiny.
Her bravery shines as the plot of the film progresses, adding to her significance as a character.
73. Petrie
In "The Land Before Time" animated feature film, which was released in 1988, Petrie is one of the core dino-friend characters.
He is a flying dinosaur belonging to the Pteranodon species. He was voiced by Will Ryan.
Kind-hearted and gentle but also naïve and anxious, Petrie is dependent on his buddies for encouragement and support.
He speaks in broken English, a trait that has only endeared him with cartoon lovers.
Petrie, knowing full well his shortcomings, tends to overly admire those who prove much stronger than he is.
He later shows a level of bravery against the carnivorous Sharptooth that saves the lives of his friends.
Petrie learns to fly for the first time then and becomes something of a hero.
72. Superman
With a DC superhero character this popular, an animated series was all but guaranteed. "Superman: The Animated Series" comprised three wholesomely entertaining seasons and ran from 1996-2000.
Aka Clark Kent, the protagonist of this series needs no introduction. He plays the role he was practically born to, animated screen notwithstanding.
Superman in this series is considered to be one of the best depictions of the character.
He was voiced by Tim Daly.
71. Lois Lane
The intrepid and self-confident reporter for the Daily Planet, no Superman story will be complete without her presence in it.
She provides crucial motivational and emotional value, especially about the 'Man of Steel' himself. Lois is an independent character in her light and is defined by her own decisions and ambitions.
She was voiced by Dana Delany. Lois is a beautiful woman who is strong enough on her own but provides a lot of support to Superman.
70. Balto
One of the most iconic canine cartoon characters can be found in the 1995 animated featured film "Balto". The titular character was voiced by Kevin Bacon and is based on an actual dog after the same name.
The real-life Balto and his toony counterpart both performed daring deeds and accomplished milestones in bravery.
The animated movie is one of several IPs that captured the wolf-dog's wit, trustworthiness, loyalty, and strength as he led a significant sled run to deliver anti-toxins to various villages and townships, weathering extreme cold weather and other perils to do so.
His efforts saved hundreds of lives.
69. Moses
In the 1998 animated feature film "The Prince of Egypt", outstanding music and even better characterization brought to life some of the Bible's most memorable and powerful stories and characters.
The protagonist of the film is none other than Moses. He was voiced for the screen by Val Kilmer.
Moses's biological roots are with 'his people', who are at the time being subjugated and forced into slave labor by the might Egyptians.
His Hebrew heritage wars with his Pharaoh-ic upbringing, causing Moses to discover God in the unlikeliest of places.
Before long, he goes against everything he thought he loved and cared about, all so he can lead his people out of slavery and to the promised land.
68. Ren Höek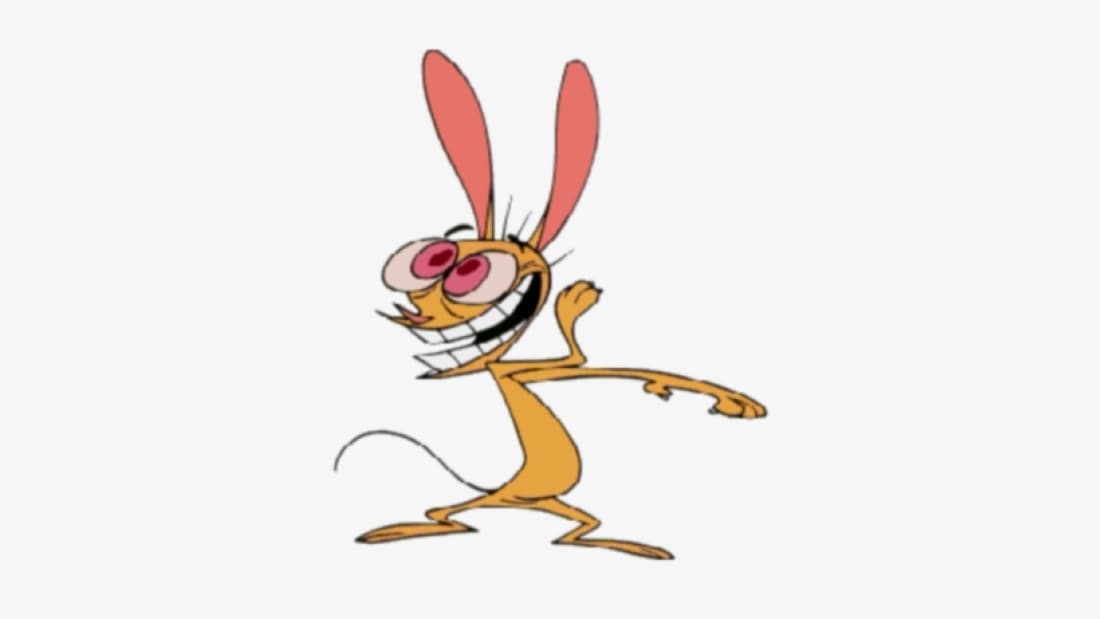 A psychotic chihuahua and a dim-witted cat joined paws and made for one helluva entertaining cartoon that remains equal parts bizarre, funny, and fast-paced. "The Ren & Stimpy Show" has five seasons to its name and ran from 1991-1996.
It has courted its fair share of controversy over the years owing to its subtle yet unabashed take on toilet humor, off-color comedy, black humor, violence, and sexual innuendos.
The skinny "asthma-hound" Chihuahua plays the main protagonist in the series. His wacky appearance and multiple aliases have only made him funnier in the eyes of fans.
His spectrum of personal traits runs the gamut from hyper, selfish, and cruel, to greedy, childish, and bossy.
He was voiced by John Kricfalusi.
67. Stimpy
The other protagonist in "The Ren & Stimpy Show" (1991-1996) is a contrasting take on comedy pair-ups for the 'cartoon screen'.
Chubby, dim-witted, and with some of the funniest physical features you'll see on a toon cat, Stimpy is known for his ironically sophisticated aliases and comedy value.
His traits include gullibility, idiocy, simple-mindedness, and a strange sliver of adorability. He was voiced by Billy West. Stimpy can be seenn as sarcastic sometimes.
66. Anastasia
The titular character in the outstanding 1997 animated feature film "Anastasia", has become one of the most beloved cartoon characters in the world, not to mention one of the most inspiring.
Voiced by Meg Ryan, Anastasia is loosely based on the daughter of the last Russian Czar.
She went missing around the time of the Russian Revolution – her whereabouts remain a mystery to this day.
This dramatized version of her life and memories makes for one of the most musical and heart-warming journeys any cartoon character has ever experienced.
65. Dimitri
Anastasia's love interest in the animated feature film "Anastasia" (1997), and one of the most important game-changing characters in the movie, Dimitri has also grown to attain a place in the hearts of cartoon lovers the world over.
His cunning and deceptive nature transmutes into a romantic and brave one in the film, giving him one of the best character transformations ever written in animation.
He was voiced by John Cusack, who lent his character a distinct layer of charm and credibility.
64. Ben Tennyson
One of the most unforgettable cartoons of the 2k era, "Ben 10" has practically become a revolution unto itself, earning millions of fans all over the world.
It combines magic and technology, with aliens and shape-shifting plot elements, to highlight the life and times of a kid named Ben who soon learns that the fate of the world rests on his wrist.
The series comprises four amazing seasons that ran from 2005-2008. The show's villains are just as praise-worthy as its heroes.
Voiced by Tara Strong, Ben provides all the entertainment value you can ask for in a show like this.
From the moment he stumbles upon a strange alien-tech watch, Ben gradually slips into his role as a 'human boy with shape-changing abilities and multi-alien powers' who finds himself on various missions to save the Earth.
63. Gwen Tennyson
Ben's sister is as witty as she is sassy, and stubborn in all the best ways. Gwen has enhanced the series with her presence and timely support for her cousin Ben.
That's when she's not completely miffed by his attitude and 'laissez faire' approach to the alien watch in his possession.
Gwen was voiced by Meagan Moore in the "Ben 10" (2005-2008) animated TV series. Gwen also gets superpowers in the later episodes and becomes a crucial part of the show.
Gwen and Benn are a solid team to save the world from the evil aliens.
62. Garrett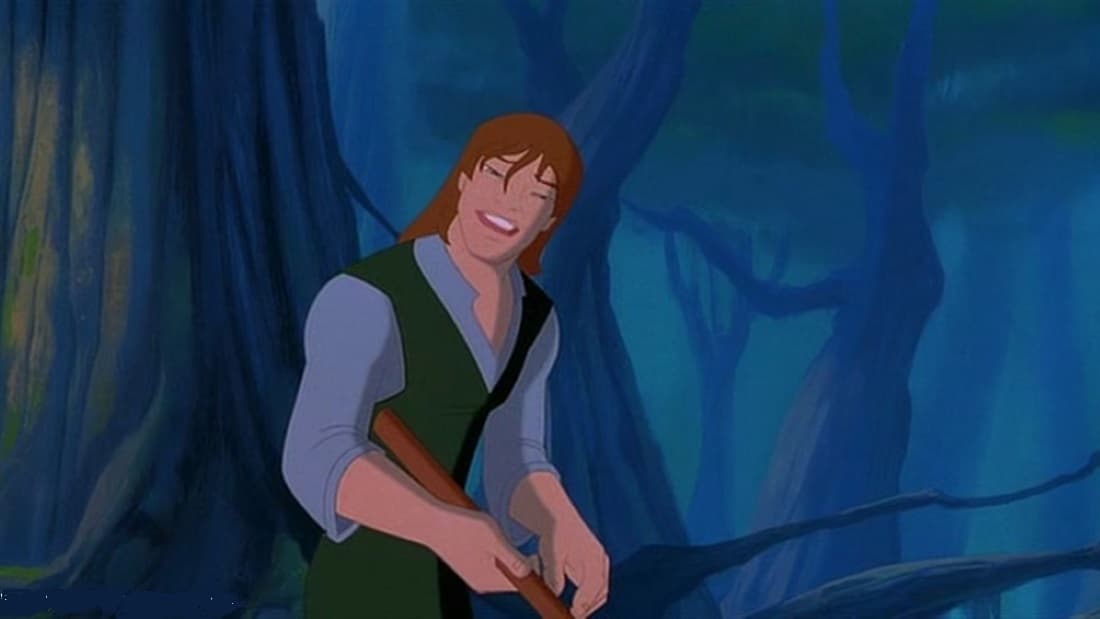 One of the few completely blind heroes in the realm of cartoons, Garrett plays the main character in the 1998 animated feature film "Quest for Camelot".
He was voiced by Cary Elwes for the movie. Bryan White stepped up to vocalize all of Garret's songs.
Brave, principled, and with a deeper sense of the world around him, Garrett makes a great case for 'seeing' with your heart.
Garrett is practical and sees the world the same way. He is a reliable character and is generally known for making responsible choices.
61. Kayley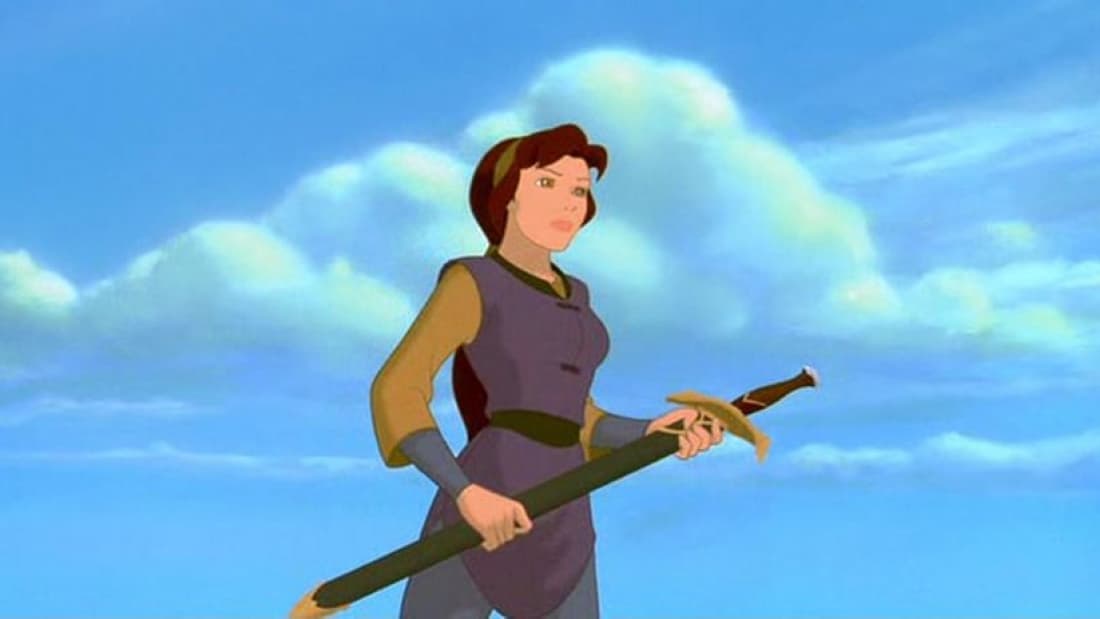 Another main character in the 1998 hit animated feature film "Quest for Camelot", Kayley learns so much so quickly, and she should if she is to stop Ruber from endangering her hometown, Camelot.
She teams up with Garret, who later becomes her love interest. She is the daughter of one of King Arthur's most trusted knights, but the man perishes, leaving Kayley on a quest to return Excalibur safely to Arthur before Ruber gets his hands on the mythical sword.
Jessalyn Gilsig voiced Kayley for the screen, and Andrea Corr lent her voice for all of Kayley's singing parts.
60. Devon & Cornwall
This two-headed dragon can certainly be considered one character. They BRING outstanding comic relief TO the 1998 animated feature film "Quest for Camelot".
Befriending both Kayley and Garret, they help them in their quest to save Camelot from Ruber. They are funny and always light-up the mood when they appear on the screen.
Eric Idle lent his voice to Devon. Meanwhile, Don Rickles gave his to Cornwall. Over the years, the 'conjoined dragons' have become a lesson in friendship and acceptance.
59. Jackie Chan
The man himself lent his voice to the character based on him in the year-2000 animated series "Jackie Chan Adventures", which ran for a good five seasons.
It was packed with action, Kung Fu, thrills, fun, humor, and supernaturalism. Jackie Chan is a cartoon character, enough said.
There's little wonder how the main character of this series attained so much popularity in a short period.
The show displayed the art of fighting and Kung Fu beautifully and was a hit amongst the Jackie Chan fans.
58. Rover Dangerfield
In the 1991 animated feature film "Rover Dangerfield", the titular character gives such a fun-funny performance that he has become one of the most beloved dogs in the world of cartoons.
Voiced by none other than Rodney Dangerfield – whose very name was twisted to suit this toon dog – the canine goes on quite the adventure.
Circumstances take him away from his usual Las Vegas spotlight to a farm. Things only get funnier from there.
They even used the real-life Rodney's signature delivery styles and facial expressions through Rover.
57. Buster Bunny
The cute 'kiddy' versions of so many popular cartoon characters have earned a franchise unto themselves.
The original "Tiny Toon Adventures" ran for three seasons from 1990-1995. Of all its amazing characters, we couldn't help but choose Buster Bunny, who is most assuredly based on Bugs Bunny – no surprise that Bugs is his mentor and teacher in the show.
Charlie Adler voiced the character. Buster is funny, adorable, and dislikes authority. His multi-layered character quirks have more than made him a favorite among toon lovers.
56. Babs Bunny
On a similar note, we have Babs Bunny who also features prominently in the animated TV series "Tiny Toon Adventures", which ran for three seasons from 1990-1995.
This lovable pink-furred rabbit was based on the character of Lola Bunny. Babs proves to be an avid performer and comedienne – her penchant for improvisation is remarkable.
Tress MacNeille was the voice of Babs in the show. Babs does tend to be a tad hyper at times, but she is also one of the most cheerful and fun-loving characters in the series.
55. Plucky Duck
A definite 'spin-off' version of Daffy Duck, Plucky was voiced by Joe Alaskey in the 1990-1995 animated series "Tiny Toon Adventures".
This green duck is similar to his original egotistic counterpart. From an inherently wacky and hyper nature to his tendency to dream big, Plucky is another popular cartoon character.
It's funny when he falls for terrible schemes while trying to realize his goals. Plucky is adorable and can be a pleasant preasence on the screen.
54. Hans
Hans plays the titular character in the 1990 animated feature film "The Nutcracker Prince". He is often at the workshop helping his Uncle Drosselmeier.
The character was popular long before the film, owing his fame to stage musicals. He was voiced by Kiefer Sutherland for the 1990 movie.
Much of the classic music carried over to the plot, adding to the remarkable and evergreen popularity of the Nutcracker Prince. Hans is a hardworking person with a good heart.
53. Clara
Love interest to the Nutcracker Prince, the kind and optimistic Clara brings great heart and memorable vocals to the animated feature film "The Nutcracker Prince" (1990).
Her aspirations to become a ballet dancer are called not only to dancers everywhere but to anyone with a dream in their heart and pressures all around.
She was voiced by Megan Follows. Clara's emotional arc in the movie is profound, making her a beloved cartoon character in numerous regards.
52. Jake Long
The 2005-2007 series "American Dragon: Jake Long" ran for just two seasons but gained quite the fan following during its tenure.
Of all the popular cartoon characters in the series, its main character stands out for several reasons.
Jake Long was voiced by Dante Basco. He is at once cool, trendy, and relatable. The early 2k kids certainly saw themselves in almost everything Jake wore, said, and did.
Except for the fact that he can transform into a living fire-breathing dragon with magical abilities. You're probably starting to see how he became a cartoon favorite.
51. Dumbo (old)
The most adorable little elephant in the world, this iconic cartoon character plays the titular role in the 1941 animated feature film "Dumbo".
He doesn't say a word but has nonetheless become one of the most lovable cartoon characters around. His floppy ears at first prove to be a great hindrance, but when Dumbo uses them to fly he becomes quite a sensation.
His arc in the movie is a profoundly symbolic and inspiring one, highlighting the strength we all possess in what we assume are our weaknesses.
50. Alvin
The leader of the three most famous chipmunks in the realm of cartoons, Alvin Seville is also the most mischievous and rebellious of the trio.
His character is well-established in the popular animated series "Alvin & The Chipmunks", which ran from 1983-1990 and comprised eight seasons.
Ross Bagdasarian Jr. lent his voice to the character. Alvin is a rather impulsive yet adorable chipmunk who can also be quite lazy when it comes to working.
He has a great singing voice and loves being famous.
49. Simon
The nerdy, bespectacled, and bookish Seville of the three chipmunks, Simon is known for his high IQ and dry sense of humor.
He is a sweet character with a shy soul. Ross Bagdasarian Jr. voiced Simon too in the series.
Simon is not only the tallest of the three chipmunks, but he is also the voice of reason when it comes to most situations involving them.
He often displays a rivalry with Alvin that proves quite interesting to watch.
48. Theodore
The cutest of the three chipmunks, Theodore is a chubby little bundle of kindness, camaraderie, and food-loving joy.
Janice Karman voiced Theo in the series. This chipmunk also displays a tendency for naïveté.
His gullible and trusting nature brings great balance to the show, especially about his two brothers.
His foodie aptitude has made him a favorite cartoon character. Theodore is closer to Simon than he is to Alvin.
47. Bambi (old)
The most adorable and unforgettable cartoon deer (white-tailed deer, to be precise) in the world comes from the 1942 animated feature film "Bambi".
The titular character captures hearts with his sweet nature. This is also a coming-of-age story – in connection to Bambi's female deer-friend Faline.
The movie sees Bambi experiencing some of the most heartbreaking moments of his life as a young deer growing up in an uncertain forest.
He was voiced by Hardie Albright. The time Bambi lost his mother to a hunter remains one of the darkest moments in cartoon history.
46. Stanley Ipkiss
The main character in "The Mask" animated series, and a supremely popular one at that, Stanley Ipkiss is a bank accountant who accidentally gets his hands on a Norse Mask that transforms him into an entity Loki himself would be proud of.
The Mask has become internationally famous since Jim Carrey played him in the 1994 movie.
This cartoon character has its fan base. The series comprised three seasons and ran from 1995 to 1997.
Rob Paulsen lent his voice to Stanley Ipkiss and his alter-ego The Mask.
45. Milo
One of the most recognizable cartoon dogs, Milo brings plenty of well-timed fun, humor, action, and bravery to "The Mask" animated series, which ran from 1995 to 1997 and enjoyed three super-entertaining seasons.
Stanley Ipkiss is Milo's pet owner. The two are such a wonderful pair in the series as well as the 1994 movie.
There are a handful of occasions when Milo ends up donning The Mask, and those prove to be a hoot.
44. Danger Mouse
The original series that featured this super-popular cartoon character ran for a whopping ten seasons from 1981 to 1992.
While there are plenty of outstanding characters in that series, the titular mouse stands out in his light.
He was voiced by David Jason. Danger Mouse is a white rodent with a debonair attitude.
He's quite like James Bond, more so considering that he's a secret agent intent on saving the world one adventure at a time.
From his distinct eye patch to classy accent and phrase-turns, Danger Mouse can most 'dangerously' be called a beloved cartoon character.
43. The Centurions
The 1986 "Centurions" animated TV series was ahead of its time. It packs some of the most popular cartoon characters in 'team up' history.
The Centurions are yet another entry on this list where we felt the desperate urge to give each of the main, um, Centurions an entry of their own.
However, their real power was in their ability to work together, so we united them under a single entry.
From outstanding teamwork to an undying passion for justice and fighting the good fight, there is so much to this series and its characters that still hold relevance today.
That nostalgic 2D animation is still gold. The Centurions are Rex Charger (voiced by Robert Ridgely), Max Ray (voiced by Pat Fraley), Ace McCloud (voiced by Neil Ross), Jake Rockwell (voiced by Vince Edwards), John Thunder (voiced by Michael Bell), and Crystal Kane (voiced by Diane Pershing).
Playing the role of villains are Amber (voiced by Jennifer Darling) and her ruthless father Doc Terror (voiced by Ron Feinberg).
These (and others) brought their distinct traits, skills, and principles to the 1986 "Centurions" series.
42. The Muses
The five Muses in the "Hercules" (1997) animated feature film give musical performances the likes of which still have the potential to make you get up and dance or lean forward and sigh.
Fulfilling their mythical roles as 'chroniclers' of deific or heroic deeds, the Muses influence nothing but see all.
Calliope (voiced by Lillias White), Clio (voiced by Vanéese Y. Thomas), Melpomene (voiced by Cheryl Freeman), Terpsichore (voiced by LaChanze), and Thalia (voiced by Roz Ryan) are five of the best things to happen to the movie and are still supremely popular in the cartoon-character realm.
41. Dennis Mitchell
Yet another instantly recognizable name and character in the realm of cartoons belong to none other than 6-year-old mischief-maker extraordinaire Dennis.
He is such a pain in the neck of his neighbor Mr. Wilson that the title of this hit animated series carries just how this little boy is viewed by several people in his life.
He was voiced by Brennan Thicke. The "Dennis The Menace" animated series ran strong for two seasons from 1986 to 1988.
They are crisp and brief animated adventures that Dennis has with his friends, and dog Ruff.
40. Sterling Archer
One of the funniest and classiest spies in the cartoon lexicon is the witty, sarcastic, and quite deadly Archer.
He was voiced by y H. Jon Benjamin. This main character features alongside other popular names like Cheryl, Pam, Lana, Cyril, Malory, and more.
He plays a core role in the hit animated TV series "Archer", which was recently renewed for its thirteenth season – the original pilot aired in 2009.
A funny yet highly trained agent, Archer's adventures – or missions, rather – are set in some of the most memorable, witty, and hilarious dark-comedy settings in cartoon history.
39. Space Ghost
One of the most underrated superheroes of all time, Space Ghost brings remarkable entertainment value to the animated series "Space Ghost Coast to Coast", which ran for twelve seasons from 1993 to 2011.
The 'universe' in which he belongs is 1960s Hanna-Barbera. George Lowe voiced Space Ghost for the show.
From an outstanding array of superpowers to noteworthy combat skills, Space Ghost is a distinct cartoon character, not in the least because he hosts his talk show within the main show, and faces numerous obstacles during his heroic adventures in space (and elsewhere) all to protect the galaxy.
He also has quite the list of baddies standing in his way, the direst of whom is Zorak.
38. Courage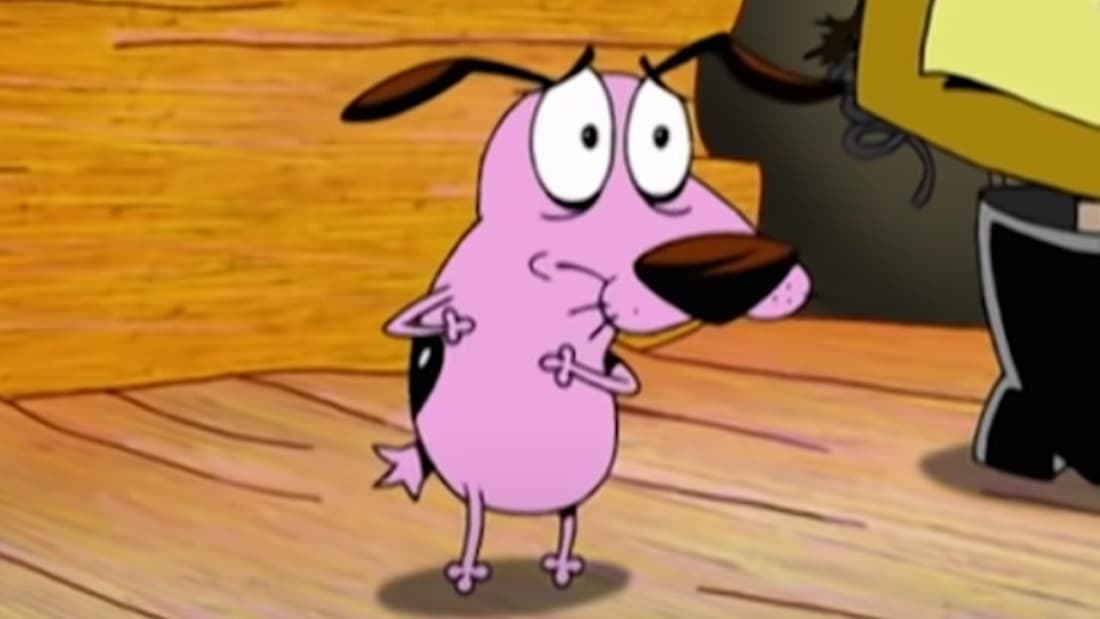 The titular character in the hit animated TV series "Courage the Cowardly Dog" has earned every ounce of the love and praise he has received over the decades.
He was voiced by Marty Grabstein. The show ran for four seasons from 1999 to 2002.
Courage – a pink Beagle-breed dog – is quite literally a cowardly canine. He somehow manages to do whatever it takes to save his pet-owners Muriel and Eustace from all sorts of bizarre occurrences in the 'middle of nowhere'.
Eustace often slips into the shoes of an antagonist, adding to the entertainment value of this series.
Courage brings outstanding comedy to the show and not a small amount of adorability.
37. Leonardo
In the TMNT with the blue bandana, Leonardo wields two katanas and the weight of leadership in the "Teenage Mutant Ninja Turtles" animated TV series that ran for ten seasons from 1987 to 1996.
Leo is also the most serious Turtle on the team and the most talented at combat.
He was voiced by Cam Clarke. Known for his charm and tendency to don a superheroic attitude, he often receives flak from his Turtle brothers when he enforces his leadership at significant plot points.
36. April O'Neil
A reporter for Channel 6 TV and later best friends with the four turtles, April initially has to learn to accept them for who they are.
But once the yellow-jumpsuited April grows close to the Turtles, they become a well-nigh inseparable team.
She was voiced by Renae Jacobs for the "Teenage Mutant Ninja Turtles" (1987-1996) animated TV series.
April often places herself in the line of danger if it means getting to the truth of a news story.
She has helped the Turtles see success on numerous missions.
35. He-Man
Playing the titular character in the cult classic "He-Man and the Masters of the Universe" animated series, Prince Adam (as his human alter ego is called) plays a powerful role in the story.
The show comprised just two seasons and ran from 1983 to 1985, but it has become a pop-culture spectacle, carrying He-Man to the top of fan-favorite lists.
John Erwin voiced He-Man in the show. Harnessing the 'Power of Grayskull' and fighting epic cartoon villains like Skeletor is just the tip of the iceberg where He-Man is concerned.
34. Wolverine
One of the most unforgettable characters in the "X-Men: The Animated Series", Wolverine (real name, Logan) brings outstanding value to the show, which ran from 1992 to 1997 and comprised five seasons.
He was voiced by Cal Dodd. Wolverine is known for his exceptional healing capabilities, which have practically made him immortal.
His entire skeleton is coated with an indestructible metal called Adamantium. His tri-claw weapons that exit both hands are some of the deadliest weapons in the comic-book world.
33. Jean Grey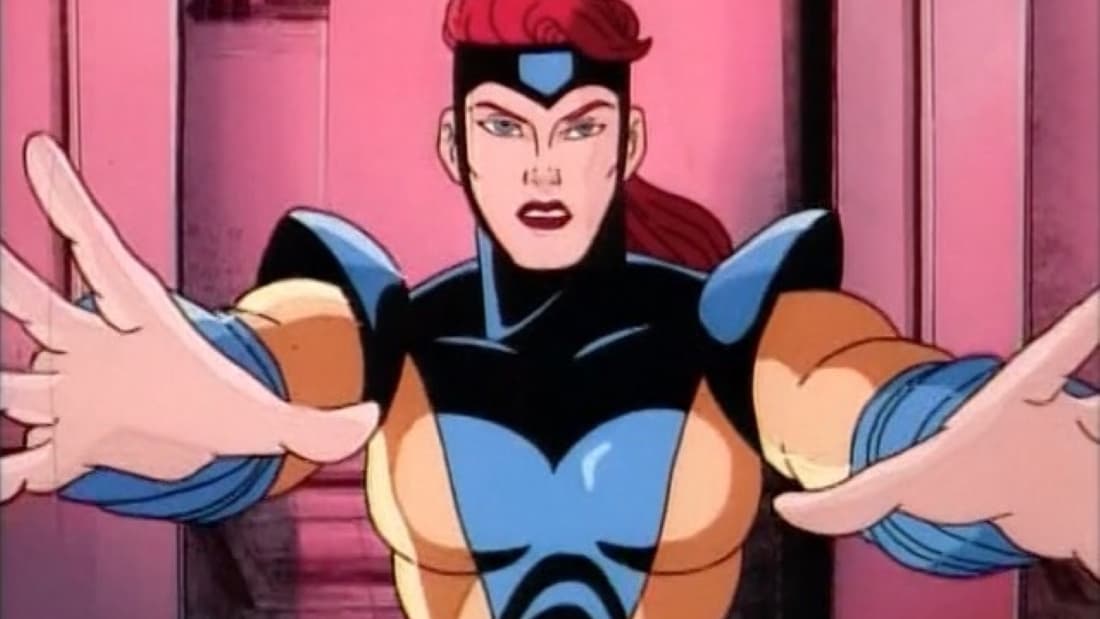 Known for her extraordinary psychic powers, Jean is sometimes the only one who can wield Professor Charles' Cerebro machine.
Her mind is sharp and her heart is gold, though Jean often gets into scrapes she wishes could have been avoided.
She was voiced by Catherine Disher in the 1992-1997 "X-Men: The Animated Series". Jean has saved the X-Men on countless occasions.
Beauty aside, she is beloved for her kindness, understanding, and of course possessing a mutant power that practically makes her a goddess.
32. Professor X
Running the 'school for gifted youngsters', which is a front for his mutant training academy, Professor Charles Xavier is the reason the X-Men are together at all.
He was voiced by Cedric Smith in the 1992-1997 "X-Men: The Animated Series". The man may be in a wheelchair but his psychic skills are second to none.
Even Jean Grey has not been able to successfully use Cerebro, owing to how much control it demands of one's psychic faculties.
Charles has helped keep mutants safe it is one of his core missions.
He also strives to strike a peaceful balance between mutants and humans.
31. Woody Woodpecker
An instantly recognizable cartoon character, Woody Woodpecker made quite the 'first impression' in the 1992 TV movie "Woody Woodpecker and His Friends".
He went on to inspire several shows after that and grew in popularity. He was voiced by numerous talents over the years, including Mel Blanc who also famously voiced Bugs Bunny.
Woody is an iconic character and is still quite popular. Many kids from the 90s still love to watch him here and there.
30. Popeye (old)
One of the most famous cartoon characters in history, Popeye started his fandom journey in the "Popeye the Sailor" animated series, which comprised two amazing seasons and ran from 1960 to 1962.
Jack Mercer lent Popeye one of the most distinct voiceovers. Popeye became an almost-instant favorite, from his ability to down a can of spinach and gain superior physical strength to his wacky fighting skills and upbeat attitude.
Popeye is a hardworking sailor with a heart of gold. He strongly belives in his spinach and can overcome any bad situation with a a can of spinach.
29. Captain Planet
A character created by other characters, Captain Planet plays a symbolic and power-packed role in the "Captain Planet and the Planeteers" series that ran from 1990 to 1996 and comprised six seasons.
The show and its titular character are ahead of their time, tackling various planetary and climate-related concerns that are today making major headlines.
David Coburn voiced the character. Captain Planet is essentially a superhero given life through five elements – Earth, Air, Fire, Water, Heart – that have been magically imbibed into rings possessed by five teens.
The rings are said to have been crafted by Gaia herself, namely Mother Earth. Captain Planet can manipulate various forms and intensities of the elements, perform transmutation and telepathy, wield super-enhanced powers, can survive on nothing, is invulnerable, harbors excellent Earth knowledge, and is capable of flight.
Captain Planet's signature look, fun and approachable personality, and bravery in the face of danger have made him more than a favorite, they've made him an inspiration.
28. Mrs. Brisby
Of all the memorable characters who enrich the 1982 animated feature film "The Secret of NIMH", Mrs. Brisby stands out. The story primarily revolves around her – a mother mouse trying to keep her children safe in a dark world and braving its perils to do so.
The Don Bluth movie has become a cult classic ever since. Mrs. Brisby was voiced by Elizabeth Hartman.
Her role in the movie is also defined by other performances – from the Wise Owl and Nicodemus to Jenner, Jeremy Crow, and of course her four kids.
But the way Mrs. Brisby's character arc transitions from timid to explorative, bold, and determined has more than made her a popular cartoon character.
27. Pink Panther
Most people have seen the movies featuring Peter Sellers and, more recently, Steve Martin. But many of them will be surprised to know that the Pink Panther cartoon character received his animated film only after his appearances in Peter Sellers' cinematic titles.
It all began when they created an animal to represent the famed Pink Panther diamond in the original Peter Sellers movies of the 60s.
The rosy-hued kitty only appeared during the credits but went on to play a full-fledged role in the 1982 "Trail of the Pink Panther" in which he poses quite the hassle for Detective Clouseau-inspired character.
He never once utters a word and yet has become so popular that he's inspired his comic book, merchandise, TV shows, short films, and primetime specials.
Every time that beloved theme song composed by Henry Mancini starts to play, few people will fail to see a suave Pink Panther crossing their mind's eye.
26. Odie
The butterscotch-yellow dog in the "Garfield and Friends" animated TV series played a comic and heart-warming role that led to his becoming one of the most beloved cartoon dogs of all time.
The show ran from 1988 to 1995 and comprised seven seasons. Unlike Garfield, Odie cannot talk.
The canine sound effects for his character were provided by Gregg Berger. Odie is adorable and his appearance alone is enough to make anyone fall for his innocence.
25. Jon Arbuckle
Garfield's pet owner and a bachelor seeking love, Jon Arbuckle is at once funny, awkward, and relatable in the 1988-1995 "Garfield and Friends" animated TV series.
He was voiced by Thom Huge. Jon brings a wonderful balance to the show and has become one of the most recognizable pet owners in cartoon history.
However, nobody will soon be envious of the man, because he is practically a slave to his cat Garfield's whims and exploits.
24. Garfield (animal)
One of the most recognizable and popular cartoon cats of all time, the chonky Garfield is renowned for his wit, sarcasm, scheming nature, cunning mind, and unrelenting love of food – especially lasagna.
He was voiced by Lorenzo Music. One punchline after the next, one wicked decision after another, Garfield has justifiably earned his place on our list.
From comics to movies, cartoon strips to merchandise, there is no end to the veritable franchise that Garfield has inspired.
His passion for food harkens back to the time when he was born in Mamma Leoni's Italian Restaurant.
His desire to eat, and as much as he can, has been a routine source of comedy and relatability for foodies and 'meme culture' alike.
23. Homer
Father, husband, and overweight ignoramus with a fun, brave, and loving side that fans have come to adore, Homer Simpson is the patriarch of the family in "The Simpsons" animated TV series.
He was voiced by Dan Castellaneta. The show originally aired in 1989 and has been running for a jaw-dropping thirty-four seasons to date.
Homer loves to eat donuts, play piano, and drive a sit-down arcade racer. His job as a low-level safety inspector makes room for plenty of comic relief.
This cartoon man has also won his fair share of (seemingly impossible for him) accolades.
22. Bart
Often misunderstood, rebellious, mischievous, disruptive, and sneaky, Bart Simpson is the family's oldest child. He has proven to be quite the over-achiever, though he would never accept the fact.
He was voiced by Nancy Cartwright. A routine prankster with sarcastic wit, Bart brings plenty of fun and frustration to the 1989-present "The Simpsons" animated TV series.
Bart does not care about being a good boy and just wants to have fun and play pranks on his friends and family members.
21. Batman
A 'DC' comic book character whose popularity and renown can only be termed 'through the roof', Batman's most memorable cartoon presence came in the 1992-1995 "Batman: The Animated Series".
Voiced by the excellent Kevin Conroy, this dark, gothic, and expertly written series is still a fan favorite, and is referenced in nearly every Batman discussion in pop culture.
As the titular hero, Batman (real name, Bruce Wayne) needs no introduction. He's this writer's favorite superhero, by the way.
His nobility, determination, moral compass, personal pain and loss, ingenuity, and multi-layered complexity have made Batman one of the best cartoon characters to be adapted from the comics.
20. Yogi
Hilarious, hungry, and heartwarming, Yogi Bear became an instant favorite when he appeared on the scene in the 1964 "Hey There, It's Yogi Bear" animated feature film.
He was voiced by Daws Butler. From his signature voice to his love of picnics, Yogi has carved his niche in the realm of cartoons.
And there he has stayed, unchanged and unmoved, in ways that fans have come to appreciate over the years.
Yogi is a wholesome character with a huge fanbase and admirers. It used to be one of the most loved cartoons and is still loved by many adults who grew up watching it.
19. Boo-Boo
Yogi's 'sidekick' of sorts and the other pea in his pod, Boo-Boo bear brings a sense of adorable balance to his role in the "Hey There, It's Yogi Bear" (1964) animated feature film.
He was voiced by Don Messick. Boo-Boo is a tad naïve, but not in a bad way.
He often joins Yogi's various picnic-stealing schemes and serves as a form of conscience, moral compass, and steadfast buddy to Yogi bear.
Boo-boo admires Yogi and is always on his side to help him in his new adventures.
18. Smurfette
The Smurfs have been around a long time in the cartoon realm. Of all the many distinct characters they have contributed to the genre, one of them stands out.
Smurfette stands out among her own fellow Smurfs in the village for being the only girl there. She is one of the most significant characters in "The Smurfs" animated series. She was voiced by Lucille Bliss.
The show ran from 1981 to 1989 and comprised nine outstanding seasons filled with humor, danger, friendships, togetherness, and more.
Many a plot twist unravels around Smurfette, especially about the villain Gargamel. Besides, she's the prettiest one of the lot, and with a compassionate heart as well.
17. Papa Smurf
Yet another important character in the 1981-1989 "The Smurfs" animated series, Papa Smurf is – as his name suggests – the patriarch of the Smurf tribe.
He was voiced by Don Messick. He even has the distinction of being one of the few 'senior' Smurfs, and most definitely the wisest.
His attempts to keep his beloved Smurfs safe, especially from Gargamel, make for amazing viewing.
Despite the dangers and adventures that come his way, Papa Smurf never gives up on being the leader and father figure the Smurfs have always seen in him.
His work is certainly cut out for him, because he has to look after a spectrum of Smurfs, each having their personality and character quirks.
His Smurf family includes cutesy names like Brainy, Handy, Clumsy, Hefty, Vanity, Greedy, Jokey, Farmer, Snappy, Natural, Slouchy, Tailor, Grandpa, Nanny, Devil, Tracker, Angel, Weepy, Sloppy, Tuffy, Timber, and more – oh, and Smurfette too.
His signature look adds to the reasons why he has become one of the most instantly recognizable cartoon characters ever illustrated.
16. George Jetson
A father and husband, George Jetson is your average future family man. He works at Spacely Space Sprockets, Inc. All he wants is to make his family happy.
In addition to being funny, he's also one of the most relatable characters in the cartoon lexicon. And because of his relatability and funny personality, he is one of the most loved characters in the cartoon show.
George was voiced by George O'Hanlon. He plays a significant part in "The Jetsons" animated series, which ran from 1962 to 1963 and comprised three 'ahead of its time' seasons.
15. Rick Sanchez
One of the core protagonists in the popular "Rick and Morty" animated TV series, Rick Sanchez has become a household name by this time.
The show aired in 2013 and has five seasons to its name, with a sixth on the way.
Rick is voiced by Justin Roiland. As a super-genius scientist with leanings towards alcoholism, recklessness, and nihilism, Rick is as dark as he is witty and as antagonistic as he is insightful.
There are so many layers to this character that the only real way to appreciate Rick Sanchez is to watch the series, and with a wide-open mind.
14. Morty Smith
The other 'pea' in the "Rick and Morty" (2013-present) animated TV series 'pod', Morty Smith is Rick's grandson, and what a contrast he has proven to be.
He grows into his confidence and enjoys an inspiring character arc from timid and anxious to adventurous and independent.
This is thanks in large part to his crazy grandpa. The teenager too is voiced by Justin Roiland.
Much enigma surrounds some of Morty's back-stories but the compassionate, though sadly impressionable, the young man has become a fan favorite simply for being himself – in every sense of the word.
13. Fred Flintstone
Father and husband, caveman and friend… These are some of the words best used to describe the average family-guy Fred Flintstone.
He was voiced by Alan Reed. The series ran from 1960 to 1966 and comprised six memorable seasons.
Playing an ever-present role in the "The Flintstones" animated TV series, Fred brings such fun and camaraderie to his role that the mere sight of him – or the sound of him yelling "Wilmaaaa!" or declaring "Yabba-Dabba-Doooo!" – fills fans with unfiltered nostalgia.
Portraying life as a caveman, with many a creative misadventure and twist, Fred and the others have brought wholesome cartoon memories to multiple generations of viewers.
12. Ariel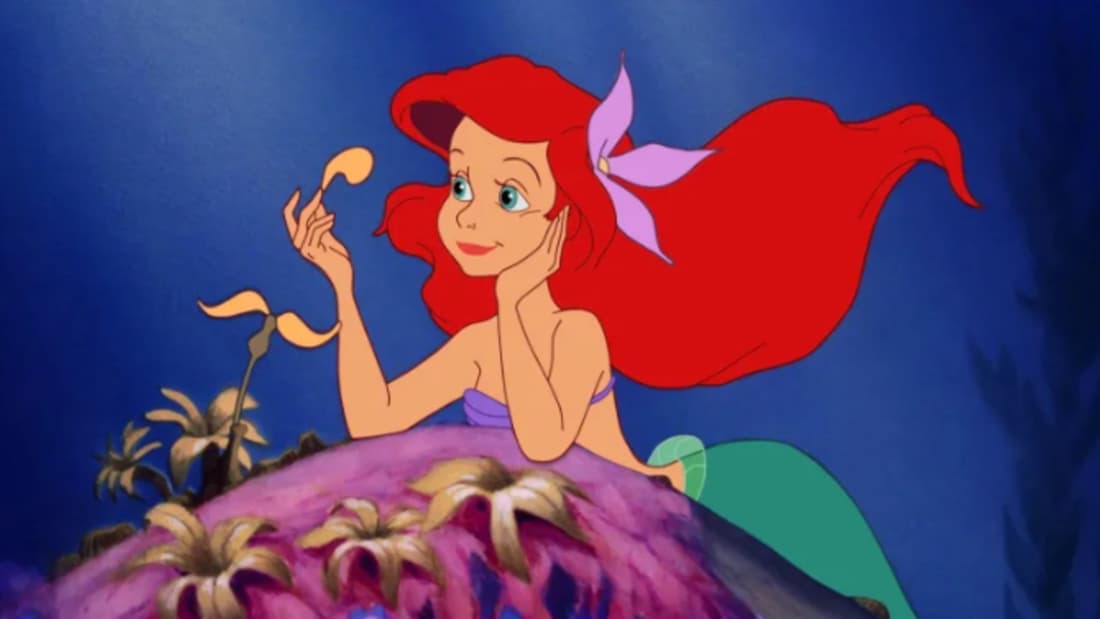 The titular character in the ultra-memorable 1989 animated feature film "The Little Mermaid", Ariel is 'fins down' one of the most immediately recognizable characters in cartoon history.
She was voiced by Jodi Benson, who also sang her brilliant songs. The character boasts one of the most magical and unforgettable arcs in cartoon history.
Her dreams, risks, hopes, and accomplishments feel strangely rooted in reality, with a dash of magic and symbolism swimming around.
11. Bugs Bunny
A rich and storied animated past exists for "The Looney Tunes" featuring some of the most iconic cartoon characters ever created.
We're going to stick to one such installment, a single-season jewel that comprised multiple 'cartoon shorts', each containing characters that have come to define an entire chapter in animation history.
The show is called "Merrie Melodies" and it ran from 1990 to 1993. We shall begin, of course, with the great Bugs Bunny whose signature line "Eh, what's up, Doc?" and many shenanigans have earned him renown over the years.
He was voiced by the amazing Mel Blanc. The grey hare with a penchant for accents and disguises has 'screen presence' like a few other toons.
Bugs Bunny also has one of the most profound histories regarding characterization and concept creation.
From clever catchphrases to a multi-layered personality, Bugs can most definitely be considered cartoon royalty.
10. Daffy Duck
Constantly annoyed and routinely frustrating, Daffy Duck brings comic relief and a strange shade of antagonism to the 1990-1993 "Merrie Melodies" animated series.
He was voiced by Jeff Bergman. This wacky duck also enjoys a rich cartoon heritage. Daffy is such a lovable character. He is always complaining but with his cute voice, everything becomes adorable and funny.
The way he spits when he talks makes for laugh-worthy viewing. He is rarely happy with his lot in life, which makes him both relatable and hilarious.
9. Tweety Bird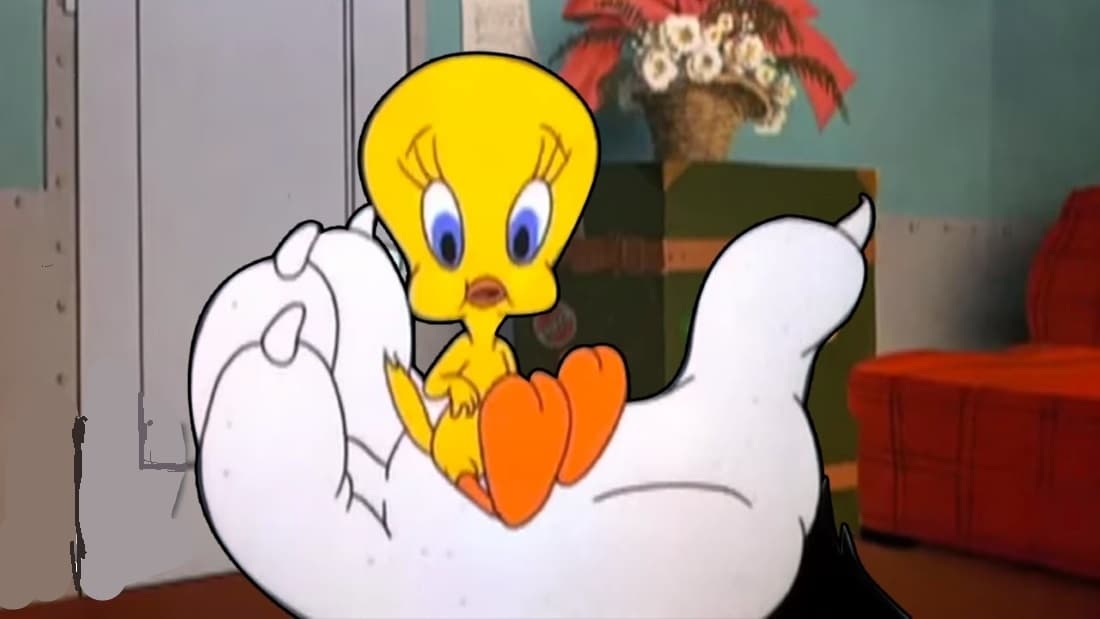 The tiny yellow canary with a voice that can break your heart, Tweety is a sweet and innocent character in the "Merrie Melodies" (1990-1993) animated series.
He was voiced by Jeff Bergman. From his adorable little face and large eyes to a 'you can't get the better of me' attitude, Tweety certainly gives Sylvester a run for his money.
Much like a canary Tweety loves to sing, only he does it in a cutesy baby voice. Tweety is a sweet little bird but can be very clever, especially when it comes to fooling Sylvester the cat.
8. Sylvester the Cat
The black cat who invites bad luck onto his head, Sylvester is quite funny in the 1990-1993 "Merrie Melodies" animated series.
He was voiced by Jeff Bergman. Sylvester also proves quite relentless in his desire to catch and eat Tweety – in keeping with his feline instincts, of course.
He routinely fails in that endeavor, resulting in unforgettable and hilarious moments in the show. Even though he has never been able to catch Tweety, he never gave up.
Viewers love to watch him try and fail again and again as it is the funniest thing to watch.
7. T-Bone
As tempted as we felt to individually list out all the brilliant villains from the unforgettable 1993 "Swat Kats: The Radical Squadron" animated TV series, we believed it best to stick to the show's two most memorable protagonists instead.
One of them is T-Bone, a tough brawny cat who does not like being told what to do. He was voiced by Charlie Adler. T-Bone is loyal, funny, sociable, and fierce, but also reckless and impulsive.
His real name is Chance Furlong. In the series, Chance is a skilled mechanic and pilot – he co-pilots the Turbokat with Razor – who once served among the Enforcers police force in Megakat City.
6. Razor
Of all the memorable characters and baddies in the 1993 "Swat Kats: The Radical Squadron" animated TV series, the show's other protagonist stands out in light of his own.
Razor brings precision, focus, and skill to his role. He was voiced by Barry Gordon. His real name is Jake Clawson. The show ran for three solid seasons and contained laudable episodes.
In addition to being a maintenance expert and skilled mechanic, Razor is also an outstanding pilot – he co-pilots the Turbokat with T-Bone. Razor is lean, carefree, confident, selfless, and thinks before he acts. His skills as a gunner come in mighty handy.
5. Scooby Doo
There are so many memorable shows featuring this one-of-a-kind cartoon dog, but one series stands out for being multi-generational and timeless. "The New Scooby-Doo Mysteries" animated TV series aired in 1984 and comprised two beloved seasons.
One of its main characters, one whose name is also in the title, is the incomparable Scooby Doo. Along with the 'Mystery Gang', he helps solve, um, mysteries by beating criminals at their devious games.
Scooby was voiced by Don Messick in the classic Hannah-Barbera cartoon. The Great Dane's timidity and loyalty both appeal to audiences. Scooby Doo is as funny as he is sweet, and always ready to eat.
4. Shaggy Rogers
Best friends with Scooby and the funniest 'human' member of 'Mystery Inc.', Shaggy is one of the most memorable characters in the 1984 "The New Scooby-Doo Mysteries" animated TV series.
He was voiced by Casey Kasem. Scooby and he share a lot in common, like their fear of ghosts and love of food.
Shaggy's signature catchphrases have been used countless times by an adoring fanbase. His constant use of words like "Like" and "Zoinks!" has made him a fast favorite among young viewers.
Both Scooby and Shaggy have an undying love for 'Scooby Snacks' that makes for hilarious viewing.
3. Dexter
Plenty of people aren't even aware that there's an actual word called 'dextrous', meaning highly intelligent or uniquely clever.
But they, and practically everyone else, will immediately visualize the short bespectacled boy genius named Dexter who is certainly one of the most famous cartoon characters in the world.
The titular character of the "Dexter's Laboratory" (1996-2003) animated TV series has earned his fair share of admiration over the years.
He was voiced by Christine Cavanaugh. A love for science and a passion for innovation have made Dexter more than a mere cartoon character but also an inspiration.
Not only is he multi-talented, but he can also genuinely be considered 'ahead of his time'. Dexter's numerous efforts at inventing something new are often thwarted by his older sister Dee-Dee.
They're two of the most entertaining sibling duos in cartoon history. His arch-rival Mandark adds to the thrill and hilarity that abounds in Dexter's laboratory and his local school.
Fans have often taken to imitating Dexter's signature Russian accent. His classic lab outfit, black-framed glasses, and purple gloves have become deeply entwined with his character.
2. Tom
The mere sight of this grey-furred cat is enough to warm our nostalgic hearts and transport us back to our childhoods.
Even as adults, we won't be able to resist stopping to see Tom at his comedic best in the "Tom and Jerry" animated TV series.
The show ran from 1940 to 1967 and comprised 161 episodes, each one of them 'cartoon gold' and 'animation heritage'.
Harry Lang gave his voice to enliven Tom's various sounds and effects. The cat never speaks a word but has been known to break that 'rule' on select occasions.
Tom's biggest fear is running into the bulldog Spike, who certainly does not let him forget it.
Tom's greatest aim is to catch Jerry and get rid of him. Then again, there are numerous episodes in which he works closely with Jerry, often even helping and sympathizing with the mouse.
1. Jerry
The most famous mouse in cartoon history is a cute brown rodent named Jerry who further enriches the "Tom and Jerry" (1940-1967) animated TV series.
In every episode featuring Jerry, audiences witness a determined, brave, adorable, and swift little mouse who refuses to let Tom stand in the way of his goals.
Even if those goals only include stealing a block of cheese from the fridge. Jerry's tones and effects were voiced by Sara Berner – the mouse does speak on rare occasions, though.
Jerry often joins forces with the bulldog Spike to put Tom in his place. Several episodes even see Jerry teaming up with his arch-rival Tom toward a common aim.
Few delights compare to watching Tom and Jerry on screen, doing what they have always been doing for decades.