»
Top 50 Best American Football Movies Of All Time [2023 Updated]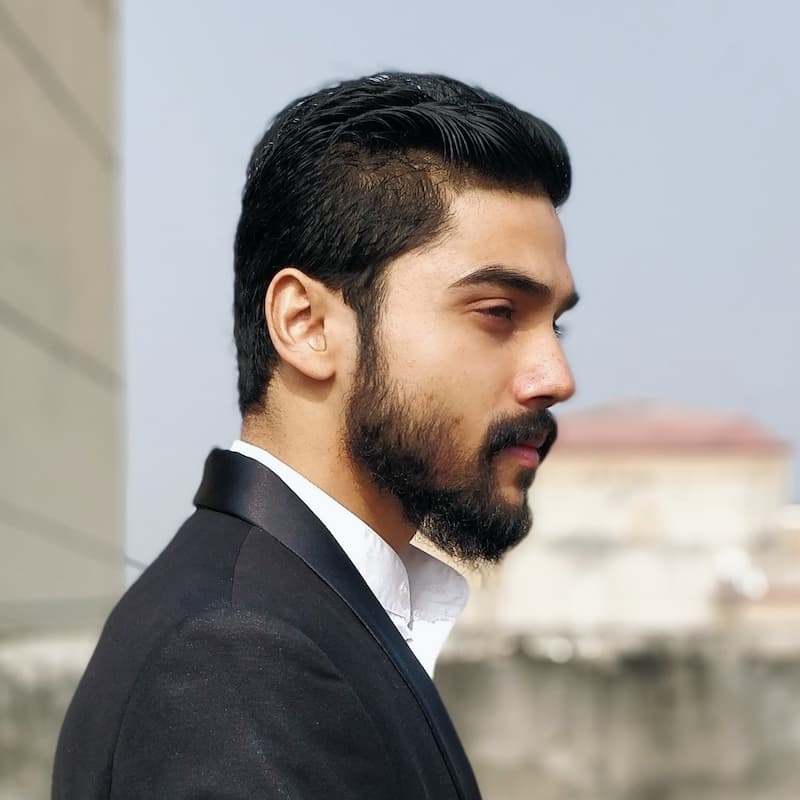 Shivam-Updated June 29, 2023
---
There is no denying that a lot many people across the globe believe that baseball is the favorite "American pastime." However, over the years, they have also come to acknowledge that there is perhaps nothing more uniquely American than the sport of football.
The latter half of the bygone century witnessed a remarkable rise in the undeniable reach of the sport in the United States of America.
Therefore, it wouldn't be an exaggeration to mention that football might just be the most popular professional sport in the country today.
Watching the men in tights and giant pads crash into each other can be a bit too much for some, but there are thousands in the stands and at home who make sure to cheer for their favorite teams at the top of their lungs.
Naturally, anything as popular as football had to inevitably fall prey to Hollywood's attention. Needless to mention, the industry acknowledged the fan following that the sport commanded and provided its fans with some of the most impressive football-based stories to savor.
So, even if the game isn't for you, we are certain that these empowering and crowd-pleasing features will provide you with a feel-good viewing experience.
50. The Game Plan (2007)
Helmed for the screen by Andy Fickman, The Game Plan is for those who weren't exactly sure if Dwayne "The Rock" Johnson ever had a family-friendly phase.
The film traces the sweet journey of an egotistical bachelor who revamps into a doting father after having discovered that he has a loving eight-year-old daughter.
Even though there's nothing unique or surprising about it, this Dwayne Johnson-led family comedy has its heart in the right place and is, in fact, full of charm.
It is a cozy family entertainer that parents the world over would love to relish with their kids over a bucket of popcorn.
49. The Waterboy (1998)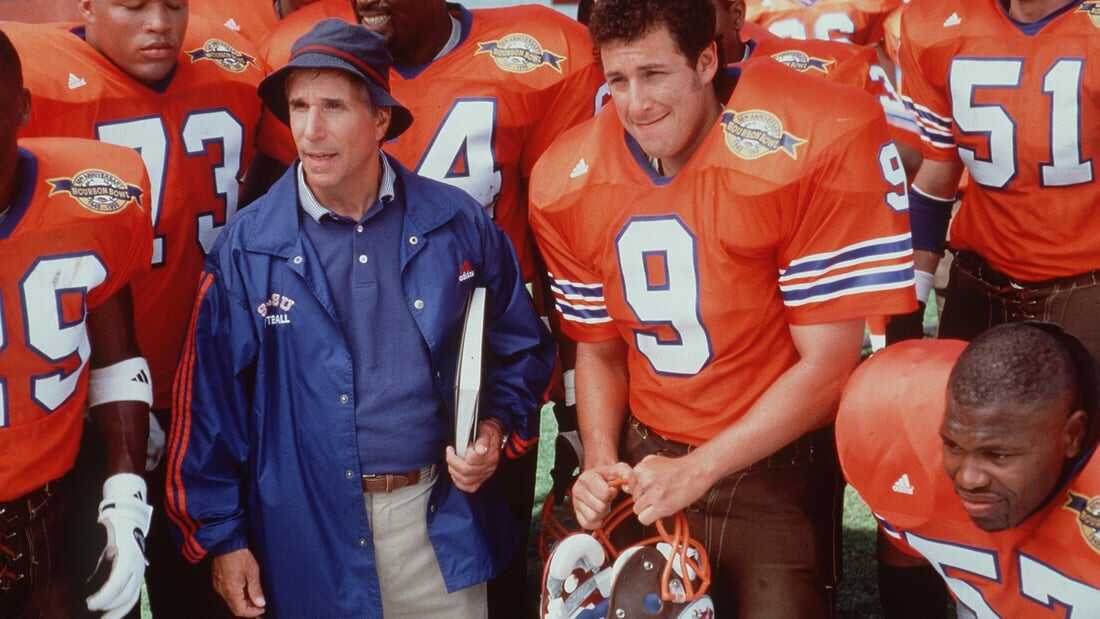 The Waterboy is a sports comedy mainstream feature film that tells the exciting story of a college football team that discovers that their waterboy, Bobby Boucher, has a unique tackling ability.
Needless to say, he ends up being a part of the squad before he knows it. Now, this hugely successful Frank Coraci-helmed project is one of the only ones on our list which grows solely on its comedy.
However, it does comprise some truly entertaining football sequences to not disappoint the fans of the sport. So, all you have to do is sit back and allow this Adam Sandler vehicle to stand on its own.
48. Paper Lion (1968)
Starring Alan Alda in the lead, this sports comedy feature is based on George Plimpton's non-fiction book of the same name.
It aims to illustrate how sportswriter George Plimpton ends up posing as a rookie quarterback for the Detroit Lions for a much-awaited "Sports Illustrated" piece.
This fun movie features cameos from real-life players from that period and has a ton of comedic sequences to boot.
Aside from its believable leading performances, the film also showcases what it must feel like being a quarterback at an NFL training camp; a place where not a lot of us would like to be, but definitely one that we'd like to read about and see.
47. Everybody's All-American (1988)
This sports drama film hit the screens internationally in 1988. It has been directed by Taylor Hackford and is based on longtime Sports Illustrated contributor Frank Deford's novel of the same name.
The story follows a Louisiana football legend who seems to be struggling to deal with the many intricacies of life after his college career is over.
The film covers 25 years in the life of a college football hero. It stars Dennis Quaid, Jessica Lange, Timothy Hutton, and John Goodman in prominent roles.
This underrated, lesser-known motion picture thrives on its decent performances and is a worth-seeing tale about triumph and tragedy.
46. Facing the Giants (2006)
This Alex Kendrick-helmed project is a Christian drama sports film that tells the story of coach Grant Taylor, who wants nothing more than to inspire his disheartened football squad to get back to their winning ways.
In the meantime, he has to face the probability of losing his job while facing a myriad of other unexpected setbacks.
Filmed in Albany, Georgia, Facing the Giants takes the road less taken and attempts to tell an underdog story about American football from a very Christian perspective.
While most of the critics praised the motion picture for its heart-warming drama and feel-good storyline, a few others were not too happy with it being an overly religious story of faith.
45. 23 Blast (2014)
Directed by Dylan Baker, this sports drama feature film tells the story of a dependable high school football star, who is suddenly stricken with irreversible total blindness.
Now, he is left with only two options: Live a safe and settled life at home being handicapped, or return to the field for a sport that gives him a reason to live.
Inspired by the true story of a Kentucky teen named Travis Freeman, 23 Blast is a heart-warming tale of grit and self-belief that should be seen by those struggling to deal with the problems life throws at them.
That being said, the motion picture has been executed in a rather amateurish and predictable manner. It debuted at the Heartland Film Festival in 2013 and received an audience choice award for Narrative Feature.
44. The Longest Yard (2005)
Headlined by the charming Adam Sandler, this Peter Segal-helmed feature film tracks the journey of Paul; a washed-up but famous football player who lands up in jail.
There, he meets the warden Rudolph, who happens to be a die-hard football fan. Sooner than later, the latter asks Paul put a team of prisoners together to challenge the prison guards for a game of football.
A remake of 1974's The Longest Yard, this motion picture received mixed reviews upon its theatrical release but performed well at the box office.
While it does lack the edginess of the original, it tries to make up for it by banking on its numerous witty sequences.
43. Little Giants (1994)
Helmed for the screen by Duwayne Dunham, this family sports comedy flick tells the story of two brothers living in a small Ohio town.
The screenplay showcases how after Danny's daughter is excluded from his brother Kevin's football team, Danny ends up forming his own squad to stand up against his brother.
His only aim? To prove to him that he can, indeed, learn a lot from his younger sibling.
Little Giants is a goldmine of a sports movie for anyone who has ever felt that they have been left behind or considered any less by their peers.
The makers have to be given due credit for ensuring that the film doesn't just end up being a routine family entertainer, and that it has enough meat to make sense to anyone who has ever felt neglected.
42. The Program (1993)
Directed by David S. Ward, this feature film stars James Caan, Halle Berry, Omar Epps, Craig Sheffer, and Kristy Swanson in significant roles.
The story follows the journey of players who belong to different backgrounds. It shows how they try to deal with both the pressures and expectations of playing football at a major university.
The Program was filmed at a number of higher learning institutes. But, it comprises most of the elements that one may have seen in other football-themed motion pictures.
41. Woodlawn (2015)
Helmed for the screen by Jon Erwin and Andrew Erwin, together known as the Erwin Brothers, Woodlawn opened to decent reviews at the ticket counters.
Set during the first half of the 1970s, the motion picture brings to light the rising racial tensions of the era coupled with a moving football story.
The story traces the journey of the talented black high school footballer Tony Nathan and his teammates as they battle the hostile environment with the help of an outsider who encourages them.
The film details the true story of the Woodlawn High School football team in 1973 and is driven by faith as much as it is by the sport that it aims to represent.
40. Touchback (2011)
Written and directed by Don Handfield, Touchback stars Brian Presley, Melanie Lynskey, and Kurt Russell in crucial roles. It outlines the journey of a former football star, Scott Murphy, who is fortunate enough to be presented with an extraordinary opportunity to relive his high school days.
While doing so, he can alter his fate by avoiding the permanent knee injury that ended up changing his life fifteen years ago.
Touchback should be seen because it does its best to convey to take satisfaction in whatever it is that one has within their life.
Not only does it talk about finding a purpose in existing but it also emphasizes the importance of "trusting the process" as one evolves in life.
Even though there are corny moments and obvious minor flaws in the project, the movie can still be seen for the implicit message that it carries.
39. Varsity Blues (1999)
This sleeper hit about a small-town Texas high school squad hit the screens in the late 1990s, and has gone on to develop a cult following since.
The story spotlights the journey of a college football team after its star quarterback suffers an injury. Soon after the mishap, the team is asked to come together under the leadership of a second-string quarterback whose approach to the game is both irrelevant and questionable.
Helmed for the screen by Brian Robbins, this coming-of-age sports comedy-drama film lacks the intensity and the required "surprise factor" of being a bonafide football flick. However, it does feature moments that manage to hold the attention of its viewers.
38. When the Game Stands Tall (2014)
This Thomas Carter-helmed feature film stars Jim Caviezel, Michael Chiklis, Alexander Ludwig, and Laura Dern in pivotal roles. It showcases how Bob Ladouceur's personal problems result in his career taking a hit.
Consequently, the issues start reflecting on his game as his team loses a match after a record winning streak of 151 games.
While the movie is certainly about football and incorporates a ton of football footage, it is not entirely based on the sport.
When the Game Stands Tall is a family-friendly mainstream feature that makes for a decent watch.
37. The Replacements (2000)
If you're looking forward to seeing a supremely entertaining sports comedy, you have to keep The Replacements as one of your top choices.
Not only does it star the amazing Keanu Reeves but it also features Gene Hackman and Jon Favreau in prominent roles.
The film tells the amusing story of a professional football team that needs replacement players to continue playing during a strike.
However, the kind of people who end up coming for the trials is what gives the viewers of this Howard Deutch directorial venture several comedic moments to savor.
36. Knute Rockne, All American (1940)
Helmed for the screen by Lloyd Bacon, this motion picture narrates the story of the iconic Notre Dame football player and coach, Knute Rockne.
Starring Pat O'Brien, Gale Page, and Ronald Reagan in the lead, the feature film illustrates how Rockne not only developed a game-changing play such as the forward pass but also nurtured the talents of several athletes.
Shot on location at the university, Knute Rockne, All American features a surprising performance by the 40th President of the United States of America, Mr. Ronald Reagan.
35. Big Fan (2009)
There is a tacit bond between fans and their favorite players that sometimes goes beyond what transpires on the field. This is the story of one such fan and his favorite team.
A hard-core New York Giants supporter gets the shock of his life when he is beaten up by his favorite player.
Needless to say, he struggles to deal with the consequences of the incident no matter how hard he tries.
Written and directed diligently by Robert D. Siegel, this black comedy motion picture chronicles the often dark and lonesome world of a sports fanatic.
Big Fan was able to charm its viewers and, therefore, opened to positive reviews at the Sundance Film Festival in 2009. It is a must-see for everyone who has been a fan of someone in their respective lives.
34. Draft Day (2014)
While most sports films try to emphasize the action that transpires on the field, Draft Day takes the route less taken and aims to focus on the worries of being a general manager.
An icon of baseball movies, Kevin Costner, plays Sonny Weaver; the Cleveland Browns general manager who finds himself in a dilemma at the NFL draft.
It becomes difficult for him to decide whether to pick a prolific quarterback or a player his father, who is a senior coach himself, asked him to go for.
The motion picture very smartly showcases how Costner's character makes deals to get the player of his choice. Aside from Kevin Costner in the lead, the supporting cast also features talented actors such as Chadwick Boseman, Terry Crews, Jennifer Garner, Denis Leary, and more.
33. Safety (2020)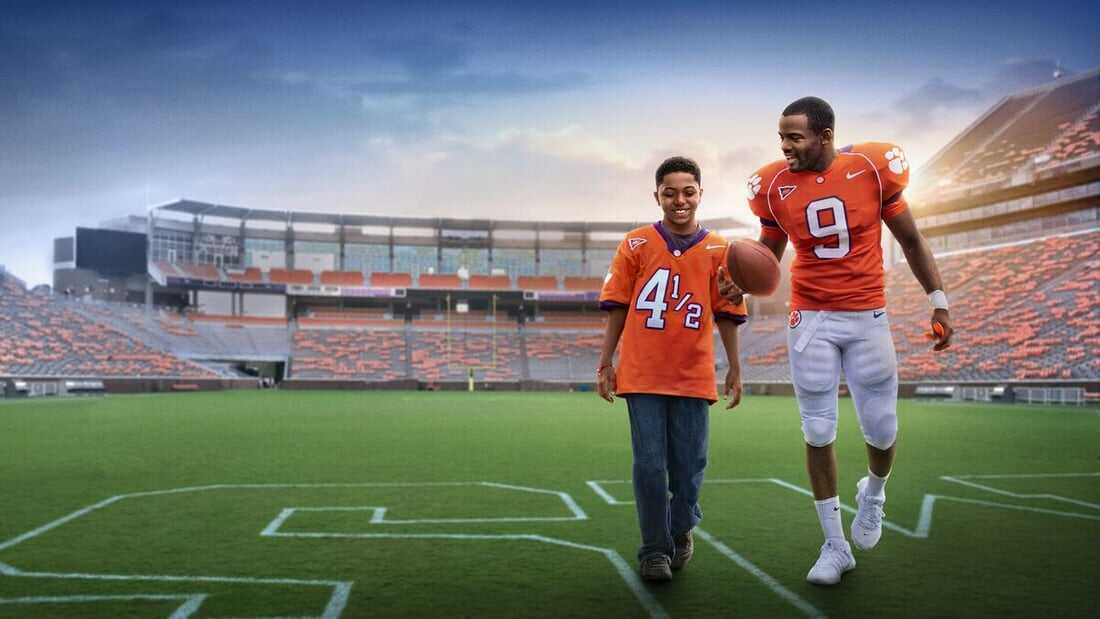 Director Reginald Hudlin's Safety is a biographical sports drama film that is based on the real-life story of the football player Ray McElrathbey.
The story portrays Ray representing the Clemson University football team; all while trying to deal with the turmoil that his family finds itself in.
Safety is a magnificently told fact-based tale that opened to favorable reviews from film critics. It merges elements of family drama with that of the sport skillfully for its audience. In addition, the motion picture carries mature sub-themes to give itself an emotional base.
32. Radio (2003)
Inspired by the 1996 Sports Illustrated article "Someone to Lean On" by Gary Smith, this Michael Tollin-helmed project is based on the true story of T. L. Hanna High School football coach Harold Jones and a young man with an intellectual disability.
The story casts a light on how after having met a 23-year-old boy Robert 'Radio' Kennedy, football coach Jones decides to take him under his wing with the purpose of transforming him into a gentleman.
Filmed primarily in Walterboro, South Carolina, Radio thrives on the leading performances of Cuba Gooding Jr. and Ed Harris.
31. Jim Thorpe: All-American (1951)
Directed by Michael Curtiz and starring Burt Lancaster, Charles Bickford, and Phyllis Thaxter in crucial roles, this biographical sports drama film strives to tell the story of Jim Thorpe; the great Native American athlete who won medals at the 1912 Olympics.
However, the film also shows how, besides battling his rivals on the field, the titular character has to fight prejudice in his pursuit of sports stardom.
The flick not only features some archival footage of both the 1912 and 1932 Summer Olympics but it also includes long shots of the real Jim Thorpe in its screenplay.
Jim Thorpe: All-American is certainly for the ardent fans of football who'd like to know more about Thorpe's athletic rise and fall.
30. Any Given Sunday (1999)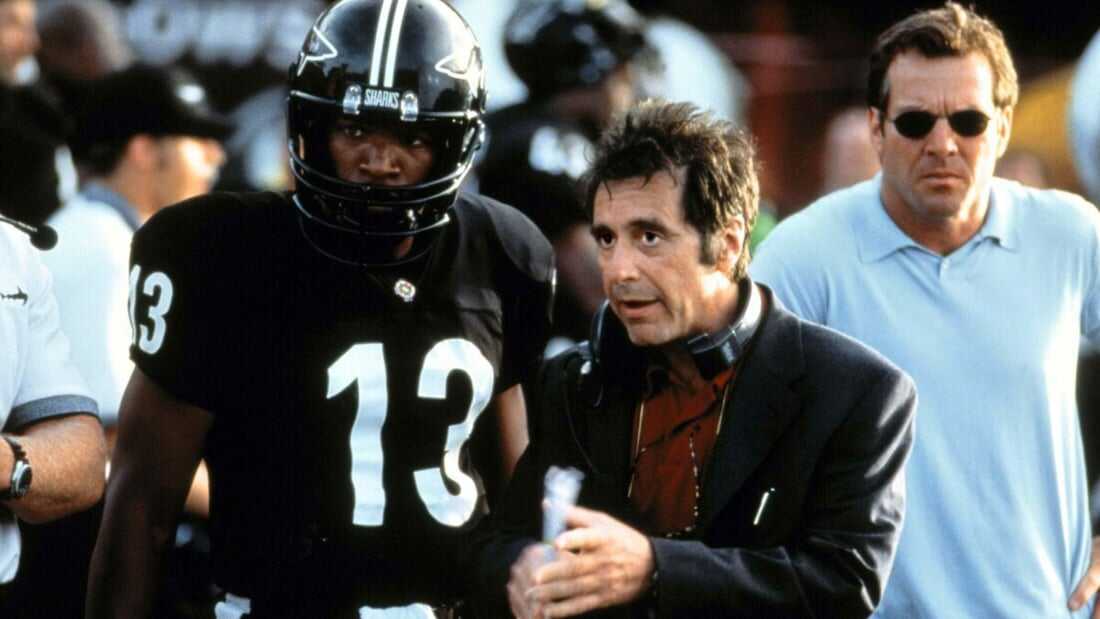 Directed by Oliver Stone, this sports drama film has been headlined by actors such as Al Pacino, Cameron Diaz, Dennis Quaid, and Jamie Foxx.
It depicts the fictional journey of a professional American football squad and its energetic coach. The story showcases how a veteran football coach deals not only with his team's losses and internal conflicts but also with the team's unyielding owner.
Loosely inspired by NFL defensive end Pat Toomay's novel of the same name, Any Given Sunday tries to take an in-depth look at the world of professional football from every possible angle. Also, one can catch several real-world football players in a cameo role in this one.
29. School Ties (1992)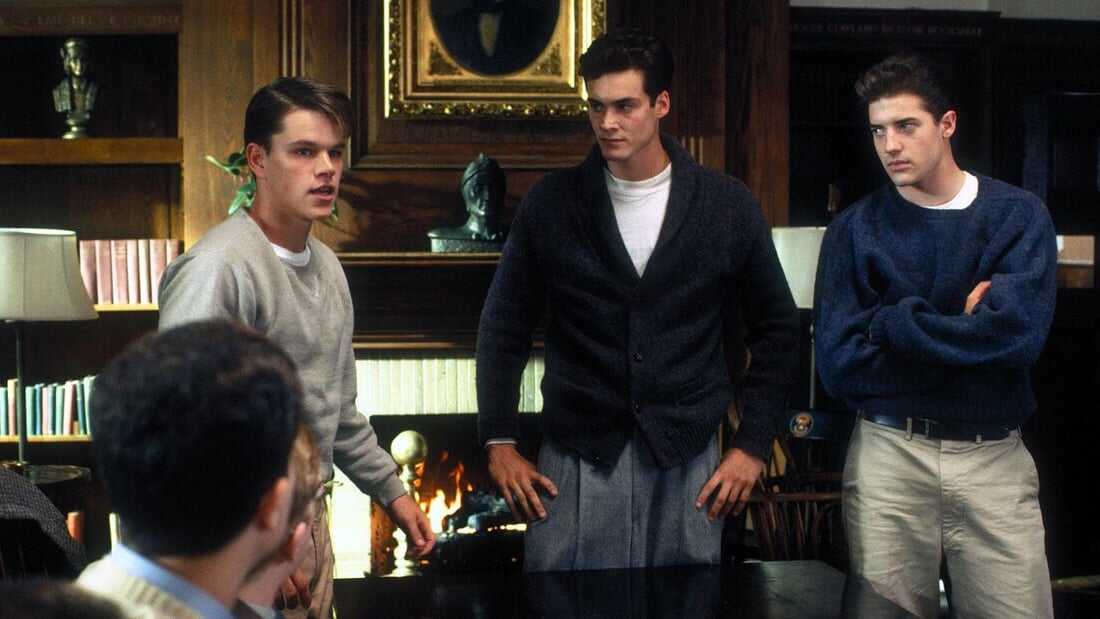 Set in the 1950s, this Robert Mandel directorial venture tells the story of a star quarterback who is given a golden opportunity to attend an elite preparatory school on an athletic scholarship.
However, he is forced to hide the fact that he is a Jew for he fears being rejected by his pals at school.
Even though it is essentially a teen drama that uses football as a backdrop, what works for School Ties is that it is injected with a heavy-handed message against intolerance.
This surprisingly effective feature film stars Brendan Fraser, Matt Damon, Chris O'Donnell, Randall Batinkoff, Andrew Lowery, Cole Hauser, Ben Affleck, and Anthony Rapp in crucial roles.
28. Lucas (1986)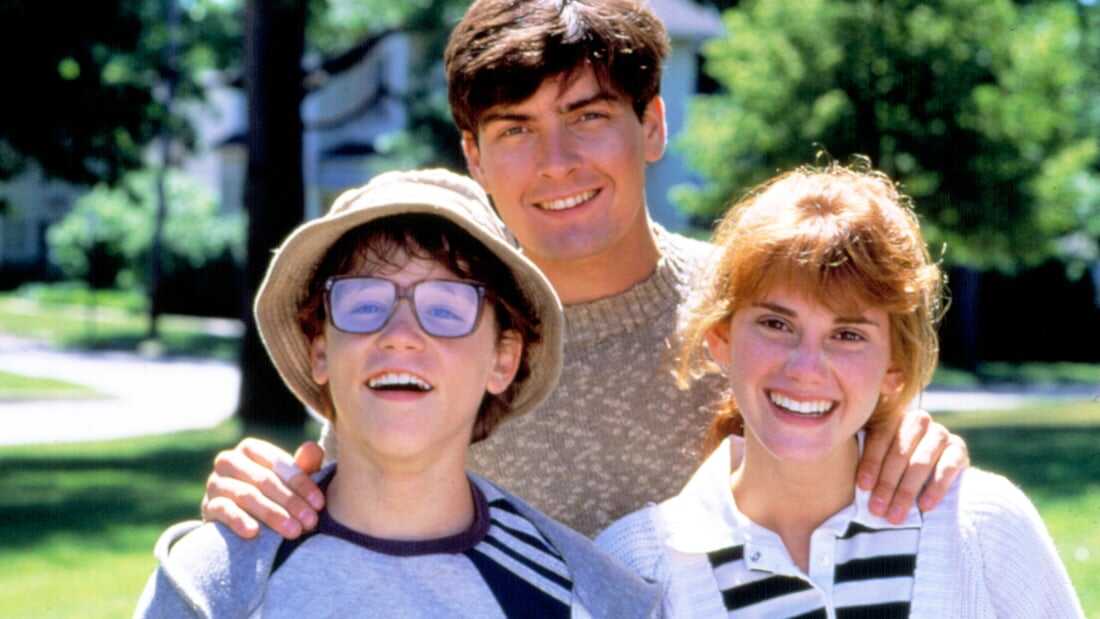 Starring Corey Haim, Kerri Green, Charlie Sheen, and Courtney Thorne-Smith in the lead, Lucas works more as a romantic comedy than a proper football flick.
The film tells the story of a nerdy fourteen-year-old lad who experiences heartbreak for the first time in his life when his two best friends fall in love with each other. However, he ends up joining the football team with the sole aim to get his crush to like him.
Written and directed by David Seltzer, this motion picture tells a lot about life as a teenager and the complications of having early relationships. It continues to retain its charm courtesy of the promising performances of its cast.
27. North Dallas Forty (1979)
This mainstream sports feature film has been directed by Ted Kotcheff and is based on Peter Gent's best-selling novel of the same name.
Set in the decadent world of American professional football in the late 1970s, North Dallas Forty is essentially a satire on the sport.
The plot traces how a veteran pass-catcher's refusal to become part of the team 'family' is met with unfriendly reactions from his disciplinarian coaches.
The unanimous opinion of the film pundits claimed that this movie stayed true to its source material for the major part of the screenplay and was, therefore, successful in providing brutish entertainment to its targeted audience.
26. Heaven Can Wait (1978)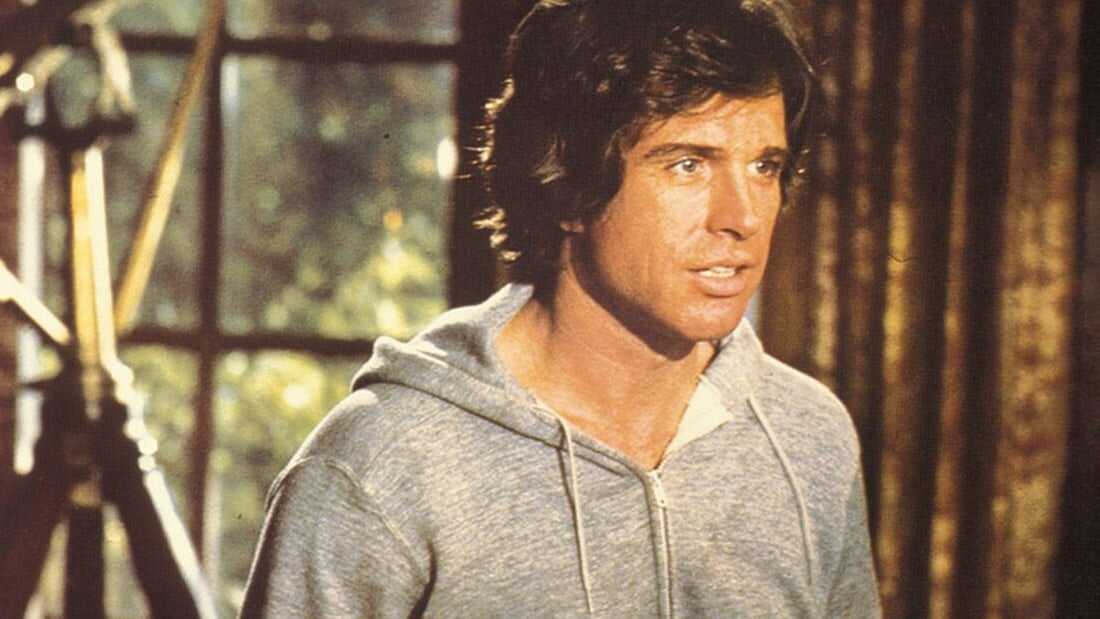 Helmed for the screen by Warren Beatty and Buck Henry, Heaven Can Wait tells the story of a quarterback named Joe, who, unfortunately, meets with an accident.
However, things take a turn for the worse when an over-anxious angel takes his soul even before he is meant to die.
Now, the screenplay showcases how this grave mistake is undone when the quarterback returns to life by taking control of the body of a millionaire who has only recently passed.
The rather ambitious plot structure of this flick is aided by its execution which surprisingly comes across as both old-fashioned and fresh in equal measure.
Heaven Can Wait can be called a multi-genre film that works primarily as an upbeat fantasy screwball comedy. It was nominated for nine Academy Awards.
25. Gridiron Gang (2006)
Starring Dwayne Johnson, Xzibit, L. Scott Caldwell, and Kevin Dunn in prominent roles, Gridiron Gang is partially based on the true story of the Kilpatrick Mustangs during the 1990 season.
The story outlines the entertaining journey of Sean Porter, who works at a juvenile detention center where the children seem to suffer from underconfidence and low self-esteem.
In order to boost their morale and alter their lifestyle, he decides to mold them into a formidable football team. But, will he succeed?
Dwayne "The Rock" Johnson has been perfectly cast in the film which serves as a decent entertainer for the diehard fans of the sport.
24. The Last Boy Scout (1991)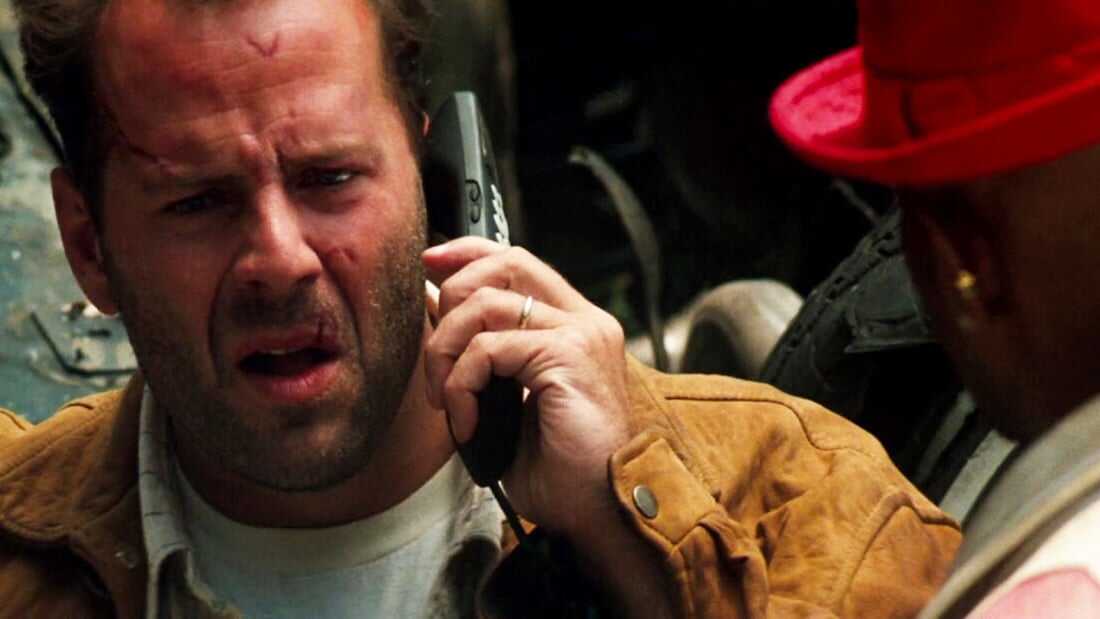 The Last Boy Scout is an unabashed, action-packed thriller that merges the tropes of a trademark crime caper with that of a sports-themed mainstream feature.
It tells the story of a detective who is compelled to take the job of a bodyguard. Soon after, he is seen getting embroiled in a disastrous setting of murder and corruption.
The catch here is that all of it is linked to the seemingly clean world of American football. Banking on its witty one-liners and hilarious dialogue delivery of its leading performers, The Last Boy Scout helped Bruce Willis regain his star status.
Even though the film wasn't exactly a box office smash, it did become popular in the video rental market.
23. We Are Marshall (2006)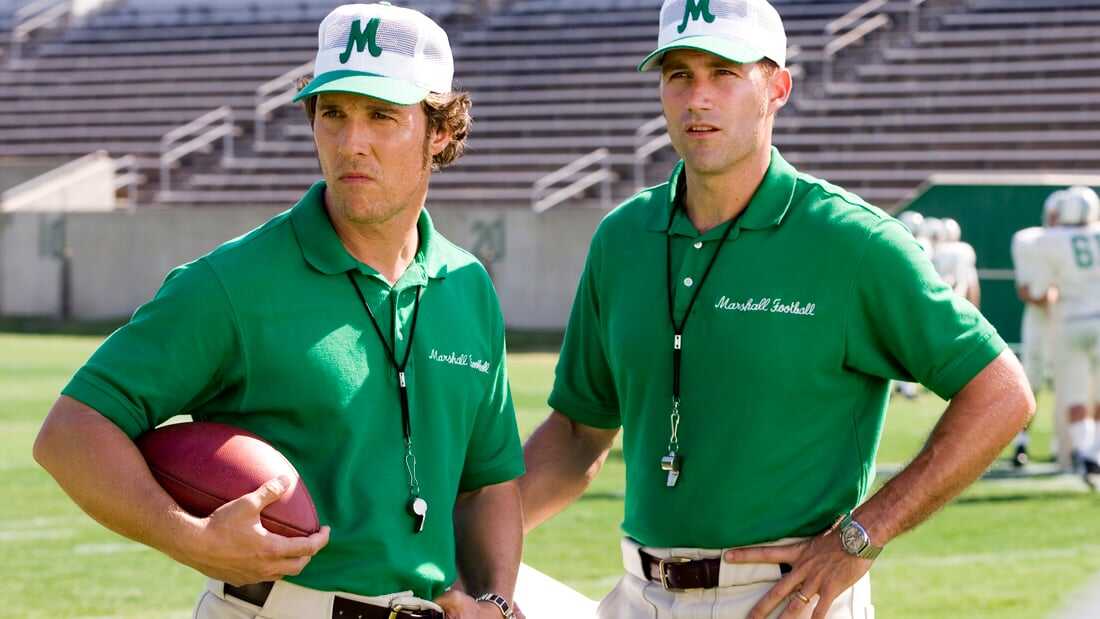 This biographical sports drama motion picture, which has been helmed by McG, casts a light on the aftermath of the 1970 plane crash that killed 75 people.
Among those who passed were the players and coaches of the Marshall University Thundering Herd football team. However, the story depicts that in due time, the team gets a new coach who tries his very best to bring the unit together; all while dealing with the loss of the dear departed.
Matthew McConaughey plays the main lead and delivers the best performance in the film. We Are Marshall keeps its emotions close to the surface and never really lets the audience lose interest in its moving screenplay.
22. Invincible (2006)
Starring Mark Wahlberg, Greg Kinnear, Elizabeth Banks, and Michael Rispoli in crucial roles, this sports drama film has been directed by Ericson Core.
The story tracks the tumultuous journey of a down-and-out 30-year-old man, Vince, who is shattered to discover that instead of sticking by his side, his wife has ended up filing for a divorce.
However, his life soon alters after he decides to join the Philadelphia Eagles, a football team.
A simple story at heart, Invincible blends a fair amount of athletic enthusiasm with a stirring message to make an impact. Needless to mention, it opened to mostly favorable reviews at the ticket counters.
21. My All American (2015)
Based on the book Courage Beyond the Game: The Freddie Steinmark Story by Jim Dent, this biographical drama sports feature tracks the journey of Freddie Steinmark, who gets a scholarship to play football at an esteemed college.
However, just as he dares to scale new heights of success, he ends up suffering a cumbersome injury. Needless to say, the astounding diagnosis compels him to face the biggest challenge of his life.
Even though it has a moving real-life story to tell, this Angelo Pizzo directorial venture gets a bit too melodramatic towards the climax.
20. Concussion (2015)
This Peter Landesman directorial venture tells the solid story of an accomplished pathologist, Dr. Bennet Omalu, who tries to convince the authorities to generate awareness among the masses about the presence of football-related head trauma in players, called chronic traumatic encephalopathy.
Given the fact that football is arguably the most popular sport in the world and that there is a lot of money involved, it should be noted that there have been instances when the multi-million-dollar industry has ignored potential health issues in athletes. That is precisely what this Will Smith starrer aims to bring to light.
19. American Underdog (2021)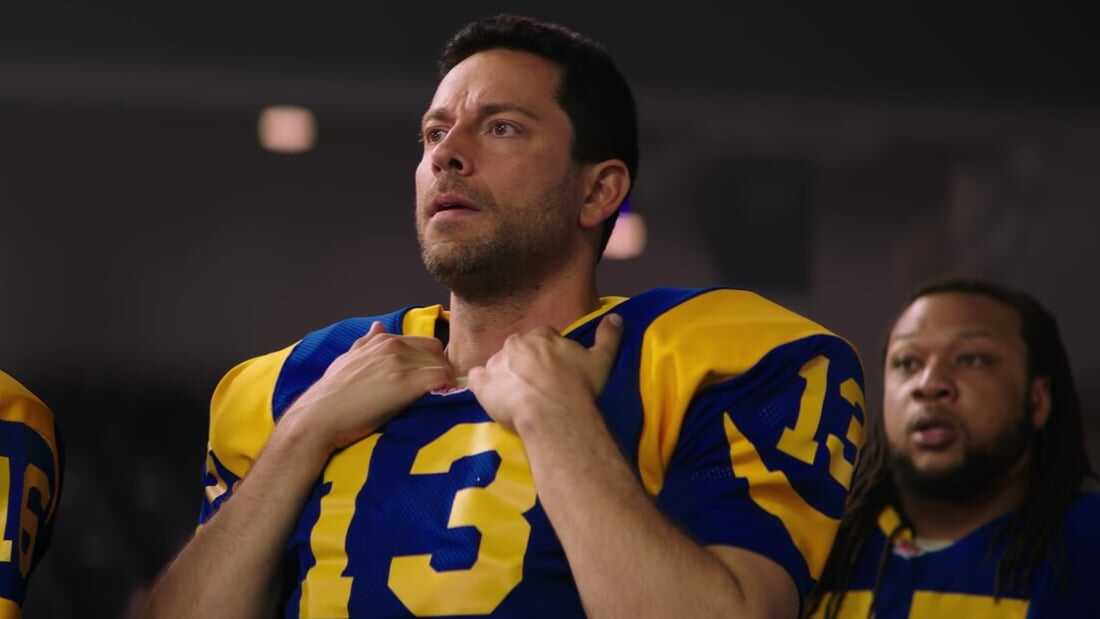 Headlined by Zachary Levi and Anna Paquin, this biographical sports motion picture is based on the life of National Football League (NFL) quarterback Kurt Warner.
The story follows how Warner goes from stocking shelves at a supermarket to becoming a massive American Football superstar.
Directed by Andrew and Jon Erwin, American Underdog is an effective and well-intentioned underdog story that underscores the importance of having an honest heart; irrespective of the situation one finds themselves in.
Levi, who is best known for Shazam!, delivers an earnest performance as Kurt Warner in this one. He is ably supported by Paquin in the story.
18. The Longest Yard (1974)
In this very popular football film, a sadistic warden is seen inviting a former pro quarterback, who is now serving time in prison, to recruit a team of prisoners to take on the terrifying prison guards.
Helmed for the screen by Robert Aldrich, this prison sports comedy feature stars Burt Reynolds, Eddie Albert, Ed Lauter, and Mike Conrad in significant roles.
The viewers can also catch hold of real-life football players such as Green Bay Packers legend Ray Nitschke as the storyline progresses.
While Reynolds steals the show in this brutal comic fantasy about a football game, its influence can be gauged from the fact that it has been remade three times already.
17. A Triumph of the Heart: The Ricky Bell Story (1991)
Helmed by Richard Michaels, this made-for-TV movie tells the story of a football star in the early 1980s who befriends Ryan Blankenship, a physically impaired boy.
As the screenplay proceeds, the viewer finds out how the two end up inspiring each other to do better in their respective lives.
Set during the 1981 Buccaneers season, this rather underappreciated feature includes actual gameplay footage to do complete justice to its storytelling.
16. Quiet Victory: The Charlie Wedemeyer Story (1988)
Helmed by Roy Campanella II, this title aims to bring to light the real-life story of a high school teacher and football coach, who is diagnosed with Lou Gehrig's disease.
However, as the story progresses, the viewers find out that he refuses to give in. While this project certainly is about heartbreak and the uncertainty of life, it is also as much about triumph.
It shows its protagonist nearing his untimely end but refusing to give up on something that gives him a sense of fulfillment.
This worth-watching made-for-TV movie about Charlie Wedemeyer also ends up giving you a lesson on the rather underrated significance of patience. So, do yourselves a favor and watch it patiently and for what it is.
15. Go Tigers! (2001)
This absorbing feature-length documentary revolves around the Massillon Washington High School football team and its relationship with its hometown of Massillon, Ohio.
The story illustrates how the players struggle to keep a balance between their personal and professional lives. Not only does the documentary cover the various aspects of their respective lives but it also delves into the history of Tiger football; all while casting a light on the devotion of the town towards their beloved team.
Written and directed by Kenneth Carlson, Go Tigers! is certain to delight the ardent followers of American football and, therefore, should not be missed.
14. The Express (2008)
Helmed for the screen by Gary Fleder, this sports drama film has been inspired by the life of Syracuse University football player Ernie Davis, who was the first African American to have won the Heisman Trophy.
Since it is set during the era of civil rights, it explores significant socio-political themes such as racism, discrimination, and athletics.
Actor Chadwick Boseman was seen making his acting debut in this involving and inspiring football movie. Also starring Dennis Quaid, Rob Brown, Omar Benson Miller, Clancy Brown, and Charles S. Dutton in significant roles, it will even appeal to folks who are not particularly fans of the sport.
13. Friday Night Lights (2004)
This Peter Berg directorial venture is yet another football flick that aims to demonstrate the quandary that managers often find themselves in.
The story follows Gary Gaines, the coach of the Permian High School Panthers football team, who struggles to lead his team to victory.
Winner of the Best Sports Movie ESPY Award, the motion picture is based on H.G. Bissinger's book, Friday Night Lights: A Town, a Team, and a Dream.
Friday Night Lights is able to successfully portray the power of sports to involve people, irrespective of their ideologies and backgrounds. It also marked the feature film debut of Amber Heard.
12. Greater (2016)
This David L. Hunt directorial venture tracks the journey of Brandon Burlsworth, who is considered to be the greatest walk-on in the history of college football.
Starring Christopher Severio as Brandon Burlsworth, it tells a lot about emerging triumphant by relying solely on faith.
Needless to say, the story will appeal to its target audience in a big way. Severio embodies the persona of Burlsworth believably and delivers a potent performance in the movie.
Youngsters today, who are habituated to taking everything lightly, should get to learn a thing or two from Brandon's life story. Also, watch out for the spiritual twist in this one.
11. Harvard Beats Yale 29-29 (2008)
Helmed by Tommy Lee Jones, this documentary feature is set in the November of 1968, when the undefeated Ivy League football teams of Harvard and Yale face each other in a rather historic match in which the latter led 29-13, with only 42 seconds left on the clock.
Aside from including the commentary by Bud Collins, Tony Kornheiser, and George Plimpton, the project also features interviews with members of both teams from the 1968 season.
In late October 2008, ESPN decided to broadcast this title on its Sunday night football show. Having said that, the particular game which is the focus of this documentary has been called "the most famous football game in Ivy League history" by many.
10. Jerry Maguire (1996)
Starring Hollywood megastar Tom Cruise in the lead, this romantic comedy-drama sports film has been written, produced, and directed efficiently by Cameron Crowe.
The story follows the journey of renowned sports agent Jerry Maguire, who attempts to get back on his feet after being released from his job.
He has a client named Rod Tidwell, who can help him get where he wishes to be. However, the catch here is that he is a disgruntled man who wants a much better contract through Maguire than he is being offered.
Jerry Maguire is as much about football as it is about the business surrounding the sport. The film won Cruise a Golden Globe for Best Actor - Motion Picture Musical or Comedy. It is credited with generating one of the most famous lines in sports cinema history.
9. Mash (1970)
Mash is easily the most distinctive feature film to make it to our story. Based on Richard Hooker's novel, MASH: A Novel About Three Army Doctors, this Robert Altman directorial venture hit the screens at a time when black comedies were not too common.
The screenplay showcases how the MASH unit makes use of strong wit and exaggerated pranks to deal with the horrors of war.
The makers have to be given due credit for ensuring that it was a commendable mix of lighthearted humor and a bleak war setting.
Add to that the fact that the screenplay carried socio-political commentary. Mash, which thrives on its lead performances, went on to win the Grand Prix du Festival International du Film. It also received five Academy Award nominations, winning one for the Best Adapted Screenplay.
8. Rudy (1993)
Based on the life of Daniel "Rudy" Ruettiger, this biographical sports drama film has been helmed for the screen by David Anspaugh.
The story follows Rudy; a young and enthusiastic guy who is often told that he is too small in stature to play college football.
However, his undaunted spirit and willpower help him fight all the odds and, ultimately, realize his dream of playing for Notre Dame.
Released in 1993, Rudy is the quintessential football movie that is based on an engrossing true story. The authenticity of its storytelling is elevated by the fact that the Notre Dame administration allowed it to be filmed on campus.
Rudy premiered at the Toronto International Film Festival and was given the 54th spot in the American Film Institute's list of the most inspiring movies of all time.
7. Brian's Song (1971)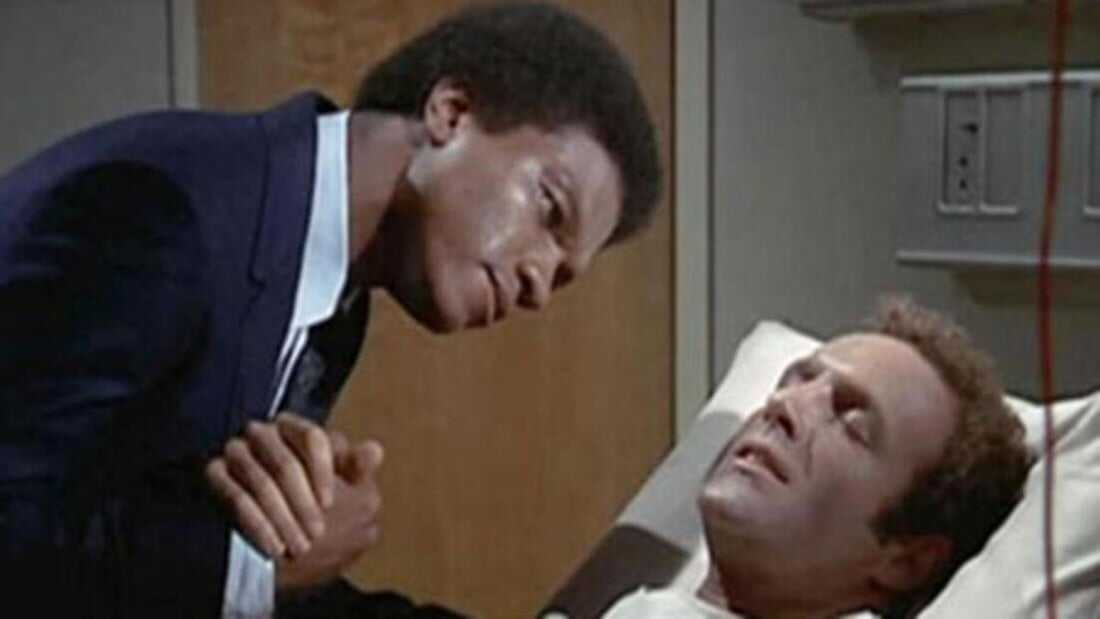 Based on the book I Am Third by Gale Sayers and Al Silverman, this 1971 ABC Movie of the Week strives to cast a light on the real-life relationship between teammates Brian Piccolo and Gale Sayers.
The plot traces how their bond solidifies after Sayers finds out that Piccolo is battling terminal cancer. While this fantastic television feature has its emotional core intact, what makes it greater is the fact that it showcases how two individuals with different racial backgrounds and temperaments end up sharing an eternal companionship.
A winner of five Primetime Emmys in 1972, this Buzz Kulick directorial venture is considered by many to be one of the finest sports dramas to have ever been produced for television.
6. The Freshman (1925)
Most of us have aimed to become popular during our teenage years in college. That is precisely what makes Harold Lamb's story so relatable.
Lamb is a young lad who struggles to become well-known in his college. However, things take an interesting turn when he joins the football team in his relentless pursuit of fame.
Starring Harold Lloyd, Jobyna Ralston, Brooks Benedict, and James Anderson in pivotal roles, this silent comedy sports feature was selected for preservation in the United States National Film Registry by the Library of Congress.
Directed by Fred C. Newmeyer and Sam Taylor, The Freshman is one of the most enduring and memorable motion pictures of Harold Lloyd's colorful cinematic journey.
5. Horse Feathers (1932)
This pre-Code comedy film tells the story of Professor Quincy Adam Wagstaff, who is appointed as the new president of Huxley College.
Soon after he takes his designated position, his son, Frank, starts persuading him to draft two professional footballers to get the better of the rival Darwin School.
Horse Feathers thrives on its rock-solid comedy that is aided by a script that is based on the sport of football.
Even though the movie was released decades ago, the antics of its many characters are sure to make you laugh riotously even today.
The feature film was acknowledged by the American Film Institute in three of its lists: AFI's 100 Years ... 100 Laughs (2000), AFI's 100 Years ... 100 Movie Quotes (2005), and AFI's 10 Top 10 (2008).
4. The Blind Side (2009)
The stunning Sandra Bullock steals the show in this hugely popular biographical sports drama film which has been written and directed by John Lee Hancock.
Based on the book of the same name by Michael Lewis, the story follows the journey of a homeless African-American teenager, Michael, who gets adopted by a Caucasian family.
The family supports him in his various endeavors and not only helps him in overpowering his learning difficulties but also in attaining the height of success in American football.
Bullock won an Academy Award for Best Actress for her performance in this movie which truly manages to tug at your heartstrings.
3. Silver Linings Playbook (2012)
We are almost certain that most of you wouldn't have expected to find this brilliant romantic comedy-drama on this list.
However, the reason why we are including it is that the sub-theme of football exists on the periphery here and, in fact, becomes a tad prominent as the story progresses.
Written and directed by David O. Russell, the story follows the journey of Pat; a guy who is sent to a mental health facility after he attacks his wife's lover.
However, he walks out of the center after eight months and chances upon Tiffany; a girl who seems to be dealing with issues of her own.
While Bradley Cooper plays the troubled bipolar with confidence here, both Jennifer Lawrence and Robert De Niro deliver compelling performances each to ensure that Silver Linings Playbook ends up providing its audience with an unforgettable viewing experience.
2. Undefeated (2011)
Directed by T.J. Martin and Daniel Lindsay, Undefeated traces the life-changing journey of three underprivileged students from inner-city Memphis.
We get to see how their volunteer coach does his best in helping them beat the odds stacked against them both on and off the field.
The feature not only aims to document the struggles and successes of the inner-city high school football team the Manassas Tigers during the 2009 season but it also casts a light on the personal lives of the players.
Screened at the 2012 Sundance Film Festival as part of its New Frontier program, this documentary film goes on to convey rather strongly that there are many solid stories to be told at the high school level.
1. Remember the Titans (2000)
Directed by Boaz Yakin, this critically-acclaimed biographical sports drama film is based on the true story of coach Herman Boone, who has been portrayed by the dynamic Denzel Washington.
The plot traces African-American Herman Boone's journey after he is appointed as the new coach of a high school team.
The catch here is that the school is playing as a racially-integrated unit for the very first time.
Touted to be one of the best football movies of all time, Remember the Titans is a crowd-pleasing entertainer that has been injected with a healthy and much-needed dose of social commentary.
The motion picture thrives on its terrific performances, led, of course, by Washington.