»
Top 30 Pandemic, Epidemic & Virus Outbreak Movies
Bijesh-Updated Jan 20, 2023
---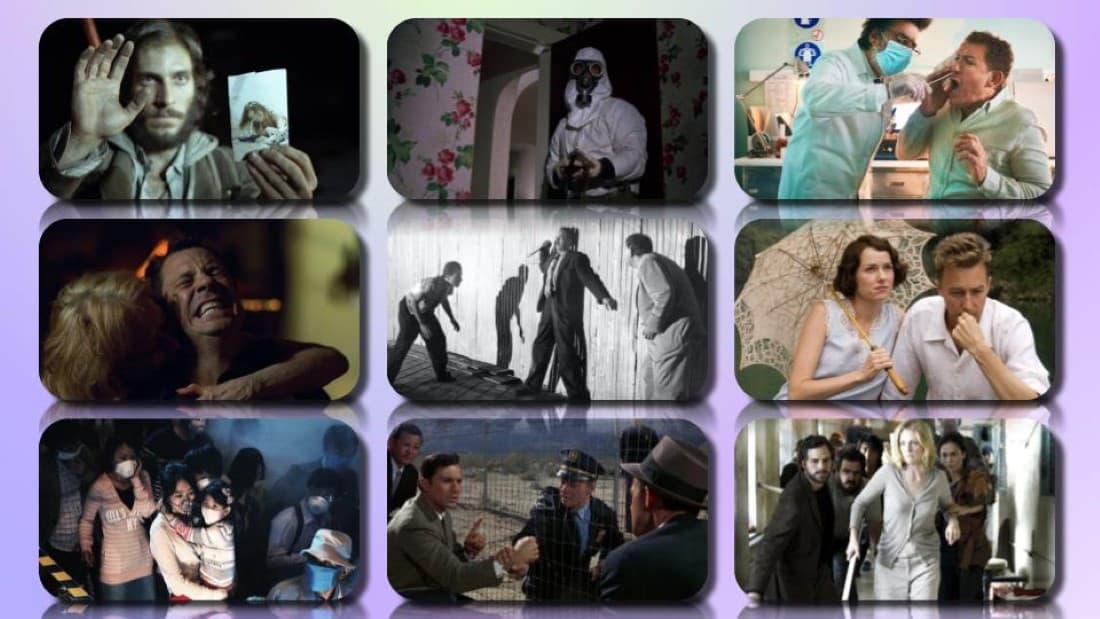 With the ongoing peaks and drops of covid-19 and the recent monkeypox virus scare, Entoin thought it would be entertaining as well as enlightening to share our top-30 list of real-life pandemic and virus-based movies.
We have avoided including any zombie titles in this list – decided to save that one for another day.
Which of the movies on this list have you already seen, and which ones are you keen to watch for the first time?
1. The Last Days (2013)
When a mysterious pandemic spreads all over the planet, people give in to an irrational sense of fear, particularly of open spaces.
Something about the outdoors spells doom for anyone foolish enough to step therein. Before long, the global populace is stuck inside buildings for their own survival.
This Spanish-language movie unfolds in Barcelona, Spain, where chaos has well and truly taken root. Marc (played by Quim Gutiérrez) is determined to find his missing girlfriend Julia (played by Marta Etura).
The caveat: he has to seek her out without stepping foot outside.
2. Quarantine (2008)
| Entity | Detail |
| --- | --- |
| Title | Quarantine |
| Year | 2008 |
| Watch time | 89 min |
| Directors | John Erick Dowdle |
| Cast | Jennifer Carpenter, Steve Harris, Columbus Short, Jay Hernandez |
| Box Office | $31.69M |
| IMDb Rating | 5.9 |
| Metascore | 53 |
| Writers | John Erick Dowdle |
| Music By | Ken Seng |
| Cinematography By | Elliot Greenberg |
| Costume By | Maya Lieberman |
Tasked with spending the night shift with a LA fire crew, a TV reporter and her cameraman find themselves at another stressful journo task.
A 911 call beckons them to a small apartment where they discover police officers are at work investigating horrifying screams coming from one of the rooms.
The woman they encounter seems to be infected with an unknown virus. She goes on to attack a few of the residents, prompting the journalists to find a way out.
However, the entire building has been quarantined and all outside communication obstructed. Their news crew footage seems to be the only real evidence that can be used as proof that something deadly has come into play.
3. Flu (2013)
Bundang, a suburb of Seoul, is host to a historic-worst epidemic. Byung-woo (played by Lee Sang-Yeob) dies from an unknown virus infection a short while after helping illegal immigrants cross the border.
Before long, several residents display signs of fatal infection from this mysterious airborne virus. A city of half a million people has soon sealed off as the government ordered a total lockdown.
Infectious disease specialist Kim In-hae (played by Soo Ae) and rescue worker Kang Ji-Koo (played by Jang Hyuk) enter the city in the hopes of finding the blood serum of the index case, which alone seems capable of helping them develop a vaccine against this fast-spreading disease.
4. Carriers (2009)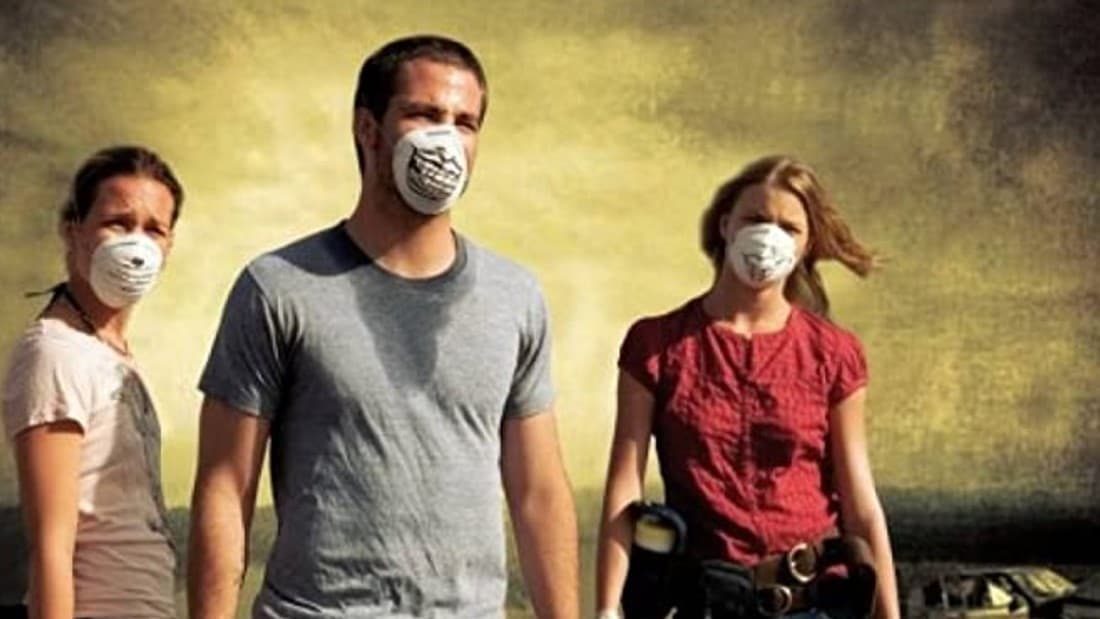 | Entity | Detail |
| --- | --- |
| Title | Carriers |
| Year | 2009 |
| Watch time | 84 min |
| Directors | David Pastor, Àlex Pastor |
| Cast | Chris Pine, Piper Perabo, Lou Taylor Pucci, Emily VanCamp |
| Box Office | $0.09M |
| IMDb Rating | 6 |
| Metascore | --- |
| Writers | Àlex Pastor |
| Music By | Peter Nashel |
| Cinematography By | Benoît Debie |
| Costume By | Jill Newell |
Brian (played by Chris Pine) and his girlfriend Bobby (played by Piper Perabo) are experiencing a devastating virus outbreak that has affected the entire world.
Hoping to find sanctuary, they make for their childhood beach vacation spot when their vehicle breaks down in the desert.
They find themselves negotiating with a man named Frank (played by Christopher Meloni) who seems to be stranded there and out of gas.
Frank tells them he is eager to get his daughter Jodie (played by Kiernan Shipka) to the nearest hospital because she is infected with an unknown ailment.
The group decides to travel as one. However, moral dilemmas soon arise and set their already fragile alliance careering in a downward spiral.
5. The Thaw (2009)
| Entity | Detail |
| --- | --- |
| Title | The Thaw |
| Year | 2009 |
| Watch time | 94 min |
| Directors | Mark A. Lewis |
| Cast | Val Kilmer, Martha MacIsaac, Kyle Schmid, William B. Davis |
| Box Office | --- |
| IMDb Rating | 5.2 |
| Metascore | --- |
| Writers | Mark A. Lewis |
| Music By | Michael Neilson |
| Cinematography By | Jan Kiesser |
| Costume By | Terry Joseph |
Infamous ecologist Dr. David Krupien (played by Val Kilmer) is leading a research team in the Arctic assisted by Jane (played by Anne Marie DeLuise) and Edward (played by John Callander).
They are studying the impact of global warming on polar bears. David's daughter Evelyn (played by Martha MacIsaac) along with his students Federico Fulce (played by Kyle Schmid), Ling Chen (played by Steph Song), and Atom Galen (played by Aaron Ashmore) is about to come over to partake in the research team's efforts when David Krupien realizes that a dangerous prehistoric parasite from inside a mammoth corpse has thawed.
Its spread is alarming enough for him to contact the helicopter pilot Bart (played by Viv Leacock) and demand that he keep from bringing the others over.
They arrive regardless, only to learn that Jane has become terminally ill owing to the unknown virus. Additionally, the parasite has made her go berserk.
Jane has apparently sabotaged the base's own helicopter and shot Edward and David. Quarantine measures are enforced if only to keep the virus from getting out while the surviving members of the team contact the CDC.
But among the group are some people who refuse to see sense even at an urgent time like this.
6. It Comes at Night (2017)
| Entity | Detail |
| --- | --- |
| Title | It Comes at Night |
| Year | 2017 |
| Watch time | 91 min |
| Directors | Trey Edward Shults |
| Cast | Joel Edgerton, Christopher Abbott, Carmen Ejogo, Riley Keough |
| Box Office | $13.99M |
| IMDb Rating | 6.2 |
| Metascore | 78 |
| Writers | Trey Edward Shults |
| Music By | Brian McOmber |
| Cinematography By | Drew Daniels |
| Costume By | Karen Murphy |
In a house all boarded up and stood deep in a forest, Paul (played by Joel Edgerton) along with his wife Sarah (played by Carmen Ejogo) and son Travis (played by Kelvin Harrison Jr.) have put themselves through forced self-quarantine after learning that they've contracted a virulent ailment that could prove fatal.
They interact only sparsely with the outside world. But when a family in distress comes a-calling they have little choice but to let them in.
The already delicate balance in Paul's household shatters when tensions reach boiling point. What began as potential co-existence to weather out the virus soon turns into paranoia and mistrust.
A volatile environment blooms, one that threatens all their lives more than a virus ever can.
7. The Satan Bug (1965)
| Entity | Detail |
| --- | --- |
| Title | The Satan Bug |
| Year | 1965 |
| Watch time | 114 min |
| Directors | John Sturges |
| Cast | George Maharis, Richard Basehart, Anne Francis, Dana Andrews |
| Box Office | --- |
| IMDb Rating | 6.2 |
| Metascore | --- |
| Writers | Alistair MacLean |
| Music By | Jerry Goldsmith |
| Cinematography By | Robert Surtees |
| Costume By | Emile LaVigne |
Lee Barrett (played by George Maharis) used to be a security officer at a top-secret government laboratory known simply as 'Station 3'.
Insubordination led to his immediate dismissal, but he was later called back to duty by the high-ranking General Williams (played by Dana Andrews).
The reason: dangerous bio-warfare agents have been stolen from the lab complex, one of which is the dreaded Satan Bug.
The latter is a powerful virulent bacteriological weapon that, if unleashed, has the potential to annihilate all humankind in months if not weeks.
The thief makes contact and threatens to release the virus strain in a public spot. The dire responsibility of stopping this maniac falls to Lee, who is at his wit's end as to how he is going to stop something this fatalistic without the world also coming to know about it.
8. Blindness (2008)
An epidemic of 'instant blindness' ravages a city wherein the first ones afflicted have already been quarantined by the authorities.
They are housed in an abandoned mental hospital where a 'society of the blind' gradually grows and then cracks.
The physically powerful and those who are criminally inclined prey on the others, and hoard whatever little food rations remain.
They also commit unforgivable deeds in their attempts to enforce power. One female eyewitness to the whole nightmare remains.
Her sight is unaffected by the mysterious plague – she followed her infected husband into quarantine. Knowing that she has to keep her vision a secret, she helps guide strangers to safety where she can manage it.
Some of them have become like family to her by this time. She leads them out of the asylum and into the derelict streets where civilization has all but gone extinct.
9. The Painted Veil (2006)
| Entity | Detail |
| --- | --- |
| Title | The Painted Veil |
| Year | 2006 |
| Watch time | 125 min |
| Directors | John Curran |
| Cast | Naomi Watts, Edward Norton, Liev Schreiber, Catherine An |
| Box Office | $8.06M |
| IMDb Rating | 7.5 |
| Metascore | 69 |
| Writers | Ron Nyswaner |
| Music By | Alexandre Desplat |
| Cinematography By | Stuart Dryburgh |
| Costume By | Juhua Tu |
When Kitty (played by Naomi Watts) met the shy but intelligent Dr. Walter (played by Edward Norton), little did she know that his specialty in infectious diseases will soon become extremely useful?
They share a convenient marriage, one that takes the couple to China for Walter's work. Around this time, the doctor learns of his wife's infidelity with handsome and clever diplomat Charlie Townsend (played by Liev Schreiber).
Walter is upset with Kitty, but he also has a cholera outbreak to resolve. Their indifferent partnership is certifiably loveless, more so now than before.
A failing marriage tries to survive in an environment where virus strains are wreaking their own kind of havoc in the lives of innocent people.
10. Outbreak (1995)
| Entity | Detail |
| --- | --- |
| Title | Outbreak |
| Year | 1995 |
| Watch time | 127 min |
| Directors | Wolfgang Petersen |
| Cast | Dustin Hoffman, Rene Russo, Morgan Freeman, Kevin Spacey |
| Box Office | $67.82M |
| IMDb Rating | 6.6 |
| Metascore | 64 |
| Writers | Laurence Dworet |
| Music By | James Newton Howard |
| Cinematography By | Michael Ballhaus |
| Costume By | William Sandell |
Colonel Dr. Sam Daniels (played by Dustin Hoffman) is experiencing a painful divorce from ex-wife Robby Keough (played by Rene Russo).
Robby holds a prominent position at the CDC when he gets appointed by his boss, General Billy Ford (played by Morgan Freeman), to investigate an African village that has become affected by a lethal disease.
Accompanying him on this deadly mission are scientist Casey Schuler (played by Kevin Spacey) and Major Dr. Salt (played by Cuba Gooding Jr.).
Fearing contamination that could return to the USA, Daniels notifies Ford to take every precaution. However, an African national smuggle a monkey across the US – the animal is a carrier of a fatal disease.
Customs employee Jimbo Scott (played by Patrick Dempsey) fails to sell the creature on the black market and so releases the monkey in the woods.
Before long, a virus outbreak begins in a small California town and starts to spread. Sam, Robby, and the rest of the team have to stop the disease from getting out of control.
Around this time, he learns some dark secrets from his superior General Donald McClintock (played by Donald Sutherland) regarding the actual purpose of this fatal virus.
11. The Masque of the Red Death (1964)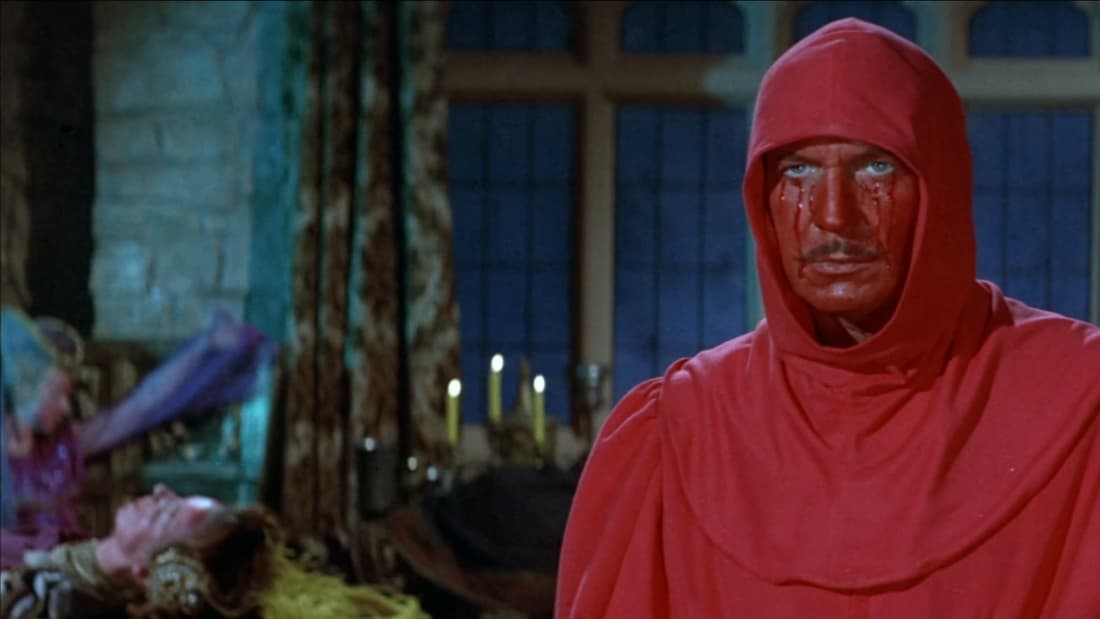 | Entity | Detail |
| --- | --- |
| Title | The Masque of the Red Death |
| Year | 1964 |
| Watch time | 89 min |
| Directors | Roger Corman |
| Cast | Vincent Price, Hazel Court, Jane Asher, David Weston |
| Box Office | --- |
| IMDb Rating | 7 |
| Metascore | 77 |
| Writers | Charles Beaumont |
| Music By | David Lee |
| Cinematography By | Nicolas Roeg |
| Costume By | Daniel Haller |
Prince Prospero (played by Vincent Price), a rather cruel man, makes his way through Catania village and observes that peasants are dying from the Red Death plague.
He demands the village be burned down. He soon takes offense with villagers like Gino (played by David Weston) and his father-in-law Ludovico (played by Nigel Green) and decides to end their lives.
Gino's wife, the beautiful Francesca (played by Jane Asher), pleads for them to be pardoned. Prospero ferries all three of them to his castle and secretly aims to take advantage of Francesca.
It is known that Prospero worships Satan, but his invitation of shelter from the plague outside makes for an irrefutable offer.
A masked ball is planned at the castle. On this occasion, Prospero spots a red-hooded stranger whom he believes is Satan himself.
However, the truth is quite different and may not bode well for the prince.
12. Epidemic (1987)
Screenwriters Lars von Trier and Niels Vørsel (playing themselves) get busy writing a script featuring a plague-driven outbreak.
Renowned epidemiologist Dr. Mesmer (played by Lars von Trier) has made up his mind to leave the Faculty of Medicine and head to the city outskirts where he aims to assist the inhabitants.
Before long, a mysterious illness spreads all over the world. Around this time, the writers are off to Germany to attend a meeting and visit their producer.
There they encounter a sick hypnotized woman who only adds to their travails.
13. Panic in the Streets (1950)
| Entity | Detail |
| --- | --- |
| Title | Panic in the Streets |
| Year | 1950 |
| Watch time | 96 min |
| Directors | Elia Kazan |
| Cast | Richard Widmark, Paul Douglas, Barbara Bel Geddes, Jack Palance |
| Box Office | --- |
| IMDb Rating | 7.3 |
| Metascore | --- |
| Writers | Richard Murphy |
| Music By | Alfred Newman |
| Cinematography By | Joseph MacDonald |
| Costume By | Thomas Little |
One day, a New Orleans dock reveals a corpse. A swift police investigation proves death by gunshot. However, the police surgeon observes that the dead man also has strange symptoms.
Doctor with the U. S. Public Health Service, Lt. Commander Clinton Reed (played by Richard Widmark), soon confirms the diagnosis: a contagious pneumonic plague.
He fails to convince local officials to help him find all those who came in contact with the dead body.
Despite a supportive mayor, the police and sundry remain doubtful of Clinton's findings. He aims to keep the public from panicking until they know more.
The dead man's identity is also obscured. According to Clinton, though, they have only forty hours to halt the spread of the disease.
Police Capt. Tom Warren (played by Paul Douglas) gets busy with key paperwork. Meanwhile, Clinton heads out to find the people who killed the plagued man.
14. The Crazies (1973)
| Entity | Detail |
| --- | --- |
| Title | The Crazies |
| Year | 1973 |
| Watch time | 103 min |
| Directors | George A. Romero |
| Cast | Lane Carroll, Will MacMillan, Harold Wayne Jones, Lloyd Hollar |
| Box Office | $0.15M |
| IMDb Rating | 6.1 |
| Metascore | 63 |
| Writers | Paul McCollough |
| Music By | Bruce Roberts |
| Cinematography By | S. William Hinzman |
| Costume By | Tony Pantanella |
An important plane crashes on a hill near Evans City. For the next six days, it leaks a bacteriological weapon named 'Trixie' designed to affect only humans.
Under Colonel Peckem's (played by Lloyd Hollar) command, the Army makes swift work sealing off the town in the hopes of containing the virus.
There is no cure for this pathogen, which drives people mad or kills them outright. Pregnant nurse Judy (played by Lane Carroll) and her husband David (played by Will MacMillan), along with their buddy Clank (played by Harold Wayne Jones), an acquaintance named Artie (played by Richard Liberty), and his daughter Kathy (played by Lynn Lowry) attempt a border crossing.
The Army is not too happy about their decision and starts to hunt them down. Around this time, scientist Dr. Ralston Watts (played by Richard France) is busy studying infected blood samples in the hopes of finding a cure.
15. Stuck Together (2021)
Empty and silent streets are not the norm in Paris. Many have fled the capital. Among those who remain are seven families who are under lockdown in a building situated on Rue de l'Humanité.
The people inside include a self-made man desperate to be as smart as his 8-year-old son, a café owner who repurposes pear alcohol as hydroalcoholic gel, a geeky online sports coach who gets chubbier by the week, and his pregnant singer fiancée who is anxious about going to the hospital on her own.
Three months of lockdown cover the families' drama, happiness, and fears. Just because they're all stuck together does not mean they will reconcile, but there is hope that they will.
16. Black Death (2010)
The year is 1348. England stands devastated by the Bubonic Plague. Osmund (played by Eddie Redmayne) is a young monk who convinces his beloved Averill (played by Kimberley Nixon) to go with him to an isolated village near Dentwich Forest.
He has learned that the plague has not reached that far. Plans change when Osmund finds himself staying at the Staveley Monastery.
Before long, bishop Ulric (played by Sean Bean) sends an emissary to recruit a religious man to accompany his soldiers and him to that same village.
The bishop believes a necromancer is bringing people back to life there and keeping the village itself safe from the plague.
The trip proves eventful, what with thieves and the challenges of maneuvering the forest itself. One such altercation gives Osmund a heart-wrenching look at Averill's bloody clothes – she kept her word to meet him in the forest.
When they finally arrive at the village, atheist villagers are enjoying life and remain, to all intents and purposes, healthy.
The village leader Hob (played by Tim McInnerny) and alchemist Langiva (played by Carice van Houten) welcome the newcomers, unaware that they do not exactly come in peace.
17. The Seventh Seal (1957)
During medieval times, the knight Antonius Block (played by Max von Sydow) and his squire Jöns (played by Gunnar Björnstrand) have come back home to Sweden after fighting in the deadly Crusades.
Their homecoming happiness is ruined when they learn that a plague has ravished the land. Personally, Antonius has been fighting inner demons, particularly the personification of Death (played by Bengt Ekerot) itself.
Affirming his need to survive, he challenges Death to a game of chess, with the outcome determining whether or not Antonius and others will get to live.
By this time, the knight no longer believes in god. He ardently seeks a reason why a plague has affected so many innocent lives.
He believes he has at least one major thing to do before he dies. Along with the journey home, both knight and squire encounter an acting troupe performing a passionate play.
He offers them safe travels through his castle and onward. Time spent with the troupe provides Antonius with key answers to many personal misgivings.
He particularly learns plenty from Jof (played by Nils Poppe), Mia (played by Bibi Andersson), and their infant son Mikael.
18. 1918 (1985)
The year is 1918. The United States is deep into World War I. German immigrants become suspected traitors or saboteurs.
Around this time, crucial liberty bonds are stolen. Patriotism and propaganda alike make their rounds. Horace Robedaux (played by William Converse-Roberts) is living a quiet life in Texas when he faces the pressure to enlist.
If he does, he will have no choice but to leave his wife Elizabeth (played by Hallie Foote) and their little daughter Jenny behind.
Elizabeth will have to suffer the company of her intolerable younger brother (played by Matthew Broderick) and her strict father who was against her marriage to Horace in the first place.
The father rises to the occasion and promises to take care of Elizabeth and Jenny so Horace can go fight for his country.
Around this tumultuous time, the influenza epidemic is spreading in waves throughout the nation, and it could derail several plans for several people.
19. The Cassandra Crossing (1976)
A deadly disease infects all passengers aboard a European train. The motley group is forced into quarantine and denied any chance of leaving the train so the disease won't spread and claim more lives.
The Cassandra Crossing already has a legend to its name. Add international smuggling and government intrigue to the mix, and this ahead-of-its-time virus-themed movie has a lot going on that is deserving of appreciation.
20. Virus: The End (1980)
Most of the global population has been decimated due to a deadly virus, which scientists have observed remains dormant in sub-zero temperatures.
Those who were working at a polar station in Antarctica were thus unaffected. It now falls to them to help rebuild humanity.
Around this time, a seismologist discovers a potential earthquake is about to strike Washington. Military personnel from America, England, and Russia soon learn that the quake will trigger a series of retaliatory events that will end with Russia launching an attack on the polar station.
A small team of two men is immediately dispatched to Washington to help keep the quake from escalating diplomatic matters at a time when a deadly virus is already rampant in the world.
21. Light of My Life (2019)
| Entity | Detail |
| --- | --- |
| Title | Light of My Life |
| Year | 2019 |
| Watch time | 119 min |
| Directors | Casey Affleck |
| Cast | Anna Pniowsky, Casey Affleck, Tom Bower, Elisabeth Moss |
| Box Office | --- |
| IMDb Rating | 6.6 |
| Metascore | 67 |
| Writers | Casey Affleck |
| Music By | Daniel Hart |
| Cinematography By | Adam Arkapaw |
| Costume By | Sara K White |
A decade has come and gone, and society has been ravaged by a pandemic.
A parent and child duo journey through the outskirts of a decimated location, one of many where entire populations have been wiped out.
The father struggles to keep his child safe as they steer through a dark almost post-apocalyptic world where the very essence of humanity is tested.
22. The Killer That Stalked New York (1950)
| Entity | Detail |
| --- | --- |
| Title | The Killer That Stalked New York |
| Year | 1950 |
| Watch time | 79 min |
| Directors | Earl McEvoy |
| Cast | Evelyn Keyes, Charles Korvin, William Bishop, Dorothy Malone |
| Box Office | --- |
| IMDb Rating | 6.4 |
| Metascore | --- |
| Writers | Harry Essex |
| Music By | Hans J. Salter |
| Cinematography By | Joseph F. Biroc |
| Costume By | Louis Diage |
Sheila Bennet (played by Evelyn Keyes) makes her way from Cuba to New York with around $40,000 worth of diamonds, a result of illegal smuggling operations.
In her body, though, she carries the vestiges of a devastating smallpox virus that has the potential to trigger an unstoppable epidemic.
Treasury agent Johnson (played by Barry Kelley) is on her tail, only to keep losing her. He remains ignorant of the real danger Sheila poses.
Meanwhile, Public Health Doctor Ben Wood (played by William Bishop) is eager to find the unidentified person who is the apparent source of a deadly disease that has begun to spread.
He has no clue yet that it is Sheila he is looking for. Sheila, on the other hand, is growing increasingly ill and has her own problems to look after.
Her husband Matt Krane (played by Charles Korvin) aims to abscond with the diamonds and leave her behind.
23. Deranged (2012)
Ordinary middle-aged man Jae-hyeok (played by Myung-Min Kim) is employed as a medical supplies salesman. His job sees him being hassled by doctors on a routine basis.
His brother Jae-Pil (played by Dong-wan Kim) works as a detective who is quite self-centered and is mostly interested in the stock market.
Before long, a series of gruesome skeletal corpses are found all over the country, sparking public hysteria. CCTV footage of people jumping into water bodies as though forced to commit suicide does not sit well with the police commissioner.
Soon, hundreds of similar reports come in, prompting the police to up their investigation even though none of them are aware of the actual cause of the madness.
The government is left with little choice but to declare a national emergency, one that sees Jae-pil meeting the mayor of a small town to learn more about his witnessing several men wearing work uniforms dumping dead and infected dogs into streams.
The detective realizes that a serious conspiracy is at work, not to forget a potential viral outbreak. The disease has spread far and infected Jae-hyeok wife and kids, who start to show the same self-killing symptoms as the other victims.
Jae-hyeok grows desperate for medicine to help them while Jae-pil learns that a possible cure resides in a warehouse.
24. Cabin Fever (2002)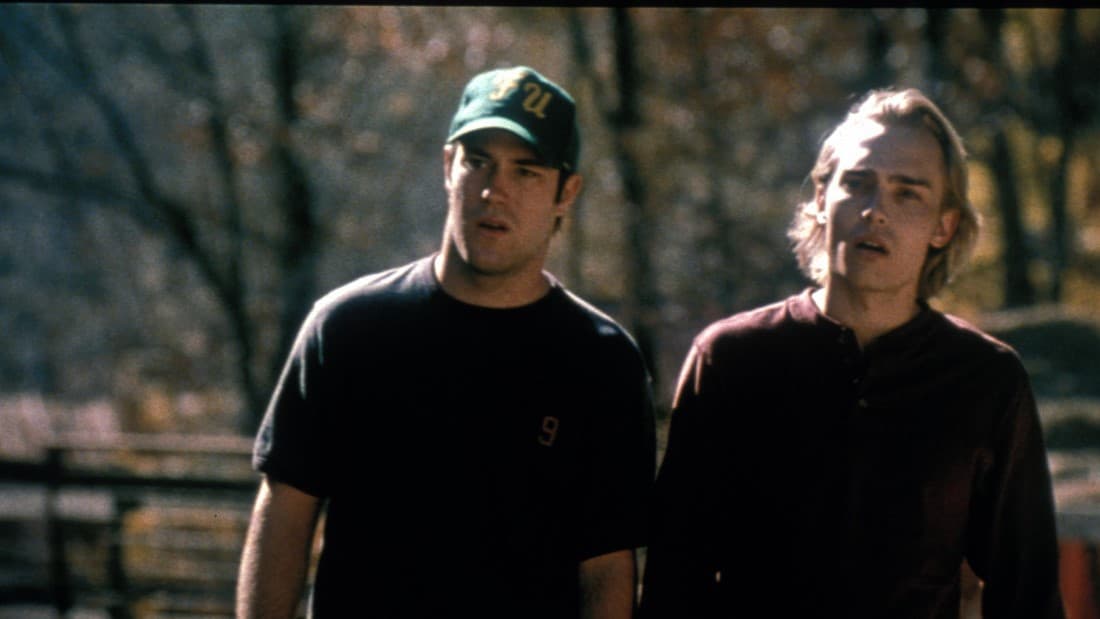 | Entity | Detail |
| --- | --- |
| Title | Cabin Fever |
| Year | 2002 |
| Watch time | 93 min |
| Directors | Eli Roth |
| Cast | Jordan Ladd, Rider Strong, James DeBello, Cerina Vincent |
| Box Office | $21.16M |
| IMDb Rating | 5.6 |
| Metascore | 56 |
| Writers | Eli Roth |
| Music By | Angelo Badalamenti Nathan Barr |
| Cinematography By | Scott Kevan |
| Costume By | Jessica Elder |
Friends from college Paul (played by Rider Strong), Jeff (played by Joey Kern), Marcy (played by Cerina Vincent), Bert (played by James DeBello), and Karen (played by Jordan Ladd) are off to spend time in a rented cabin in the woods.
They want to have fun for a whole week and make memories. A short while after they arrive, a man with a strange disease begs their aid.
In a fit of panic and fear, the friends end up burning the man who then falls to his death into a water reservoir.
Not knowing where the dead body actually is, the group – all except for Karen – decides to drink only beer for fear of contracting a viral illness from the water.
Karen, uncaring and unafraid, consumes tap water to prove her friends wrong. She ends up contracting the mysterious ailment, which is a flesh-eating virus.
Before long, nearby locals are alerted to the fact and are not keen on letting anyone in the cabin go home alive.
25. Mayhem (2017)
| Entity | Detail |
| --- | --- |
| Title | Mayhem |
| Year | 2017 |
| Watch time | 86 min |
| Directors | Joe Lynch |
| Cast | Steven Yeun, Samara Weaving, Steven Brand, Caroline Chikezie |
| Box Office | --- |
| IMDb Rating | 6.4 |
| Metascore | 62 |
| Writers | Matias Caruso |
| Music By | Steve Moore |
| Cinematography By | Steve Gainer |
| Costume By | Ana Milosevic |
Having bad days is terrible in itself. Derek Cho (played by Steven Yeun) is experiencing one of the worst ones of his life.
Not only was he unfairly fired from his job, but he also learns that his law firm's building is in complete lockdown.
They have been quarantined, apparently, owing to the spread of a deadly and mysterious virus that is causing sheer anarchy and bloodlust among all those who are infected.
The victims can't help but express their wildest rashest impulses. Derek teams up with former client Melanie Cross (played by Samara Weaving) to stay safe.
Melanie, however, has her own grudges just waiting to explode following the spread of the infection. Derek is soon left fighting tooth and nail to stay alive and get himself to the executives on the top floor.
The virus has also infected him, and he is keen on exacting vengeance for his unjust dismissal from the workplace.
26. Cujo (1983)
| Entity | Detail |
| --- | --- |
| Title | Cujo |
| Year | 1983 |
| Watch time | 93 min |
| Directors | Lewis Teague |
| Cast | Dee Wallace, Daniel Hugh Kelly, Danny Pintauro, Christopher Stone |
| Box Office | $21.20M |
| IMDb Rating | 6.1 |
| Metascore | 57 |
| Writers | Stephen King |
| Music By | Charles Bernstein |
| Cinematography By | Jan de Bont |
| Costume By | Jack Buehler |
Rabies is a virus in its own right, and this movie uses it to redefine the word 'sick' through a St. Bernard dog that gets infected and turns monstrously rabid.
Frustrated suburban housewife Donna Trenton (played by Dee Wallace) is found having an affair with none other than her own husband Vic (played by Daniel Hugh Kelly).
Meanwhile, young Brett Camber (played by Billy Jayne) spends time with his pet dog Cujo who is his only real friend in life.
But when a rabid bat bites the dog, the adorable and warm canine practically turns into a hellhound that fails to recognize its own family.
Around this time, Vic has gone away on business and to rethink his marriage, leaving Donna alone with their 5-year-old son.
They take the car to go see Mr. Cambers who owns a car shop. Before long, Cujo shows signs of madness that causes sheer terror in the unlucky few in his vicinity who have no clue how they're going to escape the area with Cujo redefining the meaning of the phrase 'beware of dog'.
This film was adapted from Stephen King's bestselling novel of the same name.
27. The Andromeda Strain (1971)
| Entity | Detail |
| --- | --- |
| Title | The Andromeda Strain |
| Year | 1971 |
| Watch time | 131 min |
| Directors | Robert Wise |
| Cast | James Olson, Arthur Hill, David Wayne, Kate Reid |
| Box Office | $3.42M |
| IMDb Rating | 7.2 |
| Metascore | 60 |
| Writers | Michael Crichton |
| Music By | Gil Mellé |
| Cinematography By | Richard H. Kline |
| Costume By | William H. Tuntke |
When the residents of Piedmont, New Mexico, are all discovered dead from unknown causes immediately following the return of a space satellite to Earth, the head of the US Air Force's Project Scoop is left with little choice but to declare an emergency.
Many years ago a team of eminent scientists headed by Dr. Jeremy Stone (played by Arthur Hill) had insisted on the construction of a secure laboratory facility.
The latter was intended to contain any alien biological life form that might have piggybacked to Earth on one of their satellites.
Years later, in present-day, Stone and his team – including Drs. Charles Dutton (played by David Wayne), Ruth Leavitt (played by Kate Reid), and Mark Hall (played by James Olson) – head to the specialized facility christened 'Wildfire'.
Their aim is to find and isolate an extra-terrestrial life form that is the direct source of a deadly viral ailment.
However, the scientists remain puzzled about how two residents – an aging drunkard and a six-month-old infant – managed to survive when all the other town residents perished.
Studying the alien entity, the scientists confirm that it has already mutated and presents an immediate threat to all those in the lab complex.
Should the virus-creature attempt to escape, the lab stand equipped with a nuclear self-destruct option that just might need to be used?
28. The Happening (2008)
| Entity | Detail |
| --- | --- |
| Title | The Happening |
| Year | 2008 |
| Watch time | 91 min |
| Directors | M. Night Shyamalan |
| Cast | Mark Wahlberg, Zooey Deschanel, John Leguizamo, Ashlyn Sanchez |
| Box Office | $64.51M |
| IMDb Rating | 5 |
| Metascore | 34 |
| Writers | M. Night Shyamalan |
| Music By | James Newton Howard |
| Cinematography By | Tak Fujimoto |
| Costume By | Jay Hart |
High school science teacher Elliot Moore (played by Mark Wahlberg) engages his students in an active discussion about the mysterious and rather abrupt disappearance of bees.
He bases his talk on a recent NYT article. With Nature doing something unexplained, and with only theories about what might be happening to cause it, Elliot and his students are at their wits' end.
Before long, an urgent dilemma unravels all over the world. Scientists are left with little to no solid evidence let alone an explanation as to what flora, i.e., plant life, may have to do with this bizarre and silent event.
It begins in New York's Central Park where people suddenly start to behave in strange and frightful ways. Like several others, Elliot attempts to hide.
He is accompanied by his wife Alma (played by Zooey Deschanel) and Jess (played by Ashlyn Sanchez), the young daughter of a friend.
An invisible pathogen that exclusively targets humans is spreading far and fast, and it looks like nobody has the time to even find an answer that could help them survive it.
29. 12 Monkeys (1995)
| Entity | Detail |
| --- | --- |
| Title | 12 Monkeys |
| Year | 1995 |
| Watch time | 129 min |
| Directors | Terry Gilliam |
| Cast | Bruce Willis, Madeleine Stowe, Brad Pitt, Joseph Melito |
| Box Office | $57.14M |
| IMDb Rating | 8 |
| Metascore | 74 |
| Writers | Chris Marker |
| Music By | Paul Buckmaster |
| Cinematography By | Roger Pratt |
| Costume By | Jeffrey Beecroft |
A delusional patient hospitalized in a mental institution, James Cole (played by Bruce Willis) spouts nonsense about being a time-traveler from the year 2035.
It is the 90s and nobody truly believes him, mainly because he's interred in an asylum. James, however, is busy trying to fulfill his self-appointed mission of saving the world from a deadly and unstoppable virus that, if unleashed, has the power to kill billions.
In this almost-prophetic movie, Cole's psychiatrist Dr. Kathryn Railly (played by Madeleine Stowe) is the only one to give him the benefit of the doubt.
Before long, James encounters fellow inmate Jeffrey Goines (played by Brad Pitt) who is quite unhinged. Their meeting catalyzes something dark and sets into motion a series of inexplicable events that put pressure on the wall separating sanity and sense.
One thing leads to another and evidence arises about the involvement in the coming pandemic of a group known simply as the Army of the Twelve Monkeys, an extremist organization with a heartless mission.
30. Contagion (2011)
| Entity | Detail |
| --- | --- |
| Title | Contagion |
| Year | 2011 |
| Watch time | 106 min |
| Directors | Steven Soderbergh |
| Cast | Matt Damon, Kate Winslet, Jude Law, Gwyneth Paltrow |
| Box Office | $75.66M |
| IMDb Rating | 6.7 |
| Metascore | 70 |
| Writers | Scott Z. Burns |
| Music By | Cliff Martinez |
| Cinematography By | Steven Soderbergh |
| Costume By | Howard Cummings |
The mother of all pandemic movies, this title tracks the untimely death of an otherwise healthy woman named Beth Emhoff (played by Gwyneth Paltrow) and her as-healthy son Clark (played by Griffin Kane).
Grieving father Mitch Emhoff (played by Matt Damon) finds himself in shock when authorities come to quarantine him. Around this time, a virus pathogen has begun to infect thousands of people all over the world.
Both the Center for Disease Control and the World Health Organisation fails to discover the origins of the virus let alone ways to halt or slow its spread.
Faced with a veritable global contagion, they do their best to treat and contain it while also seeking Patient Zero on the side.
They have their hands full, what with riots, self-appointed prophets riling up the masses, rising death rates, and economic collapse.
There is no cure for this lethal virus that spreads through the air and via touch.