»
Top 50 Best Lesbian Movies To Watch [2023]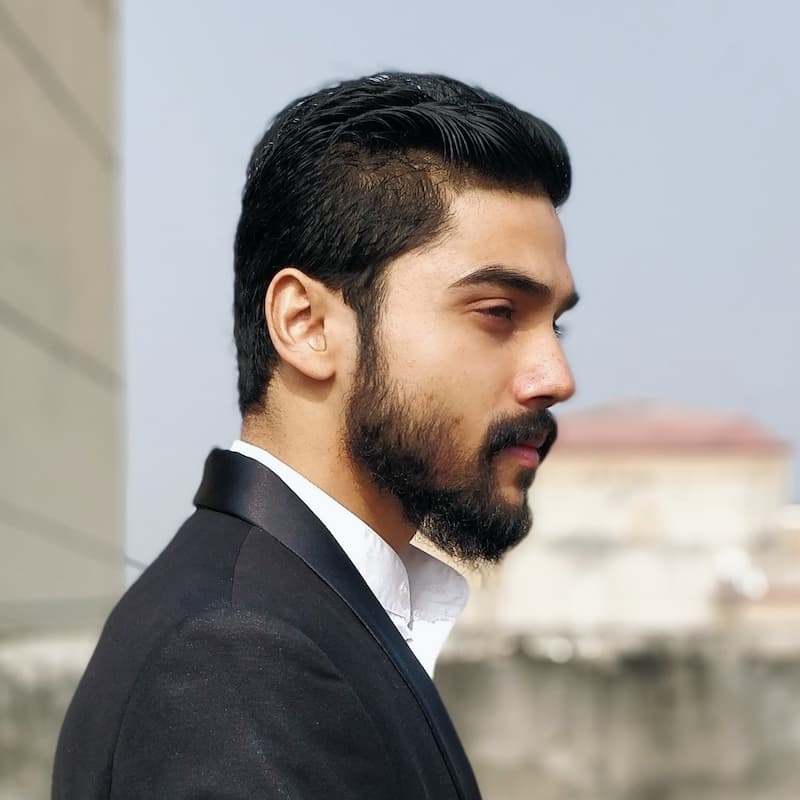 Shivam-Updated Jan 19, 2023
---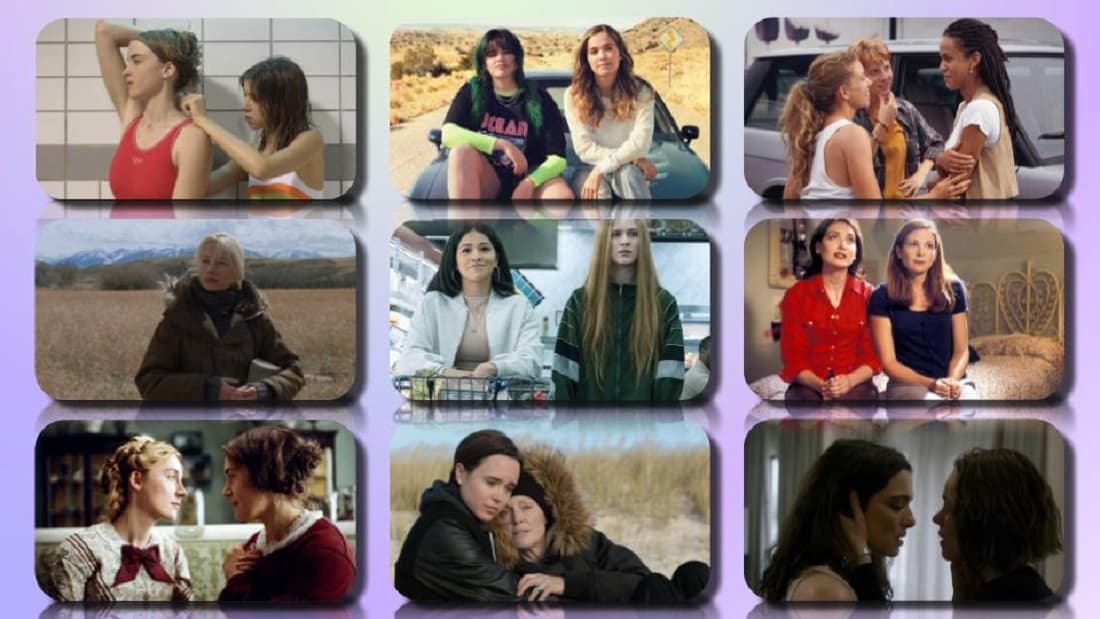 Cinema has always been, possibly, the most potent medium to ever represent love on its famed celluloid. This representation of love, over a century now, has made cinema one of the most endearing and enduring media of mass entertainment all over the world.
As trite as it may sound to enunciate that "representation matters'', it truly, most definitely, matters. Therefore, as we have noticed the desired advancement in LGBTQ+ rights in most corners of the world, the cinematic medium, and its respective vivid stories, claiming to represent love among those within the community, have also witnessed an undeniable boom.
Needless to mention, it is quite obvious that the representation of the LGBTQ community in mainstream media has only continued to proliferate.
With the passage of time, the viewers have had the privilege of stumbling upon refreshing lesbian-themed stories on both the big and the small screens.
Ardent fans of cinema would agree that anything that helps in making the mass medium richer is worth representing.
Therefore, it is imperative to mention that the representation of lesbians in cinematic projects does not only give them a definitive edge but also adds to cinema's claim of being the mirror image of society.
The inclusion of strong female characters backed by first-rate entertainment value and bold themes has led to the creation of lesbian-themed storylines; ones that strive to honor the traditions of queer cinema in all of its glory.
While some of these iconic lesbian and bisexual features have gone on to win awards and acclaim the world over, others have managed to reach cult status long after their releases.
It is not surprising then that our compilation is as colorful and varied as the beloved queer community itself.
So, allow this thorough list to be your guide to 50 of the finest lesbian projects to have hit the screens thus far.
50. Tell It to the Bees (2018)
Directed by Annabel Jankel and starring Anna Paquin and Holliday Grainger in crucial roles, this British romantic drama film is set in 1952.
We get to see Dr. Jean Markham return to her conservative Scottish hometown to take over the medical practice of her late father.
However, while at it, she falls for a woman and soon begins a passionate affair with her. Needless to mention, Markham is ostracized by the community when the residents find out that the woman she is involved with has a young son.
Tell it to the Bees proudly tells its viewers that it can tend to get super-cheesy at times. Nonetheless, it is also an equally sweet and moving tale of lesbian romance.
49. Unpregnant (2020)
This Rachel Lee Goldenberg-helmed feature film is based on the book Unpregnant by Ted Caplan and Jenni Hendricks. This is not your typical teen comedy for it attempts to deal with grave socio-economic and political issues such as abortion rights, the casualness of rape culture, and the obvious dominance of Christianity in the United States of America.
The story traces the journey of a 17-year-old Veronica, who, after discovering that she is pregnant, decides to go to Albuquerque in New Mexico along with her friend to have an abortion.
Even though the plot revolves around a teenage girl's battle to have an abortion, Unpregnant is also a story of revitalizing a lost companionship, among other things.
48. Kajillionaire (2015)
Director Miranda July delivered one of 2020's most talked-about lesbian love tales in her film Kajillionaire. Evan Rachel Wood and Gina Rodriguez headline this crime drama which tells the story of Old Dolio; the daughter of two scam artists who plots a new scheme to pay their rent.
However, Dolio's world turns upside down after her parents invite a stranger to team up with them. This motion picture, which had its world premiere at the Sundance Film Festival, is as bizarre as it is exciting, and its director wouldn't have had it any other way.
47. The Summer of Sangailė (2015)
Written and directed by Alantė Kavaitė, The Summer of Sangailė tracks the journey of a teenager who gets into a relationship with a 17-year-old, who happens to be visiting her family's lake house for the summer.
This motion picture is as dreamy and tender as it is corny. However, the makers have done a terrific job at providing a heartfelt experience to their viewers.
This feature film was screened in the Panorama section of the 65th Berlin International Film Festival. While it won an award for its direction in the Dramatic World Cinema category at the Sundance Film Festival in 2015, it even grabbed the Best Film, Best Actress (Julija Steponaitytė), and Best Set Design trophies at the Silver Crane Awards.
That said, we won't be surprised if you feel like booking yourself a ticket to Lithuania after having seen this flick.
46. Certain Women (2016)
Edited, written, and directed by Kelly Reichardt, Certain Women shows us Kristen Stewart playing an openly lesbian character for the first time on celluloid.
This motion picture is essentially a take on the lives of several lonely women. However, the one whose story appears to be the loneliest of them all is a queer story.
Even though the lesbian storyline in this thoughtful feature only takes up 1/3 of its screenplay, it does manage to make an impact.
Overall, Certain Women is an enthralling slow-burner that may end up surprising many.
45. Ammonite (2020)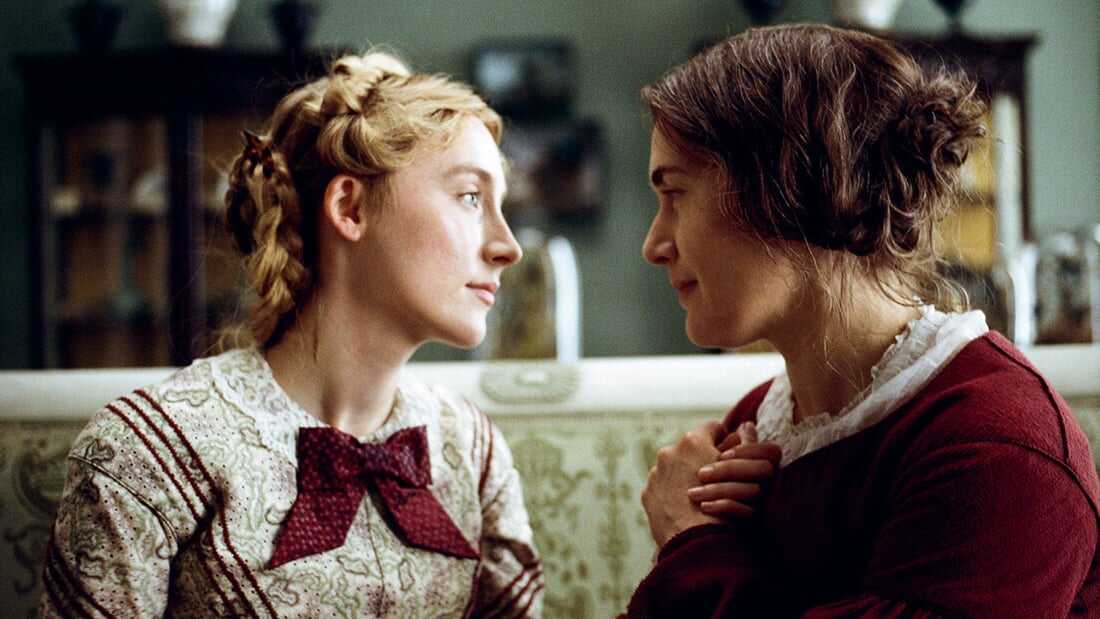 Written and directed by Francis Lee and featuring Kate Winslet and Saoirse Ronan in the lead, this romantic drama is loosely inspired by the life of British paleontologist Mary Anning.
The story showcases how the acclaimed fossil hunter, Mary Anning, is compelled to care for a rich visitor's sick wife, Charlotte Murchison.
While at it, she ends up getting into a passionate relationship with her; something that forces the two women to re-examine their respective lives.
Even though the historical accuracy of the motion picture has been questioned, what has been duly acknowledged is the fact that it has been toplined by two extraordinary leading ladies who leave no stone unturned to make it worth watching.
44. My Days of Mercy (2017)
Starring competent screen performers such as Kate Mara and Elliot Page in the lead, this Tali Shalom Ezer-helmed project aims to tell the story of a daughter of a man on death row who ends up falling in love with a woman.
The catch here is that the lady she is attracted to is on the opposing side of her family's political cause.
While this lesbian romantic drama can get you teary-eyed, it at least strives to do so with a sense of humor; one that might even get you thinking in places.
Watch it for the spectacular character projections of its two confident protagonists.
43. Appropriate Behavior (2014)
Written and directed by Desiree Akhavan, Appropriate Behavior is set in New York City. It tells us the story of a secretly bisexual Shirin, who hails from a traditional but well-off Persian family.
As most of you would have guessed by now, she struggles to come to terms with her identity and with the inevitable deterioration of her relationship with her girlfriend Maxine.
A fresh cultural perspective on the subject allows this motion picture to tell a contemporary romantic tale; one that is profound, warm, and humorous in equal measure.
42. Elisa & Marcela (2019)
There is just something about forbidden love that ends up providing any story and the individuals involved with a much-needed sense of freedom and belonging.
This Isabel Coixet directorial venture introduces us to Elisa and Marcela who meet and form a great friendship in 1885.
Not long after getting acquainted, they get into a serious relationship. However, given the socio-political scenario at the time, the couple has no option but to keep their romance a secret.
Things get interesting when, in 1901, Elisa decides to adopt a male identity to marry the woman that she loves.
While the critics praised the film's visual appeal, they felt that the screenplay lacked the passion and energy that could have helped it transform into a stirring melodrama.
Be that as it may, Elisa & Marcela shows how people in love are willing to go the extra mile to preserve what they've been fortunate enough to experience within their lives.
41. Freeheld (2015)
One of the most underrated features to make it to our list, Freeheld brings together Elliot Page and Julianne Moore to tell the moving story of a New Jersey police lieutenant Laurel Hester and her registered domestic partner, Stacie Andree.
We see the duo doing their best to secure Hester's pension benefits after she is unfortunately diagnosed with terminal cancer.
The undeniable chemistry between Page and Moore is arguably the biggest selling point of this motion picture. Also, the fact that Steve Carell and Michael Shannon are seen in supporting roles only backs its cause.
40. The Incredibly True Adventure of Two Girls in Love (1995)
Staying true to its title, this Maria Maggenti directorial venture aims to track the adventurous love story of two young women belonging to different social and economic backgrounds.
As the viewers get familiar with the two protagonists, they get to witness the typical struggles of a new-age romance.
Set in New York, this likable mid-90s feature carries the finest tropes of a trademark teen flick. While the 90s color palette and aesthetics work wonders for the film, its strength lies in its honest lead performances.
The makers have done a commendable job of portraying first love and all the excitement and crises that tag along with it.
39. Kissing Jessica Stein (2001)
Released in the same year as David Lynch's Mulholland Drive, this Charles Herman-Wurmfeld-helmed feature film is unique in the sense that it has been written and co-produced by its leading actors, Jennifer Westfeldt and Heather Juergensen.
The story follows a young woman, Jessica, who, while trying to find herself the perfect man, ends up getting romantically involved with a bisexual woman named Helen.
However, as their relationship progresses, the viewers notice Jessica finding it incredibly difficult to keep up with it. Kissing Jessica Stein, which premiered at the Los Angeles Film Festival in 2001, was lauded for its positive depiction of a same-sex relationship.
38. Disobedience (2017)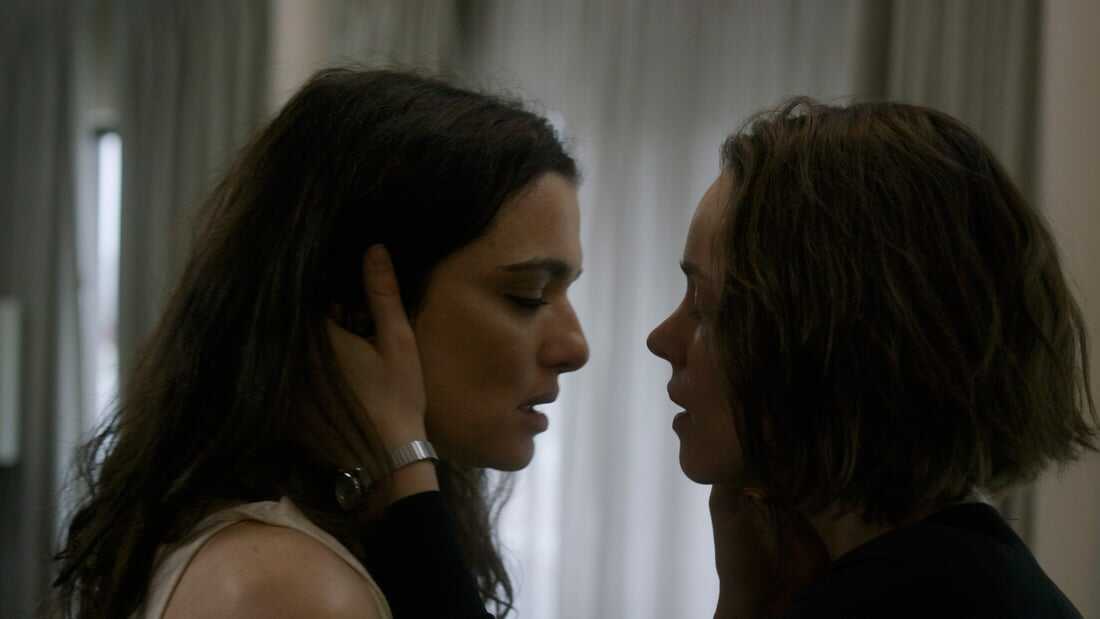 Irrespective of what the subject of the film is, you simply cannot afford to miss out on an opportunity to catch gorgeous performers like Rachel Weisz and Rachel McAdams on celluloid.
Based on Naomi Alderman's novel of the same name, Disobedience follows the complex journey of a young woman who returns to an orthodox Jewish community after the death of her father.
However, things go for a toss when she chances upon her loving childhood friend and restarts a forbidden relationship with her, despite having been shunned for the same years ago.
While Disobedience received positive reviews from film pundits for its direction and screenplay, Weisz and McAdams were applauded for having delivered one of the finest performances of their respective screen careers.
37. The Miseducation of Cameron Post (2018)
Chloë Grace Moretz may have been a part of the movies since her very childhood but she delivered her career-best performance as the titular character in The Miseducation of Cameron Post.
Based on Emily M. Danforth's novel of the same name, the motion picture is set in 1993 and tracks the journey of a teenage girl, who is forced to visit a gay conversion therapy center by her hidebound guardians.
Chloë does a commendable job of projecting moments of teen confusion and dejection with remarkable subtlety. The Miseducation of Cameron Post is a meaningful film in the sense that it makes a brave attempt to showcase the unspeakable destruction conversion therapy may have caused to our community over the years.
It aims to stress the fact that such "therapies" need to be stopped for the betterment of our LGBTQ+ youth.
36. Happiest Season (2020)
This Clea DuVall directorial venture does not only qualify as a lesbian feature but it also works quite well as a Christmas film.
Starring the talented Kristen Stewart and Mackenzie Davis in prominent roles, the quirky romantic comedy tells the story of a lesbian named Abby, who plans to propose to her girlfriend, Harper, in front of Harper's family members.
However, she is shocked to discover that Harper is yet to come out to her parents. The tiny flaws of this amazingly entertaining motion picture can easily be blotted out by its bigger charms.
Moreover, it has to be pointed out that a mainstream credit titled Happiest Season had to, unsurprisingly, end on a happy note.
35. But I'm a Cheerleader (1999)
Orange is the New Black alum Natasha Lyonne stars as Megan Bloomfield; a naive teenager who is compelled to go to rehab after her prim parents and pals suspect her of being a lesbian.
Even though this Jamie Babbit directorial venture opened to unfavorable reviews at the time of its release because of its stereotypical depiction of gay men and women, it has, over the years, been appreciated for its satirical and campy themes.
Needless to mention, But I'm a Cheerleader has gone on to develop a cult following in the LGBTQ+ community.
The project received thunderous applause at the San Francisco International Lesbian and Gay Film Festival.
34. Water Lilies (2007)
This coming-of-age drama is set in a middle-class Parisian suburb. It follows the story of three teenage girls who, while trying to explore their sexualities at the local pool over the course of a summer, end up getting involved in a love triangle that becomes increasingly difficult to sustain.
Water Lilies handles its subject well and does a fair job at telling a realistic but predictable story. Now, it is not necessarily required for you to be into Euro-teen movies in order to appreciate this feature.
This is primarily because its plot is pretty accessible and flows rather smoothly.
33. Princess Cyd (2017)
Written and directed by Stephen Cone and starring Rebecca Spence, Jessie Pinnick, and Malic White in pivotal roles, Princess Cyd traces the journey of a 16-year-old girl, Cyd, who is visiting her estranged aunt Miranda for the summer.
While there, she ends up falling for another girl. However, the viewers get to see how a headstrong Cyd and her aunt end up challenging each other's sex and spirit during the former's stay.
Credit has to be given to writer-director Cone for ensuring that this endearing romantic comedy defies several coming-of-age conventions to narrate a deeply moving story about self-discovery, mentorship, and love.
32. Imagine Me & You (2005)
Game of Thrones star Lena Headey headlines this British romantic comedy-drama feature in which she portrays Luce; a newlywed bride who becomes infatuated with another woman right on the day of her wedding.
Soon after, the two women form a close connection which leads to Luce questioning not only her sexual orientation but also her marriage.
Even though this motion picture initially opened to mixed reviews, its lead characters, Rachel and Luce, have been acknowledged as two of the most iconic lesbians in film since its theatrical outing.
Given the fact that LGBTQ+ stories were rare at the time, Imagine Me & You has to be considered a groundbreaking and audacious project for queer cinema.
31. My Summer of Love (2004)
Based on the book My Summer of Love by Helen Cross, this Paweł Pawlikowski directorial venture traces the journey of the working-class Mona and middle-class Tamsin, who chance upon each other in the Yorkshire countryside.
The two soon begin to spend a lot of time together and, subsequently, end up getting involved in a relationship.
Throughout the course of the summer, they figure that they have a lot to teach each other and explore together.
As a viewer, you can't help but find yourself getting immersed in the tender and passionate love story of the two bored teenagers.
To sum it up, My Summer of Love is a moody and bittersweet tale that thrives on the lead performances of Emily Blunt and Natalie Press.
30. Summertime (2015)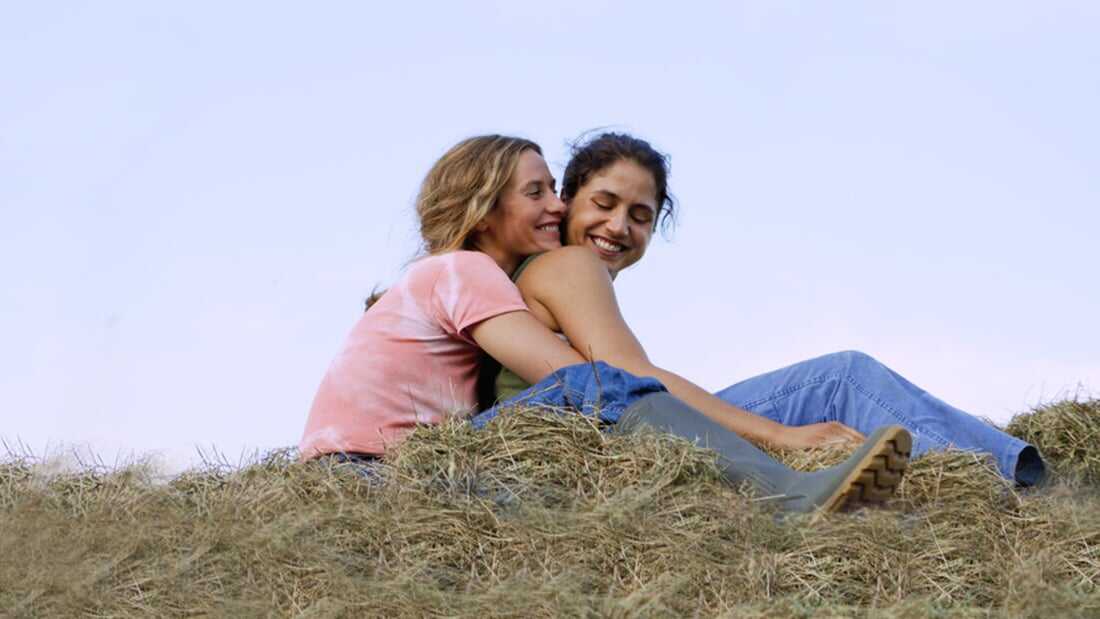 Summertime, or La Belle Saison in the original French, is a French-Belgian romantic drama film that has been directed by Catherine Corsini.
It tracks the journey of two women, Carole and Delphine, who meet and fall head over heels in love in 1971.
However, after Carole follows Delphine back to her family farm, the two discover that lesbianism and feminism are not as accepted in the countryside; something that creates unexpected blockades for the pair.
An intellectual feature of sorts, Summertime tells a wonderful and tragic love story while casting a light on the women's lib movement in 1970s France.
The movie takes pride in the fact that its central performers share a natural chemistry and carry the plot seamlessly.
29. Lost and Delirious (2001)
Based on Susan Swan's novel The Wives of Bath, this Léa Pool directorial venture familiarizes us with stories about the intense relationships between classmates at an all-girls school.
The motion picture resulted in making Piper Perabo a breakout star at the time. She embodied her character perfectly and delivered a fierce performance.
That being said, as familiar as the plot may sound, you have to trust us to not miss out on Lost and Delirious.
We say so because, in many ways, it is going to make you relive your days of adolescence; a period during which your heart skipped a beat for not just romance but also passionate idealism.
28. Set It Off (1996)
This F. Gary Gray-helmed feature film is yet another heist drama that comprises a queer undertone. The story introduces the audience to four Black women friends, all of whom seem to have suffered for money.
They decide to take charge and rob banks to do better for themselves and their respective families. The movie, which features Queen Latifah as a lesbian, is a satisfying and socially conscious watch that works mainly due to the adroit performances of its lead actors.
That said, Set It Off is a lot more than a simple thriller about four women who rob banks.
It is not surprising then that it won its director an Acapulco Black Film Festival award for Best Director in 1997.
27. Kiss Me (2011)
Kiss Me, which was also released as With Every Heartbeat, is a Swedish drama film that has been helmed for the screen by Alexandra-Therese Keining.
It tells the story of a young woman who has been engaged to be wedded. However, the plot thickens when she ends up having a forbidden love affair with her soon-to-be stepmother's lesbian daughter.
Even though the basic premise may come across as trite, don't allow yourself to be duped by it. This motion picture tells a love story without being corny and banks on its appealing cinematography, authentic dialogues, and believable performances to make an impression.
A recipient of the "Breakthrough Award" at the 2011 AFI Festival, Kiss Me has the added advantage of comprising a brilliant soundtrack.
26. Gia (1998)
Aside from being a cautionary tale about the consequences of drug use, Gia is also a tragic love story that aims to portray the relationship between Angelina Jolie's Gia and Elizabeth Mitchell's Linda.
Even though their romance appears exaggerated and exploitative, the focus of this hard-hitting Michael Cristofer directorial venture is on underscoring Gia's struggle with mental illness, addiction, and internalized homophobia.
Given the fact that the characters are based on real-world personalities, you can't help but get pulled into the motion picture's storytelling.
Gia's strength lies in the fact that it allows several queer women to feel that they are being seen and heard.
25. Booksmart (2019)
Actor Olivia Wilde's directorial debut, Booksmart, is a coming-of-age buddy comedy that depicts one of its main protagonists as a lesbian.
The story of this acclaimed feature follows best friends Amy and Molly, who, right before their graduation, realize that they are being ignored by their circle for being bookworms and pretentious.
However, that doesn't dispirit the two girls, who decide to let loose and make up for the lost time to the best of their abilities.
For a major part of its run time, Booksmart concentrates on the exploits of two best friends for 24 straight hours.
That said, we also get to see how a heterosexual Molly is fully supportive of her lesbian pal Amy.
24. Hearts Beat Loud (2018)
Directed by Brett Haley, Hearts Beat Loud traces the wonderful coming-of-age journey of Sam and her father Frank. We see how the latter struggles to accept that his daughter has to go to college right when one of their songs goes on to become a smash hit online.
Hearts Beat Loud is a multi-racial credit that we all deserve. It is that rare movie that doesn't show its queer lead character struggling to deal with her sexuality or relationship.
Revolutionary for a mainstream Hollywood film in more ways than one, this one is a light-hearted family comedy about growing up and cherishing everything that your loved ones do for you.
23. Rafiki (2018)
This Wanuri Kahiu directorial venture tells the story of Kena, who finds herself getting attracted to a girl named Ziki from her immediate neighborhood.
Even though the two end up getting very close to each other, things spiral out of control when they come face to face with the Kenyan authorities.
This is because Kenyan laws do not permit homosexuality. Rafiki does an appreciable job of bringing the plight of the queer people in Kenya to light.
It is also imperative to mention that the film was banned by the Kenya Film Classification Board "due to its homosexual theme and clear intent to promote lesbianism in Kenya contrary to the law." After its makers sued the Kenyan government to get the film released, the ban was lifted for seven days.
However, to everyone's surprise, Rafiki went on to become the second highest-grossing Kenyan film of all time following its much-awaited theatrical release.
22. The Half of It (2020)
Distributed by Netflix, this coming-of-age rom-com is nothing short of a present for those who wish to savor a refreshingly original film in the genre.
Written and directed by Alice Wu, it traces the journey of a shy but smart high school student named Ellie Chu, who does her best to help the scatterbrained school jock, Paul Munsky, woo a girl.
The catch here is that the Chu desires the same girl Munsky seems to have fallen for. Together, they find themselves connecting and discovering the true nature of love; one that is very complex and, yet, so simple.
The motion picture, which seemingly questions us mortals for going on an endless and futile search for romance, thrives on its diligent performances and refreshing storyline.
What distinguishes this charming drama from other features in the genre is that its filmmaker has done a fine job at conveying that there is no perfect way to love, which is, perhaps, the only authentic thing about the concept of love itself.
21. Summerland (2020)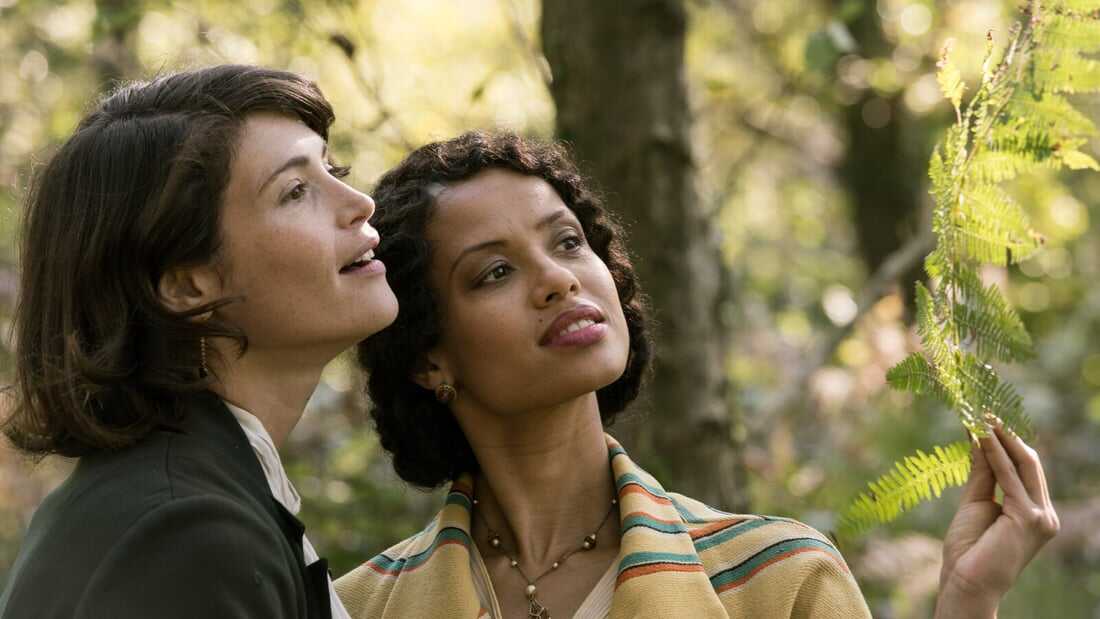 This defining lesbian feature film has been helmed for the screen by Jessica Swale. It tells the story of a reclusive writer who has to reluctantly take the responsibility of caring for a young boy in a war-torn nation.
In an attempt to bond with him, she tells him a story; one that not only allows her to rediscover herself but also relive her seemingly long-lost past.
Toplined by the attractive Gemma Arterton, Summerland is a touching project whose plot has been constructed around genuine historical events.
The motion picture thrives on its convincing lead performance.
20. Desert Hearts (1985)
Not many of our readers would be aware of the fact that this Donna Deitch-helmed project is widely considered to be one of the first mainstream movies to have represented lesbians favorably.
The story follows a repressed professor of literature, who, while waiting for her divorce papers, gets unexpectedly attracted by a carefree and spirited young lesbian.
This life-altering experience not only helps her find her true self but also allows her to come to terms with her sexuality.
Based on Jane Rule's novel Desert of the Heart, this romantic drama set benchmarks in the way queer women were portrayed on the big screen.
It is not surprising then that it has evolved into a queer cult classic since it first hit the screens back in 1985.
19. The Kids Are All Right (2010)
Lauded as one of the first mainstream Hollywood features to depict a same-sex couple raising teenagers, The Kids Are All Right tells the story of Nic and Jules; two women who seem to have a seemingly perfect family life with their children, Joni and Laser.
However, things get intriguing when the children confess that they wish to find their biological father. This Lisa Cholodenko-helmed project, which was nominated for the Best Picture Academy Award, makes a warm statement on family values; all while keeping its entertainment value fully intact.
Even though the premise centers on lesbian marriage, it, in many ways, is about the institution of marriage and its universal intricacies itself.
18. Dating Amber (2020)
Allow us to introduce you to this rather underappreciated gem which tells the charming coming-of-age story of two high-school students, who pretend to be in a relationship to combat prejudice in 90s Ireland.
This David Freyne directorial venture, which, at its core, is about two gay teenagers, tells a marvelous story about companionship and self-acceptance.
The makers and actors of this bittersweet title deserve a huge round of applause for trying to make the viewers aware of how closeted gay teenagers must feel in small towns across the globe.
17. The Watermelon Woman (1996)
Written, directed, and edited by Cheryl Dunye, this romantic comedy-drama tracks the journey of an aspiring black lesbian filmmaker, who researches an obscure 1940s black actress; someone who happens to have been credited as "The Watermelon Woman."
It is critical to mention that The Watermelon Woman was the maiden mainstream feature to have been helmed by a black lesbian.
It is not surprising then that it is now considered to be a landmark in New Queer Cinema. The beauty of its screenplay lies in the fact that it never tends to take itself too seriously, even though it deals with important issues.
This sharply observant and historically aware motion picture thrives on its wry comedy.
16. Margarita with a Straw (2014)
Director Shonali Bose's Margarita with a Straw tells the story of a rebellious young woman with cerebral palsy, who gets an opportunity to leave India to complete her further studies in New York.
Her journey of self-discovery allows her to figure things out about love, sexuality, and self-acceptance, among other life-altering things.
This coming-of-age drama, which premiered at the Toronto International Film Festival in 2014, was also screened at the Tallinn Black Nights, the BFI London, the Vesoul Festival of Asian Cinema, and the Galway Film Fleadh, respectively.
Kalki Koechlin's lead performance and Bose's direction are the biggest assets of this critically acclaimed title.
15. Monster (2003)
Monster is arguably the most unique feature to make it to our list. It tracks the cumbersome journey of a woman named Aileen Wuornos, who has been homeless for the major part of her life.
In order to make ends meet, she gets into street prostitution. However, nothing seems to be working out for her even when she tries to set her life straight.
Hopeless and anguished, she starts robbing her clients and killing them. This iconic story, starring Charlize Theron in the lead, has been brought to life on the big screen with a distinctly female gaze.
You'll have to see this Patty Jenkins directorial venture to comprehend why it won Theron the Academy Award for Best Actress.
14. Aimee & Jaguar (1999)
Based on Erica Fischer's book of the same name, this German drama feature has been written and directed by Max Färberböck.
Set in Berlin during the Second World War, the film tells the tragic story of a Nazi officer's wife who meets and begins a passionate love affair with an undercover Jewish woman.
As you may have figured, this motion picture is no romantic comedy and is, therefore, not to be seen on a light-hearted movie night.
While the script is the hero here, one must give the credit to lead performers Juliane Köhler and Maria Schrader for being able to successfully express their yearning and desire through their respective exceptional performances.
13. Pariah (2011)
Written and directed for the screen by Dee Rees, Pariah tracks the journey of a Brooklyn-based teenager, who, in a despairing quest for sexual expression, assumes paradoxical identities and risks losing both her family and friends while heading towards inevitable heartbreak.
The drama, which banks on Adepero Oduye's stirring performance, was duly acknowledged for its exploration of Black and LGBTQ+ culture.
It premiered at the Sundance Film Festival in 2011 and was awarded the Excellence in Cinematography Award. Pariah was a praiseworthy coming out/coming-of-age film that marked the arrival of fresh new talent in writer/director Dee Rees.
12. Bound (1996)
Written and directed by the Wachowskis, this neo-noir crime thriller tells the fascinating story of Violet, who happens to be the mistress of the gangster Caesar.
However, in actuality, she is involved in a torrid love affair with Corky. Together, they devise a plan for Violet to not only dump Caesar but also rob millions of dollars of stashed mob cash; thus, putting all the blame on the latter.
This super stylish and sexy heist movie stars Gina Gershon and Jennifer Tilly as a pair of lovers who are willing to take a road marred with roadblocks to make a run for their lives.
It is one of the most unique titles to make it to our list.
11. Carol (2015)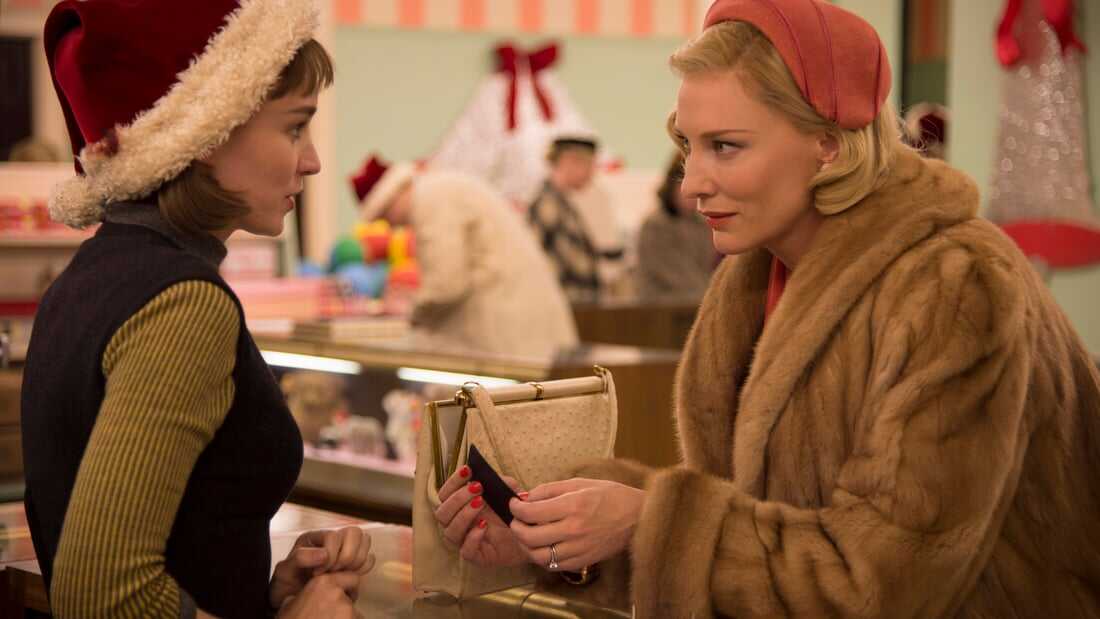 Based on Patricia Highsmith's romance novel The Price of Salt, Carol has been headlined by talented actors such as Cate Blanchett and Rooney Mara.
Set in the 1950s, the story follows the tough journey of an aspiring photographer and an older woman who is going through a difficult divorce.
We see how the two lovely ladies stumble upon each other and embark on a forbidden love affair in no time.
This motion picture thrives on its heart-wrenching portrayal of queer heartbreak, wonderful cinematography, amazing performances, and evocative soundtrack.
Ranked by the British Film Institute as the best LGBT credit of all time, Carol received five Golden Globe Award nominations, six Oscar nominations, and nine BAFTA Award nominations, respectively.
10. Heavenly Creatures (1994)
Director Peter Jackson introduced us to the competent performer in Kate Winslet a good three years before James Cameron's Titanic pushed her to the cusp of stardom.
In Heavenly Creatures, we are welcomed to the obsessive world of two close friends who share a love of fantasy and literature.
However, things soon spiral out of control when they conspire to kill one of the girls' mothers. This is because the pair figures that she is beginning to threaten their intense relationship.
Based on a true story of a notorious 1950s New Zealand murder case, this motion picture demonstrates teen lesbian obsession gone horribly wrong.
Watch out for Kate Winslet and Melanie Lynskey's remarkable character projections.
9. Saving Face (2004)
The first Hollywood mainstream feature film to revolve around Chinese-Americans since the release of The Joy Luck Club in 1993, Saving Face has been helmed by Alice Wu in her directorial debut.
The story follows a gay Chinese-American and her traditionalist mother, who are hesitant to go public with a well-kept secret that threatens to clash against established cultural expectations.
Even though it failed to set the box office alight, Saving Face is hands down one of the finest motion pictures to have ever called attention to homosexuality within the Chinese culture.
Ever since its release, this ever-so-relevant feature has managed to have an unprecedented impact on the LGBTQ+ Chinese community.
It has even been lauded as one of the 20 best Asian American films of the last 20 years by The Los Angeles Times.
8. The Hours (2002)
This psychological drama tells the story of Virginia Woolf, who begins to write her novel 'Mrs Dalloway.'
In the future, we get to glimpse two ladies, Laura Brown and Clarissa Vaughan, trying to find solace in the novel, in the hope that they can manage to escape their respective uninteresting lives.
Those who are yet to watch it wouldn't know that there's a lot of period lesbian angst in this Stephen Daldry-helmed title.
The story, which concerns three generations of lesbian or bisexual women, is brought to life by the believable character enactments of actors such as Meryl Streep, Julianne Moore, and Nicole Kidman.
Well, trust us when we say that its star cast is a reason big enough for you to sit through The Hours.
7. The Favourite (2018)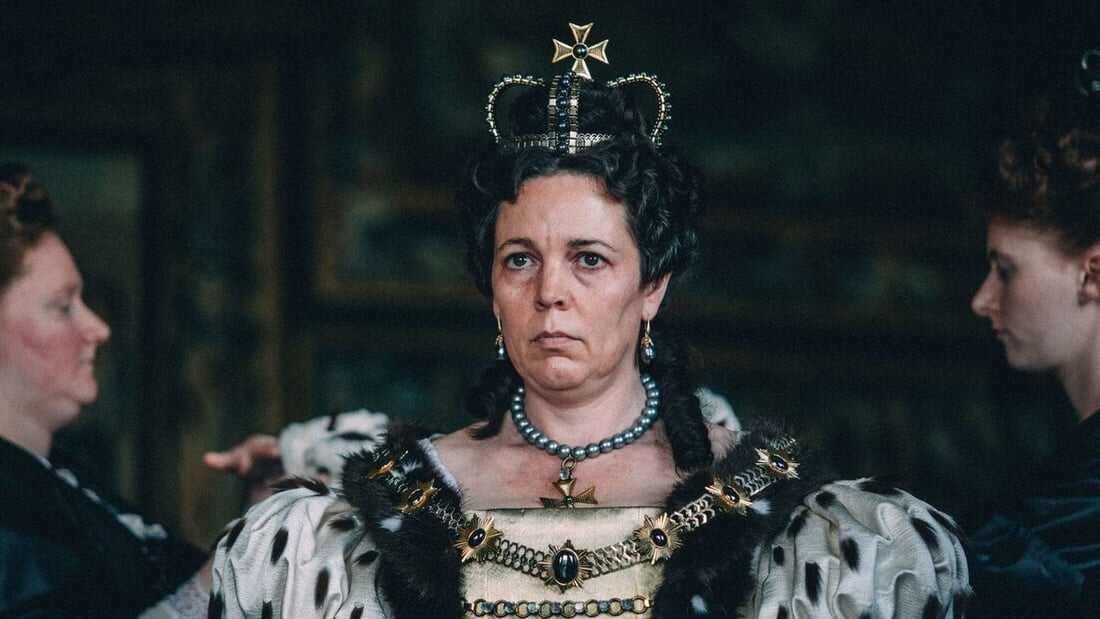 Filmmaker Yorgos Lanthimos brings to us a period black comedy film that is sort of based on a true story but, at the same time, is also injected with a ton of creative fabrications for the sole purpose of entertainment.
Even though this motion picture is more lesbian adjacent than lesbian, you've got to see it for the outstanding performances that breathe life into a set of compelling female characters.
The Favourite had its much-awaited premiere at the 75th Venice International Film Festival, where it won the Grand Jury Prize and the Volpi Cup for Best Actress for Olivia Colman.
Oh, and you get to catch hold of the scintillating Rachel Weisz and Emma Stone as well in this one.
6. The Color Purple (1995)
Based on Alice Walker's Pulitzer Prize-winning novel of the same name, this epic coming-of-age period drama film has been helmed by star director Steven Spielberg.
The hard-hitting feature follows the journey of Celie, who, after having been raped by her father, is married off to an abusive husband.
As she struggles to come out of the marriage, we are introduced to Shug Avery; a showgirl who becomes an integral part of the storyline as Celie's love interest and savior.
Even though it does not entirely utilize Walker's text pertaining to lesbianism for the screen, it is imperative to mention that The Color Purple is undeniably queer.
5. Blue is the Warmest Colour (2013)
Blue is the Warmest Colour is one of the most influential lesbian movies to have hit the screens in the 21st century.
The Abdellatif Kechiche directorial venture traces the journey of a young woman named Adele, who seems to be confused about her sexuality.
Soon after breaking up with her boyfriend, she chances upon and falls in love with an eccentric blue-haired art student, Emma.
The screenplay of the motion picture traces their relationship starting from Adèle's high school years till the time she becomes a school teacher.
Based on Jul Maroh's graphic novel of the same name, Blue is the Warmest Colour opened to widespread critical acclaim.
It was nominated for the Golden Globe Award for Best Foreign Language Film and the BAFTA Award for Best Film Not in the English Language.
In addition, it also won the Palme d'Or from the official jury and the FIPRESCI Prize, thus, becoming the first feature in history to win the Palme d'Or for both its director and lead actresses.
4. Mulholland Drive (2001)
Those who have seen Mulholland Drive would understand that there is a lot to talk about in the film, besides the racy lesbian scene between Laura Harring and Naomi Watt's characters.
The psychological thriller tells the unforgettable story of a dark-haired amnesiac, Rita, and a perky blonde actress, Betty, who team up to find clues related to the former's accident.
However, in the process, they end up discovering their respective true identities, or, at least, that is what director David Lynch will have you believe.
Perhaps one of the best things about David Lynch's mind-bending thriller is the fact it resists one single interpretation.
Even though we get to see two women in a nuanced and complex relationship, it has to be mentioned that there is no 'true' reading of the story.
Having said that, the screenplay does acknowledge the connection between the two leading ladies but does its best to concentrate on numerous other themes, and that is precisely where the beauty of this movie lies.
3. A Secret Love (2020)
Helmed efficiently by Chris Bolan, this documentary feature tells the story of a former All-American Girls Professional Baseball League player, Terry Donahue, who keeps her lesbian relationship a secret from her family for seven decisive decades.
While striving to narrate the saga of one couple, A Secret Love pays an understated and, yet, powerful tribute to every single love story that has been able to blossom after years of patience and sacrifice.
You cannot help but stay in awe of the fact that such an endearing and enduring tale of love does exist in the world today; a world that has been marred by a lack of will, faith, and loyalty in impassive individuals.
2. The Handmaiden (2016)
Filmmaker Park Chan-wook's The Handmaiden is not only one of the best South Korean movies that you'll get to see but it is also among the best-rated lesbian-themed credits out there.
The film follows a Japanese woman who hires a diligent handmaiden to help her with her daily routine. However, the affluent woman is completely unaware of the fact that her employee is working with a con man to cheat her out of her wealth.
Even though the motion picture is wrapped in a beautiful mystery, it manages to get sinister, erotic, and romantic in equal measure as well.
Add to that the fact that the screenplay also comprises a fair amount of struggle and dark humor to tell a story that you may not forget easily.
Partially based on the novel Fingersmith by Welsh writer Sarah Waters, this psychological thriller won in the category of Best Film Not in the English Language at the 71st British Academy Film Awards.
1. Portrait of a Lady on Fire (2019)
Set in France in the 18th century, Portrait of a Lady on Fire follows a forbidden love affair between an aristocrat and an artist who has been commissioned to paint her wedding portrait.
Written and directed by Céline Sciamma and starring Noémie Merlant and Adèle Haenel in the lead, this historical drama flick made history when Céline Sciamma became the first ever female director to win the coveted Queer Palm award after it was screened at the Cannes Film Festival.
The thought-provoking title, which thrives on its subtle and thrilling love story, earned further nominations at the Critics' Choice Awards and Golden Globe Awards, respectively.
Not long after that, Portrait of a Lady on Fire went on to become the second highest-reviewed motion picture of 2019 on Rotten Tomatoes.