»
Top 50 Most Famous Black Actors [2023 Updated]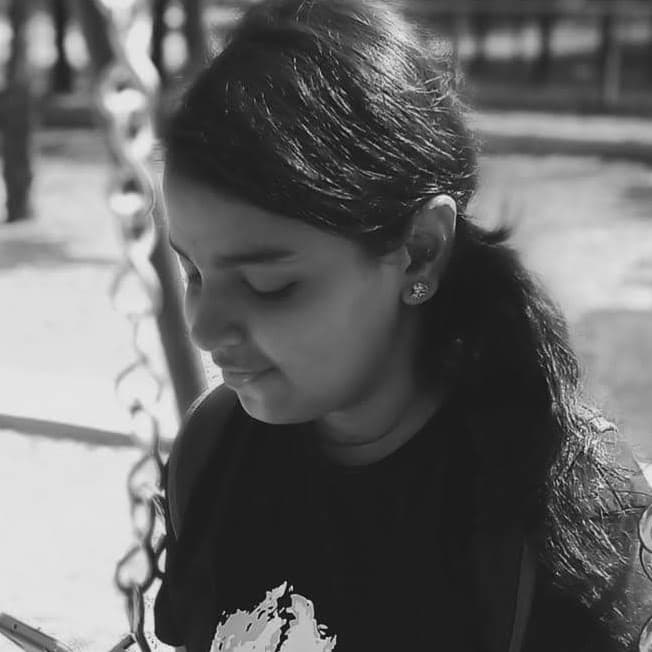 Sri-Updated Jan 3, 2023
---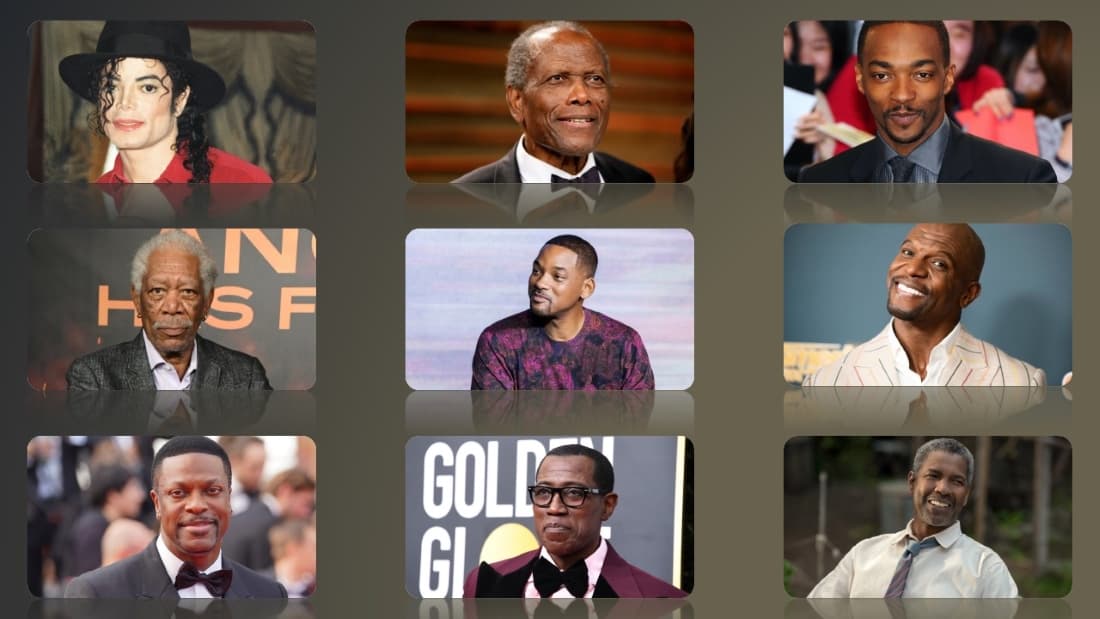 When we say Black, the things that would come to anybody's mind is the beautiful curly hair, a dark skin tone, and an underlying smile.
Only the rarest group of people would instantly think of their contribution to this world, because today, nobody can imagine a world without Black people.
They have made turnovers in the music industry, have invented a lot of machinery, ruled the world and in that row, they have contributed a lot to the cinema industry also.
A few years back, if someone asked what the world would look like without Black people, the answer would be that it would look like Hollywood because, at that time, the Whites dominated the industry.
Slowly Black people came in and now, the works and contributions of the Black are not just recognized, they are being loved and celebrated for their extreme extent of creativity.
Acting, to me, is very subjective. It depends upon how the actor takes in the role and exhibits it to the audience.
Here are a few unique Black actors in Hollywood who are loved by people for their performances.
50. Michael K. Williams
Michael is a person with multiple talents. He's an excellent actor as well he's a dancer and choreographer.
He was introduced to Hollywood by the late rapper Tupac Shakur. Michael's first movie was Bullet which was released in the year 1996.
His best performance is as Omar Little in the series The Wire, which is also my personal favorite of his performances.
I was stunned by how intriguing his character was. And not just me, that character got a special mention from former President Barack Obama.
Just after watching The Wire, I got to see the movie "12 years a slave".
Again, his performance put me in complete fascination. His other iconic performances are from 'Law & Order', 'CSI', 'The Sopranos' and 'Alias'.
Coming to his interests in dance, the actor has choreographed for Crystal Waters' single "100% Pure Love".
Other than that, he has appeared as a dancer or a background dancer in several videos.
Michael has faced a lot of rejections and has been on the depression side at the initial stages of his career.
However, he resisted, managed to expose his talents, and gave us all award-winning movies and shows.
Unfortunately, the industry lost a great actor last year. Michael K. Williams died on September 6, 2021.
49. Vondie Curtis-Hall
Vondie is the king of storytelling, I would say. He is an actor, director, and screenplay writer.
He gives his best in black comedy writing. He is best known for his role as Dr.
Dennis Hancock in CBS' medical drama series 'Chicago Hope'. But my personal favorite is his role as Ben Urich in Netflix's series 'Marvel's Daredevil'.
He's 71 now, which means he has lived in the era where white actors dominated the industry.
This also means that he has struggled a lot to be this person today. Vondie's debut film was Coming to America (1988), after that he acted in 'Cop Rock', 'One Good Cop', 'Passion Fish', 'Falling Down', and a lot more.
Before getting into the big screen, he has done several roles in theater and stage plays.
This talented person has won many awards and nominations for his performances, including an Emmy nomination in 1995 along with three Screen Actors Guild Award nominations.
He's married to an actor cum director, Kasi Lemmons, with three kids.
48. Wendell Pierce
Having appeared in over thirty films and fifty TV shows, Wendell Pierce has been thrice nominated for the Independent Spirit awards.
He was born and brought up in Pontchartrain Park in New Orleans. He is well known for his performances in "The Wire", "Selma", and "Horrible Bosses".
Other than his screen appearances, he has been on stage shows and has also contributed to music and radio.
To start with, Wendell has been on numerous stage shows. He is always lauded for his performances in Queenie, The Piano Lesson, Serious Money, and The Boys of Winter.
Coming to music, he has recorded songs with Delfeayo Marsalis, Kermit Ruffins, and more. Also, he was the host of the award-winning radio program, Jazz at Lincoln Center.
Wendell slowly started appearing in movies and he most appeared in HBO Originals which, I would say, was the go point of his career.
With all these, Wendell hasn't in any way lost track of his career. So, with a net worth of four million dollars in the year 2017, it is expected that his wealth would grow.
Above all, he is a great and kind-hearted person in real life.
47. Gregory Hines
Gregory Hines is also well known for his dancing ability. He started dancing as a child and slowly developed a successful career in TV and films.
He is well known for the movies, The Cotton Club and White Nights. Being born in New York City, he studied dance at an early age of his life.
He then started performing at the Apollo Theater with his family members. He's a dancer, actor, director, and musician.
Overall, he's an entertainer. People loved his graceful tap dance. He studied tap dance with Master Henry Letang.
And his contributions to tap dance cannot be explained at a time. With a love for experimenting, he also started his sitcom show called The Gregory Hines Show.
It ran for a season on CBS. In 1981, Hines landed a film role which was a last-minute chance.
He was a replacement for an ill actor in Mel Brooks's History of the World, Part I.
That was the starting point of his film career. In his later movies, he started exhibiting his comedic timing which was liked by his audience.
Unfortunately, today, the industry misses a great artist. Hines died of cancer in the year 2003.
46. John Amos
John Amos was born in Newark, New Jersey. He is a great actor but also his history says that he had a great passion for football and has also participated in a few of them.
Not just stopping there, he is a qualified social worker as he has a degree in sociology.
Amos is well known for his first TV role, where he played the role of a weatherman, Gordy Howard, on The Mary Tyler Moore Show, from 1970 until 1973.
He had his own theatre company where he encouraged several shows, bringing up many artists.
Amos was featured in Disney's The World's Greatest Athlete, he appeared in movies such as Vanishing Point, The President's Plane Is Missing, Touched by Love, and more.
He also starred in Let's Do It Again with Bill Cosby and Sidney Poitier. He received an Emmy nomination for his famous work, The Roots.
He's a senior in the 50th Armour Division of the New Jersey National Guard and is the Honorary Master Chief of the U.S. Coast Guard. He's shown a successful career in the industry for almost six decades now and has a lot more coming up.
45. Billy Dee Williams
Billy Dee Williams' original name is Williams December Williams Jr. He was born and brought up in New York City.
He has been in the industry for almost fifty years now and his net worth crosses over nine million dollars.
He is easily recognized in the Star Wars Trilogy as Lando Calrissian. He has also made noticeable roles in Lady Sings the Blues, Nighthawks, Batman, Undercover Brother, and more.
He has appeared in several such movies but his debut was in "The Last Angry Man" which was a hit movie then.
He made contributions to stage shows before entering films and television. He has been performing on proper stage shows since 1945.
And a lot of them are from Broadway. In addition to his acting talent, he has been interested in singing as well as painting.
In fact, in the 1980s, he returned to start painting and devoted a lot of time to it.
He has been nominated for Primetime Emmy in the year 1972 for Outstanding Single Performance by an Actor in a Leading Role in the film Brian's Song.
Also, he was inducted into the Black Filmmakers Hall of Fame. This actor has a great smile and a deep smooth voice which are considered to be his trademarks and major attraction.
44. Sterling K. Brown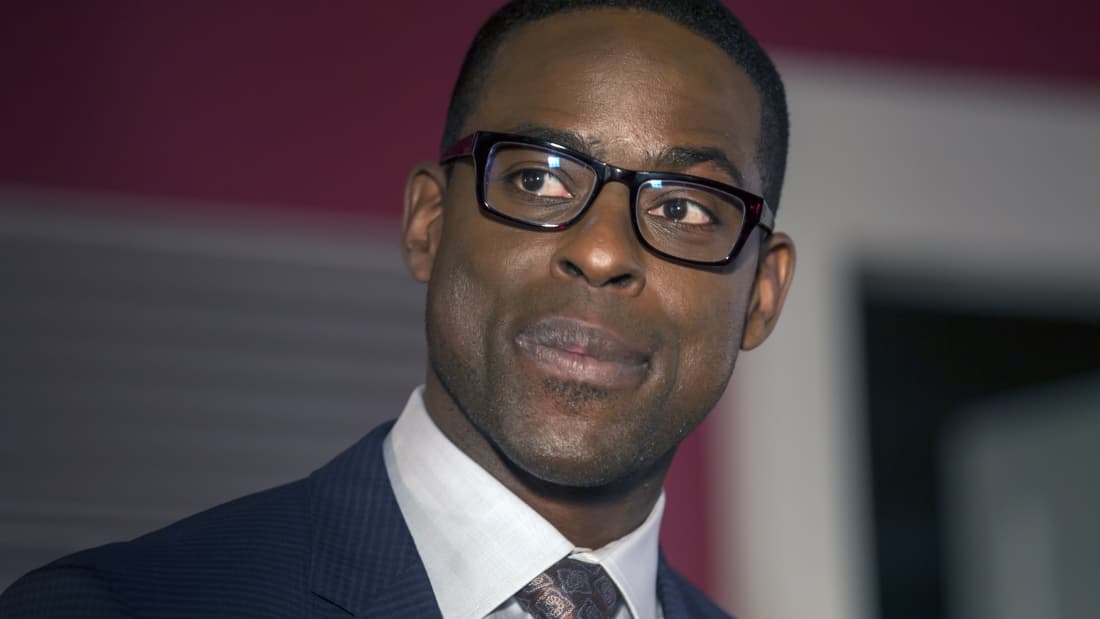 Sterling K. Brown is well known for his role as Randall Pearson in the Golden Globe-nominated drama series, This Is Us.
He has won an Emmy Award for Outstanding Lead Actor in Drama Series. He also won a Golden Globe marking him the first African-American to win this award for this category in the last 75 years.
He has done roles in Black Panther, The Predator, and Hotel Artemis. He graduated from Stanford University with a degree in Drama.
Like every other actor, Sterling loved theatre and he has performed in a variety of stage shows.
His performances as a theatre artist also fetched him the NAACP Theatre Award. Even though he's an actor in the most popular, most loved series, Sterling claims that he got his inspiration from NYPD Blue.
He says that that TV series motivated him more into acting. This killing actor is also a producer and has produced "Honk for Jesus.
Save Your Soul", a miniseries called "Washington Black", is under filming and also is about to produce The Defender.
One thing to learn from him is that he's a determined person and has clear thinking.
43. Michael Ealy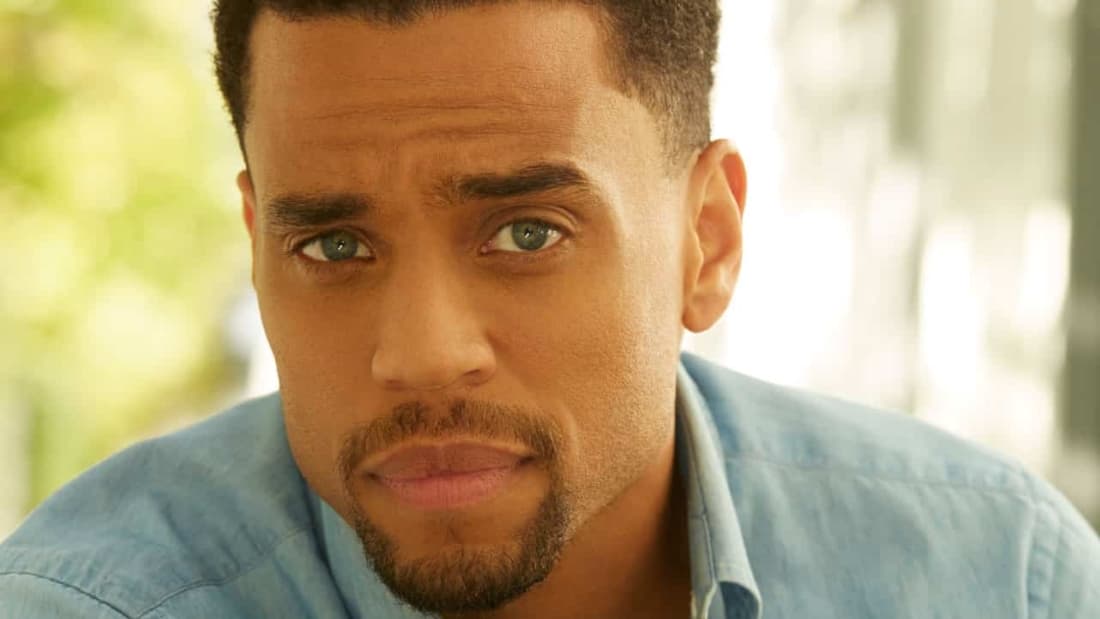 Some people blush at the thought of this person. Michael is loved by people for his charming personality.
He just grabs everybody's attention with his screen presence and anybody who watched his performance in the movie Barbershop would not deny it.
Before Barbershop happened, Michael appeared in shows including Soul Food, Law and Order, and the sitcom Madigan Men in the year 2000.
Other than TV and films, he has also made contributions to three music videos. This passionate actor has been nominated for the Golden Globe Awards, NAACP Image Awards, and the Teen Choice Award.
He has won the Best Supporting Actor Award from the African-American Film Critics Association and also has won Black Reel Awards for the TV series "Their Eyes Were Watching God".
He has small teaching experiences when he tutored high school students while he went to college.
He married his girlfriend Khatira Rafiqzada and now has two kids, a boy, and a girl.
Other than films and acting his family plays one of the major roles in his life.
42. Delroy Lindo
Like everybody else, I too knew Delroy from the movie Malcolm X. That role made me wonder how powerful his screen presence was.
But to my shock, Malcolm X was the movie that has been a stepping stone in his film career.
That performance gave him a rise in the industry. Lindo graduated from the American Conservatory Theater in San Francisco.
His debut film was 1979 a movie called "More American Graffiti". This dedicated actor has acted in many films where he performed aggressive roles; one of them is Gone in 60 Seconds.
Facts state that he learned stunt driving for the film so that he could play a better part.
He has been nominated for many awards which fetched him a few wins including the National Society of Film Critics award and the Critics' Choice Super Award for Da 5 Bloods, his most recent.
Like other actors, he has also performed in a lot of theater shows and played important roles such as Othello in Shakespeare's Othello produced by the Great Lakes Theater.
Also, this great actor and entertainer is a huge fan of the soccer team, Arsenal.
This dedicated actor has huge self-esteem and is always proud of his roles.
41. Ice Cube
Originally known as O'Shea Jackson, Ice Cube was born and brought up in Los Angeles.
Before becoming an actor, people knew him as a singer and lyricist of the influential band N.W.A. His words had power and his composition was loved by the audience. Later, cinema made him an actor and a filmmaker.
Even though he has contributed a lot to the music industry, he has been a part of notable films, television series, and some documentaries also.
He was one of the creators of a six-part documentary series called Black. White. which was telecasted through the FX cable network.
When it comes to films, his contributions are huge. It is not that he needs to be present on the screen, he has been an actor, producer, screenwriter, and also directed films.
He has also been on the nominations and winners lists for some categories. Being a performer in every genre, he has also been under some controversies throughout his career.
He has a history of being called an "Anti-Semitist". But, let's leave that aside and concentrate on his dedication part.
Ice Cube hasn't stepped out of the industry yet which means we can see him contributing and entertaining more through performing more.
40. Adolph Caesar
I know where exactly to start when it comes to this man. I first saw him in the movie, The Color Purple.
He had played Old Mister Johnson in that movie. For me, it was unbelievable that his characteristics matched with the portrayed character in the book.
That was when he became my favorite. Adolph Caesar has been an Actor, theater director, playwright, dancer, and choreographer.
As an actor, he has hardly done twenty films and television series. But he has given his fullest in every role that he played.
He made his film debut in Che! Which was released in 1969. His last moments of life were also on a movie set.
He died in 1986 on the sets of Tough Guys. He has won awards for A Soldier's Story from NAACP Image Awards, Obie Awards, and Los Angeles Film Critics Association and he has also been nominated for Daytime Emmy Award.
Being a famous personality of that time, Adolph Caesar never really celebrated fame. He was as simple as a money plant.
His death was the most unexpected but his work and contribution to cinema never fades.
39. Richard Pryor
Some people's lives are not easy, they struggle hard. When there are two paths, good and bad, which are under access to you, and you choose the good path even though the bad one is easier, then there you get a life.
Richard Franklin Lennox Pryor III is shortly known as Richard Pryor. He's highly influential and is always under controversy.
He speaks good English and has a great sense of humor. He has been on top of the listings of Comedy Central's greatest stand-up comedian of all time.
Alongside he also has an eye for acting and writing, I would say. He is good at performing political satires and black comedies.
His best work is when he played the role of a drug addict in the 1972 film, Lady Sings the Blues.
While his debut was in Silver Streak, he never performed any less in a movie he has been on.
He has won a Primetime Emmy and five Grammy Awards. Facing a lot of abuse, health problems, and coming out of drug addiction, Pryor has seen a hard life.
One thing to learn from him is to never give up so easily. Other than his screen presence, that's what he's remembered for.
38. Jeffrey Wright
If you have been wondering where you saw him, there's no doubt that he was the one who appeared in James Bond films such as Casino Royale, Quantum of Solace, and No Time to Die.
Jeffrey was born and brought up in Washington. D. C. He has a graduation from Amherst College for Political Science.
After which, he grew a strong passion for acting and decided to become an actor.
He has been in more than twenty films including The Hunger Games, The Goldfinch, The Batman, The French Dispatch, and more.
He has also made contributions to more than fifteen television series. His performance in Boycott fetched his first award from the AFI.
After that, he has been nominated for many awards including the Black Movie Awards and Black Reel Awards.
He has won Emmy for his role as Belize in the miniseries adaptation called Angels in America, an HBO production.
We don't know if he loves playing intelligent characters but I am sure that we all love him playing intelligent characters.
Maybe more than his original character, the role he plays suits him well. After all, Wright thinks the same.
37. Chiwetel Ejiofor
With a passion for acting, Ejiofor enrolled himself to be a part of the National Youth Theatre while he attended the London Academy of Music and Dramatic Art when he was 19 years old.
At that time, he got a chance to get into the film industry by playing a supporting character in the film Amistad.
From the point where his career started, Chiwetel has never missed a chance to perform and prove himself, be it on television or movies, or in theatre plays.
He has been a part of several films including notable ones like 12 Years a Slave, Z for Zachariah, Endgame, The Martian, Doctor Strange, The Boy Who Harnessed the Wind, and more.
He has been on TV series such as Deadly Voyage, Murder in Mind, Dancing on the Edge, and more.
Also made contributions to the theatre and his latest was when he played Everyman in the play Everyman which was produced by Royal National Theatre.
He has a deep tone and a beautiful London accent. He has won many awards and has been nominated for more including the American Black Film Festival Awards for the thriller film, Dirty Pretty Things.
And he has a lot more to come.
36. Paul Winfield
Paul Edward Winfield also known as Paul Winfield is a versatile actor and a stage performer.
He earned an Academy award through the film Sounder which is known for its intensity and powerful storytelling.
Paul was also nominated for an Emmy Award when he played the role of Martin Luther King Jr. in a miniseries.
After a few movies, he got nominations and has also won awards. He was inducted into the Back Filmmakers Hall of Fame and was a lifetime member of The Actors Studio.
His acting career started in the year 1967 when he played an uncredited role of an African servant in the movie The Perils of Pauline.
Being born into a poor family, Paul managed to educate himself with a proper degree.
After landing in the field of acting, he worked harder and never missed a chance that came his way.
He was a gay person but kept it to himself because, at his time, the community did not have much support.
He battled a lot of health conditions like diabetes and obesity. In 2004, he died of a heart attack.
Even though it was an unfortunate event, his audience is grateful that they have lived in the same era that Paul has.
35. Sammy Davis Jr
Sammy Davis Jr is born to creative parents Sammy Davis Sr., an African-American stage performer, and Elvera Sanchez, a tap dancer.
So, it is proven that he has the traits of performing in his blood. Versatile Sammy Davis Jr, is an actor, singer, dancer, comedian, author, film producer and director, and whatnot?
The fun fact is that Sammy has been performing with his father right since he was three years old.
Also, he has a variety TV show that was named after him called The Sammy Davis Jr.
Show. One of his biggest hits was "The Candy Man". He has acted in almost forty movies and has done beautiful stage shows in his lifetime.
He has also made huge contributions to the television industry. He is such a dedicated and passionate person who is always on his toes and nobody would deny it.
He had a great sense of politics and he has been a part of the World War II military service.
His contributions as a singer are countless. He won an Emmy Award and has won twice the NAACP Awards.
He has also been under numerous nominations. He has won awards for acting, singing, and entertaining people.
34. James Earl Jones
Being very very famous for his deep voice, James Earl Jones started taking drama classes to calm himself down.
He has been in the industry for over five decades now and his passion has not reduced even a bit.
He has extensive contributions to the film industry, television, and theatre. He has performed in complicated and high-end plays such as Othello, Hamlet, Coriolanus, and King Lear.
Not just him, his father has also been an actor since Earl was born. His father left Earl and his family to pursue his passion.
Earl grew up and fetched himself a degree from the University of Michigan School of Music, Theatre, and Dance.
Throughout his career, he has contributed to at least 80 films, 20 TV series, and TV films and has also voiced for a lot of animations.
He has been a great boon to Hollywood cinema and his creativity speaks a lot.
He is funnier in real life than on screen. He has won one Grammy Award, two Emmys, one Daytime Emmy, and a Golden Globe Award.
His notable works include "The Great White Hope", "Pros and Cons", "Summer's End" and more.
He's 91 years old now but hasn't stopped performing.
33. Harry Belafonte
If you had listened to music from three decades back, you'll recognize this man for he is famous for his music compositions like "Turn Around", "Shake That Little Foot" and "Glory Manger".
Harry is an actor, activist, singer, and songwriter. Even though he has contributed to acting, he shows equal interest in music.
He also owns a music publishing firm and a movie production company. So far, he has released nearly 30 studio albums and 8 live albums.
He made his debut in the film Bright Road in 1953. He started getting roles frequently after that.
His notable works are Jazz '34, Carmen Jones, Island in the Sun, Odds Against Tomorrow, and more.
Not just contributing to the entertainment industry, he has also a great sense of politics and he believes in activism.
He is inspired by Paul Robeson who was also an African-American actor, singer, and civil rights activist.
He was also one of Martin Luther King jr. 's confidants. He may have got many awards for various contributions but it is also an important thing that he has been a great human being and helped a lot of people in real life.
32. Mario Van Peebles
Mario Van Peebles is an American native who was born in Mexico City. He's an actor and a director.
His skills are outstanding and grab the audience on a different level. One of his best directorial skills can be seen in the miniseries called "Roots".
He made his debut in 1971 in the film Sweet Sweetback's Baadasssss Song. He has directed famous movies like Jump Street 21, Zero hour, Gang in Blue, All things fall apart, and more.
In TV Series, he has directed an episode in Law and Order, and a few episodes in Boss which came out in 2011.
He has also been a stage performer for the semi-autobiographical play called Waltz of the Stork in 1982.
He's the son of a director called Melvin Van Peebles and his mother, Maria Marx was an actress.
He was off Hollywood for some time and was with Cannon Pictures for some time. Before Hollywood happened, Van worked at the Department of Environmental Protection, New York.
He also has a touch of activism in his life. He has been passionate about the direction and has not yet stepped down from it.
He still has a growing career in the industry.
31. Paul Robeson
When I started to know about this person, I found out several interesting things and one of them is that he is passionate about everything that he does.
He acts sensitively and has a clear thought process. Paul Robeson is an athlete, actor, activist, and an inspiration to several people in the film industry and outside it.
He is well known for his powerful bass voice. And he has a huge set audience who would love to see him act on screen.
He is very easily recognized by the song, "Ol' Man River". He graduated from Columbia Law School.
His political stances are very much clever and clear. He was also associated with an American newspaper that addressed the issues faced by African-Americans.
Sources say that later the newspaper disfavoured him. He entered the film industry through the movie Body and Soul which was released in 1925.
He was an important contributor to every trend that was going on during his period.
He has contributed a lot to the theatre also. His last British film was The Proud Valley.
As said before, he's an inspiration to many, it is also seen that he has helped people live and grow.
30. Don Cheadle
Don Cheadle often plays the role of a law enforcement agent. Even though he was born in Kansas City to a teacher mother and a psychologist father, he has not settled in a particular city until a certain point in his life.
He graduated from the California Institute of the Arts with a fine arts degree. After being vastly motivated by his friends, he auditioned for many roles in the industry and finally landed in a film in 1988.
He has won two Golden Globe awards, a Grammy award, two Screen Actors Guild Awards,s and has been nominated in several categories.
Some of his notable works are "The Rat Pack", "House of Lies", "Black Monday" and more.
The most recent "The Falcon and the Winter Soldier" was also nominated for the Primetime Emmy Awards.
The People Speak was also one of his special works. It was a documentary involving musicals of the letters, diaries, and speeches of everyday Americans.
Cheadle also has a good comedy sense. He was a stand-up comedian before joining the film Industry.
He is also good at playing saxophone. Don Cheadle is an explorer and a person who loves learning new things every day.
29. Jaden Smith
The cutest child artist I would say. I loved him in the movies "Pursuit of Happyness", "The Karate Kid" and "After Earth".
Only the rarest number of people would have watched those movies once.
Because I've watched them several times. Jaden is a young artist, he's an actor, rapper, dancer, and songwriter.
He is the son of the very famous African-American actor, Will Smith. He has shared screens with his father in the movie Pursuit of Happyness.
He also acted with Jackie Chan in the movie Karate Kid where Chan was his Karate master.
He has a very small acting career but is still part of the industry. Maybe we can see him on screens in the future.
In music, he is the rapper for Justin Bieber's Never Say Never song which was a massive hit.
After that, he released his debut mixtape called "The Cool Cafe". Since then his music career has kick-started and he started releasing more.
During his teens, he was a part of Project Zambia where they took care of children who had lost their parents and were orphaned due to AIDS.
He is one of the youth ambassadors for the same project.
28. Idris Elba
People easily recognize Elba from the very famous and one of my favorite series, The Wire.
He had played the role of Stringer Bell in that series. He's also the one who played the role of Mandela in his biographical film, Mandela: Long Walk to Freedom.
Elba is not just an actor, he has also contributed to hosting Award functions, shows have been on the radio, and is also a trained kickboxer.
For that fact, there's also a documentary that was proudly presented by the Discovery channel on his name called "Idris Elba: Fighter".
Elba was born and brought up in Hackney and East Ham. Before starting his full-fledged career as an actor, Elba used to help an old man with his DJ company and after that, it is said that he started one on his own.
Later on, he attended the National Youth Music Theatre. While he was in the early stages of his film career, he also did other small jobs for a living.
He did his first credited role in a television series called Crimewatch in 1994. Later on, he started getting into BBC series' one by one.
Also, his notable works that fetched him awards were, "Luther", "The Big C", "Mandela: Long Walk to Freedom" and more.
He received several awards including the Golden Globe and Black Reel Awards in the best actor category.
27. Chadwick Boseman
Very very easy to recognize, Chadwick played the role of Black Panther in the 2018 film, Black Panther.
It is so unfortunate that we lost a person like him for what he has done throughout is very much inspiring and notable.
Let's jump into it. With almost two decades of experience in the film industry, Chadwick has made many contributions and everything worth mentioning.
He's an actor and a playwright and a graduate of Howard University. After his graduation he had a hunger for acting and writing, so he used to write, direct and act in stage shows.
His first appearance was in a feature film called The Express: The Ernie Davis Story in 2008.
Since then, he was consistently appearing in a lot of films but his breakthrough was in the movie 42 in 2013.
His dedication and passion brought him many awards from the African-American Film Critics Association, London Film Critics Circle, NAACP Image Awards, and more for films like 42, Get on Up, Ma Rainey's Black Bottom, and more.
Outside Hollywood, he supported charities for children with cancer and also for people who were recently affected due to the pandemic.
And he also had a good political sense, in fact before his death, he congratulated Kamala Harris for becoming the VP.
26. Larenz Tate
Larenz Tate was born in Chicago. He has appeared on television and in films. Some of his notable works are Menace II Society, Power, Dead Presidents, Love Jones, and more.
He has also been a part of the television series Rush and Game of silence.
He has been in the industry since 1985. Having played the role of the real-life music legends Frankie Lymon and Quincy Jones, Larenz often shares his screen with Clifton Powell.
He's one of the founders of The Tate Bros Foundation and the other founders are his brothers.
It is an NGO that is founded to help children who are affected by sickle cell anemia.
He has made appearances in 21 Jump Street, and The Wonder Years, and has been cast for series such as Family Matters, The Royal Family, and more.
His debut was in a television movie in 1991 called the Clippered followed by Seeds of Tragedy in the same year.
He also was part of the formation of a production company called "Tate Men Entertainment" again with his brothers.
In October 1998, he appeared on the cover of a magazine called Black Elegance. Larenz is well-known for his good taste in anything and everything.
25. Jamie Foxx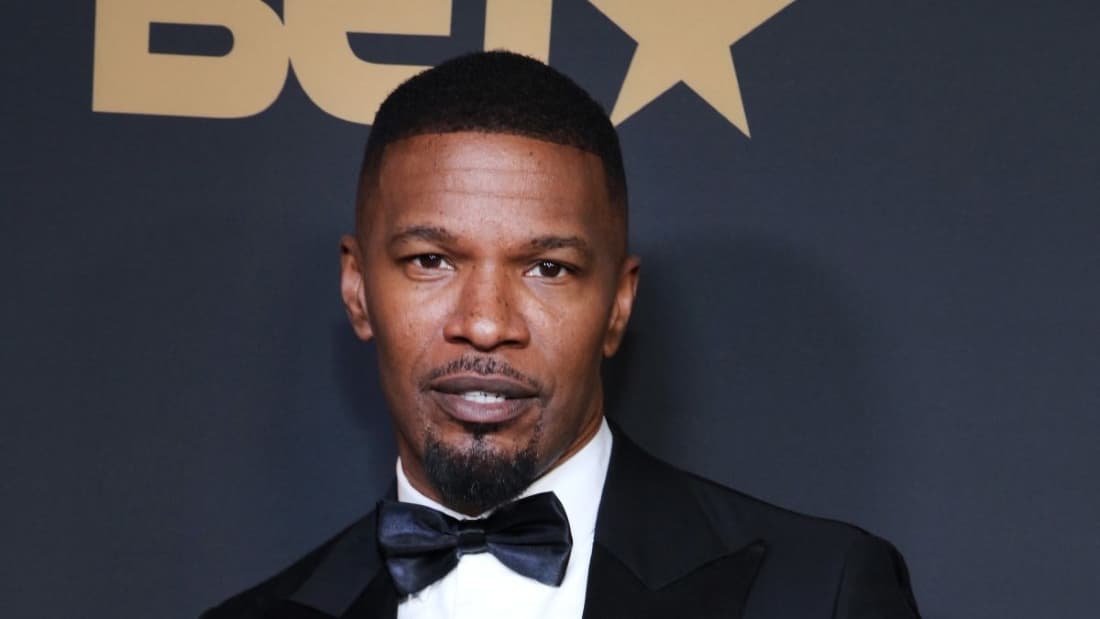 Originally called by the name Eric Marlon Bishop, Jamie is an American actor, comedian, and singer.
He first appeared in a comedy show called "In Living Color". When it was a hit, he was given his show by Foxx television called The Jamie Foxx Show.
He is also the supervillain Electro in The Amazing Spider-Man 2. He named himself Jamie Foxx for fun.
It was on an open mic show where he gave himself this name as women are called first and he thought this name would fetch him that.
His debut film was in 1992 in a comedy called Toys. Since then, he hasn't stopped performing or entertaining.
In his personal life, Foxx has helped film a public service announcement for Do Something, A promotion for food drives that were helping people in local communities.
He has also been a real-life hero where he has saved a burning man who crashed his vehicle outside Foxx's home.
As a singer, he has recorded some albums and has made other contributions. His famous albums include Peep This, Unpredictable, Intuition, Best Night of My Life, and Hollywood: A Story of a Dozen Roses.
From beginning his career as a stand-up comedian, Foxx is the first person to have been nominated for three Golden Globe Awards in the same year.
24. Terrence Howard
Terrence Dashon Howard is a successful and versatile actor, singer, songwriter, and record producer.
He has been a part of movies such as Winnie Mandela, Ray, Crash, Four Brothers, The Brave one, Prisoners, and more.
Even though his debut in films was in the 1995 Dead Presidents, his career kick-started only after a decade between 2004 - 2006.
Having a very abnormal family background, Howard grew up all by himself to become one of the best actors in Hollywood.
He first appeared in The Jacksons: An American Dream, a miniseries produced by ABC. Then he made great roles and kept contributing.
He has been nominated for the Academy Award for the film Hustle & Flow. He is a self-taught musician with a deep husky voice and plays both guitar and piano.
He has sung in Shine Through It, which is his only studio album.
But he has been a part of other music videos like Foolish and Be Without You.
Having 10 people born with him, he tried to work hard and earned a degree in chemical engineering from Pratt Institute in Brooklyn.
He also joined the Academy of Motion Picture Arts and Sciences in 2006. He has done supporting roles for almost 19 years before he played the main characters.
That is his level of dedication from day one till now.
23. Keith David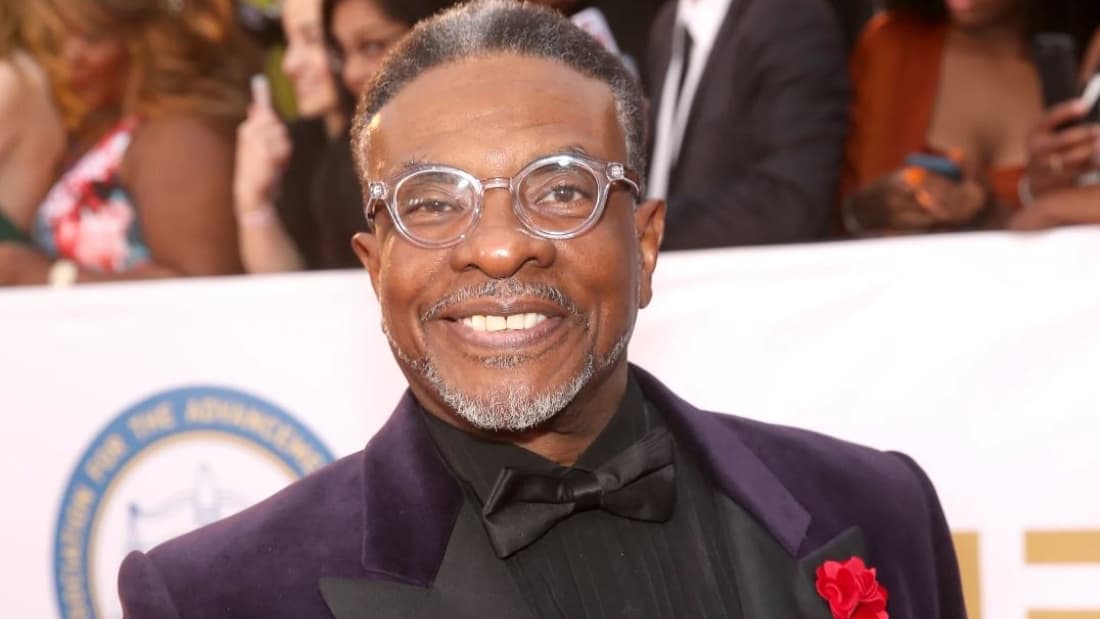 Being 65 years old, Keith has the most beautiful smile in the world, I would say.
Keith is an actor, producer, and voice artist. He has been in the industry since 1977 and he still has upcoming projects.
Keith David's proper debut was in the year 1979 when he played the role of club patron in Disco Godfather.
Since then, he has been in hundreds of TV series and films. His notable works are The Thing, They Live, Dead Presidents, Armageddon, There's Something About Mary, Barbershop, The Chronicles of Riddick, and more.
Keith is also a voice actor with vast knowledge and experience. He was dubbed for "Adventure Time", "Bojack Horseman," "Rick & Morty", "Spawn", "Gargoyles" and more.
Those are the most loved ones by people. His rich voice fetched him to dub for national commercials, documentaries, video games, and more.
Alongside, as we already know that Keith is good at singing, it is also known that he is a part of two famous shows on the legendary singers, Nat King Cole (Too Marvellous for Words" and Joe Williams (Here's to Life).
He has also contributed a lot to the theatre community. He has won three out of six Emmy Awards that he was nominated.
Above all these things, he's an incredible human being and one of the most creative people.
22. Martin Lawrence
Being recognized for his roles in the Bad Boys trilogy, Martin, Def Comedy Jam, Big Momma's House, Open Season, What's Happening Now!!, Nothing to Lose, Life, Blue Streak, and more, Martin Fitzgerald Lawrence is one great personality that Hollywood has got.
Martin is often seen playing the role of a cop or a thief or both in his films.
He is a pro at karate and moves well on it. He took part in the Mid-Atlantic Golden Gloves boxing when he was in his teenage years.
Even though he entered the industry in the year 1987, his works started coming to notice only in the 1990s.
He suffered a coma when he collapsed from heat exhaustion while jogging, in 1999. He has been arrested three times or more for being aggressive in the public.
He also had other health issues. He has won many awards including the NAACP Image Award, and Icon Academy Award, and has also been chosen as the ShoWest from NATO.
Being aggressive in real life sometimes, Martin is also a well-recognized comedian and a singer.
His two albums include Martin Lawrence Live Talkin' Shit and Funk It. To his belief, No one is immune to the trials and tribulations of life, so anybody can do anything.
21. Eddie Murphy
Edward Regan Murphy is a New York City-born. He's an actor, singer, comedian, and producer.
He has been active in the industry since 1976 and he was extensively famed through the comedy show, "Saturday Night Live".
From then, till now, people who laughed because of him are countless. He has a great sense of humor and perfectly knows when, where and on whom to use it.
Murphy has also been a Stand-up Comedian and still has a spot in Comedy Central's comedian rankings.
Eddie has so far received several nominations including the Golden Globe Awards for his works and he has also won one.
His famous works include "48 Hrs", "Beverly", "Trading Places", "The Nutty Professor" and more. Eddie has appeared in all kinds of comedy genres, for example, "Saturday Night Live" was a sketch comedy, and "Dr. Dolittle" was a fantasy comedy. Likewise, he has also been performing musical comedy, family comedy, observational comedy, insult comedy, black comedy, and whatnot.
He has also donated a lot to the AIDS Healthcare Foundation. And, he has supported actors, people with cancer, people who had no money for education and also extended his support to homeless charities and has more to go.
20. Cuba Gooding Jr
Being well known for his soft creaky voice, Cuba came from a family that had a music background.
His mother was a singer for The Sweethearts and his father was the lead vocalist for The Main Ingredient.
Cuba was born in New York and moved to Los Angeles when he was four.
Before entering the world of acting, Cuba had trained himself in Japanese martial arts for three whole years.
Initially, he played small roles in shows like Hill Street Blues. He was well recognized for his role in Boyz n the Hood in 1991.
From then, his career boomed and he made incredible movies like A Few Good Men, The Tuskegee Airmen, Outbreak, and more.
He won the Best Supporting Actor Award from the Academy Awards for Jerry Maguire. Other than receiving awards for performing, he has earned a Public Leadership in Neurology Award from the American Academy of Neurology.
It is said that he is very intelligent as well as observant. He is a beautiful person with good sense and there's nobody to disagree with.
Other than all this, he loves hockey and has a rink in his backyard. There's also a fun fact, Cuba's first-ever job was as a breakdancer.
He had shared stages with Lionel Richie when he performed for the closing ceremony of the Summer Olympics in 1984 in Los Angeles.
19. Samuel L. Jackson
Samuel is one of my favorite African-American actors. He is a favorite for most of them out there.
Also, he is one of the people in the industry who is easily recognized by anyone and everyone who is the same age as he is.
Here's everything that I know about him. He has appeared in famous films such as Coming to America, Goodfellas, Patriot Games, Juice, True Romance, Jurassic Park, and more.
I have been dumbstruck by his performance in the film Fresh which was released in 1994.
Also, his chemistry with Quentin Tarantino works well for me because I loved his performances in Django Unchained, Jackie Brown, and the very first collaboration, Pulp Fiction.
Samuel's works cannot be numbered just like that with our fingers. It's huge. He has also served as a voice artist for many animated movies such as The Incredibles, The Incredibles 2, and Turbo and has also narrated a documentary called "I Am Not Your Negro." He has an authoritative voice and plays roles that people consider to be strange.
He loves to take up and play a challenging character and never disappoints anybody. He has a good sense of choosing what kind of roles fit him well.
He started in 1972 and has not rested yet.
18. Danny Glover
Danny Lebern Glover has made contributions to the film industry through acting and directing. He is also a political activist.
His stands for social justice are revealed through his powerful roles in his movies like The Colour Purple.
His notable works are his lead roles in To Sleep with Anger, Predator 2, Angels in the Outfield, Operation Dumbo Drop, and more.
He has also not hesitated to play supporting roles in some good movies like Death at a Funeral, Beyond the Lights, Sorry to Bother You, The Last Black Man in San Francisco, The Dead Don't Die, Lonesome Dove, and Jumanji: The Next Level.
When he is in a position to tell something that would reach people and bring in a change, he has never lost a chance like that.
Be it acting or out of it, he has preached a lot of good things wherever he can.
This shows his level of humanity and justice to mankind on screen and off. He saw acting as a platform for conveying great ideas.
He believed that art will help confront issues and feelings. True to his beliefs, he has also proved them through his works.
He has once been arrested for being involved in a protest against Sodexo which failed to treat their workers properly.
17. Louis Gossett Jr
He is another old actor who is always young at heart. He has a deep commanding voice and is often seen in military roles.
He is so loved by people in Brooklyn that they named him "The King of Brooklyn" at the Welcome Back to Brooklyn Festival in 1990.
He is well recognized for his role in "An Officer and a Gentleman" which earned him an Academy Award.
He is also part of the television series called "Roots" for which he received an Emmy Award.
A Raisin in the Sun, The Landlord, Skin Game, The Laughing Policeman, The White Dawn, Jaws 3-D, Wolfgang Petersen's Enemy Mine, The Principal, the Iron Eagle series, and Toy Soldiers were his famous movies.
He has been a part of the Hollywood industry for more than five decades now and has not stopped.
He has also contributed a small amount to the theatre. He was a part of Odets' Golden Boy and Dvorak's New World: Chamber Music Plus.
He had prostate cancer and announced that as the disease was diagnosed at an earlier stage, there are high possibilities that they are completely cured.
He was also affected by the latest pandemic but managed to get out of it.
Above all these, Louis is a great human being with a good amount of patience and determination.
16. Ossie Davis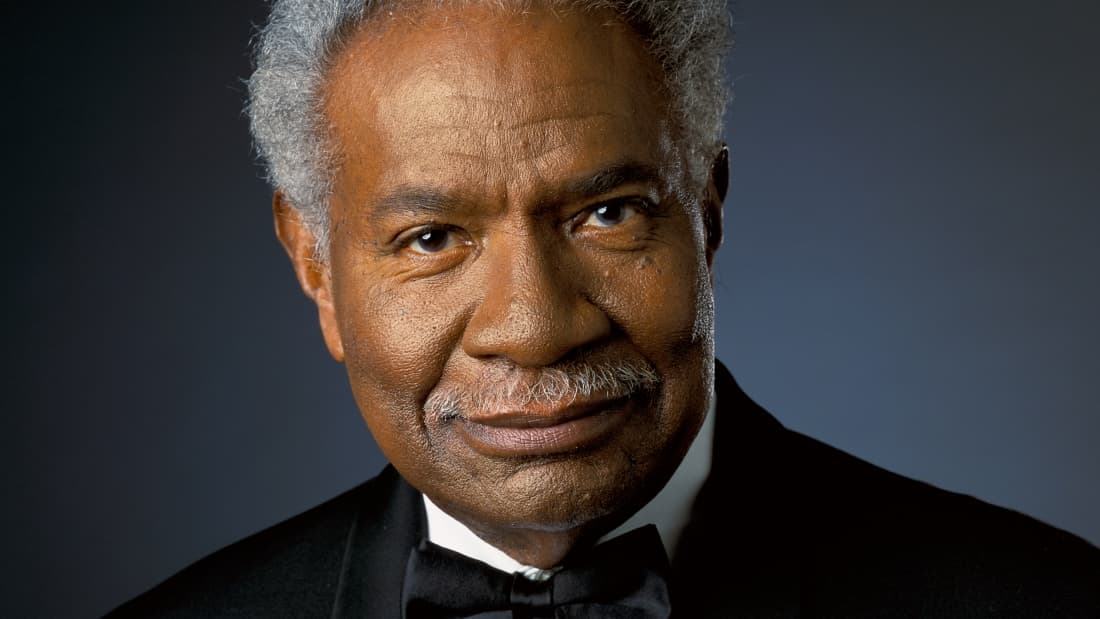 Ossie Davis is an actor, director, writer, and activist. Davis and his wife were well-known activists during the Civil Rights Movement.
Most of his performances have been with his wife Ruby Dee who's an actress, playwright, journalist, and activist.
He is vastly recognized as he was a featured speaker at the funeral of both Martin Luther King and Malcolm X.
In total, he has appeared with his wife in nine films including No Way Out, Gone Are the Days!, The Sheriff, Cool Red, Roots: The Next Generations, All God's Children, Do the Right Thing, Jungle Fever, and The Stand.
He was named to the NAACP Image Awards Hall of Fame along with his wife in 1989.
He was twice nominated for Broadway's Tony Award. Once was in 1958 for "Jamaica" under the category of Best Supporting or Featured Actor 1958.
And the next was in 1970 for co-authoring the book "Purlie". To do something for his parents' wish and satisfaction, he attended Howard University.
But later, he dropped out of college when he found his passion for acting. He lived up to an awful death in the year 2005 when he was found breathless in a hotel room in Miami Beach.
15. Charles S. Dutton
Having attended Yale Drama School, Charles is well known for the films Alien 3, The Piano Lesson, Rudy, Cookie's Fortune, Gothika, and A time to kill.
He has so far won three Primetime Emmy Awards and three NAACP Image awards for his works.
Being a son of a truck driver and having parents with a broken marriage, he dropped out when he was in middle school.
He was into boxing for a while and he was good at it. It kind of trailed off when he got into a fight and resulted in the death of the person he was fighting with.
That was the beginning story of his acting career. He was inside the prison for five years and was out on Parole.
Again he made mistakes like robbery and was again put inside prison. His second term in prison introduced him to radical movements and the Black Panther Party.
Slowly, one led to another and he landed an acting career. His debut was in the 1985 film called Cat's Eye.
Then he again did two films in the year 1988. He started acting in a number of roles from then till now.
He is one example of the theory that when people try to change themselves for the good, if they change, then it is always for the good.
14. Donald Glover
Donald is a multi-talented person. He's an actor, comedian, musician, producer, director, and writer.
He was born in California and was brought up in Georgia. In 2006, Donald got a degree from New York University for Dramatic Writing.
He has a brother who is also a screenplay writer and producer. His work on the whole where he created, wrote, produced, directed, and starred was in a series called Atlanta which was released in 2016.
He's a new-age person in Hollywood and has a huge amount of creativity and cinema sense.
He is good at every comedy genre including Observational, surreal, sketch, and black comedy, and also gives his best for satires.
So far, he has received and has been nominated for various awards such as Primetime Emmy Awards, Golden Globe Awards, Grammy Awards, Screen Actors (Directors and Producers) Guild Awards, and more.
He has been a part of many movies including The Muppets, The To-Do List, Clapping For The Wrong Reasons, The Martian, Spider-Man: Homecoming, and more.
On television, he is often noticed for 30 Rock, Community, Regular Show, Awkward Black Girl, Saturday Night Live, and more.
A good takeaway from him is that he shows the most dedication in whatever he does.
13. Trevante Rhodes
If you had watched the film Moonlight, one of the best sad movies in Hollywood, you would surely know why he is on this list of best actors.
He has performed more than his potential, he has given more than his best in that film I would say.
My other favorite films of Trevante are The Predator and Bird Box. Trevante Nemour Rhodes was born in Ponchatoula, Louisiana, USA.
He started his career as an actor in the year 2012. He has done significant and standalone roles in all the movies and television.
Before his career, he studied Kinesiology at the University of Texas at Austin. He's an interesting person overall.
So far, he has won an award from Black Reel Awards for his Outstanding Breakthrough Performance in the movie, Moonlight.
He is also nominated for many awards including Screen Actors Guild Award, NAACP Image Award, Dorian Award, and more.
All these nominations are for one film Moonlight. Other than acting, it is said that he has an interest in athletics.
He has taken part in the Texas Longhorns as a sprinter since 2008. Also, he won gold in the 2009 Pan American Junior Athletics Championships in Port of Spain, Trinidad, and Tobago.
12. Laurence Fishburne
Laurence is often seen playing the mentor of the protagonist or else in a wise or intelligent role.
He is also lauded for his authoritative voice. His contributions to the film, theatre, and television industries are a lot more than somebody could think.
Being in the industry for almost more than forty years now, his achievements are uncountable.
He has been acting since the age of 11 and was vastly motivated that acting was his cup of tea.
He continued to contribute to theatre plays and teleplays. His film debut was in 1975 in the movie Cornbread, Earl and Me.
He appeared first on television in 1972, which happened before his movie debut, in the film If You Give a Dance, You Gotta Pay the Band.
He has appeared in other movies such as Hannibal, The Matrix, Hoodlum, The Matrix Reloaded, The Matrix Revolutions, Mystic River, Akeelah, and the Bee, and more.
These are the movies that put him on the nominations list for many awards including the Black Reel Awards and Black Movie Awards.
People still recognize him as Morpheus because of his legendary performance in The Matrix, which made him a household figure.
Other than this, Fishburne also reads books and is a great fan of Paulo Coelho.
He is in the process of producing a movie based on the author's book, The Alchemist.
11. Michael B Jordan
Everybody knows Michael from the famous film, Black Panther which was released in 2018. But I knew him from the crime series called The Wire.
He is a great actor and a film producer. He has also been a part of other movies and series like All My Children, Homeroom Heroes, Friday Night Lights, Fruitvale Station, Fantastic Four, Creed, Fahrenheit 451, and more.
Michael Bakari Jordan has been nominated and has also won many awards including the Teen Choice Awards, NAACP Image Awards, Black Reel Awards, National Society of Film Critics, Soap Opera Digest Award, and more.
He was born in California and brought up in Newark, New Jersey. Even though he enrolled himself in Football at Howard University, he has been a basketball player when he was a kid.
From childhood, he has been a part of the industry. He initially posed as a child model for many companies and brands.
His first debut film was Black and White where he played an unnamed role in 1999.
Since then, he was on and off in the industry and later got a good start in 2005 when he appeared in All My Children.
And he has done good roles and is yet to do more.
10. Forest Whitaker
This man is enough to compete with the entire Hollywood industry as one. Forest Steven Whitaker is an actor, producer, director, and also activist.
He is one of the most creative people that has fascinated me and left me dumbstruck.
He has been in the industry since 1981 and has never missed a chance to prove and expose his talents.
He is very wise in choosing whatever he does or whatever he wants to do.
His debut was in 1982 in a movie called Fast Times at Ridgemont High. He has put in a lot of effort to know about a film, analyze it and work for it.
He understands the character before becoming the character. He is more than talented I would say.
His roles as Saw Gerrera in Panic Room, Rogue One: A Star Wars Story, and Ugandan dictator Idi Amin in the film The Last King of Scotland are my favorites.
He has also been inspiring a lot of humans outside the film or television industry.
9. Anthony Mackie
This American actor made his debut in a biographical movie called 8 Mile in 2002.
He has been nominated and won many awards including Independent Spirit Awards for Brother to Brother, Alliance of Women Film Journalists Awards (winner) for The Hurt Locker, Black Reel Awards (winner) for Night Catches Us, and more.
Anthony Dwane Mackie was born in New Orleans, USA. He went to New Orleans Centre for Creative Arts and then received graduation from the North Carolina School of the Arts in 1997.
He wanted to become an engineer before he dreamed of acting. Currently, Anthony is looking forward to shooting a movie related to the Olympic athlete, Jesse Owens.
Anthony is a person who plays transformative roles. He is also a person who explores and experiments.
Before appearing in a role, he makes many efforts to learn and unlearn anything for the role.
He wanted a side-run so he opened a Bar in Bed-Stuy, Brooklyn. It was called the NoBar.
Later he closed that bar in 2015. He has also made contributions to theatre plays and stage shows such as Up Against the Wind which was his first, followed by Talk, Ma Rainey's Black Bottom, Drowning Crow, McReele, and more.
He's one of the greatest actors that I respect.
8. Wesley Snipes
Wesley Snipes is one of my favorite people. I love his movies and always appreciate his way of acting and there is uniqueness in every different role he does.
He is not only an actor, he also produced films and is a versatile martial artist.
His notable works include New Jack City, White Men Can't Jump, Passenger 57, Rising Sun, Demolition Man, To Wong Foo, Thanks for Everything!
Julie Newmar, U. S. Marshals, The Expendables 3, Coming 2 America, and the Blade film trilogy.
Snipes, along with his brother, started a security firm called the Royal Guard of Amen-Ra in the late 1990s.
But that venture did not work out well for Wesley Snipes. He loves fighting, that statement is proved by his interest in Martial Arts since the age of twelve.
He has a black belt in Shotokan, a style of karate. Also, he learned Hapkido which is a hybrid Korean Martial Art and earned a 2nd-degree black belt.
He also knows Kung Fu, Brazilian Jiu-Jitsu, and Kickboxing. So far he has won a lot of awards including MTV Movie Awards, Gold Special Jury Award, Image Award, Blockbuster Entertainment Awards, Hollywood Walk of Fame, Black Reel Awards, and more.
To my knowledge, Wesley is much of a brave and badass type in real life.
7. Chris Tucker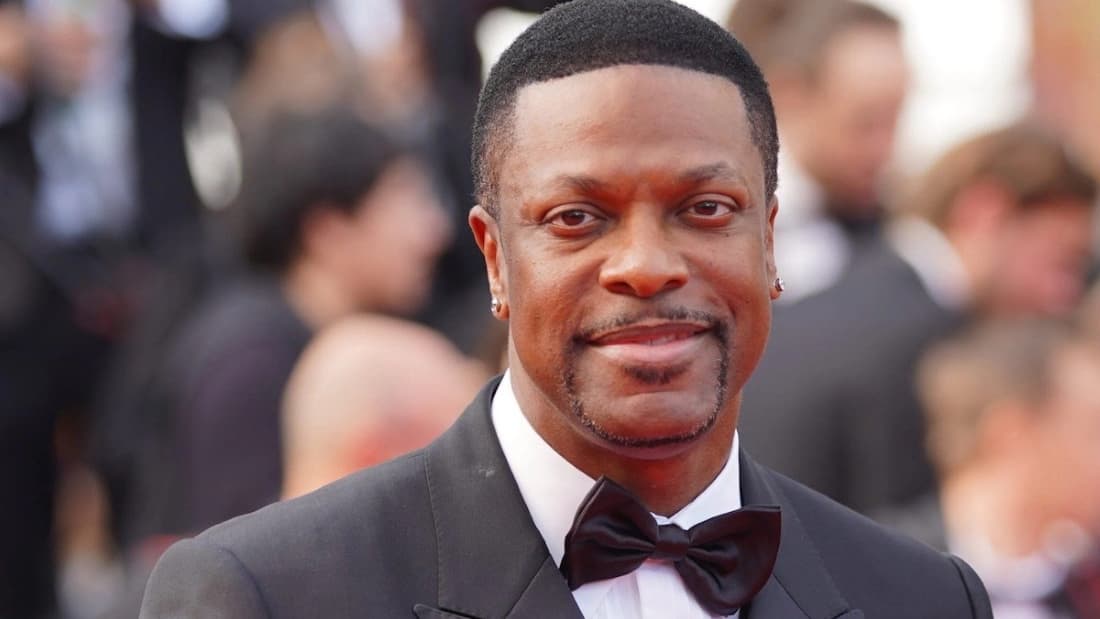 I love his sense of humor where he does not use any type of vulgarity or hurt anybody.
That kind of performance is rare and Tucker's got it. He made his film debut in the movie House Party 3 in 1994.
Since then, he has been in blue comedy, black comedy, insult, and observational comedy movies so far.
He also has a touch of music in his career. Chris has been a part of the following movies, Friday, The Fifth Element, Money Talks, Jackie Brown, Rush Hour, and more.
He has received good receptions for Silver Linings Playbook, Billy Lynn's Long Halftime Walk, and more.
From the above, his breakout role as Smokey in the film, Friday. I connect more with Chris as he is a fan of Micheal Jackson.
He loves Micheal Jackson so much. He has also been on charity rarely. He has helped Africans and Americans who were hit by poverty.
He also loves doing stand-ups and he has promised himself that even if his acting career is going to be ruined, he wouldn't stop doing stand-up comedy.
6. Will Smith
Yet another person that I cannot stop falling in love with. Everybody knows Will. Will has the most beautiful smile in this world and also he is one of the most powerful performers that I have ever come across.
To people who don't know Will, he is an actor, comedian, producer, rapper, and songwriter.
So far, he has been nominated for five Golden Globe Awards, and two Academy Awards, and has won four Grammy Awards.
I loved his performance in the very first Will movie I saw, Pursuit of Happyness.
I would have watched it at least fifty times now. The movie was so good and so real that anybody would empathize with Will's character.
My next favorite is Seven Pounds which was released in 2008. I still remember how much I cried for that film.
He expresses a good amount of emotion. I measure it, by the way, his fans or anybody who watches his films react.
His famous movies are pretty known by all, they include Men in Black, After Earth, I Robot, Gemini Man, and more.
He has also been a part of Television, where he has been a host for some shows and also has been acting in movies and series.
Will Smith is one of the richest men in the world. The fame he has got, he deserves it. But recently, Will Smith is under a lot of heat due to him slapping Chris Rock on stage at the Oscars over a joke. He faced a lot of backlash and even got banned from the Oscars for 10 years.
He lost a lot of his projects. Since then he has publically and personally apologized to his fans and most importantly Chris Rock. Let's see what the future holds for him now.
5. Sidney Poitier
A most recent death in the Hollywood industry, Sidney Poitier was an actor, director, and also, he's Bahamian.
I am proud to say that he was the first African-American actor to win an Academy Award in the Best Actor category.
He stopped his acting career in 2009. But he has been a part of the industry for almost six decades.
He has worked hard and has given his fullest in all of his appearances. He joined the American Negro Theatre initially, acting in stage plays and theatre shows.
He then acted as a high school student in the film Blackboard Jungle in 1955 which was the breakthrough in his acting career.
Throughout his six-decade-old film career, he has been nominated for many awards which were also made through winnings.
He won one Academy Award, one BAFTA Award, two Golden Globe Awards, one Screen Actors Guild Award, and more.
His notable works are Edge of the City, The Defiant Ones, A raisin in the Sun, Lilies of the Field, A Patch of Blue, In the Heat of the Night, and more.
He died in January 2022 of cardiac failure. A lot of the leaders including Joe Biden, Barack Obama, Michelle Obama, and Hilary Clinton paid tributes.
4. Terry Crews
Terry has been an actor since 1999. He is also a television presenter and a football linebacker.
He started his acting career after retiring from the NFL. Terry is very good at Robot dance, also he has a muscular physique.
That physique might help play aggressive characters you may think but Terry frequently plays immature and not-so-intelligent characters.
He started his career as a sketch artist for a local TV but later he got famous and became the body of the Old Spice company commercials in 2016.
He comes from a not-so-rich background, his father was an alcoholic. He joined Western Michigan University in Kalamazoo.
Slowly he entered the football team and that fetched him a full scholarship. During the #metoo incident, Crews also revealed that he has also been assaulted sexually by several men in Hollywood.
He was named one of the "Silence Breakers" for bravely revealing details. He has also filed complaints against people for the same reason.
He is easily recognized in Brooklyn Nine-Nine, Everybody Hates Chris, Are We There Yet? and more.
He started his film career in the year 2000 debuting in a movie called The 6th Day.
It's not easy and he is one of the bravest and calm personalities that I've ever come across.
3. Denzel Washington
He is one of the coolest and sexiest people in the film industry. Denzel Washington is an actor, producer, and director.
He is much loved for reconstructing the concept of movie stardom. He frequently appeared in movies by the directors Spike Lee, Antoine Fuqua, and Tony Scott.
He is often seen doing roles of people from real life. His famous works include Cry Freedom, Glory, Malcolm X, The Hurricane, Training Day, Flight, Fences, and more.
So far, he has won two Academy Awards, two Golden Globe Awards, one Screen Actors Guild Award, and one Tony Award.
He has also been nominated for many awards including the Grammy Awards and Primetime Emmy Awards.
Something else interesting is that there's an elementary school in New York named after him.
It was because of his continuous contribution to an organization called the Boys & Girls Clubs of America.
He has been a national spokesman, he has appeared in their public service announcements, and has also been a part of the board of that organization.
It hasn't stopped there, he has also donated hugely to the Fisher House Foundation. He also supports Nelson Mandela Children's Fund and another AIDS hospice.
He is a very beautiful person inside and out.
2. Morgan Freeman
Oh, where do I start when I talk about Morgan Freeman? He has the eyes of an angel and the smile of God.
I knew him from the movie Bruce Almighty, The role he does wearing a white dress all the time was just perfect for me to believe that he was God.
Later, I watched the movie The Shawshank Redemption and again loved his narration. I could not imagine any of his movies without him.
He started his career in 1964 and he's still in the industry. He has done a lot of favors to the industry I would say.
He has appeared in a variety of movies. Also, majorly he plays a calm character that feels very pleasant and blissful to the audience.
Not only in films, but even in real life, Morgan is very trustworthy and that's what everybody says.
He has received honorable awards including the Academy Awards, Golden Globe Awards, Screen Actors Guild Awards, and more.
Also, he has received several nominations for his works. The best of his works include Street Smart, Driving Miss Daisy, The Shawshank Redemption, Million Dollar Baby, Invictus, The Story of God with Morgan Freeman (A documentary), The Kominsky Method, Bruce Almighty, Seven, and more.
He owns a film production company known as Revelations Entertainment. Other than Hollywood or cinema, Morgan has made several contributions to the environment like turning his ranch into a bee sanctuary when he heard about the decline of honeybees.
Also, he donates and helps people who are affected by hurricanes and storms. He's involved in sensible political activism.
He's one person who opposes the celebration of Black History Month. He believes that Black History is American History, why differentiate both? This is a great way to showcase that American history cannot be completed without talking about all the contributions and sacrifices of the African-American community.
Morgan is a very nice human being and a man who grows old by age and never by heart.
1. Michael Jackson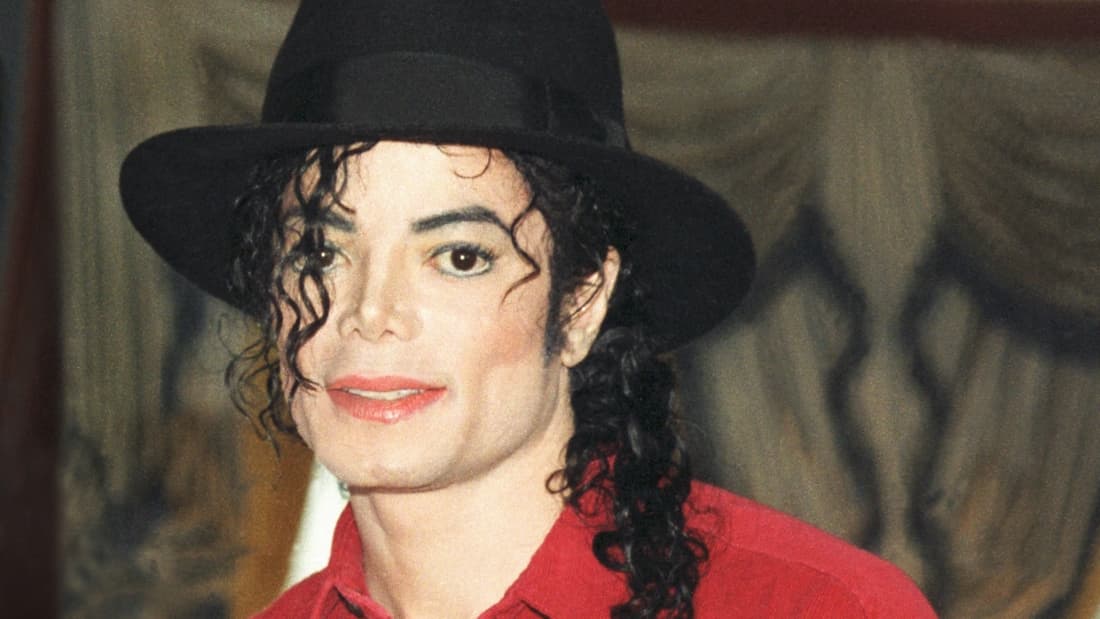 I was introduced to Michael Jackson completely through a friend. Before that, I knew him only as a dancer and a singer.
But when I explained his whole life history, I was in awe. I don't know if somebody could go through this lot in life and yet be happy.
I think that is what we need to learn from Mike. Michael has a huge family and there's an individual Wikipedia page explaining the whole family tree.
Michael has eight siblings, a total of 9 Jackson siblings. All of them had high musical interests and in the earlier stages performed together.
It was first Jackie, Tito, and Jermaine who went performing around the city, by 1964, Michael and his elder brother Marlon joined them.
The brothers have given the cutest performances in different cities, on different stages which leave our hearts melting.
Michael was unique and always stayed magical, soon he became the main singer and performer of the Jackson 5.
They performed back to back with tight schedules in the 70s and were one of the most significant cultural figures of the 20th century.
I've watched the "Who's loving you" video a number of times. It is a video where Michael is eleven years old and performs so maturely.
I will never be able to resist that video no matter how many times I watch it.
My next favorite and closest to my heart is "Heal the World" and the words in that song are very powerful.
His works include Captain EO, Moonwalker, Michael Jackson's Ghosts, Men in Black II, Miss Cast Away and the Island Girls, Michael Jackson's This Is It, Bad 25, Michael Jackson's Journey from Motown to Off the Wall and The Wiz.
Jackson is famous for his moonwalk and Bad pose, I bet everybody would have tried both.
He's the most awarded individual music artist, an animal lover and the sweetest human being one could ever come across.
He has been an inspiration and the reason for many people to smile and I think that could be the greatest achievement in anybody's life.
So, here we come to the end of the article. The list doesn't stop with fifty, there are several actors, artists, creators, and common people who are Black.
This is, after all, Black History month! Know them!! And trust me, You'll be fascinated.
Meet you in another article, until then, bye.